RF Choke to prevent hf currents on the feedline (or...1:1 Choke Balun, sometimes called the "UGLY BALUN") By ON6MU http://users.belgacom.net/hamradio/schemas/Magnetic%20Longwire%20Balun_MLB.htm 
Ferrite beads hence chokes are used (in a way similar to inductors) as a passive low-pass filter. The geometry and electromagnetic properties of coiled wire over the ferrite bead result in a high impedance (resistance) for high-frequency signals, attenuating high frequency EMI/RFI electronic noise. The absorbed energy is converted to heat and dissipated by the ferrite, but only in extreme cases will the heat be noticeable.

Ferrite beads or coax turned over a ferrite bar are one of the simplest and least expensive types of interference filters to install on preexisting electronic cabling. For a simple ferrite ring, the wire is simply wrapped around the core through the center typically 5 or 7 times. Clamp-on cores are also available, which can be attached without wrapping the wire at all.
However, here we are using a toroid. Just turn 4 times on each side and opposite of each side a piece of RG-58 coax, like this:

how it looks on an amidon red toroid
HF Choke finished
Choke coils are useful in a wide range of prevention of electromagnetic interference (EMI) and radio frequency interference (RFI) from power supply lines and such. Also prevents TVI from radiating feedlines.
You can add this to your longwire balun, antenna, or whatever needs preventing RF currents from the coax feedline...
Some use it as a 1:1 choke balun, called the "ugly balun".
---
F5AD http://f5ad.free.fr/ANT-QSP_F5AD_Baluns.htm
La solution des boucles de câble coaxial au niveau de l'antenne, qui bloquent le mode commun sur la ligne, peut aussi être retenue dans le cas 1/1; elles bloquent le courant de gaine sur le câble et on a le même effet qu'avec un balun, sans les risques du ROS ou des pertes dans la ferrite.
On admet que l'impédance de la bobine ainsi formée doit être de l'ordre de 500 Ohms à la fréquence la plus basse à utiliser; avec 10 spires sur un diamètre de 20 cm, cette condition est quasiment remplie de 3,5 à 29,7 MHz. (Câble 10-11 mm)
Pour les bandes hautes on peut opter pour 4 spires sur un diamètre de 20 cm; ou 5 spires sur un diamètre de 15 cm; ou 8 spires sur un diamètre de 10 cm.
Ci-dessus en photo le balun de G4APL et ici le nombre de spires pour les différentes bandes.
Avec ces baluns il faut faire attention à la capacité parasite entre spires qui leur confère une fréquence de résonance facile à voir au grid dip, au-delà de laquelle ils deviennent capacitifs et perdent leur effet de bouchon selfique. Par exemple 4 spires de câble 10-11mm sur un diamètre de 20cm résonnent vers 24 MHz, ce qui limiterait à une utilisation de 14 à 24 MHz, il en faudrait théoriquement un autre en série pour le 28 MHz pour une utilisation bandes hautes. Voir une solution ici.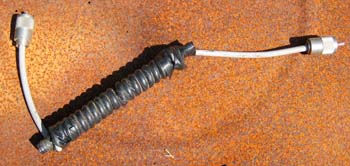 Si le câble est assez souple et de petit diamètre, on peut même le bobiner sur une ferrite de récupération;
ou à l'intérieur d'un gros tore comme indiqué à droite ; on en met le plus possible en deux fois, comme indiqué afin de limiter la capacité parasite entre entrée et sortie
Le but est d'obtenir une self produisant une impédance d'au moins 500 Ohms à la fréquence de travail, qui empêchera l'établissement d'un ventre de courant sur la gaîne au niveau de l'antenne.
Ce choke balun à 2x5 spires réalisé avec une rallonge BNC et un tore T200-2 présente une self induction de 2,5 micro henrys ce qui fait seulement 440 Ohms sur 28 MHz; attention à bien choisir le tore quand il s'agit de fonctionner sur des fréquences basses.
Par contre, atténuation non mesurable et ROS de 1.
En bobinage sur air, sur un diamètre de 45mm, huit spires produisent environ 3 micro henrys soit 530 Ohms sur 28 MHz.
http://ireland.iol.ie/~bravo/images/Quad/ChokeBalun.gif