Most recent first, 
not including anthology albums such as the "
THE BEST
album (2014) and
"Nobuyuki Tsujii Chopin & Liszt"
(2014)
♪ 
リスト: ピアノ・ソナタ/ラヴェル: 夜のガスパール
辻井伸行
Liszt: Piano Sonata / Ravel: Gaspard de la nuit
Nobuyuki Tsujii
2016/07/20 発売 Release
AVCL-25903
JAN/ISBN 4988064259038
辻 井伸行のベルリン・セッション録音最新盤は、「プレミアム・リサイタル」シリーズでとりあげ、国内外で喝采を博した超本格派の2作品。ピアノ・ソナタ ロ短調は、"ピアノの神"リストの唯一のソナタで、技巧的にも音楽的にもきわめて複雑・高度にして深遠なもの。夜のガスパールは、ラヴェルが「歴史上最も 難しいピアノ曲を書こう」と意気込んで作曲したもの。いずれも、技術面のみならず音楽表現力においてピアニストの実力が最高度に求められる。辻井伸行が世 界で高く評価されるゆえんが、ここに明らかになります。
Nobuyuki Tsujii's  Berlin session recording of recent works performed in his "premium Recital" series, two classical standards that have gained acclaims at home and abroad. Piano Sonata in B minor is the only sonata of Franz Liszt, the "God of the piano,"  profoundly artful and musically highly complex.  "Gaspard of the night" was composed by Maurice Ravel, who wrote excitedly, "I want to write the most difficult piano music in history."  Both works require the pianist with the  highest degree in  musical expressive power, and not just technical proficiency. Here it becomes clear why Nobuyuki Tsujii is highly regarded in the world.
No photo is shown with these listings, but I look forward to a new album jacket photo!
CD Japan
Tower Records Japan
Amazon Japan
♪  Nobuyuki Tsujii Chopin Piano Sonatas 2 & 3
released October 21, 2015
ピアノ・ソナタ第2番、第3番 辻井伸行
AVCL-25879
発売日:2015/10/21
Listing on Nobu's own site
Billboard Japan listing
HMV Japan listing
Amazon Japan
AND, this CD can be ordered from Amazon USA
http://amzn.to/1M7IYr7
♪ "Impressions" 辻井伸行 印象派コレクション~テレビ東京「美の巨人たち」テーマ収録,
  released July 22, 2015. There are 14 tracks of compositions by Debussy, Ravel and Nobu himself. Details on this page. 
AVEX Classics listing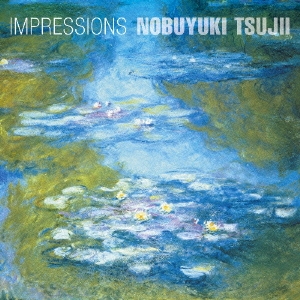 image via
Internet link
♪

マエストロ!~辻井伸行 with オーケストラ自作集

Nobuyuki Tsujii Works Piano with Orchestra (Maestro! ~ Tsujii Nobuyuki own compositions with orchestra)
AVCL-25864
-- recorded in Japan
Release date 2015/01/28
track samples on rippletunes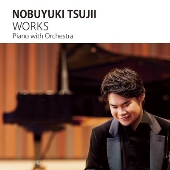 ♪
皇帝&戴冠式 辻井伸行&オルフェウス室内管弦楽団 Emperor & Coronation --Nobuyuki Tsujii & Orpheus Chamber Orchestra
AVCL-25867  -- recorded in Japan
Release date 2015/01/21
Available from Amazon Canada, Amazon U.S. as well as Amazon Japan
My blog post:
Nobuyuki Tsujii & Orpheus: Beethoven & Mozart CD
(NOTE: This CD has the complete "Emperor" concerto and the complete  "Coronation" concerto.)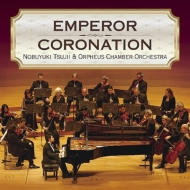 ♪ ラ・カンパネラ~ヴィルトゥオーゾ・リスト! 辻井伸行 NOBUYUKI TSUJII plays LISZT
AVCL-25837 - recorded in Berlin, Germany
Release date September 24, 2014
Available on Amazon
♪
"Touching the Sound -- The Improbable Journey of Nobuyuki Tsujii", DVD/Blu-ray
by Peter Rosen
released on July 29, 2014 by
EuroArts Music
.
Available on
Amazon
and elsewhere.
My thoughts:
Nobuyuki Tsujii "Touching the Sound"
.
DVD of the Month
,
Gramophone Editor's Choices - October 2014
"It is not only an improbable journey but a compelling and inspirational one.'