Hokkaido is the northernmost island of Japan . The
Kitara Hall
is modeled after Suntory Hall and enjoys similar reputation for its acoustics. Nobu is a frequent performer there and sells out every time.
♪ From Hokkaido to London
Nobu's
Bach/Mozart/Beethoven Japan recital tour
is drawing to a close with 3 more performances (March 23 Niigata; March 26 Shizuoka; March 29 Hokkaido).
After the last performance in Hokkaido, Nobu will have just two days to travel to London (a 12+ hour flight from Tokyo) for his April 1 recital Wigmore Hall.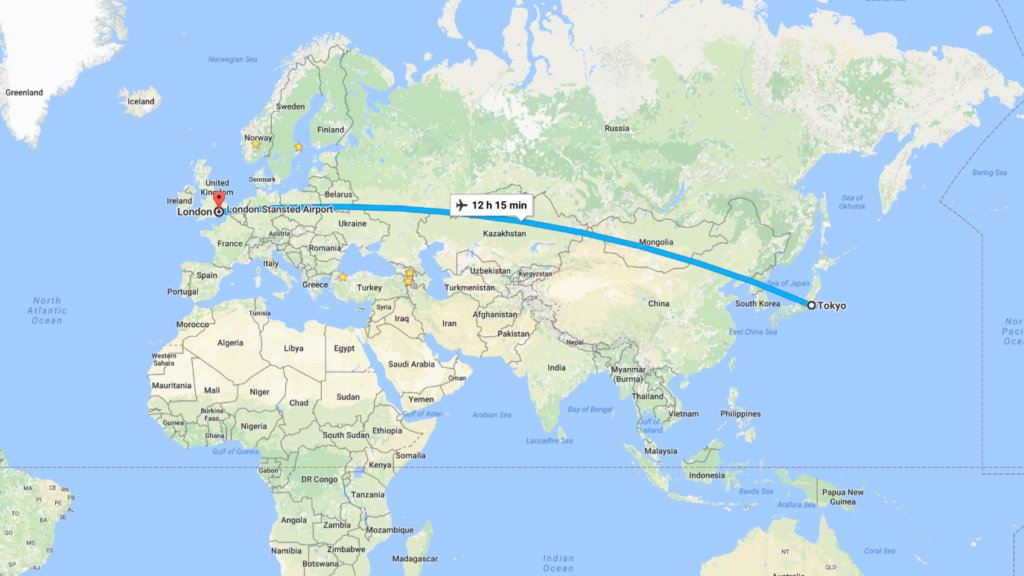 ♪
Nobuyuiki Tsujii at Wigmore Hall April 1 2017
I look forward to seeing Nobu on stage in Wigmore Hall on April 1 and will share my experience here in due time=>
Nobu at the Wigmore 2017 -- eyewitness account
♪ March 26 3月26日 (日) 14:00 【静岡】静岡市清水文化会館マリナート大ホール [Shizuoka] Shizuoka Shimizu Cultural Center Marinato large hall (1513 seats)
This short tweet from Shizuoka, among many, tells the story of yesterday's recital:
 辻井伸行さんの生演奏😭✨
3回目なのに泣いちゃった😭
感動。しびれた。
"Mr. Nobuyuki Tsujii live. I cried three times. Moved. Going to bed now."

Nobu performed the same 3 encores: Farewell, House of Wind, and La Campanella. This was the next-to-last recital on this Japan tour. Next stop: Hokkaido
.

And, from
Shinobu
:
辻井伸行日本ツアー静岡公演。マリナートでの演奏は初めてとのことです。「昨日静岡入りしておいしいお刺身と桜えびを食べました。静岡でまた公演をしたいです」と今日もお茶目なトークで会場をわかせました。ラカンパネラが始まるとかなり盛大な拍手が起こりました。皆様待っていたのですね
Nobuyuki Tsujii Japan Tour Shizuoka Performance. It was his first time to play at the Marinert.
Today he gave the crowd a a playful talk. "Yesterday I ate delicious Shizuoka sashimi and shrimp. I would like to perform again in Shizuoka. "
When La Campanella started, a big applause applause occurred. Everyone was waiting for that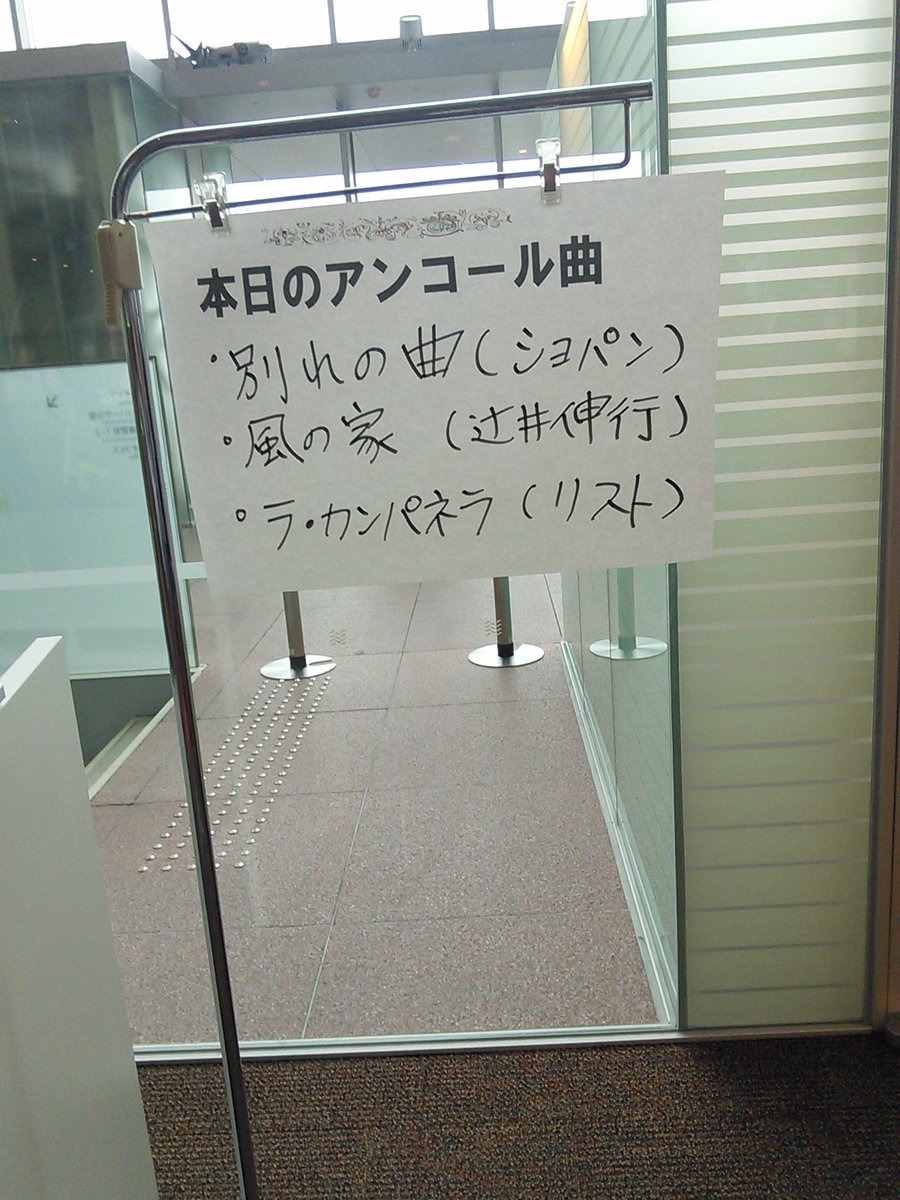 ♪ March 25  Nobu on stage in Paris this October  <= NEW GIG

Exciting news! This came up just today:
Nobuyuki Tsujii recital @TCEOPERA
Theatre de Champs Elysees
Paris
http://2018.theatrechampselysees.fr/saison/recital/recital-instruments-musique-de-chambre/nobuyuki-tsujii
The young Japanese pianist, a star in his country and a rising star in the world scene,  in a fiery and romantic program.
Programme
Beethoven Sonata No. 8 op. 13 "Pathetique"
Sonata No. 30 op. 109
Chopin Twelve Etudes op. 10
Liszt Feux-follets, Harmonies du Soir, Mazeppa (extracts from the Transcendental Etudes)
Blind from birth, Nobuyuki Tsujii learned the piano strictly by ear, with the help of his family and loved ones. Winner of the Van Cliburn Competition in 2009, he dazzled the jury with his interpretation of the Chopin etudes.  Of him, the dean of the pianist office Menahem Pressler said: "I have the greatest admiration for him. God took his eyes but gave him physical and musical gifts that allow him to master the greatest works of the repertoire."  Here is finally this musician with the sonority of gold in his great Parisian debut and his repertoire of predilection.

This is Nobu's second recital in France, 3 years since his
France debut recital at the Louvre, April 17, 2014
More at
Nobuyuki Tsujii in France, October 2017

♪ March 24  Cherry Trees are blooming in Japan
Mrs. Tsujii wrote today
on her blog
:
"Yesterday, the flowering declaration of the cherry blossoms in Tokyo was announced.
The other day I took this photo of a cherry tree at Meguro Immortals on my way back from my grandmother 's grave.
Is the peak of O hanami [flower viewing] next week? I am Looking forward to it."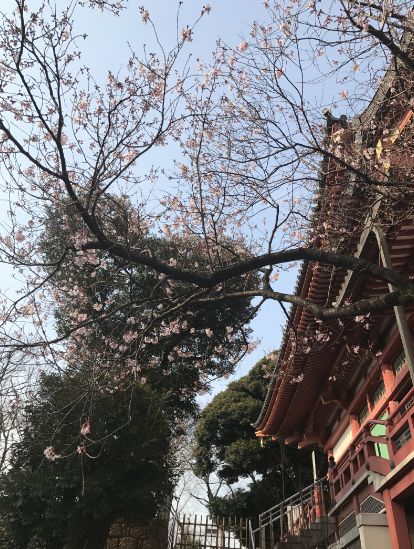 I immediately thought of a piece that I posted about this time last year =>
The Cherry Trees bloom in the heart of Mr. Nobuyuki Tsujii
London Philharmonic Orchestra
; playing Bach; kneading clay objects
"I am feeling a change in expressions because I have grown older. I have more sensitivity now than when I was at age 20. Also when a work is played at first, there is a tendency to become excited in the performance and just wanting to go on stage [to show off]. But in recent years I have been able to keep calm ... while keeping up with my youthful energy."
"in 2013, when I was touring with [Vladirmir Ashkenazy], I heard him practicing Bach's Italian Concerto one day when he was free, and I realize that even someone like him is still practicing Bach, so I chose to play that work with this recital tour.
"The feeling of clay is pleasant, and the feeling of the fingers when making shapes by turning the potter wheel is somewhat similar to playing the piano. "

More at => Nobuyuki Tsujii interview -- ぶらあぼ March 18 2017