We are also on facebook, twitter and blogspot
♪ Nobu's next public performance is the 9th performance on his Bach/Mozart/Beethoven Japan Recital Tour:January 18 18:30 岡山県 Okayama Prefecture 岡山シンフォニーホール Okayama Symphony Hall
Comments about the January performances on this tour are collected here =>
2016-17 Nobuyuki Tsujii Bach- Mozart-Beethoven Recital Tour Photos & Comments - Part 2
♪ January 15 "The amazing career of Nobuyuki Tsujii and his actual ability"

This Japanese article, entitled "A blind pianist! The Amazing career of Nobuyuki Tsujii and his Actual Ability," was first posted on September 2 2016, and has been re-posted today (January 15 2017).
The original article can be read here:
http://akogaresan.net/tujii-nobuyuki/
The article says, partly:
I am not qualified enough to detect errors in piano playing and such. However it seems that people who knows something about music made certain comments.
On the web, these people made these critical comments: "student level", "frequent mis-touches", "gold medal of power."
However, a decent person that I know, who plays the piano, says although his piano playing is not perfect in technique, it has considerable merits.

"Technique is the easier part of piano playing. In his playing of more difficult works, there is a tight feeling. But the tone colors that come from his pure heart and the melody that resonates with you is not something that can be generated by design, but it can be felt immediately when he plays."

In this way, what matter is not being able to play to the score and reaching a certain level of proficiency, but "being able to express oneself" can be considered as the ability of the individual.
In that sense, Mr. Tsujii offers a unique expression in his performance. I think the question is whether the performance resonates in the audience's mind.
So, when listening to Mr. Tsujii, some will find faults and others think he is wonderful. Those who are a good match with him will always be fans and keep listening, no matter what.
Mr. Tsujii's ability as a pianist is not decided by the reactions around us, but I think that it is right that he is evaluated by how he is heard.

My take on the article? Read here => "The amazing career of Nobuyuki Tsujii and his actual ability"
行って来ました。
辻井伸行さんピアノリサイタル
大分グランシアタ。
今回はOBSの先行予約で
左サイドバルコニー席
1階全部と2階センターが
S席6800円
この左サイドバルコニー席は
A席5800円
なかなか良いお席です
I went to the Nobuyuki Tsujii Piano Recital at the Oita Grand Hall.
This time with OBS pre-order ... I got quite a good seat
その昔
バッハのイタコンが大好きで
いつも弾いていたから
私といえばイタコン3楽章と
同級生は言います。
だからこのプログラム楽しみでした
でもベートーベンが1番良かった。
「熱情」。
Long ago I loved  Bach Italian concerto
I always played it.
A classmate and I would talk about the 3 movements
That's why I enjoyed this program
But Beethoven was the best.
"Apassionata". .
アンコールも良かった。
アンコールであんなに必死に拍手し続けたの久々。
TVで何度か観た辻井伸行さん作曲の
「海の家」は生で聴くとさらに綺麗
早速楽譜ネットで注文しました。
久々にCDも2枚買いました。
好きな曲ばかり。
Encores were also good.
It had been a while since I kept clapping so desperately for encores.
A song composed by Mr. Nobuyuki Tsujiiand  which I watched on TV several times,
"House of the sea [wind[" is more beautiful when listened live.
I immediately ordered the score on the web.
I bought two CDs after a long absence.
Only favorite songs
これもいずれ買おう
Let's also buy this one
行って良かった。幸せ。
It was good to have gone. happiness.
♪January 10 Where is Waldo?

Cute cover photo on this magazine published by the Tokorozawa MUSE concert hall, about their 2017-18 performance lineups. Someone spent a lot of time preparing this photo!
The photo shows a bouquet of performers, and Nobu is among them. See if you can spot him!
https://twitter.com/Tokorozawa_MUSE/status/818643750113005568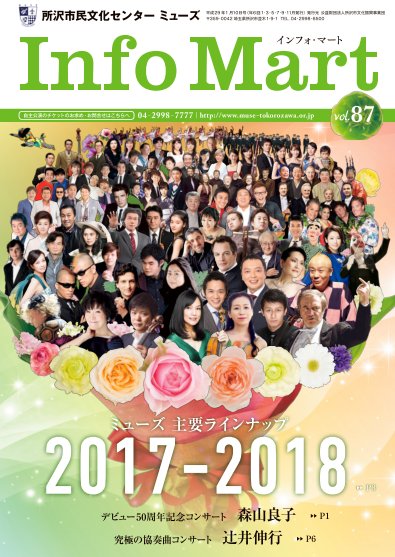 ♪ February  2  "Untitled Concert" TV program public recording session (I misstated previously that this is a Feb 2 broadcast)

Nobu fan Yuki tweeted with a photo
https://twitter.com/yuki171208021/status/818308665874579461
2/2収録の「題名のない音楽会」に辻井伸行出演とある😀 他にも豪華な方々が✨ 何を演奏されるのか、今から放送が楽しみ🎶 観覧者募集中 http://www.tv-asahi.co.jp/daimei_2015/sphone/Viewing/
There is a Nobuyuki Tsujii  appearance "Untitled Concert" to be recorded on 2/2.  Along with many gorgeous people.  What will he be playing?  I m looking forward to the broadcast.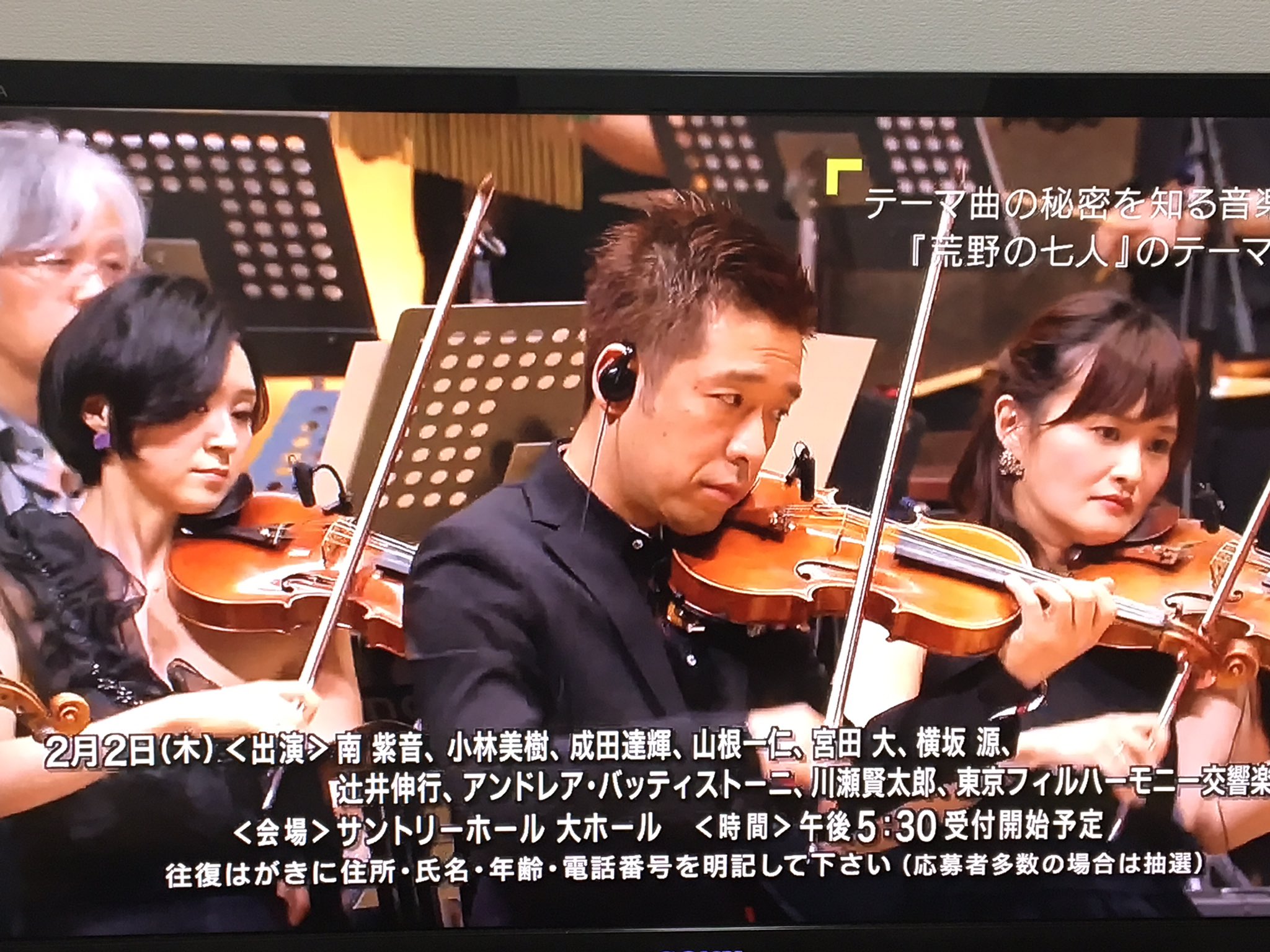 And Suntory Hall tweeted about the recording to take place on February 2, at that hall.  Application for attending the recording session are due by January 17.
Nobu's name is listed with a bunch of other performers and the Tokyo Philharmonic Orchestra. This recording session comes just before Nobu's  Europe tour in February. 
http://www.tv-asahi.co.jp/daimei_2015/contents/Viewing/
The
Untitled Concert
is a popular classical music weekly program in Japan.  Nobu appeared on it last year, and this may just be a re-play of that appearance.  In the photo,
 ♪ Nobu article in the next issue of the "Family Illustrated" magazine.

The editor of the 『家庭画報』 magazine tweeted:

次号は『家庭画報』創刊60周年記念号!感謝を込めた特別企画満載でお送りします。
http://www.kateigaho.com/sp/information/information/20170106_2825_1.html
… #京都 #シャンパン #ヴァチカン #雛まつり #岸惠子 #ホテル #スパ #上橋菜穂子 #辻井伸行 #バッグプレゼント
The photo shows an article titled "Nobuyuki Tsujii, Music's Traveler". This is the article mentioned in a recent blog (Dec 22 2017) of music writer Yoshiko Ikuma
♪
January 3 
Watch the New-Year-Day special ...
Happy news! If you wish, you can watch the New-Year-Day special about Nobu on your computer.
Part 1
=>
here
Nobu performs Debussy/Ravel/Chopin/"Still we live on" in the Australian Parliament House; school visit; Opera House harbor walk; steering a tall ship.
Part 2
=>
here 
Nobu rehearses then performs Beethoven's Piano Concerto No . 3 with the Sydney Symphony Orchestra and Vladimir Ashkenazy.                                     

This is a beautiful production, a real privilege to get to see it.  I only wish they had not  (i) skipped the beautiful movement 2 of the concerto  and (2) dubbed over the English narration of Ashkenazy and the concert master.
Here is a screen grab of Nobu in performance. In the background, seated in the center of the first row, are three of Nobu's top fans, Yours Truly included (we are the ones dressed in dark colors behind the bassoons.)
♪ January 5 "His performance attracts people not only because he is a blind genius, but ...

A blogger
who caught the
rebroadcast of the Fuji-TV special about Nobu in New York wrot
e:
http://blogs.yahoo.co.jp/keiko501221/34647312.html
彼の演奏が人を惹きつけるのは、盲目の天才だからでなく、心から楽しんで演奏しているのが伝わってくるからでしょう。
His performance attracts people not only because he is a blind genius, but also because he enjoys playing from the bottom of his heart,
共演のオーケストラメンバー、観客もブラボーの嵐でした。
There was a storm of bravos from the orchestra members and the audience [in Central Park].

More comments about the show here =>
http://mlliu2006.blogspot.com/2016/09/nobuyuki-tsujii-new-york-2016-fuji-tv.html
♪ Upcoming Concerts
♪ Notable web postings - January 2017