We are also on facebook, twitter and blogspot
Nobuyuki Tsujii will travel to the USA in October and Europe in November.
The good news: ...
Welcome to America, Mr. Nobuyuki Tsujii!

♪ October 10
Found this on the web too late to be of use, but Nobu and his manager Mr. Asano were featured on a Tokyo FM radio show
http://yohirai.blog.jp/archives/45099758.html

東京FM コミュニケーションズグループ  音楽専用・衛星デジタルラジオ "ミュージックバード"

2015年10月10日(土) 18:00 

プロデューサーの部屋  第219回

<平井洋のウィーン便り(後篇)>

出演:平井洋  インタビュー出演:浅野尚幸、辻井伸行、吉澤京子

Tokyo

FM

Communications Group

dedicated music

-

satellite

digital

radio

"

Music

Bird

"




October 10, 2015

(

Sat)

18:00




"Producer

's Room

"
 

# 219

edition


<

Hiroshi

Hirai

--

Vienna

news

(follow-up episode

)

>




Cast:

Hiroshi

Hirai

  

Interview

c

ast:

Naoyuki

Asano

,

Nobuyuki Tsujii

,

Kyoko

Yoshizawa

2015年10月10日

辻井伸行や職場ウィーン国立歌劇場に日夜通っている人のお話

今週のプロデューサーの部屋は先週の続きで、2015年5月収録のウィーン便り後半です。この10月の就任祈念に先立って、佐渡裕&辻井伸行がトーンキュンストラー管弦楽団と共演した定期演奏会の楽屋から。

October 10, 2015

Story of of someone who is with Nobuyuki Tsujii day and night, and one who works for the  Vienna State Opera

This week continues from last week's of recordings from May 2015 in Vienna. We hear am omterview in the dressing room of a regular concert performed by Yutaka Sado and Nobuyuki Tsujii,  held prior to the inauguration of Sado as director of with Tonkünstler Orchestra.

辻井伸行さんご本人のお話では、ペテレンコ、アシュケナージとも共演したこのプロコフィエフの3番についてが中心です。あのピアニストアシュケナージの棒でプロコフィエフを弾いて、それでリピートを重ねているのですから、それだけでも大したものですね。

Tsujii Nobuyuki said even though he has already performed the Prokofiev third under the batons of Petrenko and Ashkenazi, this performance is still a very big deal.

その辻井さんに世界中同行しているエイベックスの浅野さんのお話も貴重だと思います。日本の音楽関係の会社でロンドンに本拠地を持ち制作しているのは珍しくて、そのあたりもうかがいました。

Also valuable is a conversation with Mr. Asano of Avex, who escorts Tsujii around the world.

We ask him about the unusual practice of the London office established by the company to promote music relationaship with Japan.

...

The program also played sound tracks from Nobu's "Emperor & Coronation" CD recorded with the Orpheus Chamber Orchestra, and the ending theme of 

Maestro

!

composed by Nobu


♪ October 8
NBC Nagasaki

  As of today (October 6), tickets have sold respectably well at all three performancesposted this short video 

Tsujii Nobuyuki concert Sasebo Arcas advanced sale

to promote Nobu's 2016 Chopin recital




♪ October 7 FIVE Nobu CDs on Billboard Japan classical chartBillboard JAPAN

tweeted:

【News】辻井伸行ベストアルバム『THE BEST』が第1位、他全5枚のアルバムが同時チャートイン

http://ift.tt/1OkAYXi

Nobuyki Tsujii's "The Best" album tops the classical chart, with 5 CDs in total on the chart all at once.
 今週のBillboard JAPAN Top Classical Albums第1位は、ピアニスト辻井伸行による『THE BEST』が22回目のチャートインを記録した。2010年~2013年に録音した音源の中からセレクトしたベスト・アルバムとなっている。さらに、5位 に『ラ・カンパネラ~ヴィルトゥオーゾ・リスト!』、11位に『debut』、18位に『神様のカルテ ~辻井伸行 自作集』、20位に『辻井伸行 印象 派コレクション~テレビ東京「美の巨人たち」テーマ収録』と5枚のアルバムがチャートイン。9月28日放送のテレビ朝日系列『Qさま!! 特別編・葉加瀬 太郎の音楽ハカセ』3時間スペシャルに出演し、注目が集まっている。

This week, topping Billboard Japan classical chart is Nobuyuki Tsujii's album "The Best", its 22nd times appearing on the chart.  The album comprises recordings from 2010 to 2013.  In 5th place is "
La
Campanella
-
Virtuoso
Liszt
," "debut" at 11th place, "God's medical chart ~ Nobuyuki Tsujii original compositions" in 18th place, and "Nobuyuki Tsujii Impressions" in 20th place.  All told, there are 5 CDs of Mr. Tsujii on the chart this week.  On September 28, Asahi-TV broadcast "Q-sama! Special edition featuring violinist Taro Hakase.

♪ October 4
The
Japan Society of Northern California
shared this 
facebook posting
  by Tokyo TV|東京テレビ
There are LOTS of tickets still available, although the choice seats are gone.  Herbst Theatre seats 900 people.  In Japan those tickets would have been long gone.
♪ October 14 6PM Berlin Germany
Peter Rosen's film "Touching the Sound The improbable journey of Nobujuki Tsujii" will be screened in the Berlin Philharmonic Concert Hall
- With German Subtitles
http://www.berliner-philharmoniker.de/en/concerts/calendar/details/22526/
♪ October 17 San Francisco USA

♪
October 20 Los Angeles USA
Nobuyuki Tsujii in Los Angeles Oct 20 2015   - 
Tickets  here

Nobuyuki Tsujii Piano Recital
Tuesday, October 20 8:00PM
Aratani Theatre
image via
Internet link
♪ October 21 Japan
Nobu's next new CD is "Chopin Sonata No. 2 & 3" -- release date October 21 (3 day before the Fuji-TV "Nobu in Austria" special - surely not a coincidence.)
CD ピアノ・ソナタ第2番、第3番 辻井伸行  <==
NEW CD
AVCL-25879
発売日:2015/10/21
http://www.clinck.co.jp/merurido/dtl.php?ky=AVCL25879
Billboard Japan listing
HMV Japan listing
Amazon Japan
Sonata No. 2 was recorded in Tokyo in Kioi Hall this past June under Teldex Studio's sound engineer
Friedemann Engelbrecht.
Sonata No. 3 was recorded in Berlin in 2014 at the Teldex Studio under Mr. Engelbrecht.
AND, it seems this CD can be pre-ordered from Amazon USA
http://amzn.to/1M7IYr7

♪ October 23 Boston U.S.A.Nobuyuki Tsujii in Boston October 2015
https://www.berklee.edu/events/music-and-vision <==

free event


Nobu will appear in a symposium on the campus of Berklee College of Music in Boston


Sound Vision: Music and the Visually Impaired

Friday / October 23, 2015 / 9:00 a.m.

(symposium start time -- Nobu's appearance will likely starts much later.  And he is likely to play a few pieces on the piano.)

♪ October 24 Japan

The long-awaited BS-FUJI TV documentary about Nobu performing in Austria last May will be shown on October 24 19:00.
The Japanese title is "
Tsujii Nobuyuki × Austria
-music capital Vienna; moments of trembling of the heart."

<BSフジサタデースペシャル>
10月24日(土)19:00~20:55
『辻井伸行×オーストリア』
〜音楽の都ウィーンの心を震わせた瞬間
http://www.bsfuji.tv/top/pub/tsujii5.html
English translation 
here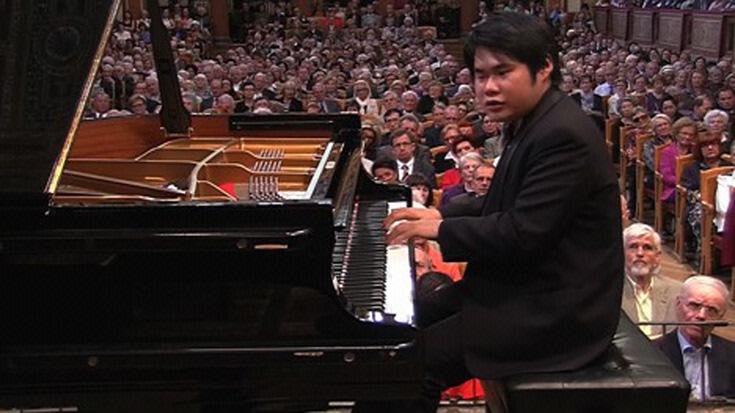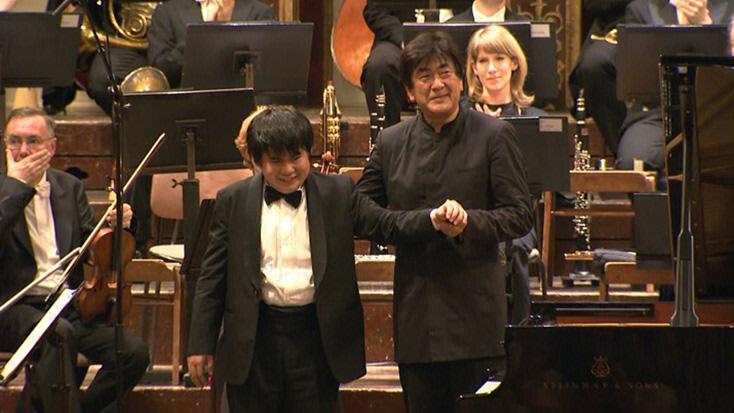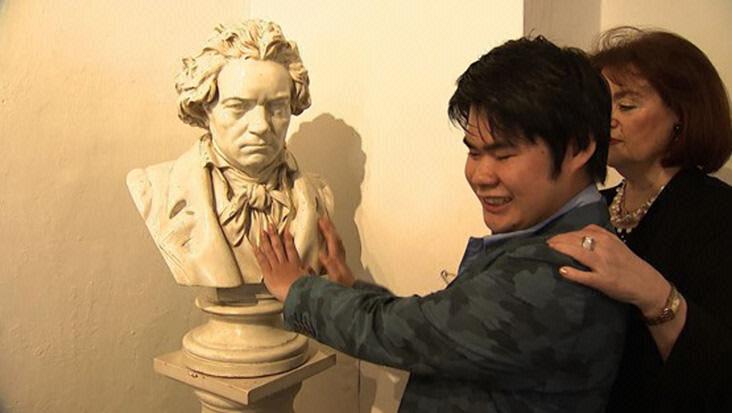 I find this photo of Nobu touching a statue of Beethoven deeply moving.
♪ October 25 Boston, USA
Nobuyuki Tsujii in Boston October 25, 2015

Nobuyuki Tsujii performs in Boston's
New England Conservatory
's
Jordan Hall
(1,029 seats) this October! <-----
New Concert
Nobu will play Beethoven's "Emperor" concerto at the season-opening concert of the
Longwood Symphony Orchestra
, whose members are "primarily healthcare professionals" and whose performances raise fund for community services.
Tickets Info here
and also on the website of the
Japan Society of Boston
http://www.japansocietyboston.org/event-1995053
(discounts available for members of Boston Japan Society)
Nobu will attend a screening of "Touching the Sound" while in Boston, and there may be other activities.

The
Longwood Symphony Orchestra
performing in 
New England Conservatory's Jordan Hall --
image via
Internet link
♪ November 4 Munich Germany
Nobu performs Beethoven's "Emperor" with Valery Gergiev & the Munich Philharmonic at the Gasteig, Munich. 
Munich ticket
This performance is one of three that Nobu will give in Europe this fall: See
Nobuyuki Tsujii in Stuttgart/Munich/Basel, Fall 2015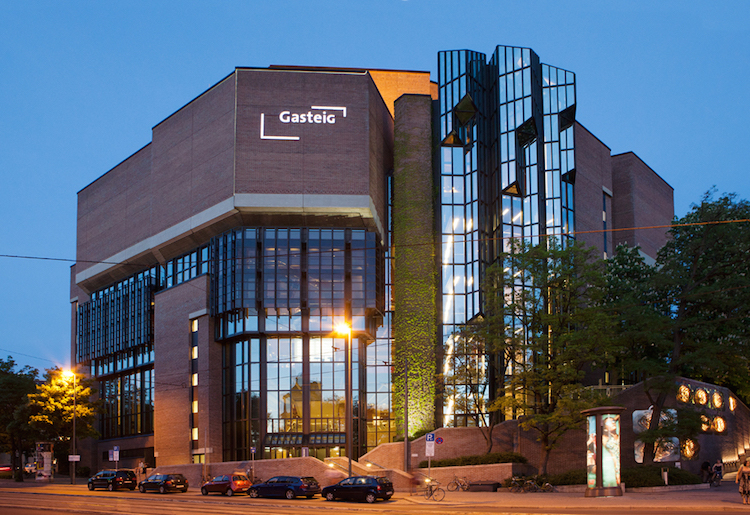 The part in which Nobu appears can be seen in the video below.

I can't understand the Japanese dialog, but Miyuki of Hiroshima wrote:
"Nobu is so sweet, funny and smart and the conversation between him and Mr. Hakase was so enjoyable. I especially got a kick out of what he said about the Cliburn competition - he said he never thought that he would win the 1st prize, but he thought 'maybe I might win the 3rd prize.' Isn't it amusing or what?"

Please click each link to read these sections on a separate screen - the links are also in the sidebar to your left