Debussy-Ravel-Chopin Recital Japan Tour
, there are no more public performances scheduled this month for Nobu.
Perhaps it is time for him to buckle down and learn those 3 new concertos that he is slated to perform this year:

The next public performance is:

♪ March 18 Tickets for
Concert ticket sales in Japan works in mysterious ways (this is why I don't travel to Japan for Nobu's concerts).
The Oct 31 concert of Nobu with Mo. Kent Nagano & the Hamburg Phil (Liszt Piano Concerto 1) サントリーホール is apparently a hot ticket.
presale tickets have sold out; next up is "lottery pre-sale tickets", starting March 24, followed by "general release" on April 13.
Ticket buyers pay extra fee for the presale tickets.
Lucienne (Trumpet)
2019/03/18
Fresh trumpet star from France
Trumpet player Lucienne, from France, is currently getting a lot of attention from the world. She was born in 1999. She studied jazz and classical music at the Paris National Academy of Music and has won various competitions, and in 2017 she signed a contract with Warner Classics at the age of 18 and released her debut CD "The Voice of the Trumpet." Lucienne will be on a Japanese tour with pianist Nobuyuki Tsujii, and will play Shostakovich's piano concerto No. 1 and Haydn's trumpet concerto.
"I think it's really an honor to be able to perform with Mr. Tsujii. I listen to his performance on YouTube, and he is a unique pianist. I'm looking forward to the tour. I have played the work, and I will have to play it convincingly so that the whole story flows. " This concerto features a beautiful trumpet solo in the fourth movement....

Her Japan tour with Nobu and conductor Patrick Hahn takes place in July.
♪ March 17 Taiwan Epoch Times Promotional article
An article appears in Taiwan's Epoch Times 大纪元 , with several photos from
Nobu's performance with the Orpheus from their Carnegie Hall concert last fall
.
http://www.epochtimes.com/gb/19/3/16/n11117948.htm
[Translated from Chinese]
天才视障钢琴家辻井伸行 4月16日访台演出
Visually-impaired Genius Pianist Nobuyuki Tsujii performs on April 16th.
Nobuyuki Tsujii, a Japanese national hero, broke through physical obstacles and was the first Japanese to win the first prize of the Van Cliburn International Piano Competition. His tour in Japan in February and March was sold out. In April this year, he will perform Chopin's Piano Concerto No. 2 in Taipei with the Grammy winner Orpheus Chamber Orchestra.
A video of Nobuyuki Tsujii with the BBC Philharmonic at the UK's BBC Proms Music Festival has garnered more than five million hits on Youtube. Tsujii's performance style is simple and warm, and his skills are amazing. In his recitals, the audience is often seen to be deeply touched by his music.
More on the article and on the Taipei concert at
Nobuyuki Tsujii & the Orpheus in Taipei, April 16 2019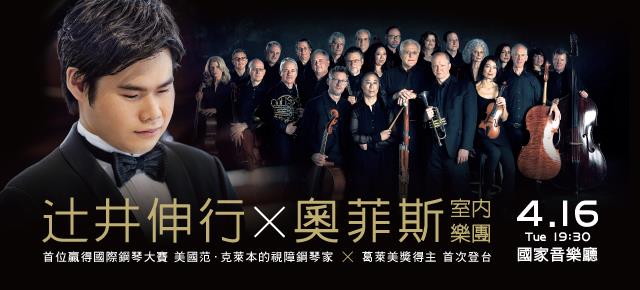 On
the pia outlet
, the concerts are tagged with "allotment sold out" quickly (although often tickets do come up again from allotments to other ticket outlets.)
Next up on sale is the Osaka concert, and the battle is expected to be fierce.
Thus far, all 3 Cliburn concerts (Fukuoka and Tokyo) that have come on sale have sold out quickly.

As of now (2 weeks prior), none of the festival concerts have sold out. Nobu's April 1 concert (Beethoven's Piano Concerto No. 2 with the
Yokohama Sinfonietta
  and  conductor
Kazuki Yamada
) has 60 tickets left (not many) at the  new
Zaryadye Concert Hall
(1560 seats) in Moscow,
The concert hall has just started broadcasting concerts live starting this month
-- although this concert is not listed on
the venue's events page
.
But, among the
list of the festival's sponsors and partners
are several radio Russian stations.
I will try to investigate if Nobu's performance can be heard online -- stay tuned.
♪ March 16
Festival Announcement Video
I found
this video clip on the Festival's home site
, apparently recorded from when the festival program was announced at a press conference in February. The footage was aired on Russian TV.
Below is a screen image only, watch the video
here.
Speaking in the video is Olga Rostropovich, daughter of the festival's namesake and the festival's artistic director.

Nobu is mentioned on the clip, which comes with the following narrative (translated from Russian):
The Jubilee X International Festival of Mstislav Rostropovich traditionally opens on March 27, the maestro's birthday. Reporters were informed of the program.
The concerts will be held at the three largest venues in Moscow - the Tchaikovsky Hall, the Zaryadye and the Great Hall of the Conservatory. The festival will open with the performance of the Honored Band of Russia of the St. Petersburg Philharmonic Orchestra. Conductor - Yuri Temirkanov. Among the festival's participants are the orchestras of Teatro Real, the National Academy of Santa Cecilia, and the Yokohama Symphonietta, conducted by Kazuki Yamada. Among the soloists is the Japanese pianist and composer Nobuyuki Tsujii.
"I heard about this pianist from the Van Cliburn Competition, which awarded him the first prize at their 13th competition. This pianist is exceptional - he is blind since birth and has a unique talent. As for the Yokohama Sinfonietta Orchestra: Their Conductor Kazuki Yamada, when he came here the last time, was surprised at my question that his choir sings without notes. He said that they also play all of Mozart's symphonies without notes. I did not believe it, and he said: if you do not believe, invite us and we will show you. On April 1, Mozart's Symphony No. 39 will be performed without notes, as he promised me. I hope he will fulfill this promise," said Olga Rostropovich, artistic director of the festival.
Last time I checked, only wheelchair seats remain for
that concert
.
But I want to bring attention to another appearance of Nobu there, on the day before the concert -- April 12 -- where he will appear on stage in conversation with two professors from the prestigious university.
Speaker: Nobuyuki Tsujii
Moderator: Dr. Giorgio Biancorosso, Department of Music, HKU
Moderator/Interpreter: Dr. Yoshiko Nakano, Department of Japanese Studies, HKU
Nobu rarely appears in this type of events even in his native Japan, although I personally I have attended and enjoyed two of them in the U.S. (in Boston 2012 and California 2015).
The original article, in Japanese, is available at
https://www.parasapo.tokyo/gojournal/issue03/column01/
A full English translation can be found at
Tokyo GO Journal intervews Nobuyuki Tsujii, March 2019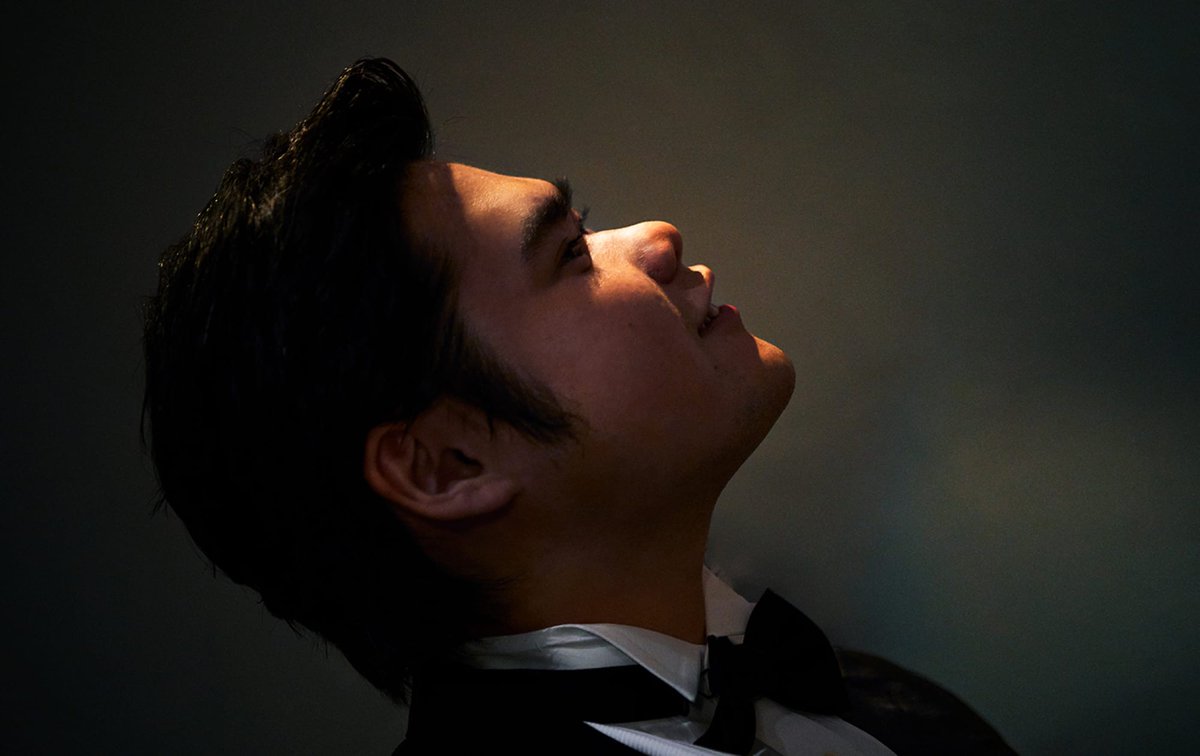 Image: One of the many photos in the article.  Nobu, in close-up profile, looking skyward.
The interview took place back back in December, and the interviewer is 中島 さち子 | Sachiko Nakajima, a jazz pianist & mathematician.
There is an interesting paragraph at the end of the interview.
Interviewer: Personally, I would like to see you at the opening ceremony of the Paralympic Games.

Nobu: Such a collaboration would be good. The Paralympic Games and the Olympics are separate, but I want to do something that we can do together. I think it's important for people with disabilities and people without disabilities to work together. My mother used to take me to the museum from a young age to explain the pictures, and also to the fireworks. I think it is important for the sighted to share experience with the blind. I think music is a field where disabilities do not matter. It is my dream to connect sightless and sighted people with music.

We have read something similar before, but this is first time that I noticed Nobu saying that it is important for the sighted to share experience with the blind, and he is more interested in connecting sighted and sightless people through music.  Instead of appearing in an event where the disabled are separate from those who are not, he would prefer "we can do something together."
Bravo, Nobu!
♪ "At one with the piano"

In the
interview
that appears in
Tokyo's GO Journal
, Nobu says:
素晴らしいピアノだと一音弾いて、「わあ、これはすごいピアノだなあ」と感じることができて気持ちがいい。ホールによっても響きは違いますし、ピアノによっても音が違います。時々、海外の古いホールや、あまり弾かれていないピアノが用意された会場にいくと、音が鳴りづらくて。そういうときは苦労します。コンサート前のリハーサルでは、ピアノと会話をして仲良くなって、お互いにやりたいことを理解し合います。そして本番ではお客さんとも一体となって音楽を共有する。ピアニストは自分の楽器を持ち歩けないので、それが不便ではありますが、いろんなホールでいろんなピアノと出会えるのは楽しいことです。
"When it's a great piano, you can play one note and feel like 'Wow, this is a great piano.' The sound differs depending on the hall, and the sound differs depending on the piano. Sometimes it's hard for me to hear the sound when I go to an old concert hall abroad where a piano has not been played very much. At such time, I struggle. In pre-concert rehearsals, I can talk to the piano to get acquainted, and understand what we want to do with each other. And in performance, we share music with the audience as one. Although it is inconvenient because pianists cannot carry their own instruments around, it is fun to play on different pianos in different halls."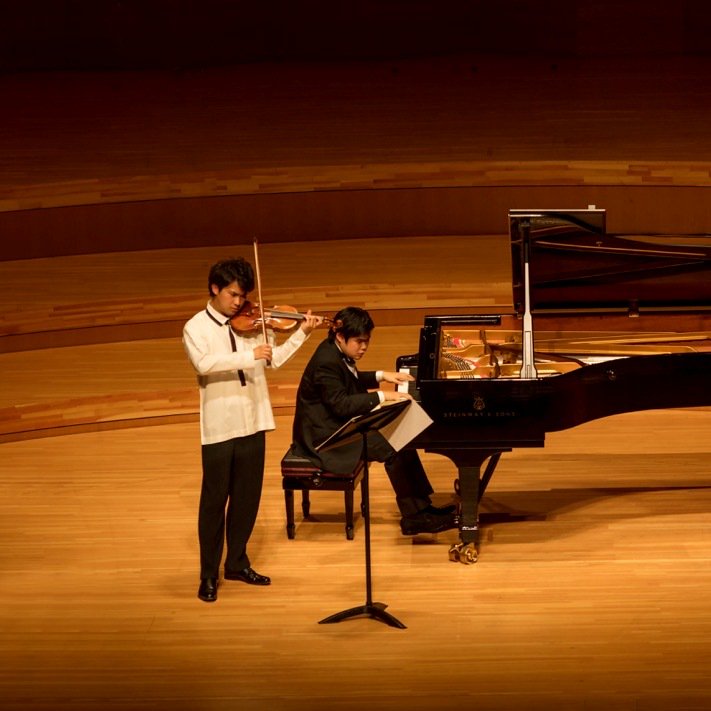 I imagine the Deutsches Symphonie-Orchester Berlin and conductor
Robin Ticciati would not be traveling to Japan for just one show, so perhaps there may be other performances of them with Nobu or Fumi.
We will have to wait to hear more! (And we will, with much fanfare, if
last year's announcement
is any indication.)