October 22  Cloudy in Sydney
A cloudy day in Sydney today, October 22. A little rainy. Temperature 64°F (17°C). Vladimir Ashkenazy, Nobu and
Sydney Symphony Orchestra
will perform their last of three concerts this afternoon at 2PM. Me and toy Koala bear "Taronga Nobu" will be going to the
Sydney Opera House
at noon.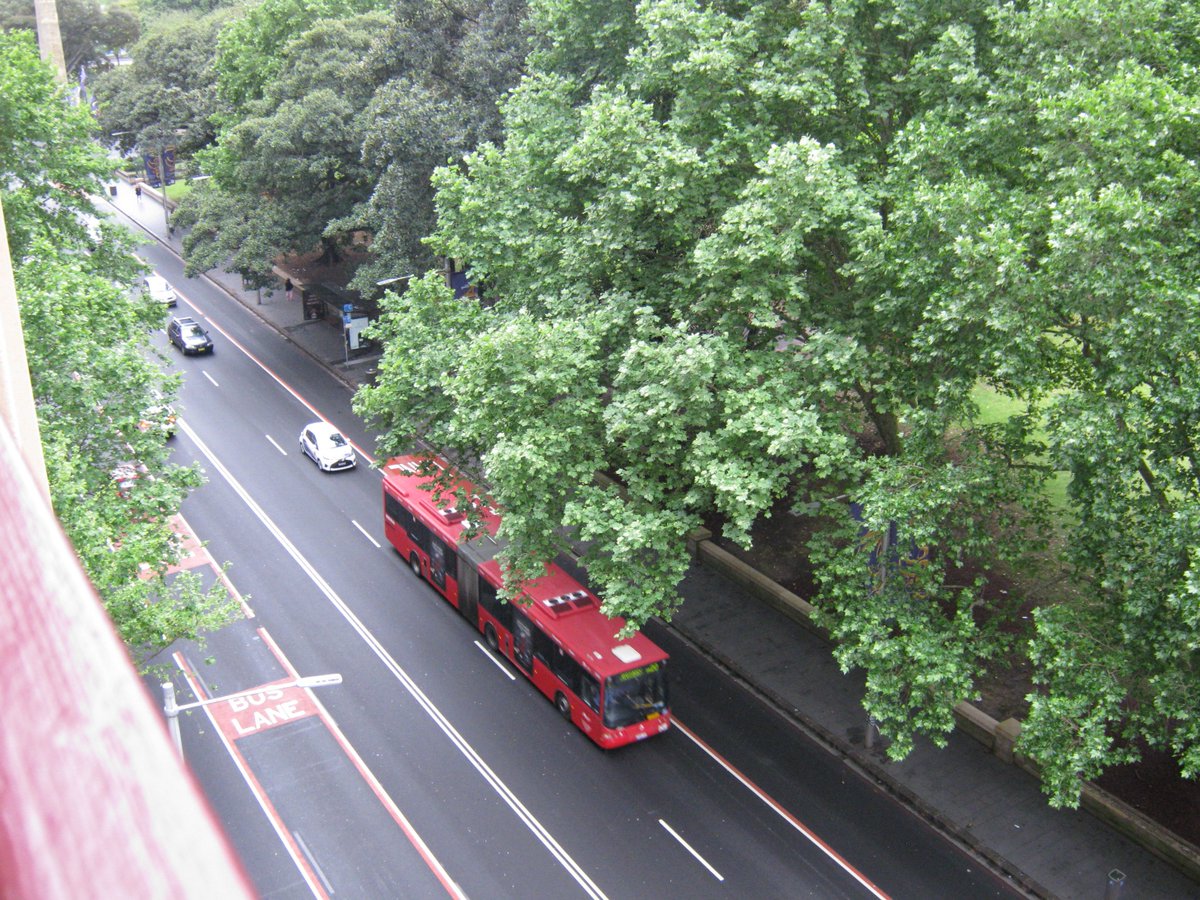 I just noticed that Mrs. Tsujii made two postings about Sydney on her blog. One about her visit to the wild life zoo in Sydney (not the same as the Taronga Zoo)
http://ameblo.jp/tsujii-itsuko/entry-12211592900.html
; the other is about the successful first performance.
http://ameblo.jp/tsujii-itsuko/entry-12211616412.html
I am running off to the concert today -- will make translation later with time.

October 21 Standing Ovation for Nobu at the Opera House
A Nobu fan who was at the concert saw the performance from this angel, and sent this report:
Firstly, I felt so sorry for Nobu, Ashkenazi and orchestra, as someone brought a baby in the concert, and baby kept making noise, so did some more kids, and a few people dropping stuff and disturbed audience a lot.
Otherwise concert was great, Nobu played Chopin étude 10-12 for encore.
Audience gave him standing ovation.
And someone
tweeted
during the intermission:
事前に全く調べてないから休憩があることも知らず。笑 白ワインで結構酔いが回る。。 ピアノは繊細で、音に没頭してるのが解る。もっと聴きたいし、楽しみたい。Nobuyuki Tsuji!!!"His piano is delicate, I was immersed in the sound.I want to hear more, want to enjoy it. Nobuyuki Tsuji!!!
"
Another eyewitness report:

辻井伸行さんのコンサートのためにオペラハウスへ。
駆け込みでチケットを取ったので、ステージの裏側しか空いていなかったけど、指揮者や辻井さんの表情がはっきり見えてそれはそれで良かったな。
とにかく辻井さんが心から演奏を楽しんでいるのが伝わって来て。自分のパートが終わってオーケストラの演奏が始まるとニコニコして聴き入っていたのが印象的。同じ空間にいられただけで幸せな気分になりました。
アンコールではショパンの革命を力強く弾いてくれました。行って良かった!
I went to Nobuyuki Tsujii's concert at the Opera House. As
As I took the tickets at the last-minute, I was relegated to the back of the stage, but it was good to clearly see the facial expressions of the conductor and Mr. Tsujii. Anyway, I thoroughly enjoyed the heartfelt performance put out by Mr. Tsujii. It was impressive to see him smile whenever his own part was over and he was listening to the orchestra. His happy mood is felt by everyone in the same space. In the encore, he played a powerful Chopin "Revolution", It was great!

BTW we were seated in the back of the stage also yesterday, but in the front row -- it was actually excellent -- there were extra leg rooms and the acoustics was not bad at all; it was interesting to see how the orchestra members react ti Ashkenazy's conducting, and, as the twitter mentions, we could see the facial expressions of Ashkenazy and Nobu very well,  except that we didn't get to see Nobu's hands. But there is another chance tomorrow ...  And, yes, Nobu did smile throughout his performance, and his joy was evident and contagious.
October 21 Evening Performance at the Opera House

It is morning Friday October 21 in Sydney. No review of yesterday's performance has come up so far. Nobu performs again this Friday evening at the Opera House. I will skip this one but return for the final performance on Saturday, I am off to
Taronga Zoo
and may bring a (stuffed) koala bear for Nobu for a photo backstage! 
And, here it is ...
picture Nobu holding this Koala Bear. With luck, that happens tomorrow.
Incidentally, yesterday I asked Nobu how he likes Sydney, and he answered "very much" without hesitation.
October 20 School Visit Concert Report on Nobu's Official Site
The Nobuyuki Tsujii Official Site has not yet posted a report for his performance yesterday, but there is a report on his Sydney school visit that I didn't notice before. "Prior to the performance at the Opera House, I was invited to visit the Sydney Japanese school. and interacted with students. Played the 'Polonaise in A-flat major', 'Cortona in the morning', and answered questions from the students. And students sang the school song to us, thank you. In return, I played 'La Campanella' and an impromptu performance of a famous Australian song ['Walzing Matilda']."  The report comes with one photo.

October 20 Free for your listening: Nobu's Central Park Concert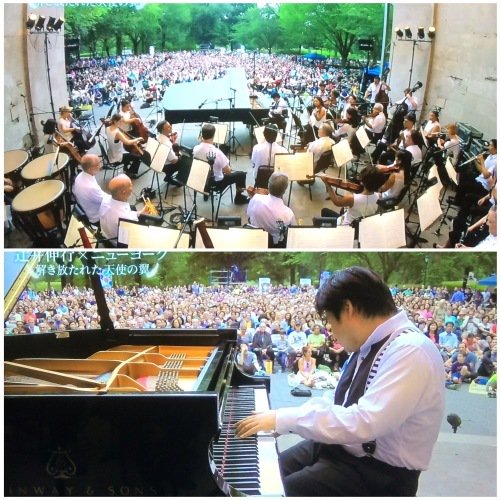 October 20 Thunderous and prolonged applause
 in
Sydney Opera House
today for Nobuyuki Tsujii, Vladimir Ashkenazy and
Sydney Symphony Orchestra
for their first performance of Beethoven's Piano Concerto No. 3
More at  =>
Nobu's Sydney debut -- eyewitness account
ABOVE and below: A fuzzy photo of Nobu being guided by Maestro Ashkenazy. They returned twice. Nobu played for encore the second movement of Beethoven's Pathetique.  We were told that Maestro Ashkenazy personally chose the piano for Nobu to perform on.
A fan from New Zealand presented Nobu backstage with a six-pack of Kiwi beers, as Mrs.Tsujii looked on
Yours Truly with Nobu, the "Inspirations" roses in his hands.
Nobu as he appeared backstage after his Opera House debut. To my question of why he chose to play Bach for his next recital, he answered "for the challenge."
In the concert program, Nobu's blindness is not mentioned.  Several people mentioned to us that they were unaware that Nobu is visually impaired.  The program also mentions that this (or one of the other two) performance will be broadcast on November 10 1PM on
92.9 ABC (Australia Broadcast Corp.) radio
, which can be listened to online.
October 18

日豪友好協力基本条約40周年を記念し、オーストラリアの国会議事堂で14日に祝賀会が開催されました。ターンブル首相を始め両国関係者200人が列席し、盲目のピアニスト、辻井伸行さんがお祝いの演奏をされました。日豪関係は今後も幅広い分野で絆を強めてまいります Photo posted by Australian ambassdor to Japan Bruce Miller: "To commemorate the 40th anniversary of the Australia-Japan Friendship and Cooperation Basic Treaty, a celebration was held on the 14th at the Houses of Parliament of Australia. About 200 people, including prime minister Turnbull, were in attendance. Blind pianist Nobuyuki Tsujii performed for the celebration. Australia-Japan relationship will continue to strengthen.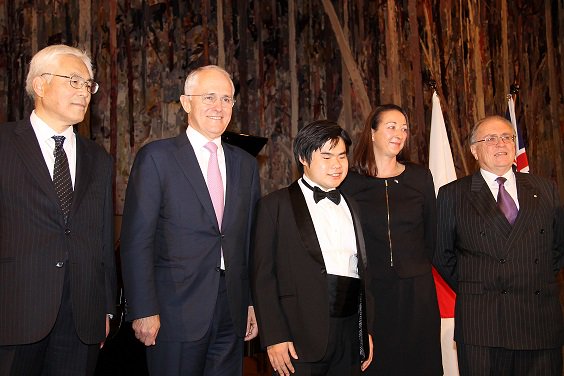 Comments and photos about the event are collected here =>
Nobuyuki Tsujj at the Australia Parliament House 2016

October 19
There is now a
YouTube video clip
about Nobu's school visit on the 17th
October 2016 辻井伸行氏 シドニー日本人学校訪問/Nobuyuki Tsujii's Visit to Sydney Japanese International School:
世界的なピアニストとして活躍される辻井伸行氏がシドニー日本人学校を訪問。生徒・児童との交流会の中で、辻井氏がサプライズで演奏されたオーストラリアの民謡「ワルチング・マチルダ」に子ども達が歌声を合わせる感動的な一場面。 "
 Pianist Nobuyuki Tsujiim who is active worldwide, visited Sydney's Japanese International School and met with students. Mr. Tsujii [performed classical works and then] the Australian folk song "Waltzing Matilda" as a surprise, to the singing of the children in an impressive scene.
♪
October 11 Set of 3 Nobuyuki Tsujii DVDs available on Australia classical music site 

This is a packaging that I have not seen before: 3 DVDs (White Night, Carnegie Hall debut, Touching the Sound
)
in a bundle for the bargain price of $45 Australian dollar (~34USD) =>
HERE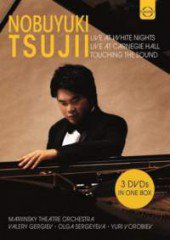 ♪ October 1 New ALL-CHOPIN CD to release on November 23
I didn't see this new CD coming, but I should have. There is usually a Nobu CD released by Avex in time for New Year presents. And I am aware that when he was in Germany earlier this year, Nobu recorded the tracks that he played on his
2016 All-Chopin Recital  JapanTour
. This CD is to release on November 23, and with tracks of Chopin's Op 10 (12 etudes) and four ballades.
The cover photo has not been revealed; it is not likely to be the one below.
http://shop.mu-mo.net/avx/sv/item1?jsiteid=AVCL&seq_exhibit_id=181246&categ_id=6056
♪ Brilliance of Venice"
A 15-second CM (commercial) of the
Venice Renaissance Exhibition in Tokyo
can be viewed here =>
http://www.tbs.co.jp/venice2016/movie/
You can hear in the background the theme music "Brilliance of Venice" composed by Nobu.