We are also on facebook, twitter and blogspot

♪
September 28
Nobu to appear on "NHK Studio Park" TV show
http://www.nhk.or.jp/sanadamaru/information/program/park0928.html
2016年 9月28日 (水)
スタジオパークからこんにちは
<出演> 辻井伸行 (真田丸紀行ピアノ担当)
<放送予定>
2016年9月28日(水) [総合] 午後1時05分~
September 28, 2016 (Wed)
Hello from Studio Park
<Appearance> Nobuyuki Tsujii (in charge of Sanadamaru Journey piano )
<Broadcast schedule>
September 28, 2016 (Wednesday) [General] 1:05 pm

On this page: You can send in a question to the show for a chance for Nobu to answer =>
https://www6.nhk.or.jp/park/guest/guest.html?aid=20160928
Image above: NHK Studio Park, Shibuya, Japan. Image source: Wikipedia
♪ September 24  A very good sign

Tickets came on general sale for the first time for a stop (Fukuoka January 9) on the
Nobuyuki Tsujii 2016-17 Bach/Mozart/Beethoven Japan Recital Tour
, at 10AM today in Japan.
When I checked just now, at 12:30PM Japan time, the
PIA concert ticket page for Nobu
was overloaded.
ただいまアクセスが集中し、つながりにくい状態です。
誠に申し訳ございません。しばらく時間をおいてから再度ご利用ください。
Home accesse
s
are concentrated
,
and connections may be difficult
We are sorry.
Please try
again
some other time
.

And now it shows
So, the popularity of Nobu's recitals remain undiminished in Japan!  However, often tickets  become available again at this outlet some time later.   But this is a very good sign.

♪ September 24 Appreciation of  Liszt's Sonnet of
Petrarch  from the Nobuyuki Tsujii plays Liszt

Yura
tweeted
: フランツ・リスト『ペトラルカのソネット第104番』 with a clip
I too love that track from the album (and I love that album). The sound quality of this clip does not do justice to it, but you can get an idea => please click
here
to listen
 I am fortunate to have heard Nobu perform this work live in Germany.
♪ September 23
The Chamber Orchestra of Europe posted

https://coeinjapan.wordpress.com/2016/09/23/the-coe-plays-for-japan/
The COE plays for Japan

On 27 September 2011, the COE's string players gave a private concert in celebration of the 50th anniversary of the European Society for Paediatric Endocrinology (ESPE) and in support of the victims of the [2011]  Japan earthquake, at the Scottish Exhibition and Conference Centre in Glasgow. The concert was directed by Lorenza Borrani and the Orchestra's Glasgow-born principal cello, William Conway. The programme included Mozart's Divertimento in D, Tchaikovsky's Andante Cantabile for solo cello, Dvorak's Serenade for strings, Bor's McMozart's Eine kleine bricht moonlich Nichtt and Heidrich's Happy Birthday Variations. This benefit concert was a great success and raised £5,300 (around €6,100) for the children of Japan through UNICEF.

In October, Nobu will go on a 
"Best of Mozart"
tour with the Chamber Orchestra of Europe
in Japan. The 10 performances are also directed by the orchestra's leader
Lorenza Borrani
.
An interesting blog post came up
: 五嶋龍氏の話と川上昌裕氏(辻井伸行氏の先生)の話
"The words of Mr.
Ryu Goto
and Mr.
Masahiro Kawakami
(teacher of Mr. Nobuyuki Tsujii)"
=>
http://piano2010.blog.so-net.ne.jp/2016-09-21
The level of Japanese writing is beyond my full grasp, but the blogger seems to contrast some negative comments by Mr. Goto with positive words by Mr. Kawakami.
I looked up the two blog posts by Mr. K cited in the article, and they turned out to be highly interesting. They were posted in the year 2010, before I was aware of Mr. Kawakami (or Nobu!)
In these posts, Mr. K speaks about Nobu candidly from the point of view of Nobu's long-time piano teacher, including why he does not admonish Nobu for rocking his body while playing, and his thoughts on Nobu's talent and personality.
"I feel I have learned from him as a human being, more than I was able to teach him on the piano."
Read here  => Mr. Kawakami on Nobu's Talent & Personality
Nobu and Mr. K in 2009, image source:
Mr. Kawakaimi's blog
This is to be confirmed -- but I will definitely keep my eyes and ears wide open on this one.

Vladimir Jurowski
conducting the
London Philharmonic Orchestra
, Image source:
http://www.classicfm.com/

♪
Brilliance of Venice"
A 15-second CM (commercial) of the Venice Renaissance Exhibition in Tokyo can be viewed here => http://www.tbs.co.jp/venice2016/movie/
You can hear in the background the theme music "Brilliance of Venice" composed by Nobu.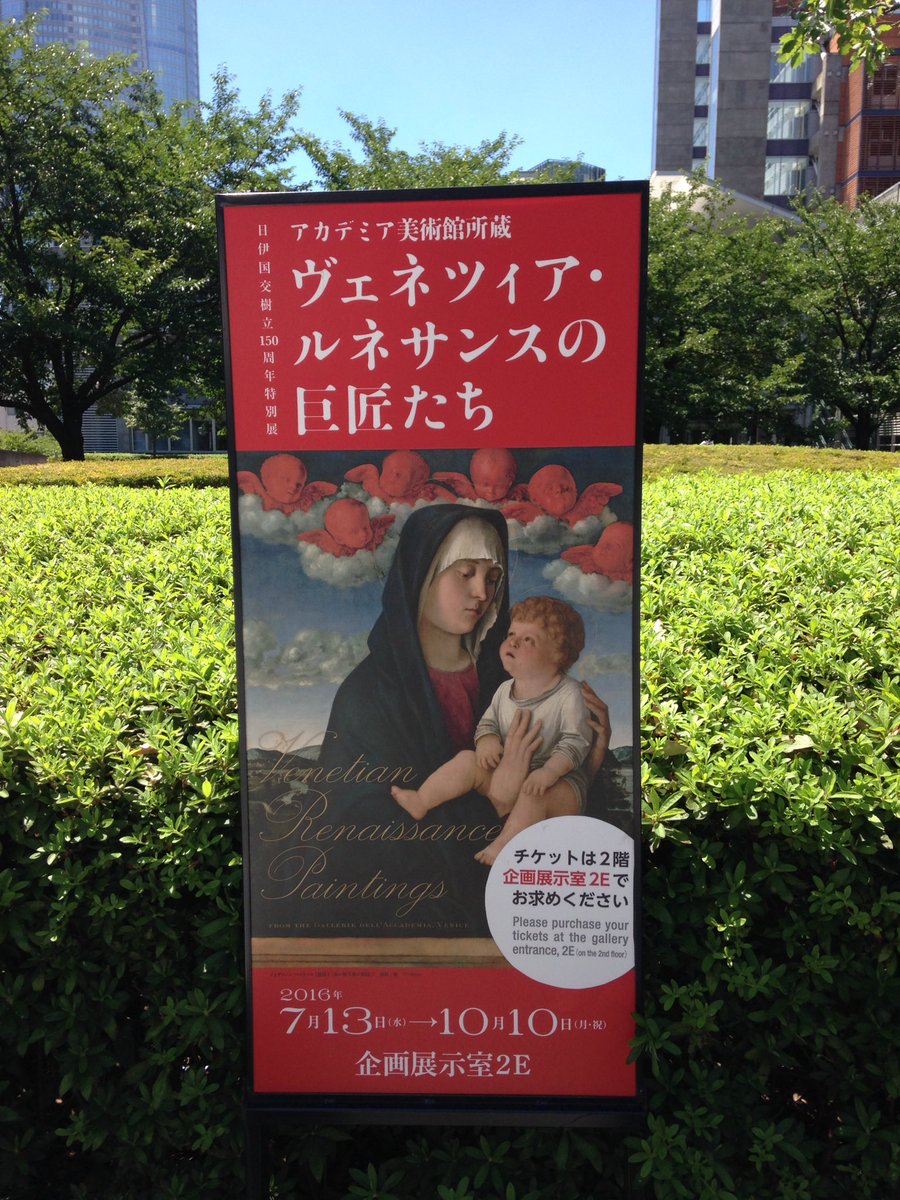 「ヴェネツィア・ルネサンスの巨匠たち」の音声ガイド、とってもおすすめ。。。石坂浩二さんのガイドが耳に心地よくて、辻井伸行さんのピアノ演奏も本当に素敵でした。いつもは情報量多くなっちゃったり壁掛けの作品解説と内容かぶってたりでガイド要らなかった~と思うのですが今回はあって良かった!I highly recommend the audio guide for "Venice Renaissance masters." . . Koji Ishizaka's narration was comfortable on the ears, and the piano playing of Nobuyuki Tsujii is really nice. I usually think there is no need for commentary on the content of the wall-mounted and the amount of information is too much, but I'm glad to have it this time!
-tweet-

-----------
♪ Upcoming Concerts
♪ Notable web postings - September 2016