♪  The Tokyo recital last night March 31 was originally the tour's finale.  However, 5 stops were added in January, mainly in the Tohoku region, from April 5 through April 14

Nobu can now rest for a week.
♪ Next performance April 5
(Sunday) 15:00
【上田】サントミューゼ 上田市交流文化芸術センター 大ホール[Ueda]  Lieda Santomyuze Grand Hall
(1,530 seats)
https://santomyuze.com/hallevent/tujii/
完売 sold out


♪ March
31 (Tuesday) 19:00 【東京サントリーホール Tokyo Suntory Hall (2,006 seats) Stop no. 18  on
Nobu's
Chopin/Liszt/Beethoven 'Appassionata' recital Japan tour - 
News, comments, photos are collected
here. This was originally to be the finale of the tour, which was extended with five more performances through April 14.
Suntory Hall
- Tokyo's primier concert hall -- image via
Internet link
As to be expected, Nobu's evening performance in Suntory Hall drew enthusiastic responses. Many tweets and blog posts have shown up, to be processed and shared by me in due time.  But Ms.
Ikuma
Yoshiko (classical music commentator) posted this on her blog:

http://blog.yoshikoikuma.jp/?day=20150331
伊熊よし子のブログ
... 今日は「毎日が発見」の辻井伸行の撮影のため、サントリーホールの楽屋に行った。....
辻井伸行は昨日のリサイタル後、2時間ほどプールで泳ぎ、食事をしてから熟睡したとか。今日の夜もリサイタルがあるが、「元気です!」といっていた。...
Since the

shooting

of

Nobuyuki Tsujii

of

"

every day

is

discovery"

Today

,

I

went to the

dressing room

of the

Suntory Hall

.

[But she did not get a chance and hence could not share a photo :-(]


....

A

fter

yesterday's

recital

,
Tsujii

Nobuyuki

swam in a

pool

for

about two hours

,

and perhaps slept soundly after

a meal

.

Although there is a

recital

this evening, he

was

saying

"

I'm fine

!

"

.
..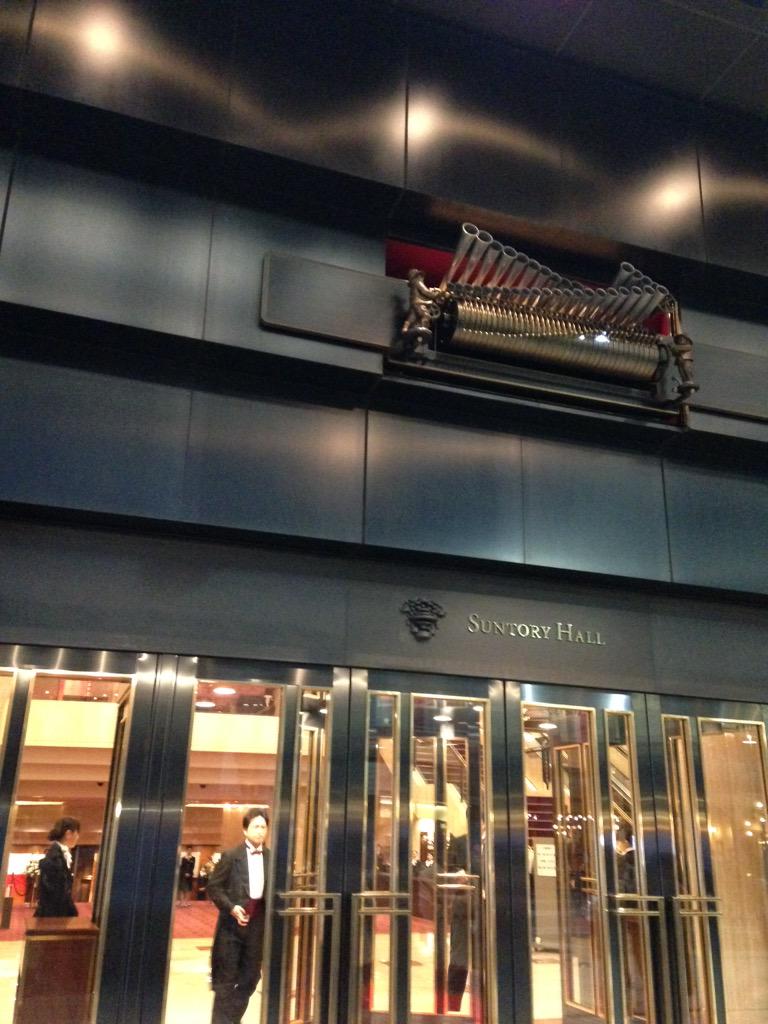 Suntory Hall, image posted on
Twitter
, before concert - you can see the famous trumpet above the doors to announce their opening to the crowd.
An exquisite flower arrangement
was on display in the lobby from well wishers for Nobu.  The sign above says:
"
Congratulation to
Tsujii
Nobuyuki
, from Avex Group
Holdings, Inc.
President and CEO
Masato
Matsuura
"

♪  March 27
As I expected, Nobu will perform with Principal Conductor
Valery Gergiev and the Munich Philharmonic Orchestra prior to their Japan tour in November.  Their performance in Munich is a subscription concert on
November 4, at which  Nobu will perform Beethoven's Piano Concerto No. 5 ("Emperor").  See Munchen Phil 2015-16 season announcement
♪  March 26
The Nobuyuki Tsujii's official site does not usually post a "recital report" when he is in Japan, but there was one today, for a special reason!
2015年3月26日(日本)
横須賀芸術劇場
2月17日にスタートした「熱情」ツアーも3分の2を過ぎました。
ここまでご来場くださった皆様にお礼申し上げます。
この日は、2009年のヴァン・クライバーン国際ピアノ・コンクールの際にホームステイさせて頂いたデイヴィッドソンご夫妻が日本にいらしていたので、コンサートにご招待しました。
ご夫妻も忙しくしていらっしゃるので、アメリカに行ってもなかなか会えません。
演奏を聴いて頂いたのは2013年2月のフォートワース交響楽団との共演以来、リサイタルとなると2009年の秋以来です。
久しぶりにお目にかかることが出来て、とても楽しいひと時を過ごしました。
March 26, 2015
Yokosuka Arts Theatre
"Appassionata" tour, which started on February 17, has now passed the 2/3 point.  I thank everyone who has come to my performances.
On this day, because Mr. and Mrs. Davidson, my host family during the Van Cliburn International Piano Competition of 2009, had come to Japan, they were invited to the concert.
Because Mr. and Mrs. Davidson are busy, it is difficult for us to get together when I performed in the United States. Since the fall of 2009, the last time we were together was in February 2013 when I performed with the Fort Worth Symphony Orchestra. It was great to see them again, and we had a very happy time together after a long absence.
♪ 
Mar 23
Even as he is in the midst of his "Appassionata" Japan tour, Nobuyuki Tsujii has another solo Japan tour lined up for this summer, featuring works by Chopin and Liszt.  The truly new work on this program is Liszt's Sonata in B Minor.  Are you familiar with it?  If not, please take a look
--
Nobuyuki Tsujii plays Liszt's Sonata in B Minor
♪ Mar 19/20
http://www.tbs.co.jp/radio/naniiro/
世界的ピアニスト・辻井伸行さんを育てられた辻井いつ子さんが、
子育てをテーマにおしゃべりしていく番組 『辻井いつ子の今日の風、なに色?』 が
4月5日(日)にスタートします!!
Mrs. Itsuko
Tsujii
who brought up 
the
global
pianist
Mr. Nobuyuki Tsujii
will host a program "
Tsujii
Itsuko
What color is the wind today?"  about child development
According to a tweet, Nobu composed a piece "What color is the wind today?" for the show.

辻井いつ子がTBSラジオ「大沢悠里のゆうゆうワイド」に生出演中。ピアニスト辻井伸行さんの子育て、4月からの新番組「ミキハウス プレゼンツ 辻井いつ子の今日の風、なに色?」のために伸行さんが作曲した「今日の風、なに色?」も紹介⁉︎ 
http://kosodate-hiroba.net
Mrs. Itsuko Tsujii appeared Live on the "Osawa Yuri" show on TBS radio.  Bringing up pianist Nobuyuki Tsujii; April new program "What color is today's wind?" introduced  with music "What color is today's wind?" composed by Nobuyuki Tsujii.
♪ Mar 13
Dear Friends in the Bay Area,
On May 1 at the Green Music Center Weill Hall in Sonoma, the phenomenal blind pianist Nobuyuki Tsujii will perform.
http://gmc.sonoma.edu/event/2123759-nobuyuki-tsujii
There will be three screenings of the film I made about Nobuyuki leading up to the performance:
March 26 at Sonoma International Film Festival
April 14 at Mill Valley Film Festival in San Rafael
April 28 at Green Music Center
If you can attend a screening and the concert, I think you will find it very rewarding.
Let me know and I'll get you comp tickets.
♪ Mar 25

Nobu's CDs has one place on this week's  Billboard Japan classical chart:
♪

More Nobu news! 
Please click each link to read these sections on a separate screen - the links are also in the sidebar to your left