Congratulations to Nobuyuki Tsujii for the successful conclusion of his tours abroad in May.

For photos & comments, please see
Things will be quiet for a while. 
Nobu is enjoying some well-deserved rest.  He has only one public
performance
scheduled for June, and then it will be July before he returns to action on the
2015 Chopin/Liszt premium recital Japan tour
.  He won't be performing outside Japan until October. 
But we already have so much to be thankful for, such as ...
♪ May 18The BBC Radio 3 podcast of Nobu's performance of Rachmaninov's Piano Concerto No. 3 in Manchester, U.K.
is there for your listening pleasure, available
through mid-June
.
Click
HERE
<--- for LINK to listen to the show on demand, available through mid-June 2015.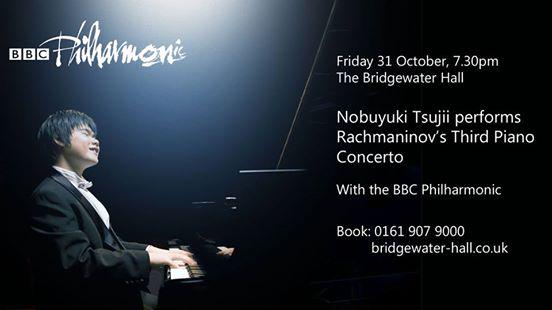 ♪ May 27
According to the  tweeter who provided the photo below, Nobu performed 3 pieces on stage last night at the
gala dinner of the Japan Society of Boston:

1.ノクターン第二番 2.ラ・カンパネラ、、、(おそらく、これ) 3.それでも、生きて行く(これは、泣けた)
[1
. (Chopin's) 
Nocturne
No.
2
.
La
Campanella
(
I think
)
3
.
Still,
we  live  on
(
which 
moved me to tears
)
]
♪ May 26

Well -- big surprise!  It turns out that today Nobu is on the East Coast of the U.S.! 
This
tweet
was posted at about midnight, by a Japanese currently in Massachusetts:
今晩は辻井伸行氏の演奏を聴く機会に恵まれた。
Tonight I was blessed with the opportunity to listen to the performance of Mr. Nobuyuki Tsujii.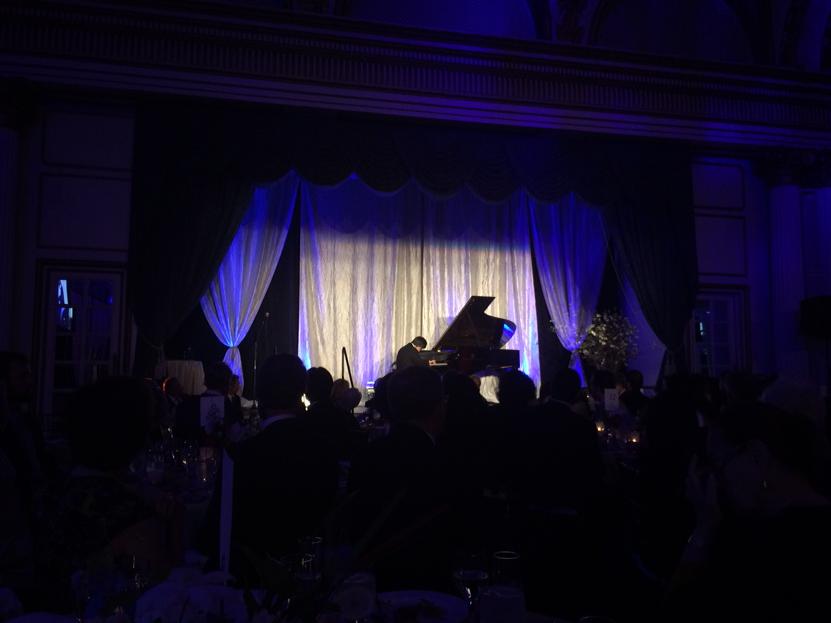 That's Nobu on stage all right, and it seems that people are standing in front of the stage.  It seems to be a small venue (which turns out to be Boston's
Fairmont Copley Plaza
).
And ... after a little investigation, I figured out that the event is the
Annual Dinner of the Japan Society of Boston
- yes, see
here
.  The gala features Caroline Kennedy (U.S. Ambassador to Japan), and Nobu is one of three "
distinguished honorees"
.
The keynote speaker of the gala was Ambassador Caroline Kennedy, here is a photo of her at the event, posted with a
tweet
that read: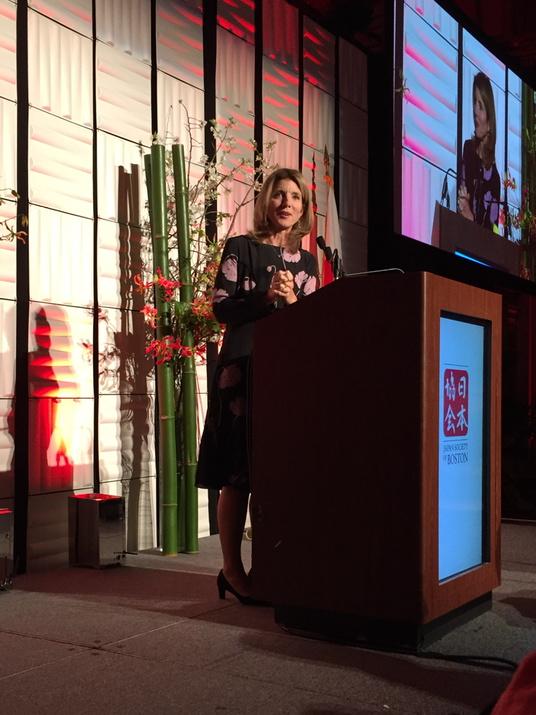 ♪ May 26Today I heard from a knowledgeable person
who commented on the
ossia cadenza
that Nobu chose for his
performance of Rachmaninov's Piano Concerto No. 3
I felt I experienced "music" of the passage for the first time
His (every) chord sound is very beautiful and stable.
So I felt he played it effortlessly.
I didn't feel he was struggling against the cadenza as other pianists did.
And as a result, the music of the passage flew smoothly and fluently.
His sound has no excess and no failure.
This is his most excellent taste of musicianship.
As we can hear in his La Campanella, too, the melody flows fluently in any technically difficult pieces.
Through such sound, excellence comes out.
I especially adore the 2nd movement of his play.
More at A Comment on Nobu's Rach 3 as aired on BBC Radio 3
♪ May 25This just in: In March 2016, Nobu will be performing Rach 3 in Germany, with the Dresdner Philharmonie, under the baton of Michael Sanderling :

These are the performances that I found on the web:
On the
website of the Dresdner Philharmonie
, Nobu is listed as one of the
Dresdner Philharmonie solotists
March 2 (Philharmonie, Berlin),
♪ May 25Nobu is no longer an IMG artist
One of the supposedly big prizes of Nobu winning the Cliburn Competition was a
management contract with IMG
(International Management Group), which started on January 5, 2012 (see this
announcement
).
I was checking on Nobu's
IMG artist page
(which had not been updated for ages and has now disappeared) and noticed that he is no longer on their list of
pianist artists
! IMG 
reportedly
has had significant personnel turnovers, including the departure of key managers such as Nobu's former IMG contact (Ms. Charlotte Lee), so this development is not unexpected. I do wonder who is now handling Nobu's engagements in Europe and U.S. Let's hope the change is all for the better.

♪ May 22
Mrs. Itsuko Tsujii
, Nobu's mother, has started her own
blog
and she posted many photos from her trip in Vienna, including this one taken -- perhaps from where she sat -- in Vienna's "Golden Hall" on May 16. 
"Without Mr. Sado, Nobuyuki would not be where he is today,
" she wrote.  For my write-up on the long-standing relationship between  Conductor
Yutaka Sado
and Nobu, please see
Yutaka Sado and Nobuyuki Tsujii
(November 2014 -- updated May 22 2014)
♪ May 22
Mo 09.11.2015 | 19.30 | Stadtcasino Basel Solistenabend 
<--
NEW CONCERT
Monday November 9, 2015| 19:30 at the Stadcasino, Basel, Switzerland.
Nobuyuki Tsujii Klavier
Frédéric Chopin/Liszt
concert info
♪ May 22
A while back we heard this music composed by Nobu for a Tokyo TV show 「美の巨人たち」 "Giants of Beauty". The music is now packaged with other recorded tracks of compositions by Debussy and Ravel -- including Sonatine, new) for a CD,
辻井伸行: 印象派コレクション CD (Nobuyuki Tsujii: Impressionist Collection
),
to be released July 22
(preceding Nobu's August tour, of course :-)
http://shop.mu-mo.net/avx/sv/item1?jsiteid=AVCL&seq_exhibit_id=141618
<------NEW CD
辻井伸行の テーマ曲「美の巨人たち」 Nobuyuki Tsujii theme music...
by nobufans
♪ May 16
A big thanks to our friend Yuko for spotting this blog post by Berlin-based Japanese bassist Toru-san, a foodie friend of Nobu. There are some great photos of Toru-san enjoying sushi with Nobu and his family at their favorite sushi restaurant in Tokyo, in April. Please click
HERE
  to see the blog post.
♪ May 14
Nobuyuki Tsujii DVD box set now available from Euroarts Music
http://www.euroarts.com/artikel/dvd/?id=006126_nobuyuki_dvd_box
Three DVDs are in the box: White Nights; Nobuyuki Tsujii live at Carnegie Hall; Touching the Sound - The Improbable Journey of Nobuyuki Tsujii
image via

Internet link
♪

More Nobu news! 
Please click each link to read these sections on a separate screen - the links are also in the sidebar to your left