【高知】高知県民文化ホール(オレンジ)[Kochi] Kochi Prefectural Culture Hall (Orange)
♪  Mar 2

http://jcc.jp/news/9322783/
03/02 07:15
TBSテレビ 【あさチャン!】
黒柳徹子、辻井伸行が語るウィリアム王子の人柄
昨日まで日本に滞在していた英国・ウィリアム王子、来日中、都内で開かれたレセプションには黒柳徹子、ピアニスト・辻井伸行ら各界の著名人が招かれた。
今回、ウィリアム王子と歓談した直後の黒柳徹子に独占インタビュー。
1985年にフィリップ殿下が来日し黒柳徹子と対談、1986年にはチャールズ皇太子妃とダイアナ元皇太子妃が来日し黒柳徹子は晩餐会に招待され歓談した。
ウィリアム王子の人柄についてピアニスト・辻井伸行も語った。
辻井伸行にウィリアム王子からサプライズがあった。
英国大使館前(東京・千代田区)、中村獅童の映像。
TBS TV "Miss Asa!"
Tetsuko Kuroyanagi, Tsujii Nobuyuki talk about the personality of Prince William
U.K. Prince William stayed in Japan until yesterday, where he was at a reception held in Tokyo.  Celebrities such as  Tetsuko Kuroyanagi and Pianist Nobuyuki Tsujii were invited.
On this show, an exclusive interview with Tetsuko Kuroyanagi immediately after chatting with Prince William.
Tetsuko Kuroyanagi spoke to Prince Philip in 1985 when he was  is Japan, and in 1986 was invited to dinner with Prince Charles and Duchess of Cornwall Princess Diana.
Pianist Nobuyuki Tsujii about talked about the personality of Prince William.  Mr.  Tsujii Nobuyuki ws suprised by Prince William.
Video of Shido Nakamura in front of the British Embassy (Tokyo, Chiyoda-ku).
♪  Mar 1
'Appassionata' Japan tour
stop 5 of 23. 
http://www.rnb.co.jp/node/59861
16:00
【松山】ひめぎんホール メインホール[Matsuyama] Himegin Hall main hall
(up to 3,000 seats!)
Out friend Miyuki will be there!  News, comments, photos are collected
here
.
松山】ひめぎんホール メインホール[Matsuyama] Himegin Hall main hall
- image via Internet link
♪  Our friend Miyuki traveled a long way to be at this concert, and took the time to write to share her experience:

... But I have to say it was all worth the travel - I enjoyed Nobu's recital as always.
His Nocturnes were lovely with sensitive tone and I enjoyed his beautiful Barcarolle with which he took his time compared to his earlier performances. Then I was struck by his powerful, demonic performance of Mephisto Waltz. It was much more exciting to hear it live than CD and I heard some people saying "すごい" (it was amazing) during an intermission. And of course I enjoyed his Beethoven Sonatas too. Nobu played the 1st movement of Pathetique in rather fast tempo and I loved it. The rest of Pathetique was beautiful and Appassionata was superb and I heard people saying "すごい" again after the concert was over.
Nobu played 3 encores (Chopin Nocturne No. 20, Maestro's theme song and La Campanella) and did a short MC thing. He said he feels the hall is big (it was indeed - I sat on the 5th floor!) and he also said it feels like the applause falls down on him from upper floors.
Oh, those pieces of music are still ringing in my mind and I don't feel like listening to anyone else's interpretations right now. I wish he would record all of them and I also think he should play all the Chopin Nocturnes sometime soon as well as Faure's Nocturnes...

♪  It is 15 minutes until the start of today's recital in Matsuyama. This tweet says:

今日は親孝行の日。母を辻井伸行のピアノコンサートに連れてきました。子供の頃13年ぐらいピアノ習ってたので、私も楽しみです
Day of filial piety today. I brought my mother to Tsujii Nobuyuki 's piano concert. Because I took piano lesson for 13 years in childhood, I too am looking forward to it.
♪ March 1

It makes me happy to catch this exchange on Twitter  between two kura-ota type people (classical music aficionados)

Q: HIROMIさんのお勧めの他のピアニスト(クラシック限定w)は誰ですか?ギレリスかポリーニあたりでベートーベンのピアノソナタを聴こうかと思っているんですが。
Who are  other pianists that Mr. HIROMI recommended (in classic only) is? Although I listened to Beethoven's piano sonata per Gilels or Pollini.
A: あおいくまさんにお勧めできるほどの知識が私にはありません。ルービンシュタインとかアルゲリッチとか誰でも知ってる奏者しか頭に浮かびませんもの。キーシンはすごいなあと思います
また、私が一番好きな奏者は意外かもしれませんが我が日本の辻井伸行さんです
I am not knowledgeable enough to recommend, Blue Bear.  Rubinstein and Arguerich came to mind.  Kissin is amazing.
Also, the best player that I like might be surprising, but it is Nobuyuki Tsujii of our own Japan
♪ Feb 27

On a day off from his tour performances, Nobu attended a reception in tokyo for Prince William of U.K. 
More at
Nobuyuki Tsujii meets Prince William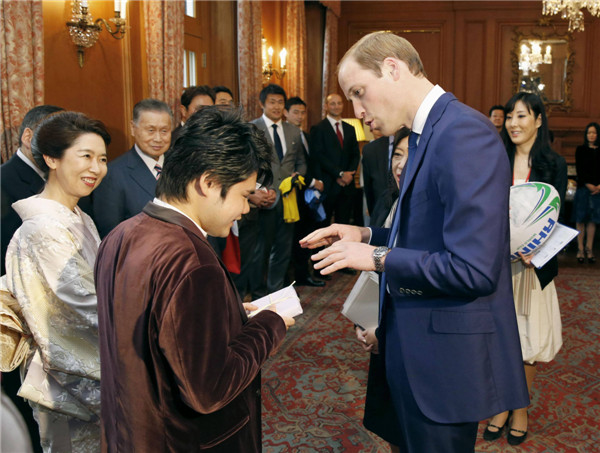 Photo
- Reuters/Kyodo 
via
Internet link
"Britain's Prince William (front R), Duke of Cambridge, talks with Nobuyuki Tsujii (front L), a visually-handicapped Japanese pianist, during a reception at the British Ambassador's official residence in Tokyo February 27, 2015, in this photo released by Kyodo. Prince William is in Japan for a four-day visit. [Photo/Agencies]" And the lady in kimono beside Nobu is, of course, his mother Itsuko Tsujii.
[
Aside: I think that small gift that Nobu is handing to William is his latest CD (his compositions performed with an orchestra.)  :-)]

♪ ♪ I must apologize for the false statement above.  I heard from Mr. Nick Asano, Nobu's Avex manager, who wrote

The picture shows the Duke of Cambridge handing a small gift to Nobu, not from Nobu to the Duke.
It was a British traditional china, a beautiful bonbon saucer.
Later, Nobu was introduced to the guests by his excellency
Tim Hitchens
[British Ambassador to Japan]  as "today's high note", and played Liszt's La Campanella and his own "Soredemo ikiteyuku" [Still, we live]  to the Duke and the guests (approx 200 people), then was met with enthusiastic reaction and long lasting applause.
http://www.news24.jp/articles/2015/02/27/07270112.html#
... また、27日午後5時過ぎからは、駐日イギリス大使が主催するパーティーに出席。会場には、大相撲の横綱・日馬富士や歌舞伎俳優の中村獅童さんら日本の著名人が招かれた。ピアニストの辻井伸行さんが東日本大震災をテーマにしたオリジナルの楽曲を演奏すると、ウィリアム王子は目を閉じて耳を傾けていたという。
... In addition, at 17:00 on the 27th, the Prince attended a party hosted by the British Ambassador.  Celebrities in Japan invited to the event included ...  sumo grand champion Nakamura,   kabuki actor  Nichi-ba Fuji . When pianist Nobuyuki Tsujii's pianist played his original on the theme of the Great East Japan Earthquake, Prince William listened with his eyes closed....

http://bit.ly/1DhVNbl
... ウィリアム王子は、ピアニストの辻井さんに「隣の部屋でピアノを練習しているのが聞こえました。すばらしい演奏で私も一緒に演奏したくなりました」と声をかけ、プレゼントを手渡しました。...
... Prince William said to pianist Tsujii: " I heard you practice in the next room. A great performance, and I want to play with you together," he said, and was presented a gift ...

♪ Feb 26  18:30  【静岡】静岡市民文化会館 大ホール[Shizuoka] Shizuoka Shimin Bunka Kaikan Main Hall (1,968 seats)  T
our stop No. 4 of 23
.
Many enthusiastic tweets - Nobu seems to have performed La Campanella among encores.  More
here
.
静岡市民文化会館 大ホール[Shizuoka] Shizuoka Shimin Bunka Kaikan
image via
Internet link
♪ Feb 23
There is now a formal announcement of the 
2015 Chopin/Liszt premium recital Japan tour, July 1 to July 26, with 11 performances in Ibaraki, Osaka,  Fukushima,  Aichi,  Tokyo, Nagano, Hokkaido, Kyushu. 
The repertoire: Chopin/Andante Spianato et Grande Polonaise Brillante; Chopin/Piano Sonata No.2; Liszt/Hangarian Rhapsody No.6; Liszt Piano Sonata in B minor. 
Upcoming Concerts
has been updated accordingly. Information, in English,
here
.
image via
Internet link
♪ February 25
Nobu's CDs has three places on this week's  Billboard Japan classical chart:
no. 3 (original works with orchestra),
no. 8 (the BEST)
 no. 18 (Emperor and Coronation)
...  複数アイテムがチャートインとなるのが7週連続に突入したピアニスト辻井伸行。3位の『マエストロ! 辻井伸行 with オーケストラ自作集』は、これで4週連続のチャートインとなった。 1月31日に公開された映画『マエストロ!』のエンディングテーマを含む自作曲集のオケ・アレンジ盤となっている。
... また8位には有名クラシック曲を集めた『THE BEST』が8度目、18位にはオルフェウス室内管弦楽団との共演による『<皇帝>&<戴冠式>』が3度目のチャートインとなった。完売続出で注目を集めるソロツアー中の辻井。 今後のチャート動向にも注目だ。
For the seventh consecutive week, pianist Nobuyuki Tsujii  has multiple items on the chart.  In third place is the "Maestro! Tsujii Nobuyuki works with orchestra ", its fourth consecutive weeks on the chart.  The movie "Maestro!" opened on January 31 and the album includes  the ending theme of the movie, composed by Tsujii. 
Also "THE BEST" , a collection of famous classic works, is at the 8th place,  and in the 18th place is "<emperor> & <coronation>"  with the Orpheus Chamber Orchestra. Tsujii's is on a solo tour, attracting attention in  sold-out concerts.
UPDATED

February 26 
The Business of Concert Pianists February 2015
- A little dirty laundry in the classical music world;
- A concert pianist who works behind a bar to make a living
- Even those who made it big still suffer -- pianist Ivo Pogorelich.  "Being a concert pianist is heartbreakingly difficult"

Read more
Here