We are also on facebook, twitter and blogspot
♪ "The Pianist" Japan tour
Next up: Performance #7 of 12 
7/25 18:30 鎌倉芸術館 大ホール (神奈川県) Kamakura Museum of Art Great Hall
Nobu performs on a for-Japan-only
"The Pianist" tour
with fellow popular Avex artists: pianists/composers Takashi Kako (contemporary classic) and Les Freres (The Brothers, boogie-woogie). This is the fourth edition of this very popular tour; tickets for all 12 performances in 10 cites have sold out for months. Unfortunately, the first performance in Kumamoto had to be postponed to November 21, due to extensive earthquake damage suffered by the venue earlier this year. See
http://www.kengeki.or.jp/audienceperform/2016_tsujii
News and comments about the tour can be found here =>
The Summer 2016 Pianist Festival
Above:
Avex poster for the tour
♪ July 24
This is yet another great venue -- Nobu has performed there before.  This recital will come two days before the recital in the
Kammermusiksaal Philharmonie in Berlin.

PHOTO source: Wikipedia

♪ July 23 A Note on  Nobu's new CD from Japan
I find these terse write-up's especially challenging to translate. But I believe the reviewer pays a compliment to the disc:
加藤幸弘
classicalcd.la.coocan.jp
@YukihiroKato
http://classicalcd.la.coocan.jp/etcetera/201607.htm#201607231
辻井伸行のリストのピアノ・ソナタと,夜のガスパール
 辻井伸行は,2007年のCDデビュー以来,エイベックス・クラシックスから録音をリリースし続けているのですが,新譜として,今度はリストのピアノ・ソナタと,ラヴェルの夜のガスパールをカップリングした1枚が発売になりました。
Nobuyuki Tsujii LISZT piano sonata, Gaspard de la nuit
Since his debut in 2007, Nobuyuki Tsujii has continued to release CDs under Avex Classics. This new album that has just come on sale, contains Liszt's piano sonata coupled with Ravel's "Gaspard of the night".
 いずれもベルリンのテルデックス・スタジオでのレコーディングセッションですが,録音データを見ると,夜のガスパールの方は,昨年発売されたショパンのピアノ・ソナタ第3番と同時に録音されたようです。
While both works were recorded in Berlin's Tel index Studio, the data [in the CD liner notes] indicates that the Gaspard de la nuit was recorded at the same time as the Piano Sonata No. 3 of Chopin that was released last year
 両曲ともテクニックと表現力が要求される作品ですが,果敢に攻めるタイプの作品は案外辻井伸行には合っているのではないかという気もするので,これは期待できそうな気がしますし,SACDではなく,常のCDなのが残念ですが,楽しみに聴かせてもらおうと思っています
Both works require great technique and expressive power. It is surprising that Mr. Tsujii would push himself to play these challenging works. I expect these tracks to be released on SACD [Super Audio CD] and I look forward to listening to them. It does not do justice to listen to them on ordinary CD.

I hope we will see more reviews from Japan. Please stay tuned.
.
♪ July 22
Nobu's new CD  arrived!
"Tsujii's interpretation is such that, in addition to a virtuosic quality, also reveals a personality of a musician who clearly understands the domain of' formal architecture... I believe that not many pianists today are able to perform the Sonata in B minor with such expressive power combined with a technical mastery quite extraordinary," so wrote Italian music writer
Gianguido Mussomeli
about Nobu's performance of Liszt's piano sonata. I have now heard the performance on disc, and I know just what Mr. Mussomeli means
.
Please click this link to  read.=> Nobuyuki Tsujii 2016 CD "LISZT Sonata & Gaspard"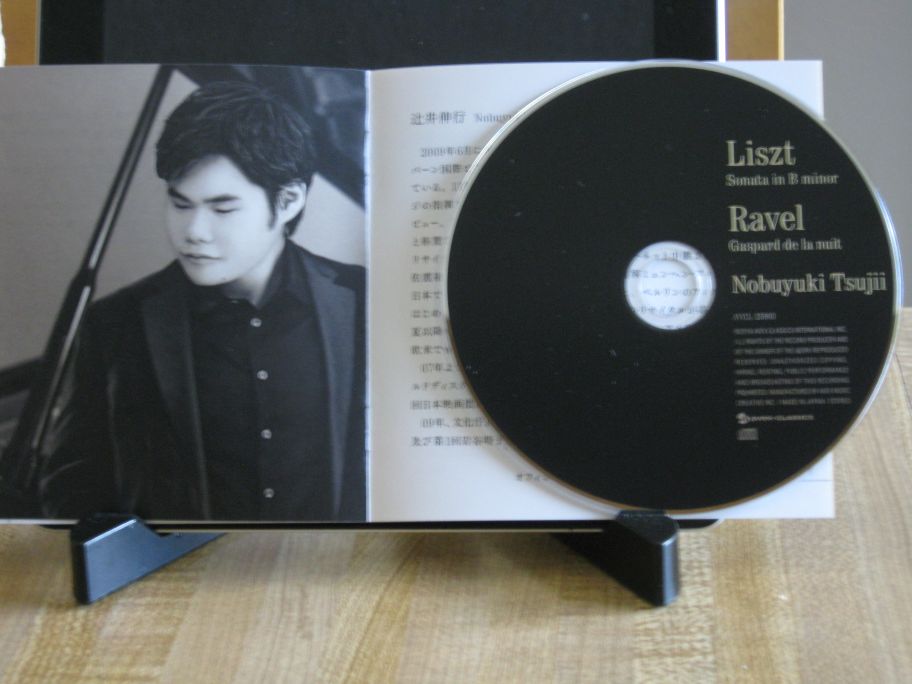 And I was pleased to see Mr. Nick Asano and Mr. Masahiro Kawakami among those acknowledged in the liner notes.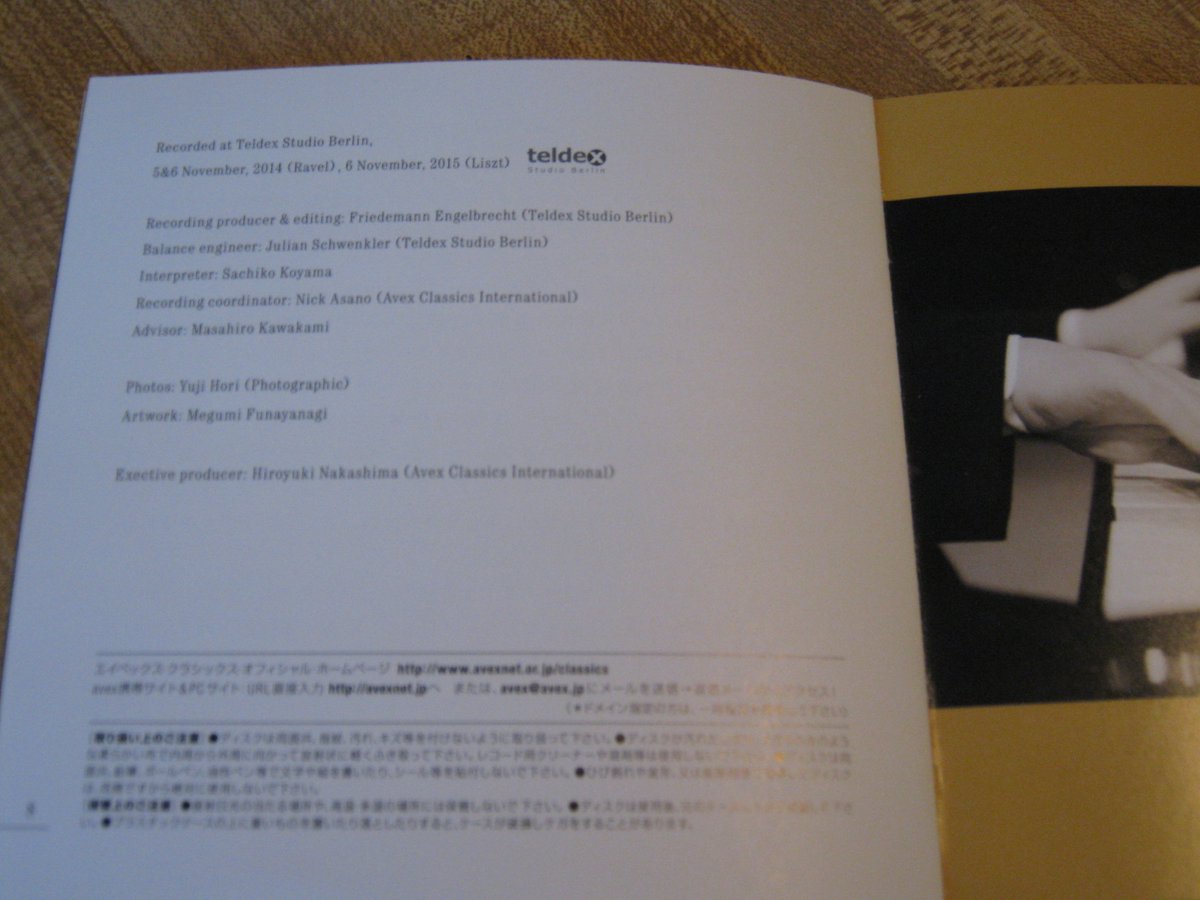 ♪ July 23 16:00 滋賀県立芸術劇場 びわ湖ホール 大ホール (滋賀県) Shiga Prefectural Art Theater Biwako Hall Great Hall (Shiga Prefecture)
This and other tweets came up after the concert -- more at
=>
The Summer 2016 Pianist Festival
素晴らしいコンサートだった。辻井伸行さんは天才だって再確認したし加古隆さんの生演奏(しかもベーゼンドルファー)は心に響いたしレフレールさんはすごい楽しませてくれた。しかも最後のアンコールは3組の協奏とか贅沢すぎた It was a great concert.  The genius of  Mr. Nobuyuki Tsujii was reaffirmed. Takashi Kako's live music (and Bosendorfer) struck the gheart.   Refureru [the Brothers]  was delightful and  amazing.  Moreover, the encore at the end, of the three sets playing together, was too extravagant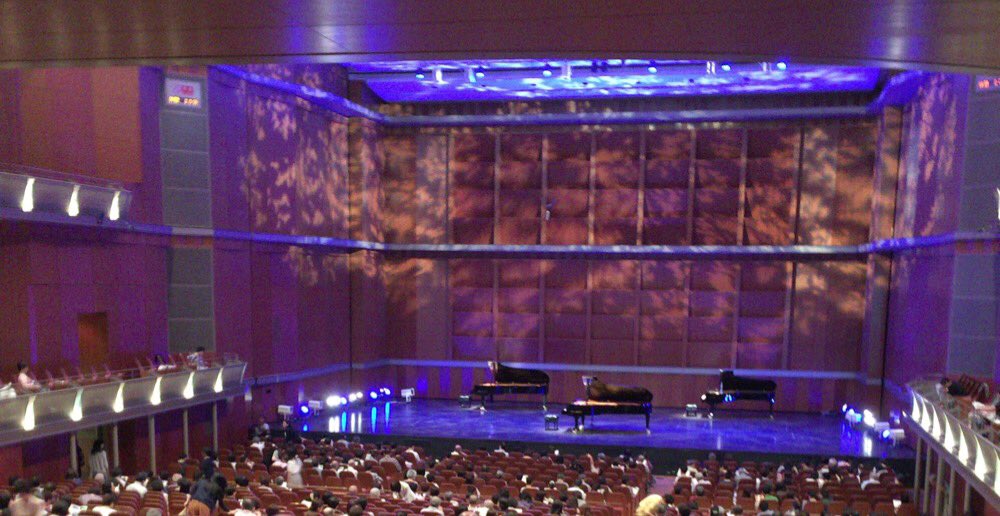 And a blog post
from Saitama is too lengthy for complete translation. But it has detailed description of what Nobu said to the audience on stage, something that he does not do outside Japan.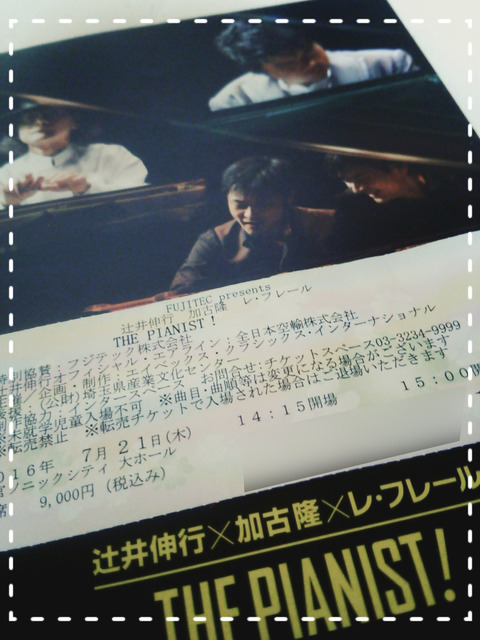 He was playful too, reportedly saying,
「僕はクラシックピアニストなので、最後に英雄ポロネーズを弾いて〆ようと思います。拍手の大きさによってはアンコールを」場内ドッとウケる。
"Since I am a classic pianist, I will end with Chopin's Polonaise in A-flat major. Encores will depend on the size of your applause."

More under the tag "♪ July 23" here =>
The Summer 2016 Pianist Festival

♪ July 20 Nobu's
NEW CD
is officially released today
NEW
For those outside Japan, the CD can be ordered easily from
CD Japan
-- the site is in English and ships to many countries.  I had dealt with this site before and it was reliable.
リスト: ピアノ・ソナタ/ラヴェル: 夜のガスパール
辻井伸行
Liszt: Piano Sonata / Ravel: Gaspard de la nuit
Nobuyuki Tsujii
2016/07/20 発売 Release
AVCL-25903
JAN/ISBN 4988064259038
辻井伸行のベルリン・セッション録音最新盤は、「プレミアム・リサイタル」シリーズでとりあげ、国内外で喝采を博した超本格派の2作品。ピアノ・ソナタ ロ短調は、"ピアノの神"リストの唯一のソナタで、技巧的にも音楽的にもきわめて複雑・高度にして深遠なもの。夜のガスパールは、ラヴェルが「歴史上最も 難しいピアノ曲を書こう」と意気込んで作曲したもの。いずれも、技術面のみならず音楽表現力においてピアニストの実力が最高度に求められる。辻井伸行が世 界で高く評価されるゆえんが、ここに明らかになります。
Nobuyuki Tsujii's Berlin session recording of recent works performed in his "premium Recital" series, two classical standards that have gained acclaims at home and abroad. Piano Sonata in B minor is the only sonata of Franz Liszt, the "God of the piano," profoundly artful and musically highly complex. "Gaspard of the night" was composed by Maurice Ravel, who wrote excitedly, "I want to write the most difficult piano music in history." Both works require the pianist with the highest degree in musical expressive power, and not just technical proficiency. Here it becomes clear why Nobuyuki Tsujii is highly regarded in the world.
CD Japan
(in English)
HMV Japan
Tower Records Japan
Amazon Japan
Download from MySound
♪ July 17 "What Color is My Wind" book  +CD on sale in Japan

Tweet
from a book store in Japan, showing books on display about Nobu. The latest is a combo-pack of a book  (co-)authored by his mother, Mrs. Itsuko Tsujii, titled
"What Color is the wind today?"
[supposedly a question asked by a very young Nobu] with a CD of selected tracks from Nobu's recordings.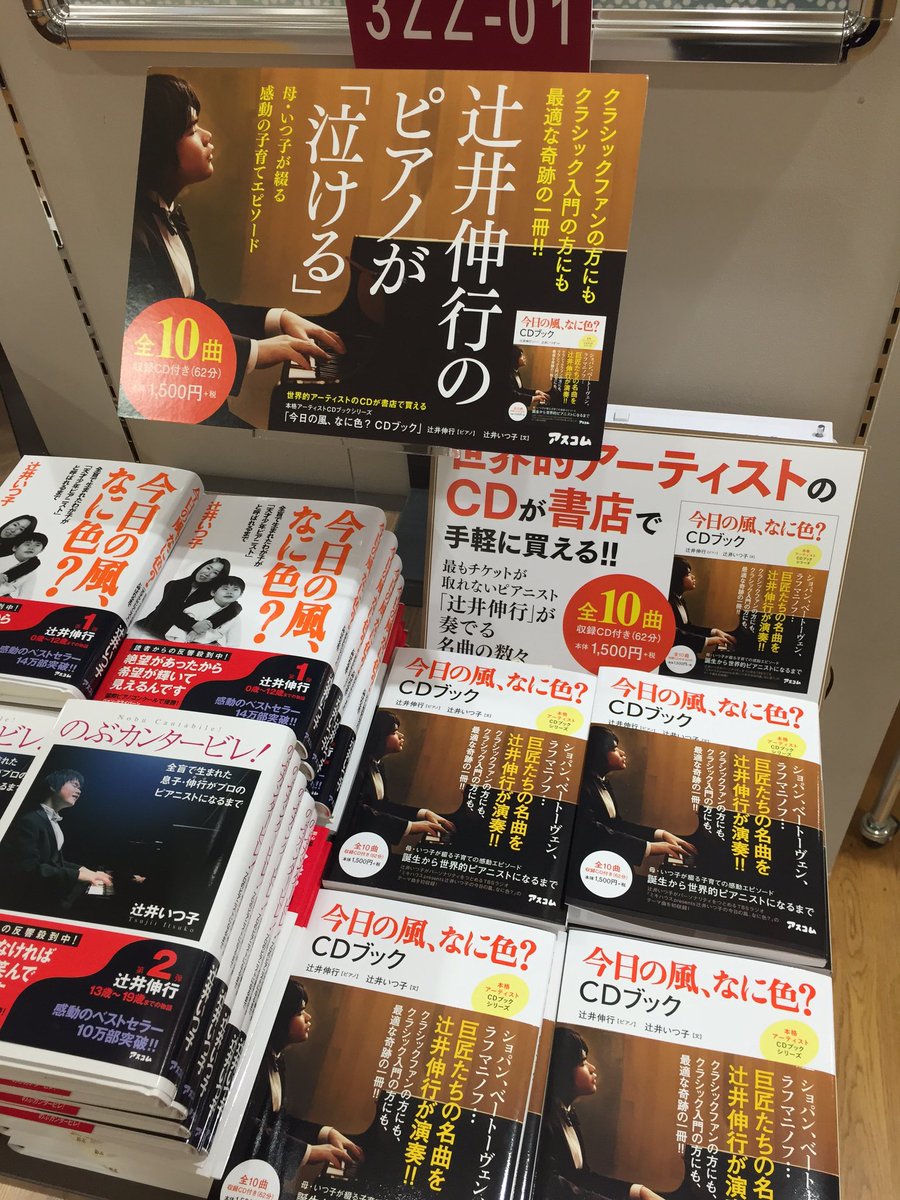 ♪
The
Venice Renaissance Exhibition in Tokyo
Theme Song by Nobuyuki Tsujii
本展の見所の一つ、音声ガイド。ナレーションは石坂浩二さん。聞き応えのある内容、そして辻井伸行さんのオリジナル楽曲も入って豊かな時間をお過ごしください。#国立新美術館 #アカデミア美術館 One of the attractions of the exhibition is the audio guide. Mr. Koji Ishizaka is the narrator, and Mr. Nobuyuki Tsujii's rich original music can also be heard. # The National Museum of Art # Accademia Gallery2016 ヴェネツィア・ルネサンス展
公式テーマ曲 辻井伸行さん
国立新美術館, 東京都
7月13日 - 10月10日
2016 Venice Renaissance Exhibition
Official theme song by Nobuyuki Tsujii
The National Museum of Art, Tokyo
July 13 - October 10