An official trailer for the show  has been posted:




♪ February 27 CONCERT REPORTS The Nobuyuki Tsujii Official Site

posted reports for the last two recitals with many great photos =>

http://www.nobupiano1988.com/concertreports/2017年2月26日(ドイツ) ベルリン

ベルリンのフィルハーモニー、室内楽ホールでのリサイタル。ここも3回目の演奏です。前回来た時は駐車場だったところが歩道になったり、敷地内が工事されてきれいになっていました。室内楽ホールといっても1,200席近くかる大きなホールですが、今回はチケット完売ということでステージ上に補助席が並べられていました。ステージを取り囲むように客席があるので、全方位から降り注ぐ拍手が感動的です。今回のツアーの10回目のコンサートで最後の公演を大いに盛り上げて締めくくることが出来ました。

アンコールは3曲。

・ベートーヴェン:「悲愴」ソナタの第2楽章

・リスト:ラ・カンパネラ

・それでも、生きてゆく(自作)

Feb 26, Berlin Germany

Recital in Berlin Philharmonic chamber hall. This is also my third performance here. When I came last time the parking lot was a sidewalk, and the inside of the venue was constructed and it is beautiful.

Although this is called a chamber hall, it is a huge hall with nearly 1,200 seats, but this time there were auxiliary seats lined up on the stage because the tickets were sold out. There are audience seated surrounding the stage, so clapping coming from all directions is very moving. With the tenth concert of this tour, I was able to conclude with this last performance of enormous excitement.

Three encore songs.

· Beethoven: "Pathetique" Sonata's 2nd movement

· Liszt: La Campanella

· Still, I will live (self made)

2月25日(ドイツ)シュトゥットガルト
シュトゥットガルトのリーダーハレでのリサイタルも3回目。1956年に出来た建物で、戦後に新築・再建されたホールの中では最も古いものだそうですが、外部・内部ともに左右対称を崩した設計が今も斬新で、この日も見学のツアーが行われていました。演奏会では満席に近いお客様から暖かな拍手を頂き、前半でカーテンコールは2回、後半終了後は9回もステージに呼び戻されて、アンコールを5曲披露しました。
・ベートーヴェン:「悲愴」ソナタの第2楽章
・ショパン:革命のエチュード
・それでも、生きてゆく(自作)
・リスト:ラ・カンパネラ
・ショパン:別れの曲
February 25 Stuttgart (Germany)
It is also the third time for recital at Stuttgart's Liederhalle. It is in a building built in 1956, it seems that it is the oldest in the newly constructed / reconstructed hall after the war, but the design which combines symmetry both outside and inside is still fresh. We got a warm applause at the concert two curtain calls in the first half, I returned nine times after the end of the second half, and 5 encores were performed.
· Beethoven: "Sadness" Sonata's 2nd movement
· Chopin: Revolutionary Etude
· Still, I will live (self made)
· Lizst: La Campanella
· Chopin: Farewell songs
In Nobu's Berlin concert report, he mentions that auxiliary seats were placed on stage because tickets were sold out.
Yura and I both thought of this photo that came with a tweet posted soon after the recital was over.
If you look at the bottom left corner of the hexagonal stage, you can indeed see three rows of benches placed very close to the piano (what great seats those are!)
Considering that the first time Nobu played in this hall there were lots of empty seats, this is very encouraging -- Berlin is a VERY tough market for classical music!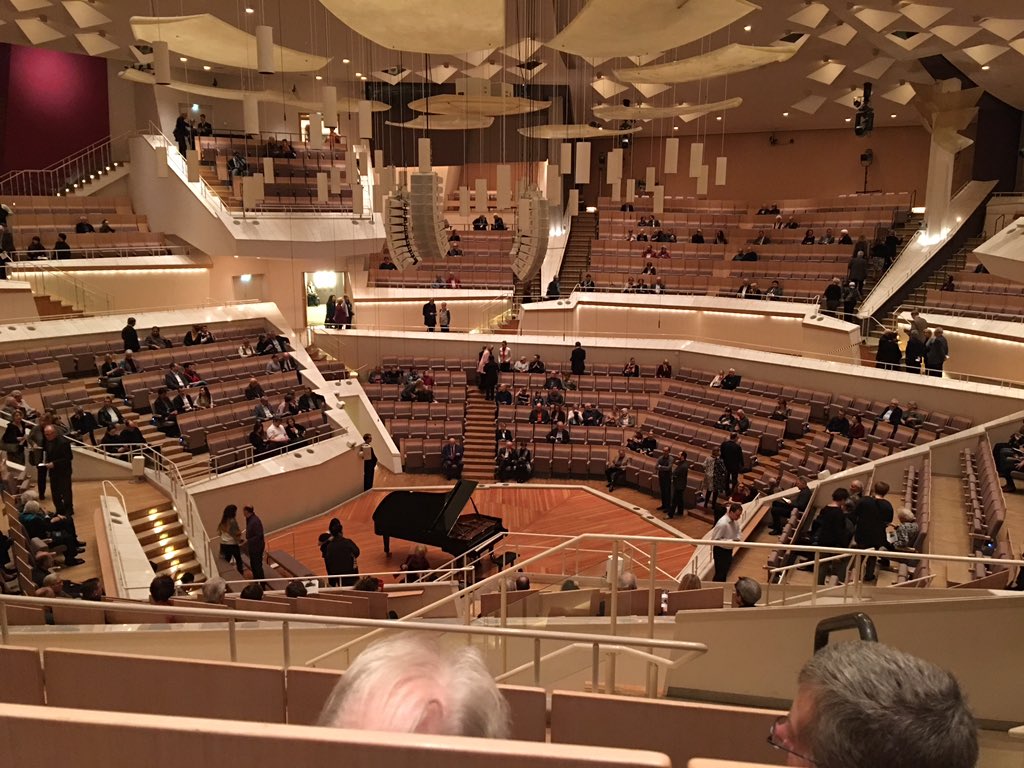 ♪ February 26 Munich Critic's Review

A Munich review
showed up just as the Berlin recital was finishing.
Nobu' recitals rarely get a review in Europe, so to have the attention of a critic of a major German newspaper can be considered a good thing.
The review is not entirely complimentary: the critic finds flaws in the works in the first half (Bach, Mozart), but wrote
After the break, Nobu Tsujii is completely in his element with the expressiveness and originality of Beethoven's "Moonlight Sonata" and "Appassionata." While the famous "Adagio sostenuto" of Op. 27/2 still sounds a little cramped, the 28-year-old unleashes passionate wildness in the finale and, in the "Allegro assai" of the F minor op. 57, rhythmically sharp accents.

My translation of the piece can be read here =>
Nobuyuki Tsujii 2.24.17 Recital - Süddeutsche Zeitung Review
I would of course have preferred a more glowing review, but I am in fact somewhat relieved.
It is actually extremely daring for Nobu to play the program that he did in Germany; I consider this review (which does not mention Nobu's blindness at all) somewhat positive and I do hope Nobu does not find it discouraging.
♪ February 25 20:00 Liederhalle Stuttgart, Mozart-Saal

I kept checking for comments after the recital and none came.  Then, just when a flood of tweets came up in Japan about the TV show, this tweet from Stuttgart showed up! I am not complaining, however.
https://twitter.com/MayoMemmerPhoto/status/835636124911554561
Amazing pianist Nobuyuki Tsujii 👏 初めてピアニスト辻井伸行さんのリサイタルへ。楽屋へも挨拶に行けたけど、言葉にならなくて ありがとうございました しか言えなかった。ほんとはハグしたいくらい感動した。#辻井伸行 #ピアニスト I went to the recital of pianist Mr. Nobuyuki Tsujii for the first time. I was able to go to his dressing room as well, and could only manage to say thank you. I was really touched.

https://mayomemmer.amebaownd.com/posts/2063404
♪ Feb 26  Nobu on "Untitled Concert" (Japan TV show)

♪ February 20
"A Life-Changing Minute" show
http://www.nobupiano1988.com/news/
◆
「人生が変わる1分間の深イイ話」
日本テレビ 2月20日(月) 21:00
※辻井伸行 日本ツアー 東京公演の一部が放映されます
※母いつ子さんが出演します
"Deep talk of one minute where life changes"
Nippon TV on February 20 (Mon) 21: 00
※ Footage of Tokyo performance of Nobuyuki Tsujii Japan Tour will be shown
※ Mother Itsuko will appear
One gripping scene
in this show, of Mrs. Tsujii packing for Nobu's Europe tour, makes me think about the enormous challenges that a sightless person must face while traveling.  

Embroidered bags in giant suitcases. A devoted mother. A loyal manager. We are fortunate that Nobu is blessed with their continued support. Even as we enjoy the success of Nobu's awe-inspiring performances, let's never forget the tremendous efforts behind the scenes that make possible the miracle of Nobuyuki Tsujii.