News, photos and comments about these recitals are collected here =>
Nobuyuki Tsujii Bach/Mozart/Beethoven rectials in Europe 2017

♪ February 26 20:00 Kammermusiksaal Philharmonie (Berlin Philharmonic Chamber Concert Hall)

Concert Information
We wish Nobu a successful recital tonight and then a safe journey home after that.
PHOTO above: Nobu practiced for his recital in the
Kammermusiksaal Philharmonie
, on his
Fall 2014 Europe Tour
.
♪ February 25 20:00 Liederhalle Stuttgart, Mozart-Saal

I kept checking for comments after the recital and none came.  Then, just when a flood of tweets came up in Japan about the TV show, this tweet from Stuttgart showed up! I am not complaining, however.
https://twitter.com/MayoMemmerPhoto/status/835636124911554561
Amazing pianist Nobuyuki Tsujii 👏 初めてピアニスト辻井伸行さんのリサイタルへ。楽屋へも挨拶に行けたけど、言葉にならなくて ありがとうございました しか言えなかった。ほんとはハグしたいくらい感動した。#辻井伸行 #ピアニスト I went to the recital of pianist Mr. Nobuyuki Tsujii for the first time. I was able to go to his dressing room as well, and could only manage to say thank you. I was really touched.

2017.02.26 00:13
辻井伸行さんのピアノリサイタルへ♫魂震える音。
Nobuyuki Tsujii's piano recital ♫ Soul trembling sound.
ひょんなご縁から、
辻井伸行さんのリサイタルへ連れて行ってもらえることになり、行ってきました!
辻井さんのこと初めて知りました。
日本ではバンドやゴスペルで歌ってたけど
クラシックは疎く。
汗言葉にならないとはこのことで
魂が震える音を出される方でした。
盲目のピアニスト。
文字にするのは簡単だけど
こうやって世界的ピアニストになるまでの道のりは、どれだけのものだったのか計り知れず
ステージ上にはピアノと彼だけだけど
曲ごとにいろんな映像(私の頭の中で)が自然に彼の周りに浮かぶ
太陽がでたり
月や星空が広がったり
海や川だったり
花がぶわっと咲いたり
嵐が起きたり
心に広がって想像力を掻き立てられる
そんな演奏。
I was able to go to Mr. Nobuyuki Tsujii's recital in Stuttgart Liederhalle
I knew about Mr. Tsujii for the first time.
In Japan I sang with bands and choirs but had little to do with classical music.
It is no exaggeration that he generated a sound that made my soul tremble.
Blind pianist.
It is not easy to write a character
It is impossible to imagine how he becomes a global pianist
On the stage there was only the piano and him
Various images (in my head) naturally floated around him with every piece
The sun has set
The moon and starry sky spread
It is a sea or a river
Flowers blossoming and blooming
A storm rises.
Stretching the mind and inspiring imagination

Such a performance.

♪ Feb 26  Nobu on "Untitled Concert" (Japan TV show)

「
題名のない音楽会
」2500回記念(4) 歴史を彩る音楽会
テレビ朝日 2月26日(日) 9:00-9:30
BS朝日 3月5日(日)23:00-23:30
"Untitled Concert " 2500th episode Concert (4th)
TV Asahi February 26 (Sun) 9: 00-9: 30
BS Asahi March 5 (Sun) 23: 00-23: 30
A video of the show can now be viewed on your computer below, or please click this link=>
Nobuyuki Tsujii in 2017 Untitled Concert
Nobu's appearance starts at time mark 11:00.
And a big thanks to Yura for posting video clips on Twitter.
Please click each link below to view =>
As expected, a deluge of tweets came up after the airing -- the duet with Mr. Goto received a lot of attention -- a co-performance of these two seems in order!
https://twitter.com/nana26139176/status/835658364155617280
今朝の題名のない音楽会 辻井君と若いソリストさんたちの夢の饗宴✨公開収録は抽選に外れて行けなくて放送をとっても楽しみにしてました💖 楽しかったー #題名のない音楽会 #辻井伸行 #五嶋龍 #ショパン #ピアノ協奏曲第1番 #ガーシュイン #3つの前奏曲 Untitled Concert this morning Nobuyuki Tsujii and the dream assembly of young soloists ✨ I was looking forward to the broadcast ... for public recording It was fun ~ # Untitled Concert #Nobuyuki Tsujii # Ryo Goto # Chopin # Piano Concerto No. 1 # Gershwin # Preludes No. 3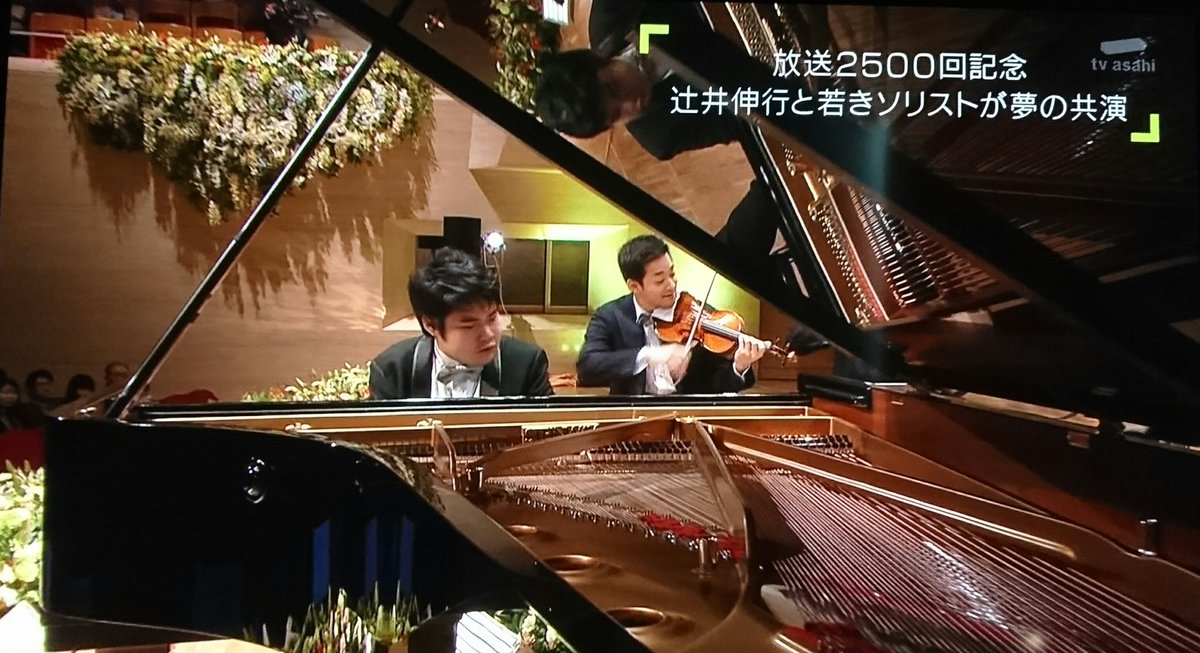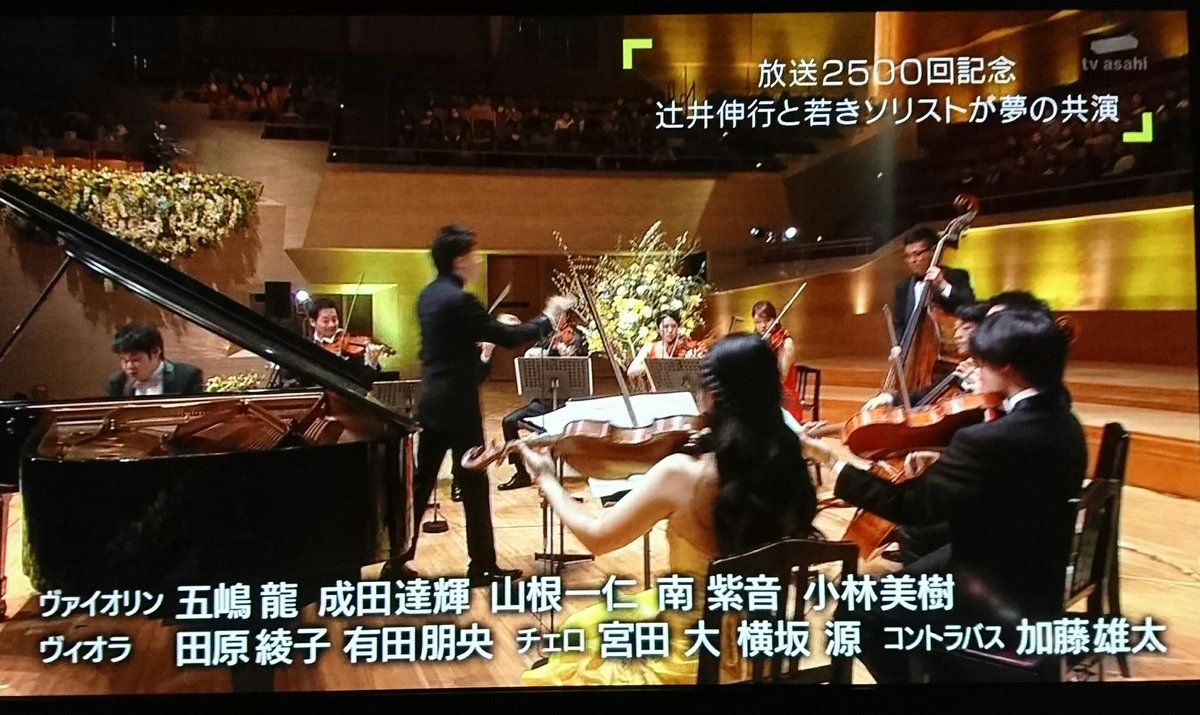 素晴らしかった! お二人とも、まだ28歳!! 頭が下がります。勇気いただきました。 #題名のない音楽会2500回記念 #辻井伸行 #五嶋龍 It was wonderful! Both of you are still 28 years old!! I bowed my head. You gave me courage. # "Untitled Concert" 2500 episodes memorial #Nobuyuki Tsujii # Ryo Goto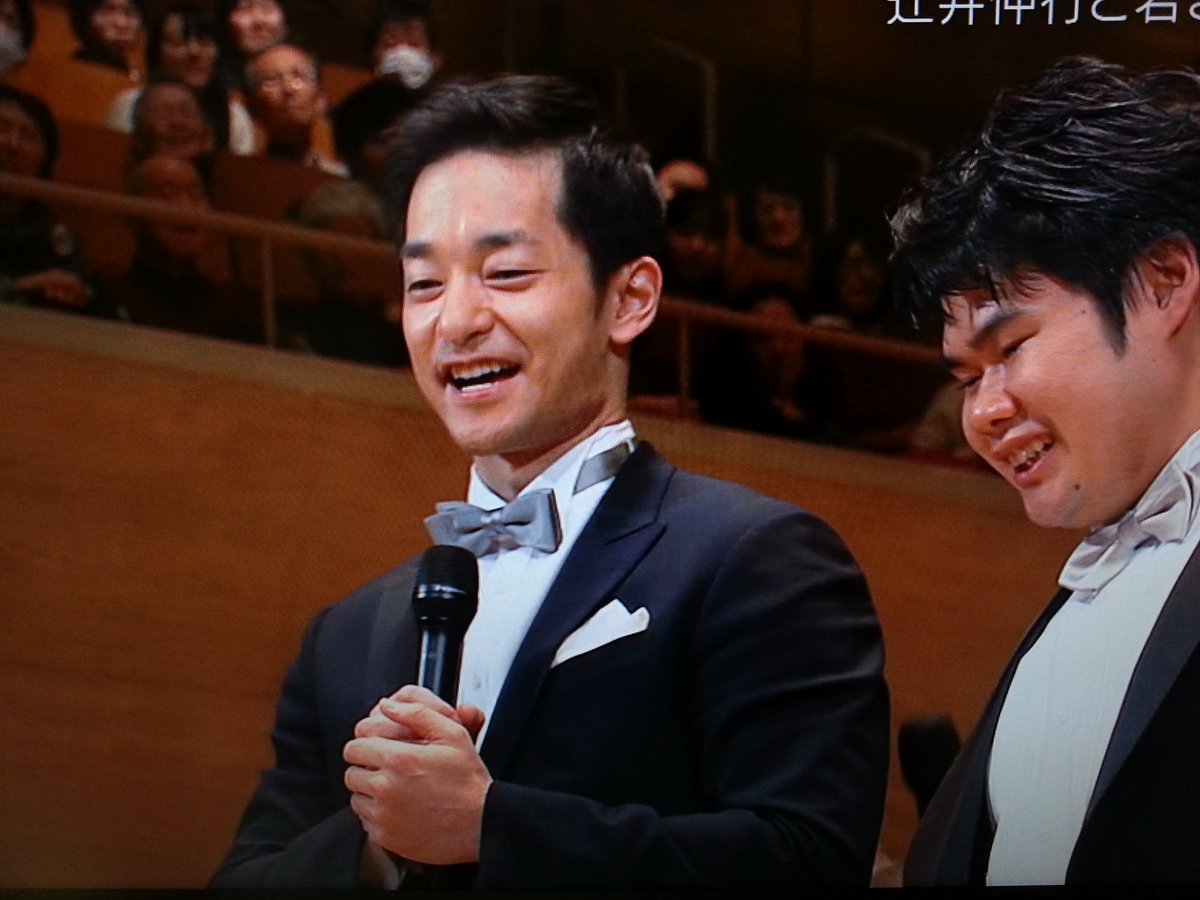 More at =>
Nobuyuki Tsujii on Feb 26 2017 "Untitled Concert" TV show
♪ February 25/26 
What a day - an embarrassment of richness, really.
As if there is not enough excitement for one day, we now have a concert report on the Munich recital! -- not that I am complaining
FOUR encores! There are 3 great photos of the
Prinzregententheater
-- I do hope Nobu senses the beauty of these spectacular German concert halls that he has been performing in.
http://www.nobupiano1988.com/concertreports/
2017年2月24日(ドイツ)
ミュンヘン
February 24, 2017 (Germany)
Munich
バイエルン州の州都ミュンヘンでの演奏は今回で6回目。
プリンツレゲンテン劇場でのリサイタルは3回目になりました。
The performance in Munich, capital of Bavaria, this is the sixth time this time.
The recital at Prinzregenten Theater is the third time.
一曲目のバッハから盛大な拍手を頂き、モーツァルトの後には2度もカーテンコールを頂きました。ベートーヴェンを2曲弾き終えた時は足踏みの混じった大歓声になり、アンコールは4曲演奏しました。
I got a huge applause from the first piece Bach and received a curtain call twice after Mozart. When I finished playing 2 Beethoven works, there was a great cheer with foot stamping, and I played 4 encores.
ベートーヴェン:ピアノ・ソナタ「悲愴」の第2楽章
リスト:ラ・カンパネラ
それでも、生きて行く(自作)
ショパン:革命のエチュード
Beethoven: 2nd movement of piano · sonata "Pathetique"
Liszt: La Campanella
Still, I will live (my own)
Chopin: Etude of the Revolution
♪ February 25
Tweet from a Nobu fan in Munich, who was at the Feb 24
Prinzregententheater
concert:
https://twitter.com/HonourableHusba/status/835381016462229507
... we enjoyed it hugely. We had excellent seats (row 2 center) ). His usual helper aided him—do you know who he is? – at
Prinzregententheater
I posted a response to answer his question, and thank him for the excellent photos - which you can see better on the original tweet =>
https://twitter.com/HonourableHusba/status/835381016462229507

♪ February 25 Concert report on the Feb 22 Fürth recital, with four excellent photos!

2017年2月22日(ドイツ)
フュルト
February 22, 2017 (Germany)
Fürth
バイエルン州第2の都市ニュルンベルクの西隣の街、フュルトの市立劇場でリサイタルを行いました。
今回のツアー7回目のコンサートで、初のリサイタル。
I had a recital at the city theater in Fürth, a town on the west side of Bavaria's second city Nuremberg.
This is the first recital and the seventh concert on this tour.
曲目は日本ツアーと同じバッハ、モーツァルト、ベートーヴェン。
ドイツのお客様にドイツ・オーストリア音楽の演奏がどう評価されるか興味がありました。
The works are the same as for the Bach, Mozart, Beethoven Japan tour,
I was interested in how German customers will evaluate my performance of German-Austrian works.
演奏は好評を頂き、アンコールにベートーヴェンのピアノ・ソナタ「悲愴」の第2楽章、そしてリストのラ・カンパネラを弾いたところお客様が総立ちになったのには感激しました。
最後に「それでも、生きてゆく」を弾きました。
The performance got a favorable reception. I played the second movement of Beethoven's piano · sonatas "Pathetique", and La Campanella of Liszt for encores. I was deeply moved by the customer standing up for me. Finally, I played "still we live".
♪ February 20
"A Life-Changing Minute" show
http://www.nobupiano1988.com/news/
◆
「人生が変わる1分間の深イイ話」
日本テレビ 2月20日(月) 21:00
※辻井伸行 日本ツアー 東京公演の一部が放映されます
※母いつ子さんが出演します
"Deep talk of one minute where life changes"
Nippon TV on February 20 (Mon) 21: 00
※ Footage of Tokyo performance of Nobuyuki Tsujii Japan Tour will be shown
※ Mother Itsuko will appear
One gripping scene
in this show, of Mrs. Tsujii packing for Nobu's Europe tour, makes me think about the enormous challenges that a sightless person must face while traveling.  

Embroidered bags in giant suitcases. A devoted mother. A loyal manager. We are fortunate that Nobu is blessed with their continued support. Even as we enjoy the success of Nobu's awe-inspiring performances, let's never forget the tremendous efforts behind the scenes that make possible the miracle of Nobuyuki Tsujii.
UPDATE - I heard from Jamie, a visually-impaired pianist in U.S., after the article was posted.  Her reply may be of interest to Nobu and others visually impaired:

I use a labeling system to keep things organized. Some of it I use Braille especially for medications. I use a labeling tape called Dino tape and a slate and stylus to get this done. I also use household items like cloth pins to pin my socks together. Yes they go through the wash fine. For clothing I use an app called digit-eyes. One can purchase labels that one can sew onto the clothing then record as much info(on a label)  as he or she wants. When the camera (of a smart phone) sees this the label it will play the recording.

UPDATE
  - On the show there is a short clip of Nobu (age 12)  playing
Friedrich Kreisler
's "Liebesleid" with a young Japanese violinist -- I just heard from Yuko this:
"The violinist of the One minute show is Norimiti Kawabata. According to Wikipedia, he is a visually impaired person. -- When he was eight years old, he suffered a Stevens-Johnson syndrome due to the side effect of some
cold medicine. He escaped death, but the aftereffects damaged the cornea and left him with visual impairment."
♪ February 25  More Premium Recitals revealed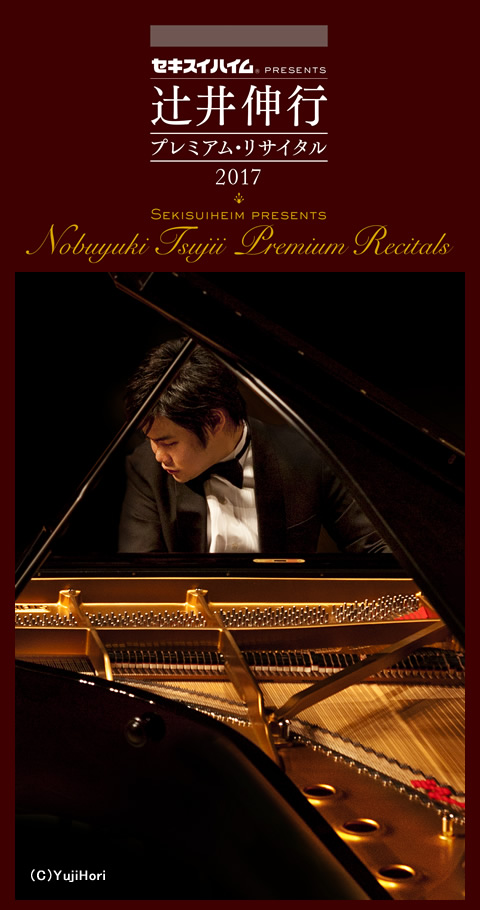 A friendly reader has notified me of three more performances:
♪ March 3 "The Pianist 2016" on BS-Fuji TV

BSフジ(BS Fuji)
『辻井伸行×加古隆×レ・フレール THE PIANIST』 2016
3月3日(金)22:00~23:25
"Nobuyuki Tsujii × Takashi Kako × Les Freres THE PIANIST" 2016
March 3 (Fri) 22: 00 ~ 23: 25
http://www.bsfuji.tv/tsujii/pub/007.html
♪ Feb 25 The April issue of Wigmore Hall's magazine is now available online --

Nobu is not on the cover, but
his April 1 recital
is the first event on the list =>
https://wigmore-hall.org.uk/what-s-on/diaries/274-wigmore-hall-diary-april-2017/file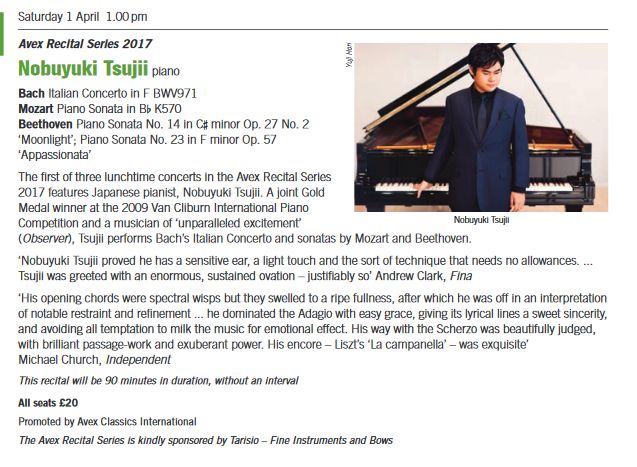 ♪ Upcoming Concerts
♪ Notable web postings - February 2017