Gps Recommendation for Adventure bikes: 
What GPS should I get for my Bike? I am asked this question a lot. It depends on what type of bike you're putting it on, and what type of riding you are planning and how much you want to spend.
Adventure Bikes are used on both back dirt roads and main paved roads. Therefore, when selecting a GPS for your bike, you need a GPS that will excel in both areas. The gps for an adventure bike needs good base maps and the ability to find key points of interest, like the nearest gas station, motel or restaurant.
First I recommend that you buy a Garmin GPS in order to be compatible with most of the people riding motorcycles
---
Garmin Zumo
The Zumo is my recommendation for Adventure bikes.
 Mostly because it has a tough rugged design. It can run tracklogs so that you are able to load rides from anyone.  Dislikes are the touchscreen and the price is too high.  Get the lowest priced model.
The Garmin Zumo is a good gps that seems to do most things well. Like the Nuvi it handles Custom Maps well and it navigates well to the nearest Points of Interest.  Unlike the Nuvi it allows you to download tracklogs and navigate by trackback. This is useful in some organized Dual Sport and Adventure Rides. 
It also has a touch screen that does seem to work well. However, often your screen is getting dusty on a dirt bike, so every time you wipe the screen, it thinks you want to talk to it.  This is a problem for some as they may not understand why the gps appears to have stopped working.  People do get this figured out and learn that every time you wipe the screen you reset the gps.  I am not a strong fan of touch screen in the dirt environment. The design of the Zumo is oriented to the street rider offering features like h
ands-free phone control and spoken directions via Bluetooth® helme
t and 
Curvy Roads routing guides to winding rides. These are features that most adventure bike riders would find dumb.
---
My Bargain Recommendation: Garmin Nuvi (about $100)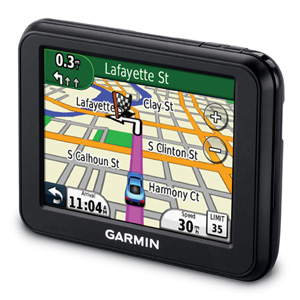 What about using a Car style Nuvi GPS on my bike? 
My recommendation for Adventure Bike Motorcycling is the Garmin Nuvi for $99 (there are several Nuvi's this applies to)
Wow this can work very well, especially on adventure bikes, but there are a couple of things to get right otherwise it could be bad. First understand that Nuvi's do not do Tracklogs, but they find the nearest "Points of interest" really well.   Set your Nuvi up with these maps and it will be awesome.  Or just use it straight out of the box.  It comes with an awesome set of background maps.
The Nuvi is not waterproof, however there are some tricks that you can do to fix this. I have waterproofed mine and I run mine behind the windshield so that it does not get the rain directly and I just keep using it.  It does fine, and I try to avoid the rain myself.
The Nuvi accepts Custom Maps just as the Zumo.  If you are going to do an adventure across the Nation, like the Trans America Trail, or Continental Divide Trail,  I recommend that you get and install a custom map designed just for your ride.
Garmin Nuvi on A Kawasaki Versys
All that aside, the Nuvi is a bargain gps that can be an awesome gps on your adventure bike. For $99 you will get some to the best navigation possible.
---
For mounting the gps I recommend that you buy the RAM cradle and consider the Ram Mounting system, or you may choose to make a custom mount for the ram cradle yourself. But get the cradle, it works well