JLDI News & Info
Subscribe to posts
Over 40,000 lbs of Carp were removed from Johnson Lake this past week according Norm Hoveling, JLDI Carp Removal project chairman. Photos by 
Travis Stithem
, 
thanks Travis! Also, Norm is looking for some one to take over this project. He will help with the next removal. If interested 
call him at 308.785.3257 for details. You can make donations via the Lexington Foundation for future removals. Many thanks to Norm for his efforts over the years with this proje
ct.
| | | | |
| --- | --- | --- | --- |
|   |   |   |   |
|   |   |   |   |
Fire Fighting Pump Demonstration and Annual JLDI Meeting
Following the destructive fire the Johnson Lake Development Inc. started working with the Lexington, Elwood, Cozad, and Eustis fire departments on what could done to improve their capabilities to fight fires at the lake.  Their main need was the ability to quickly fill the pumper trucks here at the lake.  The JLDI group identified a small pumping system that could be dropped into the lake at any location and be used to fill the pumper trucks.  The CNPPID agreed to purchase four of the pumps and one has been donated to each of the four fire departments.
The pumps will be demonstrated to the public at the inlet boat ramp on June 16th at 6 PM; which will then be followed by the Annual JLDI meeting at 7:00 PM at the EMS Bldg.  Everyone is invited to attend both activities!!  This will also be an opportunity for the local community to thank the fire departments for their commitment to fire suppression at the lake.
HOLDREGE — New specifications for a pedestrian bridge across the Johnson Lake outlet canal are being considered by Central Nebraska Public Power and Irrigation District officials and the Lexington family donating the bridge.
At Monday's CNPPID board meeting, Central's Gothenburg Division Manager Kevin Boyd said there have been "some struggles" to make sure the bridge that would be part of the lake's hike-bike trail meets pedestrian safety codes.
Requirements for more welding and heavier steel for the original free-span design have raised the cost estimate from around $300,000 to nearly $500,000, Boyd said.
In May 2013, Eilers Machine & Welding Inc. President Chase Eilers told the CNPPID board that it was the idea of his mother, Anne, to donate the bridge in memory of his father, Brian, who had died three years earlier. Another incentive to enhance the trail was that Anne had been seriously injured in the past when she was struck by a vehicle while riding her bicycle on a road.
The plan then was to construct a pedestrian bridge 180-200 feet long and 10 feet wide. Eilers said it probably would be manufactured in three parts at his plant and then moved to the trail.
At that May meeting, the CNPPID board accepted the Eilers family's offer and authorized Central staff to work with the Johnson Lake Trails Committee on other components of the bridge project.
Also at the May 6 board meeting, Boyd told the Hub that Central would provide about $150,000 toward the project, including the costs to prepare the site and to design, transport and install the bridge. The board approved a $22,405 contract with Miller & Associates of Kearney for bridge-related engineering work.
Monday, Boyd said Eilers had contacted him recently to say he was looking at contracting with a Florida firm to build a less expensive aluminum bridge, which would require two pilings in the outlet canal.
Boyd and CNPPID Director Ron Fowler of Johnson Lake then met with Eilers.
The new design probably will involve three spans weighing a total of 30,000-32,000 pounds. Boyd said that compares with the original free-standing steel bridge weighing 90,000 pounds.
It is believed the new bridge would meet safety codes, he said, and Miller & Associates engineers are looking at the new design, including the pilings, "to be sure there are no surprises."
Fowler said bridge abutments can be smaller if there are pilings in the stream and that should offset some of the piling costs.
"We need to see what Miller & Associates comes back with ... from the trails committee's standpoint, we don't care if it is steel or aluminum," he added.
Boyd expects to present more information at the March 25 committee meeting of the CNPPID Board.
JLDI's annual meeting; open to all members of J-lake will be combined with their normal monthly meeting, this coming Tuesday, JUNE 18TH @ 7:00 p.m. at the EMS Building, drive 8A.  Public Input scheduled is:  CNPPID report, CNPPID--JLDI Liaison, Ron Fowler, Hike & Bike Trail Update  Committee Reports planned include:  Caretakers (JLDI Dump), Roads & Sirens, Fireworks, and Carp Removal
It was recently reported in the Kearney HUB (click to view: Monday's Article ) that the sailors cite issues with the proposed location of the bridge crossing the Outlet Canal.  Concern has also been expressed to the poster with regards to possible problems with the trail progressing through the parking areas of the two leased boat stall locations and the related safety issues.  It is expected that possible input might be provided during the annual meeting.
JLDI provides the lake DUMP for leased lot holder's leaves, tree limbs and grass clippings.  The dump will be open starting May 1st from 1 - 5 pm on Sat, Sun, Wed & Fri afternoons; and 8 - 12 am on Saturday mornings during good weather.  Please do not mix grass clippings and leaves with the tree limbs, which must be separated.  The dump is being controlled by Kelly this year.  Special openings at a $25 fee are possible by contacting Kelly at 308-746-6026.  Be sure to show your 2013 Green Dump Permit that will be mailed out in the Spring JLDI newsletter.  If you encounter any problems, please contact Jack Wieland at 785-2278 for assistance.

Elwood market will open Feb. 4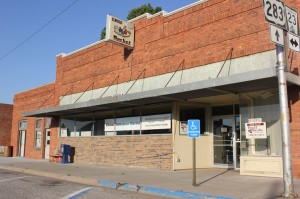 by HARRY G. PERKINS Kearney Hub
ELWOOD
- The Elwood Hometown Cooperative Market will open at 8 a.m. Feb. 4.
On Feb. 9, 2011, a group of people decided Elwood needed a grocery store. The previous grocery store closed Jan. 15, 2011.
Thanks to the group's efforts, the old store has been refurbished with fresh paint, new lights and flooring, a large investment in coolers, and something folks won't see: new wiring to replace the old and to increase the electrical capacity to accommodate the new coolers.
Leah Ann Brell, a member of the committee to re-establish the market and 2012 president of the Elwood Chamber of Commerce, said the store's operating hours will be 8 a.m. to 7 p.m., Monday through Saturday and 10 a.m. to 2 p.m. Sundays.
Brell said the board of directors decided to delay a grand opening until the store has been operating a month or two.
    At the JLDI meeting last Tuesday evening, Steve Thuernagle told us about the new, nationwide emergency alert system that will be broadcast on most cell phones manufactured after 2009.
    This system will alert you to threatening weather, national emergencies and amber alerts in the area your phone is located.   For example, if you live at Johnson Lake and you go on vacation to Colorado, your phone will receive alerts for the area of Colorado that you are in.   This will ensure that you will always be alerted to threatening weather where ever you (and your phone) are.
Please go to this link to watch a 10 minute video about the program: 
If you want to be alerted to threatening weather for this area regardless of where you are, you need to sign up for Code Red through the Dawson County Sheriff's office or you may click on this link to find the information to sign up online
  https://cne.coderedweb.com/Default.aspx?groupid=LbJXV6ZHolLOWKKyieX61A%3d%3d
Jean Edeal, JLDI Secretary
Plan outlines Johnson Lake trail system
By LORI POTTER Hub Staff Writer | Posted: Tuesday, July 3, 2012 3:30 pm http://www.kearneyhub.com
HOLDREGE — A master plan has been completed that defines how current hike-bike trails could be linked into an off-road trail system around Johnson Lake.
Rick Zubrod of Kirkham Michael of Lincoln presented an overview of the plan Monday to the Central Nebraska Public Power and Irrigation District directors and staff.
Johnson Lake is a regulating reservoir for CNPPID's irrigation system, with water also running through the J-1 and J-2 hydropower plants.
Central Public Relations Adviser Tim Anderson said a master plan was requested a year ago. Since then, a steering committee representing the lake's neighborhoods reviewed trail options. There also have been two public information meetings.
"We tried to get the public involved as much as we could," Anderson said.
Zubrod said that of the master plan's 110 pages, 35 are the plan and the other pages are maps and other attachments. No engineering or actual cost assessments are included, he said, and the costs could vary greatly depending on the amount of construction done by CNPPID, volunteers and other entities.
Ron Fowler, a member of Johnson Lake Development Inc. and the steering committee, told the Hub that general costs for paved trails is about $120,000 per mile.
Zubrod said an opinion survey mailed in October to 900 homes had a map listing 11 trail segments and options and received positive comments about trails' benefits for recreation and to keep hikers and bikers off the main roads.
"One of the things I like about these trails is they're not only for use by cabin owners, but also by the general public," Anderson said.
Concerns raised in the survey focused on keeping trails away from main roads for safety reasons and ensuring that trash and animal waste are controlled.
"The priorities were developed with safety in mind. The secondary goal was to connect neighborhoods and destinations," Zubrod said as he introduced a possible four-year schedule of 10 projects.
Proposed for fall this year are 1.09 miles from the marina to Road 751 to take bikes off a high-traffic road and about a half-mile from the Matson Trailhead across the inlet to Bass Bay Road to eliminate two dangerous bridge crossings, three sharp curves and a shared vehicle road.
The final project suggested for 2015 is to provide shoulder lanes for bicycles on the dam road.
"That's a very dangerous spot. Everyone wants to go across the dam," said CNPPID Director Dave Rowe of Lexington.
"This is a planning document. … But there's still some discussions to be held with property owners," Zubrod said.
Anderson said the steering committee could have recommendations about 2012 projects for the CNPPID board's Aug. 6 meeting.
He added that he's working with CNPPID Engineering Services Manager Eric Hixon to make sure none of the trail work would conflict with the possible construction of a low-head hydro across the canal. "Those have to be compatible," Anderson said.
Steering committee member Allan McClure said the Lexington Community Foundation has provided financial and emotional support for the project. He and Rowe said the foundation's Give Big Lexington campaign could help fund trail projects by allowing former residents to also contribute.
In other Johnson Lake news reviewed Monday, the annual fireworks show has been postponed until "after a good rain or when the snow flies," Fowler joked.
Rowe said the supplies probably will be saved for use in 2013, so no fundraising will be needed next year.
Fowler also reminded the CNPPID board that the second annual Johnson Lake Triathlon — a one-mile swim, 25-mile bike ride and 10K run — is July 15.
CNPPID Natural Resources Manager Mike Drain reported that high winds from a storm about two weeks ago had caused dock and shore station damage around the lake. He said Central will waive permit fees to replace those structures, as long as the new construction is consistent with what was there before and the old structures were in compliance.