Jlakers in the News
Subscribe to posts
LINCOLN — Two new commissioners have been appointed to the Nebraska Game and Parks Commission by Gov. Pete Ricketts and another commissioner has been re-appointed.
Jim Ernst of Columbus and Rick Brandt of Roca have been appointed to represent District 3 (northeastern Nebraska) and District 8 (Lancaster County), respectively. Pat Berggren of Broken Bow has been re-appointed in District 6 (Sandhills and north-central Nebraska). The appointments to four-year terms are effective Jan. 15.
Berggren was appointed last March to fill a vacant commissioner position, completing the term of his father, Lynn Berggren, who passed away. The Commission last year adopted the Berggren Plan, a comprehensive pheasant management plan named in honor of Lynn Berggren.
Pat Berggren said he wants to see the pheasant plan achieve its goals and become a success.
"I'm excited," he said. "I can't wait. It's a big honor to follow Dad. To serve four more years to help the sportsmen of Nebraska is pretty awesome."
Berggren, owner of a construction business, has been active for many years in the One Box Pheasant Hunt. He is active in other endeavors, similar to his father, including fishing, hunting, boating, camping and promoting Nebraska's outdoors.
Story continues:  Click Here   Pat is a Mallard Beach J-laker!!  Congratuations!!
LEXINGTON, Neb. - It was announced this week that Heather Heinemann has been appointed to the position of General Manager of the Lexington Clipper-Herald.
Heinemann has been a sales representative at the Clipper-Herald since May 2013. Prior to that, she was the Community Relations Director at what was then called Park Avenue Estates (now Brookdale Lexington).
"When the girls from the Clipper-Herald would come see me at Park Avenue, their excitement at getting the news out about what we had to offer was my first experience with a newspaper," Heinemann said. "I wanted to be a part of that, so I contacted the publisher at the time and said I wanted to learn more about it."
Heinemann is a lifelong resident of the Lexington area and now lives with her husband, Dan, near Darr. She has three children (Laura Strode, Tanner Nelson, and Tasia Strickland) and two granddaughters. She is active in area organizations, and in 2015 she was named Ambassador of the Year by the Lexington Area Chamber of Commerce.
Heinemann assumes her new role Monday, Oct. 10. She will be responsible for all aspects of the Clipper-Herald's operation.
"I am excited Heather has stepped forward to lead the Clipper-Herald team," said Shon Barenklau, a BH Media Group Vice President in charge of the company's Midwest Division. "We are expecting big things from Lexington under Heather's direction."
Current publisher Katy Bergstrom has accepted the position of lead salesperson for Big Red Auto Book out ofGrand Island.
"Katy's roots are in advertising and the Big Red Auto opportunity is a great fit for all involved," said Barenklau. 
Posted: Saturday, October 8, 2016 8:00 am
Clipper-Herald staff 
KEARNEY – Corbey Dorsey has been hired as a photographer in the Communications and Marketing Department at University of Nebraska at Kearney.
A longtime newspaper and magazine photojournalist, Dorsey joins the UNK staff on a full-time basis after working the past five years for the university as a freelancer.
He will be responsible for all UNK photography, including Loper Athletics.
"Corbey is one of the most talented, accomplished photographers in Nebraska. He brings many years of experience in all areas of photo work, from covering news and sports to portrait and high-end marketing photography," said Todd Gottula, UNK director of news and internal communications.
"He has been a fixture on the Nebraska news scene for a long time, and forged strong relationships with media, community leaders and others in the business."
A Cozad native, Dorsey is former editor of the Tri-City Tribune newspaper, which was owned and operated in Cozad by his family for more than 50 years.
In addition to his 25-year career with the Tribune, he has photographed countless headline concerts and major sporting events, including several NCAA national championship games and U.S. Olympic Trials. Dorsey's images have been published in Sports Illustrated, New York Times, Miami Herald, Pollstar Magazine and other national publications.
He has won nearly 200 news, feature and sports photography awards in Nebraska Press Association and National Newspaper Association contests during his career. In 2007, he won the Outstanding Young Nebraska Journalist Award.
"Corbey has been a great part-time partner for us over the last few years and his work is visible everywhere, from our websites and social media to our print publications," said Kelly Bartling, assistant vice chancellor for communications and community relations. "Photography is such an important part of our news, communication and marketing activities and we're lucky to have this award-winning photojournalist as part of our team."
Dorsey also has experience in sales, website management, graphic design and printing presses.
Craig Uden, fourth-generation cattleman from Cozad, Neb., has been elected president-elect of the National Cattlemen's Beef Association (NCBA). The election by the NCBA board of directors was conducted Jan. 30 at the organization's annual meeting during the 2016 Cattle Industry Convention and NCBA Trade Show in San Diego, Calif.
Uden is a partner in Darr Feedlot, Inc., a commercial cattle feeding operation, and with his wife, Terri, also owns and manages three commercial cow-calf operations. He has been involved with NCBA since the mid-1980s, serving in leadership positions on numerous committees and as Policy Division vice chair in 2014. He was the Federation Division chair in 2012, and last year served as NCBA vice president.
Uden has also been active in his state cattle organizations, serving as president of the Nebraska Beef Council. He has served on the Nebraska Cattlemen Board of Directors as a committee chair and vice chair, the Nebraska Cattlemen Research & Education Foundation, and is involved in the Nebraska Feedlot Council.  
A graduate of the University of Nebraska, Uden is active in numerous other local and state organizations. He is past chairman and elder of TrinityLutheranChurch in Lexington, on the board of the Dawson County Ag Society, is a member and past chair of the Dawson County Cattlemen's Association, and is a 4-H leader.
Initiated in 1898, the NCBA is the oldest and largest association of U.S. beef producers, and is the marketing organization and trade association for America's cattle farmers and ranchers. With offices in Denver and Washington, D.C., NCBA is a consumer-focused, producer-directed organization representing the largest segment of the nation's food and fiber industry. 
A memorial fund has been established for the beautiful family of Denise Carlberg at the Pinnacle Bank in Elwood. 
Donations can be mailed to Pinnacle Bank, 301 N. Smith Avenue, Elwood, NE 68937. Please share this 
opportunity 
to help during this time of mourning and loss of a wonderful mother, wife and friend.   (FB Msg from Shelly Jorges 2-5-13)
L to R:  Eric, Taylor & Tobie, Denise
JOHNSON LAKE, Neb. – At approximately 11:40 a.m. the Gosper County and Dawson County sheriff's offices were notified of a traffic accident at the inlet bridge of Johnson Lake on Johnson Lake Drive in Gosper County.
After an initial investigation, a vehicle driven by 54-year-old Denise Carlberg of Johnson Lake was driving north on Johnson Lake Drive when the vehicle left the roadway and went down an embankment, according to a press release issued by Gosper County Sheriff Dennis Ocken.
The vehicle then entered the Tri-County Canal.
Carlberg and the vehicle were recovered at 5:30 p.m., where she was confirmed to be dead.
An autopsy has been order.
The Gosper County Sheriff's Office was aided with the accident and recovery by the Dawson County Sheriff's Office, Johnson Lake EMS, the Lexington Volunteer Fire Department dive team, Kearney Volunteer Fire Department dive team and Central Public Power District.
EMERGENCY RESPONDERS search the Tri County Supply Canal near Johnson Lake Monday afternoon for Denise Carlberg's vehicle. The Gosper and Dawson County Sheriff's Offices were notified early Monday of a traffic accident at the inlet bridge. The vehicle and Carlberg's body were recovered at 5:30 p.m. Monday.Harry G. Perkins, Kearney Hub Photo
Authorities believe a vehicle entered the canal on the far side between the utility pole and the bridge sometime late Sunday evening.  KRVN Photo
Rescue workers from several area agencies including Lexington, Johnson Lake and Kearney prepare a dive team to find a car that had fallen into the Tri-County Canal at the south inlet of Johnson Lake. The car and its driver, 54-year-old Denise Carlberg, were pulled from the canal at 5:30 p.m. Monday. Carlberg was pronounced dead at the scene     
C-H photo • Dean Erickson
.
Dive team members
 from the Kearney Volunteer Fire Department were called to Johnson Lake Monday at approximately 2:15 p.m. to search for a vehicle. The vehicle, along with its sole occupant, 54-year-old Denise Carlberg of Johnson Lake, was pulled from the water at 5:30 p.m. Carlberg was pronounced dead at the scene.Clipper-Herald Staff Photo
| | | | |
| --- | --- | --- | --- |
| Fowler fills vacancy on CNPP&ID Board & Central News | | | |
Wednesday, 13 March 2013 18:21  http://www.arapahoemirror.com/index.php?option=com_content&view=article&id=3588:elwood-board-of-education-approves-raises-at-monthly-meeting&catid=1:local&Itemid=3
The Central Nebraska Public Power and Irrigation District's board of directors voted at Monday's monthly meeting to appoint Ron Fowler of Johnson Lake to fill a vacancy on the board.
     Fowler was selected by a vote of the directors from a field of three applicants to serve the remainder of Richard Hove's term which expires in 2015.  Hove, also of Johnson Lake, has represented Gosper County on the board since 2010.  He resigned because he is moving to Lincoln.
     Fowler is a graduate of the University of Nebraska-Kearney with B.S. degree in chemistry and biology.  He retired in 2009 from the Eaton Corporation in Kearney after more than 30 years with the company, most of which were spent in management positions.  He has been associated with Johnson Lake through a cabin/residence that has been in the family since 1971.  He has been a representative on the Johnson Lake Development, Inc., board (the cabin-owners' association) since 2010 and has served the last two years as JLDI's liaison to Central's board.
     Fowler will be formally seated at the Nov. 22 committee meeting of the board.
     Board President Dudley Nelson thanked Hove and presented him with a plaque in recognition of his service to the District.

     Also at Monday's monthly meeting:
     •  The board approved agreements with Investment Property Exchange, Inc., (IPEX) of Kearney to provide appraisal services associated with property to be acquired for construction of the J-2 Regulating Reservoirs.  In addition, the board approved an agreement with Luhrs Real Estate and Appraisals of Imperial to complete a review of the appraisals.  A review appraisal is necessary in this instance to comply with federal regulations for appraisals involving projects in which federal funds will be expended.
     •  The directors approved a contract change order for $113,680 payable to Allen Blasting and Coating, Inc., to cover charges incurred as a result of delays after the company mobilized for a siphon-coating project on the E65 Canal.  The project was delayed after floodwaters from the South Platte River were diverted into Central's system to ease flood damage and to provide groundwater recharge benefits in the area.
     •  John Thorburn, Tri-Basin Natural Resources District manager, thanked Central's board and staff for their cooperative efforts during the South Platte River flooding.  He said that cooperation between Central and Tri-Basin to divert floodwaters will provide recharge benefits in the Platte River and Republican River watersheds, as well as recreational benefits at Elwood Reservoir.
     •  Civil engineer Cory Steinke reported that inflows to Lake McConaughy were about 1,010 cubic feet per second on Monday morning, which is about 65 percent of normal for this time of year.  The reservoir was at elevation 3229.6 feet above mean sea level with a volume of 868,000 acre-feet (49.8 percent of capacity).  The reservoir has risen about five and a half feet in elevation since the end of irrigation season.


Artwork promotes Johnson Lake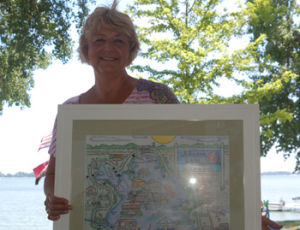 by Kevin Zelaya C-H staff writer | Posted: Friday, July 12, 2013 4:00 pm  
Lex C-H Online
JOHNSON LAKE
– What started out as a fundraising project for the Johnson Lake Art and Wine 
Festival, has turned into an iconic rendering of the thriving recreational area.  
The colorful, detailed drawing of Johnson Lake by Bonnie Marshall, was originally undertaken as a 
fundraiser and promotion project for the Johnson Lake Art and Wine Festival, where the original  
drawing sold at auction for $800, Marshall said.
As part of that fundraising effort, Morris Press from Kearney printed 1,000 copies of the drawing, 
which shows a comprehensive portrait of businesses and attractions around Johnson Lake, with the 
proceeds benefiting the Johnson Lake area, Marshall said.  
"All the profit from the posters goes to the Johnson Lake Chamber of Commerce, which will 
distribute the proceeds to the Hike and Bike Trail, the Chapel, the Lake EMS and to general Lake 
improvement projects," Marshall said.
Marshall, a former nurse, said although she later went back to college to study commercial art, she 
prefers to channel her artistic side for important projects.  
She said drawing the Johnson Lake map was a months-long project, which she worked on using 
colored pencils.  
"I drove around the Lake, taking pictures of each of the business at the Lake," Marshall said about 
wanting to include every business at the Lake and making her drawing look more accurate.
For those interested in buying a Johnson Lake drawing, they are available for $10 at the LakeShore 
Marina Bar and Grille con
venience store, Portside Express or direct from 
Bonnie by contacting her at 308-233-7638.  
"I was trying to show what a great place Johnson Lake is."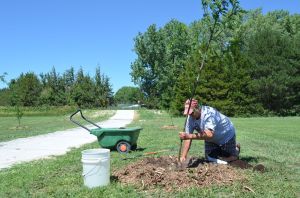 Beautifying Johnson Lake tree by tree
By MALENAWARD Hub Regional Correspondent | Posted: Saturday, July 6, 2013 1:00 pm  http://kearneyhub.com
JOHNSON LAKE — Stan Vodehnal isn't sure why he likes planting trees, but he knows he likes it.  
Maybe it started with gardening and the thrill of watching something small grow bigger and reveal its 
usefulness.   
"You can take pride when you know you put in a 6-foot tree and in 10 years it's 20 feet tall," he said.  
He planted his first tree as an adult in the yard of the first house in Omaha where he and his wife,  
Stephanie, lived. They still go by from time to time to see how that tree is doing.
For Arbor Day one year, a bank in Cozad offered its customers a pine pencil tree to plant. It was no 
more than a slender tree in a bag with its roots wet and no dirt, Vodehnal said. He asked if he could 
have more than one and planted them. That was 10 years ago.  
Vodehnal's tree planting passion has evolved to benefit the Johnson Lake Hike and Bike Trail. The 
lake has been his home for 18 years, and he's a trail committee member.  
Even before the trail was laid, Vodehnal planned for and planted trees. He continues to add them, 
envisioning how they will benefit trail users in the future. "It may not look like much now, but in five 
years people will be able to come and enjoy the shade," Vodehnal said.  
In one section there are four honey locusts planted on each side of the concrete path.  
"It's going to be cool, I think," said Vodehnal of the tunnel-like canopy they will form someday.  
Another spot has two cherry trees, which were selected because they won't grow too tall and interfere  
with the overhead power lines. The fruit will also attract the neighbors, as does the community garden 
nearby.
Trail users will find a variety of trees waiting for them. A walking stick offers twisted and contorted 
branches, and a northern catalpa has large heart-shaped leaves and showy trumpet-shaped white 
flowers in the spring, Vodehnal said.  
He said the trees are obtained from various sources. Some are purchased at full price, and some are 
bought when discounted at the end of the year. Vodehnal said Lewis Greenscape in Grand Island has
donated trees it doesn't want to winter from its end-of-the-year stock.  
"It's a mix and match," Vodehnal said of the varieties. He also has planted fiesta maples, aspens, oaks, 
golden raindrop crabapples, flowering crabapples, river birches and elms.
Vodehnal hasn't tracked how many trees he has planted. He said someone told him there were more than 60 trees in the North Point section of the lake, but he doesn't count them.  
Sometimes, Vodehnal invites neighbors to help plant trees. He emphasized he isn't the only one 
working to beautify the area through trees. Neighbors water the trees along the trail near where they 
live and mow the surrounding areas.  
Two or three years ago, Vodehnal planted two matching memorial trees, royal red maples, near where 
fireworks are discharged each year. One was for his father, Irvin "Vodie" Vodehnal, and one was for 
his brother Bruce Vodehnal. Months later, he received a phone call informing him that a buck deer had 
rubbed the bark off and killed the tree planted in memory of his brother.  
He replaced it with a summer splendor maple donated by Liens Lawn Service. The tree was 
questionable because there was an entire side with dead limbs, but Vodehnal said he thought it seemed 
perfect because his brother struggled with a personal issue his entire life.
He recently noticed the tree is leafing out on the bad side — a sign that it's going to make it.
Another memorial tree, a gingerbread paperbark maple with brown peeling bark, was planted late at 
night last December before family members left to go home following the funeral of Courtney 
Hanson.  
Vodehnal said he bought the tree on his way home from the funeral in Hastings. He called the families
and asked if they wanted to help plant it.  
Some people were dressed in pajamas and huddled in blankets to keep warm during the planting. They
used flashlights to see. It was a touching, impromptu moment, he said. 
Vodehnal plans to have plaques made to mark the memorial trees, but cringes at a marker already 
erected in circular area of the trail that recognizes him and Stephanie for trees along the trail.  
"I do want to stress it's not just me," he said