Raroo Blog
Thoughts from the Raroos on video games, parenthood, and life in general

Subscribe to posts
August flew by for me! So many things happening in my personal and work life, culminating in my kids going back to school after a wonderful summer break. Thankfully, I still managed to squeeze in some game time each day -- some days definitely more than others. 
Thoughts on this month's games:
Marvel Super Heroes vs. Street Fighter's strange Japan-only character, Norimaro, is one of my favorites.
Madworld's black and white aesthetics are really nifty.
Jet Set Radio still seems so fresh and inviting in terms of its visuals, but it's not so easy to control.
Playing Strikers 1945 in tate mode on Switch makes me long for the rest of Psikyo's catalog to be released.
Splatterhouse is definitely not as great as I remembered, but it's fun all the same.
Klonoa Door to Phatomile has such a warm atmosphere, especially in terms of its music.
Drill Dozer is proof that GameFreak should go off the Pokemon rails more often.
L.A. Machineguns is pure arcade goodness.
Radiant Silvergun is one of the BUFFEST games I've ever played.
Sonic Mania is how the teenage me imagined Sonic games would continue on new hardware.
I have a Pomeranian, so Tokyo Jungle has a special spot for me.
WareWare Twisted is wonderfully creative and silly, and the cartridge's vibrations are integrated so well.
My wife always says "Impressive, Snake" anytime I hum the end-of-stage music for Metal Gear Solid: VR Missions.
PixelJunk Sidescroller is such a loving tribute to classic 2D shmups like R-Type.
The production values in Puppeteer are magnificent and clever.
Playing Missile Command on original hardware with that big trackball is a treat.
I didn't play Night Trap until it was remastered for PS4 -- it's not "fun" but definitely entertaining.
How does Mario + Rabbids: Kingdom Battle even exist, and how is it somehow really great?
Everybody's Golf seems to have less impressive graphics than its PS3 predecessor, but it's still engaging.
August 1:Marvel Super Heroes vs. Street Fighter
August 2: Madworld
August 3: Jet Set Radio
August 4: Gunbarich
August 5: Strikers 1945
August 6: Splatterhouse
August 7: Klonoa: Door to Phantomile
August 8: Drill Dozer
August 9: Power Stone
August 10: Dead Nation
August 11: L.A. Machineguns
August 12: Radiant Silvergun
August 13: Tempest
August 14: Night Warriors: Darkstalkers' Revenge
August 15: Sonic Mania
August 16: Sky Kid
August 17: Matterfall
August 18: Magician Lord
August 19: Undertale
August 20: Tokyo Jungle
August 21: WarioWare Twisted
August 22: Gaia Seed
August 23: RayCrisis
August 24: Metal Gear Solid: VR Missions
August 25: PixelJunk Sidescroller
August 26: R-Type DX
August 27: Puppeteer
August 28: Missile Command
August 29: Night Trap
August 30: Mario _ Rabbids: Kingdom Battle
August 31: Everybody's Golf
Wow, July was a busy, full, but very fun month for me. A lot happened in my personal life, but I still managed to squeeze in some game time every day. I have had a lot of fun digging back through my library, and I found myself particularly drawn to Nintendo handheld games this month, partially due to convenience of being able to play anywhere.
Some thoughts:
The Crash Bandicoot series is so simple and straightforward, but I find that relaxing.
Joe Danger is great fun and it's too bad No Man's Sky has made a lot of people discredit Hello Games.
Pinball of the Dead represents an interesting era where Sega was putting lots of strange, cool stuff onto GBA.
NieR Automata is a total masterpiece. I'm blown away. I need to carve out time to play a lot more of this.
Ms. Pac-Man is still so fun and engaging. 
Meteos was the first game I could point to to truly justify having a DS. Such lovely production values!
Nex Machina is a great spiritual successor to Robotron 2084.
Wario Land 4 was ahead of its time. Truly one of the best "Mario universe" platformers, period.
Pulstar is a such a cool R-Type game, even if it's technically not part of the official series.
Splatoon 2 is basically Splatoon 1.5, but that's okay! As my son says, it's "fresher." Extremely fun.
Away Shuffle Dungeon has an intriguing concept and is worth returning to.
Shining Soul II on a GBA is essentially all I ever wanted out of video games.
Beat City is nowhere near as refined as Rhythm Tengoku, but it's a nice game all the same.
Miitopia feels like it was made for me. Such a fun and funny RPG!
Hey! Pikmin is making me wonder if Arzest hired some new talent, because it's really good.
I bought Koro Koro Puzzle Happy Panechu! when I was in Tokyo in 2006. It's cute and colorful.
Ridge Racer 6 is the last great Ridge Racer game, in my opinion. The pinnacle of the series, perhaps!
July 2: Tokyo Xanadu
July 3: Tomb of the Mask
July 4: Joe Danger
July 5: Altered Beast
July 6: Pinball of the Dead
July 7: Kirby's Blowout Blast
July 8: NieR Automata
July 9: Looty Dungeon
July 10: Ms. Pac-Man
July 11: Meteos
July 12: Donkey Kong Country Returns 3D
July 13: Space Harrier
July 14: Cursed Castilla
July 15: Final Fantasy XII: The Zodiac Age
July 16: I am an Air Traffic Controller: AIRPORT HERO OSAKA-KIX
July 17: Nex Machina
July 18: Wario Land 4
July 19: Pulstar
July 20: Sonic Lost World
July 21: Boost Beast
July 22: Splatoon 2
July 23: Dialhex
July 24: Away Shuffle Dungeon
July 25: Advance GTA
July 26: Shining Soul II
July 27: Beat City
July 28: Miitopia
July 29: Hey! Pikmin
July 30: Koro Koro Puzzle Happy Panechu!
July 31: Ridge Racer 6
June went by quickly, especially when compared to how slow May felt to me. I'm officially halfway through the year with this fun project, and I've managed to dig into my collection to enjoy a different game every single day. That's not to say I don't revisit or keep playing certain games, but I try to spice up my game time with something fresh daily. It's definitely "work" to do it, but it's also enjoyable and serves akin to a daily meditation on how much I love games and the artistry that goes into creating them.
Some thoughts:
Kira Kira Star Night DX is recent game released for Famicom (on a cartridge!), which is wild.
Rockman Battle & Fighters is way cooler than I remember it being.
My son got into Just Dance at his after-school program, and he thinks 2014 is the best one.
Animal Crossing New Leaf is still as relaxing as it ever was.
WipEout Omega Collection is beautiful.
Overwatch is worthy of all the hype it receives and if I was a college student I'd be playing it so much more
Witch and Hero is so simple and charming and lovely and you should play it
I've been really working on improving my health, and I "jog" with Wii Fit U almost daily
F-Zero Climax is the one GBA entry that didn't make it stateside. It's so smooth!
Konami Krazy Racers: Better than Mario Kart on GBA. Come at me.
Galaga Wars is super cool and one of the few iOS games that has "hooked" me in a long time.
ARMS is so rad. Why am I not playing this game more?!
Vicarious Visions are underappreciated, but they are wizards. Tony Hawk's American Sk8land is awesome.
Face Raiders makes me wish there were more weird AR games on 3DS!
I'd love a new Excite Truck game (or, better yet, Excite Bots).
Spelunky is hard and I'll never be good at it, but it's great.
Nintendo Land really should have sold more Wii U systems. It's so creative and full of fanservice.
How did Shin'en pull of Iridon II on GBA hardware? Dark magic!
Steppy Pants is ridiculous and a perfect "waiting in line" iOS game.
Noby Noby Boy made me get teary eyed when I fired it up and saw Girl had connected all the planets!
June 1: Market Crashers
June 2: Kira Kira Star Night DX
June 3: Rockman Battle & Fighters
June 4: Just Dance 2014
June 5: Animal Crossing New Leaf
June 6: Jump Ultimate Stars
June 7: WipEout Omega Collection
June 8: Crossy Road
June 9: ClaDun Returns: This is Sengoku!
June 10: Overwatch
June 11: Witch and Hero
June 12: Wii Fit U
June 13: F-Zero Climax
June 14: Konami Krazy Racers
June 15: Galaga Wars
June 16: ARMS
June 17: Pac-Man 256
June 18: Final Fight One
June 19: Tony Hawk's American Sk8land
June 20: Face Raiders
June 21: Excite Truck
June 22: Dr. Mario Miracle Cure
June 23: Spelunky
June 24: Ever Oasis
June 25: Nintendo Land
June 26: Iridion II
June 27: Steppy Pants
June 28: Cyberbots: Fullmetal Madness
June 29: Mighty Switch Force
June 30: Noby Noby Boy
May felt like a really long month to me, but the good news is that meant I was able to squeeze in a lot of games! There were a lot of good new releases in May, but I also took time to revisit some old favorites as well as a handful of games I never really dug that deeply into.
Some thoughts:
I beat Ninja Spirit the day I purchased it back in high school, and my friend tried to convince me to return it and get something else. I kept it. I'm glad.
Tumbleseed is so hard, but I've grown to love that. Really clever, and the HD Rumble on Switch feels awesome.
I'll probably never complete Castlevania: Order of Ecclesia. So tough!
GNOG is just a treat. Wow.
I love how upbeat Blazing Star is!
Tokyo Beat Down is over-the-top in the best way.
Furu Furu Park is a "bad" game that I find absolutely charming.
Rival Schools: United by Fate still looks really colorful and smooth.
Motocross Maniacs reminds me of trading Game Boy games with friends while we were supposed to be dressing up for gym class in Junior High School.
Captain Toad needs to return in a new game.
Arkanoid vs. Space Invaders is so familiar yet fresh.
F-Zero still looks great and captures a nice sense of speed.
Zero Gunner 2 scratches all the right arcade shooter itches for me.
Bangai-O Spirits is projectile joy.
May 1: Pac 'n Roll
May 2: Ninja Spirit
May 3: Tumbleseed
May 4: Iwy the Kiwi?
May 5: Castlevania: Order of Ecclesia
May 6: Night Slashers
May 7: GNOG
May 8: DK Jungle Climber
May 9: Kirby's Block Ball
May 10: Blazing Star
May 11: Parodius
May 12: Loco Roco
May 13: Super Punch-Out!!
May 14: Tokyo Beat Down
May 15: Furu Furu Park
May 16: AQUIA
May 17: Polybius
May 18: Ninja Boy
May 19: Ninja Baseball Bat Man
May 20: Thumper
May 21: Rival Schools: United by Fate
May 22: Kuru Kuru Kuruin
May 23: Birthdays The Beginning
May 24: Motocross Maniacs
May 25: Peggle Blast
May 26: Captain Toad: Treasure Tracker
May 27: Arkanoid vs. Space Invaders
May 28: F-Zero
May 29: Zero Gunner 2
May 30: Magnetic Shaving Derby
May 31: Bangai-O Spirits
A third of the year is down, and I've continued finding a new game to play every single day. I hope I can make it through the whole year! Each day brings something fresh and engaging, even if I may only spend a short time with an old favorite.
Some thoughts:
Super Mario 3D World's cat suit is maybe my favorite Mario power-up ever.
PiCTOBiTS has such a fantastic soundtrack.
Ninja Five-0 is an absolute gem.
Castlevania: Harmony of Dissonance got a lot of criticism for its soundtrack, but I like it!
The "weight" of your character in Balloon Fight is perfect.
Let's Tap is way cooler than I remember it being. Very clever!
You can see a lot of the same style HAL used for Kirby in Trax.
Fatal Fury Special has bright, cheerful colors that I love.
Air Zonk is another game like Bonk's Revenge that makes me remember so much about high school. Memories!
Ganbare Neo Poke-kun is reason enough to own a Neo Geo Pocket Color.
Rhyme Rider Keroican is nowhere near as good as Vib-Ribbon, but it's still weird and interesting.
I miss when Sonic Team and Sega made wacky stuff like The Rub Rabbits!
Those spiders in Guwange creep me out.
My son is totally in love with Mario Kart 8 Deluxe and that makes me happy!
April 1: Mega Man ZX
April 2: Super Mario 3D World
April 3: Aura-Aura Climber
April 4: PiCTOBiTS
April 5: Persona 5
April 6: Ultimate Marvel vs. Capcom 3
April 7: Ninja Five-0
April 8: Neo Contra
April 9: Virtua Tennis
April 10: Graceful Explosion Machine
April 11: Castlevania: Harmony of Dissonance
April 12: Prey the Stars
April 13: LEGO City Undercover
April 14: Balloon Fight
April 15: Yanya Caballista: City Skater
April 16: Let's Tap
April 17: Rhythm Heaven Megamix
April 18: Pocket Card Jockey
April 19: Wonder Boy: The Dragon's Trap
April 20: Trax
April 21: Ninja Commando
April 22: Fatal Fury Special
April 23: Air Zonk
April 24: Ganbare Neo Poke-kun
April 25: Rhyme Rider Keroican
April 26: Puyo Puyo Tetris
April 27: The Rub Rabbits!
April 28: Guwange
April 29: Mario Kart 8 Deluxe
April 30: Flinthook
I've officially made it through a quarter of the year! I love trying to play something fresh every day because it is inspiring me to waste less time and explore more of my collection.
Some thoughts:
Neo Turf Masters is possibly the best golf game ever created.
Breath of the Wild lives up to the hype. Wow.
Tadpole Treble is pure joy and the art is extremely cute.
The "marble counting" game in 1-2-Switch is mindblowing because it feels real.
Gals Fighters made me remember how great the Neo Geo Pocket's clicky-stick is for fighting games.
Bomberman 64 has adorable illustrations in its on-screen instructions.
Rocket Knight Adventures has such gloriously chunky sprites.
Batman on Game Boy has some of my favorite game music ever.
Planet Puzzle League is 100% class in its presentation.
Miracle Adventures is one of my favorite Neo Geo games and I'm glad I bought it when it was cheap(er).
Spotto! is such a goofy, simple game but it is really charming.
Trajectile needs a sequel. It is so clever and stylish.
March 1: Neo Turf Masters
March 2: World Court Tennis
March 3: The Legend of Zelda: Breath of the Wild
March 4: Tadpole Treble
March 5: 1-2-Switch
March 6: Sakura Samurai: Art of the Sword
March 7: FAST RMX
March 8: Alleyway
March 9: Gals Fighters
March 10: Shock Troopers
March 11: Bomberman 64
March 12: Alien Crush
March 13: Rocket Knight Adventures
March 14: Gunbird
March 15: Metal Slug 3
March 16: Pocky & Rocky
March 17: Ghost Blade HD
March 18: Batman (Game Boy)
March 19: Strider
March 20: Tokyo Crash Mobs
March 21: Dig Dug II
March 22: Pac-Man
March 23: GTI Club: Supermini Festa!
March 24: Planet Puzzle League
March 25: Mario Sports Superstars
March 26: Space Invaders Extreme 2
March 27: Miracle Adventure
March 28: Spotto!
March 29: Jetpack Joyride
March 30: Trajectile
March 31: Snake Pass
I'm notoriously bad at finishing The Legend of Zelda games. Link's Awakening and the Minish Cap are the only two I've seen through to completion. As much as I love the Zelda series, I kind of run out of steam a big chunk of the way through. Add to that the day-to-day responsibilities of adulthood and parenthood, and it's not likely I'll see the credits roll on any Zelda game in the foreseeable future.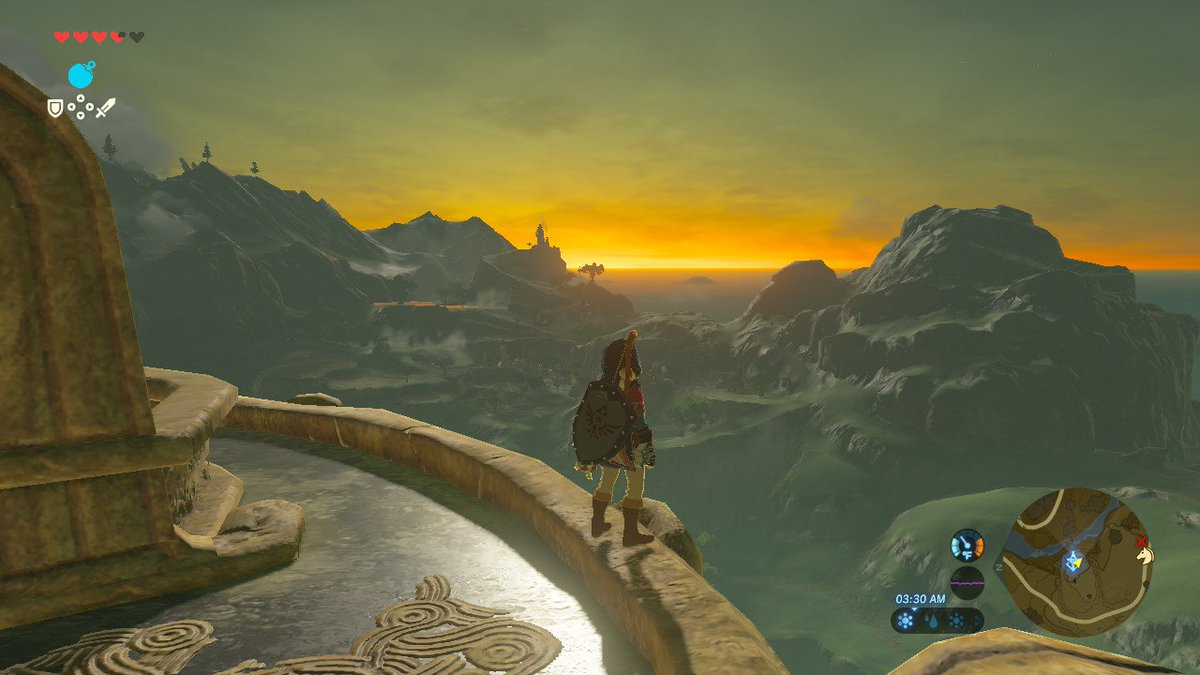 Enter Breath of the Wild. It feels like this game was meant for people like me. Sure, there is a larger quest and narrative you can follow, but the joy comes in just being in the moment. Even if I may not have a lot of time to play, just hopping into the gorgeous game world and goofing around for half an hour is relaxing and rewarding. Everything simply feels good when you play Breath of the Wild.
Two months in, and I've managed to play a unique game every day this year. My goal is to spend a little time with a different game every single day in 2017. We'll see if I make it!
A handful of thoughts: 
Mr. Driller Drill Land is definitely a masterpiece. 
Castlevania Judgement is way better and much more fun than it probably should be. 
Bonk's Revenge is very much a "comfort food" game for me and brought back fond memories of high school. 
The Quest Mode in Final Lap Twin is extremely charming!
Wii Sports Resort and Wii Play Motion reminded me how cool motion controls can be when done correctly... and now I'm looking forward to seeing what Nintendo does with the Switch's Joycon controllers!
February 1: Super Mario Land 2
February 2: Bullet Soul
February 3: Operation C
February 4: Poochy and Yoshi's Woolly World
February 5: Flingsmash
February 6: Contra Hard Corps
February 7: Battle Circuit
February 8: Fire Emblem Heroes
February 9: Nemesis
February 10: Wii Play Motion
February 11: Devil's Crush
February 12: Bonk's Revenge
February 13: Street Fighter Alpha 2
February 14: Kingdom Grandprix
February 15: Rusty's Real Deal Baseball
February 16: Frogger 3D
February 17: Tank Troopers
February 18: Mr. Driller Drill Land
February 19: 1941 Counter Attack (in honor of my 41st birthday!)
February 20: Tetris (Game Boy)
February 21: Advance Guardian Heroes
February 22: Ultimate Angler
February 23: Bomberman '94
February 24: Ibara
February 25: Castlevania Judgement
February 26: Final Lap Twin
February 27: Pilot Kids
February 28: Wii Sports Resort
I am keeping track of games I play in 2017, with the goal of not only playing a game every day, but trying to play a unique game each day as well. That's not to say I can't play the same game on multiple games, but I'm trying to throw in something else as well. It's been a fun project so far!
Some notes:
Shinobi on 3DS is way better than I expected it to be.
Wild Guns Reloaded is hard -- my skills have atrophied over the years.
Gradius V makes me with Treasure and G.Rev would make Gradius VI.
God Hand is so ridiculous... in a wonderful way.
The core mechanics of Fruit Ninja still feel so satisfying all these years later.
OutRun 2 is buttery smooth.
Steel Diver with the 3D at full blast is like looking into an aquarium.
Sin & Punishment Star Successor is perfect for Wii motion controls.
Kirby and the Rainbow Curse is absolutely beautiful.
I like all the bizarre enemies in Super Mario Land.
Revenge of the Gator's music has been in my head since it was released.
The Last Blade has some of the best atmosphere in any game I've ever played.
Soldier Blade's soundtrack and aesthetics are everything I want in a vertical shooter.
January 1: Street Fighter V
January 2: Castlevania Dracula X
January 3: Shinobi (3DS)
January 4: Wild Guns Reloaded
January 5: New Super Mario Bros. 2
January 6: Guilty Gear Xrd Revelator
January 7: Pangya Fantasy Golf
January 8: Gradius V
January 9: Sega Golf Club
January 10: God Hand
January 11: Fruit Ninja
January 12: Mega Man and Bass
January 13: OutRun 2
January 14: Luigi's Mansion Dark Moon
January 15: The Legend of Zelda: A Link Between Worlds
January 16: Steel Diver
January 17: Hatsune Miku Project Diva Future Tone
January 18: Sin & Punishment Star Successor
January 19: Super Mario Run
January 20: Baseball Stars 2
January 21: Kirby and the Rainbow Curse
January 22: Gravity Rush 2
January 23: Super Mario Land
January 24: Revenge of the Gator
January 25: Yakuza 0
January 26: Under Defeat
January 27: Ghouls 'n Ghosts
January 28: Cadillacs and Dinosaurs
January 29: The Last Blade
January 30: Soldier Blade
January 31: Keio Flying Squadron