Howdy!  THIS PAGE IS UNDER CONSTRUCTION!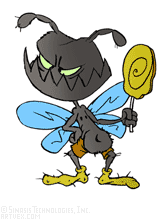 What Vectors Carry What Diseases?
The term "vector" refers to any arthropod that transmits a disease through feeding activity.  
"Vector-borne disease" is the term used to describe an illness caused by an organism that is 
transmitted to people by biting arthropods.  
Insect and arachnid (arthropods) vectors include mosquitoes, fleas, lice, biting flies, mites and ticks.  
Eastern Equine Encephalitis
Q-Fever- 
Coxiella burnetii
Sleeping Sickness- 
African Trypanosomiasis
Swimmer's Itch- Cercarial or Schistosomal Dermatitis
Tick-Borne Relapsing Fever
Typhus- 
Rickettsia prowazekii
October 2015- SITE UNDER CONSTRUCTION!
Please see the subpages below for more information.