Insectduel's Domain News
Many archive personal blogs or ROM-Remodeling news updates.
Subscribe to posts
Insectduel's Domain's blog stories are moving to blogger called Insectduel's Game Corner. A new breed of gaming stories, news, and updates. The site is in monetization and the site will make money as much as possible. So far, we are affiliated with Project Wonderful but we need money to make bids so it will pop up at SMW Central. Can you make a few donations to help me out please?
Both E-Bay and Google Ad words are still pending. With E-Bay, I missed their phone call. So I can verify within 24 hours to activate their partnership. Insectduel's Game Corner needs to be affiliated to promote more fans and make more money to our budget.
Insectduel's Game Corner will put up the Archive Stories label and will import all written stories from Freewebs, and Google Sites. I had some blogs written on MySpace but I chose to delete my account in December 2010. No blogs ever written from Facebook, only announcements.
We will continue to post the blogs on a daily basis as the traffic still increasing.
The Donation Plan
Yesterday, I recently found the legit website, where you make money on the internet without making a single penny. The site is called, Seven Dollar Clicks dot com. Unlike Neobux or Clixsense, you actually making money and I made about $405 on a single day. Clicking on those ads actually took longer than Neobux or Clixsense, which can take about 3 minutes for $15 value. The problem is that you cannot withdraw any money into Paypal unless you have $7,000 which it may take up to 2 or 3 weeks if you work seriously. If we had that much money on our Paypal account, then we should continue our donations as planned.
Remember 30% of your donated share will belong to the Japan's Earthquake and Tsunami Fund and is $15 to start which equals to $5. We will not cancel the Project 4 Payment plan if we do make much money for the YouTube requests will no longer becomes $5 per request. It's still $30 for any requested projects on a 1 week period and this time the money will be used for donations at this time. The $200 team project will split half the money donated to charity.
Source: 
http://insectduel.blogspot.com/2012/05/improving-franks-2nd-smb3-hack-for.html
Since the 2 weeks release of Frank's 2nd SMB3 hack version 0.97.3, it still needs improvements. As a similar to Nintendo improving SMB1 which turns into SMB2 in Japan, SMB3 needs to do the same to turn into a complete different hack. For instance, some levels uses garbled graphics should be corrected as I'm going to research the sprite tilemaps and figure out what to do with it. Hard coded ASM will be required as I will store as much extended graphics as possible or try to create a graphic loading chain that limits expansion of the rom. Some graphic tables are NOT being used at the moment according to the tile editor and some enemies themselves in a level are also not used.
We need to improve the game as much as possible. Because I may want to do the same with my future SMB3 hack called
ISD's SMB3 Kai
. Just like Super Mario Advance 4 or Super Mario Bros. The Lost Levels (SMB2J), Luigi should have higher jumps and/or slides than Mario. Coding can be difficult to handle if not properly used. The invisible star block should act like the real invisible star block. But it may affect World 8 Fortress #2 in the SNES version or even Bowser's Castle which should be a quick fix replacing continuous starman bricks. We need to figure it out carefully and besides, quicksand's that doesn't act like it should be used but placed in the proper order placement so it can overwrite them.
There are other features that we need to add, here's the following:
Luigi's Jump and slides should be higher than Mario.
REAL invisible star like with coins and 1-UPs.
Munchers won't turn into blocks via Koopa shell or Raccoon tail whip.
Star power to get points for a 1-UP. Not sure if this code is attempted manually.
Bowser's eyes glows in Bowser's castle turning on animations in World 8 map #4. (ExGFX animations)
Raccoon's tail whip while duck flying. (Optional)
Power up sprites doesn't disappear when getting another power up item.
Poisonous Mushrooms (Optional)
And here's what needed to be fixed other than the garbled graphics:
Palette swaps for Spike Cheep Cheep, Super Leaf from Giant ? blocks and Smart Hot Foots.
Add the SMA4 sledge hammer bros sprite head which makes the sprite to have an extra 16x16.
Castle backgrounds that uses for Super Tank and Airship Anchor's Away levels should be lowered 1 block or 2 blocks from the other to fit the ground. Currently uses for Plains stages.
These will be done and to be released as version 1.0 which is to be announced. We may extend the worlds if possible after the version 1.0 release.
The SMB3-SMAS document is underway and is about almost finished. I may want to reopen any SMB3-SMAS requests and will do the mini project such as the poison mushroom code. Stay tuned for more on the upcoming events of my website.
~ Insectduel a.k.a ろんちゃん
Starting July 1, we will start charging people to do their ROM-Remodeling projects because I am sick and tired of living in low income. It is time to do something with this site even though I am writing this blog, going to both Neobux and Clicksense to earn some money. I am also helping a friend out after clicking on his referral address to join the site. That means I will not be freelancing to do their work for you.
The charge to do any ROM-Hacking projects that is not mine costs $30 on a one-week period. For instance, if you want me to work on an ASM code such as SM2J skidding to SMB1, or a mini rom hacking project, or help fixing at least five glitches of your project will cost $30 via PayPal. If I cannot successfully do any of these things on a one-week period, you will get your $10 refund. Fixing bugs and glitches in your projects less than 5 are free OR hardcore fans of my site are always free. Rom hackers must have your PayPal account for payment. The address is
Rondellmole429@gmail.com
. DO NOT USE MY MAIN E-MAIL TO PAY AND THE MAIN ONE NEVER HAVE A PAYPAL ACCOUNT!
The cost of doing the entire ROM-Hacking project that is not mine or a group project referred by a rom hacker leader costs $200 with no refunds. However, I have the right to cancel your project at anytime and continue with my own project. Remember NO refunds! Even if you throw more money to continue, your project does not guarantee that your project will be completed in time. NO, YOU WILL NOT!
In the future, ROM-Hack downloads will be free of charge but fan games will cost you. If I am working on a Mega Man fan game or a completely original idea that did not come from any video game will cost $50 to download them in your hard drives. However, my Mega Girl project from my Mega Man 1 hack may move into a fan-based engine like Multimedia Fusion 2 with N64Mario's Mega Man Engine. These games for downloads will cost $50 if completed. ROM-Hacks are free and always will be free.
What I am saying this now is to balance my website's budget is to have a good life, pay the monthly rent and buy groceries to support my family. You are free to donate any amount of money at anytime via my PayPal E-mail address. I will discuss about the donations of the Earthaquake and the Tsunami funds a little later for each donated money.
Source:
Insectduel's Game Corner
Last Saturday on April 28th, I took a shot of a R142A (6) train from E. 149th Street to Hunts Point Avenue recording my video. Then I took the shuttle bus to the nearby Whitlock Avenue to find a barber shop and gotten a haircut. Then onward to Brooklyn by taking the (2) train to Times Square and transfer to the (Q) train to Prospect Park. However, I didn't know about the other entrance which is Eastern Parkway (2) and (3) stop. So I went in and pay the $15.
I've been exploring around the botanic gardens with different types of Japanese plants and lilies which you can find on my
Facebook fan page's photo albums
. Then onward to the Cherry Esplanade Stage and gotten myself some "dango?" which is a Japanese food on a stick but tastes pretty sweet.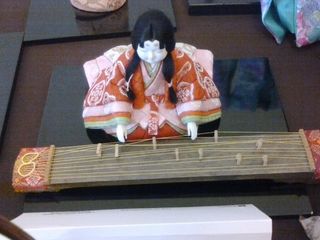 Afterwards, I went to the Sakura J-Lounge where the anime and manga takes place. Even for cosplayers. Every minute, took photo shoots of each cosplayer for collection such as Sakura Haruno, Link, Youmu, and even the Parasol Yukata, Kimono, and Lolita girls.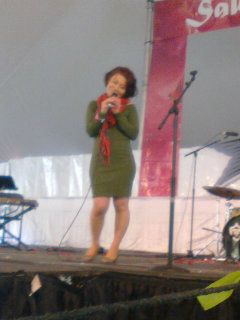 During the 3PM time after going to the Doll museum, I went to the Cherry Esplanade Stage to see the band. I wanted to get in contact with the band but didn't reach me, then rushed to see the manga artist Misako Rocks with anime English dub voice actor Veronica Taylor. It's a fun workshop. By the time after I met Veronica, I rushed over to Yuki Ishiwata with her cuties band and it was already over. I was lucky enough to buy the other CD from Yuki Ishiwata's merchants making it a full complete collection.
As the time goes,  I accidentally took the Queen's side of the (C) train from Franklin Avenue after the shuttle from the Botanic Garden instead of the Manhattan bound and the power failure making all trains not move to Utica Avenue on the Manhattan bound side. I took the B46 bus to the (3) train from Utica to Atlantic Avenue and transfer to the (N) train to 14th Street Union Square. I got to Peridance Center on time with 30 minutes to spare.
Since photo and video recordings are NOT allowed, I didn't take any. So I watch all their dance pieces including their new piece Cotton which they peformed by
Myu
to
Yu
. I always like these 2 dancers and will always be meet whenever is decided. I even spoke to
Saki Tokumara
. I'm aware that she has 2 more shows before she leaves NYC in June so I'll do my best to meet her.
ROM Hacking has been my private life. When I create many games or download them from authors including Japanese authors, I always wanted to meet or pick a date with a Japanese female. In the past, I have use craigslist to look for dates and I found one for January 2010, but I missed one. During my worse past experiences, Reni Mimura was the first Japanese female I met in June 2010, until I stopped loving her after August 25, 2011. I have discontinued impressing Reni as of March 2012 maid show of my recent albums but enough is enough. We are NOT in speaking terms on Facebook, which I do not post, or tag Reni on her wall on either account. But I met other good Japanese female singers, dancers, and musicians.
There is only one person and a rare person I never accomplished in my entire life and is to meet video game composer Kinyuo Yamashita. She did the works on many games including Castlevania, and Mega Man X3. While waiting for Reni's next maid show in Boston it never announced or it never happened by Reni's manager Agent Sato. I used up the Boston Trip money to order the tickets for Video Games Live at Count Basie but the Top balcony is the lowest cost. Others are high. I have ROW P seat 2 and is almost next to the wall. Anime Boston would've been the trip but it's too late. I would never meet Kinuyo again until another 6 to 8 months if I missed it.
When the time comes, I started going to Penn Station at 4PM and ordered the round trip ticket via debit card. The NJ Transit train to Red Bank departs at 4:38 on Track 3. I never ride the commuter rails before by the time I got to Red Bank; I panicked a bit and did not know how to get to Monmouth Street without a map guide. I asked the guy and he clearly showed me directions.
The VGL concert is awesome, it may not have the best seating but it was fun to watch. Many great gag clips and good music. They would NEVER play the same thing twice but every VGL shows are different. After the show, I do meet & greet. The line is longer than I expected. I was a bit frustrated because it is very late and I want to go home. I felt comfortable talking to Kinuyo Yamashita and had her sign my programs and have our pictures taken. That is something I would NEVER forget.
What angers me when I tried to get home is the NJ Transit making local stops, then the walkway from Lenox 125th Street to Lexington 125th street for a 10 minute wait on the (6) train. I went on the (3) express from NYC Penn Station while (2) makes all local stops. As of this service change, (3) goes from 148th Street to New Lots Avenue in both directions due to the late night (4) train terminates at Brooklyn Bridge City Hall forcing no stops at Fulton, Wall, and Bowling Green. I did not get home until 2AM so it was a fun experience. Hope I can meet her in a next few months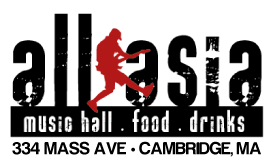 This is really a hard decision but just like a digital camera on a 4 month probation of attendance, the Boston trip to Reni's Maid show is NOW CUT.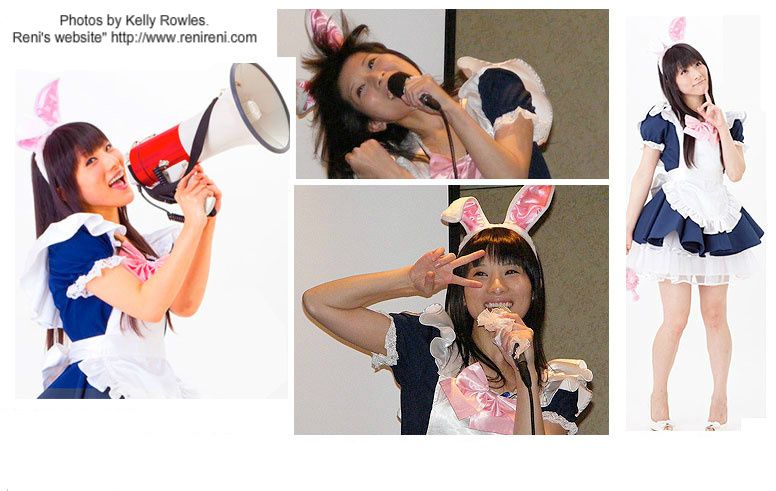 Since I haven't heard any announcements since February with Agent Sato, I originally wanted to go there on the month of my birthday which is March. Reni claims that my birthday was in February due to a misread Facebook comment during the Asian in NY fashion show back in January. Unfortunately, since there is no announcement from Sato or put into the ReniReni.com schedule, this event is now taken away. She has her live concert performance at the Sakura Matsuri in Washington which is the 14th of April. I had no plans for this trip. Besides, she may perform at Anime Boston if Reni's manager Agent Sato approved it. If she didn't have a Boston trip in April, then my time is being wasted.
Since the 8/25/11 maid show incident, I became a fan of Reni Mimura LESS than everyone else. Which I don't consider to be one of Reni's Angels after January. I'm now an individual.
Our contact agreement that we should STAY away from Reni Mimura for 4 months except JUNE which is the only monthly maid show that I'll attend. The only way I can meet her if she have her LIVE concert performance with her Moe dancers. The Moe dancers no longer or rarely performing at the monthly maid shows since Chieli and Fuyuko had graduated at October 2010 and moved on.
These words to Reni Mimura at 8/5/2010 in Williamsburg Brooklyn seems like a mistake when I spoke to her. There's no such thing as love before the 8/25/11 maid show incident. After 8/25/11 is when I STOPPED loving her in return for making me drunk. So remember, our agreement is to STAY away from Reni Mimura for 4 months except JUNE and concert shows. And even if she BORROW my pics which is OK because she's in my Facebook pictures.
The main reason why I should cancel the Boston trip
Video games live is April 4th at Red Bank New Jersey. After studying, it costs me $60 to $80. The tickets plus the New Jersey Transit round trip ticket from Penn Station to Red Bank. $14.75 times 2. Website
here
.
Ticket info from NY Penn Station to Red Bank from New Jersey Transit
Depart : NEW YORK PENN STATION at 5:32 PM
Board : Train 3269 toward LONG BRANCH
Arrive : RED BANK at 6:45 PM



My main goal is to meet Kinuyo Yamashita in person. She's a video game musician. Her webpage is
here
. Since she's rare to meet, I want to personally meet and greet. And take a good picture of us. Even though my Vivatar camera is cheap but must be in HQ picture. I am a video game fan anyway and I'll do my best on my quest. I'll call my parents and let them know that I'll be safe.
Reni Mimura was not the only person but there is a chance that the trip to Boston Maid Show WILL BE CUT. It's because I'm planning to meet Kinuyo Yamashita at video games live concert at Red Bank NJ. On the other hand, dancers like Fuyuko, Kashimi, Yuriko, or singers include Misa, Setsuko, Tsubasa, and everyone else I know WILL BE CUT. The only person I want to remain on my list is Lulla (singer), Chieli (dancer), Atsumi (singer) Yuki Ishiwata (singer) and Yuko (dancer). 5 out of 62 people will stay while others will be CUT. More up to date on this website and my event list page.
Right now, I'm very strict about my income and I've been working my ass off everyday. The more I work, the less hobbies I get. For instance, working in a full time sales/marketing job gives me less time to post YouTube requests or even do any romhacking projects. This is frustrating and may quickly end my hobbyist career. Even if my machine may end up broken. So I'm asking you a favor.
1] Find me a good non-scam or phishing website where I can make money to write blogs or anything that has to do with writing with $0 to start. I don't know much about Xomba but I haven't even use it much. But I may try this method here.
2] YouTube's monentization, my account may have the power to make money off my videos but there are copyright restrictions to prevent you from making money. It only applies if YOUR videos are not copyright infringing. My romhacking videos ARE subject to copyright so we cannot revenue money for it.
3] If you kindly register to WAZZUB using my referral link, then I get the profit. This is a serious money making website where you refer members to earn income. You DON'T have to register but it would be best to help me out.
4]
Clixsense
, gotta find out before making action. Blog may be updated if registered.
5] Making money on Facebook fan pages.
These income will go straight to my expenses. Such as money to attend to Reni's maid shows which is a 4 month probation due to spending on a Vivatar digital camera. Another expense would be to get more than $300 will get me a HD camera so I gain more respect to the community. RENT and GROCERIES, this is important especially if a ROM-Hacker is working from his own house and refuses to work in a job or career to tire the hobbyist out. 
Besides, I'm going to COMIC CON this year of 2012. I'll stop ROM-Hacking production if no income comes in because at the start of January 2013, I am longer a freelance romhacker. All money must come in within my expenses. I may cut few of my favorite dance performances from dancers off my budget as well.
ISD
Edited as of 12/26/2012, the beginning of this blog has been reduced due to privacy content.
Now in the present, I learned from all my mistakes and took a serious studying at Caffe Vivaldi before making actions. Because last Friday, I went for Yuki & Cuties along with
Robin's Egg Blue
vocal singer Atsumi Ishibashi.
After Noboku Miyazaki's Song's of Jupiter are over, I head to the tables and place an order. A really crowded place.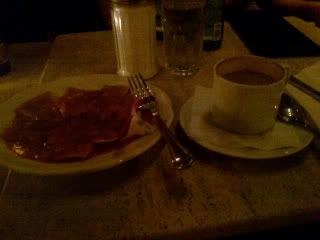 I ordered a Shittake Mushroom Ravioli with Marinara Sauce and the Expresso as my beverage. Costs $16, tax included plus $2 in tips. I payed a full $20.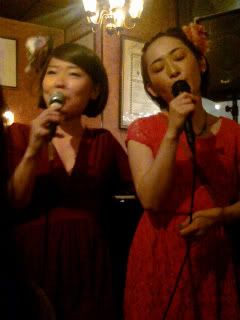 After watching, they played a really good peformance. Then afterwards, I brought a $10 CD from Yuki and had my picture taken. Unfortunately, that picture was corrupted so I had to do it with a better camera.
Let's say that I made an accomplishment. Maybe I can actually go for Mika Mimura or Misa Ogasawara's concerts the same way like I did with Yuki & Cuties with Robin's Egg Blue.