Now that I'm getting more practice at CW I thought I might look into some CW Clubs and associations that might be worth me joining to add to the number of CW operators and encourage me to improve.
A recent addition is the
Morse Crusade
, founded by 
Ian G4XFC it is well worth a to get yourself some sound advice.
Unfortunately the the CW Club Lincolnshire (
CWCL
) founded and run superbly by Ant (M0HAZ) has been disbanded due to low levels of participation. However, Ant is still very much active on and around 3.542 MHz and will match your speed, rag-chew or just swap 599 with you - please listen out for HAZ down on 80m.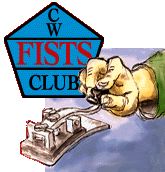 I'm also a member of
FISTS
 (# 
14830) 
which has UK, USA, 'Down-under' and East Asia chapters - there is a small cost 6 GBP a year in the UK with postal newsletter, good value I think!