WEBSITE UNDER CONSTRUCTION

Much relevant imagery is already on file - photographed by myself over the years. Gaps in the record will be filled, and updates produced. It all takes time. However, bookmark this dedicated website and enjoy perusing entries as they grow. Some items have several pics attached, and some have only the one. This depends on any clarity required, or general interest in the area around a given site.
Pastscape
(survey that local link) has turned up quite a few extra places of interest. These will be added, in due course, to a separate section under
Scheduling
(description below). As mentioned in our mission statement (below), other relevant websites will share the visuals (with links back to our site, where this is feasible). English Heritage (et al), Geograph (the latter shares with Wikipedia), Go Historic, and Pictures of England, being the main conduits at present. All this will give Maiden Bradley Parish a global reach and may be of much benefit to local historians and the general public - in perpetuity. It is hoped that other parishes may be inspired to do something along the lines of our example. To this end I will publish extracts/articles in local media and contact parishes direct as things develop. . .
If any residents of a Listed Building (etc) would like to submit for consideration their own photos to the project (exteriors/interiors/special features), or other relevant material (ephemera, anecdotes, general data) - do please make contact: email (right click/copy).
jp 04-11-13

---
I N T R O D U C T I O N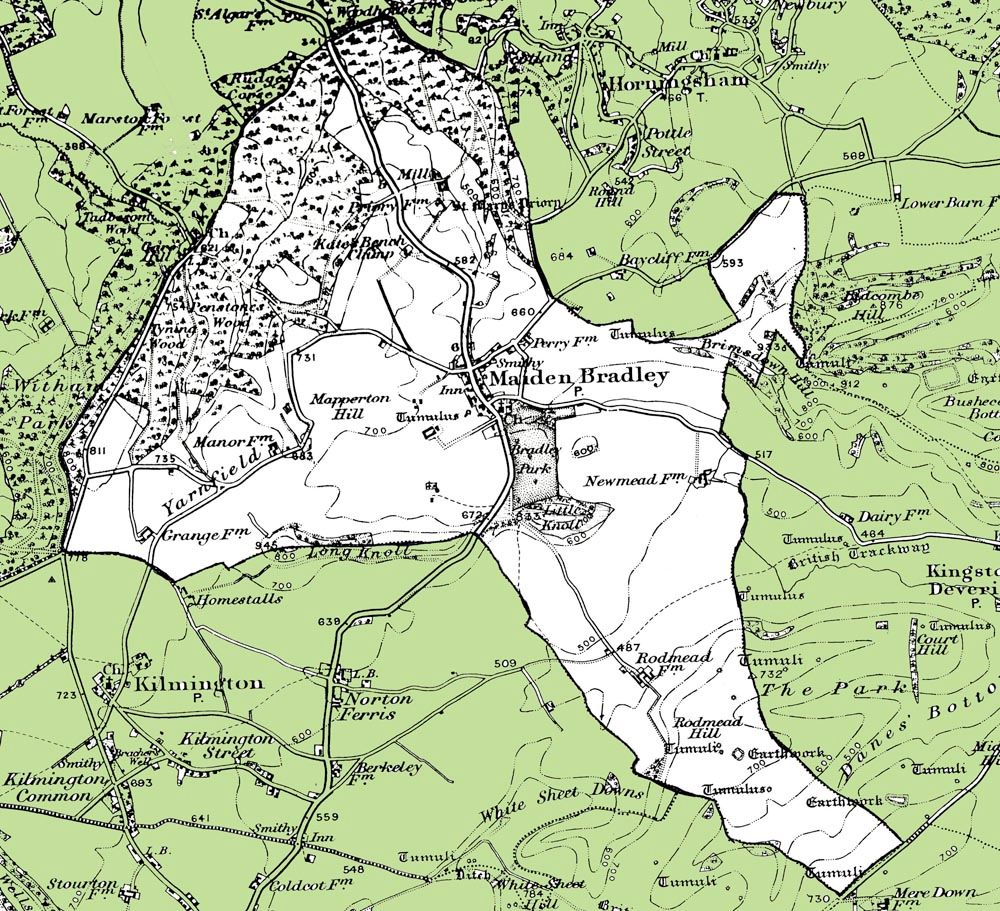 From the Ordnance Survey 1890s revision of the one inch to one mile map.      The
modern civil parish
boundary
has been superimposed. [click above maps to enlarge]
---

PROJECT OUTLINE
Originally inspired by

2005 Maiden Bradley Parish Plan (see: 2005), the thought came to extend this special project of mine and feature LISTED BUILDINGS and SCHEDULED MONUMENTS as two distinct (but related) categories to include in a comprehensive photographic and factually annotated survey of both fascinating types of structures to be found within Maiden Bradley with Yarnfield Parish Boundary.
The lower section of this page itemises the buildings and monuments in their respective categories. These will be indexed and illustrated explanatory items generated as

separate

articles. These are to be accessed via pictorial links with brief descriptions (examples below).
Each full entry will typically be supported by general location photographs and a visual map (Bing Aerial View). Where general location 'establishing shots' are difficult of access, Google Street View will be used to augment an original and current on-site photographic image/s of Listed or Scheduled structures (etc).
There are other structures in our Parish that are worth recording also - as their days are numbered. For the record, a mixed section (Misc) is appended for these poor souls, before they disappear under the plough of time.
The Listed Buildings (etc) project is envisaged as a Living Document and as such, when completed, will be subject to regular updates and general material improvements as and when they transpire. I expect this project will lead on to many other initiatives, both locally and in adjoining parishes.
It is understood that Parish Council may use any relevant material from this site to review/monitor Listed Buildings, and other structures in the parish not listed but of interest (see: 'Wish List'). This is in accord with the responses of our community, as documented in the 2005 Maiden Bradley Parish Plan.

click example pics to access full items