Announcements
Outdoor articles about black bears, hunting reports and other Minnesota and US field sports.

Subscribe to posts
May 18, 2016 — 9:39am
Star Tribune

A woman who lives near Sebeka, Minn., found herself in the wrong place at the wrong time Friday evening when she went outside to call in her dogs and was attacked by a black bear, possibly protecting its cubs.
Catherine Hanson, 59, of Meadow Township, about 12 miles northeast of Sebeka, was still recovering from her injuries Tuesday and didn't want to talk to any members of the media, said Wadena County Chief Deputy Joe Schoon.
The sheriff's office received a 911 call about 10:15 p.m. Friday, after the woman had escaped back into the house. She told deputies and the state Department of Natural Resources that she had been on the deck of her home when the bear attacked. She was knocked down and mauled, Schoon said.
She said she had seen bear cubs in the area recently, Schoon said.
Bird feeders in the yard had been tipped over and may have been the bear's initial target. When the woman came out, the cubs were likely nearby and the bear attacked to protect them, Schoon said.
Hanson was treated for her injuries at an area hospital and was back home recuperating on Tuesday.
By the time authorities arrived on Friday, the bear had disappeared. The DNR set a live trap, but the bear had not yet been caught.
The DNR and sheriff's office warned residents to be on high alert for bears this spring, especially in rural areas. They will be looking for easily accessible food such as bird seed at feeders and near garbage. Keep any potential food source away from the house. If you encounter a bear, do not walk toward it. Make loud noises and yell at the bear. If a bear becomes a nuisance, call your local DNR office.
Pat Pheifer
After determining that the recovery criteria for the Louisiana black bear has been met, the USFWS decided to delist the critter.
Outdoornews.com

The US Fish and Wildlife Service announced late last week that the Louisiana black bear, which gave Teddy Roosevelt his famous nickname, has officially recovered enough to be removed from the federal list of Endangered and Threatened Wildlife.
"President Theodore Roosevelt would have really enjoyed why we are gathered here today," said Secretary Sally Jewell, who spoke about the recovery at the Tensas River National Wildlife Refuge. "Working together across private and public lands with so many partners embodies the conservation ethic he stood for when he established the National Wildlife Refuge System as part of the solution to address troubling trends for the nation's wildlife. As I said last spring when the delisting proposal was announced, the Louisiana black bear is another success story for the Endangered Species Act."
Theodore Roosevelt earned his nickname—which he reportedly disliked—after hunting for the Louisiana subspecies of black bear in Mississippi. Members of his hunting party had trapped a young black bear and offered it for Roosevelt to shoot, but the president famously refused, finding it distasteful. The event was chronicled by cartoonist Clifford K. Berryman in The Washington Post, and later a toymaker sought to take advantage of it by producing a line of stuffed toy bears. From there, it quickly entered American culture and for better or for worse, Roosevelt found himself saddled with the nickname for the rest of his stay in office and beyond.
While Roosevelt's legacy and the programs he set in motion have flourished, sadly the Louisiana black bear did not. By 1992, experts estimated that the subspecies had dwindled to as little as 150 individuals. Federal and state wildlife agencies worked with Louisiana farmers and landowners to restore more than 485,000 acres of bottomland hardwood forests, building much needed habitat for the bears. Today, officials believe that as many as 720 Louisiana black bears now exist in the wild.
"Growing up in the Sportsman's Paradise, I'm proud to join in the announcement of the recovery of the Louisiana black bear," Louisiana Gov. John Bel Edwards said. "The resurrection of this iconic symbol of our nation and Louisiana shows the value of science and collaborative research. It also represents a commitment to conservation with so many willing partners from private landowners to state and federal agencies, universities and non-governmental organizations coming together to make sure the Louisiana black bear will be around for many generations to come."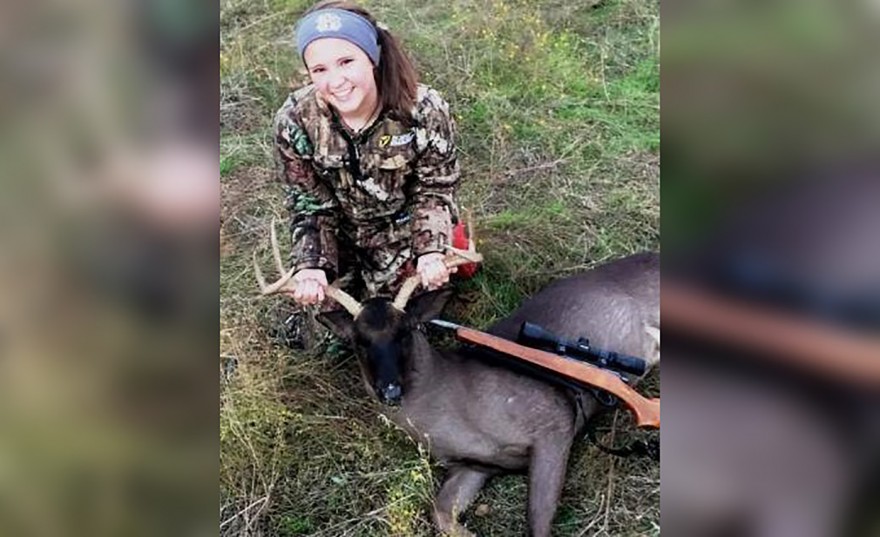 By:
Daniel Xu +
Posted: 12/15/15
Brooke Bateman got her first buck in November, which just so happened to be one of the rarest deer in the country.
An all-black whitetail deer is the harvest of a lifetime, but for 14-year-old Brooke Bateman of Dallas, it was just her first buck.
The young hunter bagged the extremely rare animal while hunting with her father Mike Bateman on a Stephens County lease in Texas late last month. According to The Dallas Morning News, at first the pair mistook the deer for an Angus calf. Upon closer inspection, the Batemans realized they were looking at a deer so rare that many hunters never even heard of it, much less seen one.
They were conflicted over whether they should shoot it. There is no law in Texas against the harvest of melanistic black deer, and wildlife officials do not especially encourage hunters to leave the deer alone. Still, Mike Bateman had to call a friend to help him decide. As the deer neared within 120 yards, he decided to have his daughter take the shot.
"It was nerve-racking, but I knew I could do it," Brooke told The Dallas Morning News. "At first I was so excited that I couldn't pull the trigger. Dad helped me calm down with deep breaths. I found the deer in the scope again, took a deep breath and shot. The deer fell over backwards. It was awesome. I love hunting with my dad."
With that, the black buck was hers. It was not entirely luck that led the father and daughter to the black deer, though. Had the Batemans been hunting anywhere else in North America, their odds of running into a black whitetail buck would have been astronomically low. However, central Texas has the highest population of black deer in the world.                          
The condition that makes the deer black in color is called melanism, which can be thought of as the opposite of albinism. Whereas albinism is the complete or partial absence of pigment in the skin, melanism is characterized by the excessive production of the dark-colored pigment melanin. Scientists believe that certain animals have adapted for the condition to blend in better with dark environments, such as black panthers, squirrels, and coral snakes. It may be the same for whitetail deer. Researchers in Texas believe that the state has an unusually high number of black deer because the animals all come from a drainage with a lower amount of light due to tree cover and, over time, adapted to their environment.
"Even though we have more melanistic deer here than in the whole world," researcher John Baccus told the Texas Parks and Wildlife Magazine in 2005, "they're still extremely rare. It's the rarest of the white-tailed deer, even rarer than the big-antlered deer. I get the harvest records every year from the Texas Parks and Wildlife Department, and generally, there are fewer than five of these melanistic deer that are harvested in any given year."
Generally, just one black deer is harvested every year in Texas. It is not known how many are bagged in other parts of the country, but researchers say it is possibly the least seen deer in North America.
Albino deer occur roughly one in 30,000. Melanistic deer are even rarer.
It's not bad for a first buck. Brooke Bateman said her deer drew quite a crowd when she brought it to the locker plant in Breckinridge. Even game wardens dropped by to get a glimpse of the strange deer.
Have you seen any of these unique black deer? Let us know in the comments below.
By dennis anderson
December 14, 2015 — 11:50am
The 2016 Minnesota turkey stamp by Nicholas Markell
The DNR on Monday morning announced changes to next spring's Minnesota turkey hunting season. Upshot of the changes is that most state hunters will have more time to chase toms in the spring.
According to a DNR press release:
• Turkey hunting time periods will be longer, all will include weekends and more time periods will be available to each hunter. Five one-week time periods will be followed by one longer time period ending on Tuesday, May 31. Previously, there were eight time periods, and not all included weekends. The bag limit will remain one bearded turkey.
"A significant change will be that hunters who don't bag a turkey during their first time period will also be able to hunt the last time period using their original license," said Steve Merchant, DNR wildlife populations program manager. "This will make the experience more relaxing, as snow or rain storms that could ruin an entire hunt will not be as much of a problem."  
• Hunters who hunt a second time during the last time period will need to hunt in the same zone that they hunted in during their first hunt period, Merchant said.
• Firearms hunters who want to hunt either of the first two time periods will need to enter into a lottery to participate. In past years there were lottery drawings for the first three time periods. People can apply to the lottery starting Monday, Dec. 14, and the deadline to apply is Friday, Jan. 22.
• Also, archers will be able to hunt the entire season and in any zone from when the first time period begins on Wednesday, April 13, through May 31. Hunters must choose between a firearms or archery turkey hunting license.
"The changes that begin this spring will provide more opportunity for hunters, but we are aware that some hunters are concerned that these changes will lead to crowding, negatively impacting hunt quality," Merchant said. "For that reason, we remain committed to measuring hunter satisfaction and hunt quality so adjustments can be made in the future if necessary."
Each year, the season will begin on the Wednesday closest to April 15, and each time period will start on a Wednesday. This year, the first time period begins April 13. Each year, the final time period will end on May 31. More information on turkey hunting is available at www.mndnr.gov/hunting/turkey.
Sam Sherman (right) next to his brother Ty as they pose with his bear.
Officials from the Idaho Department of Fish and Game confirmed that a 10-year-old boy from Eagle bagged the largest black bear taken in the state this year. Sam Sherman was hunting with his older brother Ty, family friend Brian Shanahan, and his father Tad on September 18 when he shot the bear on a ranch in Goodrich. The young hunter was using a bow and arrow.
"That bear filled the bed of the pickup," said Arnie and Sharon Pederson, the landowners.
Black bears in Goodrich have been causing so small amount of trouble for residents, including damaging fruit trees and breaking into homes. The Pederson family recently met with Idaho Fish and Game, which put them in contact with hunters interested in hunting on their land. Among them was Tad Sherman and his sons.
"I talked to another hunter who told me he'd treed three bears in one morning," Sherman remarked, noting that others hunters seemed to have similar success in the area.
His son's bear was the largest by far. According to Fish and Game officials, the bear measured six feet, six inches from nose to tail and weighed about 400 pounds. It is not yet known if the bear could gain record status, although the Shermans are submitting it to the Pope and Young Club for recognition.
"We won't know for awhile yet," said Tad Sherman. "The skull has to dry for at least sixty days before taking the official measurement. But the green score was 19-13/16 inches."
Pope and Young requires bear skulls to measure at least 18 inches before they are eligible for inclusion in the record books. Sam Sherman could also receive the Best of Species award from Idaho State Bowhunters, which recognizes the largest animal of each game species harvested by a hunter every year. His father won the same award in 2014.
"My dad doesn't think I'm going to get one that big, or bigger, anytime soon," the hunter told KIVI-TV.
When he was asked what he thought, Sherman said he will get an even bigger bear—eventually.
Feed Loader Protesters opposed to bear hunting in Florida demonstrate on a street in downtown Gainesville, Fla., Friday, Oct. 23, 2015. Florida wildlife officials have sold more than 3,200 permits to hunters from all over, including 1970s rocker Ted Nugent and Liesa Priddy, a rancher and Florida Fish and Wildlife Commission member who voted to approve the new hunts. The hunt starts Saturday and goes for a week, or until 320 bears are killed. (AP Photo/Jason H. Dearen)
Associated Press
October 24, 2015 — 12:15pm
EASTPOINT, Fla. — Wildlife officials are investigating after a bear attacked a man outside Eastpoint motel.
Florida Fish and Wildlife Conservation officials say Charles Griffin was walking near the Sportsman's Lodge Motel and Marina on Friday night when he encountered a bear. He was released after being treated for nonlife-threatening injuries. Wildlife officials are conducting trapping efforts.
The attack comes on the eve of the state's first bear hunt in more than 20 years.
Officials have sold more than 3,200 permits for Saturday's controversial hunt. The season ends after a week, or as soon as the cap of 320 kills is reached.
Protests are planned around the state. Activists said the state should instead focus on trash management and curbing the smell of food in garbage.
Wildlife officials say the black bear population had grown to 3,500 — up from a few hundred in the 1970s — and presents a safety problem.
BLACKDUCK AREA
 A few bears continue to come in and grouse hunting has been better than expected with all the foliage.
Timberline Sports and Tackle
(218) 835-4636
Outdoornews.com
Posted on Thu, 03 Sep 2015

RAINY LAKE     
Bear reports have been inconsistent.
Loon's Nest (218) 286-5850
BLACKDUCK AREA
Bear baits are getting hit, but the activity hasn't been "super consistent" the past week.
Timberline Sports and Tackle (218) 835-4636
CROSBY AREA
Most bear hunters have reported good activity.
Oars 'n Mine Bait and Tackle (218) 546-6912
DULUTH AREA   
Bear baits continued to get "wiped out" early this week.
EMILY AREA 
Bear baiting has been good. Most hunters report multiple bears at each bait.
Redding Sports and Spirits (218) 763-2191
GRAND MARAIS AREA
Bear reports have been strong: "Everyone's baits are getting hit, even during the day."
Buck's Hardware (218) 387-2280
GRAND RAPIDS AREA 
Bear baits are getting hit. Most hunters believe there are more bears in the area this year than last.
Ben's Bait and Tackle (218) 326-8281
RAINY LAKE     
Bear reports have been inconsistent.
Loon's Nest (218) 286-5850
The Minnesota DNR continues to intentionally limit the hunt under a strategy to increase bears' numbers. 
By C.B. Bylander Special to the Star Tribune
August 28, 2015 — 12:28am
iStockphoto Last year, about a quarter of permitted hunters harvested a bear. This year, 18,000 hunters applied for 3,700 licenses.
Minnesota's bear season opens Tuesday amid upbeat expectations.
Though hunter numbers will be low again, many believe a good season is ahead. That's because the bear population seems to be on the upswing. Also, natural bear foods have been in only average or short supply for much of the summer. Together, these factors could draw good numbers of bears to hunters' baits.
"Some of my baits are going gangbusters, and one isn't," said Dick Reese, vice president of the Minnesota Bear Guides Association "That tells me that in some areas bears are finding plenty of natural food."
This is the third consecutive year that bear hunting permits have remained greatly curtailed by the Minnesota Department of Natural Resources. The DNR is intentionally limiting the hunt as part of a plan to boost the bear population. The agency offered 3,700 licenses this year in the primary bear range, called the quota zone. That's 50 fewer than the past two years, the lowest number in decades and about one-fifth as many offered during the license availability peak in 1999.
Anecdotally, the DNR's population rebuilding strategy appears to be working.
DNR wildlife managers throughout central and northern Minnesota have reported a rise in citizen bear-sightings. Ross Heir, DNR area wildlife supervisor at Crookston, said there have never been so many bear sighting phone calls in the area. Erik Thorson, DNR area wildlife manager at Park Rapids, said bear reports are up from last year, and "I am sure the bear population is building from where it was several years ago." Tom Rush, DNR area wildlife manager at Tower, said "we seem to be turning the corner on bear numbers." Other wildlife managers offer similar sentiments.
Still, they believe part of this year's increase in bear sightings is linked to a widespread blueberry crop failure and no bumper crops of other wild foods.
"The upcoming harvest will ultimately reflect availability of wild food, bear density and hunter numbers," said Paul Telander, DNR wildlife chief. Unlike deer hunting, he added, individual hunter success is linked more to local food availability than the bear population itself. "When acorns and other natural foods are abundant, bears — even when there are many of them — are less likely to be drawn to hunters' baits, and the converse is also true," he said.
Last year, hunters took 1,627 bears, the lowest tally since 1988. Of these, 1,241 were taken in bear management units where hunters need to enter a lottery for a license; 386 were taken in the no-quota zone. The no-quota zone is where the forest fringe and agricultural lands intermix. Hunter numbers are not restricted in the no-quota zone. Hunter numbers have been increasing in this zone as a result of reductions in quota-zone hunting permits.
Bear baiting began Aug. 15, roughly two weeks before the opening of the season. The bulk of the bear hunt will be complete by mid-September. It is common for about 70 percent of the harvest to occur during the first week of hunting and more than 80 percent by the end of the second. Last year, about one-fourth of hunters killed a bear. Interest in bear hunting remains strong. About 18,000 hunters applied for this year's 3,700 licenses.
How many bears?
The DNR's latest estimate puts the bear population at 10,000 to 15,000, down significantly from estimates of 17,000 to 25,000 in the 1980s and 1990s. Minnesota's bear population trended up during the 1980s, peaked during the late 1990s and declined during the early 2000s through 2012.
Dave Garshelis, DNR wildlife research biologist, said the bear population estimate is derived from bear teeth that hunters must submit as part of the registration process. The DNR can determine a bear's age from its teeth, and because hunting accounts for about 80 percent of bear mortality, researchers make further determinations as to the population trend and number of bears.
"Hunters help us monitor the population of this secretive animal by providing the information we use for our models," said Garshelis. "The higher the hunter ­compliance rate the higher the reliability of our data." He added that as reliability increases "so does our ability to make appropriate and timely season and license number adjustments."
About 25 percent of last year's hunters did not submit a tooth. To improve compliance, the DNR's enforcement division sent a warning letter this summer to those out of compliance.
"We will still accept teeth from the 2014 hunting season," Garsheli said. "As long as we know it's last year's tooth we can use the data to refine our population estimates."
Collared research bears
Garshelis encouraged hunters "to pass" on radio-collared research bears. Though legal to harvest, Garshelis called them "highly valuable animals" that provide important information used in management decisions. The DNR has about 20 radio-collared research bears throughout the state, most in the Camp Ripley area of central Minnesota and the no-quota area of northwest Minnesota. DNR research bears can be identified by large, brightly colored ear tags even if their collar is not visible.
C.B. Bylander is a freelance writer from Baxter, Minn.