Announcements
Outdoor articles about black bears, hunting reports and other Minnesota and US field sports.

Subscribe to posts
by
OutdoorHub Reporters
on
July 17th, 2015
Read On OutdoorHub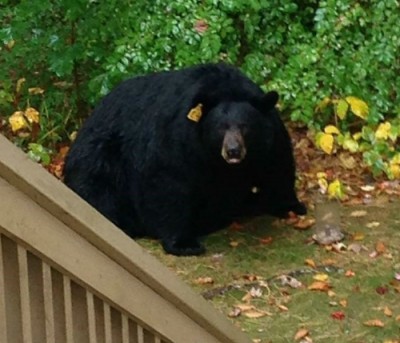 Owners of a pie shop in Pinewood Springs, Colorado say a bear broke into the store on Monday night and had a massive, sugary feast. According to Mikaela Lehnert, who operates the Colorado Cherry Company along with her mother Kristi, the bear's raid yielded some interesting conclusions regarding its taste in pies.
"Cherry and apple was his favorite. He passed over the strawberry rhubarb," Kristi Lehnert told KDVR.
Bears are not usually known for being picky eaters, but this one apparently avoided the strawberry rhubarb pies like the plague. Everything else, however, was fair game. The Lehnerts told KUSA that the hungry critter downed 24 cherry pies and 14 apple pies over the course of one night, along with mounds of other pastries and even ingredients like sugar and cherries. The owners speculated that if the bear could have gotten into the locked freezer, it would have devoured everything inside as well.
In the end, this overnight visitor even had the gall to take two pies to go, leaving a messy trail outside the store.
"I'm looking for servers, so maybe if he wants to come back, because that's talent to get two pies into the back yard," Mikaela Lehnert joked.
At least the damage to the store was minimal. The Lehnerts said they were able to board up the window where the bear broke in and start baking before they received customers on Tuesday. At the very least, now they can say the pie shop is bear-approved.
Researcher Lynn Rogers needs permit to track wild black bears.
By David Chanen
Star Tribune
July 13, 2015 — 9:04pm
Brian Peterson, Star Tribune Lynn Rogers, founder and chairman of the North American Bear Center in Ely, and a black bear.
Longtime bear re­search­er Lynn Rogers can re­sume his In­ter­net vid­e­o den cam­eras, but he can­not use ra­di­o col­lars to track the wild ani­mals, the Minnesota Court of Appeals ruled Mon­day.
"I'm thrilled that the court rec­og­nized the value of my re­search and ruled I can place the den cam­eras for sci­ence re­search," Rogers said. "But we could do a much bet­ter job with ra­di­o col­lars to find par­tic­u­lar bears. We will do the best that we can."
Last year, the Department of Nat­u­ral Resources af­firmed its earli­er de­ci­sion to deny a per­mit to Rogers, who gained fame by put­ting ra­di­o col­lars on North American black bears in north­ern Minnesota. The DNR de­ci­sion came af­ter an ad­min­is­tra­tive law judge said the DNR had the au­thor­i­ty to re­fuse to re­new Rogers' per­mit.
For 14 years, Rogers had hand-fed wild black bears in ord­er to col­lar them with sat­el­lite track­ing de­vices.
He would post live In­ter­net vid­e­o feeds from their dens. He drew a glo­bal audi­ence and more than 140,000 Face­book fol­low­ers, who got to know bears such as Lily and Hope through Rogers' live feeds. The cam­eras have been high­ly praised by scientists and teachers.
But on Mon­day, the Court of Appeals ruled that ra­di­o col­lar­ing of bears meets the statu­tory defi­ni­tion of "con­struc­tive pos­ses­sion," which re­quires a per­mit. Rogers' law­yer David Mar­shall said he is con­sid­er­ing wheth­er to re­apply for a per­mit or ap­peal to the Su­preme Court.
DNR spokes­man Chris Nis­kan­en said it's very un­like­ly the a­gen­cy would is­sue a per­mit to Rogers be­cause of con­tinu­ing public safe­ty con­cerns. "We are very satis­fied with the court's de­ci­sion," Niskanen said. "The de­ci­sion was re­al­ly about wheth­er a per­mit is re­quired to col­lar a bear. We be­lieve we are the a­gen­cy that's re­spon­sible for per­mit­ting wild­life re­search. Any­one in­ter­est­ed in it needs to come to us."
The Court of Appeals ruled that Rogers needs no per­mit to use den cam­eras. Rogers plans to re­sume the broad­casts this win­ter. He has re­search in­for­ma­tion, in­clud­ing GPS co­or­di­nates, re­gard­ing the lo­ca­tion of bear dens, which he will use for cam­er­a place­ment. State law does not al­low a per­son to dis­turb the bur­row or den of a wild ani­mal be­tween No­vem­ber 1 and April 1. If Rogers need­ed to ad­just a den cam­er­a dur­ing that time, he would need a DNR per­mit. The a­gen­cy would have to see his pro­pos­al be­fore it would con­sider it, but Nis­kan­en a­gain said it is doubt­ful they would is­sue such a per­mit.
A wildlife biologist, Rogers, 76, op­er­ates the Wild­life Research Institute in Eagles Nest Township near Ely, Minn., with­in the Su­pe­ri­or National Forest. He bought land in the town­ship to study bears af­ter hear­ing that local resi­dents had been feed­ing bears for years with very few "nui­sance prob­lems." Rogers not only feeds the bears, but pets, pats and strokes them. For $2,500, peo­ple can par­tici­pate in a four-day bear ed­u­ca­tion program at the Institute.
He first started placing radio collars on bears in the late 1990s and regularly got permits from the DNR until 2013. That's when the agency began getting reports from homeowners that local bears were coming up to their residences and refusing to leave. There also were reports of dogs being injured by bears and a videotape of Rogers punching a bear in the face.
When the DNR re­fused Rogers' per­mit last year, it cited public safe­ty is­sues, con­duct that it con­sid­ered un­pro­fes­sion­al and ques­tions about the va­lid­i­ty of Rogers' re­search, in­clud­ing his fail­ure to pub­lish sufficient peer-re­viewed re­search. The DNR has re­ceived 69 com­plaints from area resi­dents about Rogers' bears since 2009, court docu­ments said. The DNR's ord­er did al­low Rogers to con­tin­ue feed­ing and interacting with bears and con­duct ed­u­ca­tion.
"We be­lieve hand feed­ing of bears and tam­ing these wild ani­mals pose a public safe­ty is­sue," Nis­kan­en said. "Many bears in Eagles Nest Township view hu­mans as a source of food."
Rogers en­joys wide sup­port of resi­dents, his at­tor­ney said. In 2011 and 2013, the Ely City Council is­sued reso­lu­tions sup­port­ing Rogers and his re­search. Rogers be­lieves com­plaints against him to the DNR start­ed when he chal­lenged the a­gen­cy and its ef­fort to re­voke his per­mits. He said the DNR had a cam­paign to dis­cred­it him through false claims, such as the public safe­ty is­sue. In one year, he went from no com­plaints to 17.
For his work, Rogers asked three re­search­ers to re­view his study protocols, and they found no safe­ty is­sues. He inter­viewed hik­ers and run­ners in the area, and al­most no­ one said they had safe­ty con­cerns re­gard­ing his bears.
On Mon­day, the Court of Appeals ruled the DNR made a rea­son­able in­ter­pre­ta­tion of state law that put­ting a ra­di­o col­lar on a bear means that per­son pos­sess­es the bear, which re­quires a per­mit.
"There are many types of fish to catch in Minnesota. We keep state records on five types of redhorse alone, and in all there are state records for 62 species of fish."
MN State records are measured by weight. To certify a fish as a record:
Take it to a DNR fisheries office for positive identification.
Fill out a record fish application.
Locate a state-certified scale (found at most bait shops and butcher shops).
Weigh the fish with two witnesses present.
Send a clear, full-length photo of the fish with the application to the address listed on the application form.
The record-fish form and guidelines can be found online under the list of state-record fish at www.mndnr.gov/fishing/staterecords.html.

The list is also published on Page 83 of the 2015 Minnesota Fishing Regulations booklet.
MONICA HERNDON • monica.herndon@startribune.com Minnesota's effort to fight invasive species is dealt with in a bill vetoed by the governor, but those provisions are likely to wind up in place.
Boaters, anglers, hunters, target shooters, ATV riders, trappers and other outdoor enthusiasts will have to wait to see how they are affected by a wide-ranging bill passed last week by the Legislature. That bill was vetoed Saturday by Gov. Mark Dayton, proving again the power of the pen in influencing activities in the state's woods, waters, fields and trails. None of these provisions is in dispute, and they are likely to be included in a reconsidered bill and signed by Gov. Dayton. Assuming that holds, the following changes will be in place:
Boaters, anglers
• Minnesota's 2.3 million boaters won't have to pass a 30-minute training course on aquatic invasive species (AIS) or put a decal on their boats showing they passed the class. Instead boaters will have to register crafts and read a summary of AIS prevention requirements, and they will have to sign a form and possess it while on the water. Nonresident anglers will have to deal with the forms, too.
•  Conservation officers and boat inspectors will require that boats contaminated with aquatic invasive species be cleaned before being launched.
•  Wake surfers will have the same regulations as water skiers: to have an observer in the boat and a rearview mirror, and wake surfing will be prohibited from a half-hour after sunset to sunrise.
• Spearing bans will be removed on 11 lakes, including popular Minnetonka, Rebecca and Bald Eagle lakes in the Twin Cities.
•  Catfish anglers will be allowed to net gizzard shad in the Mississippi and St. Croix rivers and use them for bait in the same waters they were caught.
Hunters
•  Deer hunters who buy their licenses after the season opens will be allowed to hunt the same day they bought the license as long as it was issued before legal shooting hours that day.
•  Resident hunters age 84 and older — as well as those living in a Minnesota veterans home — will be allowed to take a deer of either sex on their license. No party hunting will be allowed.
•  Hunters this fall will be allowed to transport ducks with just a fully feathered wing attached; previously they had to have a wing and head attached.
•  Bear hunters possessing firearms will be allowed to use lights at night to search for bears they wound or kill during legal shooting hours.
•  Deer hunters caught shooting outdoors with firearms or ammo within five days of the firearms deer opener might receive only a warning for their first violation. There will be exceptions. Previously they could receive citations.
• The DNR will be required to conduct an annual hunter satisfaction survey and post the results on the agency's website.
• The DNR will have to include a wild turkey critical habitat license plate in its next selection of plate designs.
•  Turkey hunters will be allowed to possess a handgun under the state's conceal-and-carry law (as they can while hunting other species).
•  It will be illegal to possess, release or hunt feral swine, though it will be legal for a person to shoot one as long as it is reported to the DNR within 24 hours; the swine will have to be surrendered to the DNR.
• Hunters will be allowed to use radio equipment to take unprotected wild animals, such as coyotes, without a permit.
Trappers
•  The beaver trapping season will be extended two weeks, until May 15, at the request of trappers and some northern Minnesota counties because recent late springs hampered beaver trapping success.
ATV riders, and others
• The definitions of ATVs will be changed from weight-based to size-based.
•  A law allowing the hazing of Canada geese causing property damage will be expanded to include all game birds, including ducks and cranes, and the hazing also will be allowed to prevent the spread of disease, such as pathogenic avian flu.
• $2 million from the Game and Fish Fund will be appropriated for shooting-sports facility grants, including archery facilities.
Bills that didn't pass
•  A bill that would have tightened trapping regulations to prevent the accidental trapping of dogs stalled. Dog owners and some sporting groups pushed for it; trapping groups opposed it.
•  A proposed increase in the surcharge on boat registration fees used to fight aquatic invasive species — now $5 for three years — to $10 over three years, didn't pass.
• A $5 price hike for the annual state park pass, to $30, wasn't approved.
• A proposal to ban recreational feeding of bears also died.
OutdoorHub

By:Daniel Xu
Chocolate can be poisonous to bears in large doses, especially when it's baker's chocolate.
New Hampshire wildlife officials recently announced that starting in 2016, hunters will be banned from using chocolate to bait bears. The decision came about after a number of bear deaths in 2014 that are believed to have been caused by an ingredient in chocolate, theobromine, that is poisonous to certain animals.
Last September, the deaths of four black bears near the same bait site in northern New Hampshire made national headlines and spurred officials to review bear baiting regulations. According to the Union Leader, the state Fish and Game Commission voted unanimously on Wednesday to approve the ban, making New Hampshire the first state to prohibit chocolate for bear baiting.
"This is going to have a ripple effect somewhere else," said Strafford County Commissioner Barry Carr. "People are going to look to New Hampshire to monitor this and see how it works, and either do something or not do something based on the New Hampshire experience, so I truly hope we get some good data for a logical decision down the road."
Chocolate is a popular ingredient in bait piles due to its relative affordability and effectiveness in drawing the animals in. However, darker types of chocolate also contain high levels of theobromine, which is toxic to many animals. In large quantities, chocolate can even prove fatal to adult black bears. Last September wardens found two adult females and two cubs dead near a bait site in northern New Hampshire. The bait included an excessive amount of chocolate in the form of doughnuts, chocolate mint, and roughly 90 pounds of baker's chocolate, which contains the highest levels of theobromine. A necropsy showed that the bears died from heart failure triggered by the chocolate.
"This hasn't been a very easy issue, and has been in deliberation for months," said Cheshire County Commissioner Robert Phillipson. "No one wants to see wildlife die needlessly, whether it's a bear or a grey squirrel. This is probably the best compromise to resolve the situation."
Hunters have until 2016 to use their current stockpile of chocolate. Those who use chocolate after the ban takes effect will face up to $1,000 in fines and a revocation of their hunting license for one year. Due to the unprecedented nature of the ban, officials said that penalties will be enforced in a case-by-case basis.
"I just hate to see a guy arrested for, you know, going out there with just a little bit of chocolate, which isn't going to do a thing," Hillsborough County Fish and Game commissioner Walter Morse told the Concord Monitor.
Officials say that intentional and significant use of chocolate for baiting however, will not be tolerated. White chocolate, which includes low amounts of theobromine, is also not included in the ban.
Star Tribune
Posted by: Doug Smith Updated: April 28, 2015 - 4:33 PM
Officials still haven't found any of the highly pathogenic avian flu in Minnesota wildlife.
The Department of Natural Resources has now collected 2,700 samples from wild waterfowl, nearing the agency's goal of 3,000 wild-waterfowl fecal samples from affected areas.
Nearly 1,000 test results have been received and none have tested positive for the highly pathogenic H5N2 strain, which has resulted in the deaths of more than 3 million domestic birds, mostly turkeys, in Minnesota.
The agency has collected 28 wild bird carcasses of various species from across the state for additional sampling. Of the nine test results received so far, none have tested positive for H5N2.
The DNR is also testing hunter-harvested wild turkeys from Swift, Stearns, Pope, Meeker and Kandiyohi counties. Hunters have submitted 37 birds so far, but no results have been received yet. The goal is to collect 300 samples from hunter-killed turkeys by the end of the spring hunting season on May 28.
Article by: DAN JOLING , Associated Press
Updated: March 22, 2015 - 6:47 PM
PORTAGE, Alaska — The first of 100 wood bison aimed at re-establishing a species that went extinct more than a century ago in Alaska were flown Sunday to a rural village.
Thirty 30 juveniles age 2 or younger were loaded into specially designed "bison boxes," and trucked from the Alaska Wildlife Conservation Center in Portage to Anchorage. They made a one-hour flight to Shageluk and arrived at about 1 p.m.
In several weeks, after 70 more wood bison reach Shageluk, and after they've become acclimated, they will be released as a group into the Inoko Flats, one of the areas of Alaska where wood bison once roamed.
Mike Miller, director of the conservation center, which has housed animals imported from Canada since 2008, said restoring an animal to its native habitat is an opportunity that doesn't come often.
"It's such an opportunity to go back in time and right a wrong. We as people never get a chance to do that, but in this case, they did. And today's the day we correct that mistake," he said.
Twenty bulls will be barged to the area this summer.
Wood bison are native to Alaska and Canada. They're North America's largest land mammal and bigger than the plains bison that roamed in Lower 48 states.
Wood bison bulls can weigh more than 2,000 pounds. Cows weigh 800 to 1,200 pounds and the juveniles moved Sunday weigh 280 to 490 pounds.
Staff from the Fish and Game Department and the conservation center spent much of last week practicing for the big moving day. Bison are skittish around people, and with horns and massive weight, are dangerous to people and themselves.
From a pen, the animals were funneled a few at a time into a plywood chute that did not allow them to see humans they passed.
"A human face scares the animals," said biologist Cathie Harms said.
They moved from the wooden chute to an enclosed metal chute, where biologists opened doors for final blood samples and de-worming shots. They were then herded into the bison boxes in groups of five, crowded but separated by doors.
The close conditions were by design. Takeoff from Anchorage, and landing on the short village runway, could bounce the animals around.
"They don't have a lot of room to jostle," Harms said.
The bison in Shageluk will be kept in pens several acres large before release in two or three weeks. They've been eating hay since arriving at the conservation center, but in the wild will eat grasses, sedges and forbs. Bison move to a foraging spot, stay a day or so and move to a new one, Harms said.
"We will try to duplicate that with hay piles leading to sedge fields that should come shooting up about the time the hay runs out," Harms said.
Twenty-five of the 50 cows being moved are pregnant. Wood bison tend to establish a connection to places where they give birth, she said.
The department plans to keep close tabs on the herd for at least two years. All animals released will either have a radio collar that can be tracked from the air or a satellite collar that can be tracked from a biologist's office.
"We're going to watch them very, very closely for two years to find out what direction they go," she said.
When the herd reaches 300 to 400 animals, hunting could begin, said David James, the Fairbanks regional supervisor. The bison plan calls for no hunting until at least 20 animals can be harvested, with one each reserved for each of four nearby villages.
Hunting also will be planned so as to not stop herd growth, James said.


By Dean Bortz
Posted on March 16, 2015
Maybe I've been too close to this subject for too long to realize that the average citizen – and even the average hunting, fishing and trapping license buyer – do not understand just what the Humane Society of the United States (HSUS) is really all about. For me, the real reason for the HSUS's existence became clear years ago – Wayne Pacelle and anyone intertwined with the hierarchy of the HSUS play on the sympathies of caring people to collect money that does nothing but fuel their business plan. That plan is to do nothing more than provide them a very comfortable living. Over the years, myself and other writers have touched on that subject many times, so maybe I just assume that everyone who should know does know what HSUS is really all about.
That can't be the case, or the people of Wisconsin would have stopped donating their money to HSUS. Bob Noonan, the editor of Trappers' Post, took the time to spell out exactly what HSUS is all about. We ran his  editorial as our "Commentary" on page 3 of the Feb. 6 issue of Wisconsin Outdoor News. Please share it with your friends, publish it in your conservation group's newsletter, post it to your Facebook wall, and get it to your local newspaper. Noonan does a great job of calling out the HSUS and explaining to the average citizen that there is NO CONNECTION between the national HSUS group and your local – city or county – humane shelter. Donate your money locally where it will actually do some good. Do not give it to HSUS.  
Humane Society of the United States: Not your local humane society
By Bob Noonan
It's common knowledge among hunters and trappers that the Humane Society of the United States (HSUS), based in Washington, D.C., is Enemy No. 1 to our way of life. The openly-stated goal of HSUS is to end all hunting and trapping.
HSUS is behind almost all anti-hunting and trapping efforts across the country. In reality, their aim is much wider; they also push a vegan agenda, and want to end all animal use, including farm raising of livestock for meat, dairy, and eggs.
HSUS is effective working towards its goals because it has huge financial resources – and the prestige of its name.
Unfortunately, most people, even some trappers, do not understand what HSUS really is. That's because they call themselves the "Humane Society." What, exactly, is the Humane Society? It turns out there are two. And they're even not remotely the same.
The general public knows their local humane society as shelters for dogs and cats, run by dedicated, low-paid people and volunteers who love animals. Across America there are thousands of such local shelters, almost all calling themselves the Humane Society. They are all independent; they are not connected to a larger organization, or even to each other. However, polling shows that 71 percent of Americans believe HSUS is an umbrella organization for all of these local shelters. People think their shelters are somehow affiliated with HSUS. By extension, they also feel that HSUS is the voice of local shelters.
It is not.
HSUS has nothing to do with local shelters; they just happen to use a similar name. HSUS furthers this deception by frequently using dogs and cats in its ads that ask for money to help these animals in shelters. But HSUS does not run any pet shelters – and, although it raises well over $100 million annually from contributions, it consistently gives shelters less than 1 percent of that money.
The figures below are based on HSUS's 2013 IRS Form 990, which all nonprofits have to file. In it, HSUS reveals its 2012 financial activity. (Note: not all expenses listed.)
• Total revenue: $125.8 million.
• President/CEO Wayne Pacelle's annual compensation package: $395,469.
• Employees: 636 (including 30 lawyers); seven earn over $200,000; 38 earn over $100,000.
• Total salaries and benefits: $44.5 million (35 percent of its total budget).
• Added to pension plan: $2.4 million.
• Fundraising: $49 million (39 percent of its total budget).
• Lobbying: $2.5 million.
• Grants to pet shelters: $1,028,586 (.8 percent of its total budget).
• Expenses: $120.3 million.
• Investments: $177.7 million (publicly traded securities).
• Total assets: $195.4 million
Its varied investments are revealing. For example, although HSUS pushes legislation to end meat eating and farm raising of livestock, it has owned shares of Hardees, McDonald's, Wendy's. These are profitable investments, and HSUS has never had a problem privately violating its own, publicly stated "values" for its main goal – fundraising.
Of particular concern is HSUS's 2012 investment of $25.7 million in what they refer to as the "Central American and Caribbean" region. These investments are: Ascend Partners Fund I, L.P. (Cayman Islands); BKM Holdings Ltd. (Caymans); Fore Multi Strategy Offshore Fund, Ltd. (Caymans); Hayman Capital Offshore Partners, L.P. (Bermuda); Fir Tree International Value Fund (Caymans). These are all for-profit hedge funds. Why did a U.S. not-for-profit group park almost $26 million in off-shore for-profit funds in a Caribbean area long known as a place for corporations to hide money?
Equally disturbing is the May 2014 settlement of a Racketeer Influenced and Corrupt Organizations Act (RICO) lawsuit against HSUS by Feld Entertainment, Inc., which owns Ringling Brothers and Barnum & Bailey Circuses. HSUS had sued Feld for mistreatment of its elephants, but it was discovered that they had paid their witness $190,000 to provide false testimony. HSUS paid Feld a settlement of $15.75 million to avoid the RICO charge, a conviction that would have seriously damaged its reputation and image.
The respected American Institute of Philanthropy (AIP), which analyzes charities, has consistently given HSUS annual "D" ratings, reflecting its high operational costs and low percentage of giving to its intended recipients. And in 2014, Charity Navigator, the nation's largest charity evaluator, completely revoked HSUS's charity rating, for these same reasons.
One major way HSUS raises money is by asking for contributions to help animals in shelters. Their deceptive advertising is so effective that polling of those who contributed to HSUS shows that 74 percent gave specifically to help pet shelters. A full 90 percent of those polled were completely unaware that HSUS gave less than 1 percent of its annual income to shelters. These people believed that by giving to HSUS, they were helping their local shelter.
Local shelters operate on a shoestring, with low salaries and volunteers. Maine's Bangor Humane Society, for example, has only 20 paid employees, most part-time, and about 100 volunteers. Like most shelters, they survive on contributions and some municipal funding.
HSUS siphons off many millions of dollars that should go to these local shelters, because much of the money given to HSUS is from people who think their contributions are going to shelters.
Money isn't the only thing HSUS steals from the nation's shelters. By using the name "Humane Society," it also steals the well-deserved respect and prestige of local shelters.
Another big fundraiser for HSUS is its constant anti-hunting and anti-trapping state ballot initiatives and referendums. During these, HSUS raises more than it spends, due to its deceptive appeals to their 11-plus million "constituents" across the country, mostly urban/suburban people with no idea of the reality of either rural life or wildlife management, and who don't even live in the states these initiatives affect. These ballot initiatives are moneymakers for HSUS. They make money even when they lose. But they do need wins, to encourage more contributions. That's another reason to beat them.
The term "Humane Society" has enormous positive clout in the public's mind. Hunters and trappers need to educate their friends and families about the difference between HSUS and local shelters. Tell people if they want to contribute money to their local shelter, to send it directly to them, not to the fat cats at HSUS. If people are doubtful, tell them to call their shelter. Most shelters are well aware that HSUS siphons off millions meant for them, and will gladly tell callers that, if asked. In fact, some shelters, when publicly asking for contributions, will openly request that the money not be sent to HSUS.
HSUS is effective at attacking us as much because of its huge financial resources as because of its lies to a well-intentioned, but uninformed, urban public. By educating people, we can help divert money from them to the shelters that need it. And we have to make people aware that when HSUS says hunting and trapping are cruel, they are not speaking for the many local shelters throughout America that deserve our respect and admiration.
Hunters and trappers have achieved major goals in the past by focused grassroots action. We have to educate people about HSUS. This article is on our Facebook page, at www.facebook.com/trapperspost – feel free to share it. If you want an electronic copy, email me and I'll send a return email with this article attached. Feel free to put it on your Facebook page, or send it to your local newspaper if you think they'd be interested. As many people as possible must know how HSUS gets their money, and what they actually do with it.
Bob Noonan is the editor of Trapper's Post. Email him at editor@trapperspost.com for more information, or permission to publish his commentary elsewhere.

The story turns to Asia, where Minnesota deer hides are in high demand.
Photo: BRIDGET BENNETT • bridget.bennett@startribune.com
Article by: BILL KLEINSPECIAL TO THE STAR TRIBUNE
Updated: February 26, 2015 - 3:01 PM
North Star Fur and Trading in Marine on St. Croix deals with a fluctuating fur market, but not when it comes to deerskins.
Minnesota deer hunters — well, the successful ones — are grass-roots suppliers to a multibillion-dollar, global industry.
Most never think about it, but long after the last venison steak from the 2014 season has been taken off the grill, the animal's hide lives on in the vast fur- and leather-apparel producer's network. Buyers, traders, sellers, salters, shippers, tanners, trimmers, clothing and accessory manufacturers, wholesalers and retailers all depend on the flow of deerskins. That flow begins with the pull of a trigger or the release of an arrow.
North Star Fur and Trading of Marine on St. Croix is part of the fur-and-leather industry. "Deer hides are the bread and butter of our company," said Jon-Paul Rosenwald who, with his father, Jim, operate the fur trading company. "Most years, we will grade, buy and sell 30,000 to 40,000 whitetail deer hides."
Although North Star also buys many other fur-bearing animal pelts, its leading commodity is deerskins by far. "The mink, raccoon, beaver and coyote market swings like the stock market, up wildly one year and down the next," Rosenwald said. "Because of the natural beauty, durability and softness of deerskin, that market is always good."
Rosenwald and his father, who founded the company in 1974, buy deerskins directly from hunters, venison processors or organizations like Hides for Habitat that act as collection points.
Hides for Habitat, a program of the Minnesota Deer Hunters Association, tallied more than 21,000 hides in 2013.
That added nearly $200,000 to its whitetail habitat improvement projects. North Star typically pays $5 for a yearling and up to $15 for a large, unblemished hide.
"Deerskins from the northern tier of states are highly prized in the industry because they are thicker and heavier," Rosenwald said. "Michigan deer hides top Minnesota's because they have fewer ticks and barbed-wire fences to damage the skins."
From North Star's fur-grading barn, located north of Stillwater, the hides are sent during the season to a nearby company in Wisconsin for salting. Salt prevents spoilage during the long trip ahead. As many as 4,000 hides are packed into 40-foot-long metal shipping containers and sent by rail to Seattle. From there they are loaded onto ships destined for China.
The wholesale price paid for each hide by the Chinese processors is a trade secret. But Rosenwald said his is a small-margin business that depends on large volumes.
"Our partner in China is capable of tanning huge numbers of deerskins," he added. He said that the Environmental Protection Agency has shut down all the big U.S. tanneries owing to the caustic chemicals used in the process.
After tanning, the hides are graded and trimmed. Then the value of Minnesota and other northern deer comes into play. Because of their thickness, the hides can be split or peeled into two or more layers. The inside layer yields suede; the outer layers full-grain leather. Italian makers of high-end shoes, handbags and jackets are willing buyers of this soft Minnesota-made leather. A typical northern hide will produce eight square feet of leather, worth from $25 to as much as $100 from clothing and accessory manufacturers.
Some of the deerskin North Star Fur ships to China comes back to the Rosenwalds as 3M Thinsulate-lined gloves. The same Chinese company that tans the Minnesota hides produces the gloves. In a typical year, North Star will sell 200,000 pair of gloves directly to consumers, other wholesalers, or retailers like Joe's Sporting Goods in St. Paul.
"Our business is based on a network of relationships my father has developed over 40 years," said Rosenwald. "From the deer hunter to the person wearing the gloves and everyone in between in the fur-and-leather industry, it is a community built on trust."
Minnesota hunters can take pride that their deer-hunting skills support a global industry employing thousands of people, including one busy export-import company along the St. Croix River.
All this and warm gloves, too.
Bill Klein is an avid hunter, angler and student of nature. He lives in May Township.
Article by: DOUG SMITH , Star Tribune
Updated: February 21, 2015 - 5:01 PM
Farmer Troy Salzer of Barnum lost five calves to wolves last fall, and with another calving season coming soon, he's worried he could lose more.
But his concerns are multiplied this year. Salzer and other Minnesota livestock owners are facing a "perfect storm" after a judge in December reinstated wolves to the federal endangered species list. Minnesota's management of wolves ended, and control was turned back to the federal government.
It meant an end to wolf hunting and trapping. But to farmers such as Salzer, it was a much bigger deal.
A wolf depredation program dating to the 1970s has been halted — there are no federal or state trappers that farmers can call to remove problem wolves. Also, farmers are no longer allowed to shoot wolves to protect their livestock. And finally, a state program that compensates farmers for livestock they lose to wolves is nearly out of money, and some claims won't be paid.
"It's really a tough predicament for livestock producers right now,'' said John Hart, a wildlife biologist and district supervisor for the U.S. Department of Agriculture's Wildlife Services, who headed the federal wolf trapping program. "They can't defend their own animals on their own property, nor is there a public program to assist them.''
Salzer has 200 cattle and also is a Carlton County extension agent who appraises the value of livestock lost to wolves.
"There's a tremendous amount of concern out there,'' he said.
Mark Thell, who has 150 cattle and is president of the Carlton County chapter of the Minnesota Farmers Union, was one of about 50 farmers who gathered recently with state and federal officials to discuss the problem.
"We're stuck in limbo,'' Thell said. "You can't even protect your own animals. It's not a good situation.''
The timing also is problematic. Calves generally are born in March and April, and are easy prey for wolves. And the mild winter and smaller deer herd could compound the problem. The lack of deep snow means deer are in better condition and more difficult for wolves to catch.
"And when the deer aren't out there, the wolves will find something else to eat,'' said Thell. Like livestock.
"We usually see higher wolf depredations following a mild winter,'' said Dan Stark, Department of Natural Resources wolf specialist.
Hart's agency has about a dozen seasonal trappers, and they usually start working April 1 removing problem wolves from farms. Last year, they removed and killed 172 wolves. (State-registered trappers took 39 wolves, under a separate program, and hunters and trappers killed another 272.) The federal program has been around since the 1970s, even when wolves were listed under the endangered species act. But federal budget cuts ended funding for the program in 2011.
However, in 2012, wolves were removed from the endangered species list and Minnesota assumed management. Because the federal Wildlife Services had the trappers and the experience, for the past three years the state paid the agency a total of about $500,000 to deal with problem wolves.
But state payments ended when U.S. District Judge Beryl Howell in Washington, D.C., placed the wolf back on the endangered species list Dec. 19.
"State policy has been that we won't pay for wolf control for a federally protected species,'' said Stark. And state statute prevents the state from continuing its own limited wolf-control program as long as wolves are on the endangered species list.
The solution: "We still think the federal government should reinstate funding for the federal [wolf-control] program,'' said Ed Boggess, DNR fish and wildlife division director.
Funding also is an issue, not only for depredation control, but for wolf research, surveys and other management. A large chunk of funds comes from wolf hunting license fees and 50 cents from each deer license sold. With no wolf season, that revenue — $139,000 last fiscal year — disappears.
Meanwhile, the U.S. Fish and Wildlife Service has filed notice that it will appeal Howell's ruling, and bills have been introduced in the U.S. House to remove wolves from the endangered species list in Minnesota, Wisconsin and Michigan. Rep. John Kline, R-Minn., introduced one of the bills, and others in the state's delegation have indicated support.
"Senator Klobuchar has supported delisting the gray wolf, and believes the science and the facts support the delisting,'' said spokeswoman Julia Krahe.
Said Sen. Al Franken: "Our farmers and ranchers are rightfully concerned about losing their livestock — their livelihood — to wolves."
Gov. Mark Dayton's budget has proposed doubling the amount of money — from $100,000 to $200,000 yearly — that would go to the state Department of Agriculture to pay farmers for livestock lost to wolves.
In fiscal year 2014, the state paid for the loss of 107 cattle, 45 poultry, five horses, five sheep, two llamas and one goat. Payments are based on the market value of animals, and generally those prices have been increasing.
For Salzer, the Barnum farmer, the loss of five calves last year was a financial hit. He valued them at $1,500 each. "That's significant,'' he said.
He never found the carcasses, and there was no state compensation money available then anyway, so he didn't file a claim with the state.
"I'm very lucky. There are people with much worse situations,'' he said.
Doug Smith • 612-673-7667