Announcements
Outdoor articles about black bears, hunting reports and other Minnesota and US field sports.

Subscribe to posts

The story turns to Asia, where Minnesota deer hides are in high demand.
Photo: BRIDGET BENNETT • bridget.bennett@startribune.com
Article by: BILL KLEINSPECIAL TO THE STAR TRIBUNE
Updated: February 26, 2015 - 3:01 PM
North Star Fur and Trading in Marine on St. Croix deals with a fluctuating fur market, but not when it comes to deerskins.
Minnesota deer hunters — well, the successful ones — are grass-roots suppliers to a multibillion-dollar, global industry.
Most never think about it, but long after the last venison steak from the 2014 season has been taken off the grill, the animal's hide lives on in the vast fur- and leather-apparel producer's network. Buyers, traders, sellers, salters, shippers, tanners, trimmers, clothing and accessory manufacturers, wholesalers and retailers all depend on the flow of deerskins. That flow begins with the pull of a trigger or the release of an arrow.
North Star Fur and Trading of Marine on St. Croix is part of the fur-and-leather industry. "Deer hides are the bread and butter of our company," said Jon-Paul Rosenwald who, with his father, Jim, operate the fur trading company. "Most years, we will grade, buy and sell 30,000 to 40,000 whitetail deer hides."
Although North Star also buys many other fur-bearing animal pelts, its leading commodity is deerskins by far. "The mink, raccoon, beaver and coyote market swings like the stock market, up wildly one year and down the next," Rosenwald said. "Because of the natural beauty, durability and softness of deerskin, that market is always good."
Rosenwald and his father, who founded the company in 1974, buy deerskins directly from hunters, venison processors or organizations like Hides for Habitat that act as collection points.
Hides for Habitat, a program of the Minnesota Deer Hunters Association, tallied more than 21,000 hides in 2013.
That added nearly $200,000 to its whitetail habitat improvement projects. North Star typically pays $5 for a yearling and up to $15 for a large, unblemished hide.
"Deerskins from the northern tier of states are highly prized in the industry because they are thicker and heavier," Rosenwald said. "Michigan deer hides top Minnesota's because they have fewer ticks and barbed-wire fences to damage the skins."
From North Star's fur-grading barn, located north of Stillwater, the hides are sent during the season to a nearby company in Wisconsin for salting. Salt prevents spoilage during the long trip ahead. As many as 4,000 hides are packed into 40-foot-long metal shipping containers and sent by rail to Seattle. From there they are loaded onto ships destined for China.
The wholesale price paid for each hide by the Chinese processors is a trade secret. But Rosenwald said his is a small-margin business that depends on large volumes.
"Our partner in China is capable of tanning huge numbers of deerskins," he added. He said that the Environmental Protection Agency has shut down all the big U.S. tanneries owing to the caustic chemicals used in the process.
After tanning, the hides are graded and trimmed. Then the value of Minnesota and other northern deer comes into play. Because of their thickness, the hides can be split or peeled into two or more layers. The inside layer yields suede; the outer layers full-grain leather. Italian makers of high-end shoes, handbags and jackets are willing buyers of this soft Minnesota-made leather. A typical northern hide will produce eight square feet of leather, worth from $25 to as much as $100 from clothing and accessory manufacturers.
Some of the deerskin North Star Fur ships to China comes back to the Rosenwalds as 3M Thinsulate-lined gloves. The same Chinese company that tans the Minnesota hides produces the gloves. In a typical year, North Star will sell 200,000 pair of gloves directly to consumers, other wholesalers, or retailers like Joe's Sporting Goods in St. Paul.
"Our business is based on a network of relationships my father has developed over 40 years," said Rosenwald. "From the deer hunter to the person wearing the gloves and everyone in between in the fur-and-leather industry, it is a community built on trust."
Minnesota hunters can take pride that their deer-hunting skills support a global industry employing thousands of people, including one busy export-import company along the St. Croix River.
All this and warm gloves, too.
Bill Klein is an avid hunter, angler and student of nature. He lives in May Township.
Article by: DOUG SMITH , Star Tribune
Updated: February 21, 2015 - 5:01 PM
Farmer Troy Salzer of Barnum lost five calves to wolves last fall, and with another calving season coming soon, he's worried he could lose more.
But his concerns are multiplied this year. Salzer and other Minnesota livestock owners are facing a "perfect storm" after a judge in December reinstated wolves to the federal endangered species list. Minnesota's management of wolves ended, and control was turned back to the federal government.
It meant an end to wolf hunting and trapping. But to farmers such as Salzer, it was a much bigger deal.
A wolf depredation program dating to the 1970s has been halted — there are no federal or state trappers that farmers can call to remove problem wolves. Also, farmers are no longer allowed to shoot wolves to protect their livestock. And finally, a state program that compensates farmers for livestock they lose to wolves is nearly out of money, and some claims won't be paid.
"It's really a tough predicament for livestock producers right now,'' said John Hart, a wildlife biologist and district supervisor for the U.S. Department of Agriculture's Wildlife Services, who headed the federal wolf trapping program. "They can't defend their own animals on their own property, nor is there a public program to assist them.''
Salzer has 200 cattle and also is a Carlton County extension agent who appraises the value of livestock lost to wolves.
"There's a tremendous amount of concern out there,'' he said.
Mark Thell, who has 150 cattle and is president of the Carlton County chapter of the Minnesota Farmers Union, was one of about 50 farmers who gathered recently with state and federal officials to discuss the problem.
"We're stuck in limbo,'' Thell said. "You can't even protect your own animals. It's not a good situation.''
The timing also is problematic. Calves generally are born in March and April, and are easy prey for wolves. And the mild winter and smaller deer herd could compound the problem. The lack of deep snow means deer are in better condition and more difficult for wolves to catch.
"And when the deer aren't out there, the wolves will find something else to eat,'' said Thell. Like livestock.
"We usually see higher wolf depredations following a mild winter,'' said Dan Stark, Department of Natural Resources wolf specialist.
Hart's agency has about a dozen seasonal trappers, and they usually start working April 1 removing problem wolves from farms. Last year, they removed and killed 172 wolves. (State-registered trappers took 39 wolves, under a separate program, and hunters and trappers killed another 272.) The federal program has been around since the 1970s, even when wolves were listed under the endangered species act. But federal budget cuts ended funding for the program in 2011.
However, in 2012, wolves were removed from the endangered species list and Minnesota assumed management. Because the federal Wildlife Services had the trappers and the experience, for the past three years the state paid the agency a total of about $500,000 to deal with problem wolves.
But state payments ended when U.S. District Judge Beryl Howell in Washington, D.C., placed the wolf back on the endangered species list Dec. 19.
"State policy has been that we won't pay for wolf control for a federally protected species,'' said Stark. And state statute prevents the state from continuing its own limited wolf-control program as long as wolves are on the endangered species list.
The solution: "We still think the federal government should reinstate funding for the federal [wolf-control] program,'' said Ed Boggess, DNR fish and wildlife division director.
Funding also is an issue, not only for depredation control, but for wolf research, surveys and other management. A large chunk of funds comes from wolf hunting license fees and 50 cents from each deer license sold. With no wolf season, that revenue — $139,000 last fiscal year — disappears.
Meanwhile, the U.S. Fish and Wildlife Service has filed notice that it will appeal Howell's ruling, and bills have been introduced in the U.S. House to remove wolves from the endangered species list in Minnesota, Wisconsin and Michigan. Rep. John Kline, R-Minn., introduced one of the bills, and others in the state's delegation have indicated support.
"Senator Klobuchar has supported delisting the gray wolf, and believes the science and the facts support the delisting,'' said spokeswoman Julia Krahe.
Said Sen. Al Franken: "Our farmers and ranchers are rightfully concerned about losing their livestock — their livelihood — to wolves."
Gov. Mark Dayton's budget has proposed doubling the amount of money — from $100,000 to $200,000 yearly — that would go to the state Department of Agriculture to pay farmers for livestock lost to wolves.
In fiscal year 2014, the state paid for the loss of 107 cattle, 45 poultry, five horses, five sheep, two llamas and one goat. Payments are based on the market value of animals, and generally those prices have been increasing.
For Salzer, the Barnum farmer, the loss of five calves last year was a financial hit. He valued them at $1,500 each. "That's significant,'' he said.
He never found the carcasses, and there was no state compensation money available then anyway, so he didn't file a claim with the state.
"I'm very lucky. There are people with much worse situations,'' he said.
Doug Smith • 612-673-7667
Star Tribune
Updated: February 5, 2015 - 3:30 PM
Things to know:
1 When spring weather is normal, ruffed grouse drumming peaks during the last two weeks of April. Male grouse drum at all times of day but most often in early morning. They drum at night, too.
2 A drumming session consists of approximately 40 wing beats, but it is difficult to count because the wing movement is so rapid. A male grouse will sit for about four minutes after drumming before repeating the routine.
3 The thump-thump-thump of a grouse's drumming can be heard for a half-mile under ideal conditions. Yet, even heard at close range, drumming is not particularly loud.
4 Male ruffed grouse often have several drumming sites in their home range. Usually though, certain logs are their favorites. An abundance of grouse droppings is a good indicator.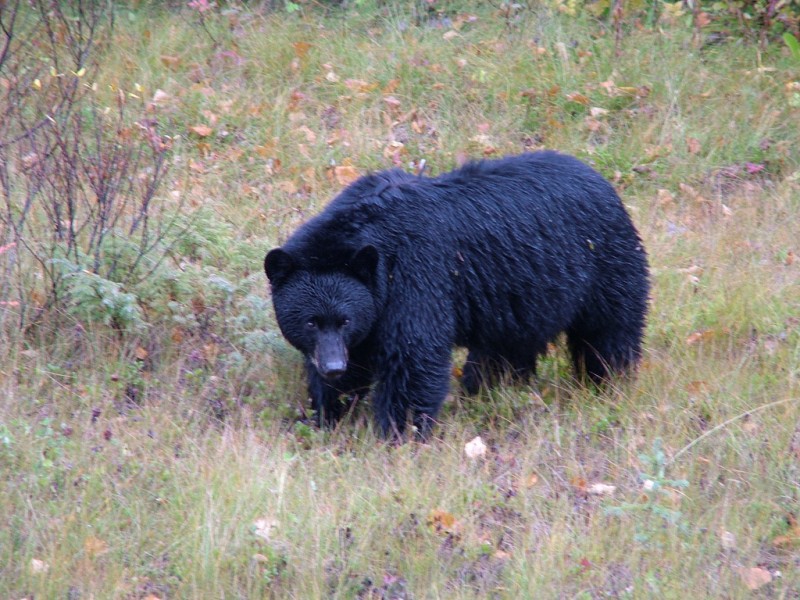 Outdoorhub
By:
Daniel Xu +
Posted: 1/26/15
A massive 740-pound black bear captured and killed in Florida this month is the largest ever documented in the state. The bear in question is not pictured.
On Sunday, officers from the Florida Fish and Wildlife Conservation Commission (FWC) euthanized the largest-documented black bear in the state's history. According to The News-Press, the massive 740-pound male bear was captured days before while roaming through populated neighborhoods in Seminole County. He was even sighted lingering around a local elementary school. Given that it weighed nearly 500 pounds more than the average male black bear in Florida, experts believe that the animal had gotten to its size by ransacking dumpsters and other sources of human food. Officers also discovered that the animal was injured, which (in addition to its apparent fearlessness of humans) led them to decide to euthanize the animal.
"We don't want to kill any animal, especially an impressive and majestic animal like that," Mike Orlando, a FWC biologist, told The Orlando Sentinel. "But public safety is paramount."
The bear was lured into a trap in Alaqua Lakes and sedated before being transported to a holding facility. For bait, wildlife officers used a method that proved highly successful for catching bears in the wild: a long sock filled with donuts and drenched in syrup. A similar technique was used to capture the state's previous largest bear, a 620-pound male that was found rummaging through trash bins near Ocala National Forest. That bear was relocated to the wilderness successfully, but officials stress that bears finding food in populated areas can be very dangerous.
"We don't always rush out and capture them just because they're big," Orlando said. "No bear—not big ones, little ones or the medium-sized ones—should be comfortable in neighborhoods."
Black bears were once rare in the Sunshine State, but their numbers are rising and some lawmakers are calling for the return of the state's bear hunting season. There has been no recreational hunting season in Florida since 1994, but the increase in bear sightings and nuisance bears is leading game officials to reconsider the issue. Next month the FWC will meet to discuss management options for the state's black bears, which may include broaching the subject of the state's first bear hunt in over two decades.
File image from janebelindasmith on the flickr Creative Commons
Jeff Frischkorn Blog
December 29, 2014
Wait a minute; I want to get this picture right.
In order to celebrate the sportsmens' and sportswomens' victory over the Humane Society of the United States regarding the anti-bear-hunting voter initiative in Maine back in November, the Columbus, Ohio-based U.S. Sportsmens Alliance will conduct a drawing for a black bear hunt in where's that you say... Quebec?
Yep, that's what the Alliance's is proudly boasting about its latest 16-page e-edition newsletter. The promotional, from-the-heart five-day, 2015 spring trophy bear hunt is being co-hosted by Horseshoe Hill Outfitters near Val-Dor. That's in Quebec. Which is in Canada. And which is a pretty far piece from Maine, if you want to set your GPS for proper directions.
Now I am going to assume that the brain trust at the Alliance is aware that Quebec is not a part of Maine, let alone the United States.
Which begs this question: After all that effort to successfully thump the HSUS was the Alliance unable to locate a receptive, appreciative, friendly-Down-East-Maine bear-hunting guide willing to donate a hunt?
Maybe so since the Alliance had to go to another country and to a province where English is the official second language in order to celebrate a victory over anti-hunters in the good old United States of America.
Geeze, no way could I have made this one up.
Article by: Associated Press
Updated: December 8, 2014 - 7:58 AM
MIAMI — Three people died and eight were injured in a crash that happened after a motorist in a Cadillac Escalade hit a bear and stopped along a two-lane road in the Florida Everglades.
Seminole police spokesman Gary Bitner told The Associated Press that people traveling in a second vehicle Sunday evening had stopped to help when a third vehicle plowed into them. The bear also died.
"Three people from a second vehicle got out and tried to help and all were struck and killed by a third vehicle," Bitner said by telephone, adding events apparently unfolded quickly.
It was shortly before 7 p.m. Sunday when the first vehicle hit the bear.
"We've never had an accident involving a black bear," Bitner noted. "There are black bears throughout Florida and this is in the Everglades, so there absolutely are black bears in that area."
The Broward Sheriff's Office sent crews to help. An official said four critically injured patients were airlifted to a hospital in Fort Lauderdale. Four people with non-life-threatening injuries were taken by ambulance. Officials say some of the victims were children.
Bitner said identities of those involved and the extent of their injuries weren't immediately available. He said accident reconstruction experts were on the scene late Sunday and details remained uncertain of precisely how events unfolded or the speed and make of the vehicles. He said at least two of the vehicles were going in opposite directions.
"They are still trying to figure everything out," he said.
Bitner said the crash happened on the approximately 50,000-acre Big Cypress Seminole Reservation, one of several tribal reservations scattered around Florida. He said the crash occurred north of Interstate 75, which is also known as Alligator Alley.
Encounters with bears in Florida are reported sporadically. Last week, wildlife authorities in central Florida said they captured and killed a bear that was suspected of biting a woman on the arm last Wednesday as she walked her dog in the Orlando suburb of Lake Mary. Authorities said they also captured two of that bear's cubs but one was killed in the process. They added the other cub was old enough to survive on its own and they planned to release it elsewhere.
By Mike Gnatkowski Contributing Writer
November 20, 2014
Outdoornew.com
Some of the most memorable deer I've shot were not deer I harvested. There haven't been many, but there have been a couple of deer I have shot and not recovered. That fact weighs on me to this day. I've relived my shot placement, questioned if I should have taken more time and waited for a better shot or whether we could have done a better job of tracking. No sportsman wants to lose a deer, but unfortunately it happens on occasion.
Ideally, we make the perfect shot and the deer drops in its tracks. But that doesn't happen all the time, especially with archery gear. More often, the deer takes off at the shot and the tracking process begins. By following a few simple rules, the tracking process can end successfully 99 percent of the time.
The first thing to do after the shot is settle your nerves and do nothing for 20 to 30 minutes. Calm down, shed clothes if you expect to be walking and tracking, and ready the things you need for recovering the deer. Visualize the shot and how the deer reacted. It will give you an idea of where the deer was hit. 
A high jump and kick followed by a high-speed run usually indicate a shot in the vitals. You can expect to find the deer within 100 yards. The deer that runs off and stands hunched up is likely shot low in the stomach or guts. Get another shot in the deer if you can. Otherwise, expect to wait a considerable amount of time before beginning tracking. Deer wounded this way want to bed down. Most will die in the bed if you let them, but it might be a minimum of several hours before you can go after them. What you don't want to do is push the deer.
Deer shot with a gun may be harder to track than those shot with an arrow. It's common to hear deer shot with archery equipment crash within hearing distance. Listen after the shot to get an idea of the direction the deer is heading and possibly the results of the shot. Deer shot with archery gear are intended to bleed out, making it easier to follow blood trails. Deer shot with a firearm die from shock and tissue damage, but there is often less blood to follow.
Identify a visual landmark to give you an idea of where the deer was standing the last time you saw it. It might be a rock, a tree, or an opening in the forest. After waiting, go directly to the spot where you last saw the deer and determine if you indeed hit the deer. Place a marker for a point of reference. It can be a strip of surveyor's tape or a piece of tissue. 
If you can't find a blood trail, go back to where the deer was standing when you shot and look for blood there. Once you find blood, blood color will help determine where you hit the deer and provide a visible trail for recovering the animal.
Bright, pink, frothy blood with bubbles indicates a lung shot. The deer shouldn't go far and your chances for recovery are good. Rich, vivid, red blood indicates a shot close to the heart or an area supplied by multiple blood vessels. Major blood sign indicates that the deer will not be far. A marginally hit or nicked organ is usually fatal, but it may take a while for the animal to die. Best to be patient, wait, and prepare yourself for some difficult tracking. 
Dark, crimson-colored blood suggests a liver or kidney shot. A shot like this is fatal, but will take time. Wait two to three hours before you begin tracking. Blood sign may be minimal so be observant, patient, and use your best tracking skills. 
Blood with plant matter or food mixed in it, or a yellowish-green tint to it, is not good. The clues indicate a stomach hit. The deer eventually will die, but it may be a while. Wait at least half a day before tracking, taking into account weather conditions and the coyote population. 
How the blood is dispersed can give an indication on how good the hit was. Blood from a walking deer will be right in its tracks in the trail with little splatter and uniformly sized drops. If the blood trail moves side to side, weaving on the trail, the deer is about to expire. Blood from a running deer will spray or splatter. Major blood indicates a pass-through shot and a hit of a major artery or heart shot. Look for blood sign not only on the ground, but also on vegetation and trees. 
Many times you won't find blood immediately at the point where you hit the deer. Pass-through shots with an arrow or bullet will produce plenty of blood sign, but an arrow that doesn't pass through or a deer shot with a slug or buckshot may not bleed profusely until the body cavity fills with blood and begins draining from the entrance wound. Even then, blood will clot or fat or hair may plug the hole. 
That's why it's important to stay to the side of the trail in order to not disturb sign. Tie pieces of surveyor's tape or tissue to branches at the last sign of blood. This gives you an idea of the direction the deer is heading and a reference point to return to should you lose the trail. One or two trackers works better then a whole group.
Hair can give you an indication of where the deer was hit. You often find it where the deer was shot, where it lay down, or where it crossed a fence. Dark, coarse, hollow hair indicates a high hit. Hair on the side of the deer will be thinner, brown, and not as coarse and should signal a good hit. White hair is not good. It means a low shot, but it could indicate an exit wound from a high-angle shot. Silky, white hair and bone fragments suggest a brisket shot. Such a deer may or may not die.
There is gear that can aid in your search to recover a wounded deer. One company makes a blood-trailing flashlight that illuminates blood and makes it visible to the human eye. There also are spray products that do the same thing.
Once you find the deer, don't just walk up to it. Take your gun. Many hunters have walked up to a "dead" deer only to have it jump up and run away. Look at the eye. If it's open, it's probably dead. If it's closed, use caution. Gently touch the deer's eye to see if it blinks. 
Tracking deer is often a judgment call. Approaching weather or a healthy coyote population may require that you start tracking sooner than you'd like. Use patience, be quiet and methodical, and it should turn out for the best.
Article by: BILL MARCHEL SPECIAL TO THE STAR TRIBUNE
Updated: November 20, 2014 - 2:22 PM
A post-rut buck feasts on goldenrod in a secluded meadow.
Photo: Bill Marchel • Special to the Star Tribune,
As November wanes, so does the white-tailed deer reproductive season. By now, most does have been bred. The bucks are worn down after several weeks of chasing females and battling for propagation rights. The deer are becoming less active.
Granted, there are still spurts of rutting activity. But with the arrival of snow and cold, the bucks have mostly shifted into resting and feeding mode. Likewise, bow and muzzleloader hunters hoping to get that deer in their sights should do a little shifting.
Morning is prime time for hunting during the rut. Not so any longer — deer will be secure in their bedding areas at dawn.
Now is the time to concentrate your efforts on hunting near food sources in the afternoon. Deer will be most active when the temperature is warm — even mature bucks will be out feeding during the warmest hours of the day. The early onset of snow and cold this year probably has accelerated midday feeding activity.
Deer usually won't wander into wide open farm fields, especially after being hunted for the past several weeks. But out-of-the-way feeding spots can be productive. These locations might include remote farm fields, deer food plots, forest clear-cuts where plant regeneration has occurred and wild meadows — especially those containing goldenrod, a favorite late-fall and winter food source for deer. Deer ignore the goldenrod leaves when they're green, but relish the dry brown leaves as soon as they're frozen.
Of course, an oak ridge full of acorns is the ideal spot. But the red oak acorn crop was a near total failure this year, at least here in central Minnesota. Deer are seeking alternative food sources.
I always enjoy wandering the edges of forest clearings and meadows in the late fall, whether I have camera or bow in hand. The snow reveals the comings and goings of deer and other animals, making it a great time to be afield — whether you're perched in a deer stand or quietly stalking the creatures.
It's nearly impossible to sneak up on deer when the snow is frozen and crusty. But if the temperature is below freezing and the snow remains soft and fluffy, it's often possible to approach deer by stalking into or across the wind, and by moving only when deer are engrossed with feeding.
Of special note: When snow and cold invade Minnesota this early, bucks often drop their antlers before the end of archery season (which concludes Dec. 31). That's what happened last year in the area I hunt. A specific buck I was hunting shed his crown on Dec. 18, something I was able to confirm by monitoring images from my trail cameras.
Bill Marchel, an outdoors writer and photographer, lives near Brainerd.
Famous hunter is harshly criticized by animal lovers after killing 510-pound bear and posting the photo on Facebook; story gains mainstream attention
November 18, 2014 by Pete Thomas
Eva Shockey poses with 510-pound black bear; photo via Facebook
Eva Shockey knew she was placing herself in the crosshairs of anti-hunters before she posted a photo of herself posing with a 510-pound bear she killed last week to her Facebook page.
The famous co-host of "Jim Shockey's Hunting Adventures" told Field and Stream:
"My dad warned me before I even got involved with the show that I was going to have to deal with anti-hunters. I'm a huge target for them because I'm a smiley young woman, and I'm different than who they're used to dealing with."
But Shockey, 26, had no idea the flood of venomous comments would be so extensive, or that the story of her hunt and its aftermath would gain national attention in the mainstream news.
Eva Shockey with pet dog; photo via Facebook
She killed the bear, the largest she had ever harvested, on the fifth day of a hunt with her father in Hyde County, North Carolina. Bears are responsible for extensive crop damage in the region, she explained on Facebook, and hunting helps control the bear population.
But this was such an impressive animal, and the photo was bound to attract lots of attention. Critics found their way onto Shockey's fan page by the hundreds, and opened with both barrels. She spent most of the day removing the harshest comments "so other people don't have to read them."
Shockey told The Blaze that one commenter, in reference to a Facebook photo of her posing with her dog, stated that she "should kill that worthless dog you have instead."
The hunter's response: "Apparently hunting a bear, eating/donating all of the meat, and putting money towards conservation is a bad thing, but killing my puppy is OK. If this logic isn't totally insane, I don't know what is."
The story—the dog comment in particular—caught the attention of mainstream news networks, such as ABC News and Fox News.
During an interview with Fox News on Monday, the anchor described the dog comment as "pretty sick stuff."
Said Shockey: "It is sick, I agree with you, but unfortunately we actually have to deal with that quite a lot. … I've never had someone tell me to kill my puppy before, but comments like this … they definitely happen to us."
Shockey has been posting the news reports to her fan page, which has more than 657,000 likes.
Part of the bio on her page reads: "With a combined passion for conservation and adventure, I try to balance hunting, femininity, and family into what I consider to be the best lifestyle in the world."
Minnesota's second regulated wolf hunting and trapping season was held in 2013, but the issue of wolf management remains controversial. Photo/U.S. Fish and Wildlife Service

Article by: DOUG SMITH , Star Tribune
Last update: November 15, 2014 - 11:43 PM
Minnesota hunters have killed 94 wolves this season and appear on their way toward hitting this year's 250-wolf quota.
The early season, which coincides with the firearms deer season, closes Sunday in parts of the northwest zone, and it runs through Nov. 23 elsewhere in the northwest, or until the harvest quota is met.
The early season in the northeast zone closed Friday after hunters approached the 37-wolf quota there.
A late wolf season, in which trapping also is allowed, opens Nov. 29.
Heading into the third hunting season, the wolf population remains stable and shows no sign of being hurt by hunting and trapping, which began in 2012, state officials said.
"The hunt isn't having a significant influence on wolf numbers,'' said Dan Stark, large carnivore specialist with the Minnesota Department of Natural Resources (DNR). "But that wasn't the intent. The intent is to have a sustainable hunting and trapping season,'' he said, not to reduce the wolf population.
A DNR survey last winter estimated the wolf population at 2,423 — up about 200 or 10 percent from 2013. That change isn't statistically significant, Stark said.
Officials say the population peaked at 3,020 in 2004 — 17 percent higher than it is now.
"The population still is in the range of what it was at its peak,'' Stark said. "Overall, it is still doing quite well. It continues to be one of the highest wolf densities anywhere in North America.''
The DNR estimated that, besides single wolves roaming the state, there were 470 wolf packs averaging 4.4 wolves per pack.
Because deer are a primary food for wolves, Stark said deer densities — and not hunting — likely will drive the wolf population. The deer herd has declined drastically in northern Minnesota in recent years, hurt by brutal winters and liberalized hunting regulations that have now been tightened.
"We certainly have a viable deer population that is large enough to support the wolf population we have,'' Stark said. But, he said, "I don't know that our wolf population will ever be what it was in the early 2000s if we don't have a higher deer population.''
Lack of prey may explain the increase in the number of problem wolves that have been killed this year because of livestock depredation.
About 200 wolves have been killed by state and federal officials in 2014, Stark said, compared with 130 all of last year. In 2012, 300 problem wolves were killed by officials.
Interest in wolf hunt
Meanwhile, interest in hunting or trapping wolves remains strong. Around 15,000 people applied for 3,800 available licenses this year. Last year, 13,000 applied for 3,300 licenses.
"There's definitely more interest than we have licenses available,'' Stark said.
Some 2,300 licenses were sold for the early-season wolf hunt. Based on earlier hunter surveys, 85 percent of successful hunters during that early season say they were deer hunting when they encountered a wolf and shot it. The late-season wolf hunt occurs after the firearms deer season, meaning hunters have to specifically target wolves. This year, about half of the 1,500 licenses went to hunters and half to trappers, Stark said.
The success rate for those seeking a wolf remains extremely low: around 7 percent overall. Hunters have less than a 5 percent success rate, while trappers have about a 20 percent success rate.
In comparison, firearms deer hunters have about a 30 percent success rate.
Season status, harvest targets and a link to wolf management information is at www.dnr.state.mn.us/hunting/wolf/index.html.
doug.smith@startribune.com
Twitter: @dougsmithstrib