ZLALOMZ
                                                                                                                                                                                             photo C. Meyer                                  
For 2016 

Pansasports-Avons Slicks-Clean cabin
One set of rear flares too small and the other too big. Time to customize.
My Project Cars
 The Autocrosser/Track day
Starting Plan
My goal is to first run in FP Solo 2 and then track days once the car is sorted. I will have to swap wheels, fiberglass, fuel cell and brake pads. I will corner weight for the track set up. In autocross trim I will have to add weights to make minimum weight.
Specs
IMSA flared 1973 240 Z with an older Scott Performance L28, thinwall tubing for torsional support, SCCA spec rollbar.
Engine
Now in the orange street car
When new. 
Scott Performance L28 block and E-31 head/cam, Mikuni 44mm sidedrafts, Mallory distibutor, Comp header
Suspension,Brakes, Tranny and Differential
Koni double adjustable strut inserts, Ground Control coilovers, 280Z shortened struts, Design Products camber plates 325, 350, 375 and 400lb. springs to try.
Quick steering arms, Jim Cook Racing 1 inch bumpsteer spacers. Stock brakes with Carbon Kevlar pads and shoes, Wilwood adjustable proportioning valve. 4 spd, 3.9 LSD differential
Fiberglass
12lb. hood of unknown origin (craigslist)
IMSA flares from a parts car
 Donor car. A set of flares will be "splashed" and attached with dzus fasteners
Formula Atlantic radial slicks 15x12 inch
The roll cage under construction
A torque box to mount the roll bar is done on the driver's side. 1 1/2" diameter .120 wall D.O.M. main hoop, diagonal and supports and .083 wall x-member tied to the strut towers and torque boxes. 
Once everything is tacked to the main hoop, it will be slid off the torque boxes to gain access on all sides of the welds.
3 gallon drag fuel "cell"  The cell, pump and filters are removable as a unit.
My 15 minutes of fame in the '90s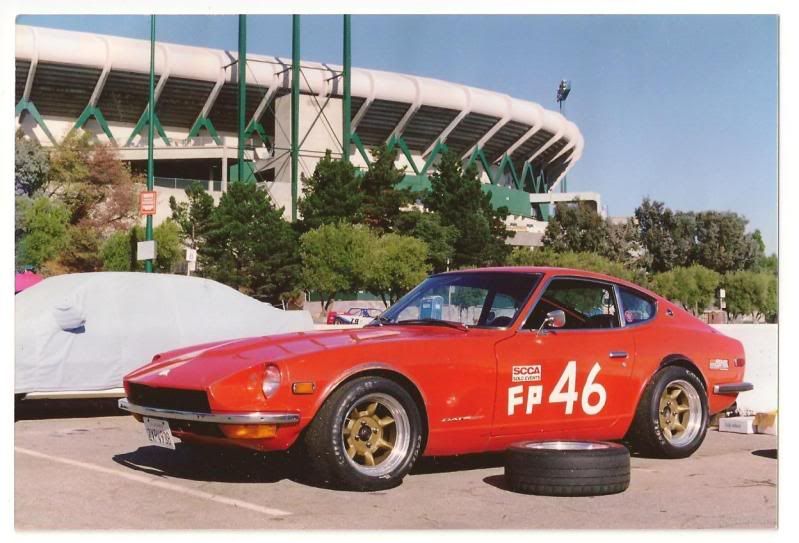 Oakland Coliseum
                                
                                                                                                                        De Anza autocross with my brother 20 years ago
I was given an original race weight IMSA flare(thanks Greg). This is a 12 inch wide Panasport with a 13 inch wide slick. Look how much room is left!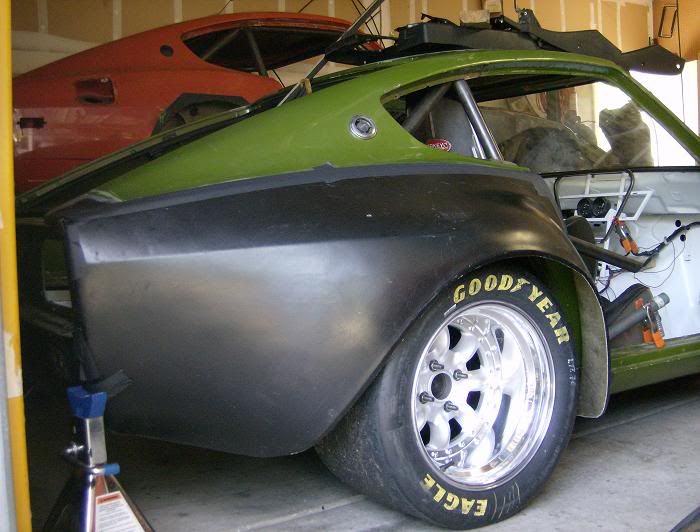 The Banshee
Street and track day car built in the 80s by Scott Performance for my brother. The Banshee has been sold to a good home and the new owner has sent some pics. Ready for track days!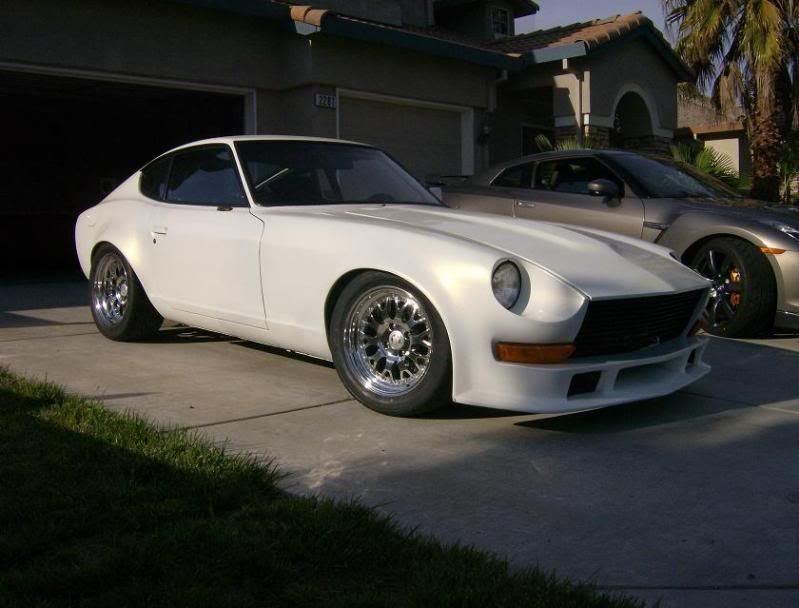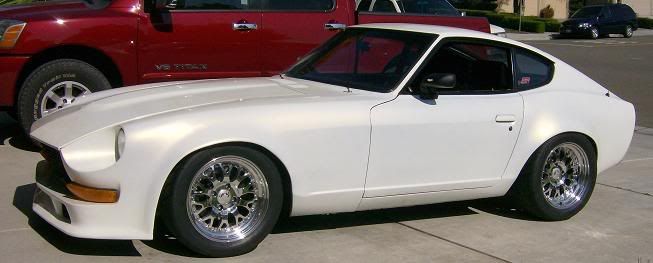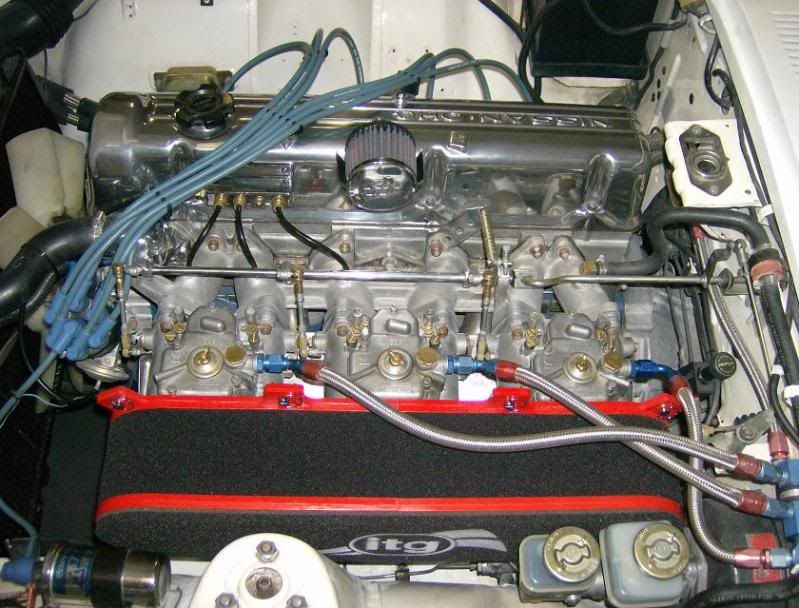 Me driving at Buttonwillow and Laguna Seca courtesy of my brother.
        My Street Z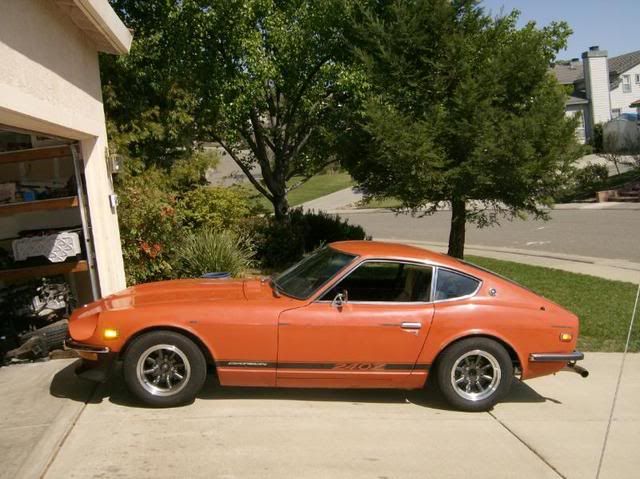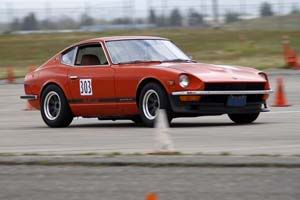 1973 240Z is now my weekend car.
 An L28, 5 speed and a 3.9 limited slip r-180 have been transplanted. The suspension, steering and brakes were rebuilt first. 
I have a bucketload of 1973 parts and have been swapping them over to this tired Z. I replaced the bent hood, rusted rear hatch (swapped in the lock), front cowl, a straighter rear bumper, better inspection lids, a stock mirror and the lower valance is being replaced with my Xenon airdam. I bought 2 sets of bumpers for cheap and put on an early front one after derusting the backside and pounding out a small dent. Once I get the floors de-rusted, patches welded and flattened I have 2 reupholsterd seats from one of my older cars to put in. The rest of the interior is very nice with almost every thing in very good shape. The dash has a cap.
Problems I have located and fixed or replaced so far. 3 dead Venezualan shocks and the fourth was blown, replaced with some KYBs in front and a set of Tokicos in the rear that I had. The inner a-arm bushings were near non-existant. You could move them forward and back several inches, so I  replaced them with poly bushings. The ball joints, rod ends and steering rack all very worn, so I replaced them all from my lovely pile'o'parts.. I sandblasted and wire brushed all struts, arms and then painted. Added some lowering springs I had. Put in a poly steering coupler. Replaced the motor mounts that were seperating. Someone had attempted to remove one of the spindle pins in back and half installed the middle locking pin and forced an end nut over the hammered, mushroomed end. The driver's rear wheel was also toed in so something was probably bent. Oh... also a rear stud was broken in half!  I replaced the complete rear struts, arms and hangers with freshened ones that I had.  I added Suspension Techniques sway bars front and rear.
The rear oversized tires were being cut into by the spring perch! The fronts were mismatched and old. Konig 14x7 wheels and 215-60-14 tires. I put on the rebuilt calipers, rotors and rear brakes from the autocrosser. Carbon Kevlar pads and brake shoes. Replaced the master cylinder. A rubber brake line had the outer liner completely cracked off in a ring. Someone covered it with electrical tape. Yikes!
 I can't believe I drove this thing 100 miles to my house and lived. I would hit a bump and it was like driving on oil with all of the worn parts and slop.  I swapped out the brake pedal and added a clutch pedal, master cylinder and line and welded a slave cylinder line bracket. Short circuited the neutral saftey switch wiring and sold the automatic tranny.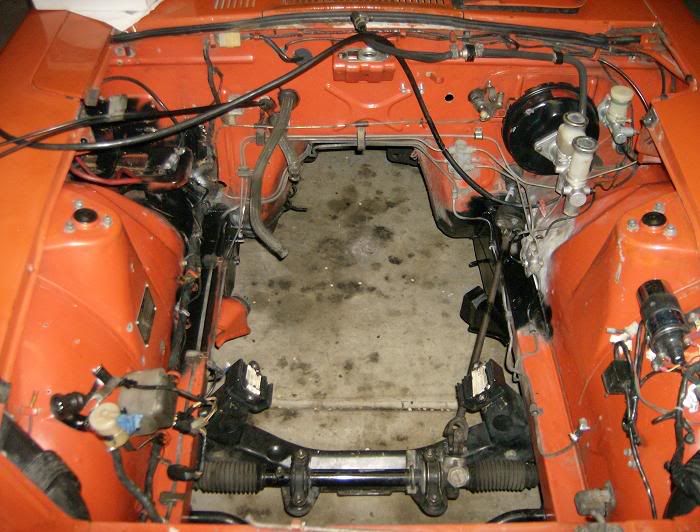 Out with the old, removed any rust and quick paint. No rust throughs anywhere in the engine bay.
Header leaks fixed, floats reset to previous levels for street power and original fuel inlet valves installed. 
My old Scott Performance street/autocross motor in for summer fun until the track day car is done.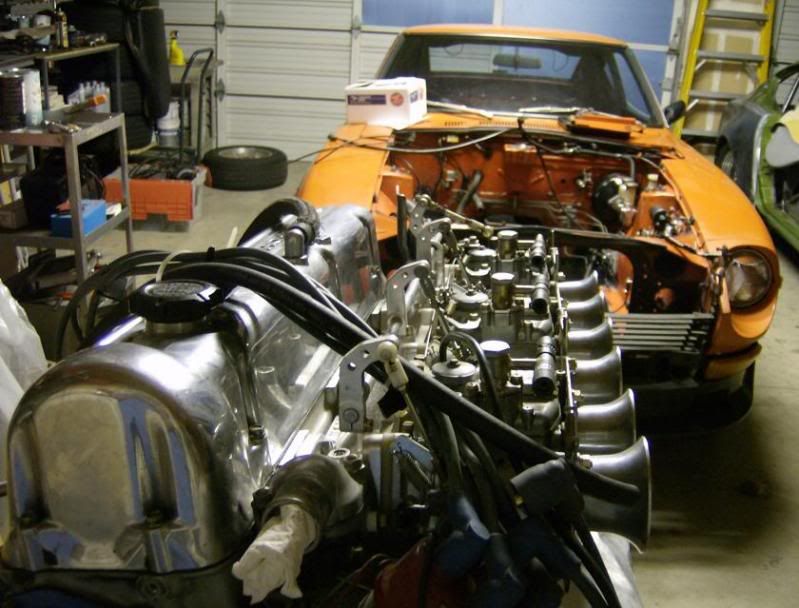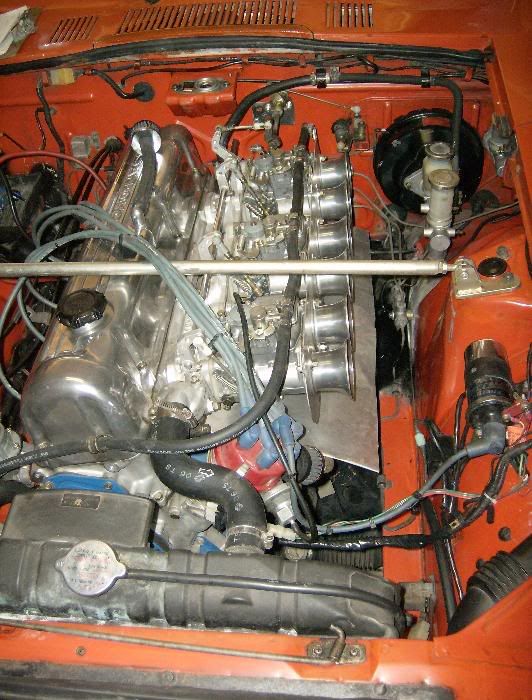 After I swapped out the tach for a 280 one it took awhile to figure out the wire I had to "loop" for the old 4 wire tach connector. 15 yr. old motor runs strong and my neighbors hate me because of the loud muffler and revving triples. I replaced the worn out alternator that has a bad bearing and worn out brushes.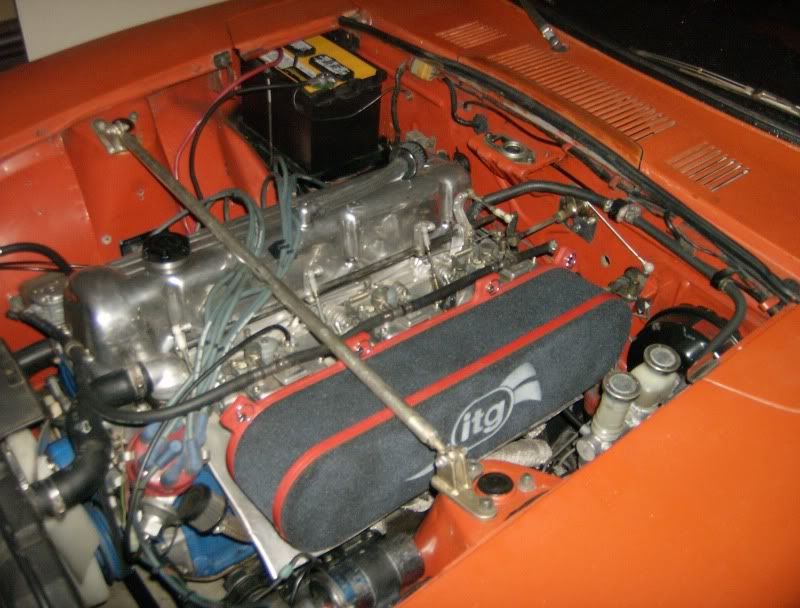 The head gasket let go so I replaced it and the intake\exhaust gasket too. Also I welded on a new muffler.