Course Description*
Ethnobotany is the scientific study of interaction between human cultures and plants.  
This includes a wide range of topics taken from an even wider range of disciplines, and this considers many different types of interactions between people and plants.  
Although we draw on examples of interactions from around the world, a special focus is placed on examples of cultural use of plants in Hawai'i and the islands of the South and Central Pacific.
This course provides Foundations Requirement credit (for graduation) as Global & Multicultural Perspectives, Group C.
Learning Outcomes*
Students will be able to describe a diversity of ways in which plants and sues of plants have shaped past cultural and historical developments.
Students will be able to discuss and appreciate the roles of plants in their personal and family daily lives.
Students will be able to define the critical roles plants play in the modern world and into a sustainable future.
Students will become familiar with the basic elements of botanical sciences.
Students will become familiar with the basic elements of cultural sciences.
Required Readings*
Abbott, Isabella Aiona.1992. La'au Hawai'i: traditional Hawaiian uses of plants. Bishop Museum Press, Honolulu.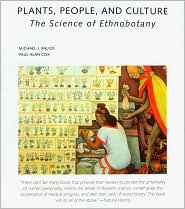 Balick, Michael J. & Paul Alan Cox.  1996.  Plants, People, and Culture: the science of ethnobotany. American Botanical Council, Austin. 2005 reprint edition. 
Required Assignments*

 Class%

    



 Credit
 Due Date

 Week
 25%
 Midterm Exam

 October 10, 2011

 8
 25%
 Final Exam

 December 16, 2011

 16
 25%
 Written Assignment

 November 23, 2011

 14
 10%
Participation

 Weekly

 1-16
5%

 Foster Botanical Garden Visit

 September 29/30, 2011

 6
 5%
 Community Resource Visit

 October 26/27, 2011

 10
 5%
 Bishop Museum Visit

 November 17/18, 2011

 13
 100%
 
 
 
Course Schedule**
 Wk        

    

Date 
Topics 
Readings 
 Lab
 Online Videos
 1

 8/22
8/24
Introduction to the course
Ti Plant (Cordyline), multipurpose species
Balick & Cox, Chapter 1, pp.1-23
Abbott selected pages (see index).
 Introduction
2. Introduction 
 2
 8/29
8/31
Cultural evolution of plant-people relationships; gathering & hunting, origins & rise of agriculture. 
 Balick & Cox, Chapter 3, pp.63-97


 Introduction to campus and multipurpose plants
1. Origins of Plant Uses  
 3
 9/5
9/7
Holiday
Spread of humans out of Africa, transported landscapes of people, plants, animals and ideas. 
 Balick & Cox, Chapter 3, pp.63-97.;
Reading to be posted to Laulima.
 Plant Anatomy
Worksheet: Campus Plant Walk an

Introduction to Plant Parts




Ferns

Monocots/Dicots

Basic Flower structures


1. Guns, Germs & Steel 
2. Transported Landscapes 
 4
 9/12
9/14
An ocean in mind; evolution of Pacific Cultures 
 Balick and Cox, Chapter 3, pp.63-97;
Abbott, 1-44.
  Ethnobotany Ethic
Code of Ethics reading:


The Kaua'i Declaration (Required)
 International Society of Ethnobiology (Optional)

Worksheet: Ethics, Semi structured interviews, Freelisting


How do ethnobotanist collect data?
Informed consent?
Freelist & Semi-structured interviewing exercise.

1. Wild Plant Foods 
2. Origins of Agriculture 
3. World Food Crops


 5
 9/19
9/21
 Lapita Toolkits, Canoe Species: Crops and other plants in Pacific Island Countries
Balick & Cox, Chapters 3&4,
 Abbott, 1-44. 
 Pacific Navigator
Worksheet: Directions for Pacific Navigator Game and Game Insight


High Islands Navigator Games
History of Hawaii through Plants
Transported Pacific Landscape

1. Evolution of Pacific Cultures 
2. Lapita Toolkits 




 6
 9/26
9/28
 Lapita Toolkits, Canoe Species: Crops and other plants in Pacific Island Countries 

DUE: Foster Botanical Garden Worksheet
Balick & Cox, Chapters 3&4,
 Abbott, various pages to be assigned.  
Wild Foods and Spices
Worksheet: Trading places game and Spices activity  


 Trading Places game
 Where do spices come from, what parts of plants, which are the most economically important?

1. 

Wild Plant Foods 
2.  Cultural and Culinary Ethnobotanical Knowledge 
3. Spices and Herbs
 7
 10/3
10/5
 Lapita Toolkits, Canoe Species: Crops and other plants in Pacific Island Countries 
Balick & Cox, Chapters 3&4,
 Abbott, various pages to be assigned. 
 Seaweed
Worksheet: Basic seaweed (limu) background and identification activity


Rhodophyta, Phaeophyta, Chlorophyta
Seaweed as foods & medicines.
Economic and Ecological importance of various limu types.


1. Limu (Algae) 
2. Canoe Plants: Five Pacific Trees
3. Crops in Pacific Island Cultures 

 

 8
 10/10
10/12
 MID-TERM EXAMINATION
Plants of the Gods, entering the other world
Balick & Cox, Chapter 5, pp.145-178.  
 Meet @ Ka Papa Lo'i 'o Kanewai 
Worksheet: Kanewai, House Construction and Cultural Landscapes
1. Entering Another World 
2. Psychoactive Plants I 
3. Psychoactive Plants II

 9

 10/17
10/19

Plants of the Gods, entering the other world 

Balick & Cox, Chapter 5, pp.145-178.  

 Kava & Other Beverages of the Gods
Worksheet: Basic kava introduction and beverage plants


Kava

Chocolate

Tea/ Coffee

Plant affects on Psychology

1. Stimulating Beverages
2. Alcoholic Beverages 
3. 'Awa and Cultural Conservation
 10
 10/24
10/26
Plants of the Gods, entering the other world 

DUE: Visit to a Community Resource
Balick & Cox, Chapter 5, pp.145-178.  
 Maintaining the beat: Tapa, paper, cloth and cordage
Worksheet: Fibers and Anatomy of Plants used in Clothing and Plants used in Music


Ethnomusicology
Fiber arts of Tapa, Paper and Cloth

1. A Plant Walk with Hula Plants
2. Kuo Hina E Hiapo
3. Felted Bark: Kapa/Tapa 
4. Recollection of a Family Tradition 
 11
 10/31
11/2
Plants of the Gods, entering the other world
Balick & Cox, Chapter 5, pp.145-178.  
Botany: Plant classifications
Worksheet: Folk taxonomy and Systematics


Contemporary plants and their effect on society

Folk Taxonomy

1. Why are Plants Useful to Us?
2. What Makes Plants Waterproof?
3. Taxonomy  

 12

 11/7
11/9

Medicinal Plants, General Discussion 

 Balick & Cox, Chapter 2, pp.25-62

 Friday November 11, 2011 No Lab (Veteran's Day)
1. Illness and Medicine in Cultural Settings 
2. Making Sense of Plant Medicines
3. Herbal Remedies

 13

 11/14
11/16
Medicinal Plants, General Discussion 

DUE: Visit to Bernice P. Bishop Museum

 Balick & Cox, Chapter 2, pp.25-62 

Traditional and Modern Psychoactive and Medicinal Plants
Worksheet: Meets some Psychoactive and Medicinal Plants


Meet some Psychoactive Plants
Herbal Medicine
Western Medicine

1. Polynesian Herbal Medicine           2. Rotuman Health Care                    3. Hawaiian Health Care                    4. Chinese Traditional Medicine        
5. Medicinal Plants Dolpo, Nepal
 14
 11/21
11/23
Special Plants, Selected Case Histories- Rice
Special Plants, Selected Case Histories- Bananas


DUE: Written Assignment



Reading to be posted on Laulima 
Reading to be posted on Laulima 

 Thursday November 24, 2011 No Lab (Happy)

Friday November 25, 2011 No Lab (Thanksgiving)

1

.

 Hawaiian Housing Materials
2. Shelter and Cultural Identification with Nature 
3. Architecture & Historic Buildings
4. Home Gardens
 15
 11/28
11/30
Special Plants, Selected Case Histories- Mesquite (Kiawe)
Ethnobotany and Conservation in Micronesia. 
Reading to be posted on Laulima 
Balick & Cox, Chapter 6, pp.179-208. 

Religion, Power Plants & the Role of Plant Conservation

Worksheet: Religion, Power Plants & the Role of Plant Conservation

To prepare for lab review online videos: Buddhism & Plants, Christianity and Plants, Ethnoecology & Conservation

1. Ethnoecology and Conservation
2. Ethnobotany 1nd Conservation in Micronesia
3 Ethnobotany and Conservation in Africa 
4. Carving a Future: 10 lessons for sustainable woodcarving 


5. 

Ethics

 


6. Buddhism and Plants

 




7. 

Christianity and Plants

 16

 Ethnobotany: Ethics, Methods, Conservation

Multipurpose plants & a general 

 Balick & Cox, Chapter 6, pp.179-208.

Abbott, selected pages to be announced.

NO LAB- STUDY WEEK