Fall 2015
While I've been mostly focused on pre-1600s clothing for the last few years, I finally had two events come up that would justify me making a Civil War-inspired ball gown. While the gown is wearable to the fantasy event, I am planning on adding more details for when I attend the
Fezziwig Ball
 later this year.
Historical Inspirations: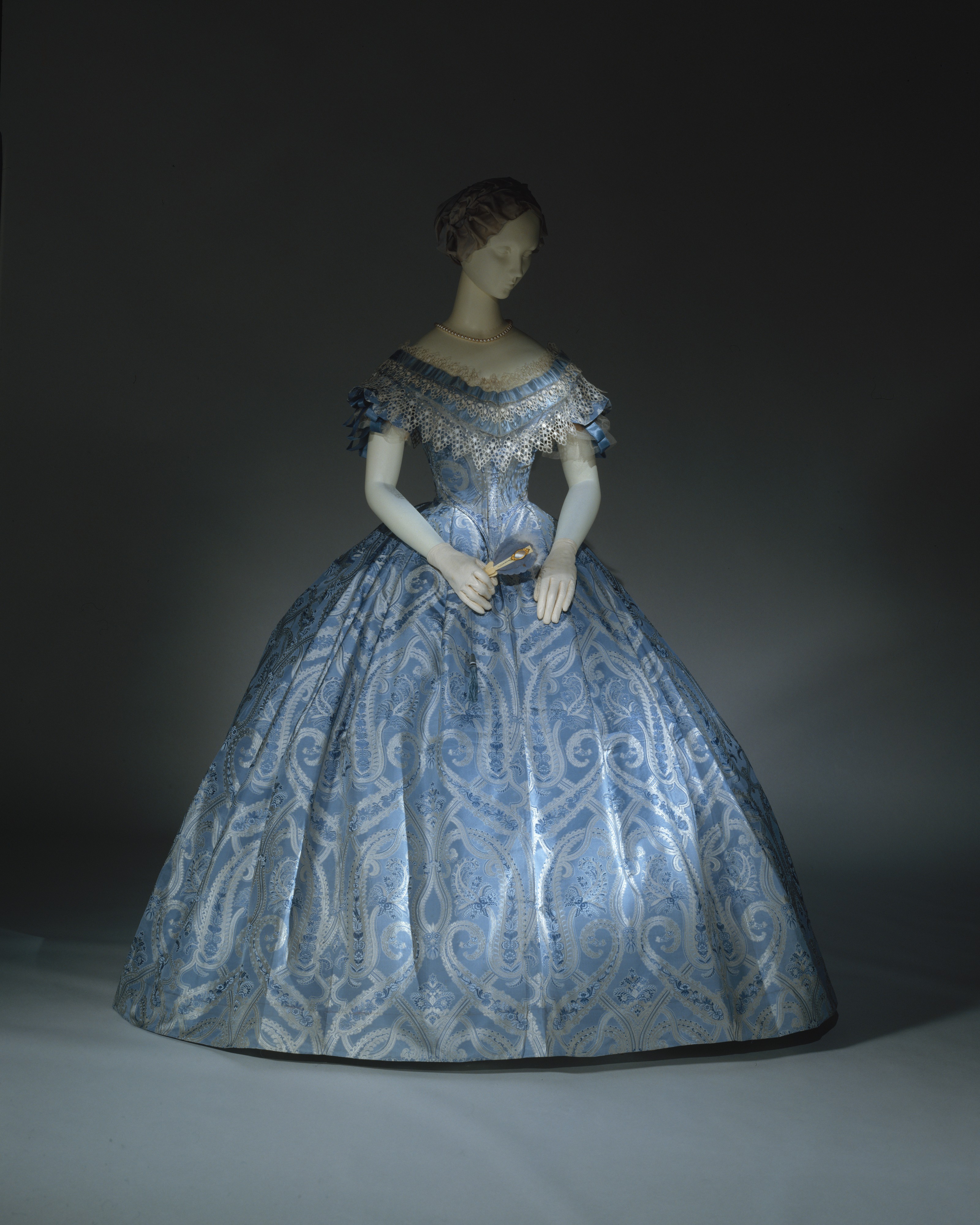 Accession Number: 1983.479.1a–c, image courtsey of 
www.metmuseum.org,
 and posted for non-commercial use. 
My Pinterest page for all of my gown inspirations can be found here.
From skin out: Chemise, corset, hoop skirt, petticoat 1, petticoat 2, skirt, bodice.
While you could swap out the chemise for any modern corset protector (a white tank top with the straps cut off can work, just to have some fabric protecting the corset from sitting directly on your skin), you really do need the rest of the layers for something like this to look and sit correctly. 
The corset was a 1860's one I made a decade ago in canvas and boned with heavy duty cable ties to simulate baleen. The corset is the foundation to the lines of the dress and also holds up the skirts and protects the fabric from putting all the weight on the wrong spot. Not a step to skip!
 The hoop skirt was a 6-bone hoop from e-bay for under $20. I bought a 200-inch hoop that was adjustable and then shortened the bones and gathered the fabric to create the shape I was looking for. It's not exactly correct, but it works and is very inexpensive.
You do not want the bones of the hoop to show through to the finished dress! The more bones in the skirt the easier this is to hide, but the petticoats also help. You can also sew ruffles onto the hoop itself to help cushion the bones, but I find a petticoat is easier.
I wore 2 petticoats as the extra layers help the dress to move in a way I like and they keep the bones from showing. Both were gathered trapezoidal panels.
Construction:
Partially boned bodice, lined in cotton. I did the puffed sleeves based on instructions from Romantic History and was very happy with how they turned out.
Skirt is just a 200 inch wide rectangle gathered onto a band. I keep the bodice and skirt separate as I find it makes it easier to store/clean, but you do have to be careful with the fit to keep the bodice from rising up and showing the skirt band when you move. You can always use a straight pin to hold things together if you are worried.
Conclusion:
This went together in only two weekends with relatively few hours into it, and was very fun to wear. I wore it for a ball where I did the event set-up, danced for hours, and then cleaned up, and it was both comfortable and easy to move in. Very fun project and I highly recommend the period.