Under The Bush
Subscribe to posts
 After a marathon 30 hour+ panic to finalise things, I've finally released a "
Special St Patrick's Day Edition
" of the Carraigdubh geotypical microterrain!
 Special thanks goes to The Mighty Wolle of CWR2 fame, who selflessly sacrificed his couple of days off to ready a small selection of missions to match!
 More details, pictures and that all-important download link are currently available in the...
 ... and hopefully I'll manage to update it's website page just shortly too... once I get some sleep! ;)
Have fun Stealing the Tractor and Happy St Patrick's Day everyone!
...  You may notice sections of the site coming and going over the next while, as I attempt to rearrange things a bit more coherently, and also actually include some more recent stuff for a change... Hopefully nothing will get lost in the process and it all might eventually be a bit easier to navigate around and find things...
You may find some of the new pages that appear will be placeholders at first... more content should get filled in eventually as I assemble appropriate links and nice pictures 'n stuff...
I've noticed recently that there's been a few people visiting this little website... that's the whole point I suppose, but I've become increasingly conscious of the fact I haven't really properly updated things in a while...
I've been keeping busy as usual, but exactly what I've been up to hasn't really been reported here properly - which could easily give the impression I've been doing bugger all for months, which isn't exactly the case... :)
A fairly extensive website revamp is on my current to-do list... meantime, here's a little summary of recent output, virtually none of which has actually been mentioned on my website so far...



ELEPHANT ISLAND
BIS Forum link - http://forums.bistudio.com/showthread.php?t=118269

Ported and vastly updated from an original VBS terrain by David (Seventh) Lagettie, this was a collaboration with Wolle (CWR2 Mod Team Leader)
CWR2 - EVERON
BIS Forum Link - http://forums.bistudio.com/showthread.php?t=121098
One thing often leads to another, and, after the successful collaboration  on Elephant Island, I soon afterwards found myself part of the CWR2 Team, helping bring this Classic Operation Flashpoint terrain to the Arma 2 platform.
BUSH'S GEOTYPICAL MICROTERRAINS
http://forums.bistudio.com/showthread.php?t=123228

A solo effort... these little terrains were essentially landscape synthesis practise. Currently I'm writing an accompanying guide, then I'll be releasing all the source files for these as instructional material for beginner terrainmakers..


... and why you really, really want 'em...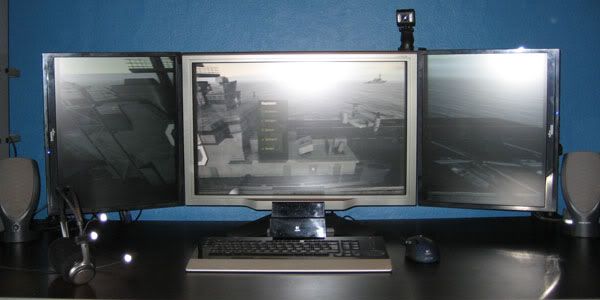 Multiple Monitors are a Good Thing - for many reasons... let's look at a couple...
Terrain & Model Development Productivity
 Firstly - before anything else - take a look round the back of your computer... You play Arma 2, that means you have a Badass Graphics Card... Most, if not all decent cards nowadays have two monitor outs - even if ones a DVI and the other is an old-style VGA, it's still two outs...
Try to lay your hands on another monitor - anything will do - seriously... Anything...
Since Flatscreens are standard nowadays, nobody wants old CRT monitors - people give them away, throw them away even... even if you have to buy some old piece of crap secondhand it shouldn't cost you more than a couple of bucks... It doesn't matter what it looks like as long as it works...
Get one - Plug it in...
Now you can put Buldozer fullscreen in one, and Visitor (or O2) fullscreen in another - you still have to alt-tab between them, but - you can see both at once! - nice and clearly!
Or - you're working in Visitor only, following a tutorial... it'd be nice to have the tutorial in one screen and the work in another, wouldn't it?
Lets be really conservative and guesstimate that this new multi display setup increases your productivity by around 10% - just in sheer time saved by not having to continually switch between different windows... (actually, the usual "business usage" estimate is that multiple displays can increase average productivity by 20%, but lets go with 10% for now)...
OK - so your island project is a standard 10km x 10km - you ain't Icebreakr, so it's gonna take you 6 solid months of work... by our estimate - just by plugging in a second screen - you can shave 3 weeks or more off that estimate!
What could you do with 3 more weeks free to work on your project?
Get it gone faster and have a "I survived Visitor 3" party?
Make all those little village signposts that add so much to immersion, but you reckoned you'd just skip since they'd take a whole week to make?
Redo that satmap you weren't really happy with?
I'm sure you can think of many more ways of filling a free 3 weeks...
Try it if you can - you'll never go back to one display again...
As a slight encouragement - here's what my desktop looks like - right now...

Three monitors is slightly trickier, but has added advantages... let's look at that next...
 Triplehead Monitor Systems
 Of course, this is becoming more and more popular with the release of the ATI "eyefinity" or whatever its called - that needs at least one "special" monitor I think... or the Matrox triplehead unit - that requires 3 identical monitors - and you can't turn the side ones portrait either...
Some of you may recognise the Kegetys name... he's one of the original OFP modders - in fact, I think Kegs Winter Kolgujev was actually the first ever addon!
Likewise if you use that handy Cpbo utility, you're using a Kegetys creation... Simple, Elegant, Powerful - Kegetys knows his stuff - particularly the mysterious workings of DirectX... SoftTH is the same - it's just a little .dll - you drop it in your Arma 2 folder - it configures itself, and you have Software Triplehead... that easy!
Before you get too excited, lets look at the requirements...
This is pretty straightforward - you need 3 monitor "outs" - regular graphics cards usually have only 2 (though "dual" cards have more, and I believe that's all you need for SoftTH), so the only way to get a third output is... add another graphics card...
So - first thing you need to do is to check out your motherboard - if its a "crossfire" or "SLI" board you're sorted - what you need is a second PCI-E slot for that second card... If you ain't got one you're stuck - sorry... if you do have a second slot - read on!
Before you panic about having to buy a second graphics card, lets take a look at how SoftTH works...
Much like BIS's "oversample" or "render resolutions" options - SoftTH renders one big enormous view of the game in video memory - in my case it's 4096x1200... it uses the Main Graphics Card to do this - so that needs to be as powerful as humanly possible.
Then - the single big view is split into three - two of these pieces are in the right place already - the main card - so they just get sent directly to the centre and left displays - which you have plugged into your main cards 2 x outputs...
The third part of the scene is "blitted" - via the PCI-E hi-speed bus, to the second card - which simply receives it and displays to the right monitor - thats all it does - it plays no part in the rendering process at all...
This means that the second graphics card can be just about anything... it can be really crap - it doesn't matter... a 10 buck Nvidia 8600 from eBay is what I use - I used to use an even crappier 8400 - upgrading to the 8600 when it turned up made no difference whatsoever... all it does is "catch and display" - the main card does the "render, split 'n blit"...
(and just in case you think this is all sounding a bit expensive, I should mention that my own main card is actually anything but badass - an Nvidia 8800GTS 320mb :( - yet it works OK!... though I'm long overdue an upgrade).
So far so good... What about monitors? don't they all have to match, or be special or something???
No - they don't! - SoftTH will use ANY 3 monitors - portrait, landscape, mismatched sizes - it generally doesn't matter...
I lucked out with my central 26" main monitor - picked it up on special offer, and I fooled with various CRTs for a while - it all worked just nicely... later on when I had a little cash to spare I picked up a couple of £90 4:3 19" monitors for the sides and turned them portrait... Windows 7 takes this sort of arrangement in its stride - so does SoftTH...
Framerates - as expected with my 8800GTS - aren't brilliant, though with detail kept down it's playable enough - with a proper up to date  Main Card like an Nvidia 460 or something you'd have no problems... thats my next big purchase I think...
Plus, of course - you get even better productivity with 3 screens and... think of those lovely panoramic screenshots!
Multiple monitors... you know it makes sense...  :)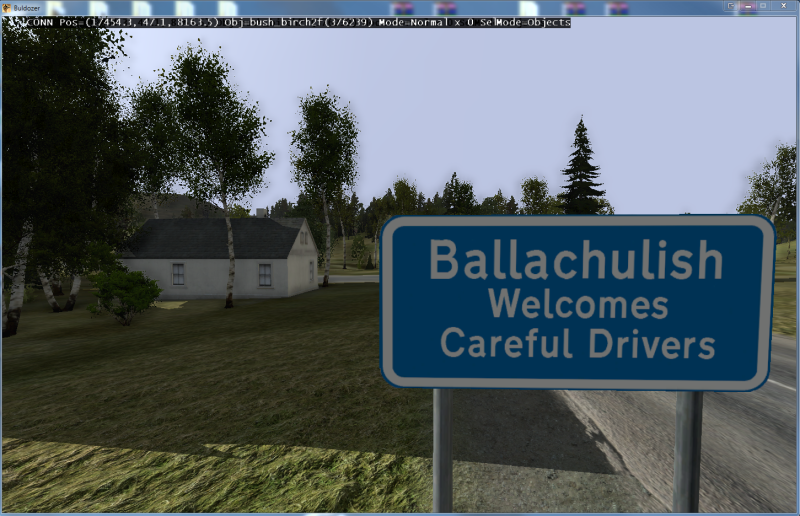 ... as do most other places... especially if they drive on the right side of the road, which is of course, the left side... The right side is the wrong side, whereas the left side is definitely the right side...
Glad that's clear...
Now if only the AI would listen...