A look at my venture into motorsports.  Laughing is not only encouraged, it's inevitable

!

Latest Happenings... 
Prepping the Roadster for the 2020 season

Putting together another engine. Parts needed, machining needed, warm weather needed.
No racing 2018, 2019 for many reasons
Back to the roadster. Lucky I didn't sell it I guess. But, before even getting on track, bolts that hold in the camshaft retaining plate work their way out and fall into the timing chain causing major and terminal damage. Assembly error on my part no doubt. Sigh.

 

 

  
The eventual demise of the #98 Datsun 1200. It was a bad weekend from  the start.  1) The car's trunk lid flew off between getting gas and the track. 2) As  I was getting off I-43 for Blackhawk, the brakes on the van began misbehaving (ABS). I stopped at our lodging to remove the trailer, and the trailer jack broke. 3) I went back with leaky brakes searching. 4) I didn't find the  lid. 5) Drove back (it's now pretty late), and didn't have a key for the lodging, and hostess was not around. 6) Next day Dawn and Ryan were  looking on their way out, looking, but managed to get a speeding ticket  instead, which Dawn vehemently disagrees with.  7) Found out I was grouped with Spec Miata, thought about not racing with that group. 8) During the race a Spec Miata went offtrack and back on right into me, rendering the car totalled, needing a complete front re-stub, judged to be not a good choice due to some rust. 9) Borrowed a truck to tow the car home, then back to get the van and drive it home with a broken (rust) rear brake line. See a edited video of the incident here.
Friday: First session went well. Just a few laps to feel out the brakes. Damp and a lot of first timers. Then, another good session. Not sure if I'll do the enduro at 3:40 or not. Rain has arrived. But I end up deciding to do it about 20 minutes before grid. Fire drill to change to rain tires and get suited up and belted in. In the end, a great enduro. Very wet rainy fogged windshield. Came in for mandatory 5 min pit stop on lap 2 (because I forgot to follow my plan to come in on lap 1), which allowed others to dry the track and a little sun to come, I could see again, so I just cranked away! Finished 11th. No classing, anyone who wanted to run, did.

Saturday: First session ends early as I loose brakes going into Canada Corner. Ends up being a loose rear brake line at the junction block. My bad no doubt from the rear end swap. But at least easily fixed and good to go. Race: 78 car field, 2 pace laps, my side of the grid decides to stop as I reach the bottom of the hill on green flag, and the other side flies by. Now I have much slower cars in front. Fought back through gained some spots from grid as was planning more. Then out of Canada Corner (a theme beginning?) lost power. Come on. Diagnosis: broken throttle connecting rod. Hacked together by the indefatigable Bill Wessel. Hope for the best on Sunday. Video of the race here

Sunday: Another busy day at the track. During morning session carbs working ok, but then would not return closed, so after a couple corners of lighting up the tires with that, came in for a checkout. The broken/repaired linkage was flexing too much thus misbehaving. John Buchorn came up with the idea to bend a similar sized rod and hose clamp it across the break. He fashioned it, we (by this time quite a crowd) hose-clamped it on, threw in some JB Weld for good measure. Worked brilliantly. Just in time for the last race of the weekend for me, the Kimberly Cup. A race for all cars with 3:00 or greater best lap times. Gridded 7th with a 3:01. The faster of the slowest! Hey, half of good is being lucky. At least the slower cars were behind me and the car was ready to go.

Blah, blah, blah, things went well, gained a few at the start, passed groups in 5 a couple times, then hung back a bit in 3 and caught P4 at the exit. Fought absolutely side by side with the Volvo brick #142 from 4-8, a light brake lock on the inside line of 8 and he got into the carousel first (but that doesn't bother me). Finally passed him after the kink. Classic Steve move. Put some distance between us and finished P4. Unfortunately I had one lap that was abput 4/100s too fast for the bracket, handing the win to #142, and relegating me to P48. Oh well, I wanted to run the car as hard as I could regardless of the breakout, so I am very happy with the day.

Many thanks to Dean, Matt, Bill, Rob, Jeff, John, Dawn, Ryan and everyone who helped me along the way this weekend. It's never just a one-man show.
@Road America.  New calipers, new KFP Gold pads, new 3.90 welded diff, passenger seat and other misc. updates. Like the cool 1972 stickered yellow and black Wisconsin license plate I found in my aunt's garage. She was one of the few who enthusiastically supported me while she was alive.

All set for 4 days of vintage racing intoxication.  Will be another busy weekend, but hopefully time to enjoy as well. Will be giving lunchtime rides, Lord willing and the car don't puke. C'mon out, you know you want to!

I'll be in Group 2. Also running the Enduro on Friday and most likely the Kimberly Cup (depending on my lap times)on Sunday. The always tentative event schedule here.  I'll be setting up on Thursday most likely across the road from Turn 5, racing Fri-Sun.
It WAS a very busy weekend.  Mixed results.  Passed the school (ooooh), car ran great, pulled hard left at initial braking, but otherwise flawless for 2+ hours of track time.  I was taking it easy too in order to last the whole weekend.  Until.... pulling off after the last session of the day, a 5 lapper in which I posted a very competitive time, I smelled differential fluid.  If you've never smelled gear oil, don't start, it's pungent to say the least.  Long story short, some bolts found their way out the back of the case.  My pit help and I couldn't get one of the axles out, so we couldn't pull the carrier out.  We drained it, fished out a couple bolt pieces and mostly reassembled.  I finished it up next morning before the first session of the day and went out for practice.  Seemed good.  Next was HP qualifying.  Going good until 3rd lap in the carousel and lost drive.  Fried.  End of the weekend.  results of the at-home autopsy showed that ALL of the ring gear bolts had backed out (no Loctite or lock tabs) and at some point one or more jammed up against the carrier and got stuck while the pinion kept driving, thus removing all resemblance of teeth on the pinion.  Trashed.
So I got a MC Novice license, but was not able to attain my full comp.  Maybe later.  Maybe not.  Maybe I'll just get my VSCDA license back and then be able to run with VSCDA and only Vintage in Council. 
Pics from this weekend and other 1200 adventures in the Datsun 1200 Gallery on my NoNameRacing.com site. 
Getting ready for July 4th weekend races with Midwestern Council
@Blackhawk Farms Raceway.  Driver's school Friday and Saturday, racing two groups (Vintage & HP or something small bore) on Sunday.  Will be a very busy weekend.
Possibly race related...
Finally got the 1965 Harley Davidson Topper scooter back together and running.

Could be a cool pit bike?





May 14 HPDE at the Milwaukee Mile with Midwestern Council
A cold and blustery day in the middle of May made an interesting first outing in the new car. Temps hover in the low 40s with a strong wind, Brief periods of rain, hail and snow spiced things up as well.  Overall, things went well and by the third session I was holding my own against the Corvettes and WRXs that made up most of the group.

Pics are here.
2016 Starts Another New Adventure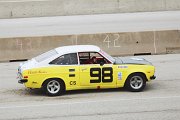 A 1971 Datsun 1200 popped its head up, whispered my name; and I couldn't refuse.  It had been taken down to a bare shell, re-caged, and completely rebuilt; every nut and bolt; by a long-time race fabricator, SCCA Nats, IMSA and vintage racer.  All paperwork is in order and now it's just a matter of setting the schedule.  See the

build pictures here

.
I flew down to Texas, rented a U-Haul van to load the spares in and towed it back.  Spent a long time with the builder, his family and some friends bench racing, going over the car and all its documentation.  It's going to be a fun car to drive.  I'll have to see how the seat layout works while on the track.  Seems just too far away and leaned back.  That's probably how good drivers like it, so it will likely need to be changed!
The roadster is also set to go, fresh engine, re-plumbing of oil and fuel, new 4:11 Detroit Locker, and other re-engineering.  Will need to do a final dyno tune, then some track testing.  It is/will be for sale once that is done to satisfaction.

 
Back in the saddle.  Engine complete and up in the garage, roadster back home and ready to receive it. Except that I found a bad motor mount, so working on making some solid ones. As usual, some unexpected goofs and surprises, but nothing major.  Other work either in progress or planned: Relocate battery to passenger footwell using the Steve Harvey box, fuel plumbing upgrades, 4.11 Detroit locker rear to put in, which means drilling wheel stud holes. Need good medical and since I've not raced in so long, a little school time. 

Ended with some small heart tissues, and so many other family issues which led to no racing again in 2015.
Working on the engine rebuild.  A lot of family issues this past year, so not much progress.  Hopefully can get some time here and there to get it together.  and then so many needed and nice-to-do upgrades to the car too.  Don't know how far I'll get.  As of May1, the engine is a short block with head, ready to check piston to valve clearance which should be good as I'm using the same cam, head and pistons and no milling or decking was done.  Just the thickness of the head gasket in question.
Elkhart Lake Vintage Festival  Sept 6-9, 2012
It's done! 

It was an up & down weekend, unfortunately ending down with the engine getting hot and pulling off.  Some good racing, expecially with another roadster.  Rain, sun, heat, we had almost everything.  Good to re-connect with friends and meet some new ones.  That's what makes it fun.  Pictures available at

The Roadster Gallery

.

It's on!

The car is running, and the hotel is booked. Car needs a bit of tuning yet, but that is scheduled and I am expecting no issues. So there'll be some, but hopefully surmountable. Wow, it's been a year, and what a year.  Come on out and see a bunch of classic cars going fast and being loud.
Elkhart Lake Vintage Festival  Sept 8-11, 2011
Well, I was there and things were cooking. Made my personal best lap time of 2:57. Also my first time under 3:00 at RA. But then in Saturday morning qualifying, the camshaft broke, ending the weekend. But once again met a lot of great people, neat cars and had a lot of fun. Had supper with John Morton who was the grand marshal for the weekend, helped replace a Lotus Elite rear end, and so much more. Now to decide what to do for next year.
Pictures and some short video clips at

ELVF-2011

.
Blackhawk Vintage festival is OFF
'Nuff said.  May visit or work it Saturday though.


Spring Vintage wrap-up - May 13-15, 2011
Another less than satisfying outing.  Weather was the worst I have raced in. Cold, fog, rain, wind; everything short of hail; and we almost had that.  Car was running fast, but little foibles plagued every session.  From a bad fuel pressure regulator setting left over from testing to a thrown fan belt, missed shifts, bent pushrods, to blown rad hose.   But when it was going, it was going strong.  So at least I have some optimism for the next event.  Some pics and vids in The Roadster Gallery  and my YouTube Channel.

Everything is progressing fine.  I plan to arrive in Elkhart Lake Thursday May 13th to get set up.  Mostly early morning sessions.  I plan to paddock along the main road into the paddock at the bottom of the hill.  Come out and check it out.  Lots of great cars and people.



My tentative schedule is as follows:

maybe some track touring after 12:15 driver's meeting.




Sat

12:00-1:00 Touring

6:00

Off-track party, perhaps some time in Elkhart too




Sun

12:00-1:00 Touring



My Updated 2011 Schedule is here!
2010 VSCDA Elkhart Lake Vintage Festival Update

Another grueling race weekend.  Engine hot, low oil pressures.  Bottom end apart a couple times.  Eventually drops valve guides in cyls 1 & 2.  Back to the ranch Sat night to replace head.  Back up on Sun early AM and make the races.  Full gory details at
The Roadster Racing Site
.  Some pics and vids on
JakeNet
.
NEXT EVENT! - Sept 9-12 2010 @ Road America

It's the always fun VSCDA Elkhart Lake Vintage Festival at Road America. Lots of extra events and goings-on this year. One interesting twist is a Le Mans style start for the group 1 race. ya know, run across the track, hop into the car, start it and take off!

Vintage GP of Mid-Ohio - June 24-27, 2010

The official detailed write-up can be found at The Roadster Racing Site. My pictures and short vids in my Roadster Gallery A grueling and semi-successful weekend. Many issues were overcome,but many more still to sort out. I guess you just can't throw an unknown engine into a car and think it's going to work. I knew I'd have issues, just not the kind and number I did. More work to do to get ready for VSCDA Fall Vintage at Road America.

June 23, 2010

Get it in, but with a 'jerry rigged' pilot bearing. Find one on Wednesday, take out engine replace pilot bearing, put engine back in and hook it up. All done and running by 9:00pm. Leave for Ohio at 11:45pm

June 20, 2010

Found a "fresh rebuild" race engine in Portage. Make the drive and retrieve it. Fire drill to get it in, and car ready to go.

June 2010

The Test n Tune was a flop. Engine suffered the same fate as build #1. Must be something in the block. Back to square one. Debating what I should do for the Mid-Ohio Vintage race. Skip it or put in the stock engine a limp in....

May 2010

The rebuild is complete and ready to go in. Hope to get it in this week (17-22). I have changed the engine color to black as that is what JK said Sharp used. Lookin' nice. Plan is to run it for a while, then change oil; a couple rounds of that. I'm looking to do a test 'n tune June 11 @ BFR. Here's to it! Hopefully some pics later.

January 2010

The rebuild begins. Removed head, looks OK, cylinders look OK. From past expooration, rod bearings are bad, but rods should be OK. Removed #2 bearing cap, crank is scratched. So looks like crank and rods refresh, new bearings and a good cleaning and reassembly should do it. I'd really like to get going on it, but the turbo on the Subie just gave up, a week before I was going to sell it. I'll try a bearing rebuild on it as it isn't real far gone. This summer will have a lot of time spent helping the parents move out of their house. But time away from racer... again\, and probably no time to squeeze in the reassembly of the Harley Topper. I REALLY NEED to get racing this year. I fear if I don't it will be too late.

Later that month...



Sad results. I make only a lap and a half and the engine is having troubles. Worked fiendishly all day, but in the end, it was discovered that I had flipped the oil pump gasket upon assembly, thus blocking a majority of the oil flow. Hindsight IS 20/20, as as I reflect on some of the startup issues we had, it was avoidable had reason prevailed.

But Tim P convinced me to put the old engine back in, then came from Madison and lent some muscle. In the end, the roadster made it to Fall Vintage at RA, just not on the track.

September 2009



It's together, it drives and it's goin' racin'. Test & Tune day Saturday Sept 5 @ the historic Milwaukee Mile! The weekend following it's on the the Elkhart Lake Vintage Festival Thurs Sept 10 thru Sun Sept 13. Woo Hoo!! All thanks go to Bill Wessel for everything he's done for me. I'll never be able to repay him, but I'll keep trying!!





July 2009

New engine together and in, most accessories on, just a few more tidbits to go. Aiming to race in the Elkhart Lake Vintage Festival in September. Lots of tuning to go though.
More pictures




Some progress, some fun
October 2008

Stumbled upon two '66 roadsters, one all there with fresh 2L/5spd (SU), one very parts car, filled with boxes of parts. Needs some hydraulic work, then we'll see how she goes.
More pictures





September 2008



Got the graphics together and on. See the Roadster Gallery for the latest pics. Names could be a bit bigger, but I am ecstatic about the 33's. I think they are an absolutely fabulously accurate repro of the original. Still no race engine. Will be missing the Fall Vintage race. Looks like no racing at all this year. At least I've been able to drive it on the street a bit.


A New, New Beginning
January 2008

After last season's frustrations, A fellow roadster racer has convinced me I need to build a real race engine - 12:1, cam, real header, things like aluminum, titanium, lottomoneyum. But what the heck, why not? So the chase begins to about double the power, and hopefully build a chassis that can handle it. Oh, I mean double it to 120hp! Parts are being sourced, and we can hopefully get it up early to mid summer.
Track Time
Sept. 15-18 - Elkhart Lake Vintage Festival w/VSCDA



I have never had so much fun, and yet been so frustrated as I was this weekend. I met more new people, and had more laughs this weekend than I have in all my previous year's racing combined. I have also never been so frustrated with a car's performance. (OK the Mid-Ohio brake debacle probably). But the car just had no top end power, and though I could keep up / make up ground in the corners, I just waved (literally) as they passed me back on the straight. A couple videos here.


August 22, 2007 - First Track Outing



After a lot of work, carb rework, ignition troubleshooting and replacement, etc,I get the car out for some serious track time. More troubles with the fuel cell connections, etc, but I get in a lot of track time, and the car holds up very well. Fun and easy to drive. Special thanks to my pit neighbors with the Z's who loaned me one-way valve to stop fuel spilling out of my cell, and generally kept me up and going.   More pictures...


The Vintage Venture Begins
April 2007 - A new race car enters the fold


While looking around for a vintage Datsun 510 or 240z (missed a good one), I run across an ad for a Datsun 1600 Roadster. It had been raced for the last ten years off and on. Never thought I would go open-top, but here I am. Still streetable, and very fun on the street, it is in good shape, with a bit of mechanical updating required. Let the work begin!  More pictures...