GREAT CASSINI SHOT OF SATURN TAKEN IN FEBRUARY 2011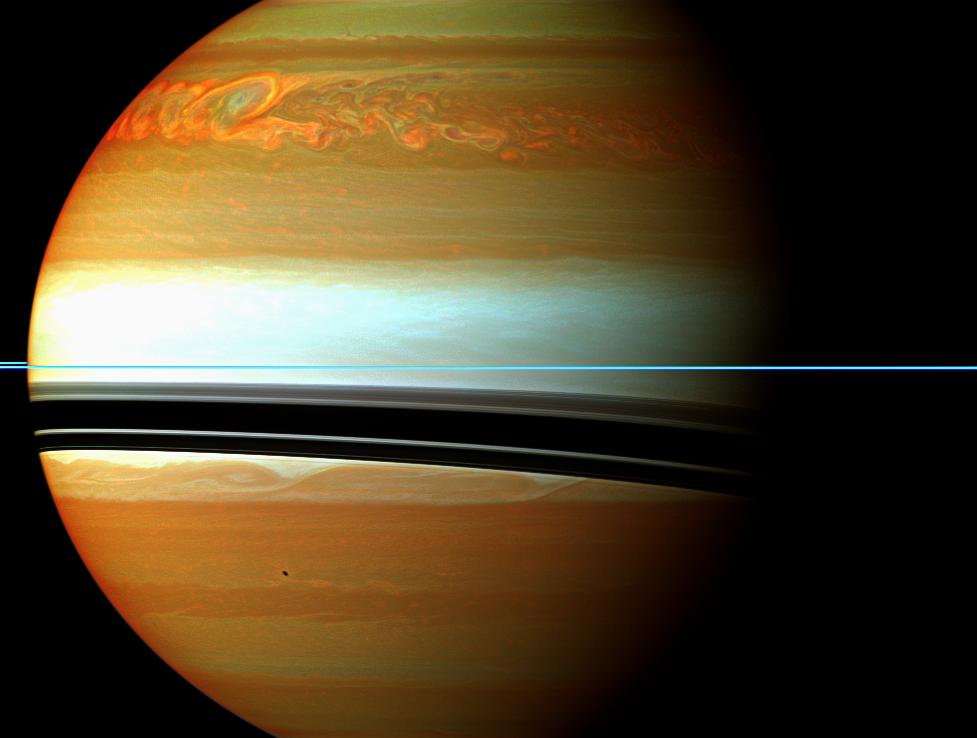 Super Storm on Saturn
May 19, 2011:  NASA's Cassini spacecraft and a European Southern Observatory ground-based telescope are tracking the growth of a giant early-spring storm in Saturn's northern hemisphere so powerful that it stretches around the entire planet. The rare storm has been wreaking havoc for months and shooting plumes of gas high into the planet's atmosphere.
This false-color infrared image shows clouds of large ammonia ice particles dredged up by the powerful storm. Credit: Cassini. [more]
"Nothing on Earth comes close to this powerful storm," says Leigh Fletcher, a Cassini team scientist at the University of Oxford in the United Kingdom, and lead author of a study that appeared in this week's edition of Science Magazine. "A storm like this is rare. This is only the sixth one to be recorded since 1876, and the last was way back in 1990."
Cassini's radio and plasma wave science instrument first detected the large disturbance in December 2010, and amateur astronomers have been watching it ever since through backyard telescopes.  As it rapidly expanded, the storm's core developed into a giant, powerful thunderstorm, producing a 3,000-mile-wide (5,000-kilometer-wide) dark vortex possibly similar to Jupiter's Great Red Spot.
This is the first major storm on Saturn observed by an orbiting spacecraft and studied at thermal infrared wavelengths.  Infrared observations are key because heat tells researchers a great deal about conditions inside the storm, including temperatures, winds, and atmospheric composition. Temperature data were provided by the Very Large Telescope (VLT) on Cerro Paranal in Chile and Cassini's composite infrared spectrometer (CIRS), operated by NASA's Goddard Space Flight Center in Greenbelt, Md.
"Our new observations show that the storm had a major effect on the atmosphere, transporting energy and material over great distances -- creating meandering jet streams and forming giant vortices -- and disrupting Saturn's seasonal [weather patterns]," said Glenn Orton, a paper co-author, based at NASA's Jet Propulsion Laboratory in Pasadena, Calif.
The violence of the storm -- the strongest disturbances ever detected in Saturn's stratosphere -- took researchers by surprise. What started as an ordinary disturbance deep in Saturn's atmosphere punched through the planet's serene cloud cover to roil the high layer known as the stratosphere.
Thermal infrared images of Saturn from the Very Large Telescope Imager and Spectrometer for the mid-Infrared (VISIR) instrument on the European Southern Observatory's Very Large Telescope, on Cerro Paranal, Chile, appear at center and on the right. An amateur visible-light image from Trevor Barry, of Broken Hill, Australia, appears on the left. The images were obtained on Jan. 19, 2011. [
more
]
"On Earth, the lower stratosphere is where commercial airplanes generally fly to avoid storms which can cause turbulence," says Brigette Hesman, a scientist at the University of Maryland in College Park who works on the CIRS team at Goddard and is the second author on the paper. "If you were flying in an airplane on Saturn, this storm would reach so high up, it would probably be impossible to avoid it."
 A separate analysis using Cassini's visual and infrared mapping spectrometer, led by Kevin Baines of JPL, confirmed the storm is very violent, dredging up deep material in volumes several times larger than previous storms. Other Cassini scientists are studying the evolving storm and, they say, a more extensive picture will emerge soon.
Stay tuned to Science@NASA for updates.
PAUL HAUSE IN SOUTHERN AUSTRALIA 2011 MARCH 30 PHOTO OF SATURN WITH A  C 14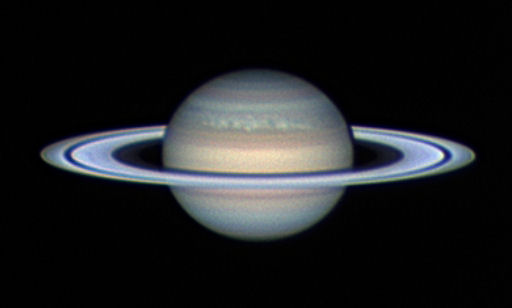 GREAT SHOTS OF SATURN'S STORM BY CHRISTOPHER GO IN THE PHILIPPINES WITH HIS CELESTRON 11 INCH TELESCOPE
                                                                                                                      TAKEN  2011 FEBRUARY 8
                                               

                                       "NED"

STANDS FOR

N

ORTHERN

E

LECTROSTATIC

D

ISTURBANCE
                                             



                                                                                  CHECK OUT HIS MOVIE TAKEN ON FEB 6 SHOWING SATURN'S ROTATION


                
                          EVOLUTION OF SATURN's MOST RECENT STORM FROM 2010 DEC 24 - 2011 JAN 21



                                                           SATURN STORM UPDATED PHOTO FROM CHRISTOPHER GO IN THE PHILIPPINES
                                                                               "

NED

" STANDS FOR

N

ORTHERN

E

LECTROSTATIC

D

ISTURBANCE


NOTE THAT THE STORM HAS SPREAD AROUND SATURN  IN LONGITUDE
THE DATE OF THE PHOTO BELOW SHOULD READ 2011 NOT 2010

  ARTICLE BELOW IS FROM
SPACEWEATHER.COM
GIANT STORM ON SATURN:
Got a
telescope
for Christmas? Point it at Saturn. A giant storm even brighter than Saturn's rings is raging through the planet's cloudtops. "I've never seen anything like this," says veteran planetary photographer Anthony Wesley. "It's possible that this is the biggest storm on Saturn in many decades." Here it is recorded by
Wesley's 16-inch telescope on Dec. 22nd
: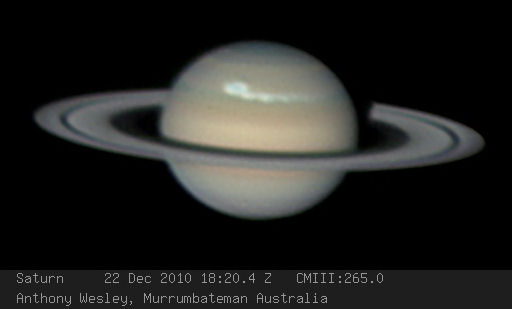 Instruments on NASA's Cassini spacecraft are picking up strong bursts of radio static. Apparently, lightning is being generated in multiple cells across the storm front. Cassini's cameras are also beaming back fantastic images of the tempest.

Saturn-storm-circulation-patterns-from-Jan-2011-
Cassini-images

Implied circulation patterns for the massive Saturn storm as interpreted/speculated from the false color methane image composite taken by Cassini on Jan 12, 2011. (The circulation pattern is consistent with earlier images also taken by Cassini).

The main storm (white oval) is a large cell rotating clockwise in the northern hemisphere (thus anticyclonic high pressure outflow). Zonal flow coming in from the east is pulled around and into the storm center along the SE edge of the storm.

Along the NE, the upper easterly belt winds pull and stretch this edge along the belt/zone margin. With anticyclonic eddies (looking like little tadpole shapes) on the eastern side. Along the SW and spotted westward, larger deep (blue) cyclonic vortices can be see

. Directly W of the storm, presumably in the "wake region" high clouds with an overall anticyclconic nature can be seen peeling off towards the W.

Overall, this pattern is similar to the anticyclonic Great Red Spot in Jupiter's atmosphere.

North is at top in the images.

Images credit: NASA / JPL / Space Sciences Institute / composite, interpretation and graphic prepared by Mike Malaska
CASSINI PHOTO BELOW TAKEN 2010 DEC 24 FROM 1.8 MILLION KILOMETERS

"At it's current size and brightness, the storm should be visible to anyone with a mid-size scope under steady seeing," continues Wesley. "This is a great time to be a planetary photographer." [Sky maps: Dec. 29, 30, 31]
more images: from Fredy Willems of Waipahu, Hawaii; from Glenn Jolly of Gilbert, Arizona; from Christopher Go of Cebu City, Philippines; from Sadegh Ghomizadeh of Tehran, Iran; from Vincent Lao of Pasig City, Philippines
--------------------------------------------------------------------------------------------------------------------------------------------------------------------------------------------------------------------------------------------------------
DRAGON STORM: Saturn's great "Dragon Storm" has returned. The ferocious thunderstorm observed for years by NASA's Cassini spacecraft has recently been hiding under high clouds, but now it is showing itself again.
            Using an 11-inch Celestron telescope, Christopher Go of the Philippines photographed the white tempest on 2010 Dec. 13th: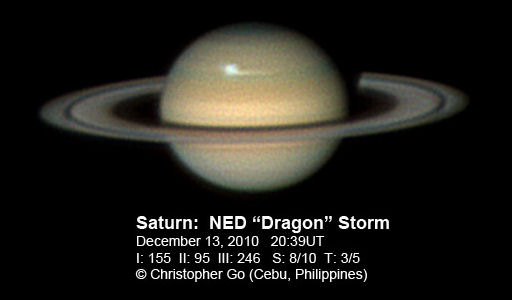 "The storm was so bright, I was even able to see it visually [through the eyepiece]," says Go. In years past, the storm was located in Saturn's southern hemisphere,
"but images taken by me and other amateur astronomers show that it is now in the northern hemisphere."
The shift is consistent with findings that the Dragon Storm is a long-lived disturbance deep within the gas giant's atmosphere that moves around and periodically flares-up to produce large, visible storm regions.
THE ASTRONOMY PICTURE OF THE DAY FOR 2009 September 4 
6 Years of Saturn
Credit & Copyright:
Alan Friedman
Explanation: Today Sept 4th, planet Earth passes through the plane of Saturn's rings. From the perspective of earthbound astronomers, Saturn's rings will be edge-on. The problem is, Saturn itself is now very close to the Sun, low on horizon after sunset, so good telescopic images will be difficult to come by. Still, this composite of Saturn views taken from 2004 - 2009 (lower right to upper left) illustrates the change in ring tilt over the last six years and includes a nearly edge-on ring view, based on images captured earlier this year. While Saturn's south pole is clearly seen in the sequence, particularly at the lower right, it will be hidden in the coming years. Saturn's north pole will be increasingly visible, along with the tilting rings, as the planet emerges this fall in the predawn sky. Going from upper left to lower right will be like  watching Saturn from 2009 to 2014 BUT at Saturn's opposite (SOUTH) pole.

------------------------------------------------------------------------------------------------------------------------------------------------------------------------------------------
HERE  IS THE  SATURN PAGE  FROM CHRISTOPHER GO  -

 EXTRAORDINARY ASTROPHOTOGRAPHER FROM THE PHILIPPINES
SATURN 2010
Last year was an exciting year with Saturn.  I was able to join the Hubble Heritage team to image the Quad Transit of Saturn last February.  This year the northern hemisphere of Saturn will be more prominent as the southern hemisphere moves to the dark side.

These  images are north up and were taken by my C11 mounted on an AP900GTO mount  with a DMK 21F04 camera.

For info on Saturn's belts and zones please click this link.

You can also see my past images of Saturn at the ALPO Japan Kansai Branch site.
March 13, 2010

Saturn was almost at the zenith when I took these images.  Seeing was good.

The Saturn Electrostatic Disturbance (SED)  is really brightening now!  It is much more prominent than when I last imaged it. 

Both the SPR and NPR are very dark.  The SEB is very prominent while the NEB looks faint.  There are a lot of band details especially in the northern hemisphere.

Check out the wmv video I made for this session.

 

 
March 9, 2010

Seeing was good this evening.  I was finally able to capture a hint of the SED.

Rhea and it's shadow is in transit while Dione can be seen on the right moving away from Saturn.

The Cassini division can be seen on the edge.  There is also a hint of the Crepe ring.

There are a lot of details in Saturn as we approach opposition.  The SEB is very red while the NPR is also dark.  The SED is just south of Rhea's shadow.  The SED seems to be prominent again and the radio anomaly has been detected by the Cassini spacecraft reported by Georg Fischer .  The SED's location is around III: 0.

 

 
March 6, 2010

Seeing was okay this evening.  I had hoped to image the disturbance that Georg Fischer mentioned but it seems that I was at the wrong CM.

But as a consolation you can see Dione and it's shadow transiting the South Equatorial Belt(SEB).  Titan can be seen above Saturn.  Next month it will resume transiting the surface of Saturn.  Note Tethys on the left.    Mimas is suppose to be just south of the ring but this moon is beyond the resolving power of my C11.

I have made some video (wmv) on the moon dance.   Check them out below:
February 27, 2010

Here's my first image of Saturn this season. 

The SEB is very dark.  The color of both hemispheres are almost the same but the north is slightly darker.  Lots of belt details on both hemispheres.  The NPR is dark.  Dione can be seen on the right.

 
Copyright 2010 Christopher Go (christone@cstoneind.com)
------------------------------------------------------------------------------------------------------------------------------------------------------------------------------------------
 THE ASTRONOMY PICTURE OF THE DAY FOR 2009 NOVEMBER 10
Saturn After Equinox with its Moon Tethys Under the Rings
Credit: Cassini Imaging Team, ISS, JPL, ESA, NASA
Explanation: The other side of Saturn's ring plane is now directly illuminated by the Sun. For the previous 15 years, the southern side of Saturn and its rings were directly illuminated, but since Saturn's equinox in August, the orientation has reversed. Pictured above  in October the robotic Cassini spacecraft orbiting Saturn has captured the giant planet and its majestic rings soon after equinox. Imaged from nearly behind, Saturn and its moon Tethys each show a crescent phase to Cassini that is not visible from Earth. As the rings continue to point nearly toward the Sun, only a thin shadow of Saturn's rings is visible across the center of the planet. Close inspection of Saturn's rings, however, shows superposed bright features identified as spokes that are thought to be groups of very small electrically charged ice particles. Understanding the nature and dynamics of spokes is not fully understood and remains a topic of research.
-------------------------------------------------------------------------------------------------------------------------------------------------------
THE ASTRONOMY PICTURE OF THE DAY FOR 2009 December 14 
Saturns Hexagon Comes to Light
Cassini Imaging Team, SSI, JPL, ESA, NASA
Explanation: Believe it or not, this is the North Pole of Saturn. It is unclear how an unusual hexagonal cloud system that surrounds Saturn's north pole was created, keeps its shape, or how long it will last. Originally discovered during the Voyager flybys of Saturn in the 1980s, nobody has ever seen anything like it elsewhere in the Solar System. Although its infrared glow was visible previously to the Cassini spacecraft now orbiting Saturn, over the past year the mysterious hexagonal vortex became fully illuminated by sunlight for the first time during the Cassini's visit. Since then, Cassini has imaged the rotating hexagon in visible light enough times to create a time-lapse movie. The pole center was not well imaged and has been excluded. This movie shows many unexpected cloud motions, such as waves emanating from the corners of the hexagon. Planetary scientists are sure to continue to study this most unusual cloud formation for quite some time.
---------------------------------------------------------------------------------------------------------------------------------------------------

August 13th, 2009
Written by Nancy Atkinson  From SPACEWEATHER.COM
Here's one of the first
raw images
of Saturn taken by the Cassini spacecraft just after equinox, on
August 12, 2009.
The
planet
sure looks naked without its rings! But not to fear, the rings are still there; we just can't see them very well —
only a thin line.
That's because
the sun
was shining directly straight-on at the rings at Saturn's equinox, and the spacecraft was in the right place, too. Equinox occurs every half-Saturn-year which is equivalent to about 15
Earth
years. The illumination geometry that accompanies equinox lowers the sun's angle to the
ringplane
and causes out-of-plane structures and some moons to cast long shadows across the rings. The ring shadows themselves have become a rapidly narrowing band cast onto the planet. Below, see another image with the rings visible as the spacecraft changed its angle.
Check out more raw images from the equinox here.
Filed under: Saturn
Related stories on Universe Today
*************************************************************************************************
THE ASTRONOMY PICTURE OF THE DAY FOR 2010 May 11 
Herschel Crater on Mimas of Saturn
Credit: Cassini Imaging Team, ISS, JPL, ESA, NASA
Explanation: Why is this giant crater on Mimas oddly colored? Mimas, one of the smaller round moons of Saturn, sports Herschel crater, one of the larger impact craters in the entire Solar System. The robotic Cassini spacecraft now orbiting Saturn took the above image of Herschel crater in unprecedented detail while making a 10,000-kilometer record close pass by the icy world just over one month ago. Shown in contrast-enhanced false color, the above image includes color information from older Mimas images that together show more clearly that Herschel's landscape is colored slightly differently from more heavily cratered terrain nearby. The color difference could yield surface composition clues to the violent history of Mimas. An impact on Mimas much larger than the one that created the 130-kilometer Herschel would likely have destroyed the entire world.

*************************************************************************************************************
CASSINI MISSION's LATEST FLYBY OF TITAN WAS ON 2009 AUGUST 9 AT 10:03 AM EDT -
CLOSEST APPROACH  ONLY ABOUT 600 MILES FROM TITAN'S SURFACE
CASSINI's LAST FLYBY OF SATURN's GIANT MOON TITAN  WAS ON 2009 MARCH 27- 11:44PM EDT 
AT AN ALTITUDE OF ONLY 960 km (600 Miles is Similar to the Diameter of the Largest Asteroid CERES -
Which is also known under the New Category - a Dwarf Planet like Pluto and Eris)
PREVIOUS FLYBY OCCURRED ON 2008 DEC 21st -  RECENT HST PHOTO BELOW
GO 11970: HST Observations of Titan's Escaping Atmosphere in Transit and in Emission
Saturn's satellite, Titan, as seen from Cassini
Titan and Saturn undergo a series of mutual phenomena every ~20 years, when Titan's orbit carries it across the body of the planet as viewed from earth. These phenomena have been taking place over the past couple of years, as Titan's ring plane aligns with the terrestrial viewpoint, but they will come to an end in late 2009. During these transits, Titan, and Titan's atmosphere, will be silhouetted against the Saturnian disk, allowing the potential detection of structure within the satellite's atmosphere. The Hubble Space Telescope

(HST)

has the opportunity to observe Titanian transits on three occasions this year 2009 - January 23rd, February 8th and February 24th. The present observations focus on the second transit The ACS/SBC will be used to obtain images in the F115LP, F125LP and F140LP filters, before, during and after the transit takes place. Outside the transit, the observations will be used to search for atmospheric emission, primarily by Lyman alpha.
----------------------------------------------------------------------------------------------------

ASTRONOMY PICTURE OF THE DAY FOR 2009 August 9 
Saturn's Iapetus: Painted Moon
Credit: Cassini Imaging Team, SSI, JPL, ESA, NASA

Explanation: What has happened to Saturn's moon Iapetus? Vast sections of this strange world are dark as coal, while others are as bright as ice. The composition of the dark material is unknown, but infrared spectra indicate that it possibly contains some dark form of carbon. Iapetus also has an unusual equatorial ridge that makes it appear like a walnut. To help better understand this seemingly painted moon, NASA directed the robotic Cassini spacecraft orbiting Saturn to swoop within 2,000 kilometers in 2007. Pictured above, from about 75,000 kilometers out, Cassini's trajectory allowed unprecedented imaging of the hemisphere of Iapetus that is always trailing. A huge impact crater seen in the south spans a tremendous 450 kilometers and appears superposed on an older crater of similar size. The dark material is seen increasingly coating the easternmost part of Iapetus, darkening craters and highlands alike. Close inspection indicates that the dark coating typically faces the moon's equator and is less than a meter thick. A leading hypothesis is that the dark material is mostly dirt leftover when relatively warm but dirty ice sublimates. An initial coating of dark material may have been effectively painted on by the accretion of meteor-liberated debris from other moons. This and other images from Cassini's Iapetus flyby are being studied for even greater clues.

NOTE THAT THERE ARE SEVERAL MORE GREAT SATURN 2009 PHOTOS

AND DATA SHOWING THE NEAR EDGE ON VIEW OF SATURN'S RINGS AT MY PAGE CALLED



CURRENT SKY EVENTS

- SCROLL DOWN TO FIND IT

---------------------------------------------------------------------------------------------------------------------------------


THE ASTRONOMY PICTURE OF THE DAY FOR 2009 January 11 
In the Shadow of Saturn
Credit: Cassini Imaging Team, SSI, JPL, ESA, NASA
Explanation: In the shadow of Saturn, unexpected wonders appear. The robotic Cassini spacecraft now orbiting Saturn recently drifted in giant planet's shadow for about 12 hours and looked back toward the eclipsed Sun. Cassini saw a view unlike any other. First, the night side of Saturn is seen to be partly lit by light reflected from its own majestic ring system. Next, the rings themselves appear dark when silhouetted against Saturn, but quite bright when viewed away from Saturn, slightly scattering sunlight, in this exaggerated color image. Saturn's rings light up so much that new rings were discovered, although they are hard to see in the image. Seen in spectacular detail, however, is Saturn's E ring, the ring created by the newly discovered ice-fountains of the moon Enceladus and the outermost ring visible above. Far in the distance, at the left, just above the bright main rings, is the almost ignorable pale blue dot of Earth.
*****************************************************************************************************************************************************************
CLICK ON THE WEBSITE BELOW TO SEE AN ANIMATED SIMULATED MOVIE USING REAL CASSINI MISSION PHOTOS SHOWING THE CHANGING RING ANGLES OF SATURN FROM JAN 2009 - JAN 2010.
NOTE THE RAPID ROTATION OF SATURN WHOSE DAY IS ONLY 10.5 HOURS. THE CHANGE IN SATURN's SIZE AND CHANGING RING ANGLE ARE DUE TO THE CHANGING DISTANCE BETWEEN SATURN AS THE EARTH MOVES IN ITS ORBIT AND ALSO SOMEWHAT DUE TO SATURN's  ORBITAL MOTION WHICH IS MUCH SLOWER. SATURN'S VERY THIN RINGS WERE EDGEWISE TO THE SUN ON 2009 AUGUST 10th
AND EDGEWISE TO THE EARTH ON 2009 SEPTEMBER 4th


http://wpcontent.answers.com/wikipedia/en/7/72/Saturn_view_from_earth_2009.gif

NOW  AN UPDATE ON SATURN'S ROTATION RATE WHICH IS BELIEVED  5 min. FASTER
 
FROM THE UNIVERSITY OF LOUISVILLE:

Study Puts New Spin on Saturn's Rotation
July 29th, 2009
Saturn
Saturn is rotating five minutes faster than previously thought, a fact that sheds new light on the planet's composition.
Wave patterns in Saturn's clouds show that scientists have been using the wrong rotation rate for the planet, said Timothy Dowling, a planetary atmospheres researcher at the University of Louisville, who helped make the discovery.
An article on the finding appears in the 2009 July 30 issue of Nature.
The work by Dowling and his colleagues solves a long-standing puzzle regarding Saturn's winds and also offers clues to the planet's deep interior. All of the gas giants — Saturn, Jupiter, Uranus and Neptune — spin on their axes with well-defined rotation periods, just like the rocky planets. But with no solid surface features to track, measuring how long they take to make a complete spin has been a challenge.
"Saturn is the second-largest planet in our solar system, but we've never known the length of its day," Dowling said. "It's like trying to listen to recorded music without knowing what speed to play the tape."
Timothy Dowling
Researchers have successfully measured the rotation of Jupiter, Uranus and Neptune because all of those planets have tilted magnetic fields that swivel like a lighthouse beacon. Saturn's magnetic field, however, is pointed straight up and down, making it impossible to see its spin.
Until now, scientists have used an imprecise yardstick to measure Saturn's rotation: weak radio signals.
But even NASA's Cassini probe, a spacecraft launched in 2004 to study Saturn and its moons that revealed methane lakes on Titan, could not determine exactly how fast Saturn was turning. When scientists compared data gathered by Cassini to data gathered in the early 1980s by the Voyager probe, the numbers showed a significant change in the planet's rotation rate.
"We knew that couldn't be right because planets just don't speed up and slow down in a few years' time," Dowling said.
Dowling, who has studied planetary atmospheres for nearly 20 years with NASA funding, previously had tracked large waves on Jupiter in a breakthrough finding that offered new clues to the atmosphere beneath the Jovian clouds. He and his colleagues were scrutinizing Saturn's wind patterns when they noticed similar large waves there.
"The waves were standing still, sort of like a swimmer who heads upstream and just keeps up with the current," he said.
Using detailed temperature data collected by Cassini, the researchers developed a three-dimensional computer model of Saturn's waves. After allowing for wind drift, they found that the planet's day was 10 hours, 34 minutes and 13 seconds long — or five minutes shorter than previously thought.
------------------------------------------------------------------

(FROM WIKIPEDIA NOTE THIS - The latest estimate of Saturn's rotation based on a compilation of various measurements from the Cassini, Voyager and Pioneer probes was reported in September 2007 is 10 hours, 32 minutes, 35 seconds)[39] 
------------------------------------------------------------------

The finding also offers new insight on Saturn's density and interior structure, since the faster a planet spins the more concentrated its center needs to be to maintain its planetary shape.
"It's possible Saturn could even contain a rocky core," Dowling said.
Peter Read, a University of Oxford physicist and member of the Cassini team, and Gerald Schubert, a University of California-Los Angeles geophysicist considered an expert on Saturn's interior, joined Dowling on the project.
Related Link---
Saturn's rotation period from its atmospheric planetary-wave configuration (PDF)
News Home - UNIVERSITY OF LOUISVILLE

-------------------------------------------------------------------------------------------------------------------------------------

THE  ASTRONOMY PICTURE OF THE DAY FOR 2009 June 2 
Spokes Reappear on Saturn's Rings in 2009
Credit: Cassini Imaging Team, ISS, JPL, ESA, NASA
Explanation: What causes the mysterious spokes in Saturn's rings? Visible in the above image as light ghostlike impressions, spokes were first discovered by the Voyager spacecraft that buzzed by Saturn in the early 1980s. Their existence was unexpected. Oddly, the spokes are more commonly observed when Saturn's rings are more nearly edge on to the Sun, and so were conspicuously absent from initial images sent back by the robot Cassini spacecraft now orbiting Saturn. Analyses of archived Voyager images have led to the conclusions that the transient spokes, which may form and dissipate over a few hours, are composed of electrically charged sheets of small dust-sized particles. Hypotheses for spoke creation include small meteors impacting the rings and electron beams from Saturnian atmospheric lightning spraying the rings. As Saturn approaches equinox, spoke sightings like that pictured above are becoming increasingly common, giving planetary scientists fresh images and data with which to test origin hypotheses.
ASTRONOMY PICTURE OF THE DAY FOR 2009 April 15 
Jagged Shadows May Indicate Saturn Ring Particles
Credit: NASA, JPL, Space Science Institute
Explanation: What's causing unusual jagged shadows on Saturn's rings? No one is yet sure. As Saturn nears equinox, its rings increasingly show only their thin edge to the Earth and Sun. As a result, Saturn's moons now commonly cast long shadows onto the rings. An example of this is the elongated vertical shadow of Mimas seen on the above right. The series of shorter, jagged shadows that run diagonally, however, are more unusual. Now Saturn's rings have been known to be made of particles for hundreds of years, but these particles have so far escaped direct imaging. It is therefore particularly exciting that a preliminary hypothesis holds that these jagged shadows are silhouettes of transient groups of ring particles temporarily held close by their own gravity. Future work will surely continue, as the robotic Cassini spacecraft orbiting Saturn that took the above image will continue to photograph Saturn's magnificent rings right through Saturn's equinox this August.
ASTRONOMY PICTURE OF THE DAY FOR 2009 March 4 
Saturn in View on Feb 28, 2009
Credit & Copyright: Jean-Luc Dauvergne, Francois Colas, OMP
Explanation: Very good telescopic views of Saturn can be expected in the coming days as the ringed planet nears opposition on March 8th, its closest approach to Earth in 2009. Of course, opposition means opposite the Sun in planet Earth's sky - an arrangement that occurs almost yearly for Saturn. But while Saturn itself grows larger in telescopic images, Saturn's rings seem to be vanishing as their tilt to our line-of-sight decreases. In fact, the rings will be nearly invisible, edge-on from our perspective, by September 4. Recorded on February 28, this sharp image was made with the 1 meter telescope at Pic Du Midi, a mountain top observatory in the French Pyrenees. The rings are seen to be tilted nearly edge-on, but remarkable details are visible in the gas giant's cloud bands. The icy moon Tethys appears just beyond the rings at the lower left.
---------------------------------------------------------------------------------------------------------------------------------------------------------------------------

SATURN AT OPPOSITION:   On Sunday, March 8th, the ringed planet was at its closest to Earth at                       780.3138 Million Miles from Earth at 1:01 PM EDT ( Next one occurs on 2010 March 21)
 for the entire year, and a marvelous sight through all telescopes. Christopher Go of Cebu City, Philippines, sends this photo he took on March 6 using an 11-inch Celestron: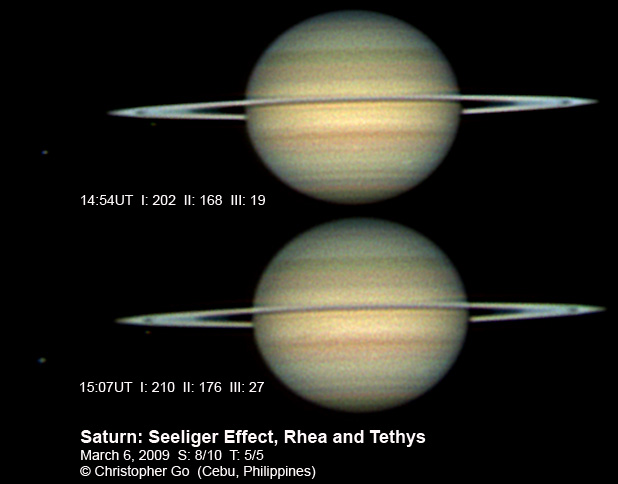 "Look at the rings. They are becoming very bright," points out Go.
He's right. The rings are experiencing the opposition effect. When Saturn is close to Earth, it is also directly opposite the sun: diagram. From our point of view on Earth, sunlight shines directly down on the rings. Ring particles hide their own shadows, producing a surge of reflected brightness.
"This phenomenon will peak on opposition night, March 8," says Go. "For contrasting images from recent weeks, please check my web site.
Finding Saturn: The planet rises in the east at sunset and soars almost overhead at midnight. Look for the bright, golden "star" in the constellation Leo: sky map.
**************************************************************************************************************************************************************

Spectacular Saturn Event Happened Feb 24


See Animated Preview Below with a Real Photo of this Event from the HST under it


 

+ Play Audio | + Download Audio | + Email to a friend | + Join mailing list

February 19, 2009: Something  happened on Saturn that's so pretty, even Hubble  paused to take a look (shown below.)

"On 2009 Feb. 24th, there was a quadruple transit of Saturn's moons," says Keith Noll of the Hubble Space Telescope Science Institute. "Titan, Mimas, Dione and Enceladus will pass directly in front of Saturn and we'll see their silhouettes crossing Saturn's cloudtops—all four at the same time."

Hubble wasn't  the only one looking. Amateur astronomers  saw  it, too. The timing favored observers along the Pacific coast of North America, Alaska, Hawaii, Australia and east Asia.

On Feb. 8th, astrophotographer Christopher Go of the Philippines got a preview when Titan transited Saturn all by itself. He recorded this movie using an 11-inch telescope:

Above: Titan transits Saturn on Feb. 8, 2009. Credit: Christopher Go of Cebu City, the Philippines.

"I woke up at one o'clock in the morning to photograph Titan's passage across the disk of Saturn," says Go. "The sky was overcast, but I was fortunate to see the end of the transit through a break in the clouds. The emergence of Titan was really stunning because it gave the moon a 3D appearance!"

Transits like these are rare. "They only happen every 14 to 15 years when the orbits of Saturn's moons are nearly edge-on to Earth," says Noll. In 1995-96, the last time the geometry was right, Hubble photographed two (Titan and Tethys) and three (Mimas, Enceladus, Dione) moons transiting Saturn. This will be the first time the great telescope captures four.

The event began on Tuesday morning, Feb. 24th at 10:54 UT (2:54 a.m. PST) when Titan's circular shadow fell across Saturn's cloudtops. About forty minutes later, the ruddy disk of Titan itself moved over the clouds.

"Titan is so big, you can see it just by looking through the eyepiece of a small telescope—no special camera is required," says Go.

One by one, the smaller moons Mimas, Dione and Enceladus  followed Titan. At 14:24 UT, all four satellites and their shadows will simultaneously dot Saturn's disk: animation.

"To photograph the smaller moons, you would need a mid-sized backyard telescope equipped with a good CCD camera," notes Go.

Above: A Hubble photo of Titan and Tethys transiting Saturn in 1995. Credit: E. Karkoschka (University of Arizona) and G. Bacon (STScI)

Hubble's observations are part of the Hubble Heritage Project, a 10-year outreach effort aimed at producing images of exceptional beauty for the general public. "Only 0.5% of Hubble's observing time is devoted to Heritage work," says Noll, one of the project's leaders, "so we're picky about our targets." He thinks the quadruple transit could rank among the best planet-shots in Hubble's archive.

The images could yield hard science, too.

"The transit of Titan will be of particular interest," says Noll. "Researchers plan to use Saturn as a backlight to probe the size and transparency of the giant moon's atmosphere." Hubble will also capture a rare view of the rings almost edge-on, a point of view that can reveal ring-warps, undiscovered satellites, and new information about the reflectivity of ring particles.

"Hard science can be beautiful."

Stay tuned to Science@NASA for snapshots.




Author: Dr. Tony Phillips | Credit: Science@NASA
BELOW IS  AN ACTUAL CLOSEUP PHOTO OF THIS RARE EVENT FROM THE HUBBLE SPACE TELESCOPE
ASTRONOMY PICTURE OF THE DAY FOR MARCH 19

Saturn: Moons in Transit on  2009 FEB 24
Credit: NASA, ESA, Hubble Heritage Team (STScI/AURA)
Acknowledgment: M.H. Wong (STScI/UC Berkeley), C. Go (Philippines)

Explanation: Every 14 to 15 years, Saturn's rings are tilted edge-on to our line of sight. As the bright, beautiful rings seem to grow narrower it becomes increasingly difficult to see them, even with large telescopes. But it does provide the opportunity to watch multiple transits of Saturn's moons. During a transit, a sunlit moon and its shadow glide across the cloudy face of the gas giant. Recorded on February 24, this Hubble image is part of a sequence showing the transit of four of Saturn's moons. From left to right are Enceladus and shadow, Dione and shadow, and Saturn's largest moon Titan. Small moon Mimas is just touching Saturn's disk near the ring plane at the far right. The shadows of Titan and Mimas have both moved off the right side of the disk. Saturn itself has an equatorial diameter of about 120,000 kilometers.

CLICK ON THE WORD

SEQUENCE

ABOVE TO SEE THE COMPLETE 30 SECOND VIDEO

********************************************************************************************************************************************************


EDGE-ON FOR THE HOLIDAYS: You look through the telescope. Blink. Shake your head and look again. The planet you expected to see in the eyepiece is not the one that's actually there. Too much eggnog? No, it's just Saturn's edge -on  Christmas 2008  tilt: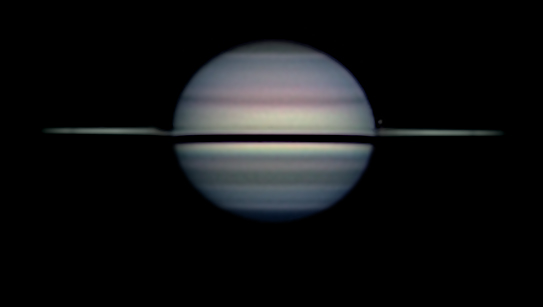 Amateur astronomer Paulo Casquinha took the picture last night (2008 DEC 24th) from his backyard observatory in Quinta do Anjo, Portugal. It shows how Saturn's rings are almost edge-on to Earth this holiday season. Viewed from the side, the normally wide and bright rings have become a shadowy line bisecting Saturn's two hemispheres--a scene of rare beauty.
"Everyone should take a look before the rings begin to open up again at the end of the month," says Casquinha. A nice bonus: When the rings are thin, Saturn's moons become easier to see. "Note the small spot above the rings on the right; that's Saturn's moon called Rhea."
More Images: from Masa Nakamura of Otawara, Tochigi, Japan; from Koshu Endo of Tokyo Japan (note: Endo's video shows an Earth-orbiting satellite zipping by Saturn)
ARTICLE ABOVE is from   Spaceweather.com  for Christmas 2008
Saturn's rings were tilted just

1.5°

from edge-on when Christopher Go took this image on

November 22, 2008.

Note their very prominent shadow on Saturn's globe. South is up.

A telescope will show that Saturn's rings have closed to just 1° from edge on. They  reached a minimum of 0.8° for 2008 in December 2008, then start opening again before finally closing to exactly edge-on  2009 September 4.
OPPOSITION OCCURS WHEN A SUPERIOR PLANET - FARTHER FROM THE SUN THAN EARTH -  IS OPPOSITE THE SUN LIKE A FULL MOONAND IS UP ALL NIGHT, CLOSE IN ITS ORBIT TO EARTH AND GOES FROM  BEING A MORNING "STAR" TO  BECOMING AN EVENING  "STAR."
THE NEXT OPPOSITION OF SATURN OCCURS ON 2010 MARCH 21at 790.48 MILLION MILES  or 1.2722 BILLION KILOMETERS FROM  EARTH.

 
SATURN'S  OPPOSITIONS 2009 - 2020 (Data from Jean Meeus) WHERE AN

AU

MEANS

ASTRONOMICAL UNIT - 92,955,807 MILES



2009 MARCH 8 -  8.39446 AU = 780.314  MILLION MILES FROM EARTH - DIAMETER 19.85 ARC SECONDS
2010 MARCH 21- 8.50382 AU = 790.479                  "                                        "         19.60         "
2011 APRIL 3   -  8.61394 AU = 800.716                  "                                        "         19.35         "
2012 APRIL 15 -  8.71962 AU = 810.530                  "                                        "         19.11         "
2013 APRIL 28 -  8.81620 AU = 819.517                  "                                        "         18.90         "
2014 MAY 10    -  8.89968 AU = 827.277                  "                                        "         18.73        "
2015 MAY 23    -  8.96670 AU = 833.507                  "                                        "         18.59        "
2016 JUNE 3    -  9.01490 AU = 837.987                  "                                        "          18.49        "
2017 JUNE 15  -  9.04268 AU = 840.570                  "                                        "          18.43        "
2018 JUNE 27  -  9.04882 AU = 841.140                  "                                        "          18.42        " MAXIMUM DISTANCE and SMALLEST SATURN OPPOSITION SIZE
2019 JULY 9    -  9.03279 AU = 839.650                  "                                        "          18.45        "
2020 JULY 20  -  8.99470 AU = 836.110                  "                                        "          18.53        "


THE LAST OPPOSITION AND CLOSEST APPROACH OF SATURN TO THE EARTH WAS
ON 2011 APRIL 3rd at 6 PM EST - 800.716 MILLION MILES - MORE THAN 10 MILLION MILES
FARTHER THAN IN 2010.
SATURN WILL THEN BE 19.35 ARC SECONDS IN APPARENT DIAMETER.
SATURN WILL BE AT 810.54 MILLION MILES AT THE 2012 APRIL 15th OPPOSITION -
ANOTHER 10 MILLION MILES FURTHER AS THE OPPOSITIONS ARE OCCURRING CLOSER TO
SATURN'S APHELION WHICH OCCURS ON 2018 APRIL 16 - 935.66 MILLION MILES FROM THE SUN.
THE OPPOSITION ON 2018 JUNE 27 IS AT A DISTANT 841.14 MILLION MILES.
IN CONTRAST THE OPPOSITION OF 2003 DECEMBER 31st WAS ONLY 748.3 MILLION MILES FROM EARTH
.
THE NEXT CLOSEST APPROACH OF SATURN TO THE EARTH OCCURS ON 2032 DECEMBER 24 - 746.58 MILLION MILES.
Apparition

Period

Opposition Circumstances

Superior

Conjunction

Opposition

Date

Constellation

Declination

Apparent

Magnitude

Diameter (arcsecs)

View from

Earth

(North up)

Distance (AU)*

Globe

Ring

from Earth

from Sun

2006/7

2007 Feb 10

Leo

+15°.6

0.0

20".3

46".0

8.2003

9.1869

2007 Aug 21

2007/8

2008 Feb 24

Leo

+11°.3

+0.2

20".0

45".3

8.2914

9.2804

2008 Sep 4

2008/9

2009 Mar 8

Leo

+6°.7

+0.5

19".8

44".9

8.3944

9.3865

2009 Sep 17

2009/10

2010 Mar 22

Virgo

+1°.8

+0.5

19".5

44".2

8.5038

9.4992

2010 Oct 1

2010/11

2011 Apr 3

Virgo

-2°.9

+0.3

19".3

43".7

8.6139

9.6128

2011 Oct 13

2011/12

2012 Apr 15

Virgo

-7°.5

+0.2

19".1

43".3

8.7196

9.7220

2012 Oct 25

2012/13

2013 Apr 28

Libra

-11°.7

+0.1

18".9

42".8

8.8162

9.8220

2013 Nov 6
* 1 AU (Astronomical Unit) = 149,597,870 kms (92,955,807 statute miles)
Saturn opposition data for the period 2007 to 2013. The Declination is the angle of the planet to the North (+) or South (-) of the celestial equator; on the star chart, it represents the planet's angular distance above or below the blue line. The angular diameter (or apparent size) of the planet as seen from Earth is given in arcseconds (where 1 arcsecond = 1/3600th of a degree). Note that Saturn's distance slowly increases over the period (as its heads towards aphelion), causing its angular diameter to shrink slightly year by year. The planet's apparent magnitude (brightness), after reaching a low point as the Earth passes through the ring-plane in 2009, begins to brighten once more, despite the planet's increasing distance from the Earth. This is because the rings begin opening up to view after 2009, reflecting more light back towards the Earth. The data was obtained from 'MegaStar', 'Redshift', 'SkyGazer Ephemeris' and 'AstroViewer' software and the Saturn images were modified by the author from NASA's Solar System Simulator v4.0.
     CHART ABOVE IS FROM MARTIN J. POWELL
-
MUCH MORE ON SATURN ON HIS WEBSITE AT:
http://homepage.ntlworld.com/mjpowell/Astro/Naked-Eye-Planets/Saturn-Path.htm
 
     THE RINGS WERE NEARLY EDGEWISE TO OUR PERSPECTIVE AND THUS DISAPPEARED 
FROM VIEW  ON 2009 SEPT 4   IN MOST TELESCOPES.
 THE RINGS HAD BENE EDGEWISE TO THE

SUN

ON AUGUST 10-11 SO THAT THEY WERE
NEARLY INVISIBLE FOR CLOSE TO A MONTH BEFORE SINCE WE SEE THE RINGS FROM REFLECTED SUNLIGHT.



 

THEN

SATURN's  RINGS WILL OPEN UP TO A MAXIMUM ANGLE of 26.966 degrees by MID - OCT 2017

       

 

         
NOTE THAT THE RINGS IN 2009 OPENED UP TO A MAXIMUM OF 4.153 DEG ON MAY 13-14 DUE TO THE EARTH BEING IN A BETTER  ORBITAL POSITION FOR VIEWING DUE TO PARALLAX

BEFORE

"DISAPPEARING" BY SEPTEMBER 4.  THE MAIN RINGS HAVE A DIAMETER OF ABOUT 170,000 MILES, BUT ARE ONLY 100 METERS THICK. THE RINGS  THEN WILL OPEN UP AGAIN EQUALING THE MID-MAY 4.153 DEG ANGLE BY NOV 25 -   A MAXIMUM VALUE FOR 2009 OF 4.88 DEG OCCURS BY THE YEAR'S END  - -  THEN BY THE END OF 2010, THE RING ANGLE WILL REACH OVER 10 DEGREES.
SATURN's RING ANGLE (NORTH VIEW) FOR  7 PM EST  ARE: ( *  MEANS DEGREES)




    2009 DEC 26-  4.836*

    THE RING ANGLE 

CLOSED DOWN

A LITTLE DUE TO THE EARTH'S ORBITAL POSITION -      REACHING A MINIMUM OF 1.670* IN 2010 ON MAY 26  BEFORE IT  REOPENS TO OVER 10* BY 2010 DEC 31 .

 

SATURN RING ANGLE DATA FOR JAN. 1 - MIDNIGHT  EST FOR THE START OF THE  FOLLOWING YEARS:



 

2011 - 10.144*      2012 - 14.827*     2013 - 18.853*     2014 - 22.099*     2015 - 24.524*     2016 - 26.084*




 




  2017- 26.755*       2017  MAXIMUM  ON OCT  16 -  26.966*                  2018 - 26.531*





  THE 2017 MAXIMUM ANGLE OF 26.966* LASTS ABOUT A WEEK CENTERED ON OCTOBER 16


    
      SATURN EPHEMERIS GENERATOR INCLUDING THE RINGS AND SATELLITES at:
                                http://pds-rings.seti.org/tools/ephem2_sat.html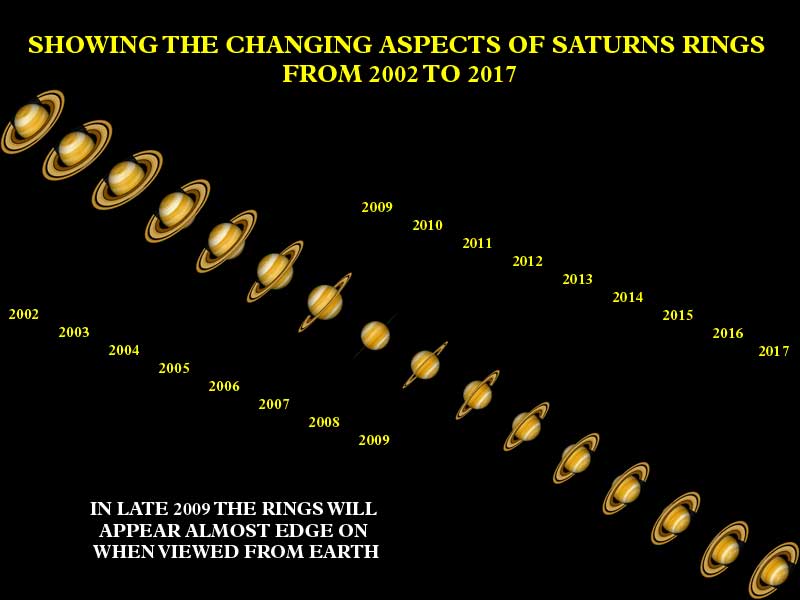 THE PLANE of  SATURN's RINGS  IS FIXED IN SPACE . AS SATURN TRAVELS  IN ITS MUCH LARGER  29.53 YEAR ORBIT THAN     THE 
EARTH'S, WE SEE THE RING PLANE ON DIFFERENT ANGLES AS SHOWN BELOW IN NEARLY ONE COMPLETE SATURNIAN ORBIT.


THE OBVIOUS LINE IN THE RING's IS THE FAMOUS CASSINI's DIVISION               WHICH IS ABOUT AS WIDE AS THE UNITED STATES
March 3rd, 2009
Written by Nancy Atkinson

Saturn's G ring has been the ring without a moon, until now. In trying to understand the mysterious G ring, Cassini scientists have taken every opportunity they can to take a closer look at what could be creating the ring. In 2007, scientists identified a possible source of the G ring as relatively large, icy particles that resided within a bright arc on the ring's inner edge. But the researchers thought there had to be more than just these particles "shepherding" the ring, and concluded that there had to be larger, yet-unseen bodies hiding in the arc. Their persistence has now paid off, as a small moonlet has been found within the ring. "Before Cassini, the G ring was the only dusty ring that was not clearly associated with a known moon, which made it odd," said Matthew Hedman, a Cassini imaging team associate at Cornell University in Ithaca, N.Y. "The discovery of this moonlet, together with other Cassini data, should help us make sense of this previously mysterious ring." The sequence of three images above, obtained by NASA's Cassini spacecraft over the course of about 10 minutes, shows the path of the moonlet in a bright arc of Saturn's faint G ring.

Cassini imaging scientists analyzing all the images acquired over the course of about 600 days found the tiny moonlet, about a half a kilometer (about a third of a mile) across, embedded within a partial ring, or ring arc, previously found by Cassini in Saturn's tenuous G ring.
Scientists imaged the moonlet on Aug. 15, 2008, and then they confirmed its presence by finding it in two earlier images. They have since seen the moonlet on multiple occasions, most recently on Feb. 20, 2009. The moonlet is too small to be resolved by Cassini's cameras, so its size cannot be measured directly. However, Cassini scientists estimated the moonlet's size by comparing its brightness to another small Saturnian moon, Pallene.
Hedman and his collaborators also have found that the moonlet's orbit is being disturbed by the larger, nearby moon Mimas, which is responsible for keeping the ring arc together.
This brings the number of Saturnian ring arcs with embedded moonlets found by Cassini to three. The new moonlet may not be alone in the G ring arc. Previous measurements with other Cassini instruments implied the existence of a population of particles, possibly ranging in size from 1 to 100 meters (about three to several hundred feet) across. "Meteoroid impacts into, and collisions among, these bodies and the moonlet could liberate dust to form the arc," said Hedman.
Saturn's rings were named in the order they were discovered. Working outward they are: D, C, B, A, F, G and E. The G ring is one of the outer diffuse rings. Within the faint G ring there is a relatively bright and narrow, 250-kilometer-wide (150-miles) arc of ring material, which extends 150,000 kilometers (90,000 miles), or one-sixth of the way around the ring's circumference. The moonlet moves within this ring arc. Previous Cassini plasma and dust measurements indicated that this partial ring may be produced from relatively large, icy particles embedded within the arc, such as this moonlet.
Carl Murray, a Cassini imaging team member and professor at Queen Mary, University of London, said, "The moon's discovery and the disturbance of its trajectory by the neighboring moon Mimas highlight the close association between moons and rings that we see throughout the Saturn system. Hopefully, we will learn in the future more about how such arcs form and interact with their parent bodies."
Early next year, Cassini's camera will take a closer look at the arc and the moonlet. The Cassini Equinox mission, an extension of the original four-year mission, is expected to continue until  the fall of 2010.
Source: JPL
***************************************************************************************************************************************************************
           ASTRONOMY PICTURE OF THE DAY FOR 2008 DEC 22

Labtayt Sulci on Saturn's Enceladus
Credit: Cassini Imaging Team, SSI, JPL, ESA, NASA
Explanation: Do some surface features on Enceladus roll like a conveyor belt? A leading interpretation of recent images taken of Saturn's most explosive moon indicate that they do. This form of asymmetric tectonic activity, very unusual on Earth, likely holds clues to the internal structure of Enceladus, which may contain subsurface seas where life might be able to develop. Pictured above is a composite of 28 images taken by the robotic Cassini spacecraft in October 2008 just after swooping by the ice-spewing orb. Inspection of these images show clear tectonic displacements where large portions of the surface all appear to move all in one direction. Near the top of the image appears one of the most prominent tectonic divides: Labtayt Sulci, a canyon about one kilometer deep.