GO TO MY PAGE SPECIAL NEWS 2 AT LEFT MENU TO SEE A
COMMEMORATION OF GALILEO's DISCOVERY OF JUPITER's
 FOUR LARGEST MOONS ALMOST 402 YEARS AGO.
SCROLL DOWN TO NEAR THE BOTTOM OF THIS LONG PAGE.

-----------------------------------------------------------------------------------------------------------------------------------


                        THE ASTRONOMY PICTURE OF THE DAY FOR        2011 October 22

Jupiter Near Opposition
Image Credit & Copyright: S2P/IMCCE/Obs. Midi Pyrénées, Jean-Luc Dauvergne, Francois Colas
Explanation: On October 29 (UT), Jupiter, the solar system's largest planet, will be at opposition, opposite the Sun in planet Earth's sky, shining brightly and rising as the Sun sets. That configuration results in Jupiter's almost annual closest approach to planet Earth, so near opposition the gas giant offers earthbound telescopes stunning views of its stormy, banded atmosphere and large Galilean moons. This sharp snapshot of Jupiter was captured on 2011 October 13 with the 1 meter telescope at the Pic Du Midi mountain top observatory in the French Pyrenees. North is up in the image that shows off oval shaped vortices and planet girdling dark belts and light zones. Also seen in remarkable detail, Jupiter's icy Ganymede, the solar system's largest moon, is emerging from behind the planet (top) while volcanic Io enters the frame near the lower left edge.

-----------------------------------------------------------------------------------------------------------------------------------

  2011 July 29 - Jupiter's swirling clouds can be seen through any department store telescope. With no more effort than it takes to bend over an eyepiece, you can witness storm systems bigger than Earth navigating ruddy belts that stretch hundreds of thousands of kilometers around Jupiter's vast equator. It's fascinating.
An artist's concept of Juno at Jupiter. [more]
It's also vexing. According to many researchers, the really interesting things--from the roots of monster storms to stores of exotic matter--are located at depth. The clouds themselves hide the greatest mysteries from view.
NASA's Juno probe, scheduled to launch on August 5th 11:34 AM EDT
But actually occurred at 12:25 PM EDT

SEE THE ARTICLE WITH LAUNCH PICTURE BELOW THIS ONE

  The goal of the mission is to answer the question ----

What lies inside Jupiter?
"Our knowledge of Jupiter is truly skin deep," says Juno's principal investigator, Scott Bolton of the SouthWest Research Institute in San Antonio, TX. "Even the Galileo probe, which dived into the clouds in 1995, penetrated no more than about 0.2% of Jupiter's radius."
There are many basic things researchers would like to know—like how far down does the Great Red Spot go? How much water does Jupiter hold? And what is the exotic material near the planet's core?
Juno will lift the veil without actually diving through the clouds. Bolton explains how: "Swooping as low as 5000 km above the cloudtops, Juno will spend a full year orbiting nearer to Jupiter than any previous spacecraft. The probe's flight path will cover all latitudes and longitudes, allowing us to fully map Jupiter's gravitational field and thus figure out how the interior is layered."
Jupiter is made primarily of hydrogen, but only the outer layers may be in gaseous form. Deep inside Jupiter, researchers believe, high temperatures and crushing pressures transform the gas into an exotic form of matter known as liquid metallic hydrogen--a liquid form of hydrogen akin to the slippery mercury in an old-fashioned thermometer. Jupiter's powerful magnetic field almost certainly springs from dynamo action inside this vast realm of electrically conducting fluid.
Click to view a ScienceCast video entitled, "What Lies Inside Jupiter?" [video]
"Juno's magnetometers will precisely map Jupiter's magnetic field," says Bolton. "This will tell us a great deal about the planet's inner magnetic dynamo [and the role liquid metallic hydrogen plays in it]."
Juno will also probe Jupiter's atmosphere using a set of microwave radiometers.
"Our sensors can measure the temperature and water content at depths where the pressure is 50 times greater than what the Galileo probe experienced," says Bolton.
Jupiter's water content is of particular interest. There are two leading theories of Jupiter's origin: One holds that Jupiter formed more or less where it is today, while the other suggests Jupiter formed at greater distances from the sun, later migrating to its current location. (Imagine the havoc a giant planet migrating through the solar system could cause.) The two theories predict different amounts of water in Jupiter's interior, so Juno should be able to distinguish between them—or rule out both.
Finally, Juno will get a grand view of the most powerful
Northern Lights in the Solar System.
"Juno's polar orbit is ideal for studying Jupiter's auroras," explains Bolton. "They are really strong, and we don't fully understand how they are created."
Unlike Earth, which lights up in response to solar activity, Jupiter makes its own auroras. The power source is the giant planet's own rotation. Although Jupiter is ten times wider than Earth, it manages to spin around 2.5 times as fast as our little planet. As any freshman engineering student knows, if you spin a magnet—and Jupiter is a very big magnet—you've got an electric generator. Induced electric fields accelerate particles toward Jupiter's poles where the aurora action takes place. Remarkably, many of the particles that rain down on Jupiter's poles appear to be ejecta from volcanoes on Io. How this complicated system actually works is a puzzle.
It's a puzzle that members of the public will witness at close range thanks to JunoCam—a public outreach instrument modeled on the descent camera for Mars rover Curiosity. When Juno swoops low over the cloudtops, JunoCam will go to work, snapping pictures better than the best Hubble images of Jupiter.
"JunoCam will show us what you would see if you were an astronaut orbiting Jupiter," says Bolton. "I am looking forward to that."
Juno is slated to reach Jupiter in 2016.

Author: Dr. Tony Phillips | Credit: Science@NASA

Key Things to Know about Juno
Spacecraft scheduled to launch between Aug. 5 and Aug. 26, 2011
Five-year cruise to Jupiter, arriving July 2016
Spacecraft will orbit Jupiter for about one year (33 orbits)
Mission ends with de-orbit into Jupiter
Juno will improve our understanding of our solar system's beginnings by revealing the origin and evolution of Jupiter.

Specifically, Juno will…
Determine how much water is in Jupiter's atmosphere, which helps determine which planet formation theory is correct (or if new theories are needed)
Look deep into Jupiter's atmosphere to measure composition, temperature, cloud motions and other properties
Map Jupiter's magnetic and gravity fields, revealing the planet's deep structure
Explore and study Jupiter's magnetosphere near the planet's poles, especially the auroras – Jupiter's northern and southern lights – providing new insights about how the planet's enormous magnetic force field affects its atmosphere.
Have a question about Juno or Jupiter not covered on this website? Submit it to Juno Outreach!
More Information
Juno -- SWRI home page

Juno --- NASA home page
Juno's Main Mission: To Understand the Origin and Evolution of Jupiter

Image above: An Atlas V rocket with NASA's Juno spacecraft lifts off from Space Launch Complex 41 of the Cape Canaveral Air Force Station in Florida. Photo credit: Pat Corkery, United Launch Alliance
›  Larger Image

Juno is Headed to Jupiter! Arrival in July 2016
An Atlas V rocket lofted the Juno spacecraft toward Jupiter from Space Launch Complex-41. The 4-ton Juno spacecraft will take five years to reach Jupiter on a mission to study its structure and decipher its history. Liftoff occurred at 12:25 p.m. EDT.
JPL manages the Juno mission for principal investigator Scott Bolton. The Juno mission is part of the New Frontiers Program managed at NASA's Marshall Space Flight Center in Huntsville, Ala. Lockheed Martin Space Systems of Denver built the spacecraft. Launch management for the mission is the responsibility of NASA's Launch Services Program at the agency's Kennedy Space Center in Florida. JPL is a division of the California Institute of Technology in Pasadena.
-----------------------------------------------------------------------------------------------------------------------------------


THE ASTRONOMY PICTURE OF THE DAY - 2010 November 29 
Dark Belt Reappearing on Jupiter
Credit: NASA's JPL, U. Oxford, UC Berkeley, Gemini Obs. (North), USC Philippines
Explanation: Why are planet-circling clouds disappearing and reappearing on Jupiter? Although the ultimate cause remains unknown, planetary meteorologists are beginning to better understand what is happening. Earlier this year, unexpectedly, Jupiter's dark Southern Equatorial Belt (SEB) disappeared. The changes were first noted by amateurs dedicated to watching Jupiter full time. The South Equatorial Band has been seen to change colors before, although the change has never been recorded in such detail. Detailed professional observations revealed that high-flying light-colored ammonia-based clouds formed over the planet-circling dark belt. Now those light clouds are dissipating, again unveiling the lower dark clouds. Pictured above two weeks ago, far infrared images -- depicted in false-color red -- show a powerful storm system active above the returning dark belt. Continued observations of Jupiter's current cloud opera, and our understanding of it, is sure to continue.

-----------------------------------------------------------------------------------------------

PHOTOS AND CAPTIONS BELOW ARE BY CHRISTOPHER GO
IN THE PHILIPPINES - A C11 TELESCOPE WAS USED


November 17, 2010

Seeing was variable this evening because I had to image early to catch the outbreak.

As Don Parker pointed out, there are now three outbreaks.  These are very clear in the Methane Band and UV images below.  The NEB is still very busy with the huge dark red ovals.  There is also an outbreak in the NEB  just north the SEB outbreak.
October 13, 2010

The GRS, Oval BA and the NNTZ LRS are prominent in these images.  The area around Oval BA is still very dark.  Oval BA is very red now.  GRS is very prominent with the SEB still faded.  Note the area north of the GRS.  It is very bright even in Methane Band and UV!  Note the dark small ovals moving towards BA.  The LRS can easily be seen.

The NEB is very busy.  Note the large dark feature on the NEB on the right side.  The outbreaks are getting complex.

--------------------------------------------------------------------------------------------------------------------------------------------------------------------------------------------------------------------


This is an amateur image? Taken from Earth? Star planetary imager Anthony Wesley in Australia took this stacked-video image on  2010 August 30th at 17:38 UT, using the 14.5-inch Newtonian reflector he's pictured with below.
Jupter's Oval BA, also known as Red Spot Junior, has just passed the Great Red Spot without any visible effect on either. Here, Junior is just south of the Great Red Spot.
Jupiter (magnitude –2.9, in Pisces) rises in twilight and is well up in the east-southeast by late evening — the brightest starlike point in the sky. It's highest in the south around 2 a.m. daylight saving time.
Jupiter's Great Red Spot is near System II longitude 150°. Assuming it stays there, here's a list to print out of all the Great Red Spot's predicted transit times for the rest of 2010.
Anthony Wesley with his 14.5-inch reflector, seven hours after his historic pre-dawn discovery of the impact flare on Jupiter on June 3, 2010.
Anthony Wesley


------------------------------------------------------------------------------------------------------


Jupiter's Moons Positions from 1900-2100

In 2009, Jupiter's Great

Red

Spot had been nicely bordered by the thick white line of the Red Spot Hollow, which indents the dark South Equatorial Belt. Note the very dark red barge following behind the pale Red Spot. The North Equatorial Belt is full of turbulence, including a big blue plume. Far to the right (celestial east),

Ganymede (top) and Europa are in conjunction

. S&T's Sean Walker took this image at

1:15 UT September 3, 2009.

South is up. Stacked-video images like this show much more detail than you're ever likely to see visually on Jupiter.

For all of the Great Red Spot's central-meridian crossing times, good worldwide, use our Red Spot Calculator.
Sky & Telescope: Sean Walker

------------------------------------------------------------------------------------------------------------------------------------------------


------------------------------------------------------------------------------------------------------------------------------------


Astronomy Picture of the Day
Discover the cosmos! Each day a different image or photograph of our fascinating universe is featured, along with a brief explanation written by a professional astronomer.
2010 January 24

Watch Jupiter Rotate
Credit: NASA, Johns Hopkins University Applied Physics Laboratory, Southwest Research Institute
Explanation: What would it be like to coast by Jupiter and watch it rotate? This was just the experience of the New Horizons spacecraft as it approached and flew by Jupiter in 2007. Clicking on the image will bring up a movie of what the robotic spacecraft saw. Visible above in the extensive atmosphere of the Solar System's largest planet are bands and belts of light and dark clouds, as well as giant rotating storm systems seen as ovals. Other movies compiled by New Horizons and other passing spacecraft have captured the clouds swirling and moving relative to themselves. Jupiter has a diameter of about eleven times that of our Earth, and rotates once in about 10 hours. The robotic New Horizons spacecraft, launched four years ago last week, continues to speed toward the outer Solar System and has recently passed the halfway point between Earth and Pluto. New Horizons will reach Pluto in 2015.
---
< | Archive | Index | Search | Calendar | RSS | Education | About APOD | Discuss | >
---
Authors & editors: Robert Nemiroff (MTU) & Jerry Bonnell (UMCP)
NASA Official: Phillip Newman Specific rights apply.
NASA Web Privacy Policy and Important Notices
A service of: ASD at NASA / GSFC
& Michigan Tech. U.

-----------------------------------------------------------------------------------------------------------------------------------------------------------------------------------------------------
EVOLUTION OF AN IMPACT: Since July 19th, when Anthony Wesley of Australia discovered the scattered remains of a Mystery Impactor in the high clouds of Jupiter, amateur astronomers around the world have been photographing the planet every night. "German astronomer Hans Joerg Mettig has converted some of the best images into polar projections," says Theo Ramakers, "and I have stitched them together to make a movie." Click on the image to set the scene in motion: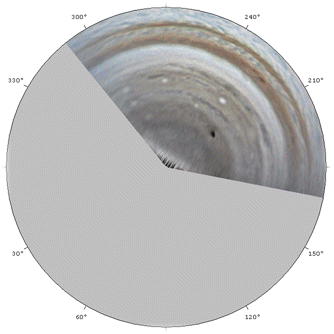 Animations: large, small, zoom

The 3-week animation, which begins with Wesley's discovery image and ends August 8th, shows the cindery cloud expanding, swirling, and ultimately being torn into three pieces by turbulent south polar winds. "The spot has really progressed dramatically," says Ramakers.

No one knows how the movie will end. Planetary scientists say the debris could evolve in interesting and unexpected ways before it finally disperses some weeks from now. Astronomers who wish to contribute scenes can monitor the cloud near Jupiter's System II longitude 210°. For predicted times when it will cross the planet's central meridian, add 2 hours to Sky and Telescope's predicted transit times for Jupiter's Great Red Spot.

more images: from Rick Schrantz of Nicholasville, Kentucky; from Joel Warren of Amarillo, Texas; from Mike Salway of Central Coast, NSW Australia; from Raffaello Lena of Rome, Italy; from Alphajuno of League City, Texas; from Mike Hood of Kathleen, Georgia

NOTE THAT THE IMPACT OCCURRED IN JUPITER's SOUTH POLAR REGION.
EARTH-BASED TELESCOPIC IMAGES USUALLY SHOW  UPSIDE DOWN VIEWS
MAKING THE IMPACT ARTIFICIALLY APPEAR IN THE NORTH


BUT IN THOSE INVERTED IMAGES SOUTH IS UP.




THE HUBBLE SPACE TELESCOPE SHOWS IMAGES CORRECTLY WITH




NORTH AIMED UPWARD

.



THE ASTRONOMY PICTURE OF THE DAY FOR 2009 July 31 
Hubble View: Jupiter Impact
Credit: NASA, ESA, H. Hammel (Space Science Institute, Boulder, Co.), and the Jupiter Impact Team
Explanation: This sprawling dark marking is Jupiter's latest impact scar, a debris plume created as a small asteroid or comet disintegrated after plunging into the gas giant's atmosphere. Located in Jupiter's south polar region, the new feature was discovered by Australian amateur astronomer Anthony Wesley on July 19. On July 23rd Wesley's discovery was followed up by the Hubble Space Telescope with its newly installed Wide Field Camera 3, creating this sharpest view of the evolving debris plume. Estimates indicate that the impacting object itself was several hundred meters across. Similar impact markings were created when about two dozen pieces of Comet Shoemaker-Levy 9 slammed into Jupiter's cloud bands in July of 1994.

JUPITER'S IMPACT CLOUD EXPANDS: Jupiter's impact cloud is expanding. On July 19th, when it was discovered by amateur astronomer Anthony Wesley, the dark mark near Jupiter's south pole was barely visible in backyard telescopes. Five days later Wesley photographed the impact cloud again and found that it had approximately tripled in size: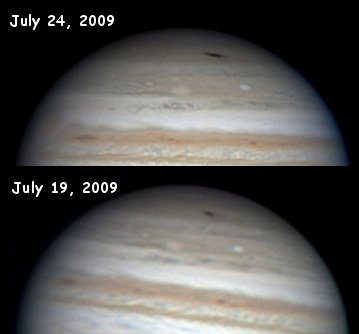 High-resolution images from the Hubble Space Telescope reveal what's happening: turbulence and jet streams in Jupiter's atmosphere are causing the cloud to spread out. The vast impact site is now tens of thousands of times wider than the 100m-class comet or asteroid that created it.
The expansion of the cloud makes it easier than ever to see through a backyard telescope: sky map. The cloud is located near Jupiter's System II longitude 210°. For the predicted times when it will cross the planet's central meridian, add 2 hours and 6 minutes to Sky and Telescope's predicted transit times for Jupiter's Great Red Spot.
more images: from Tom King of Watauga, Texas; from Mike Salway of Central Coast, NSW Australia; from Mike Hood of Kathleen, Georgia; from Alphajuno of League City, Texas; from Jim Melka of Chesterfield, Missouri,; from Giovanni Soligo of Formia (Latina), Italy; from Dennis Put of Brielle, Netherlands; from Ricardo Kuehn of Salvador, Bahia, Brazil; from Paul Kinzer of Galesville, Wisconsin; from Juan Miguel González Polo of Cáceres, Spain; from Tom Jorgenson of Hartmann Creek State Park near Waupaca, WI; from Tom Murdic of Franklin, Tennessee;
JUPITER IMPACT CLOUD: Debris from the July 19th mystery-impact on Jupiter has split into three clouds. The trifurcation is evident in this August 7th image taken by Rick Schrantz using a 10-inch telescope at his backyard observatory in Nicholasville, Kentucky:
Other observers have noticed the same thing. "There appear to be 3 distinct impact scars now, somewhat linear in shape and perhaps larger than previous days," reports Joel Warren of Amarillo, Texas. He took these pictures using an 8-inch telescope.

Jupiter's upper atmosphere is a dynamic place. The cindery impact debris appears to be caught up in a cascade of turbulent swirls and eddies, which is literally ripping the cloud apart. Amateur astronomers can monitor what happens next: The impact is located near Jupiter's System II longitude 210°. For the predicted times when it will cross the planet's central meridian, add 2 hours and 6 minutes to Sky and Telescope's predicted transit times for Jupiter's Great Red Spot.

more images: from Mike Salway of Central Coast, NSW Australia; from Raffaello Lena of Rome, Italy; from Alphajuno of League City, Texas; from Mike Hood of Kathleen, Georgia, USA

JUPITER SMACKED: Evidence is mounting that something hit Jupiter no more than a few days ago. The impact site was discovered by amateur astronomer Anthony Wesley on July 19th. Using a 14.5-inch telescope at his backyard observatory in Murrumbateman, Australia, he photographed a dark scar in Jupiter's clouds. NASA astronomers rushed to confirm the find, and with this photo from the

Infrared Telescope Facility

in Hawaii, they did: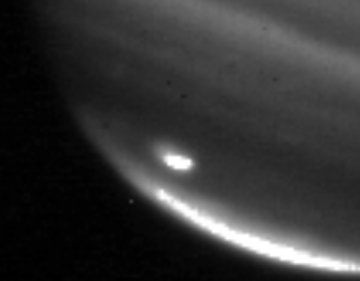 The bright spot is near-infrared sunlight reflected from particulate matter floating through the top of Jupiter's atmosphere. These particulates are likely debris from something that hit the planet and exploded. "This has all the hallmarks of the comet Shoemaker-Levy 9 impacts of July 1994," says Leigh Fletcher of JPL who gathered the infrared data along with colleague Glenn Orton.
If the impact hypothesis is indeed correct, the "scar" should become spread out by jet streams in the days ahead. Amateur astronomers can monitor events using mid-sized backyard telescopes: sky map. The spot is located near Jupiter's System II longitude 210°. For the predicted times when it will cross the planet's central meridian, add 2 hours and 6 minutes to Sky and Telescope's predicted transit times for Jupiter's Great Red Spot.
more images: from Anthony Wesley of Murrumbateman, Australia; from Ian Sharp of Ham, West Sussex, England, UK; from David Kolb of Lawrence, Kansas; from David Storey of Isle of Man, Great Britain; from Frank Ryan Jr of Shannon, Ireland; from Russell Hawker of Eastleigh, Hampshire; from Lars Zielke of Tvis, Denmark;
POSSIBLE IMPACT EVENT ON JUPITER: Did something just hit Jupiter? On 2009 July 19th, a black "scar" appeared in Jupiter's clouds similar to the Shoemaker-Levy 9 impacts of 1994. Veteran Jupiter observer Anthony Wesley photographed the feature from his observatory in Murrumbateman, Australia: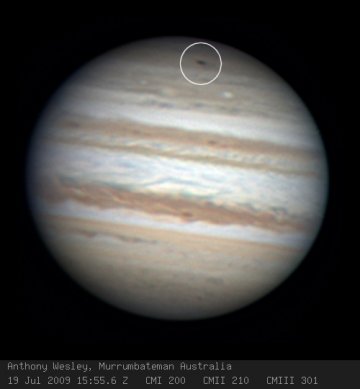 "The jet-black mark is near Jupiter's south pole (south is up in the image)," says Wesley. "I have imagery of that same location from two nights earlier without the impact mark, so this is a very recent event. The material has already begun to spread out in a fan shape on one side, and should be rapidly pulled apart by the fast jetstream winds. I recorded a lot of footage, and will be generating more images and a rotation animation soon."
Amateur astronomers around the world should train their telescopes on Jupiter tonight to monitor the progress of this possible impact event: sky map. Stay tuned for more images and updates.
FOR AN ENLARGED UNLABELLED VIEW OF JUPITER'S IMPACT MARK SEE JUST BELOW: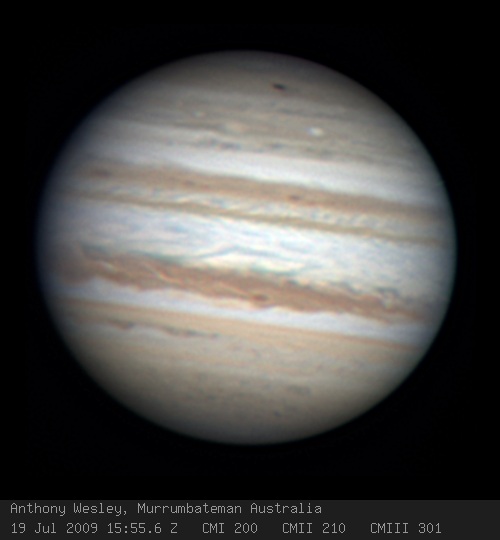 THE ASTRONOMY PICTURE OF THE DAY FOR 2009 January 6
Jupiter Occulting Ganymede
Credit: NASA, ESA, and E. Karkoschka (U. Arizona)
Explanation: How hazy is Jupiter's upper atmosphere? To help find out, astronomers deployed the Hubble Space Telescope to watch Jupiter occult its moon Ganymede.   Ganymede circles Jupiter every 7.155 days, and with a diameter of  5262 km is the largest satellite in the Solar System. This occultation was captured in great visual detail in April 2007. When near Jupiter's limb, Ganymede reflects sunlight though Jupiter's upper atmosphere, allowing astronomers to search for haze by noting a slight dimming at different colors. One result of this investigation was the above spectacular image, where bands of clouds that circle Jupiter are clearly visible, as well as magnificent swirling storm systems such as the Great Red Spot. Ganymede, at the image bottom, also shows noticeable detail on its dark icy surface. Since Jupiter and Ganymede are so bright, many occultations (blockages)  and eclipses (shadows) can be seen right here on Earth with a small telescope.
                                     THE ASTRONOMY PICTURE OF THE DAY FOR 2009 September 20 
Ganymede Enhanced
Credit: Galileo Project, DLR, JPL, NASA
Explanation: What does the largest moon in the Solar System look like? Ganymede, larger than even Mercury and Pluto, has a surface speckled with bright young craters overlying a mixture of older, darker, more cratered terrain laced with grooves and ridges. Like Earth's Moon, Ganymede keeps the same face towards its central planet, in this case Jupiter. In this historic and detailed image mosaic taken by the Galileo spacecraft that orbited Jupiter from 1995 to 2003, the colors of this planet-sized moon have been enhanced to increase surface contrasts. The violet shades extending from the top and bottom are likely due to frost particles in Ganymede's polar regions. Possible future missions to Jupiter are being proposed that can search Europa and Ganymede for deep oceans that may harbor elements thought important for supporting life.
NOTE THAT ALTHOUGH GANYMEDE IS LARGER THAN MERCURY IT IS MUCH LESS DENSE AND THEREFORE HAS MUCH LESS
MASS THAN  MERCURY.

EUROPA OCCULTS GANYMEDE: On  2009 May 8th, Anthony Wesley of Murrumbateman, Australia, recorded a very rare event--one of Jupiter's moons occulting each another. "Here," says Wesley, "is an animation of Europa passing directly in front of Ganymede."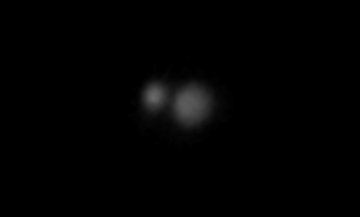 He made the movie using a 13-inch telescope and a digital video camera. "Seeing was not good, so I was only able to use 250 of the 1200 frames I collected." Nevertheless, it is an extraordinary observation, showing the distant moons as genuine world-like disks as they pass in "mutual occultation."
Earth is moving through the orbital plane of Jupiter's satellites, allowing the moons to line up for events such as Wesley recorded on May 8th. This special geometry comes along approximately once every 6 years (Half a Jovian orbital period. ) The last time was in 2002-2003, and now it is happening again. Between April and December of 2009, observers around the world can see Jupiter's moons passing one in front of another as they circle the giant planet. As part of the International Year of Astronomy, professional astronomers are organizing a worldwide observing campaign to record as many of these events as possible. Click here for details.
LAUNCH THE  Jupiter's Moons  PROGRAM
Right now the planet Jupiter is oriented such that its equator and the orbits of its four big moons are almost exactly edge-on to the Sun and Earth. This alignment happens every six years, on opposite sides of Jupiter's 11.86 year orbit around the Sun.

At such times its four Galilean satellites undergo mutual phenomena: they often get occulted and eclipsed not just by big Jupiter and its shadow but also by one another. Amateur Christopher Go recently recorded a striking example of the latter.


Christopher Go in his home City of Cebu in        

Io and its shadow overtake larger Ganymede


the Phillipines with his Celestron 11 telescope   

in this 14 image sequence taken every few minutes


used to make the movie at right >>>>>>>>>>    

  from 16:38 - 17:39 UT on 2009 Aug 16 from Cebu City


                                                                            

in the Phillipines by Christopher G

o.



During a mutual occultation, for example, you can watch two satellites appear to merge and, in the middle of the merger, slightly dim. During an eclipse, a lone moon fades and rebrightens as it's crossed by the shadow of one of its siblings.

Although these little encounters are great fun simply to watch, anyone who records their light curves accurately with a photometer can help to refine the satellites' orbits.

Listed below are the mutual occultations and moderately deep eclipses through the end of 2009, when you'll find Jupiter conveniently placed for viewing in the evening sky. (Thanks to Belgian astro-calculator Jean Meeus for providing the list!)

Events are listed by their date and Universal Time, which is 4 hours ahead of Eastern Daylight Time. The next column tells which satellite occults (o) or eclipses (e) another. For example, 4o3 means that satellite IV (Callisto) occults satellite III (Ganymede) by passing in front of it. Similarly, 1e2 means that satellite I (Io) casts its shadow onto satellite II (Europa). Sometime these notations are followed by A for annular or T for total; otherwise the event is partial. The six possibilities are shown schematically here.
Event size indicates how much of the more distant satellite's diameter is obscured during an occultation, measured as the percentage drop in its light. The table lists only those events for which the dropoff is at least 25% (0.3 magnitude).

Although this table lists only those events easily observable from North America, Sky & Telescope has prepared a comprehensive tabulation
of all pairings for the entire year. So find the events that occur at night for you when Jupiter is up

,

and mark your calendar! NOTE THAT UT  BELOW INDICATES

U

NIVERSAL

T

IME WHICH IS
4 HOURS AHEAD OF EDT AND 5 HOURS AHEAD OF EST
WHICH BEGINS ON 2009 NOVEMBER 2nd

----------------------------------------------------------------------------------------------------------------------------------------------------------------------------

         THE SHARPEST PHOTO FROM AN EARTH BASED TELESCOPE OF JUPITER BELOW

ASTRONOMY PICTURE OF THE DAY FOR 2008 NOVEMBER 6
A Sharper View of a Hazy Giant
Credit: ESO, F.Marchis, M.Wong (UC Berkeley); E.Marchetti, P.Amico, S.Tordo (ESO)
Explanation: This dramatic image of Jupiter is touted as the sharpest picture of the entire gas giant ever taken from the ground. The picture was made using a prototype instrument known as MAD (Multi-conjugate Adaptive optics Demonstrator) mounted on one of the European Southern Observatory's 8-meter diameter Very Large Telescope units in Chile. Working at infrared wavelengths the MAD instrument removes atmospheric blurring, the bane of earthbound telescopes, by using multiple guide stars and deformable mirrors to sense and correct for the distortions produced by turbulence in Earth's atmosphere. Hydrogen and methane deep in Jupiter's own thick atmosphere absorb light at infrared wavelengths. So, this sharper view shows the infrared sunlight reflected from the giant planet's high level haze prominent in the equatorial regions and near the poles. It reveals features as small as 300 kilometers across. The promising technique can also be applied to imaging other extended objects like star clusters and nebulae.

 NOTE THAT JUPITER WILL BE EXACTLY OPPOSITE SATURN ON 2010 MAY 23,
 BUT WILL ONLY BE 6.1'  (TENTH OF A DEGREE)  FROM SATURN  ON 2020 DEC 21 AT 1:21 PM EST            (ALSO THE WINTER SOLSTICE ON EARTH).
________________________________________________________________________________________________________________
RADIO STORMS ON JUPITER: On April 11th, the loudspeaker of Thomas Ashcraft's 21 MHz radio telescope in New Mexico suddenly began to hiss and crackle. The sounds grew louder as Jupiter rose in the blue morning sky. "I am pleased to report," says Ashcraft, "a successful recording of Jovian S-bursts--the first of 2009." Click on the image to listen:
The staccato pops sound like lightning in the loudspeaker of a car radio, but lightning did not make these sounds. S-bursts are caused by natural radio lasers in Jupiter's magnetosphere that sweep past Earth as Jupiter rotates. Electrical currents flowing between Jupiter's upper atmosphere and the volcanic moon Io can boost these emissions to power levels easily detected by ham radio antennas on Earth. Jovian S-bursts and L-bursts can mimic the sounds of woodpeckers, whales, and waves crashing on the beach. Here are a few audio samples: S-bursts, S-bursts (slowed down 128:1), L-Bursts
"I recorded the storm in broad daylight," notes Ashcraft. "One of the advantages of this long solar minimum is that the daytime ionosphere is quieter and more transparent to decametric radio waves. There will definitely be more good Jupiter storms in the months to come."

FROM  SPACEWEATHER.COM  FOR APRIL 14

______________________________________________________________________________________________________________
This article is  from Wikipedia