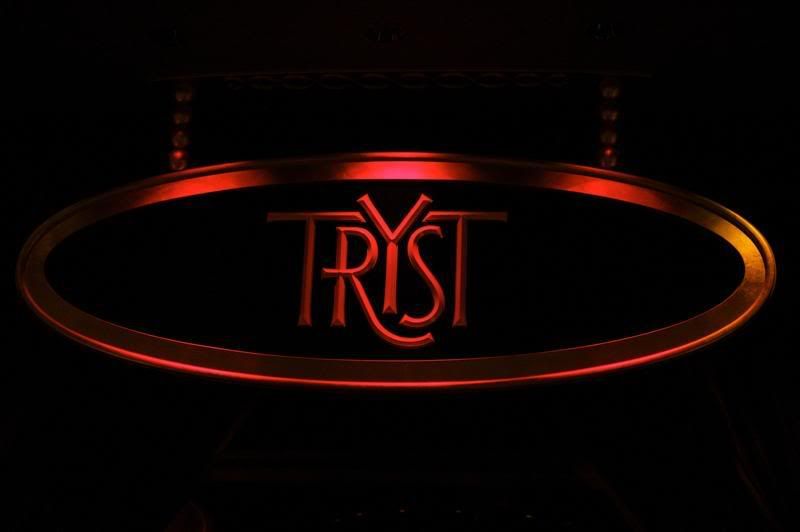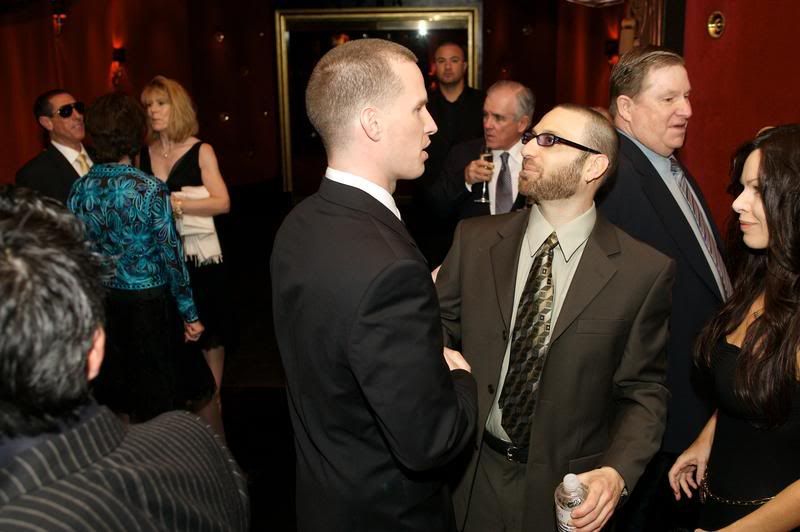 Patrick met our guests as they arrived at 4:30pm in the front room at Tryst (a.k.a. the library) for cocktails.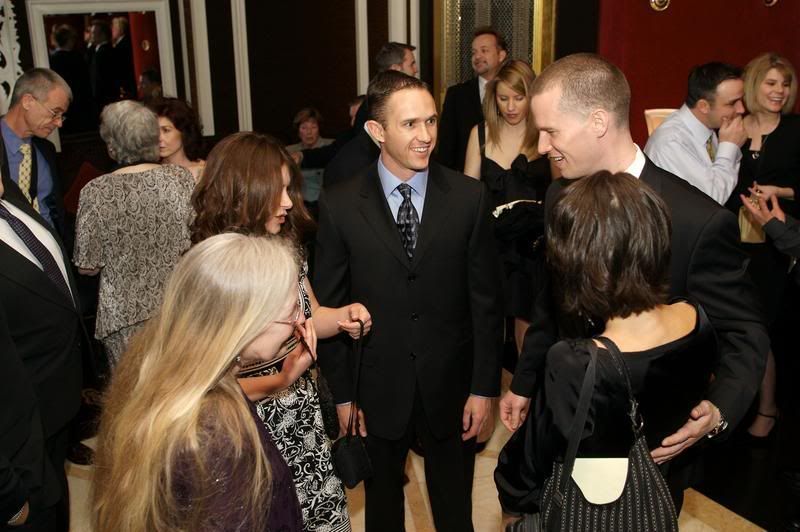 He said hello to as many people as possible, but I can tell from his face that he's a little stressed out.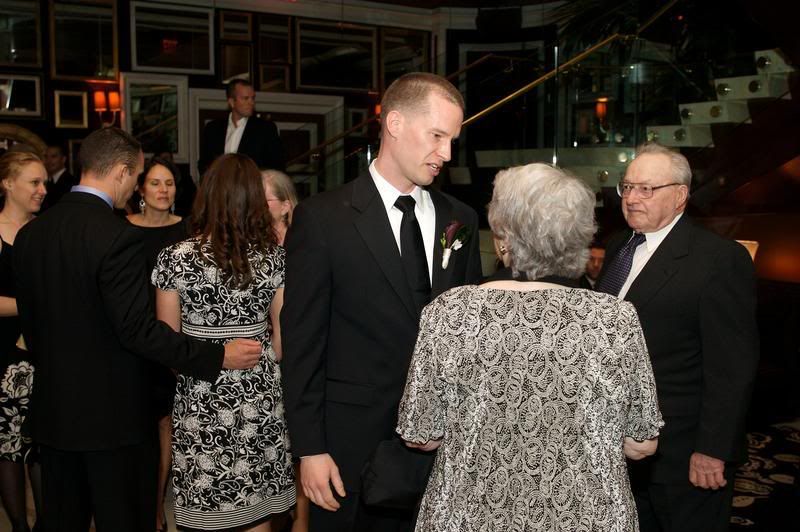 He hated "working the room" alone, 
so around 5:00pm, Patrick and a few friends excused themselves to "prepare" for the ceremony.
"Prepare" to them means tuning guitars,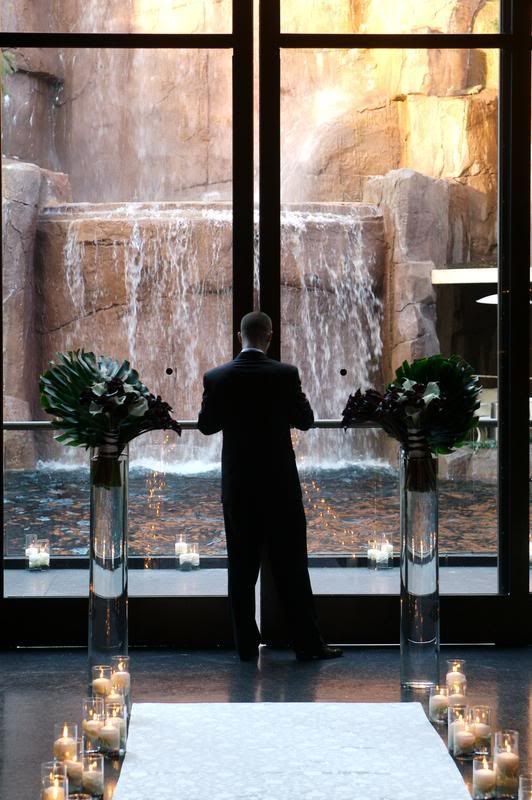 closing the doors, so they could hear their guitars (the waterfall was too loud), and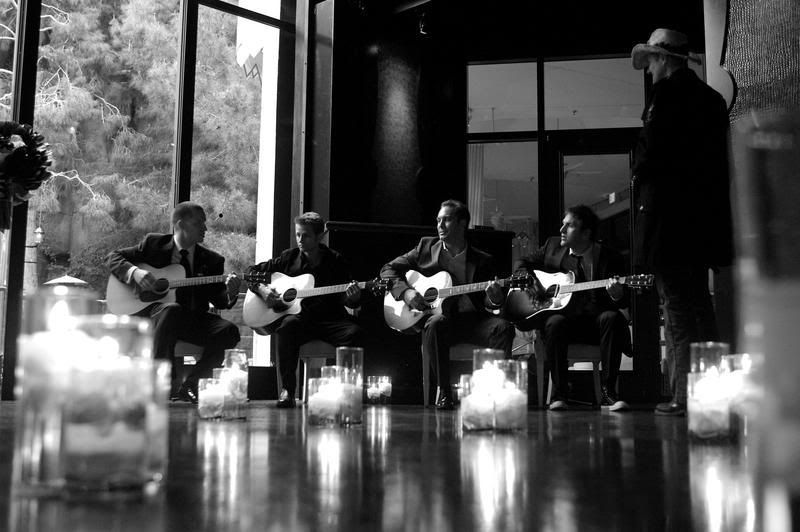 having their one and only rehearsal together.
I love this shot. I've titled it "A Boy and His Guitar"
At 5:05, our guests were ushered into the club to take their seats.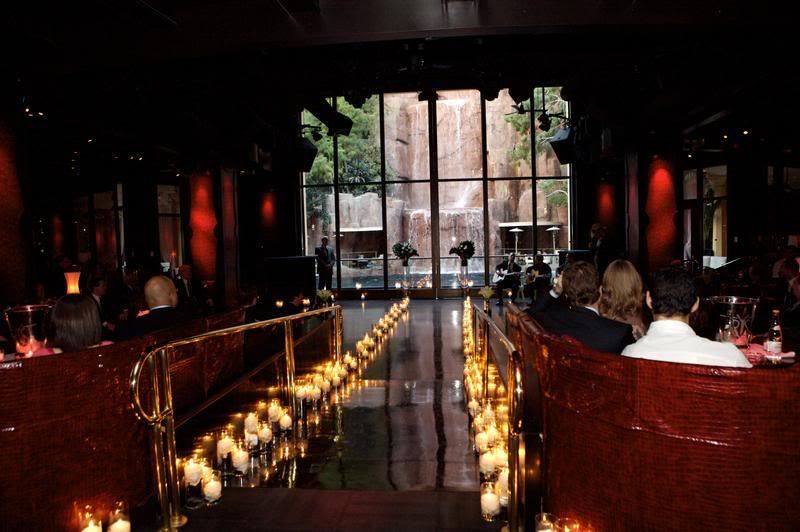 As they settled in, the guys played an acoustic version Pink Floyd's "Wish You Were Here" .
This was no "garage band" performance. Thankfully, Patrick and his friends are all classically trained musicians, and the singer (Patrick's best friend) is an awesome vocalist. These guys are constantly on the road, so the pre-ceremony rehearsal was the only time they actually played the special arrangement of this song together. Naturally, I was nervous about this, but, as usual, I completely underestimated the talent of professional musicians. I listened to their performance from the library and it sounded absolutely AMAZING.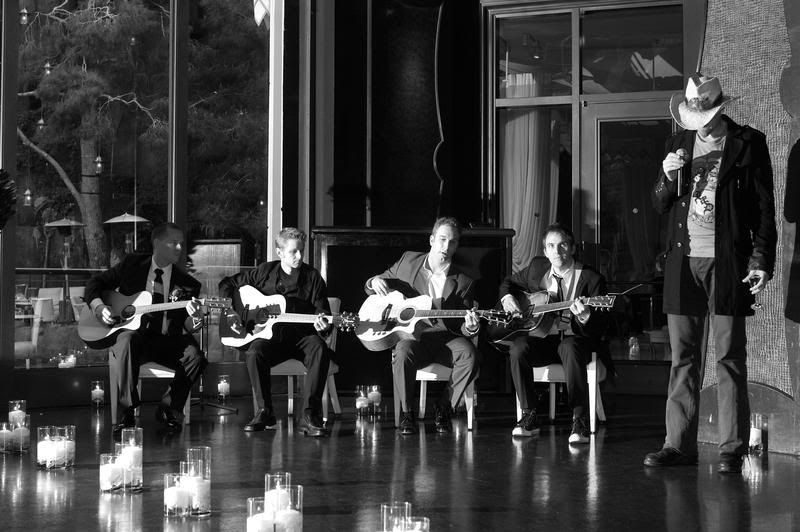 The processional began promptly at 5:15pm to the accompaniment of Patrick and the guys playing the introduction to "Love Song" by Tesla (which, btw, is not as cheesy as the "big hair" memories this band's name conjures up). It's a beautiful, instrumental guitar piece, which Patrick specially arranged for our wedding.
My youngest niece and nephew were the first walk.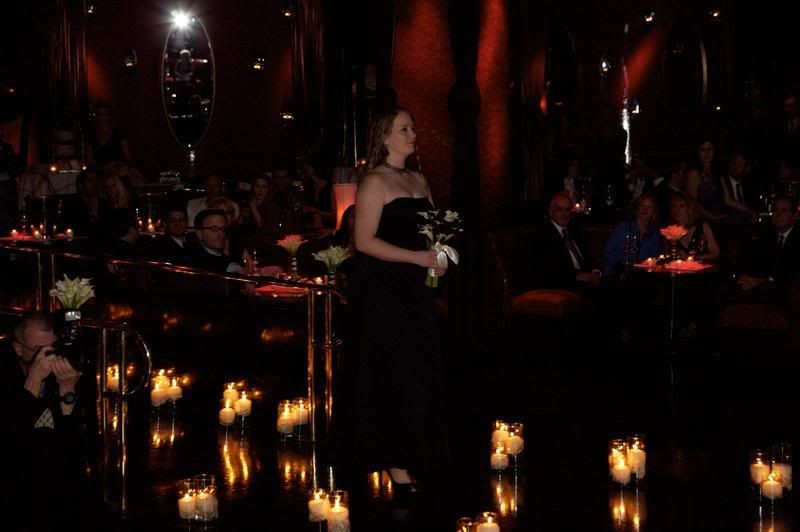 Followed by Patrick's lovely sister.
And then it was my turn. I squeezed my sister's hand so tight and kept whispering, "Please F*ing make me laugh, because I don't want to cry".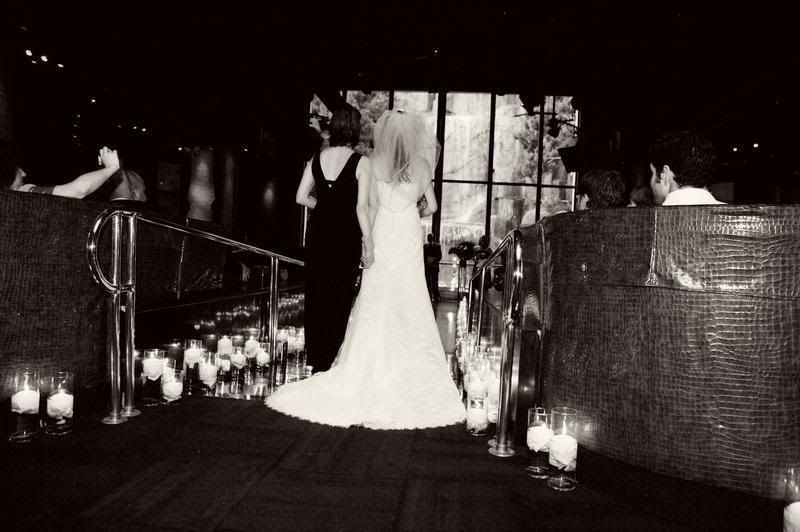 Laughing and humor are my way of handling intense emotion. I laugh and make jokes at the most inappropriate places and times (but, that's a therapy session for another time).
Patrick's way of handling intense emotion is to focus on the task at hand, so he focused on his playing.
But I kept walking...
And he kept playing...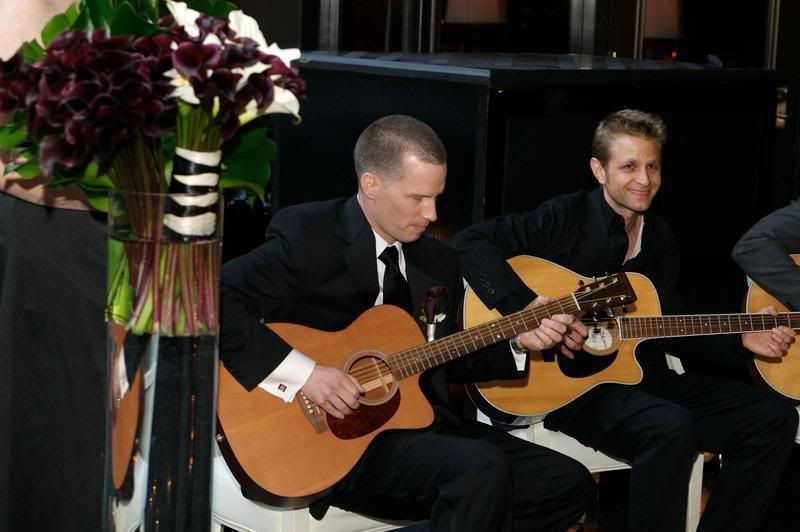 and then,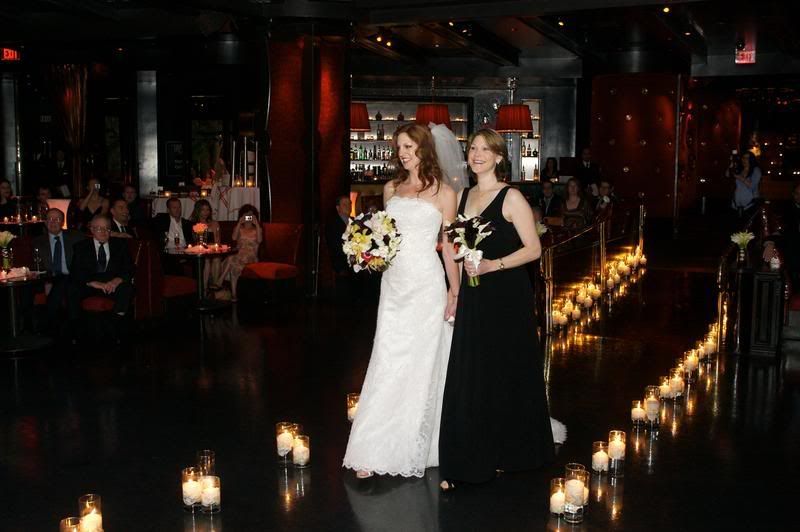 we saw each other and we both choked up a little.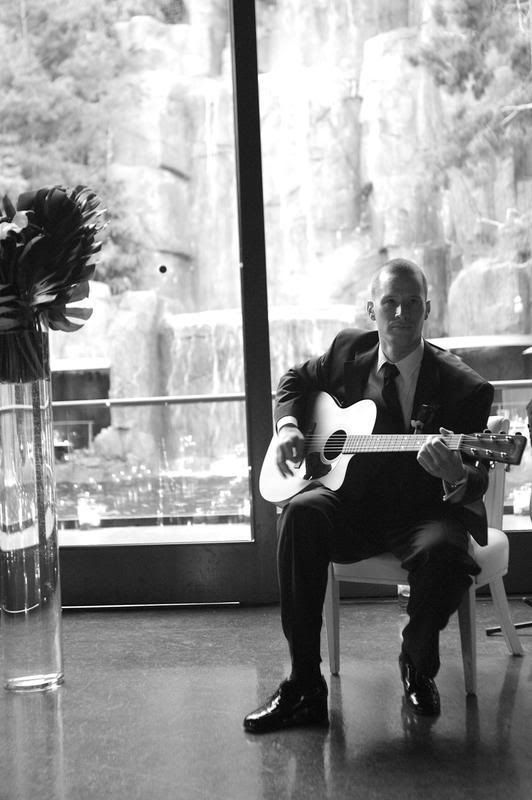 We saw each other prior to the ceremony for photos, but it didn't make this any less emotional.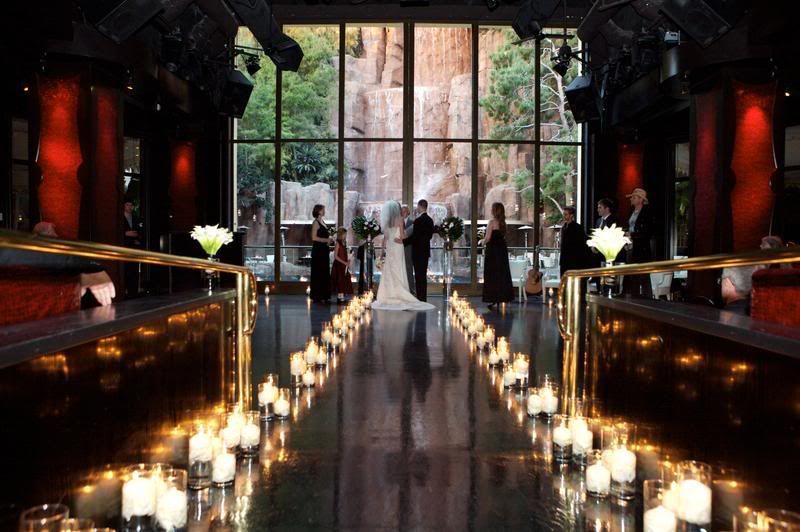 They timed the song perfectly (another plus of having friends who are pros). The moment the song ended, Patrick's guitar was in it's stand and he was there as I took my last step to the "alter".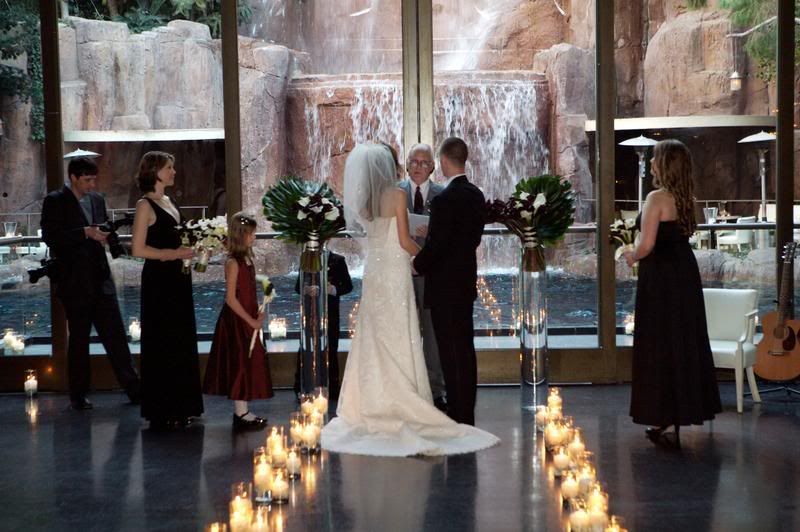 It was seamless.
I always imagined that I'd sob, but I was surprisingly calm.
Don't get me wrong, I was misty, but Patrick was really fighting back the tears.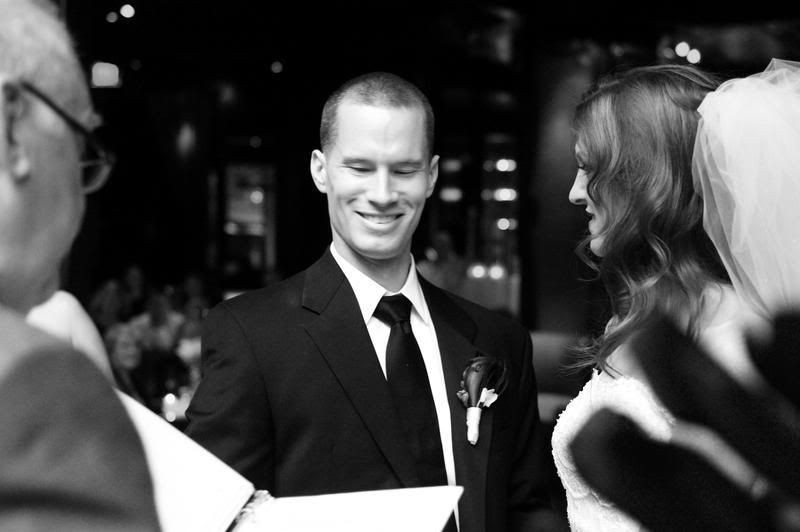 In our 9 years together, I've never seen him so vulnerable, nervous, happy and emotional all at the same time. It was beautiful.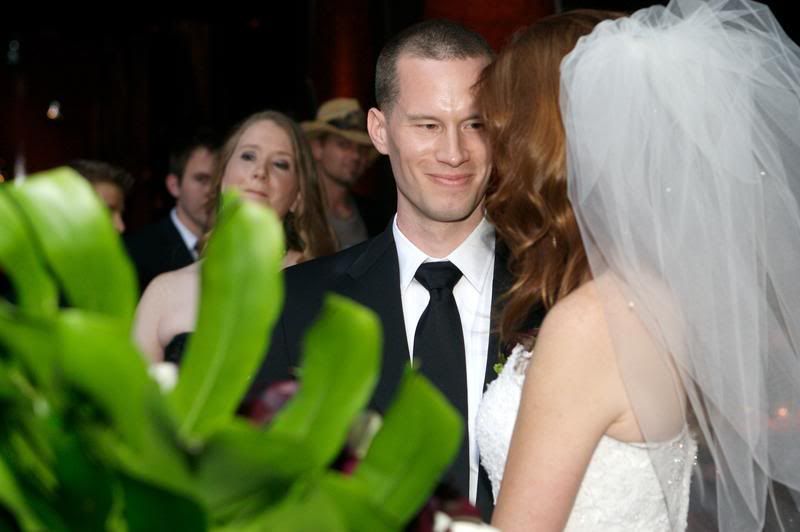 And, so we said our vows.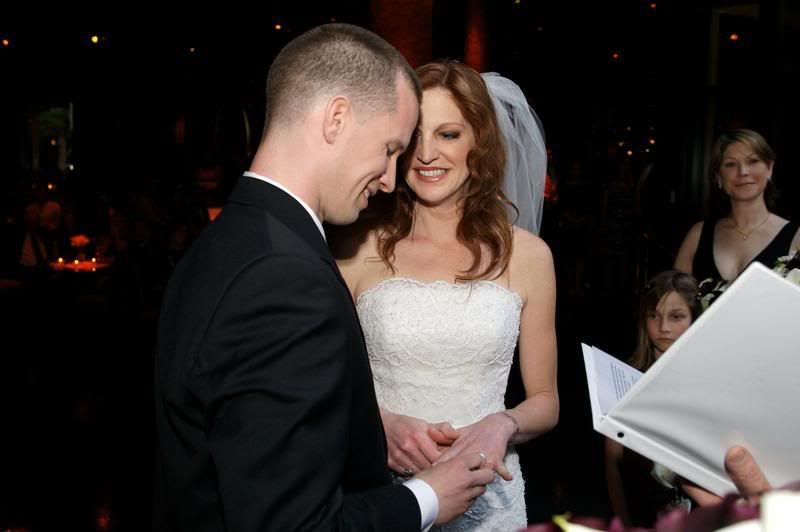 And exchanged our rings.
His hands were shaking, but I pushed that sucker on.
And then the reverend introduced us as:

"The Very Married Lindsey and Patrick!"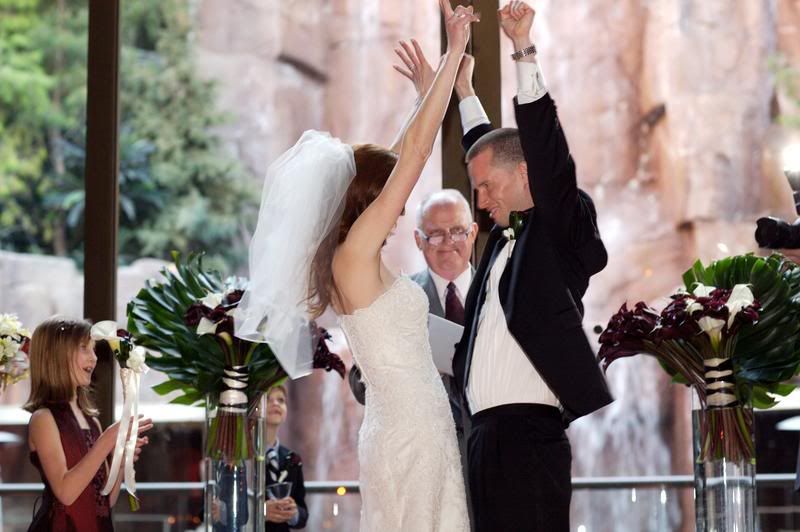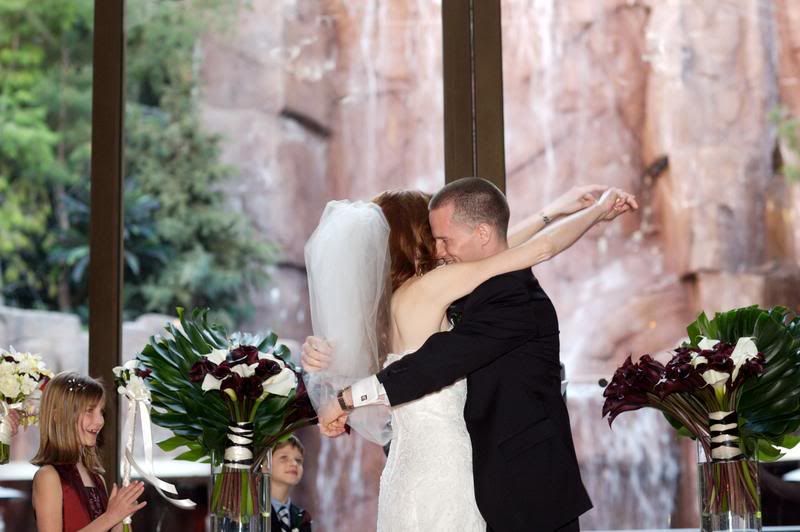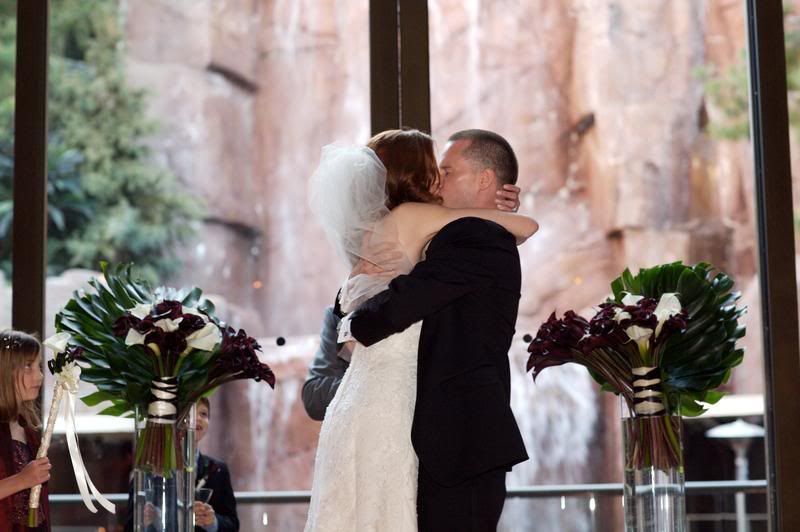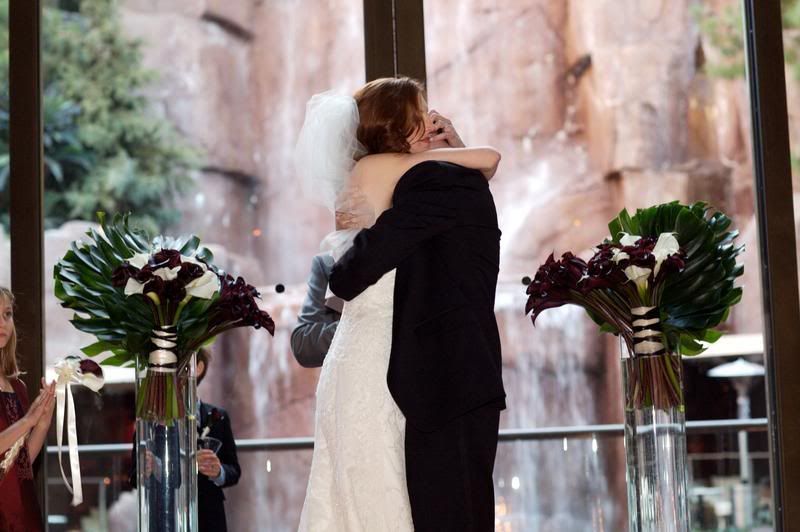 Our recessional music was "Big Pimpin'" by Jay-Z (it's so "us").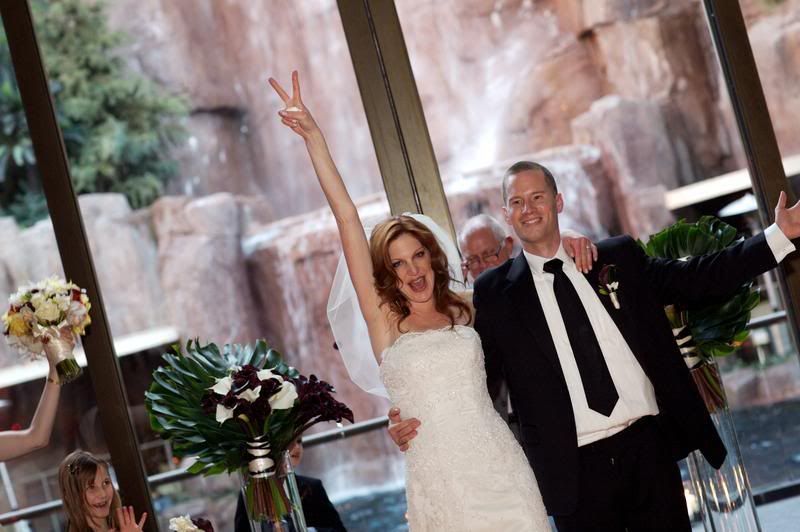 Why am I flashing a peace sign? I'm not sure, maybe because flashing the bird would have been inappropriate.
Cute picture though.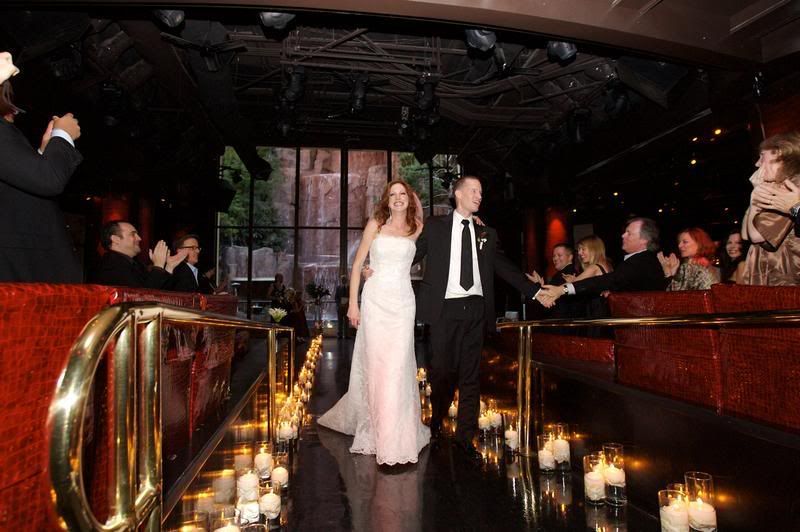 I love these shots of us leaving the club.
The colors here are so vibrant!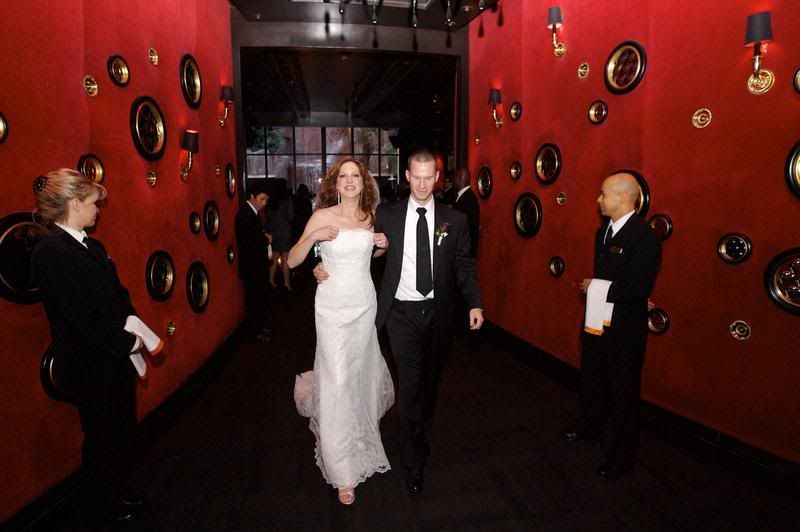 Our sisters followed us out.
We shared a "flowers and champagne" toast.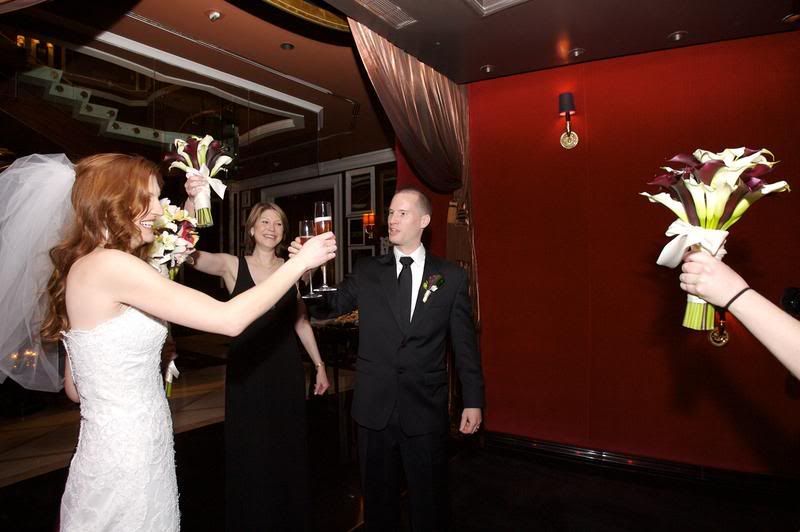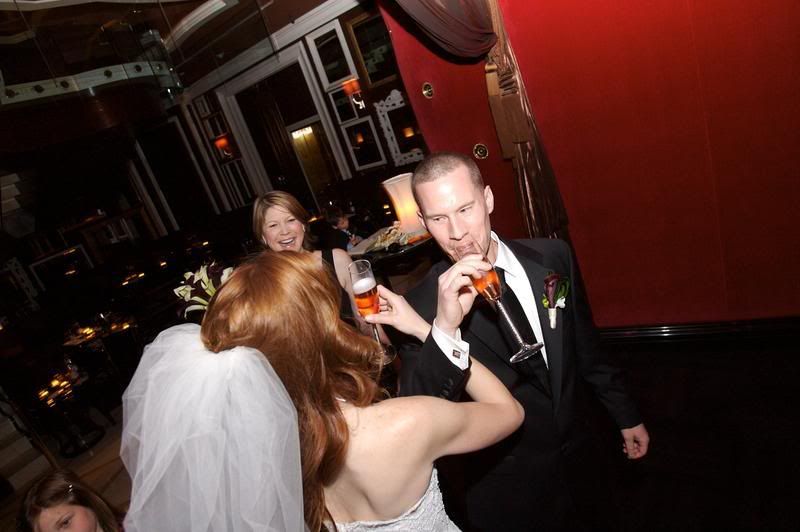 And they helped us make it official!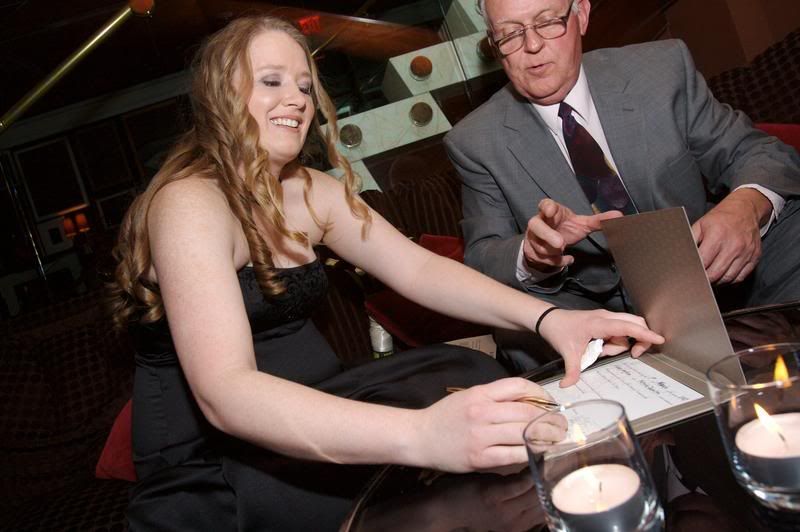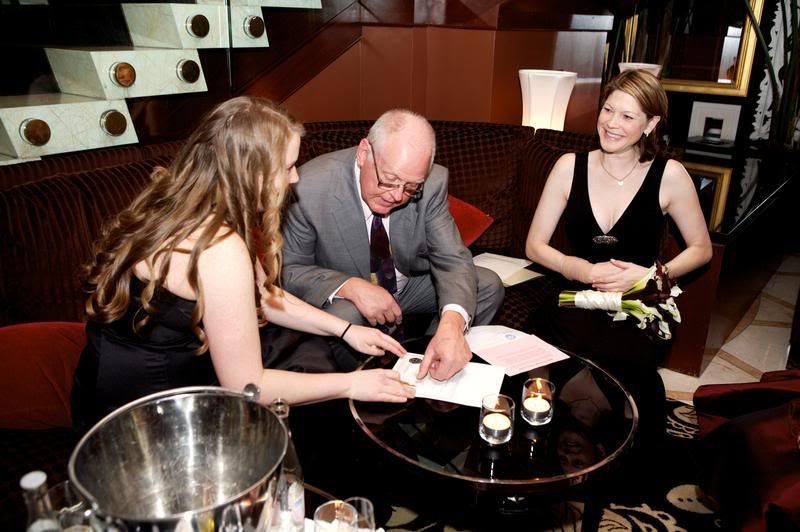 This was my favorite part of the whole day. A few minutes alone together. We shared a glass of champagne, a few tender words, many smiles, and some of the best, sweetest kisses we've ever had.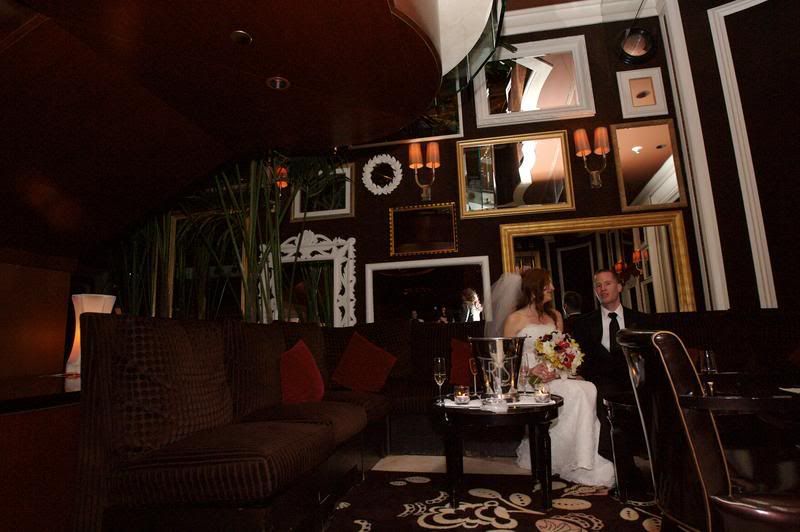 Then we took a deep breath and ventured off to The Reception.