News
Subscribe to posts
MAC-EPID's co-founder, Janet Gilsdorf has come out with a new book!  
Continual Raving: A History of Meningitis and the People Who Conquered It
tells stories of how scientists across the 19th and 20th centuries defeated meningitis -- not always through flawless research, but often through a series of serendipitous events, misplaced assumptions, and flawed conclusions. The result shows not just how a disease was vanquished, but how scientific accomplishment can sometimes occur where least expected.
These stories 
tell gripping, human tales of how meningitis was defeated by a series of sequential but serpiginous discoveries by multiple scientists in the 19th and 20th centuries.  They 
are highly relevant to contemporary discussions around antibiotic resistance, vaccines, the intrinsic challenges facing female scientists, and how incremental scientific progress can quickly yield seismic improvements in human health.
There will be a
 book launch on November 21, 6:30 – 8PM at Bookbound Bookstore, 1729 Plymouth Rd, Ann Arbor. 
Bring your friends for treats, a short reading, a lively discussion, and a book signing. 
Janet Gilsdorf is Professor Emeritus of Epidemiology, Professor Emeritus of Pediatrics & Communicable Diseases and co-founder of MAC-EPID.  
Betsy Foxman, Hunein F. and Hilda Maassab Professor of Epidemiology, Director of the Center for Molecular and Clinical Epidemiology of Infectious Diseases
"We had an opportunity to save millions of lives, yet social stigma hindered the translation of scientific evidence to good public health policy."



Full article found at sph.umich.edu/pursuit/2019posts/tracking-a-killer.html
Room 1655, U-M Public Health I (1415 Washington Heights, Ann Arbor, MI 48109)
Sponsored by Michigan Department of Health and Human Services, Bureau of Laboratories, and MAC-EPID
Tentative Agenda
8:00am  Welcome  - Marty Soehnlen, PhD, Michigan Department of Health and Human Services, Bureau of Laboratories
              CDC Office of Advanced Molecular Detection - Nathelia Barnes, DHSc, Centers for Disease Control and Prevention
9:00am  Regional State Round Table
9:45am  Break
10:00am The Chemistry of AMD – Rebecca Kramer and Kevin Rodeman, MDHHS
11:00am  Phylogenetics – Sebasian Zoellner, PhD, University of Michigan
12:00pm  Lunch
1:00pm  Bioinformatics – Kelsey Florek, PhD, Wisconsin State Laboratory of Hygiene
2:00pm  Core Genome Basics / MLST – Heather Blankenship, PhD Candidate, Michigan State University
2:30pm  Break
2:45pm  Validation Strategies – Cassandra Campion, MS, Indiana State Department of Health and Keoni Omura, Ohio Dept. of Health
3:30pm  Using Information for Public Health Action – Mary-Grace Brandt, PhD, MDHHS; Karim George, Kentucky Dept. of Health
4:00pm  Closeout: Next Steps
4:30pm  Adjourn
"
We are Public Health
" has stories of Public Health students, staff, faculty, and alumni.  Currently its spotlight is on MAC-EPID student, Hannah Segaloff.  
Read Hannah's intriguing bio
here
.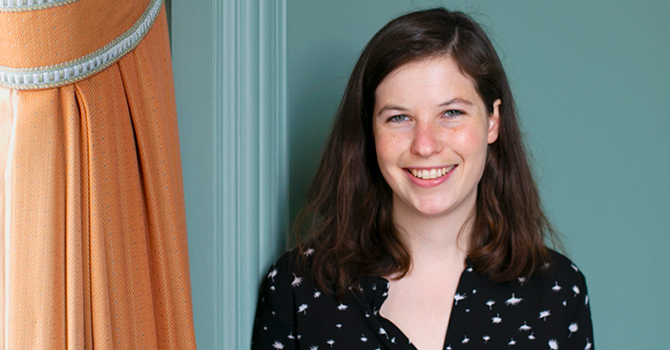 Growing up in Ann Arbor, Hannah Segaloff didn't have to go farther than her own backyard to find the perfect graduate program for her.
"There were two main things that kept me here: The departments within the School of Public Health are so great and collaborative, and there are funding opportunities everywhere."
With the help of cross-departmental collaboration and the ability to merge research and funding, Hannah is able to conduct studies under the Centers for Disease Control and Prevention (CDC) and make a real impact on the lives of hospitalized patients everywhere.
Excerpts from https://sph.umich.edu/stories/2019posts/hannah-segaloff.html
UNICEF at the University of Michigan is hosting an annual Public Health Symposium on Thursday, April 11th from 5:30-7:30pm in the 4th floor Rackham Assembly Hall.  
Prof. Mustafa Naseem
 from the School of Information and 
Prof. David Hutton, Ph.D.
 from the School of Public Health will be speaking about their work with UNICEF's WASH program, maternal/child health, technology's impact in low-income settings, and international health policy. 
Room 1655, U-M Public Health I (1415 Washington Heights, Ann Arbor, MI 48109)
Sponsored by Michigan Department of Health and Human Services, Bureau of Laboratories, and MAC-EPID
Tentative Agenda
8:00am  Welcome  - Marty Soehnlen, PhD, Michigan Department of Health and Human Services, Bureau of Laboratories
              CDC Office of Advanced Molecular Detection - Nathelia Barnes, DHSc, Centers for Disease Control and Prevention
9:00am  Regional State Round Table
9:45am  Break
10:00am The Chemistry of AMD – Rebecca Kramer and Kevin Rodeman, MDHHS
11:00am  Phylogenetics – Sebasian Zoellner, PhD, University of Michigan
12:00pm  Lunch
1:00pm  Bioinformatics – Kelsey Florek, PhD, Wisconsin State Laboratory of Hygiene
2:00pm  Core Genome Basics / MLST – Heather Blankenship, PhD Candidate, Michigan State University
2:30pm  Break
2:45pm  Validation Strategies – Cassandra Campion, MS, Indiana State Department of Health and Keoni Omura, Ohio Dept. of Health
3:30pm  Using Information for Public Health Action – Mary-Grace Brandt, PhD, MDHHS; Karim George, Kentucky Dept. of Health
4:00pm  Closeout: Next Steps
4:30pm  Adjourn