Om Julka Articles
Om Julka brief history
                                   Om Julka
               I was born in a small quarter of a railway station in British ruled India, on August 30, 1918 and my Birth certificate is about 2 yards long piece of paper with me. World War-I had not yet ended. India, Ceylon (now Srilanka), Burma (now Myanmar) were all under British rule and there was no Pakistan. My father was a Stationmaster in the British North Western Railway which covered Sind, Punjab, Delhi, Quetta, Karachi, Lahore, and Peshawar. He used to be transferred frequently throughout this area, but mostly he was posted within the region of Punjab and present Pakistan. We always lived in the houses built near the railway stations. We always had good open air, fresh foods, and fresh milk from own cows and buffalos, or even of goats sometimes. There were kitchen gardens for fresh vegetables too, besides a few chickens for fresh eggs and meat. Vast open fields with crops also provided good birds like partridges, quails and also ducks in ponds. It was a wonderful and healthy lifestyle, and so my childhood has been remarkably good.
                I had two eldest step brothers and four real brothers and one sister, all of whom were a coherent family. Four of our seven brothers also went to the Northwestern Railway service. I was the youngest but one of the remaining three brothers still in schools, when on August 30, 1931 our revered father died of complications related to diabetes. So I and my younger brother were taken care of by our two older brothers and our mother.
                     I experienced vast changes of races, faces, customs and costumes in my childhood days, so much so that even I was once swimming in a dirty village pond and crossed it by holding the tail of a water buffalo. In my school I was the Monitor of the Class and at College I was soon made the Editor of College Magazine.
                     Some more special memories of my childhood days are: a scorpion bite at age 8; bite by peahen when I tried to catch it by its tale and when I was stung by numerous bees all over my face when trying to extract honey.
                     In my adult life in India I witnessed the struggle of Indians for independence from British rule and brutality of the rulers such as hanging of freedom fighters.
                     I had met Mahatma Gandhi, Jawaharlal Nehru and some other leaders of Independence movement in India when Hindus and Muslims lived together and were not enemies. Later, I even witnessed the great upheaval of India's independence when new country Pakistan was carved out of India, and millions were uprooted or killed. During my life in India I was invited to give a talk on All India Radio in 1954 about Lord Clive who was the first Britisher to establish their rule in India. In Republic Day of India, 1966 I was selected to announce bravery awards given by President Dr. Radhakrishnan, to soldiers of Indo-Pakistan War of 1965.
                     My wife and I lived in Cleveland, Ohio in 1978/79, later became citizens. Unfortunately my wife died in December, 2002 and I still live with my son. During my over 30 years of stay in Ohio, some of my achievements are:-
               I made some items of Paper Machie and some paintings which was my hobby. George Voinovich, the then Mayor of Cleveland
In 1984 gave me a Certificate of Appreciation, for my artwork. Besides my hobbies of Art and Painting, I am a freelance writer sending articles and letters to editor, Plain Dealer etc.
       After doing a Research for a year I made a JULKA FAMILY TREE covering the names of all my 400 years earlier ancestors and all subsequent family members up to today, including my two sons, two daughters, seven grandchildren and ten great grandchildren.
        In 2010 I was given an award of "True Hero-2010" by the city of Independence and given by the hands of Senator Nina Turner, of Ohio. 
Om Julka Story
Foreword                                                                                          
The earliest known history of Julkas is from late 16th Century but a few years earlier than 1574, in the small village now known as SRIHARGOBINDPUR, on the banks of River Beas. During the British rule over India, this village was administered under District Gurdaspur, of Punjab State. The family must have split and some Julkas moved to Sialkot (now in Pakistan) and also to Kapurthala (a Princely State) in Punjab Province, which is not very far from Srihargobindpur. Even now a street is called Julka Street there. One temple is also known as Julka Gurdwara there even now.
During the first three centuries up to the year 1899 or so they were supporting themselves on agriculture or money lending business etc. Even my Uncle was a Teacher in a school there. From 1900 onwards many Julkas moved out to Delhi and Simla or other towns and villages and started government service. Some of them were serving in North Western Railway or in other Government of India jobs in Simla, Delhi etc. One Julka family lived in village Uggi-Chitti, near Jalandhar District of Punjab and doing cloth business. They subsequently moved to Jalandhar City almost in the vicinity of Kapurthala and are still settled in Punjab. Now Julkas are settled in western countries also.
After partition of India in 1947 most of the Julka families were driven out from Sialkot and other towns in Pakistan to India and they are settled in Delhi, Mumbai and other places in India.
Om Julka Story
My full name is Om Prakash Julka. I was the second youngest of my siblings: seven brothers and one sister, which included two oldest stepbrothers, but we all had a very close relationship with each other. Now none of my siblings are alive, even my younger brother. Thus I am the only surviving child of my parents.
My father's name was Mr. Salig Ram and he never used his last name Julka. He was born on 23 June, 1873 as per his record of service in British India's North Western Railway, where he joined on 28 January, 1898 and retired from there as a Stationmaster on 23 June 1928.
He was compelled by circumstances to get married three times within a period of 5 or 6 years up to the year 1900, because his first two wives died of natural causes within four years leaving one male child each. The younger child was a baby of one month when his mother passed away. This created a tremendous problem for my father to keep the baby alive. He luckily found a poor Muslim woman who lived in our ancestral village. She had a baby of her own. She agreed to breast feed this baby of my father also. My father, who even bought a cow and gave it to her, adequately compensated her. Within a couple of years my father had to get married again to his third wife, i.e. my own mother, who started taking care of the older child of my father, from the first mother. That child was also 4 year old. He was my eldest stepbrother. Later, even the younger child was brought back from the Muslim woman when he was about 4 year old and he too was cared for by my mother. Thus my mother named Kartar Devi Julka was his third wife who survived from 1904 until my father breathed his last on 10 August 1931. Her maiden name was Ishwari Devi.
One sister and we 5 real brothers were born to this mother of mine. One brother was younger to me and the other 4 as also one sister were all older to me. Oldest of these five brothers was born on July 22, 1905. I was born on 30 August 1918, when our Hindu priest made a kind of hand-written horoscope about me in the same year. I still hold that ancient almost 2 yard long piece of document about my birth and the forecast of my life's ups and downs.
A significant thing that my mother used to tell me was that my birth coincided with the birthday of Hindu icon Lord Krishna, whose birth is celebrated all over the world by the Hindus and the day is called "Janam Ashtmi", which means Lord Krishna was born on the 8th day of Moon about 5000 years ago.
The names of all my siblings were: Mr. Bishan Das and Mr.Puran Chand (both born to first two wives of my father),
Mr. Kapur Chand, Mr. Bodh Raj, Mr. Shanti Swarup, Mr. Om Prakash (me) and Mr. Jagdish Mitra; as also my sister Ms Harnam Kaur who was named Lajja Wati after her marriage. She was 3 years older to me. All these were born to my mother Mrs. Karat Devi and had age difference of about 3 years each.
My oldest stepbrother Mr. Bishan Das was 20 year older to me and one of his daughters was 2 years senior to me by age.
He had gone overseas during First World War to Basra in Iraq as a British India railway employee, from 1917 to 1918. I was born on his return from Iraq, during the war. The war eventually ended in November 1918. Our youngest sibling was my brother Jagdish Mitra, 3 years younger to me.
-----------------
II
When I was about 7 year old living with my older brother at a Railway Station, Balluana, I was admitted to a Primary School in the village nearby. There was only a dirt foot- path through the fields. It was all sand, and no vegetation because it was a kind of desert area. The transportation of grains etc coming from other surrounding villages was by camels only. And we had a grain market near the railway station. It was a good fun for us kids to go and play in that market, also see the camels and sometimes their baby camels also. At one time my widow-aunt living with us sent me with a big glass to get some camel milk from someone whose mother camel had a little baby camel. I went and requested one guy whose baby camel was weaning milk from its mother to fill my glass with camel milk and he milked the camel. He filled my glass and gave it to me without any charge. People were so friendly and helpful in those days. I brought the milk home and my aunt boiled it. We both drank the camel milk after boiling and found it was full of cream. She had some ancient belief that camel milk sharpens your eyesight. Thereafter I have never tasted camel's milk in my life up to the present age of 93 years. Luckily, my eyesight is good even now.
The village school at Balluana where I joined my first Primary class was a big mud house in one of the rooms of which was a small Post Office. The adjacent room was a big Hall in which there were four rows of jute matting, which served as our school and classroom. All the students were in classes I to IV in the same room and they used to sit on the mats in different rows. Thus we, the students of Class II and I were sitting in one row on the mats on the ground Students of Class III and IV were sitting in the next row. The same guy who was the owner of the house was the Post Master as also our teacher. If someone came to buy postage stamps he would go from the school side into the other room, sell the stamps and come back to the classes. The total number of students must have been 40 or 50 in all the classes combined. The teacher had a wooden chair to sit in. How funny would such a Post Office and Primary School look now!! We in the first and second Primary classes used to learn alphabet of Urdu and Punjabi script. Urdu was the language of the Muslim rulers derived from Persian and Hindi, which was India's main language prior to British rule. Punjabi was the local state language. I must have studied in that school for 8 or 9 months and was soon promoted to II Primary Class. The written script of Urdu language is almost like the Persian script and the script of Punjabi is like that of India's most ancient language, Sanskrit or even Hindi.
After about one year my brother was transferred from that station to a place called OKARA, again as an Assistant Stationmaster, and I moved with him to that Railway Station which was a Junction and in a bigger town. It was about 65 miles from Lahore by rail.
-----------------`````````````````````````````
My Life Story
By
Om Julka
(From age of 8 to age of 18, i.e. 1927 to 1936)
I was a student of Primary class II at a place called Balluana, near Bhatinda, in Punjab (British India), where my oldest brother was an Assistant Stationmaster. We had a buffalo and some chicken at home. When my sister-in-law used to milk the buffalo every morning and evening I used to sit near her and she used to pump some raw milk directly from the udder of the buffalo into my mouth. It was good fun.
Some friends used to play with me in the sand near the Railway Station under the shade of a tree. One day a scorpion crept up to my crouch through my pajamas and bit me at the top of my thigh. I shook the scorpion out of my pajama and bet it with my shoe into a pulp, as if in anger against it. I did have some swelling and lot of pain for a couple of days thereafter but no serious effect was caused.
Then my brother was transferred to a Railway Station at OKARA which was about 60 miles of so from Lahore (both in Pakistan now). In about six months after reaching there I was promoted to Class III at the age of 11.Our teacher was a Muslim named Ghulam Rasul. In the morning prayer we had to sing one song in praise of God and I was the one asked to lead the class of about 30 students in the prayer song. All others would repeat the same line, which I spoke. I still remember some lines of the song which commenced with: "Khudaya kaun hai saani, tera saaray zamanay mein…"(God Almighty, there is none in the world who is equal to you in Grace in the whole world).
We had no paper or copy books, but all our writing of lessons etc was done on slates or on wooden boards which were first painted with fine quality dust called (Gachni) and dried in the sun. All the writing was done with quills and black ink on those boards, which could be washed away next day from our wooden boards and prepared fresh for the new lesson. In our school there was a Persian Wheel with a well out of which the wheel kept in motion by bullocks would pull out water and throw it into a drain to water the school play ground and also some vegetable garden there. The Persian Wheel was moved by two bullocks going round and round. One day one of our students just out of fun sat on the turning wheel of the well and there was no one attending to the bullocks who kept moving, with the result that the boy was crushed in the joints of two wheels. We all had a very sad day and the school held a mourning meeting that day.
On return from school, my younger brother and myself used to take a container across the Railway Lines to fetch fresh milk from a vendor, unmindful of the trains going on the rail tracks, but carefully. One day we both had a dispute as to who should carry the pail of milk.We both left the milk right in the center of the railway track, and came home. My mother had to pull up both of us and we went back to bring the milk which was lying in tact there.
More than two years were spent there and then in my Class V we moved back to the town of Ferozepore City (Punjab) after transfer of my brother from Okara. I joined H.M. High School there in the Middle School building was away from the High School building. After one year I got promoted to Class VI and moved to High School building. Due to my brilliant results I was made the Monitor of my class. I continued to study in that school up to my 10th Grade, passing the High School exam in First Division from the University of Punjab in 1936.
A decade of my younger age
(1940 to 1950)
During my vacation, I originally started working in the Government of India, Ministry of Home Affairs from September 4, 1939 onwards when World War had just started, and the office where I worked was located in Simla, Punjab at the corner of Mall Road. In winter months when the season of snowfalls started in Simla, the whole Government of India staff used to move to New Delhi India for the winter. The Viceroy of India also moved to New Delhi during winter. So I used to move with the staff to New Delhi. In the beginning of summer we used to move back to Simla from April onward up to September each year. This was because the British rulers including the Viceroy and Governor General of India could not tolerate the extreme hot weather of New Delhi during summer months. But it so happened that in 1941 or so due to intensity of World War II, and ease of communications with British Government in London, the rulers stopped moving to Simla hills. So I stayed back in New Delhi. I was subsequently posted within the Government of India to the Army Headquarters, Ministry of Defense. Thus I spent almost 4 War years of my initial career in the British Indian Army Headquarters, dealing with Army regulations, pay and promotions of British and Indian officers.
In a couple of years I gained enough experience of official work and was promoted as a Superintendent of one office in Defense Headquarters where we used to have a mixed crowd of Britishers and Indians. So throughout the whole period of World War II, I worked in the Defense, Headquarters of the Army. I had also signed a bond to serve in the British Indian Army as a non-combatant (enrolled), wherever ordered by land, sea and air. I could not refuse to move to any theater of war if ordered. In those days even my salary of Rs. 400 pm with some allowances, was enough for a comfortable life, even after I got married on 4th October 1943.
A few months after my marriage we were given a House No.30-D College Lane, near Harding Bridge (now called Tilak Bridge) in New Delhi from 1944 onwards. That single-story houseallotted by Government of India, has a significant history of our extended Julka family and their coherence. It had 2 Bedrooms, 1 living room, kitchen, bath & separate latrine and an open Courtyard with 8 ft high walls around. We can call that as the 'Heritage Home' of the Julka family, as suggested by my nephew. During and after the War we were using it as a home for 20 + members of the extended family. My very accommodating wife Mohinder Julka cooperated with me to accept all loved ones to live together in the joint family. My respected old mother was always living with me. Since 1940, my eldest brother Mr. Kapur Chand Julka who was a Station Master in the North Western Railway, in Punjab, got a promotion and was posted as Platform Inspector at Delhi Railway Station. So he and his family of wife and six children came and were welcomed to my house. They also had one buffalo and one dog, which they brought from Punjab. They arrived in 1945. I respected that brother like my father, though he was 13 years senior to me. A few months later my second eldest brother with his wife and 13 year old son also moved from Ferozepur, Punjab to Delhi in my house. So this House No. 30-D College Lane, near Bengali Market New Delhi. became their shared abode and we thoroughly enjoyed the company of all. My mother's widowed younger sister was already living as part of our Julka family with us. By that time my family was of self, wife and my first child - a daughter Asha born in 1944 at her grandparents house in Punjab came with my wife in 1944.
Bhappa ji, as we called my eldest brother with respect, (and family), did not earn enough salary and so I had to support them by donating more money for a common kitchen than other brothers. There were only three rooms out of which my bed room was virtually a walk thru for the family. My only younger brother Mr. Jagdish Mitra Julka was newly married in the same house - was also with us. Sleeping during the summer was no problem as we moved string cots outside on the open lawns in front of the house in a long row. - Under the stars with no care for the mosquitoes. If there were a shower of rain at night each one would carry his cot to the neighbor's verandah (we had good relationship with neighbors too) while during winters we used to squeeze in the rooms somehow. We had converted part of our verandah as a room also. During our stay of about 6 years in that house, my second child Vijay and the third one a girl named Shobha were also born. Thus there were sufficient number of our family members to take care of the little kids while women, (my wife and brother's wife, both used to do all household work and cooking for the family. My younger brother's wife was working as a Teacher and so she could not help in cooking etc.
Of my four children, the eldest daughter Asha was born in Punjab (Taran Taran) on Sep 4, 1944; my son Vijay was born on Jan 04, 1947 at this house in New Delhi; next daughter Shobha was born on April 02, 1948 at the same house, but the youngest son Anand was born on August 23, 1950 when we had moved to 18 Pandara Road, New Delhi. The younger 3 children were all born at home under the care of a midwife.
A few important things about this house which I recall are given below: - I purchased a DBBL 12 bore gun (British made), a small car AUSTIN-7 ( 1938 MODEL) in 1945 both from some British soldiers going to war. And the seller of the car just taught me the elementary driving tips with two miles run. And I brought the car home without any more driving skills. It was a car with wheels having spokes like bicycle, and a cranking handle, which sometimes did not work. The car had to be started with a push. But it was very light 4 seater car without side windowpanes and we had no problem. All these are associated with our house. The car was parked in front of the house. The buffalo was kept inside our courtyard, which must be about 20 ft by 40 ft. Sometimes if our ladies who were sleeping inside the house used the same courtyard to sleep at night. Then our buffalo was moved outside the backdoor of our house, i.e. into the street facing the rear of other houses. I had a few chicken also laying eggs for the family. These were kept under wicker baskets inside the courtyard.
During the days soon after India got independence on August 15, 1947, news came from newly created country, PAKISTAN, that Muslims started killing Hindus and Sikhs who were living in Peshawar, Rawalpindi, Sindh and many other places in Pakistan - thus cleansing their new Islamic country of most non-Muslims. Thousands of those who survived came to India as Refugees. New Delhi had many thousand Refugees. And the reaction not only in New Delhi but also in the whole of India was also violent. Many Refugee Hindus and Sikhs who had been pushed out of their houses in Pakistan started killings of all Muslims living in India. Our neighbor in No.28 D College Lane was a Muslim living in friendly way with wife, son and daughter both teenagers. But the enraged Hindus who had come as refugees from Pakistan, pushed them out by force. However, we, the neighbors of six or seven houses, helped to save their lives and transported that family to a Muslim Refugee Camp in the Purana Quila (Old Fort). But the Muslims could not take away their household effects with them. They only took their jewellery and cash in a Tiffin Carrier by pretending it was their food. And soon within 30 minutes their Household effects including Radio, Carpets, Sewing Machine etc were looted by Hindu and Sikh refugees. We saw people carrying looted stuff on their heads. Three Refugee families occupied their house also; they were full of rage, having lost their homes and wealth in Pakistan.
We never forget another case of two or three Sikh guys who came to our house late in the evening to wash their blood stained swords in our water closet. They were full of rage and refugees from Pakistan who escaped their death but had survived after losing some close relatives in Punjab (Pakistan) They openly said, 'Gaddi Wadh ke aye hain' (we butchered the Muslim passengers of the railway train), which they had made to stop by pulling a chain near Railway Station Nizamuddin, hardly half a mile away from out house which was by the side of the Railway Track. Only a couple of all ladies, and us, unarmed were at home. We were scared and did not refuse them use of our Bathroom for washing the blood on their swords. My nephew who was 13, saw one of them months later as a salesman at the Bata Shoes shop in the market called Cannaught Place, New Delhi, got scared even then to look at him. He ran out of the shop at once, pulling his Dad (my brother) also. These were the days of upheaval after Independence of India and birth of Pakistan in August 1947.
A predominantly Muslim area was near the Mosque called "Jama Masjid" – the biggest mosque in Delhi, which exists even now. In those days of turmoil a couple of times large Muslim crowds shouting Slogans: "Alla Hu Akbar" (God is great) were marching towards our living areas, nearly 2 miles away and we heard their slogan shouting. Our neighbors did not have any guns, but I was the only one with a 12-bore gun. So with one or two neighbors I used to go up on the roof of our single-storey house with the loaded gun to face the attackers if coming from the Mosque side. Luckily they could not come all the way in that big procession and kept on shouting slogans. It was like a riots situation and police was inadequate and unable to cope with it. Some policemen and some army units had already been moved to Pakistan.
Ours was the largest family among 10 houses with a common lawn in front; and we were being quoted as an example of coherent joint family living in the area. We were mostly known not by names but as '30-D residents'. Within 20 feet distance from our house, fast railway trains going to or coming from Bombay side were moving every few hours day & night. Such was our 30-D and its etched memories.
Another extraordinary thing that happened in this house was that These 60 houses of the colony built by Central Government were on a contract with the Railway because the land belonged to the Railway administration. The Central Government handed over these houses to the Railway in 1950, when all Central Government servants living there were allotted other houses elsewhere. So I was allotted a new house and both my family and one older brother's family moved to the newly allotted house No.18 Pandara Road, New Delhi, a distance of about 4 miles. And the amazing coincidence was that the Railway administration allotted the same house No.30-D to my elder brother Mr. Kippur Chand who was a Platform Inspector at Delhi Railway Station. Thus this house acquired additional importance for Julka family. Then all the others gradually left to live in separated houses of their own. My brother and his family lived in the same house for another 7 years or so even after my move from our old house.
_________________________
One aspect of my "growing up" also concerns my recognition and appreciation by others at various stages of my growth. Some of these which I can recollect now are given hereunder.
In Grade IV class at Government Primary School, Okara, (now in Pakistan), I was asked to lead my class in the early morning prayer song which the whole class repeated after me every day.
In my class VI at H.M. High School, Ferozepore City, Punjab, I was selected by my Teacher to be the Monitor of
the Class to keep discipline and also to lead the class when the teacher was momentarily out of the room.
In my High School Class X, I passed in the "First Division" from Punjab University and was awarded a prize by the school.
In my College (R.S.D.College) Ferozepore City, I was selected as Student Editor of my College Magazine even during the course of my First Year. I still have one old copy of the Magazine with my name printed on the first page.
In my Army service as a Commissioned Officer:
As a Captain, I was given the honor of giving a talk over All India Radio, New Delhi on the subject of "Bharat Ke Woh Yudh, Jis ne Bharat Ka Itihas Badal Diya"(battles which turned the history of India) (It was relating to Lord Clive's battle of Plasey). I gave the talk in Hindi.
As a Captain I was selected to accompany Marshal Tito on his tour of India, because of my knowledge of German Language, but my boss did not spare me from my important duties at Army Headquarters and so another officer was deputed. Similar was also the case when an Army Officer was to be appointed as personal Secretary to Mr.Krishna Menon, the then Defense Minister of India, and I could not be spared.
In Independence Day Parade held in New Delhi on January 26 1966, Dr Radhakrishnan the then President of India awarded meritorious service bravery awards to the heroes of Indo-Pakistan War of 1965; and I was selected to stand near him to announce the names and the heroic deeds of the awardees before they came forward to receive the award in person or posthumous received by their next of kin.
I was also awarded First Prize on standing First in my German Class where I studied as part-time student in School of Foreign Languages of Defense Ministry, New Delhi. I still have the book with the award certificate with me.
As a Captain I was awarded First Prize in a Pistol Shooting competition at Army Headquarter in 1950 and again in 1951.
In 1951, in connection with the Integration of State Forces with the Indian Army after India's Independence, I was specially deputed to go to the State of Travancore to collect some data of their armed forces for selection of their Princely State forces, to assess their fitness for Indian Army.
In the Indo-Pakistan War of 1971, I as a Lt-Col took part in the Operations on the Western Front as Assistant Adjutant General of a Corps. After winning this war, I retired from the Indian Army in April 1972.
During my immigration to U.S.A.from 1978 onwards, some of the things for which I was recognized were:-
Award of a Certificate by George Voinowich, the then Mayor of Cleveland, because of promoting Old Art of Papier Macie.
In the Independence Day celebrations held on September 11, 2010, in the City of Independence, Ohio, I was given an award as "True Hero- 2010", as retired Lt-Col from Indian Army. The award was given by Senator Nina Turner of Ohio State. Another "True Hero-2010" award was similarly given to Lt-General Robert Wagner (Retired from U.S. Army).
See the website : http//
www.clevelandpeople.com/groups/asianindians/2010/indiafest.tm
Picture of the award being given on September 11, 2010, is below:-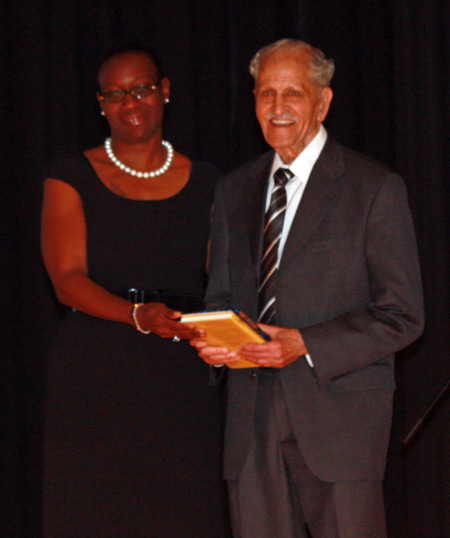 Senator Nina Turner giving the award to
Lt-Col Om Julka (Retired from Indian Army)