1

---

La Niña

 is associated with cooler than normal water temperatures in the Equatorial Pacific Ocean, unlike El Niño which is associated with warmer than normal water.




La Niña (December 2000)

El Niño (December 1997)


Sea surface temperature anomalies (°C)



---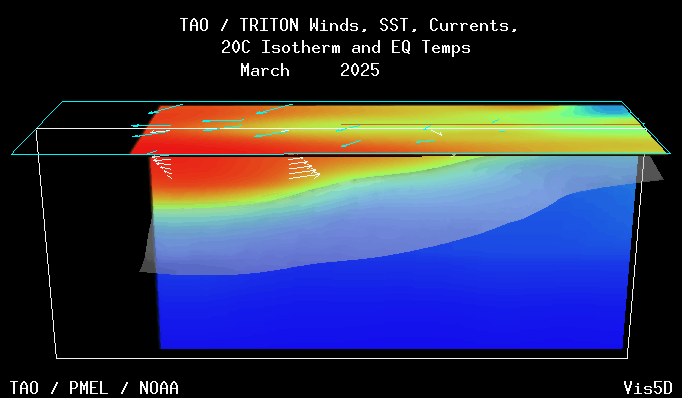 ---
From the NOAA/PMEL/TAO website.
---
Archive of previous ENSO Wrap-Ups
Other Useful Links
The links below can be used to keep track of important developments across the Pacific Basin.
The Weekly Tropical Climate Note issued by the Darwin office of the Bureau of Meteorology discusses the main features of the tropical atmosphere and ocean, including the intra-seasonal oscillation or 30-60 day wave which is thought to sometimes impact on the development of El Niño events.
The Bureau of Meteorology Research Centre (BMRC) has recently developed maps of Out-going Longwave Radiation (OLR), a useful El Niño monitoring tool. Negative anomalies show areas which, in general, have been cloudier (and potentially wetter) than normal.
The TAO / TRITON data display page is excellent for creating your own plots of numerous variables that are relevant to El Niño.
Note however that information coming from other countries is likely to describe timing and impacts relevant to those countries, which will not be the same as those in Australia.
---
Current Situation and Outlook 
http://www.wmo.int/pages/members/members_en.html
---
National Meteorological or Hydrometeorological Services of Members
GOTO 
 http://www.wmo.int/pages/members/members_en.html
---