Lisa Bhimani, MD
---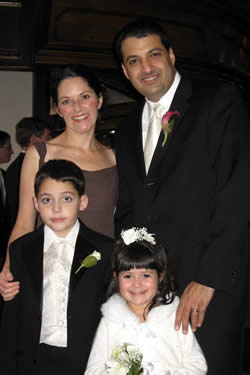 Lisa Bhimani with her husband, Anish Bhimani and children, Nicholas and Bella
Bio
My road to medicine was less traditional.  After graduating from Brown with a degree in International Relations, I worked for a consulting firm for a year and then decided I wanted to go into medicine.  I completed my pre-med requirements at Bryn Mawr (they have a special program for this) and then attended medical school at Hahnemann University in Philadelphia.  I returned to Brown for my residency in Obstetrics and Gynecology.  After residency I joined a wonderful, all-female private practice in Providence and practiced at Women and Infants Hospital.  During my third year of residency I had my son, Nicholas, and had my daughter, Bella, about 3 months after completing residency.  My husband Anish (Brown '91 also) was offered his dream job in New York at the end of 2003, and we decided to relocate to New Jersey at that time.  I stopped working when we moved so I could be a mother to the two children I had had during the busiest time of my life.   I had wanted to return to work part-time, but due to the high cost of malpractice insurance in New Jersey, that has not been possible. So, currently I am a full-time stay-home mom.
What is the biggest medical break-through that you have experienced in your field in the past ten years?  What break-throughs do you anticipate in over the next ten years?
The biggest medical breakthrough I experienced in my  field was the Women's Health Initiative, which essentially reversed the thinking on estrogen replacement therapy for post-menopausal women.  In the next ten years I anticipate we will see better testing for hard-to-detect cancers such as ovarian cancer.  These cancers will likely be detected by biological markers instead of by imaging.
How did you choose your field and how did being a woman influence this choice?
I chose Ob/Gyn because it was interesting and exciting, but primarily because I love working with women.  Of course there are many wonderful male physicians in the field, but as a woman you have an ability to relate to your patients in a unique way.  You can completely understand your patients' issues, and your patients appreciate this.   It increases your patients' comfort level.
What advice would you give to current Brown students, women in particular, who are interested in going into your profession?
This is the hardest question to answer, and I'm sure many will disagree with what I am going to say.  When I went to Brown I felt invincible.  I felt that there was nothing in life I could not conquer.  I also was sure I could have it all, great career, marriage, and family.  My experience is that you cannot have it all.  Something has to give.  For people who chose medicine, it is not just a job, it is a passion.  Medicine calls.  You become a physician because you have to; nothing else would be satisfying.  And it continues to call, even after training.  There is always more to learn, more your patients need from you, more you could be doing.  For me, my children call in the same way.  And this is the tough balance.