Can We Talk?
Resources for parents to become aware of ways to stay informed 
and support your child's speech-language development
Speech-Language News
May 2017
May might welcome spring flowers but it also ushers in Better Hearing and Speech Month. Every May for the past 75 years, speech pathologists and audiologists are tasked with advocacy and education. 




In the field of communication disorders, public knowledge can lead to early diagnosis, better referrals or even prevention. Because speech pathology and audiology are so broad and encompass the age-span, there is no shortage of information to communicate to the public. Just like doctors make recommendations for athletes to prevent sports injuries, SLPs can prevent some speech and hearing disorders. Consider the number of parents, for example, who could prevent hearing loss in children with better education about the effects of iPod headphones or speaker volume at concerts. Consider also the number of pediatricians who might benefit from education about when to refer a child to speech therapy.




"Listen To Your Buds"

Noise-induced hearing loss is completely preventable. Unfortunately, hearing loss is growing more common in younger and younger segments of America's population. At the same time, personal audio technology use in on the rise—in even the smallest of children. Consider the following:

The Buds want all kids to enjoy their technology, but to do so safely. It couldn't be easier with these simple steps:

Keep the Volume Down.

 A good guide is half volume.

Limit Listening Time.

 Give your hearing "quiet breaks."

Talk to Your Kids.

 Discuss and model safe listening habits.

In addition to practicing preventative safe listening habits, parents need to learn the early signs of hearing loss in kids. These are not always easy to spot, and many parents are not looking for them. Early detection of hearing loss in children is critical, as hearing problems that are left untreated can result in academic, social, and other difficulties. For more information about early signs and treatment options, visit ASHA's new early detection initiative, Identify the Signs, at http://identifythesigns.org/.
March 2017
February 2017
Dads Matter! 5 Bonding Tips for Fathers and Their Child with Special Needs
A father's role in a special needs family is crucial. Not only are they a component of the family's financial security, but fathers also play a vital, foundational role in the mental and physical development of their children with special needs. Dads offer a uniquely male style of play and interaction with their children and, especially for kids with special needs, it empowers and encourages them in very special ways. Like other kids, those with special needs thrive when they have access to both strong female and male role models.
Dad's Critical Role in Raising a Child with Special Needs
Men sometimes have difficulty facing and discussing things they can't change or fix. The typical solution oriented man may sometimes feel powerless and less competent when he realizes he simply can't do anything to eliminate the challenges and issues faced by his child with special needs.
Some men find it difficult to handle the emotional aspect of raising a child with a disability. These fathers often focus on long-term obstacles, such as financial planning and other practical details, while the mothers typically respond emotionally as they face the challenges associated with daily care for the child. The fathers tend to push their tender emotions away, sometimes expressing anger or frustration when they do show emotion. But, dads must, instead, accept this helplessness and focus on discovering what they can do to give the best life experiences possible to their children with special needs.
Many men have discovered the countless joys they experience by becoming actively involved in raising and caring for their special children. The bond between a father and any child — special needs or not — is critical in that it impacts the development of the child's social, emotional, cognitive, and motor skills.
Stay away from isolation
Whether you're raising your child with your spouse or as a single father, you play a vital role as a positive and loving male role model in the life of your child. Don't isolate yourself when it comes to dealing with the many challenges that arise out of raising your special child. Find a support group that meets regularly, so you can interact with other fathers who face the same challenges you do.
You can share stories and helpful solutions to problems with likeminded parents, while also enjoying much-needed social interaction and networking. Talking to other fathers in this way can help you acknowledge and face your own needs. This better equips you to work through your own emotions and frustrations as a parent.
Five Ways to Bond With Your Child with Special Needs
After you've built a support network of other parents dealing with the same challenges you deal with, it's important that you work to actively deepen and maintain the bond with your child. Consider these tips for bonding with your child from the very beginning:
1. Physical bonding.
Infants bond via smell and touch. Mothers achieve this bond naturally through breastfeeding and cuddling. Fathers can bond this way too. Cuddle your baby on your bare chest while
he or she is wearing only a diaper. Research shows this type of contact can help initiate strong feelings of closeness and protectiveness toward your child.
2. Accept your grief.
You may have imagined all the things you'll do with your child and the future you hope to guide him or her toward after birth. But when your special child arrives, the reality of the specialized care needs and considerable challenges your child may have can trigger deep grief and disappointment.
Recognize these feelings and accept them. As you move past this phase, you'll begin to accept this new reality as the new normal. Remember, you are one of the most important people in the life of your child and you have the ability to provide the necessary support and love to give him or her a happy and fulfilling life.
3. Get actively involved in care.
Help your spouse or partner with the tasks of caring for your child. Change diapers, give baths, help with nighttime feedings. Talk or sing to your child. Continue taking on these evolving tasks as your child grows by taking an increasingly active role in each aspect of care, whenever possible.
4. Set aside special time for interactions and play.
From the very beginning, reserve a special time each day for just you and your child. When your child is an infant, you can read books or take short naps with him or her, while giving your baby the important skin to skin contact. As your child grows, this activity time will evolve to include other things.
5. Be your child's biggest fan.
Show your child love in concrete ways each day, offering positive praise for tiny victories and encouraging him or her to try new and different things. This sends a powerful message that will show you love and support your child, no matter what may happen.
January 2017
Mothers' early support boosts children's later math achievement
Society for Research in Child Development
Early math knowledge is as important as early literacy for children's subsequent achievement. In fact, research has shown that early math skills predict later school success better than early reading skills, and can even predict income in adulthood. Yet little research has directly examined how parents' support of early math learning affects children's development of later math skills. Now a new longitudinal study has found that young children whose mothers supported them during play, specifically in their labeling of object quantities, had better math achievement at ages 4-½ and 5 years.
Mothers supported their children's math skills in a variety of ways, helping their children count objects, identify written numbers, or label the size of sets of objects. Children whose parents supported them in labeling quantities of small sets performed better on math tests in preschool than children whose parents didn't support them in this way. These children also did better on addition and subtraction problems as late as first grade.
"Many young children can count from 1 to 10 without understanding the meaning of the numbers they're counting," says Beth Casey, professor emeritus of applied developmental and educational psychology at the Lynch School of Education at Boston College, who led the study. "What may be particularly important at around age 3 is for parents to present their children with small groups of one, two, or three objects, and tell them how many objects there are -- for example, by saying at the grocery store, 'See, there are two apples in our bag.' It's also important for parents to encourage and help children label how many objects there are, for example, by asking, 'Can you give me three cups?' or 'Now that you've counted them, can you tell me how many flowers there are?'"
The authors suggest that helping children learn how to label set sizes may support their development of a crucial concept in math knowledge -- understanding that the last number stated when counting a set of objects represents the quantity of the whole set. Such understanding may provide a foundation for developing more complex number skills.
"Our results suggest that early maternal support of numerical skills may have lasting and strong connections to children's math achievement, at least through first grade, which is three years after mothers were observed," explains Eric Dearing, professor of applied developmental and educational psychology at the Lynch School of Education at Boston College, who was also part of the study. "These connections were strong and persisted even when we ruled out the potential role of demographics -- including mothers' education -- the more general level of learning stimulation mothers provided, and both mothers' and children's intelligence."
December 2016
Concussions: The "Hard" Facts What you need to know about traumatic brain injury By Peter Marincovich, PhD, CCC-A
Identifying various forms of Traumatic Brain Injury (TBI) — mild, moderate or severe — and understanding the potential causes is everyone's responsibility. TBI is an important public health issue due to the large number of people who acquire these injuries and their potential longterm effects. Concussions are not just sports-related and can occur from any direct blow to the head or other body part or from a concussive blast that results in impulsive or whiplash-like forces. The CDC estimates that between 1.6 million and 3.8 million concussions, or mild traumatic brain injuries (MTBIs), occur each year. Here are some other important facts about the potential causes of TBI:
WARNING SIGNS: There are some signs you should look out for if you suspect an injury has caused a concussion. If after a traumatic event:
You feel dazed n

You had a loss of consciousness

You see flashing lights

You feel like you have lost time

You have nausea and/or vomiting

You are confused, feel "spacey," or are not "thinking straight"

You feel drowsy, or it is hard to wake up or similar changes

You have visual acuity changes

You have noticed balance changes

You have ringing in your ears

You have hearing loss, or your ears feel "full" or "plugged" and sounds seem muffled
Some symptoms may not appear right after the injury. Here are some signs to look out for the next day after a traumatic event:
You experience a headache

"Everything" is blurry

You are having trouble "processing what you see"
Symptoms often are not immediate and may appear a few days after the event:  
You have slurred speech

You can't recognize people or places

You develop weakness or numbness in arms or legs
NEXT STEPS:
If you think you may have sustained a concussion, the first step is to seek medical attention. In addition, a complete audiology assessment of hearing, balance, tinnitus and communication is necessary. A speech assessment of cognitive-linguistic data; memory; attention; naming and listening comprehension; and visual-perceptual skills is also an integral part of a comprehensive evaluation.
Communication TIPS to use when communicating with an individual with TBI are:
Allow them time to express themselves

Be specific with questions

Speak slowly and clearly

Use short sentences

Repeat complex sentences when necessary

Allow time for them to comprehend

Provide both spoken and written instructions and directions when appropriate

Communicate in less complex environments both visual and auditory
November 2016
A Mother's Love & Augmentative Communication
Pat on the lap + eye rub = I'm sleepy and I'm ready to cuddle.
Mouth open wide + finger inserted = I'm hungry woman. Feed me NOW.
Right fist to left shoulder + pointing = I love you.
This is our language. Our secret language. Our language of love, formed from my daughter's need to communicate with me and my need to understand her. It has been the language we speak for the past five years, with American Sign Language, Spanish and English mixed in. But mostly, it's been our language of love. When she was diagnosed with Bilateral Schizencephaly at 10 months of age, I was told it would impact her production of speech and ability to communicate. I was told she would have some level of mental retardation. I was told this dread and that dread and all I could say was, "Not on my watch." I drove all over town five days a week so that I could one day give those doctors the finger. I refused to let them place limits on her future before she got to live it. She was my child to guide. And thus, we formed our love language.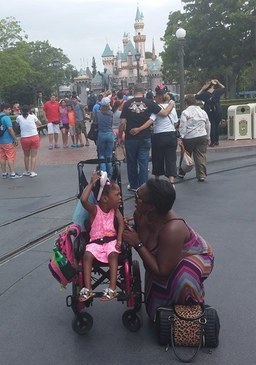 As these last five years have gone by, I have watched her excel and shatter every limitation doctors once tried to place on her. We've been through just about every therapy under the sun, and if I told you that being dead broke and choosing between diapers and paying a utility bill just so I could have enough gas money to get her to therapy wasn't worth it, my tongue would fall out for lying. It has been five years since her diagnosis, and she is currently learning to walk independently. She is feeding herself, and imitating sounds and word approximations. What they said she would struggle with, she is knocking out of the park. And I couldn't be more proud. At therapy, we continue our love language with fist bumps after every successful pincer grasp, elbow bumps after an extended period of unsupported sitting and strutting like peacocks after a stroll around the clinic. She is a superstar in therapy, rarely complaining, and always ending with a pat on my lap and a rub of the eyes. "Mommy, I'm sleepy and I am ready to cuddle." And of course I oblige — she's speaking my language.

But I have to tell you, there is a part of me that is unapologetically sad. She is having all of these wonderful, glittering successes, and yet I find myself at the crossroad between being overjoyed and wistful. You see, while she's been making all of these strides, we've managed to hold on to our secret language — gestures and looks, pointing and lap pats. When no one else knows what she is trying to say, I know. When no one else knows what she is asking for, I know. When no one else can figure out why she's crying, I can. Most of the time, it takes about two seconds, and she knows that if no one else knows her, I know her. But now there's a communication device. It's got pictures that correspond to words, and when she presses one this computerized robot voice tells me what she wants. And if I'm being honest, as much as I love it, it's starting to form the rugged, zig-zag crack at the top of my heart. Now, instead of looking at me and then glancing at the bowl of oranges to tell me she'd like some fruit, there is a button that says "fruit." Instead of patting my lap and rubbing her eyes to tell me that she's sleepy and ready for cuddles and bed, there is a button that says "sleep." This device is granting her so much independence and the ability to speak her mind. It is opening the gateway to conversation for us. It is giving her the skills to one day be able to say "Mom, you're being a real bitch right now and I wish you'd just go away." And as much as I dread that day, I also can't wait for it. I love the fact that my daughter will one day be able to tell a boy he's cute, or a girl she's cute, or a boss he's being a creep, or a teacher that he/she is disproportionately focusing on the role men have played in the civil rights movement. I can't wait to get the note home that says "your daughter is talking too much in class" (actually, yes I can, but I'm going to assume you know what I mean). However, right now, while she's 5 years old and learning the motor planning to tell me she's sleepy or hungry or wants to watch television.
I just want our secret language. I want to hold onto it for all its quirky, silly nuances that only she and I know about. It's selfish, I know. How dare I want us to keep this little gem of communication we've created? How dare I expect her to forgo her own advancement to appease my aching mommy heart? How dare I want my baby to stay my baby forever?

But alas, we didn't go to every therapy under the sun for nothing. So, I'll watch her grow, I'll listen to her punch the buttons and tell me she's hungry/thirsty/sleepy/anything, and I'll applaud her as she gives her graduation speech, 13 years from now, on her communication device. But for now, while she's 5, I'll hold on to any moment I get to share our secret language. Every sparkly-eyed glance. Every wry smile. Every lap pat and eye rub that says, "Mommy I'm sleepy and I'm ready to cuddle." Our language doesn't need a device. It's ours — glance for glance. And no series of letters strewn together could ever aptly communicate our language of love.
October 2016
Video Produced by ADVANCE
Children who have selective mutism are social and verbal in some situations, like at home around familiar people, but completely mute in other social situations, like at school or in public places. 

Since 2002, the Selective Mutism Anxiety Research and Treatment Center (SMart Center), Jenkintown, PA, has been meeting the emotional and language needs of children with SM. Led by Elisa Shipon-Blum, DO, the center provides care and has been carrying out research on the disorder, alongside research consultant Evelyn R. Klein, PhD, CCC-SLP, BRS-CL, associate professor, Department of Speech-Language-Hearing Science, La Salle University, Philadelphia.

ADVANCE visited the center to find out more about selective mutism and the role of the speech-language pathologist in caring for these children. Learn more from Shipon-Blum and Klein in this video. 
http://speech-language-pathology-audiology.advanceweb.com/Multimedia/Videos/Selective-Mutism.aspx#.WAjRAhSFJR0.email
The "Missing" First Year: Parents Underestimate the Benefits of Reading and Talking with Babies
Aug 4, 2016
Research shows that you can have a positive impact on your child's language and cognitive development in the first year.
Involving Parents in Stuttering Therapy
Reinforcing strategies at home, mobile apps for hearing aids, post-stoke dysphagia, and more.
Matters of disfluency can manifest themselves in a variety of ways and can be triggered by a number of different circumstances. 

But even those of us who do not struggle with a stutter can relate to how exasperating it is when you have something to say but cannot - or are not being allowed - to articulate it.

For children who stutter, it seems to make perfect sense that the security and comfort of home would be the best place to help refine and reinforce strategies for working through their disfluency, but the process involves quite a bit of commitment and hard work from parents and siblings. 
Animal Companionship Therapy for Children
How a special relationship with a cat helped one child learn to better socialize despite an early autism diagnosis.
Proving that medicine is not the answer to every health-related condition, an unforeseen friendship has captured the hearts of millions while shedding light onto the benefits and services offered by 
therapy animals
. This relationship between 6-year-old Iris Grace Halmshaw and her 2-year-old service cat, Thula, has helped the child learn to better socialize despite an early autism diagnosis.
Their Story
Whether playing with toys, painting outside or falling asleep together, Iris and her Maine Coon cat are almost inseparable. However, before Thula entered young Iris's life, things were a little more challenging. According to a report by CNN,1 Iris's parents experienced a "dark time" prior to their cat's introduction into the family.
During this time, Iris battled irregular sleep patterns, obsessive behavior, refusal to make eye contact and a general sense of avoidance when put in social situations. Her severe form of autism also made taking baths and getting dressed extremely difficult, for Iris did not like the sensation of being touched. However, upon Thula's arrival, all of these situations slowly became much more bearable for the child alongside her pet.
"Specifically for children with social disorders, behavioral-assistance animals offer the opportunity for a child to bond with another being who is completely nonjudgmental. Over time, the child will hopefully transfer that connection to the animal to people in his or her life," explained Heather Silvio, PsyD, a psychologist at the Department of Veterans Affairs in North Las Vegas, Nev. "In my clinical opinion, behavioral-assistance animals can be most effective for individuals experiencing significant levels of anxiety, regardless of specific diagnosis." 
Proving effective, Iris has continued to develop a sense of openness with her companion, Thula, which she often lacked with other children or adults. Through these interactions, Iris has improved her speech, communication and ability to express herself while continuously making progressive strides towards enhanced socialization.
SEE ALSO: Growing Season: Summer Camp in Oregon for Kids with Autism
Other Benefits
Although Iris found therapy through her pet cat, numerous other animals, including dogs and horses, are known to be used for similar purposes. Physically, these animals have demonstrated the ability to lower their companion's blood pressure, improve cardiovascular health, release endorphins, diminish overall physical pain and produce an automatic relaxation response.2
Capable of providing mental health benefits, therapy animals have also been known to lift spirits and lessen depression, decrease feelings of isolation and alienation, encourage communication and provide comfort. Similarly, this method of therapy can increase socialization, reduce boredom, lower anxiety, reduce loneliness and create motivation.
"Service animals help reduce stress, anxiety, and depression. Research studies have shown that individuals display noticeable improvement in mood with the involvement of dogs during therapy," commented Megan LoBue, coordinator of communication and development at the Calais School, a state-approved provider of special education for students with special needs located in Whippany, N.J. "We see it every day when our students light up when they see Cali and Cleo greet them in the morning. Students can visit with the dogs when they feel anxious, lonely, or depressed."
In terms of literacy, therapeutic animal companions may additionally help children focus better, provide non-stressful, non-judgmental environments and increase self-confidence. This is due to the notion that animals accept their owners as they are, offering patients the ability to wholeheartedly interact with them while safe in the knowledge that there is no hidden agenda.
Although the ability of behavioral-assistance animals to improve the quality of life for their patients cannot be fully predicted, this method of intervention comes with far less probable side effects than medication. Instead, the biggest concern with incorporating service animal aid deals with safety and sanitation - elements that stringent facility rules seek to protect against.
With the positives outweighing the negatives, behavioral assistance animals have proven to be an avenue of alternative therapy worth considering under many circumstances. Improving the way many adults and children are able to conduct themselves throughout daily life, these animals are transforming into much more than mere pets.
References
1. CNN. Portrait of a 6-year-old artist with autism and her therapy cat.http://www.cnn.com/2016/03/11/health/turning-points-iris-grace-autism/