Books
Matias E. Margulis, Nora McKeon & Saturnino M. Borras Jr. (Eds.), Land Grabbing and Global Governance (Routledge, 2014)





Articles
Matias E. Margulis, "Trading Out of the Global Food Crisis? The WTO and the Geopolitics of Agro-Power" Geopolitics (Accepted, in press 2014).
Thomas Sikor, Graeme Auld, Anthony J Bebbington, Tor A Benjaminsen, Bradford S Gentry, Carol Hunsberger, Anne-Marie Izac, Matias E. Margulis, Tobias Plieninger, Heike Schroeder, Caroline Upton,
"Global Land Governance: From Territory to Flow?,"
Current Opinion in Environmental Sustainability
Volume 5, Issue 5
,  Pages 522–527
(2013).
Mati
a
s E. Margulis, "The Regime Complex for Food Security: Impl
ications for the Global Hunger Challenge," Global Governance 19:1 (2013).
Matias E. Margulis, Nora McKeon & Saturnino M. Borras Jr., "Land Grabbing and Global Governance: Critical Perspectives," Globalizations 10:1 (2013).
 Matias E. Margulis & Tony Porter, "Governing the Global Land Grab: Multipolarity, Ideas and Complexity in Transnational Governance," Globalizations 10:1 (2013).




Research Commentary

Connell, David J., Christopher R. Bryant, Wayne J. Caldwell,Arthur Churchyard, Greg Cameron, Tom Johnston,  Matias E. Margulis,  Doug Ramsey & Claude Marois, "Food Sovereignty and Agricultural Land Use Planning: The Need to Integrate Public Priorities Across Jurisdictions," Journal of Agriculture, Food Systems and Community Development 3:4 (2013).


Book Chapters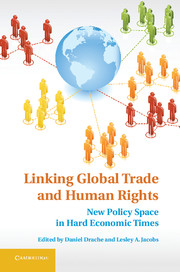 Matias E. Margulis, "The World Trade Organization and Food Security After the Global Food Crises" In Daniel Drache and Lesley A. Jacobs (eds), Linking Global Trade and Human Rights

: New Policy Space in Hard Economic Times

, Cambridge University Press (2014).


Matias E. Margulis, "Global Food Governance: The Committee for World Food Security, the Comprehensive Framework for Action and the G8/G20" In Rosemary Rayfuse and Nicole Wiesfelt (eds), The Challenge of Food Security, Edward Elgar Publishers (2012).





Policy Reports
United Nations Special Rapporteur on the Right to Food, Compatibility of the WTO and the Post-Global Food Crisis Agenda: Putting Food Security First in the International Trade System. Report prepared by request (December 2011).