My research interests touch on many themes in American politics and quantitative methodology, including voting and political behavior, turnout, state politics, direct democracy, and election reform.  My current work focuses on the relationship between political behavior and state-level institutions, the causes and consequences of political behavior for those underrepresented in the electorate, the role of citizen self-interest in shaping political attitudes,
and the advancement of statistical techniques to better investigate these broad research areas.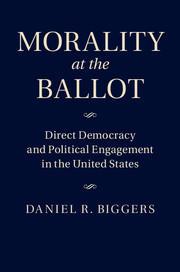 Please
click here
 for more details about my book,
Morality at the Ballot: Direct Democracy and Political Engagement in the United States,
released by Cambridge University Press in December.
Contact
2231 Watkins Hall
900 University Avenue
Riverside, CA
 (951) 827-5797 (office)
daniel.biggers@ucr.edu