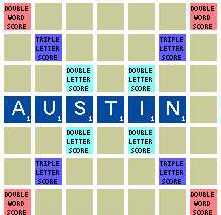 We play friendly, competitive, organized Scrabble. 
We are an official NASPA-sanctioned club: Club #234.
See http://scrabbleplayers.org for NASPA information.
LOCATION NEWS

Every Monday Evening
Pat's Games
2308 Hancock Drive
Austin, TX 78756

CLUB in person IS CANCELED until we are safer from the COVID-19 epidemic.  We meet by Google Meetups and ISC (isc.ro) in the meantime.   
Online play to begin at 7:00 - notify jimat9909 by ISC tell if you are playing.
Club Director:  Jim Hughes
MEETINGS: Every Monday. Round 1 starts 6:45; however, players may show up between 5:45 and 6:00 to try and fit in a "round zero" beforehand.

TOURNAMENTS:
Georgetown, TX (North of Austin)  March 14-15, 2020
Flyer - PDF
Entrants - NWL
Entrants - Collins
Dallas 1-day Tournament April 18, 2020
There are one-day tournaments in Dallas each month. Bob Bolender has been driving to Dallas in the morning and home in the evening with a few passengers.

See cross-tables.com for a beautiful
map
of upcoming NASPA tournaments in North America!
There is also a frenemy Scrabble organization known as Word Game Players group. Reunification is wished for, if we can ever agree on how to handle copyright issues, etc.

Or check out WESPA for the truly ambitious folks! They use the big dictionary from the whole former British empire, it's amazing.

(Now you can click on the column headers to sort the columns! But it is not designed for mobile.)

Inspiration, Management by Jim Hughes, implemented haphazardly by Kevin.
In Development & Coming Soon: Zephyr, multi-club tool for Pairings, Membership, Ratings, and Stats
And Z2, a second version, based on Laravel, with contributions from Kevin too.  Not ready to look at yet.
ERRATUM: 2018 stats listed Pastor Bob as the III.  His son is the III and he is the II.  Apologies for the delay. 2019 stats may've had a similar issue.