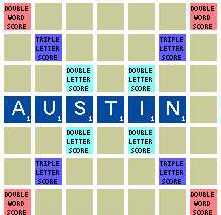 We play competitive Scrabble at all levels.
We are an official NASPA club : Club #234.
See http://scrabbleplayers.org for NASPA information.

Club Directors:  Matt Canik and Jean McArthur

MEETINGS: Bring warm clothes, the A/C is strong here!

    Austin Recreation Center, 1301 Shoal Creek Blvd     
    Next Scheduled Meeting: Monday, July 17, 2017, 6:30PM

TOURNAMENT:  2-day Tournament coming up!!
December 16-17 in Georgetown, TX outside Austin

See cross-tables.com for tournament info!