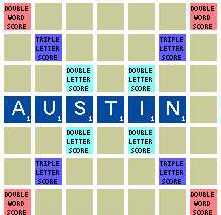 We play friendly, competitive, organized Scrabble. 
We are an official NASPA-sanctioned club: Club #234.
See http://scrabbleplayers.org for NASPA information.
LOCATION NEWS

Every Monday Evening
Pat's Games
2308 Hancock Drive
Austin, TX 78756

Play to begin at 6:45, our usual time, and as usual we may meet early between 5:30 or 6:00 for a quick round zero

Club Director:  Matt Canik
MEETINGS: Every Monday. Round 1 starts 6:45; however, players may show up between 5:45 and 6:00 to try and fit in a "round zero" beforehand.

TOURNAMENTS: See cross-tables.com for a beautiful
map
of upcoming NASPA tournaments in North America!
Or also check out a different "word game players" organization, but it is not really friends with NASPA (and their tournaments are far away.)
Or check out WESPA if you really have no concerns at all about the impending doom of the entire ecosystem except tardigrades and those
tiny worms that live a mile underground near the gold mine, etc.

(Now you can click on the column headers to sort the columns! But it is not designed for mobile.)

Inspiration, Management by Jim Hughes, implemented haphazardly by Kevin.
In Development & Coming Soon: Zephyr, multi-club tool for Pairings, Membership, Ratings, and Stats
And Z2, a second version, based on Laravel, with contributions from Kevin too.  Not ready to look at yet.