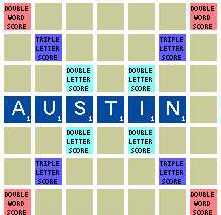 We play friendly, competitive, organized Scrabble. 
We are an official NASPA-sanctioned club: Club #234.
See http://scrabbleplayers.org for NASPA information.

Club Director:  Matt Canik

MEETINGS: Every Monday. Round 1 starts 6:45; however, players may show up between 5:45 and 6:00 to try and fit in a "round zero" beforehand.

Our 50 Point Bonus plays (Bingos) - in the Bingo Log
Meeting Log - shows the head count, total points etc. each week
Player Stats - annual totals for every player
NEW LOCATION as of October 2017: 

Pat's Games

Location Notes:
Pat's is slightly West of Burnet Road.
Going North on Burnet, turn left onto Hancock Dr.
before the CVS
(if you are reading a sign on the other side that says "Wizard Castle Dragon Tattoo" you are going past North Loop)

Parking is somewhat limited in the lot at Pat's Games.

Parking at nearby businesses is OK, especially across the road at the nursery school,
except don't park right across the lot in front of Christi Center - they need their spaces.

Here's the spot in the road where you can park at Pat's or across the street