American Radio Relay League
The National Association for Amateur Radio
American Radio Relay League is a 501(c)3 non profit organization.
Sacramento Valley Section
Serving Alpine, Amador, Butte, Colusa, El Dorado, Glenn, Lassen, Modoc, Nevada, Placer, Plumas, Sacramento, Shasta, Sierra, Siskiyou, Sutter, Tehama, Trinity, Yolo & Yuba Counties in Northern California
Sacramento Valley Section is located in the ARRL Pacific Division.
Sacramento Valley Section Web Resources
ARRL National Page: www.arrl.org/Groups/view/sacramento-valley
Organization, Clubs, Calendar, Nets
Sacramento Valley ARES: www.sacvalleyares.org SV ARES Brochure
Facebook: www.facebook.com/ARRLSacramentoValley
Twitter: www.twitter.com/ARRL_SV
Thanks to Greg Kruckewitt KG6SJT for maintaining our Section ARES web page and for assisting with our Facebook page and Twitter feed.
Thanks to Les Cobb W6TEE for maintaining the Section Net list.
Submit Section News updates to kp4md(at)arrl.org
---
ARRL Conventions/Hamfests & other Regional Events
---
Past Section News Archive
---
Amateur Radio License Classes and Volunteer Exam (VE) Information and Schedules
Class and VE Session Calendar
COVID-19 Note: Please check with VE teams for availability.
Remote Video Sessions:
If you cannot find an in-person exam session in your area or if you would rather take the test via a remote video-supervised online session, you can search for online examination dates here:
https://hamstudy.org/sessions
. Click on the box "Show online" to only display the list of upcoming remote video sessions.
---
Getting Your Amateur Radio License
Before you go on air, you need to be licensed and know the rules. In the United States the Federal Communications Commission (FCC) grants Amateur Radio licenses to individuals who successfully pass a multiple choice written exam at a Volunteer Exam (VE) session.  
The FCC currently issues three levels of amateur radio license: Technician, General and Amateur Extra.
The license exam contains multiple choice questions selected from lists that are published online at http://www.arrl.org/question-pools. Many individuals prepare for an exam session using self-study license manuals and online practice exams. From time to time, license preparation courses are offered that cover the exam material over several weeks. "Ham-Cram" sessions are also popular, where a several hours' review class of exam questions and answers is immediately followed by a license exam session.
Visit http://www.arrl.org/find-an-amateur-radio-license-class to find a license class.
Visit http://www.arrl.org/find-an-amateur-radio-license-exam-session to find a license exam session.
For more information on testing, preparation and study materials, see:
---
License Courses

COVID-19 Note: 
Check with VE teams for availability.
---
2021 Ham-Cram Sessions - New Location
Posted April 21, 2021
Section member Joe Cardoza, KA6ROM, announces that his Citrus Heights VE Team will conduct their amateur radio Ham-Cram Technician License training and examinations on the following dates every other month at Compudigital Industries, 4480 Yankee Hill Rd, Ste 150, Rocklin, CA 95677.
The Ham-Cram and Exam dates for 2021 are:

April 24, 2021
June 12, 2021
August 28, 2021
October 23, 2021
December 18, 2021.
Meet at 9 am, exam at 10 am.  Preregistration is required.  Contact Joe Cardoza, KA6ROM, via email cardozas@comcast.net to pre-register.
---
Carmichael Elks VE Team 2021 Sessions
Posted April 21, 2021

The Carmichael Elks VE Team continue conducting in-person on the third Saturday of each month from 7:00 am - 8:30 am at the Carmichael Elks Lodge, 5631 Cypress Ave, Carmichael, CA 95608.  COVID precautions are iniplace.  Advance registration is advised but walk ins may be accommodated.  Contact Vas Vyvoda at (916) 956-9221 or vvyvoda@gmail.com

Upcoming dates are:

May 15, June 19, July 17, August 21, September 18, October 16, November 20, December 18.

---
California Emergency Volunteers Ham-Cram Sessions
Posted May 1, 2021
The California Emergency Volunteers, Inc. offers 6 hour long "Get Your License in One Day" Ham-Cram sessions followed by a Technician Class license exam session. Contact them via www.cevol.org for more information and to register.
---
Redding ARRL VE Schedule 2021
Posted May 1, 2021
The Redding ARRL VE Team will be hosting exams on the following Saturdays in 2021:
May 15

July 17
September 18
Our exam sessions are now being held at the City of Redding Parks Building, 20055 Viking Way, Bldg #4, Redding. Exams start at 10:00 AM and candidates must pre-register.

More information can be found at: www.reddingve.com or by contacting Steve K6KS at sjmosconi@gmail.com
---
SHINGLETOWN ARRL VE 2021 Schedule
Test Location:
Shingletown Area Resource Center, 31268 HWY 44, SHINGLETOWN, CA. 96088
Testing begins at 8:00 AM.
Candidates should arrive 15 to 30 minutes early.
Information at http://www.qrz/com/db/wo6p
Contact:
Dar Walker W6IO, Shingletown ARRL VE Liaison, w6iodar@gmail.com, 530-474-3087
TEST SCHEDULE:
2021: Feb 20, Apr 17, Jun 19, Aug 21, Oct 16, Dec 11
Dar Walker W6IO
---
Other VE Sessions - Schedule List (ARRL national site)

---
Samuel F Morse ARC to offer Morse Code Instructional Course Sep 15-Nov 17
Posted August 24, 2021
The Samuel F Morse ARC will once again be running our 10-week CW for beginner's course. This course will be held once a week for 2 hours (7 PM until 9 PM) each Wednesday evening. If you or someone you know are interested in learning Morse Code we encourage you to sign up NOW. You do NOT need to be a licensed operator to join our class. We will begin Wednesday evening Sep 15th (ending Nov 17th).

Everyone can benefit from this course! For those with no Morse Code knowledge this is an excellent course where you or your friends will be taught the complete International Morse Code alphabet, numbers, pro-signs, how to adjust and send on a Morse Code straight. Please go to www.w6sfm.com or contact Mike, N6MQL for more information: admin@w6sfm.com
---
50 W PEP Maximum Power Limit Area on 70 cm
A little recognized portion of FCC Part 97 regulations applies to 420-450 MHz operations in most counties in our Sacramento Valley section:
47 CFR §97.313 (f) No station may transmit with a transmitter power exceeding 50 W PEP on the UHF 70 cm band from an area specified in footnote US270 to §2.106 of part 2. The indicated affected areas are specified in http://www.arrl.org/us270, in the State of California within a 240-kilometer (150 mile) radius around locations at Beale Air Force Base, California (latitude 39°08' North, longitude 121°21' West).
More information on the additional impact on 70 cm repeater stations is at http://www.narcc.org/NARCC-ARRL-PAVE-PAWS-Update-2014a.pdf
The Amateur Radio Service shares the 70 cm band on a secondary basis with the US Government which has priority. The US Department of Defense routinely monitors and locates signal sources on these frequencies.  Our voluntary cooperation is mandatory to avoid interference with the Pave PAWS (Phased Array Warning System) radar at Beale AFB and thus to assure our continued access to these frequencies.

June News - Under Construction
From the Section Manager
As we approach a hopeful soon return to normalcy, I extend a warm welcome to our many newly licensed hams and applaud our section members and clubs for continuing the virtual club meetings, virtual Field Days, online conventions, licensing classes and VE sessions.  We look forward to soon resume our in-person activities with all necessary safety precautions. Thanks to you all for keeping our Sacramento Valley section alive and strong over this past year!
Section Manager Nomination
Thanks to our section members who have endorsed and submitted the nomination for my re-election as Section Manager. I appreciate your confidence and support and will gladly continue serving as your Section Manager if you so desire.
From arrl.org: "Whenever more than one member is nominated in a single section, ballots will be mailed from Headquarters on or before July 1 to full members of record as of June 10 which is the closing date for nominations. Returns will be counted August 24. Section Managers elected as a result of the above procedure will take office October 1."
"If only one valid petition is received from a section, that nominee shall be declared elected without opposition for a two-year term beginning October 1."
Jojo Melendres, KN6HTD Appointed Assistant Section Manager
Congratulations to Jojo Melendres, KN6HTD on his appointment as Sacramento Valley Assistant Section Manager.  Jojo is a medical professional at the UC Davis Medical Center, a member of Air Force MARS, has lead the reactivation of the Hospital Amateur Radio Team, and will assist with the work of our ARRL Section Field Organization.
Peter Mason, N6ERL, Appointed Nevada County EC
Welcome to Peter Mason, N6ERL, as our new Nevada County ARES Emergency Coordinator. Thanks to Jason Eaton KJ6HNP for his past service in that position
ARRL SV Section Booth at May 30 Carmichael Elks Ham Swap
Please stop by our ARRL booth at the Carmichael Elks Amateur Radio Club Ham Radio Swap Meet on Sunday May 30 starting at 7:00 am through 1 pm at the Carmichael Elks Lodge, 5631 Cypress Ave, Carmichael, CA 95608. Talk-in is on the N6ICW repeater 147.195 MHz, +600 kHz offset, PL 123 Hz. The Elks will have water, coffee and maybe doughnuts and hot dogs for sale, all proceeds go to the Elks Lodge. There will be an electronic salvage trailer available for stuff you want to donate. This is a LEAVE NO TRACE event. We want to leave the Elks facility cleaner than we found it!
***COVID 19 PROTOCOLS***
PLEASE protect the Elks Lodge and yourself. Plan on leaving an empty space next to you, maintain appropriate social distance, and WEAR A MASK.
If you have questions you can contact John Dyer, KJ6JD by email jd3@johndyer.com.

Ham Radio Outlet
will interview individuals for work May 20-22 onsite at their Sacramento store location scheduled to open in June at
4813 Auburn Blvd Sacramento, California
. They are hiring for all positions: Sales Manager, Sales Associates, and a Shipping Coordinator. There are limited slots available and they are assigned on a first come first serve basis. Go to
https://www.hamradio.com/hro-sacramento.cfm
to apply and schedule an interview date and time.
ARRL Field Day is June 26-27!
ARRL Field Day is an annual exercise and public demonstration of our emergency communications response capabilities. Radio amateurs throughout North America participate in this exercise during the last weekend of each June. Anyone with or without an FCC license is welcome to visit and participate in Amateur Radio at a Field Day site.  Click to find a public ARRL Field Day site in your area.
Clubs: Be sure to add your public Field Day site to the ARRL Field Day Station Locator. Log onto http://www.arrl.org/field-day and click on the Field Day Site Locator link. Promote your Field Day event in your community, online, and use hashtag #ARRLFD on social media.
An ARRL Sacramento Valley Section-wide net is scheduled for Thursday, May 20. On Thursday May 20, 2021 ARRL Sacramento Valley Section will hold an ARRL SECTION-WIDE NET, first on the WD6AXM repeater on 146.085 MHz +0.6 MHz offset CTCSS 127.3 Hz IMMEDIATELY after the 7 pm Yuba-Sutter ARES net closes, then followed immediately by an HF net on 3880 kHz LSB +/- 3 kHz. All radio amateurs are encouraged to participate. We will issue an Official Bulletin reminder to all section members during that week. For further details see http://www.arrlsacvalley.org/#svnet
Paul Grose, N6DRY, Silent Key

posted April 21, 2021
We are sad to announce that long time River City ARCS member Paul Grose, N6DRY, passed away peacefully while having lunch with his wife Jeff at Camden Springs Senior Living in Elk Grove around 1:00 pm on Monday, March 15, 2021.
Paul was a long time ARRL member, served as Treasurer and Vice President of the Elk Grove Florin ARC, board member and treasurer for the River City ARCS and was the 2011 recipient of that club's Lyle Aufranc Memorial Award.  Paul was also regularly active in 2 meter and SSTV nets, homebrewing, on WinLink and packet radio with Sacramento ARES, and regularly gave communications support to the Clarksburg Fun Run and the California International Marathon.
Condolences may be sent to Paul's wife Jeff Grose at Camden Springs Senior Living, 8476 Sheldon Rd Apt 126, Elk Grove, CA 95624.  The date and place of a future memorial service are to be announced.
You can still send May news to kp4md@arrl.org. This website is visited most during the first week of each month, but do check back as it is often updated with late breaking news.
Our Section website, Facebook and Twitter pages are a work in progress, and your suggestions and submissions are always welcome.
73, Dr. Carol Milazzo, KP4MD
American Radio Relay League Sacramento Valley Section Manager
kp4md(at)arrl.org
You can always send compliments, suggestions and submissions for inclusion in our Section News to kp4md(at)arrl.org
---
Annual Armed Forces Day Cross-Band Test Set for May 7 – 8, 2021

Posted April 27, 2021
The US Department of Defense will host this year's Armed Forces Day (AFD) Cross-Band Test, Friday and Saturday, May 7 – 8, in recognition of Armed Forces Day on May 15. The event is open to all radio amateurs. For more than 50 years, military and amateur stations have taken part in this exercise, designed to include amateur radio and government radio operators alike.
The AFD Cross-Band Test is a unique opportunity to test two-way communications between military and amateur radio stations, as authorized under FCC Part 97 rules. These tests provide opportunities and challenges for radio operators to demonstrate individual technical skills in a tightly controlled exercise in which military stations will transmit on selected military frequencies and will announce the specific amateur radio frequencies being monitored.
The schedule of military/government stations taking part in the Armed Forces Day Cross-Band Test and information on the AFD message is available on the MARS website.
Complete the request form to obtain a QSL card.
---
FCC Updated Radio Frequency Exposure Rules Become Effective on May 3, 2021
from the ARRL News April 12, 2021
The FCC has announced that rule changes detailed in a lengthy 2019 Report and Order governing RF exposure standards go into effect on May 3, 2021. The new rules do not change existing RF exposure (RFE) limits but do require that stations in all services, including amateur radio, be evaluated against existing limits, unless they are exempted. For stations already in place, that evaluation must be completed by May 3, 2023. After May 3 of this year, any new station, or any existing station modified in a way that's likely to change its RFE profile — such as different antenna or placement or greater power — will need to conduct an evaluation by the date of activation or change.
"In the RF Report and Order, the Commission anticipated that few parties would have to conduct reevaluations under the new rules and that such evaluations will be relatively straightforward," the FCC said in an April 2 Public Notice. "It nevertheless adopted a 2-year period for parties to verify and ensure compliance under the new rules."
The Amateur Service is no longer categorically excluded from certain aspects of the rules, as amended, and licensees can no longer avoid performing an exposure assessment simply because they are transmitting below a given power level.
ARRL members can watch a recording of the May 15 webinar on RF Exposure rules  on the ARRL Learning Network.
Read the full story at http://www.arrl.org/news/updated-radio-frequency-exposure-rules-become-effective-on-may-3
RF Exposure calculators

April 2021 Volunteer Monitor Program Report Released
from the ARRL News May 13, 2021
The Volunteer Monitor (VM) Program is a joint initiative between ARRL and FCC to enhance compliance in the Amateur Radio Service.
A General class renewal applicant withdrew his application after FCC notice that the renewal application would be held up pending review of Volunteer Monitor complaints. As a consequence, the Quakertown, Pennsylvania, applicant has no operating privileges.
Twenty-one operators in 14 states received Advisories because of their operation in the March CQ World Wide DX Contest. While making contacts with VC3T and VC2W, their LSB signals extended below 7.125 MHz, which is the lower limit of the 40-meter amateur phone band.
Volunteer Monitors participated in a nationwide training program on April 7 that was conducted by ARRL and the FCC.
The Volunteer Monitor Coordinator had two meetings in April with FCC Enforcement Bureau personnel.
The totals for VM monitoring in March were 1,394 hours on HF frequencies and 2,515 hours on VHF and above frequencies. -- Thanks to Volunteer Monitor Coordinator Riley Hollingsworth, K4ZDH
---
May 20, 2021 ARRL Sacramento Valley Section-Wide Net
ARRL Sacramento Valley Section Nets are conducted only on months when announced, on the third Thursday of that month following the 7 pm Pacific Time Yuba-Sutter ARES net on the WD6AXM 146.085 MHz +0.6 MHz offset, CTCSS 127.3 Hz FM repeater, followed by the HF Section Net on 3880 kHz LSB +/- 3 kHz. During spring and summer months the HF net may be conducted on 5330.5 kHz USB as propagation permits.
All Sacramento Valley Section radio amateurs are welcome to check into our Section Nets. The nets carry announcements of interest to our section and test our section-wide station communication capabilities.
Don't have an HF radio or antenna? 
Click a link and Listen to us on a web receiver.
Hourly Northern California NVIS Observations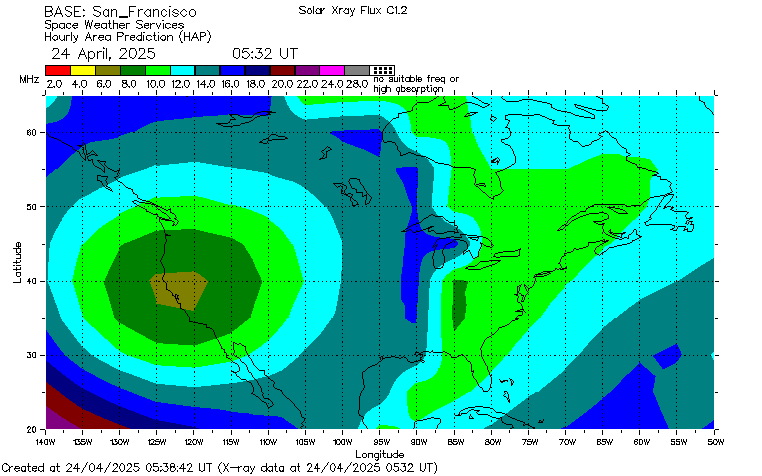 This chart shows colors that represent the recommended HF frequencies for contacting stations for a particular hour. Both stations should use the SAME frequency denoted by the color at the location of the target station. The chart is in Universal Time (UTC). More information at http://www.sws.bom.gov.au/HF_Systems/6/6
---
 EmComm=Emergency Communications 
---
Communicators Needed for June 16 Pony Express Re-Ride 2021

Posted May 17, 2021
The National Pony Express Association has scheduled the 2021 Re-Ride to start in Sacramento on June 16, 2021. https://www.nationalponyexpress.org/re-ride/current-reride/
Dennis Klaman – N6KLA – is the communications coordinator for the California portion of the ride. He is needing radio operators and Net Control operators to take specific shifts in support of the ride. The shifts will operate from locations along the Highway 50 corridor.
This is a fun and interesting event supporting a historical society that is just as passionate about their hobby as we are about our hobby.
Contact Dennis Klaman to help with this event. dennis.klaman@gmail.com.
Jay Ballinger - N6SAC
Emergency Coordinator Sacramento County ARES
---
Sacramento County ARES -
Consider being a Net Control Operator

posted May 5, 2021
We could use some help with more of you participating as Net Control.
We have a dedicated, yet small, group of members who reliably perform these duties every single week. Sometimes, because of availability, our Net Control Operators handle our weekly Net more than once a month. It would be a big help if we could get more of you to join our Net Control ranks. And, I'll make you a deal – you can participate as much or as little as you like if you at least give it a try.
Net Control Tutorials
Jay Ballinger, N6SAC, Sacramento County ARES Emergency Coordinator
http://www.sacramentoares.org
---
Pot grow lights interfere with Ham Radio

Submitted by Rene Smythe, WB6PSY, posted March 4, 2017
I have experienced this interference for the past few years. I found the interference by swinging my 10m Yagi monobander around until the noise became over S9. I then went outside to see where the beam was physically pointed and discovered a garage where indoor pot is being grown. The lights are on a time cycle so the interference comes and goes. 40º degrees in either direction takes the noise out.
Now that marijuana is being legalized in more states, more hams are going to experience this noise.
WB6PSY
http://bigstory.ap.org/article/c1b607bfbbab459ba9e21d4c282996e4/growing-problem-pot-lights-give-ham-radio-operators-buzz
---
Radio Frequency Interference

posted February 3, 2018
ARRL and the FCC have a cooperative agreement in radio frequency interference matters. You may submit interference reports together with your supporting documentation to ARRL EMC Engineer Mike Gruber W1MG who then files the report with the FCC Gettysburg office.
You may also contact our Section Technical Coordinator Bob Wortman, WB6VYH for assistance. More information is posted under the "From the Section Manager" notes in the November 2016 Section News - Carol KP4MD
Bob Hess, W1RH, shares this helpful web page by NK7Z for identifying sources of Radio Frequency Interference http://www.nk7z.net/rfi-snapshots
---
Club and Member News - May 2021

---
Update from Yuba-Sutter ARC

Posted May 1, 2021
PRESIDENTS MESSAGE
From the desk of KM6RHC, Daniel, Club President
Hello all, hope this finds all of you well. It has been a rough time these last 13 months as our hobby involves interaction that has not been allowed to occur. As we now have had a few months of ZOOM meetings and my thanks go to June and Linda for making that happen and helping us figure that out. We are starting to reopen the town with things starting to return to normal I'm hopeful of us getting back to our events. We are exploring options for Field Day 2021, locating FOX transmitters for a fox hunt and planning for some gatherings in the near future. I hope we can all get together soon and put all of 2020 behind us. We have found a lot of new Hams over the last couple testing sessions and upgrades are picking up too. Thanks go out to LeRoy for his efforts and all the VE's for their help as well. My thanks to Curtis and Marsha for their work with the Valley Ham News each month. I have been very busy with my work but have started making some time in the evenings to get on HF. I have had some neat QSO's with my Elmer Phil as we had 6 or 7 stations all receiving each other from 3 or 4 countries at the same time.
Message to all of our club Technicians and those who are new Generals, if you want to get on HF, let me know. I will make some time and have you over to operate. As always, if you have ideas for events or need help with anything, let me know. My best to all of you and here is to a much better year.
Thanks for this QSO and till next, 73's Daniel Weber
GENERAL MEETING
At the last general club meeting Danial (KM6RHC) gave a talk about solar power. Next month at the General Zoom Meeting, on 18 May, Dave Gipson (KC9EI) will give a presentation on Baluns.
EDITORS COMMENTS
✓YSARC's new web page is: www.ysarc.net - click on the upper right-hand icon on the homepage to join the club's Facebook page. Past issue's of the VHN are available on our new website.
✓Send your ham related articles and pictures to share in your VHN. Pictures of ham shacks, antenna projects, antenna parties, etc. are appreciated KI6CSN@arrl.net or KF6FVP@arrl.net
---
Update from River City ARCS

Posted May 1, 2021
May 4 Meeting Program
At our May 4 7:30 pm Zoom meeting Michael Joseph KK6ZGB & Lynn Pesely will present "Sacramento Medical Reserve Corps" & Kevin Hooke KK6DCT will present "Web Resources for the Radio Amateur." Our members receive log on instructions via their registered email. Visitors may request meeting access via advance e-mail to contact@n6na.org Time: 7:30 pm 1st Tuesday of each month.
River City ARCS Booth at May 14-15 Rio Linda Farm & Tractor Days
The River City ARCS will host an Amateur Radio information and live N6NA radio demonstration booth at the Rio Linda Historical Farm & Tractor Days. The event will be held on Friday, May 14 and Saturday May 15 from 9 am - 4 pm at Dry Creek Ranch, 6852 Dry Creek Rd, Rio Linda, CA 95673. We encourage all members and visitors to drop by, get on the air, and share the fun of amateur radio with the general public. For more information please email contact@n6na.org
River City ARCS Field Day at the Fair Oaks VFW and at Home
Don't miss ARRL Field Day on June 26-27, our club's premier annual operating event! This year's Field Day will be a "hybrid" operating event. All members and the general public regardless of license class or status can "Get on the Air" at our Field Day. Drop-ins are welcome. We have reserved the pavilion at VFW Township Post 6158 at 8990 Kruitof Way, Fair Oaks, CA 95628 for club operation. Members who prefer to operate from home may also contribute their Field Day contact points to our cumulative club score. See the details at www.n6na.org/fieldday
Daily "Health and Welfare" Net to end May 1
After more than a year, we plan to end the Health and Welfare net. The operators we contact have had their COVID shots and have other non-hams keeping an eye on their well-being.
Our thanks to Bob N6PGQ, Neil KL7HQR and Peter KD6QZH for their dedicated service as net controls and to all who participated in our Health and Welfare Nets.
We plan to hold our final H&W Net Saturday May 1
Our 2 meter on-the-air net is held every Wednesday evening at 8:00 pm on the 145.25 MHz N6NA FM repeater and AllStar node 53410 and EchoLink node N6NA-R.  All are also welcome to check in to our 8:30 pm 10 meter net on 28.420 MHz USB and the slow scan television net at 9 pm on the 441.300 MHz N6NA FM repeater.  See more information at www.n6na.org/nets
---
May 5 In Person Meeting
Hello members, I'm told that many of you have had an opportunity to have your 2 Jabs in the arm and feel safe to leave your houses again. This is great news, because the SFM ARC will be meeting once again IN-PERSON. However, we will be holding the meeting for the next month or two at N6MQL's residence, just as we did before the weather started getting cold.
I'm told that the Carmichael Presbyterian Church (our normal meeting location) is beginning to open up once again, but isn't quite there yet.
Please join us for the W6SFM in-person meeting at my home QTH (N6MQL address found on QRZ) and be sure to bring a fold up chair with you. Don't worry all you people without your Jabs, you are welcome to wear your mask and keep your 6 feet distance. There is plenty of room for everyone to stay 6 feet apart if you like. The meeting will be held outside with plenty of fresh air.
I hope that ALL of our local members will join us on Thursday the 6th of May for our next in-person meeting. Snacks and water will be provided by the club. Please let me know if you have any questions or need help getting here.
73, Michael N6MQL, President SFM ARC
The Samuel F. Morse ARC will offer a full ten week Morse Code Course beginning on May 12 - July 14. Visit the www.w6sfm.com website for details.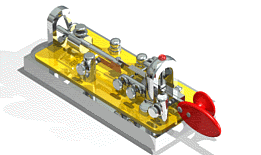 Announcing W6SFM's BUG ROUNDUP - May 21-23
The Samuel F. Morse Amateur Radio Club, a Sacramento, California based CW enthusiast club wanted a special time to bring bug operators together on the air. In the same spirit as ARRL's Straight Key Night, participants are encouraged to make simple, conversational, "chewing-the-fat" QSOs using their bug type key. This is an opportunity to exercise, share and exhibit your personalized fist. This is NOT a contest. However, there is a very easy and quick required signup form found at https://w6sfm.com/bug-roundup/. Once you are registered for the event simply Call "CQ BR" so folks know you are a Bug Roundup Participant. So lets grab that bug, clean those contacts, and let'er fly! We want to hear that "Banana Boat / Lake Erie Swing" or that commercial KPH/WCC quality fist.
Reserve the date! The event begins on Friday May 21st (00:00 UTC) and concludes Sunday May 23rd (23:59 UTC), 2017, that's 5:00 PM Friday evening until Sunday 4:59 PM Pacific Time (LOCAL)
For more information, to register your station, and to help assist in spotting, potentially increasing QSOs, an On-line chat window link can be found near the bottom of Bug Roundup home page located at https://w6sfm.com/bug-roundup/. We hope to hear you all on the air! 73,--W6SFM www.w6sfm.com
On-Air Net Meeting
Each Tuesday of the week 8:00 PM on 3.545 MHz the SFM ARC enjoys getting on the air with CW for our weekly Nets. You do NOT need to be a member of the SFM ARC to check into our nets and we encourage you to invite a friend to join us as well. Although our nets usually run around 15 wpm code, we are all happy to accommodate those that are slower and need us to oblige. If you are unable to copy Morse Code or need some code practice, please feel free to visit our on-line LIVE streaming broadcast of both the Audio and a CW to Text decoding of the meeting. The "LIVE FEED" link can be found on our home page of our website. With our YouTube Live streaming system, you can watch the Live Feed on your Apple IOS or Android devices. You do not need to have a YouTube account to access the feed. However, you will need one to subscribe to our channel. Those viewing through YouTube can chat with others watching on-line as well. This of course is not mandatory, but rather just a way of making everyone feel more involved in our on-air nets. If you like, you can "check-in" using the chat window and you will be included with our On-Air Net log. Simply announce your call letters in the chat window.
Tell A Friend
Do you know someone in need of a Ham Club to call home? Perhaps someone that wants to learn Morse Code, are interested in CW or already knows and uses it? The SFM ARC would love to be their new Club home. Our in-person meetings are held each 1st Thursday of the month at 7PM. Please use the rear parking lot and entry for best access to the meeting. A map and directions can also be found on our website. We hope to see you at our next meeting!
---
Update from Glenn ARS

Posted May 3, 2021
PREZ Says for May 2021
Blessings from the shack, Tinkers Lair, of KF6OBI! – What crazy weather we are experiencing. To look at the vegetation on my property one would think that it is already the month of June. Very dry and missing the vegetation one would normally see. Just a few areas of Rye Grass, so little that it is not worth hooking up the field mower to the tractor.
Climate change you bet, but not caused by us puny beings. We can look to, and blame, Space Weather for this environmental evolution. We are just specs of dust in this Galaxy. The Galaxy and its mass is in control of all weather related events. Everything is cyclical!
The last local weather event we experienced, if you can call it that, has now pushed out a couple of weeks our planned activities for the months ahead, due to a dusting of new snow in the Mendocino, Snow Mountain Range. These activities are: 1.) DRT maintenance and update of the communications suite. This can be accomplished anytime we can fit in. 2.) Finish the GMRS repeater build and relocate it to either the Saint Johns repeater site or another location pending local Glenn County approval. Work is in progress as this is being written. 3.) Saint Johns repeater site maintenance and update to include repositioning the Solar array, installation of new antennas, and installation of a Winlink packet gateway system. Plus hopefully install metal roof and siding which may require a contractor? Work also in progress. A contractor has been contacted. Now we need to get him to the site so he can give us a bid on the job. 4.) Field Day 2021. What would you like to do and or where would you like to hold this event? Waiting to hear from you all on what you would like to do? Do you want to lend a hand with the above work? Let us know so we can add you to the work party list. I am please to announce that we have a new member in our organization. Please welcome Jeremie Finch, KN6NGE, who resides in Orland. A very big welcome from the group, Jeremie! Zoom membership meeting again this month. Put on your calendar the 14th of May, the second Friday of the month and join us online. Phil, KI6SMN, will host and run the meeting this month as I will be out of California and in another state. I will try my best to at- tend the Zoom meeting but can not guarantee that I will be able to.
We look forward to all members joining us. Watch your email in boxes for the details needed to enter the GARS Zoom membership meeting. What would you like to see added to the club's web site pages? Let us know. In desperate need of ideas here! Up and coming events are: Most plans are still on hold due to limitations placed on us because of COVID-19. However Glenn County is opening up, things are in flux at all times, so we may be able to return to face to face membership meetings in June of this year. We can only hope... GARS 10th Anniversary doings – on hold – this event is now on hold until such time as we can meet F2F. We are again forced to put off this event until such time as we are over most of the COVID-19 restrictions. Stay tuned in for up coming announcements.
ANNOUNCEMENT: During our last Zoom membership meeting it was agreed that we should hold the GARS 10th Anniversary festivities at the same time as our GARS Membership Christmas get together. Of course this will all depend on any new COVID restrictions that could be placed on us. Please note we will not be having our normal F2F membership meeting for the month of May. See information above if you want to join in on Zoom for this months membership meeting.<.p>
Mike Ellithorpe, KF6OBI President, GARS kilofox6obi@yandex.com or kj6hcg@gmail.com
---
Elk Grove-Florin ARC Update
Greetings Members and Friends of the Elk Grove Florin Amateur Radio Club...
It is hoped that you are doing well, have been vaccinated against Covid 19, and are ready to begin planning for our first in-person meeting. It appears that approval for organizations to hold in-person meetings will come from the State in the middle of June, so we are beginning to plan for our first such meeting to be Saturday, July 10, 2021.
During the pandemic, we have managed to continue with our 7:00 p.m. Wednesday evening nets using the N6NA repeater courtesy of River City ARCS, 145.25 Mhz with a PL of 162.2 And, we have added a simplex check in on 147.555 MHz that follows, as was done in the early days of our club.
We have also held meetings, albeit using Zoom, on the second Saturday evening of each month, at 7:00 p.m. Once we are able to resume in-person meetings, we plan to also have a Zoom capability.
In order to have an idea of what YOU want of our radio club, you are invited to join us this Saturday evening for the Zoom meeting, and help us plan.
We are looking for a place to meet in July, since some places will continue to be restricted until later in the year, so if you know of a place, let us know during the meeting.
Here is to moving forward with the Elk Grove Florin Amateur Radio Club.
Dave Reingold KK6MVJ, President
Check our website: www.W6EGF.org for additional information and a link to our meeting, or go directly to: https://us02web.zoom.us/j/87297171144
---
Member Updates and Feedback
Please send your feedback to kp4md@arrl.org to be included in this section.
---
GOTA Café Session "Chocolate Fish Coffee Roaster On-The-Air with KN6OHL"

by Jojo Melendres, KN6HTD, submitted April 19, 2021
The GOTA Café Session is an eyeball QSO. It is an informal, outdoor, by invitation activity set up with hams who are eager to learn more about Amateur Radio. An Elmer, in which case for today, Jojo KN6HTD shares some additional information to newer hams (In Jen's case, not necessarily new to radio).
Meet our new member spotlight: Jennifer KN6OHL!
Jen is a fun, outgoing, outdoor-loving, adventurer, and CB-er (Citizens' Band radio operator). She expressed desire to learn more and welcomes this one-on-one Elmer session.
We followed covid precautions, it is obvious that we are masked, and both vaccinated 😊 We have an outline of the things to learn – all done in 60 minutes.
Jennifer had an overview of the many available nets that she can study and jump into. She learned some useful mobile phone ham-related apps. She listened to a regular, ongoing Coffee Break net with SFARC using W6EK repeater (for which Jojo is a member of), learned about the Sac Valley Noontime and Sac ARES nets. Jen also saw, touched and got a feel of the 2-meter Kenwood TM-281 VHF mobile radio, an Alinco switching power supply, and a Bioenno battery. Jojo checked in to the Morning Coffee Break net with a quick in and out and that was part of the demonstration. Jen brought her HT with a better whip antenna than the stock rubber ducky. We touched on a lot more topics than I can write here.
All of these are on top of enjoying a cup of hot coffee and tea to enjoy the conversation!
This is an educational opportunity brought to you by one of the Training Committee team members of River City ARCS. Jojo is a registered ARRL Instructor and a Volunteer Examiner. It is provided for free based on the Elmer's availability. 73, Jojo KN6HTD
---
Why Not Try Contesting?

by Al Canton, K6AAI, posted May 1, 2021
I enjoy contesting, but I find a lot of hams simply don't participate. Here are some of the reasons I hear.
- I don't know when the contests are held: I use Contest Calendar at https://www.contestcalendar.com/ but there are other listings out there. Contest Calendar will tell you the start and finish times, the exchange to use, and where to find the rules as well as where to upload your logged file.
- I've never done it and am afraid I'll screw it up: There are lots of "how to contest" sites out there but you don't need one. All you have to do is have a logging program and learn what the exchange is. Often it is a serial number the logging program will give you but you can do it all on lined paper if you want.
- I don't have a contest logger: A lot of logging programs have a 'contest mode' but if you are using QRZ or LOTW you may want to get a stand-alone contest logger. There are a bunch of these loggers out there. I use the Skookum Logger for the Mac. Most of the contest loggers are free and easy to use and have the ability to convert the log to the (standard) Cabrillo file format with one click.
- I want a QSO, not just a quick exchange: There are lots of hams who are happy to chat a bit with you during the contest if you ask them something... "Great signal into Sacramento, what are you running?" Of course a lot of hams are dead-serious contest players and all they want are contacts. Still, even most of these guys will be polite.
- I don't understand why I should contest: For me and others it is fun to see just how far I can get out, as well as to help collect QSOs for a WAS award of something similar. On large contests hams come out of the woodwork all across the world.
- I won't get through the pile-up: There are pile-ups for stations in popular and hard-to-get states, like Vermont or Maine or West Virginia. However, patience is a virtue because bands change, sometimes quickly and it is quite possible that your 100W station in CA will get through when the legal-limit guy in Texas doesn't, even though he is 20-over to you.
- I'm not going to win: This is true, you're not. But that is not the reason most hams play the game. They play the game... to play the game... it is fun and it is interesting as you can and will reach places you never did before... I've reached islands in the Caribbean I'd never even heard of before.
-I can't keep up: There is no reason to keep up. I'm slow. I hear a station and I go to QRZ to see where he or she is from and read their page and then I will answer their call. It is slow, but I find it interesting to learn about what other hams are into, how they came to ham radio, etc. from their QRZ.com page.
- Everyone runs power and I don't have power: Believe it or not, everyone does NOT run power. There are plenty of barefoot stations heard during contests. And some stations will give a priority in a pile-up to stations include "QRP" with their call.
It is up to you but if you have not done any contesting (or perhaps even a QSO party) why not give it a try? It is another fun and interesting way to enjoy the ham radio hobby.
Al Canton, K6AAI
---
Section Member Duane Wyatt, WAØMJD, on Childrens Hospital's "Kaleidoscope Variety Show"

Posted February 3, 2019
The University of California Benioff Childrens Hospital's Kaleidoscope Variety Show recently featured Sacramento Valley Section member Duane Wyatt, WAØMJD, showing his ham radio operation.
In this "Video Postcard" Duane explains and demonstrates his ham radio station in this program for children.
---
Section Member Phil Sittner, KD6RM, on QSO Today Podcast
Phil Sittner, KD6RM, has a ham radio story that goes back over 50 years, from childhood. Still living in Northern California, Phil builds his own radios and test equipment, operates CW on 80 and 40 meters, using his fence mounted 80 meter end-fed Zepp and a pair of phased 40 meter verticals in an HOA neighborhood where antennas are forbidden. We harness Phil's extensive technical expertise and hear his ham radio story in this QSO Today.
Listen to Phil's podcast interview on https://www.qsotoday.com/podcasts/kd6rm
---
Keep Our Digital Transmissions Legal on 60 Meters

Posted January 29, 2017
Our decreasing solar activity and residential antenna restrictions have attracted increasing numbers of radio amateurs to operate CW and weak signal digital modes on our lower HF frequencies including 60 meters. The five frequency channels that US amateur radio operators share on a secondary basis with US federal government users on 60 meters (5 MHz) pose unique requirements for CW and digital operators. As explained on http://www.arrl.org/60m-channel-allocation, each US radio amateur emission on our 60m channels must be precisely centered in the center frequency of each assigned channel, that is, 5332.0, 5348.0, 5358.5, 5373.0 or 5405.0 kHz. Thus, for example, a CW signal on channel 3 (USB Dial frequency 5357.0 kHz) must be precisely on 5358.5 kHz. The same ARRL page explains that each digital emission must also be centered precisely in the channel center.
This may appear unreasonable to radio amateurs because a 2.8 kHz channel can accommodate many digital and CW transmissions simultaneously, and requiring multiple stations to operate on the same exact frequency would result in mutual interference. The National Telecommunications and Information Administration (NTIA)* explains this requirement in https://ecfsapi.fcc.gov/file/7021871884.pdf which states: "Allowing multiple emissions within the necessary bandwidth of the widest authorized modes (2.8 kHz) increases the possibility of harmful interference from secondary amateur stations to primary federal stations, and would make it more difficult for a federal station to identify an interfering amateur station. In addition, NTIA is concerned about the aggregate equivalent isotropically radiated power from multiple amateur stations transmitting within a single 2.8 kHz channel. Accordingly, NTIA requests that 47 C.F.R. Section 97.303(h) continue to require that amateur stations transmit only on the five center frequencies allocated to the amateur service."  (See http://www.arrl.org/what-the-fcc-rules-say-97-303-h)
Observed Violations of US 60 Meter Frequency Regulations

FT8/JT65

This screenshot photo shows digital signals received on 60 meter Channel 3 (5357 kHz USB dial frequency) from 0300-0309 UTC on January 29, 2017. In the photo, the 5357 kHz dial frequency is at 0 Hz on the left side of the waterfall and the 5358.5 kHz channel center is at the 1500 Hz mark. Decodes of several US radio amateurs are seen transmitting digital emissions simultaneously on various frequencies throughout the channel 3 frequency range 5357-5360 kHz. This is the familiar appearance of a digital waterfall display on all other amateur radio bands; however, it violates the NTIA requirement that each US radio amateur transmission be centered on the 1500 Hz mark (the 5358.5 kHz channel center frequency).


WSPR

The link http://wsprnet.org/olddb?band=60&sort=callsign&reverse=on&unique=on lists WSPR mode emissions on the 60 meter band. One can scroll down that list and see how many A, K, N and W call signs have been transmitting WSPR mode on 5288 kHz outside the authorized 60 meter center channel frequencies.  
US WSPR transmissions continue to be observed on the WSPR software default 60 meter frequency of 5288 kHz, a completely unauthorized frequency for US radio amateurs.
Each licensee has the final responsibility for the lawful operation of his or her station.  Unfortunately, the increasing automation in our radios has apparently accustomed some to falsely assume that the radio will correct for operator carelessness and ignorance of regulations.  Our cooperation with NTIA requirements is essential for our continued access to the 60m channels and for possible future access to the new ITU worldwide 60 meter allocation at 5351.5 to 5366.5 kHz. (See http://www.arrl.org/news/view/arrl-asks-fcc-to-allocate-new-5-mhz-band-retain-channels-and-current-power-limit and http://www.arrl.org/news/fcc-invites-comments-on-arrl-petition-to-allocate-new-5-mhz-band). Please be aware of these requirements if you intend to or currently operate CW or digital modes on our shared 60m allocations. The Amateur Auxiliary is documenting this matter and hopes to raise its awareness in the wider amateur radio community.
-Carol Milazzo, KP4MD
*The NTIA is the federal authority that coordinates radio spectrum use for the US military and federal government while the FCC serves in this capacity for US civilian radio spectrum users.
---
Free Amateur Radio Club Website Template

Posted January 20, 2019
Section Member Al Canton K6AAI is offering a generic amateur radio club WordPress website template for free. See the sample website posted at https://k6anc.com/wpradio/.  If interested, please contact Al at ac@K6AAI.net