American Radio Relay League
The National Association for Amateur Radio
American Radio Relay League is a 501(c)3 non profit organization.
Sacramento Valley Section
Serving Alpine, Amador, Butte, Colusa, El Dorado, Glenn, Lassen, Modoc, Nevada, Placer, Plumas, Sacramento, Shasta, Sierra, Siskiyou, Sutter, Tehama, Trinity, Yolo & Yuba Counties in Northern California
Sacramento Valley Section is located in the ARRL Pacific Division.
Sacramento Valley Section Web Resources
ARRL National Page: www.arrl.org/Groups/view/sacramento-valley
Organization, Clubs, Calendar, Nets
Sacramento Valley ARES: www.sacvalleyares.org SV ARES Brochure
Facebook: www.facebook.com/ARRLSacramentoValley
Twitter: www.twitter.com/ARRL_SV
Thanks to Greg Kruckewitt KG6SJT for maintaining our Section ARES web page and for assisting with our Facebook page and Twitter feed.
Thanks to Les Cobb W6TEE for maintaining the Section Net list.
Submit Section News updates to kp4md(at)arrl.org
---
ARRL Conventions/Hamfests & other Regional Events
---
Past Section News Archive
---
Amateur Radio License Classes and Volunteer Exam (VE) Information and Schedules
Class and VE Session Calendar
COVID-19 NOTE: Check with VE teams for availability.
Remote Video Sessions:
If you cannot find an in-person exam session in your area or if you would rather take the test via a remote video-supervised online session, you can search for online examination dates here:
https://hamstudy.org/sessions
. Click on the box "Show online" to only display the list of upcoming remote video sessions.
---
Getting Your Amateur Radio License
Before you go on air, you need to be licensed and know the rules. In the United States the Federal Communications Commission (FCC) grants Amateur Radio licenses to individuals who successfully pass a multiple choice written exam at a Volunteer Exam (VE) session.  
The FCC currently issues three levels of amateur radio license: Technician, General and Amateur Extra.
The license exam contains multiple choice questions selected from lists that are published online at http://www.arrl.org/question-pools. Many individuals prepare for an exam session using self-study license manuals and online practice exams. From time to time, license preparation courses are offered that cover the exam material over several weeks. "Ham-Cram" sessions are also popular, where a several hours' review class of exam questions and answers is immediately followed by a license exam session.
Visit http://www.arrl.org/find-an-amateur-radio-license-class to find a license class.
Visit http://www.arrl.org/find-an-amateur-radio-license-exam-session to find a license exam session.
For more information on testing, preparation and study materials, see:
---
License Courses

COVID-19 NOTE: 
Check with VE teams for availability.
---
Citrus Heights 2019 Ham-Cram Sessions - New Location
Posted January 7, 2019
Section member Joe Cardoza, KA6ROM, announces that his Citrus Heights VE Team will conduct their amateur radio Ham-Cram Technician License training and examinations on the fourth Saturday every other month at starting at 8:45 am at the Metro Fire Station #32, 8890 Roediger Ln, Fair Oaks, CA 95628.
The Ham-Cram and Exam dates for 2019 are:

January 26, 
March 23, 
May 25, 
July 27, 
September 28, and 
November 16.
Contact Joe Cardoza, KA6ROM, 916-725-6443 or cardozas@comcast.net to pre-register.
---
California Emergency Volunteers Ham-Cram Sessions
Posted December 4, 2017
The California Emergency Volunteers, Inc. offers 6 hour long "Get Your License in One Day" Ham-Cram sessions followed by a Technician Class license exam session. These sessions are held on monthly on a Saturday alternating between Stockton and Manteca, CA. Visit http://www.hamcram.org/ for more information and to register.
---
Folsom ARRL Volunteer Exam 2019 Schedule - New Location
Updated January 5, 2019
Folsom ARRL VEC exams are held at 6 pm the third Thursday of each month except July and December.
Here is our updated exam scheduled for 2018:
January 17

February 21

March 21

April 18

May 16

June 20

July NO EXAM

August 15
September 19
October 17
November 21
December NO EXAM
All exams start at 6:00 pm.

Round Table Pizza, 9500 Greenback Ave, Suite 1, Folsom, CA 95630.  We meet in the large meeting room.
For information click here or contact Steve Porten, KN6OX at steve@kn6ox.net.

---
Redding ARRL VE Schedule 2019
Posted February 2, 2019
The Redding ARRL VE Team will be hosting exams on the following Saturdays in 2019:
January 19 (7:00 pm this date only)
March 16
May 18
July 20
September 21
November 16
Our exam sessions are now being held at the City of Redding Parks Building, 20055 Viking Way, Bldg #4, Redding. Exams start at 10:00 AM and candidates are encouraged to pre-register.

More information can be found at: www.reddingve.com or by contacting Steve K6KS at sjmosconi@gmail.com
---
SHINGLETOWN ARRL VE 2019 Schedule
Test Location:
Shingletown Area Resource Center, 31268 HWY 44, SHINGLETOWN, CA. 96088
Testing begins at 10:00 AM.
Candidates should arrive 15 to 30 minutes early. We accept walk ins.
Contact:
Dar Walker W6IO, Shingletown ARRL VE Liaison, w6iodar@gmail.com, 530-474-3087
TEST SCHEDULE:
2019: Feb 16, Apr 20, Jun 15, Aug 17, Oct 19, Dec 14
Dar Walker W6IO
---
Other VE Sessions - Schedule List (ARRL national site)

---
50 W PEP Maximum Power Limit Area on 70 cm
A little recognized portion of FCC Part 97 regulations applies to 420-450 MHz operations in most counties in our Sacramento Valley section:
47 CFR §97.313 (f) No station may transmit with a transmitter power exceeding 50 W PEP on the UHF 70 cm band from an area specified in footnote US270 to §2.106 of part 2. The indicated affected areas are specified in http://www.arrl.org/us270, in the State of California within a 240-kilometer (150 mile) radius around locations at Beale Air Force Base, California (latitude 39°08' North, longitude 121°21' West).
More information on the additional impact on 70 cm repeater stations is at http://www.narcc.org/NARCC-ARRL-PAVE-PAWS-Update-2014a.pdf
The Amateur Radio Service shares the 70 cm band on a secondary basis with the US Government which has priority. The US Department of Defense routinely monitors and locates signal sources on these frequencies.  Our voluntary cooperation is mandatory to avoid interference with the Pave PAWS (Phased Array Warning System) radar at Beale AFB and thus to assure our continued access to these frequencies.

October 2020 News
From the Section Manager
I sincerely regret the cancellation of our annual Pacificon Convention and so many other hamfests and in-person events, but above all send my condolences to those who have lost family and friends to the pandemic and wildfires. Our members and clubs have risen to the challenge of social isolation through amateur radio "health and welfare" nets and other technologies. We have innovated our outreach through virtual club meetings, virtual Field Days, online conventions and continuing licensing classes and VE sessions. Thanks to you all for keeping our Sacramento Valley section alive and strong in the face of this year's challenges!
An ARRL Sacramento Valley Section-wide net is scheduled this month for Thursday, October 15. On Thursday October 15, ARRL Sacramento Valley Section will hold an ARRL SECTION-WIDE NET, first on the WD6AXM repeater on 146.085 MHz +0.6 MHz offset CTCSS 127.3 Hz IMMEDIATELY after the 7 pm Yuba-Sutter ARES net closes, then followed immediately by an HF net on 3880 kHz LSB +/- 3 kHz. All radio amateurs are encouraged to participate. We will issue an Official Bulletin reminder to all section members during that week. For further details see http://www.arrlsacvalley.org/#svnet
Neil Bossard, N6CNY Appointed Yuba-Sutter ARES EC
Welcome to Neil Bossard, N6CNY as our new Yuba-Sutter County ARES Emergency Coordinator effective October 1, 2020.  Thanks to Andy Boone KJ6IYM for his past years of service in that position
Past ARRL SV Section Manager Casey McPartland, W7IB, Silent Key

posted September 17, 2020
Casey McPartland, W7IB, passed away on August 31, 2020 from complications of multiple myeloma. McPartland was ARRL Sacramento Valley Section Manager from 2006 until his resignation in 2007 due to a temporary move out of the section.
Casey discovered ham radio back in the late '50's while tinkering around in a neighbor's garage. The neighbor was a US Navy Commander stationed at Moffett Field in Mountain View, and many hours were spent in his shack during that memorable solar cycle. Twenty years later in 1978 Casey became licensed as WB1DYZ while living with his family in Hebron, Connecticut. Thirty years and many call signs later (including KA1BZ, NS6K and K6WJM) he was appointed Assistant Section Manager for the Sacramento Valley Section by then Section Manager Jettie Hill, W6RFF, whom he succeeded as Section Manager in December 2006. Casey brought many years of leadership and management background from his work in the Information Technology and Management Consulting fields.
Casey operated "about 90% CW" and enjoyed Field Day, DXing, ragchewing and serving as net control.  He and his wife Leslie, K7NYE, frequently volunteered communication support for the Tevis Cup Trail Ride, the MS walk and numerous bicycle events.
Casey was an ARRL Life Member, held an Extra Class License since early 1983, an OES appointment having completed all three Emergency Communication Courses, and was a long time member of FISTS CW Club (#9758), the Quarter Century Wireless Association, the Mother Lode DX Contest Club and the Sierra Foothills Amateur Radio Club where he had served as instructor, Volunteer Examiner, secretary, director, vice president and president.
[Thanks to David Jenkins, WB6RBE, and the Mother Lode DX/Contest Club's September 2006 "Nugget" for contributing to this biographic information.]
California QSO Party October 3-4
The California QSO Party (CQP) is held every year on the first weekend of October. The first CQP took place in 1966. Since 1974, the Northern California Contest Club (NCCC) has sponsored CQP. CQP has traditionally opened the annual contest season by providing an opportunity for contesters to prepare for the ARRL November Sweepstakes since the format is similar.
Stations outside of California, worldwide, work stations in California only. The 58 counties of CA are the multipliers. California stations work all stations in or out of CA. The 50 US states and 8 Canadian areas are the multipliers. Stations outside of Canada and the US add to one's QSO total but do not count as multipliers. See the CQP Website www.cqp.org for more details.
Scouting's Jamboree on the Air Set for October 16-18
Jamboree on the Air (JOTA) and Jamboree on the Internet (JOTI) will be held this year on October 16, 17, and 18. Register online as an individual or as a group.
Jamboree on the Air is the largest Scouting event in the world. In a typical year, more than 1 million Scouts participate in JOTA, with over 11,000 stations operated by 20,000+ young radio amateurs from 150+ countries around the world.
JOTA details are available on the K2BSA website. The website menu will direct users to additional supporting information. K2BSA's Jim Wilson, K5ND, says many locations are already offering virtual radio merit badge classes "and no doubt will be using similar approaches for Jamboree on the Air."
You can still send September news to kp4md@arrl.org. This website is visited most during the first week of each month, but do check back as it is often updated with late breaking news.
Our Section website, Facebook and Twitter pages are a work in progress, and your suggestions and submissions are always welcome.
73, Dr. Carol Milazzo, KP4MD
American Radio Relay League Sacramento Valley Section Manager
kp4md(at)arrl.org
You can always send compliments, suggestions and submissions for inclusion in our Section News to kp4md(at)arrl.org
---
Sacramento Valley ARES Responds to NorCal Wildfires

Posted September 7, 2020
Saturday, August 15, 2020 The Sacramento Valley and other parts of California suffered from an unprecedented Electrical Storm that started approximately 30 fires or "complex of large fire starts, over 300 total new starts. Northern California alone, including the Sacramento Valley, had approximately 12 fire or "complex of fires" starts.
Sacramento Valley ARES teams were activated in a stand by capacity. Over 100 members from Sacramento North to the Oregon boarder volunteered to assist. Several of these volunteers were personally affected by the fires by being either evacuated, or in an area where they may have to evacuate at any time.
The primary reason for the activation was to assist the American Red Cross with potential Sheltering operations. I was not notified of any government activations to support the fires. The American Red Cross opened three (3) shelters in the fire zones. Most of the evacuees were able to be placed in hotels.
Sacramento Valley's ARES teams were stood down on Saturday, August 22, 2020. The American Red Cross leadership in the area said that the situations were stabilizing and they would not be needing to use ARES. The teams were thanked for being ready and stood down.
At the time of this writing, most evacuations have been lifted. I do not know if any of the ARES members had loss or damage.
Michael Joseph KK6ZGB
ARRL Sacramento Valley ARES District 3 DEC & Public Information Officer
---
LNU Lightning Complex Fire Damages N6ICW Repeater Site atop Mt. Vaca
In this video, Phil Sittner, KD6RM, and Chris Huber, N6ICW, describe the damage that the LNU Lightning Complex Fire caused on August 18, 2020 at the N6ICW repeater site atop Mt. Vaca.  The surveillance video starts at https://www.youtube.com/watch?v=FMdjhlZR1ng&t=510s.
---
FCC Proposes to Reinstate Amateur Radio Service Fees
from the ARRL News August 28, 2020
Update (9/1/2020): The ARRL Board is aware of the FCC NPRM and is working with its FCC attorney on formulating the ARRL's response. Please follow ARRL News for additional developments.
Amateur radio licensees would pay a $50 fee for each amateur radio license application if the FCC adopts rules it proposed this week. Included in the FCC's fee proposal are applications for new licenses, renewal and upgrades to existing licenses, and vanity call sign requests. Excluded are applications for administrative updates, such as changes of address, and annual regulatory fees.
The FCC proposal is contained in a Notice of Proposed Rulemaking (NPRM) in MD Docket 20-270, which was adopted to implement portions of the "Repack Airwaves Yielding Better Access for Users of Modern Services Act" of 2018 — the so-called "Ray Baum's Act."
The Act requires that the FCC switch from a Congressionally-mandated fee structure to a cost-based system of assessment. In its NPRM, the FCC proposed application fees for a broad range of services that use the FCC's Universal Licensing System (ULS), including the Amateur Radio Service that had been excluded by an earlier statute. The 2018 statute excludes the Amateur Service from annual regulatory fees, but not from application fees.
Comments are being accepted on the Notice of Proposed Rulemaking (NPRM) in MD Docket 20-270, which proposes application fees for radio amateurs. Formal deadlines for comments and reply comments will be determined once the NPRM appears in the Federal Register. Comments may be filed now, however, by using the FCC's Electronic Comment Filing System (ECFS), posting to MD Docket No. 20-270. The docket is already open for accepting comments, even though deadlines have not yet been set.
Read the full story at http://www.arrl.org/news/fcc-proposes-to-reinstate-amateur-radio-service-fees
---
September 17 ARRL Section-Wide Net Report
The ARRL SV Section-wide nets were held on Thursday, September 17. Andy Boone KJ6IYM opened the VHF net on the WD6AXM 146.085 MHz FM repeater at 7:20 pm PDT after the Yuba-Sutter ARES net signed off.
Here is the VHF net check-in list: KJ6IYM (net control), KP4MD, KG6SJT, N6SNO, WB6VYH, KJ6HHY, KK6MVJ, N6SAC, KF6HHH, KD6LOK, K6CEL, KE7EL, N9BD, KM6RIW, W7XZ, KK6SOZ, K6VNR, WB6DNL, KN6GTN, KE6RMN, WA6OHP, KE6EDG, KK6TBJ, and W6SOM.
At 7:40 pm PDT, ARRL SV Section Manager Carol Milazzo, KP4MD, called the SV Section HF net on 3883 kHz LSB. Propagation was good and KP4MD (net control),N6SAC, WB6VYH, N9BD, K6GCN, K6CEL, WB6DNL, W7XZ, KC6NAT, K6WK, K6KN, WA6OHP, KN6GHM, N6VN, KF6HHH, and KM6MFI checked into the HF net.
Thanks to all who assisted and participated in our September Section-Wide Nets!
ARRL Sacramento Valley Section Nets are conducted only on months when announced, on the third Thursday of that month following the 7 pm Pacific Time Yuba-Sutter ARES net on the WD6AXM 146.085 MHz +0.6 MHz offset, CTCSS 127.3 Hz FM repeater, followed by the HF Section Net on 3880 kHz LSB +/- 3 kHz. During spring and summer months the HF net may be conducted on 5330.5 kHz USB as propagation permits.
All Sacramento Valley Section radio amateurs are welcome to check into our Section Nets. The nets carry announcements of interest to our section and test our section-wide station communication capabilities.
Don't have an antenna or HF radio?  Click a link
and Listen to our HF net on a web receiver.
Hourly Northern California NVIS Observations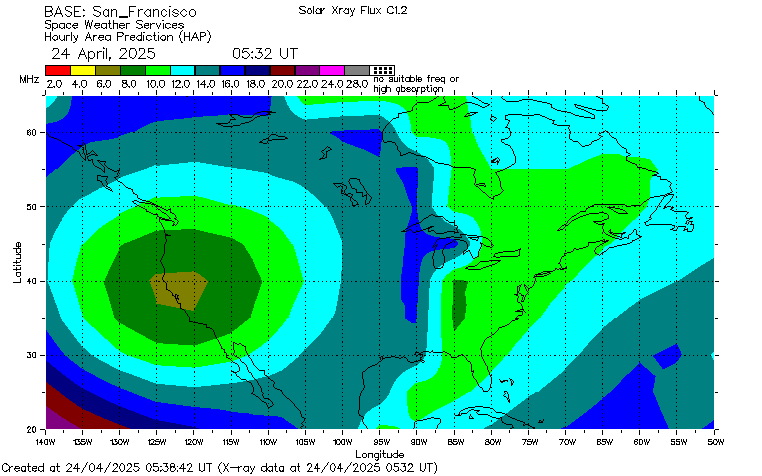 This chart shows colors that represent the recommended HF frequencies for contacting stations for a particular hour. Both stations should use the SAME frequency denoted by the color at the location of the target station. The chart is in Universal Time (UTC). More information at http://www.sws.bom.gov.au/HF_Systems/6/6
---
2020 ARRL Pacificon Convention Cancelled

from the Pacificon Committee June 25, 2020
Since the COVID-19 pandemic began in March, the Mt. Diablo Amateur Radio Club has been monitoring events, hoping that the pandemic would come under control in time for Pacificon to proceed unaltered. But it is not to be. After full consideration, we simply could not find a practical scenario that would bring all the many factors together to produce a successful Pacificon this year. The government restrictions on travel and large group gatherings, continuing level of infections occurring in the pandemic, and the increased level of risk by a substantial portion of our attendees are just a few of the factors we considered. So with considerable regret, Pacificon 2020 will not be held as an in-person event.
Although we're very disappointed, we intend to focus our plans on making Pacificon 2021 the best ham radio convention in the western U.S. We look forward to seeing all of you in person at the San Ramon Marriott Hotel, Oct. 15-17, 2021.
All is not lost for this year, however. The Pacificon Committee is investigating the possibility of having a virtual convention, on-line. No details yet, but we hope to make some announcements next month. Please keep checking our web site at www.pacificon.org; or send us an email with any questions to info@pacificon.org.
---
 EmComm=Emergency Communications 
---
Sacramento Valley ARES Uses Winlink during NorCal Wildfires

Posted September 16, 2020
The American Red Cross supported three Temporary Evacuation Points (TEP) in Northern CA. Winlink was used to send messages to the Red Cross Disaster Operations Center (DOC) in Sacramento CA.
Communications were Voice where available, and Winlink. Winlink was used to to send ICS-213, ICS-205, ICS-210, ICS-214 forms.
Most messages were sent via VHF packet through Winlink. In the other part of California near the Oregon border the TEP/Shelters up there sent FLMSG forms ICS-213 via NBEMS to a station who attached the FLMSG data to a Winlink message for sending to the Red Cross DOC. Winlink HF was used in the northern part of CA to reach gateways in Oregon.
During the Camp Fire in 2018 the Sacramento Valley Section supported five shelters. Winlink was used extensively then. Daily shelter Reports and communications of needed materials were passed via Winlink when voice comms were not available.
When Red Cross logistics had questions and needed specific info from shelters, the Winlink operators at the DOC were able to quickly create a Custom Winlink Templates to request the info they needed using TEXT based templates with insertion tags.
We have found Winlink to be a great asset for communication during these disasters.
Greg Kruckewitt, KG6SJT
ARRL Sacramento Valley Section Emergency Coordinator
---
Sacramento Valley ARES Participates in Red Cross Radio Drill

Posted September 7, 2020
On Saturday, May 30th 2020 members of the Sacramento Valley and San Joaquin Valley Sections of the ARRL participated with the California Gold Country Region in the Coast to Coast Red Cross Radio Drill.
32 Amateur Radio Operators from throughout Northern California participated. The operators sent 35 voice messages using California Amateur Radio Linking Association (C.A.R.L.A.) and 66 digital messages using both HF and VHF gateways to a simulated Red Cross Operations Center.
With current events on our mind, the operators were emailed the messages to be used early Saturday morning. They used FLMSG, FLDGI and Winlink to return their digital and as mentioned, C.A.R.L.A. for voice messages to the operations Center. A total of 101 messages were received.
Amateur Radio Liaison Jim Piper from the American Red Cross wanted to thank all operators that assisted. A video meeting was held later that week but he stated that many important lessons were learned from the event taking place. The Red Cross will be putting some changes into effect immediately.
Michael Joseph KK6ZGB
ARRL Sacramento Valley ARES District 3 DEC & Public Information Officer
---
Assisting at American Red Cross Shelters during COVID-19

Posted September 7, 2020
During large disaster responses the Red Cross may need to open shelters, the operations Center, distribution centers and assist in a new location called a Temporary Evacuation Point (TEP). The California Gold Country Region will be asking for Amateur Radio support in many of these locations. Info you should know... http://www.sacvalleyares.org/contents/news/2020/Red_Cross_ARES.asp
---
October 10, 2020 - Sacramento County ARES

Posted September 7, 2020
Jay Ballinger N6SAC is the Sacramento County EC.
For information, visit the Sacramento County ARES web site at www.saccountyares.org
---
Pot grow lights interfere with Ham Radio

Submitted by Rene Smythe, WB6PSY, posted March 4, 2017
I have experienced this interference for the past few years. I found the interference by swinging my 10m Yagi monobander around until the noise became over S9. I then went outside to see where the beam was physically pointed and discovered a garage where indoor pot is being grown. The lights are on a time cycle so the interference comes and goes. 40º degrees in either direction takes the noise out.
Now that marijuana is being legalized in more states, more hams are going to experience this noise.
WB6PSY
http://bigstory.ap.org/article/c1b607bfbbab459ba9e21d4c282996e4/growing-problem-pot-lights-give-ham-radio-operators-buzz
---
Radio Frequency Interference

posted February 3, 2018
ARRL and the FCC have a cooperative agreement in radio frequency interference matters. You may submit interference reports together with your supporting documentation to ARRL EMC Engineer Mike Gruber W1MG who then files the report with the FCC Gettysburg office.
You may also contact our Section Technical Coordinator Bob Wortman, WB6VYH, or our Section Official Observer Coordinator Bob Hess, W1RH, for assistance. More information is posted under the "From the Section Manager" notes in the November 2016 Section News - Carol KP4MD
Our Official Observer Coordinator Bob Hess, W1RH, shares this helpful web page by NK7Z for identifying sources of Radio Frequency Interference http://www.nk7z.net/rfi-snapshots
---
Club and Member News - Under Construction

---
Update from River City ARCS

Posted April 25, 2020
President's Message
Given our current 'Shelter in Place' order for California which at the time of writing we assume will still be in place for our club meeting on April 7th at 7:30pm, we're planning on holding our next club meeting as an online meeting using Zoom. The Board had our regular monthly Board meeting this month also using Zoom and we decided instead of cancelling our monthly club meeting, this should be a good option to allow us to at least continue with out club meetings the best we can given the current situation.
Phil Sittner KD6RM will be presenting the topic for our meeting, which is: "The End Fed Sloper Antenna". To connect to the session you have 2 options, you can either click the following link (or paste into your browser) to download and run the Zoom app which will allow you to hear the audio and see the slides as Phil presents on your computer: https://zoom.us/j/982285849 You'll also be able to type questions to Phil via a chat window, or we can unmute participants at the end of the session for Phil to take Q&A over voice.
Alternatively, you can dial in to the session using a phone number - full connection details will be shared on our www.n6na.org website.
If prompted, the meeting ID for our April meeting is: 982-285-849
All members will receive the password required to connect to the meeting via the club newsletter
As this is a new approach for our club meetings, please be patient with us as we work out any issues. We look forward to you all joining us in the virtual meeting!
Kevin, KK6DCT
Daily 7:30 pm Informal "Health and Welfare" & Roundtable Net 145.25 MHz
As we are asked to "shelter in place," many Amateurs may be isolated in their home. Occasionally some may have no outside contact checking on needs. Therefore, the River City ARCS' informal "Health and Welfare Net" is held every evening at 7:30 pm on our N6NA repeater on 145.25 MHz.
Instead of calling for "check-ins," the net control operator calls for those who have indicated they need a contact.
If the person doesn't respond, at the end of the net they are called to see if all is well.  
After the contact period of the net, we have an informal roundtable giving everyone an opportunity to chat.
Amateurs desiring to be contacted need to e-mail contact@n6na.org with their name, call, complete phone number and address.  Persons desiring to be a net control operator or backup, also e-mail contact@n6na.org
Our on-the-air nets are conducted every Wednesday evening at 8:00 pm on the 145.25 MHz N6NA FM repeater, followed by an 8:30 pm 10 meter net on 28.420 MHz USB and a slow scan television net at 9 pm on the 441.300 MHz N6NA FM repeater.  All club members and visitors are welcome to check in to our nets.  See more information at www.n6na.org/nets
Club member Ioan Negru, AI6UO, invites all interested to check into his Slow Speed (5 wpm) CW Net on 28.055 MHz. Net times are Tues. & Thurs. at 10:00 AM and Wed. at 7:00 PM Pacific Time.
Paul McIntyre Celebration of Life - Postponed


Paul McIntyre, KC5JAX, president of the River City ARCS, became a Silent Key at the age of 57 on February 28, 2020. He was one of four victims of

a knife attack

by a client at the Wellness and Recovery Center in Carmichael where Paul was interning in his training to become a social worker.

The Celebration of Life for Paul McIntyre is postponed due to the COVID Shelter in Place Order.  The future date is to be determined.

Paul was a long time mentor and volunteer, passionate to help others learn and enjoy amateur radio. He served years as a club officer, on the Board of Directors and as our net coordinator. He and his wife Barbara and son Hunter regularly participated in our picnics, Field Days and other club activities.
---
---
Member Updates and Feedback
Please send your feedback to kp4md@arrl.org to be included in this section.
---
First HF Antenna and QSO

by Jojo Melendres, KN6HTD, submitted September 24, 2020
A ham's journey is never-ending, and every license level involves milestones that can be a mix of excitement, fun, and frustration, with lasting memories. Consider wanting to join a club's 10-meter weekly net after a long envious wait knowing other club members are chatting in another band – what would it take a new ham to do it? Well, a radio that goes to 28.420 MHz upper sideband, a good power supply, and most importantly the HF antenna. A zealous ham's heart will get on air by hook or by crook! When working with antennas involving ladders and over-the-roof installations, remember that you must not be alone. You should wear a hard hat, ensure all safety equipment are in order and plan for contingency (knock on wood, in case accidents happen). Here a ham is finally able to assemble a vertical multiband HF antenna for first time use. It is immensely valuable to have family members available to help. It is amazing if your XYL or husband is your partner-in-crime with this hobby. It can be an institution and a business if the whole family are licensed hams! This is a ham family antenna party! Jojo, callsign KN6HTD, and his XYL Maj, callsign N6MAJ are on top of the roof with 2 daughters assisting from below. No accidents here. Q3 then Q4 with net signal reports. Another happy ending to share and I hope you have the same. Stay safe and keep transceiving! HF Antenna is multiband Diamond 6P-6S. Other photo is Jojo checking-in on top of the parking garage of UC Davis Medical Center to ensure great signal report in the net.
Jojo KN6HTD, Maj N6MAJ and Family
Jojo KN6HTD
on the UC David Med Center Roofdeck
Newly Erected HF Antenna
---
QSL CARDS—PAST AND PRESENT

by Al Canton, K6AAI, posted July 8, 2019
Part of the fun of amateur radio is collecting cards, called QSL cards, from other amateurs that you've talked to on the radio. Some people like to collect stamps from various parts of the world but hams collect QSLs.
History
The term QSL comes from the radio "Q" code meaning "I confirm reception."
During the early days of radio broadcasting, the ability for a radio set to receive distant signals was a source of pride for many consumers and hobbyists. Listeners would mail "reception reports" to radio broadcasting stations in hopes of getting a written letter to officially verify they had heard a distant station. As the volume of reception reports increased, stations took to sending post cards containing a brief form that acknowledged reception. Collecting these cards became popular with radio listeners in the 1920s and 1930s, and reception reports were often used by early broadcasters to gauge the effectiveness of their transmissions.
The concept of sending a post card to verify reception of a station (and later two-way contact between them) may have been independently invented several times. The earliest reference seems to be a card sent in 1916 from 8VX in Buffalo, New York to 3TQ in Philadelphia, Pennsylvania (in those days ITU prefixes were not used). The standardized card with callsign, frequency, date, etc. may have been developed in 1919 by C.D. Hoffman, 8UX, in Akron, Ohio. In Europe, W.E.F. "Bill" Corsham, 2UV, first used a QSL when operating from Harlesden, England in 1922.
Today
Today ham radio operators send QSL cards for a variety of reasons. It is interesting to collect them. Having made contact with a particular ham radio station it is often nice to have a card from them to remember the contact. It may be a particularly interesting contact, or one with a rare country where few ham radio operators are active. It may even be with a famous personality as there are a number of famous people around the globe who hold amateur radio licenses. In addition to this, the cards can displayed in the radio shack. Being colorful and interesting they can brighten up any ham radio shack.
Collecting QSL cards can be an interesting addition to the hobby of amateur radio. Cards from distant corners of the earth can be attractive and interesting. Not only do they brighten up the shack, but they can act as an encouragement to hear or contact some more interesting stations as well as being used to apply for operating awards.
- RadioQSL.com: Custom QSL cards at an affordable price.
Contact: RadioQSL.com, Al Canton, K6AAI, info@radioqsl.com, 916-962-9296
---
Section Member Duane Wyatt, WAØMJD, on Childrens Hospital's "Kaleidoscope Variety Show"

Posted February 3, 2019
The University of California Benioff Childrens Hospital's Kaleidoscope Variety Show recently featured Sacramento Valley Section member Duane Wyatt, WAØMJD, showing his ham radio operation.
In this "Video Postcard" Duane explains and demonstrates his ham radio station in this program for children.
---
Section Member Phil Sittner, KD6RM, on QSO Today Podcast
Phil Sittner, KD6RM, has a ham radio story that goes back over 50 years, from childhood. Still living in Northern California, Phil builds his own radios and test equipment, operates CW on 80 and 40 meters, using his fence mounted 80 meter end-fed Zepp and a pair of phased 40 meter verticals in an HOA neighborhood where antennas are forbidden. We harness Phil's extensive technical expertise and hear his ham radio story in this QSO Today.
Listen to Phil's podcast interview on https://www.qsotoday.com/podcasts/kd6rm
---
Keep Our Digital Transmissions Legal on 60 Meters

Posted January 29, 2017
Our decreasing solar activity and residential antenna restrictions have attracted increasing numbers of radio amateurs to operate CW and weak signal digital modes on our lower HF frequencies including 60 meters. The five frequency channels that US amateur radio operators share on a secondary basis with US federal government users on 60 meters (5 MHz) pose unique requirements for CW and digital operators. As explained on http://www.arrl.org/60m-channel-allocation, US radio amateur emissions on our 60m channels must be precisely centered in the center frequency of each assigned channel, that is, 5332.0, 5348.0, 5358.5, 5373.0 or 5405.0 kHz. Thus, for example, a CW signal on channel 3 (USB Dial frequency 5357.0 kHz) must be precisely on 5358.5 kHz. The same ARRL page explains that all digital emissions must also be centered in the channel center.
This may appear unreasonable to radio amateurs because a 2.8 kHz channel can accommodate many digital and CW transmissions simultaneously, and requiring multiple stations to operate on the same exact frequency would result in mutual interference. The National Telecommunications and Information Administration (NTIA)* explains this requirement in https://ecfsapi.fcc.gov/file/7021871884.pdf which states: "Allowing multiple emissions within the necessary bandwidth of the widest authorized modes (2.8 kHz) increases the possibility of harmful interference from secondary amateur stations to primary federal stations, and would make it more difficult for a federal station to identify an interfering amateur station. In addition, NTIA is concerned about the aggregate equivalent isotropically radiated power from multiple amateur stations transmitting within a single 2.8 kHz channel. Accordingly, NTIA requests that 47 C.F.R. Section 97.303(h) continue to require that amateur stations transmit only on the five center frequencies allocated to the amateur service."  (See http://www.arrl.org/what-the-fcc-rules-say-97-303-h)
Observed Violations of US 60 Meter Frequency Regulations

FT8/JT65

This screenshot photo shows digital signals received on 60 meter Channel 3 (5357 kHz USB dial frequency) from 0300-0309 UTC on January 29, 2017. In the photo, the 5357 kHz dial frequency is at 0 Hz on the left side of the waterfall and the 5358.5 kHz channel center is at the 1500 Hz mark. Decodes of several US radio amateurs are seen transmitting digital emissions simultaneously on various frequencies throughout the channel 3 frequency range 5357-5360 kHz. This is the familiar appearance of a digital waterfall display on all other amateur radio bands; however, it violates the NTIA requirement that each US radio amateur transmission be centered on the 1500 Hz mark (the 5358.5 kHz channel center frequency).


WSPR

The link http://wsprnet.org/olddb?band=60&sort=callsign&reverse=on&unique=on lists WSPR mode emissions on the 60 meter band. One can scroll down that list and see how many A, K, N and W call signs have been transmitting WSPR mode on 5288 kHz outside the authorized 60 meter center channel frequencies.  
US WSPR transmissions continue to be observed on the WSPR software default 60 meter frequency of 5288 kHz, a completely unauthorized frequency for US radio amateurs.
Each licensee has the final responsibility for the lawful operation of his or her station.  Unfortunately, the increasing automation in our radios has apparently accustomed some to falsely assume that the radio will correct for operator carelessness and ignorance of regulations.  Our cooperation with NTIA requirements is essential for our continued access to the 60m channels and for possible future access to the new ITU worldwide 60 meter allocation at 5351.5 to 5366.5 kHz. (See http://www.arrl.org/news/view/arrl-asks-fcc-to-allocate-new-5-mhz-band-retain-channels-and-current-power-limit and http://www.arrl.org/news/fcc-invites-comments-on-arrl-petition-to-allocate-new-5-mhz-band). Please be aware of these requirements if you intend to or currently operate CW or digital modes on our shared 60m allocations. The Amateur Auxiliary is documenting this matter and hopes to raise its awareness in the wider amateur radio community.
-Carol Milazzo, KP4MD
*The NTIA is the federal authority that coordinates radio spectrum use for the US military and federal government while the FCC serves in this capacity for US civilian radio spectrum users.
---
Free Amateur Radio Club Website Template

Posted January 20, 2019
Section Member Al Canton K6AAI is offering a generic amateur radio club WordPress website template for free. See the sample website posted at https://k6anc.com/wpradio/.  If interested, please contact Al at ac@K6AAI.net