CubeSat Database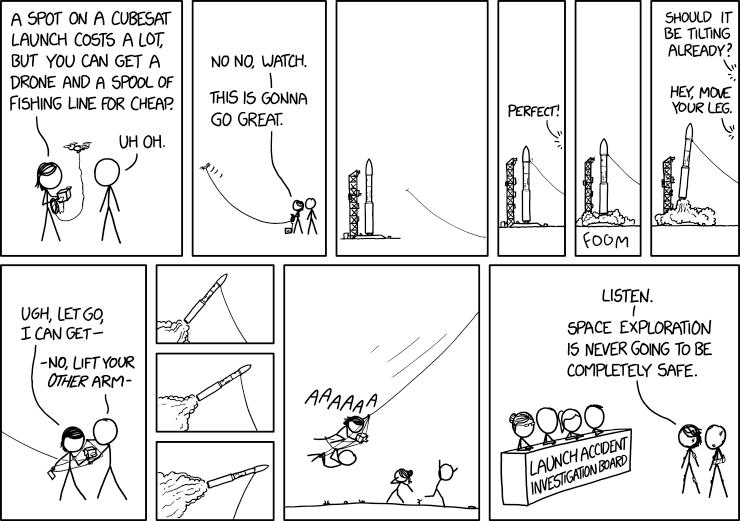 We're caught up through the end of 2019. However, we are missing mission status for ...
CubeSats with Unknown Status
My data is only as good as what you're willing to share. If you have worked on one of these CubeSats, please fill out my Two-Minute Survey!
This is my working list of all CubeSats that have flown. I no longer try to keep track of upcoming launches, as (a) launch dates and published manifests change up to the last minute, including after launch, and (b) I have a day job.
[Note: With Planet and Spire contributing more than 500 CubeSats between them, their missions dominate any chart that I could produce. Therefore, for the sake of readability, many of my charts will exclude them; I will indicate those with "No Constellations" in the title. This also excludes all of the other up-and-coming CubeSat constellations.]
Page Layout

Special topics get their own, separate pages:

What you're looking at: the x-axis is the total number of CubeSats that an organization might have produced. The y-axis is the number of organizations that have made that many spacecraft. In other words, if your organization has only ever produced one CubeSat, you're counted in the leftmost column. If your organization has flown 2, you're counted in the second column (and not the first). And so on.

What this graph means: A whole lot of organizations build one CubeSat. Not many of them stick around long enough to build a second. And the number that produce three or more CubeSats is quite small, indeed.

---

   Help us improve our database!aa

Part 1: Sources of Data

These are some of the key places where I gather spacecraft data. (Not counting personal communications/web scouring, of course.)

Part 2: Other Databases

I don't draw my data from these sites, but that says nothing about the quality of their work. [Hint: It's high-quality work.]

Part 3: Student Collaborators

. Many students have contributed to the management of this database

Marie Kendrick (2013)

Clay Jayne (2015-2017)

Spring 2019 team

Samantha Carlowicz, Scott Elliott, Connor Highlander, Andie Kaess, Tinevimbo Ndlovu, Cody Powers, Patrick Sullivan, Adam Walker, Sean Walsh

Part 4: My work

My own papers/presentations on the subject. These papers cover not just CubeSats, but also secondary spacecraft and university-class spacecraft. They are listed with the most recent, first.

2019

L. Berthoud, M. Swartwout, J. Cutler, D. Klumpar, J.A. Larsen, J.D. Nielsen, "University CubeSat Project Management for Success", presented at the 33rd AIAA/USU Conference on Small Satellites, Logan, UT, 3 August 2019; paper SSC19-WKIII-07.
M. A. Swartwout, "CubeSats: Toys, Tools or Debris Cloud?", presented as part of the Science in St. Louis series, St. Louis, MO, 29 April 2019.
M. A. Swartwout, "CubeSat Mission Success: Are We Getting Better?", presented at the 2019 CubeSat Developers Workshop, San Luis Obispo, CA, 23 April 2019. Thanks to Cal Poly, you can watch the presentation here

.

2018
2017
2016

M. A. Swartwout and W. C. Jayne, "University-Class Spacecraft by the Numbers: Success, Failure, Debris. (But Mostly Success.)

", presented at the 30th AIAA/USU Conference on Small Satellites, Logan, UT, 11 August 2016. See also 

this page

 with the plots/tables and presentation.

M. A. Swartwout, "CubeSats and Mission Success: 2016 Update

", presented at the

 

2016 Electronic Technology Workshop

, 

NASA Electronic Parts and Packaging Program

 (NEPP), NASA Goddard Space Flight Center, 14 June 2016.

M. A. Swartwout, "CubeSats and Mission Success: A Look at the Numbers

", presented at the 2016 CubeSat Developers Workshop, San Luis Obispo, April 2016.

2014

M. A. Swartwout, "CubeSats: Toys, Tools or Debris Cloud?

", invited talk at the 2014 St. Louis Space Frontier

 

Gateway to Space

 

Conference, 8 November 2014. (Note that this talk borrows heavily from the Goddard presentation, below. The new material is at the end, with the discussion of debris.)

M. A. Swartwout, "The First 100 200 272 CubeSats

", invited talk at the

 

EEE Parts for Small Missions 2014

 

Workshop,

 

NASA Electronic Parts and Packaging Program

 

(NEPP), NASA Goddard Space Flight Center, 11 September 2014.

M. A. Swartwout, "Secondary Payloads in 2014: Assessing the Numbers

", 2014 

IEEE Aerospace Conference

, Big Sky, MT, 1-8 March 2014, 

doi:10.1109/AERO.2014.6836390

2013

M. A. Swartwout, "The First One Hundred CubeSats: A Statistical Look

",

 

Journal of Small Satellites

 

(2):2, 2013, pp. 213-233.

M. A. Swartwout, "The long-threatened flood of university-class spacecraft (and CubeSats) has come: Analyzing the numbers

", Proceedings of the 27th Annual AIAA/USU Conference on Small Satellites, Logan, UT, 12-15 August, 2013, Paper SSC13-IX-1.

M. A. Swartwout, "Cheaper by the dozen: The avalanche of rideshares in the 21st century", 2013 IEEE Aerospace Conference, Big Sky, MT, 2-9 March 2013, doi: 10.1109/AERO.2013.6497182

2011