Cateye HL-EL530 Headlight
New  Bicycle Light 
New HL-EL530Cateye LED headlight.
This is the best new LED bike light on the market.
They make a great flashlight when not on the bike.
Up to 90 hours of run time from 4 AA batteries.
4 AA Batteries Included.
For International purchases I do not ship the batteries.
1500 Candlepower ---These are Really Bright.
This item will be shipped by US Postal Service in 1-3 business days
 from receipt of cleared payment. 

 
The Cateye HL EL 530 is the best LED headlight on the market.  It replaces the  Cateye Hl-el 500 which was the best 4 x AA light on the market.  I have been using one of these for over 8 months now and I still haven't had to replace the batteries.  It is amazing that this light is 10 times as bright and lasts 10 times as long as the old Cateye hl-500 Halogen bulb bike headlight that bike shops sold as recently as 2004.  The world of bicycle lighting has come a long way.  This Cateye LED HL-EL530 light is Awesome.  I have not seen an LED battery bulb go bad.  They don't seem to wear out.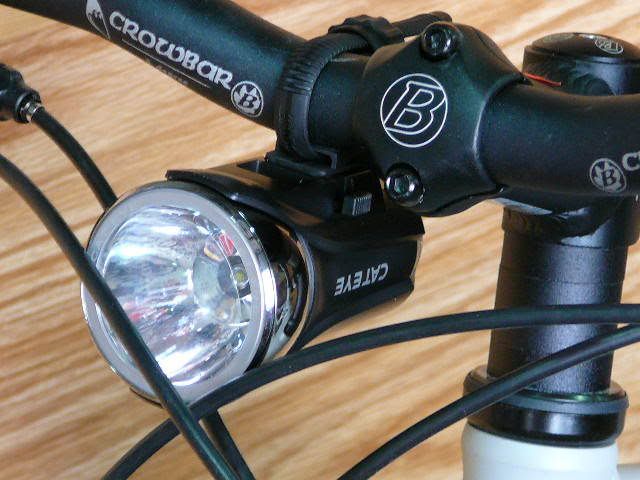 The best way to mount the light is under the bars.  The EL-hl530 is much less likely to break in a crash this way. 
Check out my Cateye HL-EL 530 Installation Page
Flat Rate Shipping 1 to 10 items 
 $4.95 SHIPPING to the Lower 48 States

I accept Money Orders, Bank Checks, Paypal. 
 Check out my other Ebay items!

Check my eBay reviews and bid with confidence.
My eBay name is zbikenut
 My email is Zbikenut@gmail.com
The Cateye HL-EL530 Bicycle headlight is currently the best Handlebar mount Headlight made.

Cateye HL-530 Bicycle Headlight to Zbikenut Home