YoruFukurou (NightOwl)
YoruFukurou (NightOwl) is a native Twitter client for Mac OS X.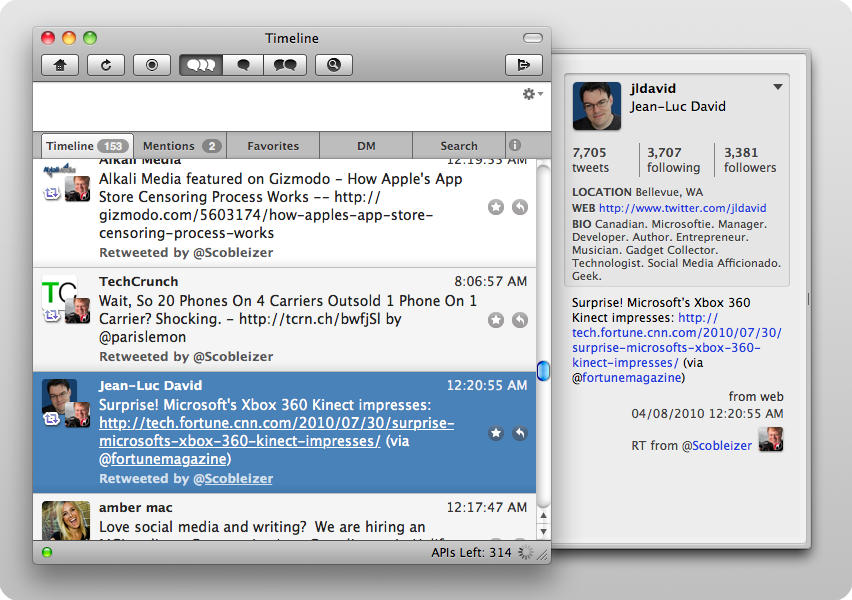 Create Tabs from Rules and Lists

You can filter tweets by defining rules with user IDs, keywords, and regular expression. The tabs are highly configurable, so you can tailor the application to your own needs.
It is also possible to remove the filtered tweets from your timeline.
You can also create tabs from Lists.
Manage Multiple Twitter Accounts
YoruFukurou lets you manage multiple Twitter accounts at the same time. It lets you switch between multiple Twitter accounts instantly.
Create Twitter Search Tabs
You can create a tab that shows search results from Twitter Search. This type of tab can be used to search from the entire Twitter, instead of just your timeline.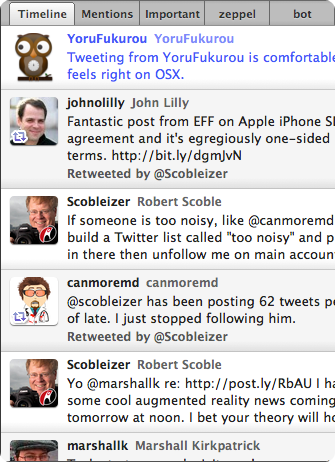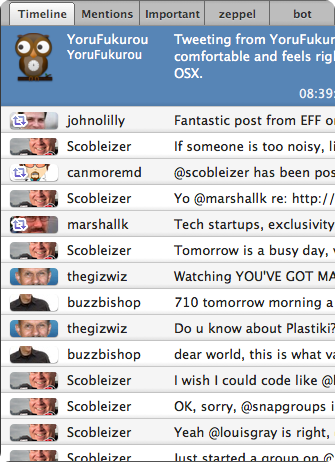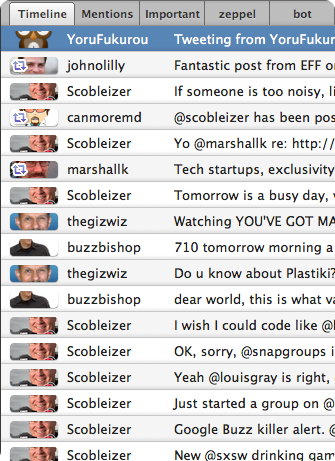 You can choose the timeline appearance from three different appearance modes.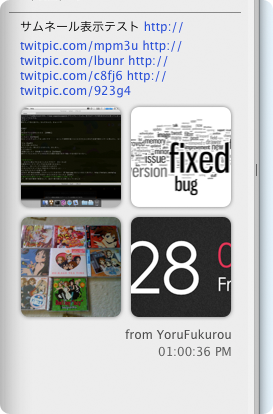 The application shows the image thumbnails from various image hosting services on the drawer.
The thumbnail can be clicked to enlarge the photo.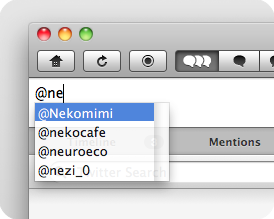 YoruFukurou supports user ID and hashtag autocompletion to save your precious time.

Conversation filter feature allows you to see the tweets related to the selected tweet.
This can be used to "thread" the conversation in your timeline.
Now Browsing & Now Playing
You can paste the song detail from iTunes, or page information from Safari. This can be done from the gear icon in the tweet 
input field. If you are Firefox or Opera user, you can use the bookmarklet feature. You can register the bookmarklet from 
"Register Bookmarklet" menu item in "Help" menu.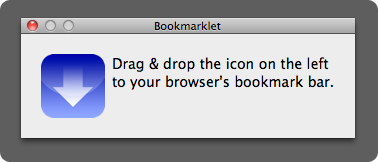 Unread tweets are marked with blue circle on user icon. You can use Space Key to move to the oldest unread tweet for easy 
navigation. You can completely disable this feature if you do not want to need it.
YoruFukurou notifies for new tweets in two different ways. The first way is sound notification. There are many types of sound notifications 
to allow you to know what has happened when you are busy doing something else. The second way is 
Growl notification. Growl is a 
notification framework that allows you to show notification popup on your screen. The behaviour of this notification is highly configureable.
You can also use "silent mode" to disable all notifications to let you focus on the work you are doing.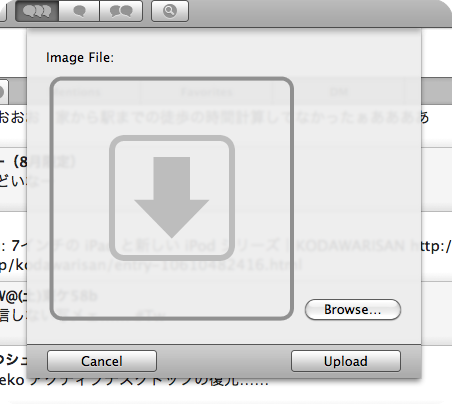 You can upload images to TwitPic and YFrog with simple drag and drop.

You can quickly filter the timeline by typing in keywords.
URL Shortening and Expanding
You can select the URL shortening of your choice, and automatically shortens URL when posting a tweet.
It also allows you to expand shorten URL to avoid stepping on a dangerous pages.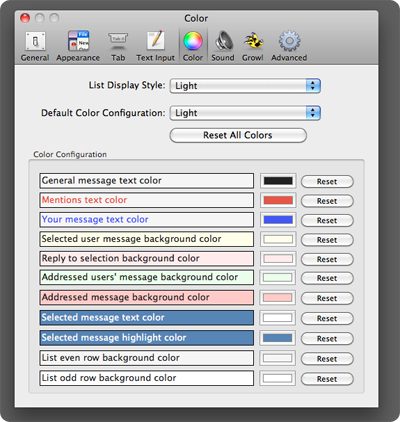 The colors used in the timeline is highly customizable. Text color and background color can be changed.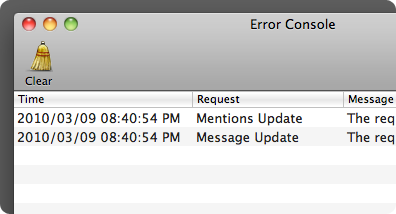 YoruFukurou allows you to see internal details of errors that happened when accessing Twitter API.
Keyboard Shortcuts
List of keyboard shortcuts that can be used in tweet list.
Space - Select the oldest unread tweet in the selected tab
Enter - Reply to selected tweet
Shift + Enter - Reply to all users related to selected tweet
F - Toggle favorite status
H - Show selected user's timeline
L - Open all links in the tweet
R - Open addressed tweet in browser
T - Open tweet in browser
A - Show timeline of @user in the tweet
W - Open website of the selected user
0 - Select the latest tweet in the tab
→ - Reply to selected tweet without focusing on the post input field (for sending reply to multiple users)
← - Reset the post input field
Command + → - Move to next tab
Command + ← - Move to previous tab
Option + → - Select the selected tweet in next tab
Option + ← - Select the selected tweet in previous tab
Q: What does "APIs Left" mean?
A: Twitter limits the number of times you can access Twitter's API in an hour. It is usually refereed to as "rate limiting". YoruFukurou lets you see the 
number of calls you can make until you get rate limited, which means you can post tweets, but not refresh the timeline. If you get rate limited often, please 
review your refresh time interval from the preferences. You can also get rate limited easily by using another application that uses Twitter API at the same time.
Sound Effect
@sysecond
- reve
License Agreement
It can be downloaded from here.
MGTwitterEngine by Matt Gemmell
Growl by The Growl Project
CocoaOniguruma by Satoshi Nakagawa
Oniguruma by K.Kosako
Sparkle by Andy Matuschak
OAuthConsumer by Kaboomerang LLC.
OmniNetworking by The Omni Group
Solarized by Ethan Schoonover