Who We Are
Brockweir, Hewelsfield and St. Briavels Garden Society
is a friendly group of enthusiastic gardeners who meet above the Wye Valley in the Royal Forest of Dean, Gloucestershire. 
Area Location map
.
Each month we either have a speaker, event or an arranged group visit which allows members to socialise and exchange ideas. 
If you would like to join the society, you will be most welcome. Email
wyegardensociety@gmail.com 
Supporting our local Bees
We also support the welfare of our local
Bees.
Our annual grant award scheme, which encourages new people to take up beekeeping, has been running since 2009 and awarded at least one grant each year since then. In 2018, we were able to award two grants, thanks to the very generous support of St Briavels Turbine Community Resilience Fund. 
This meant that
 Kerry Wynne has started to keep bees near Bream and Matt Jones in St Briavels
Links
https://www.facebook.com/groups/deanforestbeekeepers/ 
https://www.facebook.com/ResilientEnergy/
Our Meetings
Meetings are usually on the third Friday of the month, January - March, May & June and September - November. Our
Annual Plant Sale 
is held in St Briavels in late April
. 
We meet alternately at Mackenzie Hall, in Brockweir
and the Pavilion, St Briavels.
We take a break from regular meetings during the summer months. In July, we visit a garden and we hold our annual 
American Supper
 for members in August, at Mackenzie Hall. 
We hold our AGM in November. 
Click here to see our full programme for
2019
Missed a meeting?
Bri
ef reports of our monthly 
meetings are published in Village News, our parish mag for Brockweir, Hewelsfield & St Briavels. 
Find Reports for 2018 here
------------------------------------
NEWS & FUTURE EVENTS
Our next meeting: 'GARDENING IN THE GLOBAL GREENHOUSE'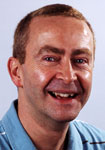 At our June meeting, we welcome Geoff Hodge, freelance gardening writer and broadcaster, to talk about gardening in a changing climate. This will be Geoff's third visit to our society, although his last one was a while ago. He is a lively and informative speaker and it will be interesting to hear his views on this important topic.
Geoff has enjoyed a long career in horticulture, both hands on, as a garden centre manager, and through writing and journalism. He is gardening correspondent for BBC Radio Cambridgeshire and a regular guest on BBC Essex. He has written and edited a number of RHS gardening books, including Pruning, The Allotment Handbook, Propagation Techniques and Pruning & Training. His latest book is RHS Botany for Gardeners.
14 June, 7.30pm at St Briavels Pavilion. 
All welcome. Visitors £5