West Central Beekeepers Association of West Virginia



We are a group of friends and neighbors who want to see the honeybee survive and thrive in our area. We meet once a month to learn new things , talk about what is going on with our bees and what we can do to help anyone who may need help with their hive's.  We have guest speakers to help us with our bee problems and anything that is important in beekeeping. We try to cover most bee keeping topics.   Lets not forget the best part .....   after each meeting we have a very good home cooked dinner. So come on out and learn to be a honeybee keeper and meet some new friends. 

4th Saturday of each month at 1:00 pm. at the

Roane County Committee on Aging 

811  Madison Ave.

Next to the City Pool.
WEST CENTRAL BEEKEEPERS TEACH BEGINNERS THE BASICS
(02/25/2014)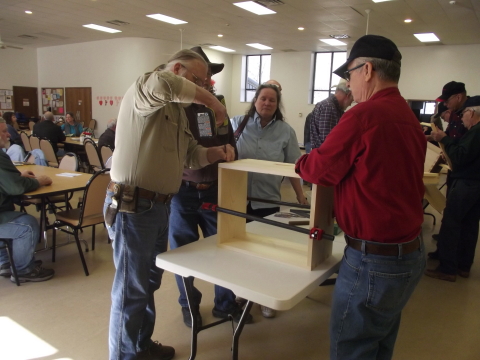 Al Parsons (right) instructing how to build a hive body
Submitted by Judy Kerns
West Central Beekeepers met Saturday at the Roane County Commission on Aging building in Spencer WV, to begin a new year of promoting and training local people in the art of beekeeping.
Over half of the Saturday meeting was the first class in a series of six classes which are designed to teach the beginning beekeeper what he needs to know, as well as reviewing others on topics such as constructing the bee hives, installing bees into the hives, caring for the bees, and harvesting honey and related products such as wax and propolis.
The first class was designed to teach the parts of a bee hive and how they are put together. Class members were assisted by experienced beekeepers, Dale Cunningham, Dave Tatterson, Larry Siers, Al Parsons, and others. Those who are becoming beekeepers had the opportunity to ask questions while they were building a bee hive complete with frames.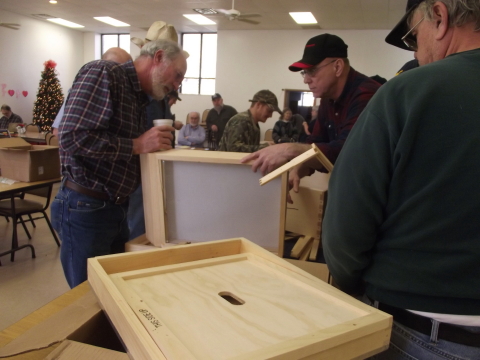 Dale Cunningham (center-right) explaining hive body construction
In future classes, different speakers will discuss topics such as working with and handling bees, treating bees, recognizing problems such as mites and diseases, extracting honey, and preparing honey for sale. "Hands on" experience will be stressed. The bee classes will end with a field day in the bee yard of Larry and Marianne Siers where club members will have an opportunity to get "up close and personal" with a hive full of live honey bees.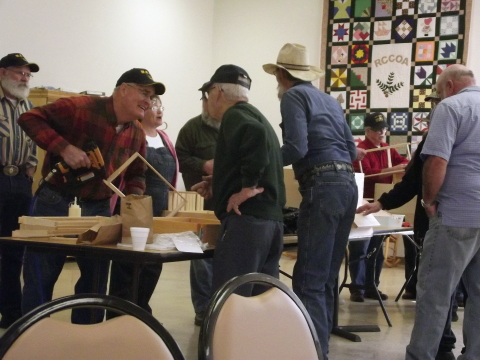 Larry Siers (left-center) explaining
frame construction and arrangement
West Central Beekeepers Association (WCBA) is made up of members from Braxton, Calhoun, Clay, Gilmer, Jackson, Roane, and Wirt counties. WCBA has received grants from My Community Foundation, WV Delegate David Walker, and other sources that not only assist the WCBA with purchasing training materials, but also cost-sharing with members for purchasing bees, wood ware, fruit trees and other food sources for bees.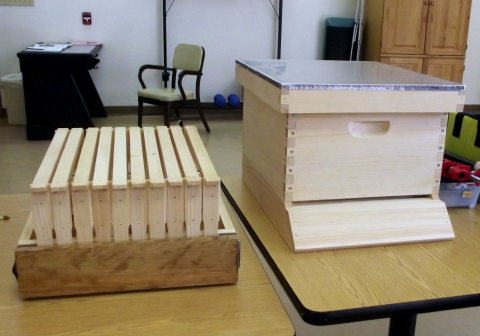 The finished product
If you are interested in becoming a beekeeper either as a hobby or for profit, you may contact Dale Cunningham at 304-354-6916 for more information.