Our story begins with 
Abraham Lincoln who was, in actuality, a scrappy grappler in his youth.  He was also a professional wrestler in that he made money through wrestling.  A technicality of sorts, but a fun part of early wrestling lore.  The Civil War provided the ideal place for wrestling styles from all over to intermix and lead to the development of the professional wrestling of men like 
Colonel James McLaughlin, John McMahon and William Muldoon
.
The Reconstruction Era was a unique era in American history and the numerous presidents do not have any notable connections to the 
embryonic version of pro-wrestling that was around.  During the Industrial Age (or Progressive Age), this would change.
It should come as no surprise that a man's man like Theodore Roosevelt had some connections to wrestling.  Roosevelt himself trained in wrestling and jiu-jitsu over the years.  His most notable connection is through 
Tom Jenkins
.  The legendary wrestler of the pioneer era was appointed by Roosevelt as the boxing and wrestling instructor at West Point.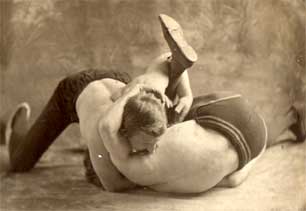 William Howard Taft was an exceptional wrestler
 at Yale, following three 
generations of wrestlers and he is reported to have followed the collar-and-elbow game.  He did pardon wrestler and physical culturalist Berarr Macfadden when he ran into some problems with his publications.  Macfadden was an acquaintance of many celebrities, including Franklin Delano Roosevelt.
Ed "Strangler" Lewis, a mainstream celebrity in his day, is reported to say that he liked singer Enrico Caruso more than Presidents Harding or Coolidge because Caruso let himself be put in Lewis's signature headlock.  Apparently, they weren't fans.
Harry Truman's wife Bess was an admitted pro-wrestling fan in Missouri, but it is unclear if Truman shared her appreciation for pro-wrestling.
Dwight Eisenhower, a West Point graduate, was one of many military notables who trained under Tom Jenkins during his long tenure at the Academy.
Jimmy Carter and 
Mr. Wrestling II
 in a famous photograph.  Pro-wrestling was an institution in Georgia and Carter's mother, Miss Lillian, was a big fan.  Mr. Wrestling II was reportedly invited to Carter's inauguration, but declined unmasking for the Secret Service. 
Jim Barnett
 did attend the inauguration and was appointed to the National Council on the Arts.
George H.W. Bush was friendly with Houston promoter Paul Boesch, who attended his inauguration.  Both were decorated veterans of World War II and successful businessmen in Houston.  There is also a story that Bush was 
Wahoo McDaniel
's baseball coach in Midland, Texas, which seems possible.
Bill Clinton grew up in Southern Arkansas and people have suggested he was a fan, but that is only speculation.  
Jesse Ventura
, while he was the governor of Minnesota, talks about a late night discussion he had with Clinton over cigars.
While their fandom is unknown and perhaps unlikely, both George W. Bush and Barack Obama have recorded special messages for the WWE fans due for their "Tribute to the Troops" shows and other special events.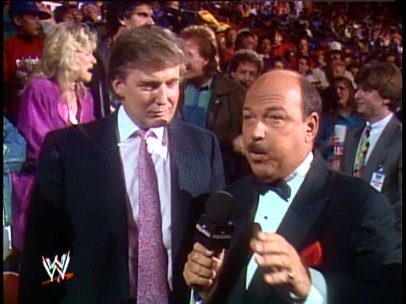 No President has ever been more intertwined with pro-wrestling than Donald Trump.   Trump Plaza, as it was called, hosted WrestleMania IV and V.  Nearly twenty years later, he showed up and built up a feud with Vince McMahon.  The "Battle of the Billionaires" ended with Bobby Lashley (Trump's proxy) beating Umaga (McMahon's proxy) and led to Trump shaving McMahon's head.  A couple years later, Trump returned and 
introduced the concept of having guest general managers of Raw.  It led to a period of cringe-worthy segments as the WWE tried to pull in casual fans.  
In 2013, Trump was inducted into the WWE Hall of Fame.  The McMahons became 
increasingly interested in politics and after Linda McMahon's failed attempts at office, they found their opportunity through Donald Trump.  Millions and millions of dollars were donated to Trump's campaign.  When he became president, he repaid the loyalty of the McMahons by making Linda the head of the Small Business Administration.