Updates
Subscribe to posts
* - new profile to this website (on previous website)
** - brand-new profile
Tiger Conway Jr.
Tom "Boogaloo" Shaft
Honeyboy Zimba
The pro-wrestling world has been abuzz following the appearance of 
Ronda Rousey at the Royal Rumble.  Rousey, one of the biggest drawing cards and crossover stars in the history of MMA, could be a game-changer for the WWE.  However, she is hardly the first fighter to try out pro-wrestling.
There are plenty of notable fighters who actually had backgrounds in pro-wrestling - Ken Shamrock, Kazushi Sakuraba and Brock Lesnar.  In recent years, more fighters with an appreciation of pro-wrestling have tried their hand at it.  Tito Ortiz and Quinton Jackson, despite being charismatic stars in MMA, had cringeworthy showings in TNA.  Lesser MMA personalities 
Matt Riddle and 
Shayna Bazler have made strong showings, but their careers are just getting started.
Don Frye**
Growing up a fan of Superstar Billy Graham and learning under Curt Hennig, Frye had an impressive run in New Japan in between his UFC and Pride FC days. He could bump, he would sell and he was believable!
Josh Barnett
A life-long fan, Barnett was able to tour with New Japan during their down period and excelled at the style. While very good at both, he has always had unfortunate career setbacks. Barnett was a sponge for pro-wrestling and combined an old-school believability with modern-day presentation.
Bob Sapp
One of the biggest celebrities in Japan for a few years, "The Beast" did everything including pro-wrestling. While he had trained at the WCW Power Plant, Sapp was not really a pro-wrestler prior to his time in Pride FC. His charisma, star power and athleticism carried him through several pro-wrestling matches.
Bas Rutten
His appearances were few, but his skills were without question. It might be argued Bas had some less-than-legit bouts in Pancrase, but he was certainly a fighter and not a worker. He had a few matches in New Japan during their partnership with Pride FC and showed amazing potential even though he was older and not a worker.
Ryushi Yanagisawa
Another Pancrase fighter (he actually started with Pro-Wrestling Fujiwara-Gumi) who spent 10 years working there and RINGS.  He
 made the jump to traditional pro-wrestling rings and was given some big opportunities in New Japan.  While he adapted well to aspects of the pro style, the company was in a tough transitional phase and mainly hung around in the midcard.

Mark Coleman & Kevin Randleman
Their rollercoaster MMA careers included a few pro-wrestling matches in Japan for Zero-One and HUSTLE as a tag team. While both were untrained and raw, they had some worthwhile showings. Coleman was a lifelong fan and was always a great intense character while Randleman's charisma and amazing athleticism impressed many. It might have been a better avenue for both of them to pursue as he never accomplished much in MMA after 2004.

Daniel Puder
While he did not have a notable background, Puder managed to battle his way into the WWE system through Tough Enough and was very good in his own way. After some time in OVW, he was released and returned to MMA.

Brian Johnston
A UFC pioneer, Johnston was brought into New Japan with Don Frye in the late 1990s. He was an impressive specimen and believable in his role, but never pushed as hard as Frye. Johnston had his limitations and sadly had a stroke that ended his pro-wrestling and MMA careers.

Ron Waterman
While he was never a huge success in either, the H20Man had a great look and undeniable presence. Unfortunately, he was often confused for Bill Goldberg. Older and less talented, Waterman's success in OVW never led to success on the WWF's main roster.

Tank Abbott
A legitimate bad ass dancing around my members of a pro-wrestling boy band? Although Tank's WCW run had some questionable booking and never proved to be a great worker, he had something. The charisma that got him over in the UFC translated in WCW to an extent and his run was certainly not forgettable.
Since January 1993, a little pro-wrestling show has aired on most Monday nights.  From Monday Night Raw at the Manhattan Center to the outrageous Raw is War show that aired opposite Monday Nitro for more than five years.  The highest rated episodes of Raw happened during this period, specifically between May 1999 and July 2000.  
The show has changed its look some, it even changed networks (bouncing over to Spike TV for five years) and saw the collapse of WCW and yet it has never had ratings like it did during the Attitude Era.
Unbelievable Alliance - May 
10, 1999 (8.1)

Backlash from Backlash - May 1, 2000 (7.4)
Fallout from Backlash leads to a main event between 
The Rock
 and Shane McMahon in a steel cage

RAW is Owen - May 24, 1999 (7.15)
A show long tribute to
Owen Hart
who died in a tragic accident the night before
The Undertaker
 Returns - May 22, 2000 (7.1)
After showing back up in his "American Bad Ass" persona the night before, the Raw audience tunes in to see for themselves
Family Feuds - 
April 24, 2000 (7.1)
Chaos ensues among
Triple H
, Stephanie, Shane and Linda McMahon with 
The Rock
,
Chris Benoit
and
Chris Jericho
find themselves in the mix
Fully Loaded Follow-up - 
July 24, 2000 (6.9)
A big show following a pay-per-view with Commissioner
Mick Foley
in command
"This Is Your Life!" - September 27, 1999 (6.8)
Mankind
orchestrates a bizarre piece to look at the life of 
The Rock
Steve Austin
 vs. 
The Undertaker
 - June 28, 1999 (6.8)
A WWF Championship match between the two top stars
Higher Power Revealed - June 7, 1999 (6.65)
2018 saw the deaths of figures in pro-wrestling of all types - promoters, announcers, managers, trainers and, of course, pro-wrestlers.  These individuals had influence or notable runs in all the major countries and territories.  Some, like Lance Russell and Stan Kowalski, were well-respected by their peers.  Others, like Tom Zenk and Ron Starr, did have their detractors as they had reputations as self-important complainers.  And then there are controversial characters like 
Jimmy Snuka and Bob Sweetan (not to mention Johnny K-9 aka Bruiser Bedlam!).
For a complete listing, please refer to the CACC's
2017 Finishes
.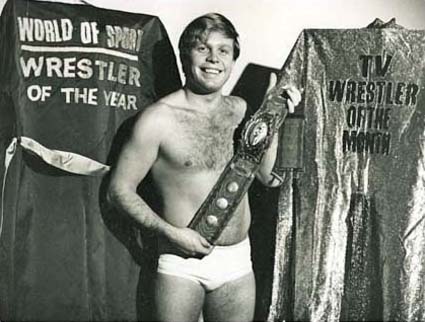 Don Arakawa
Bill Kersten
British wrestling legend - Vic Faulkner
Stan Kowalski
 Ron Starr was one of the great workers of his day
Benjamin Mora, Jr.
In 2018, at least two candidates are known to be on the ballot.  They have some similarities - both handsome young men who 
were athletic worker and worked there way to the top of a major organization and both were not above playing silly characters.  The differences may end there though.
Rick Martel
 had an impressive career with some twenty years of being a top worker capturing titles all over the globe.  He worked on top in New Zealand, Portland and Montreal, but had notable runs in the WWWF/WWF as part of tag teams with Tony Garea, Tom Zenk (Can-Am Connection) and Tito Santana (Strike Force).  
While his career might have peaked with his AWA title run in 1984, most remember Martel from his heel run as "The Model" starting in 1989.  He did enjoy a brief career renaissance in WCW in 1997.
Kenny Omega is a pro-wrestler currently at the peak of his abilities.  He started in 2000 and gained a WWE developmental contract in 2005.  After requesting his release, Omega focused on building his name value on the indies.  He also was brought to Japan by DDT and built his reputation there as well.  By 2010, Omega was emerging as one of the premier talents on both sides of the Pacific.  He worked for the top indies in the States and started with New Japan.  Since that time he has had numerous MOTYC performances and continuously upped his game.