Updates
Subscribe to posts
In 1989, CMLL introduced a Friday night 
end-of-the-year 
supershow called "Juicio Final" (Final Justice) and ran several big lucha de apuesta matches through 1996.  They brought the name back a few more times, used the name "Sin Piedad" (No Mercy) other times and moved to other months other years.
December 1, 1989 - 
Fuerza Guerrera
and Rocky Star in a Lucha de Apuesta, mask vs. mask match
December 8, 1989 - 
All Star vs. El Hijo del Santo in a Lucha de Apuesta, mask vs. mask match
December 14, 1990 -
Octagón
vs. Huracán Ramírez vs.
Fuerza Guerrera
in a Lucha de Apuesta, mask vs. mask match
December 13, 1991 - Máscara Año 2000 vs.
Aníbal
in a Lucha de Apuesta, mask vs. mask match
December 18, 1992 -
Pierroth Jr.
vs. El Supremo in a best two-out-of-three falls Lucha de Apuestas mask vs. mask match
December 3, 1993 - 
Mano Negra vs. Bestia Salvaje, Lucha de Apuestas, hair Vs. hair match
December 10, 1993 - Mocho Cota vs
Kato Kung Lee
, Lucha de Apuestas, hair Vs. hair match
December 1, 1995 -
Shocker
vs. Kahoz, Lucha de Apuestas, mask vs. mask match
December 2, 2005 -
Universo 2000
vs. Halloween in a Lucha de Apuesta, hair vs. hair match
In 1983, Jim Crockett Promotions' annual Thanksgiving Day show took on a new name - "Starrcade."  This new event succeeded a long-standing tradition of shows in both Greensboro, North Carolina and Norfolk, Virginia. Starrcade
 maintained its Turkey Day airing for several years before shifting to December.  The event became WCW's big annual event up until 2000 (several months before the WWF purchased them).
The WWF, now WWE, has begun recycling some of the old JCP and WCW concepts.  T
hey have promoted Great American Bash and Clash of Champions events and used War Games, but no event carries more prestige than Starrcade.  Last year, they brought the event back to Greensboro as a house show and 
This event, which will be a house show in Cincinnati, which seems more like a choice based on where the company happens to be then recognizing the Greensboro tradition like they did last year.
Many pro-wrestlers have famous beards that are their trademark.  It may even overshadow the rest of their character!  Just as a unique hair style can take a pro-wrestler's character to another level, a beard can do the same.  The beard can take on a life of its own and may be more over than the man wearing it.  
2. Is the beard key to the character?
3. Can you imagine the pro-wrestler without a beard?
Many pro-wrestlers have worn beards throughout their careers.  For some, it was a passing phase and they became better remembered for having a mustache or being clean shaven.  There are some who simply wore a beard most their career.
Ian Campbell
Cuban Assassin
Big Bruno Erlington
Jim Neidhart
Rasputin (Johnny Howard)
In 1989, the LPWA (Ladies' Professional Wrestling Association) was formed by Tor Berg.  It was essentially the successor to GLOW, but opted for a more serious approach.  In 1992, they held their first pay-per-view event and the first all-women's pro-wrestling pay-per-view event.  The WWE's Evolution show, while it will have more eyeballs watching and a bigger house in attendance, is not, despite what they say, the first all-women's pay-per-view.
1. Susan Green vs. Denise Storm
2. Reggie Bennett vs. Yukari Osawa
5. Miki Handa & Mami Kitamura vs. Allison Royal and Lisa Starr
7. Denise Storm vs. Reggie Bennett
9. 
Rockin' Robin vs. 
Black Venus
10. Lelani Kai & Judy Martin vs. Bambi & Malia Hosaka
12. Terri Power (Tori) defeated Lady X (Peggy Lee Leather) 
Mickey Garagiola
Luigi Macera
Joe Scarpello
WWE Universal champion Roman Reigns relinquished his title and announced that his leukemia had returned (after 11 years) and he will need to leave for treatment.  It was a touching moment amidst a hurricane of controversy surrounding the Crown Jewel show in Saudia Arabia, hype around the Women's Evolution show and continuing ratings downturn during football season.
While the list is not an uplifting one, Roman Reigns lives in a different time and he has beaten leukemia once, hopefully he can again.
On October 21st, the current version of the National Wrestling Alliance will be offering up their 70th Anniversary show.  It is the 10th show since the quasi-tradition started with a Dennis Coralluzzo show in New Jersey in 1998.  Legend has it that Coralluzzo "lost" the proceeds from the show and that led to his departure from the NWA.
The anniversary shows continued annually for the next seven years in all the NWA hotbeds - North Carolina, Texas, Georgia, Tennessee...and Winnipeg?
Fergal Devitt (Finn Balor) (55th, 56th, 57th)
Doug Gilbert
Chris Hero
Ron Killings
Kenny Omega
"PCO" Pierre Carl Ouelett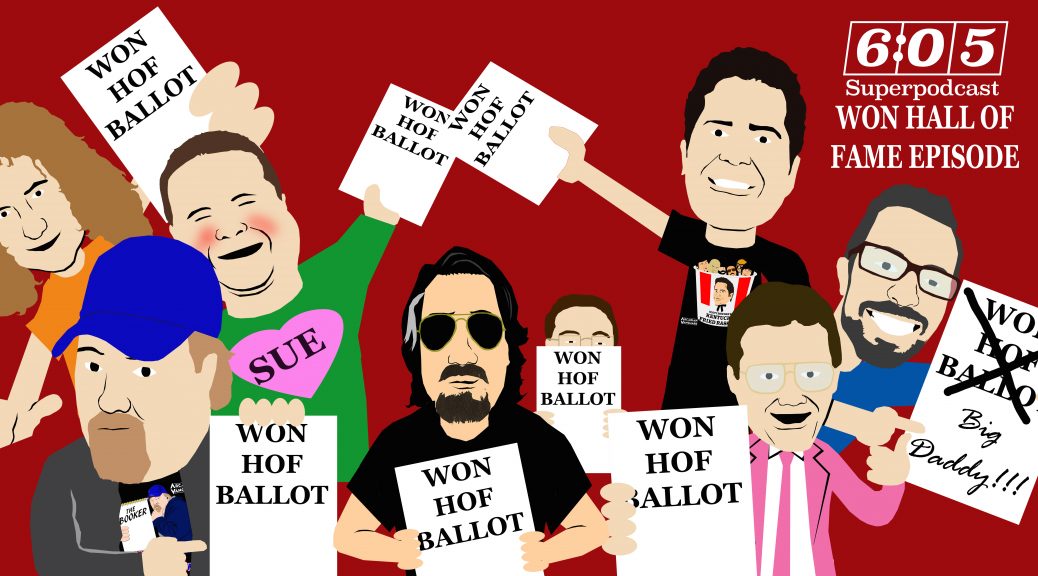 It's Wrestling Observer Hall of Fame season and those who can vote have received their ballots and any changes that Dave Meltzer has made (moving people around in categories, adding recently deceased nominees and adding nominees that people have lobbied to be added on) are now out there and being discussed.
Historical
Modern US & Canada
Mexico
Other Places (Europe, Australia, etc.)
Japan
Non-Wrestlers
Bill Apter (magazines)
Dave Brown (commentator)
† - passed away this past year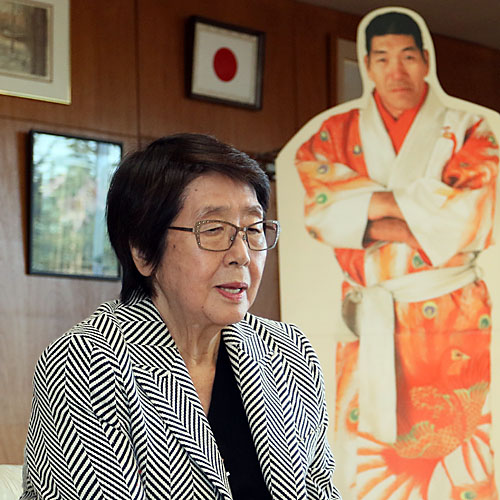 September 22nd is National Business Woman's Day in the United States.  There are several notable women who have made an impact on the pro-wrestling business at many different levels.  Some were successful local promoters during the territorial era.  In more recent times, there are a number of female wrestlers in Japan who have promoted their own companies and shows.  The successes of all these women is dwarfed by the power of Motoko Baba (pictured).  The wife of Shohei "Giant" Baba, the founder, promoter and long-time top star of All Japan Pro-Wrestling, Motoko wielded more influence than any other women ever has in professional wrestling.
Motoko Baba
**
Linda McMahon
Stephanie McMahon