Joe Frazier
From Wikipedia, the free encyclopedia
Statistics
Real name
Joseph William Frazier
Height

5 ft 11 1⁄2 in (1.82 m)
Beaufort, South Carolina, United States
Died

November 7, 2011 (aged 67)
Philadelphia, Pennsylvania, United States
Boxing record
Medal record
Men's Boxing
Olympic Games
Competitor for  United States
Gold

1964 Tokyo

Heavyweight
Joseph William "Joe" Frazier (January 12, 1944 – November 7, 2011), also known as Smokin' Joe, was an American professional boxer and Olympic and Undisputed World Heavyweight Champion, whose professional career lasted from 1965 to 1976, with a one-fight comeback in 1981.
Frazier emerged as the top contender in the late 1960s, defeating opponents that included Jerry Quarry, Oscar Bonavena, Buster Mathis, Eddie Machen, Doug Jones, George Chuvalo and Jimmy Ellis en route to becoming Undisputed Heavyweight Champion in 1970, and followed up by defeating Muhammad Ali on points in the highly-anticipated "Fight of the Century" in 1971. Two years later Frazier lost his title when he was knocked out by George Foreman. He fought on, beating Joe Bugner, losing a rematch to Ali and beating Quarry and Ellis again.
Frazier's last world title challenge came in 1975, but he was beaten by Ali in their brutal rubbermatch. He retired in 1976 following a second loss to Foreman. He made a comeback in 1981, fighting just once, before retiring for good. The International Boxing Research Organization (IBRO) rates Frazier among the ten greatest heavyweights of all time.[2] He was an inductee of both the International Boxing Hall of Fame and the World Boxing Hall of Fame.
Frazier's style was often compared to that of Henry Armstrong and occasionally Rocky Marciano. He was dependent on bobbing, weaving, grunting, snorting as he grimaced with all out aggression wearing down his opponents with relentless pressure. His best known punch was a powerful left hook, which accounted for most of his knockouts.
After retiring, Frazier made cameo appearances in several Hollywood movies, and two episodes of The Simpsons. His son Marvis became a boxer — trained by Frazier himself — although was unable to recreate his father's success. Frazier continued to train fighters in his gym in Philadelphia. His later years saw the continuation of his bitter rivalry with Ali, in which the two periodically exchanged insults, interspersed with brief reconciliations.
Frazier was diagnosed with liver cancer in late September 2011 and admitted to hospice care.[3] He died November 7, 2011.[4]
Contents  
1 Early life
2 Amateur career
3 1964 Olympics
4 Professional career
4.1 Mid to late 1960s
4.2 Wins World Championship – Ellis
4.3 Fight of the Century
4.4 Loses title to George Foreman
4.5 Mid 1970s
4.6 Thrilla In Manila
4.7 Foreman again
4.8 Music career
4.9 1980s comeback and coaching career
4.10 Media appearances
4.11 Autobiography
5 Financial issues and legal battles
6 Relationship with Muhammad Ali
7 Later years
7.1 Death
8 In popular culture
9 Professional boxing record
10 See also
11 References
12 Further reading
13 External links
Early life
Joe Frazier was the 12th child born to Rubin and Dolly Frazier in Beaufort, South Carolina. He was raised in a rural community of Beaufort called Laurel Bay.[5][6] Frazier said he was always close to his father, who carried him when he was a toddler "over the 10 acres of farmland" that the Fraziers owned, "to the still where he made his bootleg corn liquor, and into town on Saturdays to buy the necessities that a family of 10 needed." The young Frazier was affectionately called "Billy Boy."[5]
Rubin had his left hand and part of his forearm amputated a year before Frazier was born. While Rubin and Dolly were in the car a friend named Arthur Smith, who was drunk at the time and was fond of meeting women, passed by and made a move for Dolly and was rebuffed. When Frazier's parents drove away Smith fired several bullets, hitting Dolly once in the foot and Rubin several times in the arm, which was hanging outside the car. Arthur Smith went to prison for the shooting, but did not stay long. As Joe's mother put it, "If you were a good workman, the white man took you out of jail and kept you busy on the farm."[7]
His parents owned the 10 acre farm which they worked with "two mules, Buck and Jenny." Frazier said the land was what country folk called "white dirt, which is another way of saying it isn't worth a damn." The Frazier family couldn't grow peas or corn on it, they were only able to grow cotton and watermelon.[7]
In the early '50s, Frazier's father got a black and white television. His father, his mother, her brothers and other people from the neighborhood would come to watch boxing matches on it. Frazier's mother sold drinks for a quarter as they watched fighters like Sugar Ray Robinson, Rocky Marciano, Willie Pep and Rocky Graziano. One night Frazier walked onto the porch of his house when his Uncle Israel noticed Frazier's stocky build. "That boy there...that boy is gonna be another Joe Louis" he remarked. The words made an impression on Joe. At school, his classmates would give him a sandwich or a quarter to walk with them at final bell so that bullies would not mess with them. Joe remarked, "Any 'scamboogah' (a disrespectful, low-down and foul person) who got in my face would soon regret it: Billy Boy could kick anybody's ass." The next day after Joe was labeled the next Joe Louis, he got an old burlap sack and filled it with rags, corncobs, a brick in the middle and Spanish moss that grew on trees all over Beaufort County. He then tied a rope to it and hung the makeshift heavybag from an oak tree in the backyard where the mules were kept. "For the next 6, 7 years, damn near every day I'd hit that heavybag for an hour at a time. I'd wrap my hands with a necktie of my Daddy's, or a stocking of my Momma's or sister's, and get to it" Joe remarked.[8]
It was not long after Joe started working out that his left arm was seriously damaged because of the Fraziers' ornery 300 pound hog. The hog was very nasty from time to time, but sometimes Joe could not resist teasing it. One day Joe poked the hog with a stick and ran away, but someone had left the gate to the pigpen open and the hog ran through the gate, chasing Joe. In his hurry, Joe fell and hit his left arm on a brick. The arm was torn badly, but as the Frazier family was unable to pay for a doctor, the arm had to heal on its own. The arm eventually did heal, but Joe was never able to keep it fully straight again. It was crooked and lacking a full range of motion. But as it existed, it was as though it was cocked for the left hook — permanently cocked.[9]
By the time Joe was 15 years old, he was working on a farm for a family named Bellamy. They were both white men, Mac who was the younger of the two and more easy going, and Jim who was a little rougher and somewhat backward. One day a little black boy of about 12 years old, damaged one of the Bellamy's tractors without meaning to. Jim Bellamy became so enraged he took off his belt and whipped the boy with his belt right there in the field. Joe saw the event and went back to the packing house on the farm and told his black friends what he had seen. It wasn't long before Jim Bellamy saw Joe and asked him why he told what he had witnessed. Joe then told Bellamy he didn't know what he was talking about, but Bellamy didn't believe Joe and threatened Joe to get off the farm before he took off his belt again. Joe told him he better keep his pants up because he wasn't going to use his belt on him. Jim then analyzed Joe for a bit and eventually said "Go on, get the hell outta here." Joe knew from that moment it was time for him to leave Beaufort; he could only see hard times and low-rent for himself. Even his Momma could see it. She told Joe "Son, if you can't get along with the white folks, then leave home because I don't want anything to happen to you."[10]
The train fare from Beaufort to the cities up North was costly, and the closest bus-stop was in Charleston, 96 miles (154 km) away. Luckily by 1958, the bus (The Dog, as called by locals in Beaufort) had finally made Beaufort a stop on its South Carolina route. Joe had a brother, Tommy, in New York. He was told he could stay with Tommy and his family. Joe had to save up a bit before he could make the bus trip to New York and still have some money in his pocket, and so first he went to work at the local Coca-Cola plant. Joe remarked that the white guy would drive the truck and he would do the real work, stacking and unloading the crates. Joe stayed with Coca-Cola until the government began building houses for the marines stationed at Parris Island; at which time he was hired on a work crew.
Nine months eventually passed since he got the boot from the Bellamy farm. One day, with no fanfare, no tearful goodbyes, Joe packed quickly and got the first bus heading northward. "I climbed on the Dog's back and rode through the night" Joe remarked. "It was 1959, I was 15 years old and I was on my own."[11]
Amateur career
During Frazier's amateur career, he won Golden Gloves Heavyweight Championships in 1962, 1963 and 1964. His only loss in three years as an amateur was to Buster Mathis.[12] Mathis would prove to be Joe's biggest obstacle to making the 1964 U.S. Olympic Boxing team. They met in the final of the U.S. Olympic Trial at the New York World's Fair in the summer of 1964. Their fight was scheduled for three rounds and they fought with 10 oz gloves and with headgear, even though the boxers who made it to Tokyo would wear no headgear and would wear 8 oz gloves. Joe was eager to get back at Mathis for his only amateur loss and KO'd two opponents to get to the finals. But once again, when the dust settled, the judges had called it for Mathis, undeservedly Joe thought. "All that fat boy had done was run like a thief- hit me with a peck and backpedal like crazy." Joe would remark.[12]
Mathis had worn his trunks very high, so that when Joe hit Mathis with legitimate body shots the referee took a dim view of them. In the second round, the referee had gone so far as to penalize Joe two points for hitting below the belt. "In a three-round bout a man can't afford a points deduction like that," Joe would say. Joe then returned to Philadelphia feeling as low as he'd ever been and was even thinking of giving up boxing. Duke Dugent and his trainer Yank Durham were able to talk Joe out of his doldrums and even suggested Joe make the trip to Tokyo as an alternate, in case something happened to Mathis. Joe agreed and while there, he was a workhorse, sparring with any of the Olympic boxers who wanted some action. "Middleweight, light heavyweight, it didn't matter to me, I got in there and boxed all comers" Joe would say. In contrast, Mathis was slacking off. In the morning, when the Olympic team would do their roadwork, Mathis would run a mile, then start walking saying "Go ahead, big Joe. I'll catch up."[13]
1964 Olympics
In 1964 heavyweight representative Buster Mathis qualified but was injured so Frazier was sent as a replacement. At the Heavyweight boxing event, Frazier knocked out George Oywello of Uganda in the first round, then knocked out Athol McQueen of Australia 40 seconds into the third round. He was then into the semi-final, as the only American boxer left, facing the 6 foot 4, 230 lb Russian Vadim Yemelyanov.[14]
"My left hook was a heat seeking missile, careening off his face and body time and again. Twice in the second round I knocked him to the canvas. But as I pounded away, I felt a jolt of pain shoot through my left arm. Oh damn, the thumb." Joe would say. Joe knew immediately the thumb of his left hand was damaged, though he wasn't sure as to the extent. "In the midst of the fight, with your adrenaline pumping, it's hard to gauge such things. My mind was on more important matters. Like how I was going to deal with Yemelyanov for the rest of the fight." The match ended when The Russian handlers threw in the towel, at 1:49 in the second round, the referee raised Joe's injured hand in victory.
Now that Joe was into the final, he didn't mention his broken thumb to anyone. He went back to his room and soaked his thumb in hot water and Epsom salts. "Pain or not, Joe Frazier of Beaufort, South Carolina, was going for gold." Joe proclaimed. Joe would fight a 30-year-old German mechanic named Hans Huber, who failed to make it on the German Olympic wrestling team. By now Joe was used to fighting bigger guys, but he was not used to doing it with a damaged left hand. When the opening bell sounded on fight night, Joe came out and started winging punches, he threw his right hand more than usual that night. Every so often he'd used his left hook, but nothing landed with the kind of impact he managed in previous bouts. Under Olympic rules, 5 judges judge a bout, and that night three voted for Joe.[15]
В финале Олимпийских игр в Ледяном Дворце Korakuen Джо будет боксировать со сломанной рукой против немца Ханса Хубера
На больничной койке 30 октября 1964 года.                   Нью-Йорк. 1968 год. Джо побеждает в профи того самого Бастера Матиса.
8 марта 1971 года. Нью-Йорк. Фрейзер вышел на ринг против бывшего чемпиона мира в тяжёлом весе Мохаммеда Али. Впервые в истории тяжелого веса в чемпионском бою бились два небитых чемпиона — один бывший, другой действующий.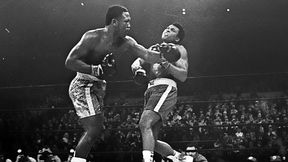 Joe Frazier's decision victory over Muhammad Ali in 1971 was the first in a trio of legendary fights
Professional career
After Frazier won the USA's only 1964 Olympic boxing gold medal, his trainer Yancey "Yank" Durham helped put together Cloverlay, a group of local businessmen (including a young Larry Merchant) who invested in Frazier's professional career and allowed him to train full-time. Durham was Frazier's chief trainer and manager until Durham's death in August 1973.
Frazier turned professional in 1965, defeating Woody Goss by a technical knockout in the first round. He won three more fights that year, all by knockout, none going past the third round.
Joe's second contest was of interest in that he was decked in round 1 by Mike Bruce. Frazier took an "8" count by referee Bob Polis but rallied for a TKO over Bruce in round 3.[16]
In 1966, as Frazier's career was taking off, Durham contacted Los Angeles trainer Eddie Futch. The two men had never met, but Durham had heard of Futch through the latter's reputation as one of the most respected trainers in boxing. Frazier was sent to Los Angeles to train, before Futch agreed to join Durham as an assistant trainer. With Futch's assistance, Durham arranged three fights in Los Angeles against Al Jones, veteran contender Eddie Machen and George "Scrapiron" Johnson. Frazier knocked out Jones and Machen, but surprisingly went 10 rounds with journeyman Johnson to win a unanimous decision. Johnson had apparently bet all his purse that he'd survive to the final bell, noted Ring magazine, and somehow he achieved it. But Johnson was known in the trade as 'impossibly durable.'
After the Johnson match, Futch became a full-fledged member of the Frazier camp as an assistant trainer and strategist, who advised Durham on matchmaking. It was Futch who suggested that Frazier boycott the 1967 WBA Heavyweight Elimination Tournament to find a successor to Muhammad Ali after the Heavyweight Champion was stripped of his title for refusing to be inducted into the military, although Frazier was the top-ranked contender at the time.
Futch proved invaluable to Frazier as an assistant trainer, helping modify his style. Under his tutelage, Frazier adopted the bob-and-weave defensive style, making him more difficult for taller opponents to punch, while giving Frazier more power with his own punches. While Futch remained based in Los Angeles, where he worked as a supervisor with the U.S. Postal Service, he was flown to Philadelphia to work with Frazier during the final preparations for all of his fights.
After Durham died of a stroke on August 30, 1973, Futch was asked to succeed him as Frazier's head trainer and manager—at the same time he was training heavyweight contender Ken Norton. Norton lost a rematch against Ali less than two weeks after Durham's death. At that point, Norton's managers, Robert Biron and Aaron Rivkind, demanded that Futch choose between training Frazier and Norton, with Futch choosing Frazier.
Mid to late 1960s
Now in his second year, in September 1966 and somewhat green, Frazier won a close decision over rugged contender Oscar Bonavena, despite Bonavena flooring him twice in the second round. A third knockdown in that round would have ended the fight under the three knockdown rule. Frazier rallied and won a decision after 12 rounds. The Machen win followed this contest.
In 1967 Frazier stormed ahead winning all six of his fights, including a sixth-round knockout of Doug Jones and a brutal fourth round (TKO) of Canadian George Chuvalo. No boxer had ever stopped Chuvalo before, but Frazier, despite the stoppage, was unable to floor Chuvalo, who would never be dropped in his career.
By February 1967 Joe had scored 14 wins and his star was beginning to rise. This culminated with his first appearance on the cover of Ring Magazine. In this month he met Ali, who hadn't yet been stripped of his title. Ali said Joe would never stand a chance of "whipping" him, not even in his wildest dreams. Later that year, Muhammad Ali was stripped of his world heavyweight title due to his refusal to be inducted into the military during the Vietnam War.
To fill the vacancy, the New York State Athletic Commission held a bout between Frazier and Buster Mathis, with the winner to be recognized as "World Champion" by the state of New York. Although the fight was not recognized as a World Championship bout by some, Frazier won by a knockout in the 11th round and staked a claim to the Heavyweight Championship. He then defended his claim by beating hard hitting prospect Manuel Ramos of Mexico in two rounds.
He closed 1968 by again beating Oscar Bonavena via a 15-round decision in a hard-fought rematch. Bonavena fought somewhat defensively, allowing himself to be often bulled to the ropes, which let Frazier build a wide points margin. Ring magazine showed Bonavena afterwards with a gruesomely bruised face. It had been a punishing match.
1969 saw Frazier defend his NYSAC title in Texas, beating Dave Zyglewicz, who'd only lost once in 29 fights, by a first-round knockout. Then he beat Jerry Quarry in a 7th round stoppage. The competitive, exciting match with Quarry was named 1969 Ring Magazine fight of the year. Frazier showed he could do a lot more than just slug. He'd used his newly honed defensive skills to slip, bob and weave a barrage of Quarry punches despite Quarry's reputation as an excellent counter punching heavyweight.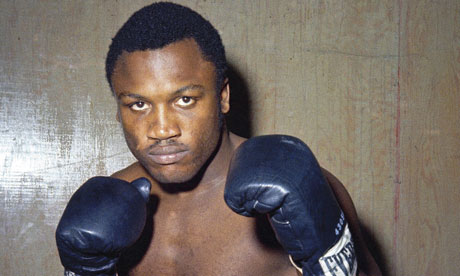 Wins World Championship – Ellis
On February 16, 1970, Frazier faced WBA Champion Jimmy Ellis at Madison Square Garden. Ellis had outpointed Jerry Quarry in the final bout of the WBA elimination tournament for Ali's vacated belt. Frazier had himself declined to participate with the WBA tournament to protest their decision to strip Ali. Ellis also held a win over Oscar Bonavena. Beforehand, Ali had announced his retirement and relinquished the Heavyweight title, allowing Ellis and Frazier to fight for the undisputed title. Frazier won by a TKO when Ellis' trainer Angelo Dundee would not let him come out for the 5th round following two 4th round knockdowns (the first knockdowns of Ellis' career). His decisive win over Ellis was a frightening display of power and tenacity.
In his first title defense, Frazier traveled to Detroit to fight World Light Heavyweight Champion Bob Foster, who would go on to set a record for the number of title defenses in the light-heavyweight division. Frazier (26–0) retained his title by twice flooring the hard punching Foster in the second round. The second knock down came on a devastating left hook and Foster could not beat the count. Then came what was hyped as the "Fight Of The Century," his first fight with Muhammad Ali, who had launched a comeback in 1970 after a three year suspension from boxing. This would be the first meeting of two undefeated heavyweight champions (and last until Mike Tyson faced Michael Spinks in 1988), since Ali (31–0) had not lost his title in the ring, but rather been stripped because of his refusal to be inducted in the Armed Forces, some considered him to be the true champion. This fight was to crown the one, true heavyweight champion.
22 ноября 1970 год. Джо Фрейзер и его семья, позируют для семейного портрета.
Еще он умел круто одеваться и петь. Джо записал несколько синглов. Его творчество крутилось на Motown, Capitol, Prodigal, Cloverlay, Contempo, P.I.P и на его собственном муз-лэйбле Knockout Records. Помимо лэйбла Нокаут рекордз, у него ещё была своя фанк группа Joe Frazier's Knockouts. «My Way» – это интерпритация французской песни Клода Франсуа «Claude François – Comme d'habitude», получившей всемирную популярность в английской версии Пола Анка и исполнении Фрэнка Синатры. Фрэйзер переписал лирику «My Way» в боксерском ключе, так что она стала напоминать сюжет фильма Рокки, там даже строчка есть «Sly way»! Сингл вышел в 1971 году, после эпического поединка между Фрэйзером и Муххамедом Али, в котором Джо одержал победу, отправив Али в нокдаун в пятнадцатом раунде. Тот бой прослыл в масс-медиа «боем века»!
Fight of the Century
On March 8, 1971, at Madison Square Garden, Frazier and Ali met in the first of their three bouts which was widely called the "Fight of the Century" in pre-bout publicity and the press feeding frenzy.[17] With a worldwide television audience and an in-house audience that included luminaries such as Frank Sinatra (as a photographer for Life magazine to get a ringside seat), comedian Woody Allen, singer Diana Ross and actors Dustin Hoffman and Burt Lancaster (who served as "color commentator" with fight announcer Don Dunphy), the two undefeated heavyweights met in the kind of media-frenzied atmosphere not seen since Joe Louis' youth.
Several factors came together for Frazier in this fight. He was 27 years old and at his lifetime peak boxing-wise, physically and mentally, while Ali, 29, was coming back from a three-year absence but had kept in training, taking on Frazier three months after a bruising battle with Oscar Bonavena, whom Ali had defeated by a TKO in 15. Joe did his 'homework' training with famed coach Eddie Futch, who had developed a strategy based on Ali's tendency to throw the right-hand uppercut from a straight standing position after dropping the hand in preparation to throw it with force. Futch instructed Frazier to watch Ali's right hand and, at the moment Ali dropped it, to throw a left hook at the spot where they knew Ali's face would be a second later. Frazier's major staggering of Ali in the 11th round and his knock-down of Ali in the 15th were both executed precisely in this way.
In a brutally competitive contest, Frazier lost a number of early rounds but took Ali's combinations without backing down. As Ali started to slow in the middle rounds, Frazier came on strong, landing hard shots to the body as well as the powerful left hooks to the head.
Consequently, Frazier won a clear, 15-round, unanimous decision. Ali was taken to the hospital immediately after the fight to have his badly swollen jaw x-rayed and Frazier spent time in the hospital during the ensuing month, the exertions of the fight having been exacerbated by his existing health problems, such as hypertension and a kidney infection. Some time later he fought a 3-round exhibition against Cleveland Williams.
In 1972, Frazier successfully defended the title twice, beating Terry Daniels and Ron Stander, both by knockout, in the fourth and fifth rounds, respectively. It's worth noting Daniels had drawn with Jerry Quarry and Stander had KO'd Earnie Shavers.
Loses title to George Foreman
Ultimately, Frazier lost his undefeated record of 29–0 and his world championship, at the hands of the unbeaten George Foreman on January 22, 1973, in Kingston, Jamaica. Despite Frazier being the overall favorite, Foreman towered 4" over the shorter, more compact champion and soon dominated the brief bout as Frazier came in too open. Two minutes into the first round, Frazier was knocked down. After being knocked down a sixth time referee Arthur Mercante, Sr. stopped the contest. It was the first two knockdowns that were decisive.
Frazier won his next fight, a 12-round tough decision and floored Joe Bugner in London to begin his quest to regain the title. Many felt it was Bugner's best career effort.
Mid 1970s
Frazier's second fight against Ali took place on January 28, 1974, in New York City. In contrast to their previous meeting, the bout was a non-title fight, with Ali winning a clear 12-round unanimous decision.
Five months later, Frazier again battled Jerry Quarry in Madison Square Garden, with a wicked left hook to the ribs by Frazier ending the fight in the fifth round.
In March 1975, Frazier again fought Jimmy Ellis, the man from whom he had originally taken the WBA title, in Melbourne, Australia, knocking him out again in nine rounds. The win again established him as the number one heavyweight challenger for the title that was now held by Ali, following an eighth-round knockout of George Foreman in the famous "Rumble in the Jungle" in October 1974.
Thrilla In Manila
Ali and Frazier met for the third and final time in Quezon City (a district within the metropolitan area of Manila), the Philippines, on October 1, 1975: the "Thrilla in Manila." Ali took every opportunity to mock Frazier, again calling him '"The Gorilla," and generally trying to irritate him.
The fight was far more action-filled than the previous encounter, and was a punishing display on both sides under oppressively hot conditions. During the course of the fight, Ali said to Frazier, "They said you were through, Joe." Frazier's terse reply quickly followed: "They lied, pretty boy." After 14 grueling rounds, Eddie Futch stopped the fight after Frazier was determined to finish the fight despite both eyes being swollen shut. Ali won the battle, but said afterward that it was the closest he ever felt to death.[citation needed]
Foreman again
In 1976, Frazier (32–3) personally wished to retry against George Foreman. With a shaved head for a new image Frazier fought well enough, somewhat more restrained than usual, avoiding walking onto the big shots which he had done in their first match. However, Foreman awaited his moment and then lobbed in one tremendous left hook that lifted Frazier off his feet. After a second knock down it was stopped in the fifth. Joe retired.
Frazier made a cameo appearance in the movie Rocky later in 1976 and dedicated himself to training local boxers in Philadelphia, where he grew up, including some of his own children. He helped train Duane Bobick a while.
Music career
During the late 1970s, Frazier created a soul-funk group called "Joe Frazier and the Knockouts," being mentioned in Billboard and recording a number of singles.
1980s comeback and coaching career
In 1981, Frazier attempted a comeback. He drew over 10 rounds with hulking Floyd "Jumbo" Cummings in Chicago, Illinois. It was a bruising battle with mixed reviews. He then retired for good.
After that, Frazier involved himself in various endeavors. Among his sons who turned to boxing as a career, he helped train Marvis Frazier, a challenger for Larry Holmes's world heavyweight title and trained his daughter, Jackie Frazier-Lyde, whose most notable fight to date was a close points loss against Laila Ali, the daughter of his rival.
Frazier's overall record was 32 wins, 4 losses and 1 draw, with 27 wins by knockout. He won 73 percent of his fights by knockout, compared to 60 percent for Ali and 84 percent for Foreman. He was a member of the International Boxing Hall Of Fame.
In 1986, Frazier appeared as the "corner man" for Mr. T against Roddy Piper at Nassau Veterans Memorial Coliseum as part of WrestleMania 2. In 1989, Frazier joined Ali, Foreman, Norton and Holmes for the tribute special Champions Forever.
Media appearances
Frazier appeared as himself in an episode of The Simpsons ("Brother, Can You Spare Two Dimes?") in 1992, in which he was supposed to have been beaten up by Barney Gumble in Moe's Tavern. Frazier's son objected and Frazier was instead shown beating up Gumble and putting him in a trash can. Frazier appeared in another episode of The Simpsons ("Homer's Paternity Coot") in 2006. He appeared on-screen in the 8th series of The Celebrity Apprentice (USA) television show as a guest-attendee at the Silent Auction event held for the season finale (won by Joan Rivers). Frazier appeared as himself in the Academy Award winning 1976 movie, Rocky. Since the debut of the Fight Night series of games, Frazier appeared in Fight Night 2004, Fight Night Round 2, Fight Night Round 3, Fight Night Round 4 and Fight Night Champion, games made by EA Sports.
Autobiography
Frazier's well-received 1996 autobiography, Smokin' Joe: The Autobiography of a Heavyweight Champion of the World, Smokin' Joe Frazier
Frazier released his autobiography in March 1996, entitled Smokin' Joe: The Autobiography of a Heavyweight Champion of the World, Smokin' Joe Frazier. Frazier promoted the book shortly before its release with a memorable appearance on The Howard Stern Show on January 26, 1996.[18]
Financial issues and legal battles
According to an article from The New York Times, "over the years, Frazier has lost a fortune through a combination of his own generosity and naïveté, his carousing, failed business opportunities, and a deep hatred for his former chief boxing rival, Muhammad Ali. The other headliners from his fighting days — Ali, George Foreman, and Larry Holmes — are millionaires." Asked about his situation, Frazier became playfully defensive, but would not reveal his financial status. "Are you asking me how much money I have?" he said. "I got plenty of money. I got a stack of $100 bills rolled up over there in the back of the room." Frazier blamed himself, partly, for not effectively promoting his own image.
His daughter Jackie Frazier-Lyde is a lawyer and worked on her father's behalf in pursuit of money which they claimed he was owed in a Pennsylvania land deal. In 1973, Frazier purchased 140 acres in Bucks County, Pennsylvania for $843,000. Five years later, a developer agreed to buy the farmland for $1.8 million. Frazier received annual payments from a trust that bought the land with money he had earned in the ring. When the trust went bankrupt, the payments ceased.
Frazier sued his business partners, claiming that his signature was forged on documents and that he had no knowledge of the sale. In the ensuing years, the land was subdivided and turned into a residential community. The property is now worth an estimated $100 million.[19]
Relationship with Muhammad Ali
While Ali's characteristic taunts of his opponent began typically enough, after regaining his title, his taunts eventually turned personal. Joe was painted by Ali as the white man's hope and as an "Uncle Tom," interjecting a racial element into an already contentious and controversial series of great bouts. Bryant Gumble joined the pro-Ali, anti-Frazier bandwagon by writing a major magazine article that asked "Is Joe Frazier a white champion with black skin?", and many younger boxing fans who had no issues with Frazier sided with Ali in their feud because of their admiration for Ali's anti-war and anti-racism views (Frazier rarely spoke publicly about social or political issues).
Frazier petitioned U.S. President Richard Nixon to have Ali's right to box reinstated, setting up the whole series of matches. (Frazier had boycotted the 1967 WBA heavyweight elimination tournament to find a successor to Muhammad Ali, after the champion had been stripped of the title.)
After years of remaining bitter, Frazier told Sports Illustrated in May 2009 that he no longer held hard feelings for Ali.[20]
Ali was among those who attended the private funeral services for Frazier in Philadelphia on November 14, 2011. The Rev. Jesse Jackson gave remarks during the service and at one point asked those in attendance to stand and "show your love." It was reported that Ali stood with the audience and clapped "vigorously."[21]
Later years
Joe Frazier's Gym in Philadelphia
Frazier was awarded the Order of the Palmetto in Beaufort, South Carolina in 2010.[22]
Frazier lived in Philadelphia where he owned and managed a boxing gym. Frazier put the gym up for sale in mid 2009. He was diagnosed with diabetes and high blood pressure. He and his nemesis, Muhammad Ali, alternated over the years between public apologies and public insults.[23] In 1996, when Ali lit the Olympic flame in Atlanta, Frazier told a reporter that he would like to throw Ali into the fire.[24] Frazier made millions of dollars in the 1970s, but the article cited mismanagement of real-estate holdings as a partial explanation for his economic woes. Frazier stated repeatedly that he no longer had any bitter feelings towards Ali.
Frazier continued to train young fighters, although he needed multiple operations for back injuries sustained in a car accident. He and Ali reportedly attempted a reconciliation in his final years, but in October 2006 Frazier still claimed to have won all three bouts between the two. He declared to a Times reporter, when questioned about his bitterness toward Ali, "I am what I am."
Frazier attempted to revive his music interests in late 2009/2010 notably popular for singing 'Mustang Sally' both Frazier and manager Leslie R. Wolff teamed up with Welsh Rock Solo artist Jayce Lewis to release his repertoire in the U.K, later visiting the Welshman in U.K to a host a string of After dinner Speeches and music developments, it would notably be Frazier's last U.K appearance.[25][26]
Death
Frazier was diagnosed with liver cancer in late September 2011. Within a few weeks, the cancer had metastasized. By November 2011, he was under hospice care, where he died on November 7.[1][27][28] Upon hearing of Frazier's death, Muhammad Ali said, "The world has lost a great champion. I will always remember Joe with respect and admiration."[29][30][31] Frazier's private funeral took place on November 14 at the Enon Tabernacle Baptist Church in Philadelphia and in addition to friends and family was attended by Muhammad Ali, Don King, Larry Holmes, Magic Johnson, Dennis Rodman, among others. He was later buried at the Ivy Hill Cemetery, a short drive from the Enon Tabernacle Baptist Church.[32][33]
In popular culture
Some of the most memorable moments in the 1976 boxing-themed feature film, Rocky — such as Rocky's carcass-punching scenes and Rocky running up the steps of the Philadelphia Museum of Art, as part of his training regimen — are taken from Frazier's real-life exploits, for which he received no credit. Though ironically he makes a cameo appearance promoting the fight between Rocky and Apollo. He challenges the latter to a fight.[34]
In March 2007, a Joe Frazier action figure was released as part of a range of toys based on the Rocky film franchise, developed by the American toy manufacturer, Jakks Pacific.[35][36]
In the Wu-Tang Clan's first single "Protect Ya Neck," Inspectah Deck name-drops Joe Frazier in his opening rhymes.
On the remix of DJ Khaled's, "I'm So Hood," Lil Wayne raps, "It Go Down Like Frazier And I Aint Talking Kelsey Grammer." This is a reference to Joe Frazier and not the titular character in the television series Frasier.
As a result of his physical resemblance to Frazier, West Indian cricketer Sir Vivian Richards was nicknamed "Smokin' Joe" or "Smokey" during his youth when he was an amateur boxer in Antigua.
In Super Punch-Out!! and the Wii remake of Punch-out!!, the character Mr. Sandman is similar to Frazier.
Скончался экс-чемпион мира по боксу Джо Фрейзер
 вторник, 8 ноября 2011 г., 
Джо Фрейзер был чемпионом мира по боксу среди супертяжеловесов с 1970-го по 1973 год
Скончался бывший чемпион мира по боксу в супертяжелом весе Джо Фрейзер, прославившийся тем, что впервые смог победить Мухаммеда Али в профессиональном поединке.
Фрейзер, известный также как "Курящий Джо", умер в хосписе в Филадельфии после того, как несколько недель назад ему был поставлен диагноз рака печени.

Фрейзер был чемпионом мира между 1970 и 1973 годами.67-летний боксер был первым, кто смог победить знаменитого Мухаммеда Али в 1971 году. Однако в следующих двух поединках он потерпел поражение.
Джо Фрейзер родился в 1944 году в Южной Каролине. В 1964-м он попал на Олимпийские игры, хотя и проиграл финал отборочного турнира Бастеру Матису. Однако Матис не смог поехать в Токио на Олимпиаду из-за травмы. В команду взяли Фрейзера, который и стал олимпийским чемпионом.
Титул чемпиона мира среди профессионалов он выиграл в 1970 году после того, как Мухаммед Али был лишен титула 1967 году за отказ воевать во Вьетнаме. В бою за звание чемпиона мира Фрейзер в Нью-Йорке победил Джимми Эллиса.
Спустя три года он потерял свою корону в бою с Джорджем Форманом.
Эпический триллер в Маниле
Три боя между Джо Фрейзером и Мухаммедом Али вошли в историю бокса как самые захватывающие поединки
Но, пожалуй, в мире бокса наиболее широко известны его три боя с Али, в том числе эпический "Триллер в Маниле" (Thriller in Manila, или "Манильская мясорубка"), состоявшийся в Маниле в 1975 году.
Это бой вошел в историю бокса как один из самых великих и жестоких поединков, закончившийся после 14-го раунда. После окончания боя Мухаммед Али вышел на середину ринга и упал без сознания.
В те годы отношения между Фрейзером и Али были напряженными. Однако в последнее время они улучшились.
"Мир потерял великого чемпиона. Я всегда буду помнить Джо с уважением и восхищением", – сказал 69-летний Мухаммед Али.
Фрейзер покинул ринг в 1976 году после повторного проигрыша Форману. Он попытался вернуться в 1981 году, но провел лишь один бой и навсегда закончил свою карьеру.
"Спокойной ночи, Джо Фрейзер. Я люблю тебя, дорогой друг", – написал Форман на сайте микроблогов Twitter.
Экс-чемпион в супертяжелом весе британец Леннокс Льюис в интервью Би-би-си сказал о Фрейзере: "Без него другие герои бокса не было бы так велики, потому что их талант проходил проверку в боях против него".
"Он определенно был легендарным [боксером]. Это очень печально для его семьи. Никому не нравится слышать, как уходят великие герои. Это очень печальный день для бокса", – добавил Льюис.
Joe Frazier
Joe Frazier, who has died aged 67, was one of the great heavyweight boxers of his era, and will forever be remembered for his epic trilogy of fights with Muhammad Ali in the 1970s, the third of which — the so-called "Thrilla in Manila" — is widely regarded as the best fight of all time.
8:51AM GMT 08 Nov 2011
Early in the seventh round of the bout — which took place in the Philippines on October 1 1975 – Ali and Frazier went into a clinch during a momentary lull in the breathtaking action. "They told me Joe Frazier was washed up," murmured Ali through bleeding lips. Frazier, his swollen eyes reduced to mere slits, grinned mirthlessly. "They lied", he replied — delivering another monstrous hook to the champion's body.
Known as "Smokin Joe" because of his relentless all-action style, Frazier was not a great knockout artist but wore opponents down with his remorseless attacking approach. The most famous weapon in his arsenal was his feared left hook. It was one such blow which floored Ali in the final round of their first encounter – which itself had become known as "The Fight Of The Century" – at New York's Madison Square Garden on March 8 1971.
Frazier never forgave Ali for branding him "an Uncle Tom" in the build-up to these contests, nd remained convinced that his time spent in his great foe's shadow meant he never earned the respect he deserved.
Despite repeated attempts to heal their rift, Frazier's deep enmity towards Ali frequently resurfaced in later decades. After watching his great rival, by now stricken by a form of Parkinson's Disease, struggle to light the Olympic flame at the 1996 Atlanta Games, Frazier commented: "I think it was a slap in the face for boxing. He [Ali] was a draft dodger. If they'd asked me, hell, I'd have run all the way up there and lit the flame." To his obvious disappointment, Frazier had never been asked.
In 1978 Frazier appeared on a This Is Your Life tribute to Ali in which he referred to him as "a great guy". But Frazier's autobiography, published in 1996, revealed his true feelings: "People ask me if I feel bad for him," he wrote. "Fact is, I don't give a damn."
The youngest of seven sons born into a poor Baptist family at Beaufort, South Carolina, on January 12 1944, Joe Frazier's first job was picking vegetables grown by prosperous, white landowners; he had learned to drive a tractor aged seven, and drove a car from the age of eight. Although as a child he was a feared streetfighter, his mother refused to allow him to play American football for fear of his being injured.
Having dropped out of high school and married at 15, he migrated north and was working in a Philadelphia slaughterhouse when he took up boxing in order to lose weight.
Having been spotted by the veteran trainer "Yank" Durham, as an amateur Frazier enjoyed a run of successes which finally came to an end when he was defeated by Buster Mathis in the US Olympic trials of 1964. Mathis broke his thumb, however, so it was Frazier who journeyed to the Tokyo Olympics, where he won the gold medal at heavyweight. Turning professional on his return, he fought his way up the rankings after winning his first 11 fights by knockout. On March 4 1968 he knocked out Mathis to claim New York's version of the world title.
On the short side for a heavyweight at 5ft 11.5in and 205lb, Frazier was nevertheless sturdily built and relentlessly pressurised opponents for every round, never taking a backward step and hooking viciously with his feared left hand. Stopping the white hope Jerry Quarry in seven rounds in New York in June 1969 enabled Frazier to fight for the undisputed world crown. On February 16 1970 he halted Jimmy Ellis in the fifth round at Madison Square Garden to become champion.
Although Ali had been stripped of the crown following his refusal to undertake military service in Vietnam, he was still widely regarded as the legitimate champion. Frazier's points victory in the first of their memorable battles at Madison Square Garden the following year suggested that the Philadelphia fighter was destined for a long reign. Watched by a massive worldwide television audience, the first of the Ali-Frazier trilogy was a huge event which changed boxing forever.
Although Ali excelled at psychologically unsettling his opponents, Frazier refused to be cowed. The fight was even in the early rounds, but Ali's cornermen noted with rising alarm that he was taking more punches than ever before.
A searing Frazier left hook in the 11th signalled that the tide had turned. Four more rounds followed – each more savage than the last. In the final round Frazier downed Ali with arguably the most vicious left hook he had ever delivered. Although Ali beat the count and survived to the final bell, the night was Frazier's.
"When he went down, we were both dead tired," said Frazier. "Fifteen rounds; that's how long we'd been fighting. And the only thing going through my mind when he got up was what was going through my mind all night: throw punches – just throw punches."
Despite his triumph (after the fight both men were admitted to hospital), Frazier remained the bewildered target of some vitriolic criticism. Derided by Ali's supporters for his apparent reluctance to defend his titles, Frazier came to be regarded by some as the antithesis of his great rival's black militancy and anti-war views. Much to Frazier's fury, Boxing Illustrated even posed the question: "Is Joe Frazier a White Champion in a Black Skin?" The champion subsequently found himself alienated from much of the black community.
Humiliatingly dubbed "a gorilla" in public by Ali on several occasions, Frazier rapidly wearied of playing the unwilling stooge. Some of Ali's stinging rejoinders hurt him until the day he died. "All I ever wanted that man to do was apologise to me," Frazier once reflected. "He told my son Marvis that he never meant what he said about me, but he never told me."
Following a brace of easy title defences, Frazier lost both his crown and his undefeated record in sensational fashion in Kingston, Jamaica, on January 22 1973, when the towering George Foreman knocked him out in two rounds — one of his sledgehammer blows actually knocking the champion off his feet. A rueful Frazier, who was floored six times, later reflected: "I fought a dumb fight. I kept getting up."
Frazier recaptured his winning ways by outpointing Britain's Joe Bugner at London's Earl's Court six months later, and in the run-up to his second fight with Ali ended up wrestling with his rival on the floor of a television studio. On January 28 1974 Ali emerged a clear points victor of their eagerly anticipated rematch at Madison Square Garden, but Frazier's subsequent knockout victories over Quarry and Ellis set the stage for the "Thrilla in Manila".
By now Ali had sensationally reclaimed the world crown from George Foreman at the age of 33. Holding up the belt in front of Frazier at a pre-fight press conference, he announced: "It will be a killa, a chilla and a thrilla when I get the gorilla in Manila." Frazier did not see the funny side, and later recounted how his children were taunted by the nickname at school.
Following a contest of frightening intensity, Ali clinched the deciding match of the rubber when Eddie Futch, Frazier's trainer, pulled his battered fighter out after 14 rounds. Ali, who later described the fight as "the closest thing to death", was ahead on points but seemingly on the brink of collapse at the time of Futch's humane intervention. "Sit down, son, it's all over," Futch famously told Frazier. "But no one will ever forget what you did here today." Frazier never truly forgave him.
"Of all the men I fought," Ali would recall, "the roughest and the toughest was Joe Frazier. He brought out the best in me and the best fight we fought was in Manila. Joe Frazier is a good man. I couldn't have done it without him and he couldn't have done what he did without me. And if God ever calls me to a holy war, I want Joe Frazier fighting beside me."
Frazier was unable to reproduce the passion of that heroic losing performance. Eight months later he again took on Foreman — only to end up announcing his retirement after being stopped in round five.
For a time he toured and recorded with a singing group called The Knockouts before launching a brief comeback at 37. On December 3 1981 Frazier fought out a lacklustre 10-round draw against the former convict Floyd "Jumbo" Cummings. It was the final act of a 37-fight career in which he had won 32, drawn one and lost only four.
The former champion later steered his son, Marvis, to an unsuccessful heavyweight title challenge against Larry Holmes, in November 1983.
In June 2001 Frazier Snr attended a much-publicised event dubbed "Ali-Frazier IV" at Verona, New York, when his daughter Jacqui fought Ali's daughter Laila over eight rounds. Frazier watched from ringside as Ali boxed her way to a narrow points win.
Inducted into boxing's International Hall of Fame in 1990, Joe Frazier, whose marriage was dissolved, is survived by eight children.
Joe Frazier, born January 12 1944, died November 7 2011
SMOKIN' JOE FRAZIER BIOGRAPHY
JOE FRAZIER is a country boy who lived by the old country adage that: "when you go to the big party, you dance with the one who brung ya." In Frazier's case it was a left hook. But to classify Frazier as merely a "left hooker" would be like saying Marilyn Monroe was a blonde.
The son of a South Carolina sharecropper, he became a boxer by accident. He first went to a gym to work himself into shape. Shortly after, he began fighting competitively and became one of the best amateur heavyweights in the nation. He didn't lose until he ran into Buster Mathis, who decisioned him in the 1964 Olympic trials. But, Mathis suffered a hand injury and Frazier replaced him at the Summer Games in Tokyo and came home with a gold medal.
He turned pro under the guidance of Yank Durham in 1965 and ran off 11 straight wins until he ran into tough guy Oscar Bonavena, in September 1966. The Argentine dropped Frazier twice in one round, but Smokin' Joe came off the deck -- showing the Madison Square Garden crowd the heart and character that would mark his career -- to win a 10-round unanimous decision.
After Bonavena, Frazier knocked out contenders Doug Jones (KO 5), George Chuvalo (TKO 4) and closed out the '67 campaign with a 19-0 career record.
With Muhammad Ali's exile from the sport, the heavyweight division was in disarray. While the WBA held an elimination tournament, Frazier was matched with his nemesis from his amateur days, Buster Mathis, for the New York State world title on March 4, 1968 at the Garden.
This time Mathis was not able to dance his way to victory over three rounds. A relentless Frazier wore down the bigger, heavier man, and stopped in the 11th round. From 1968-70, Frazier made six defenses, including a fifth-round TKO of WBA champ Jimmy Ellis in a unification fight. But in the summer of 1970, former champ Ali was granted a license to fight and the demand quickly grew for a showdown between the former undefeated champ and the reigning king.
In fall of 1970, Ali knocked out top contenders Jerry Quarry and Bonavena, setting the stage for the most anticipated heavyweight title fight since the Louis-Conn rematch of 1946.
Each fighter was paid the then-unheard of purse of $2.5 million. The build up to the fight was unparalleled in boxing history; transcending the sport -- and the sporting world. On March 8, 1971, before a sellout crowd at Madison Square Garden, the two waged one of the greatest heavyweight battles ever. In the 15th round, Frazier landed perhaps the most famous left hook in history, catching Ali on the jaw and dropping the former champ for a four-count. At the end of 15 grueling rounds, Frazier got the nod from all three judges and left the ring as the undisputed champ.
But the fight took a lot out of Frazier, who didn't fight again the rest of the year. In 1972, he defended against two journeymen. His reign as champion ended in January of 1973, against George Foreman in Kingston, Jamaica. Foreman dropped Frazier six times before the fight was stopped in Round 2.
He beat Joe Bugner in his next fight, but dropped a 12-round decision to Ali in their rematch in Jan. 1974. He got back on the winning track to set the stage for a rubber match with Ali, who had since lifted the title from Foreman.
In the suffocating heat in Quezon City, just outside the Philippines capital of Manila, the two aging warriors dueled for 14 rounds in a bout Ali billed "The Thrilla in Manila." Ali took the early rounds, before Frazier found his rhythm in the middle frames and attacked the champs body with both hands. But Ali turned the tide for good in the 10th and won the next four rounds. By the end of the 14th both fighters were exhausted, but Frazier's eyes were nearly swollen shut, and his corner stopped the bout. Later, Ali said, "It was the closest I've come to death."
Nine months later, Frazier tried to fight himself back into title contention with a rematch against Foreman, but was stopped in five rounds. He retired following the second Foreman fight. Five years later he launched a one-bout comeback, but drew with a journeyman, Jumbo Cummings, before hanging up the gloves for good.
Wikipedia's - Bio
(born January 12, 1944, Beaufort, South Carolina, U.S.) 
American world heavyweight boxing champion from February 16, 1970, when he knocked out Jimmy Ellis in five rounds in New York City, until January 22, 1973, when he was beaten by George Foreman at Kingston, Jamaica.
During Frazier's amateur career he was one of the best heavyweights in the United States, but he lost in the Olympic trials to Buster Mathis in 1964 and made it to the Tokyo Olympic Games as a replacement boxer only when Mathis injured his hand. He won the gold medal in his weight division and then began his professional career in August 1965. A chunky man (5 feet 11 inches [1.8 metres] tall and weighing 205 pounds [92.9 kg]) with an aggressive style and a powerful left hook, he was likened to an earlier heavyweight champion, Rocky Marciano.After Muhammad Ali was stripped of his heavyweight title in 1967, the heavyweight championship became muddled. On March 4, 1968, in a title bout sanctioned by the New York State Athletic Commission and similar bodies in other states, Frazier knocked out his old rival Mathis in 11 rounds. The following month, Jimmy Ellis won a championship tournament (in which Frazier declined to participate) approved by the World Boxing Association (WBA). Frazier successfully defended his New York title four times before defeating Ellis in a fifth-round knockout to claim the WBA heavyweight title.In 1970 Ali was reinstated to the sport, and a bout between the undefeated former champion and Frazier was inevitable. On March 8, 1971, the two heavyweights met in Madison Square Garden in the fight billed as "The Fight of the Century." During the build-up for the fight the media-savvy Ali characterized Frazier as a champion of the white establishment, even calling him an "Uncle Tom," which sparked some genuine hostility between the boxers. The two fought at a furious pace for 15 rounds, but Ali had lost some of his speed during his absence from boxing, and Frazier scored a decision over him.After his loss to Foreman in 1973, Frazier faced Ali again in 1974, losing a 12-round decision. On October 1, 1975, the two faced off in the Philippines for a third time. The fight, known as the "Thrilla in Manila," was for the heavyweight championship, and this time Ali was the winner by technical knockout after 14 grueling rounds.After a few more fights, Frazier retired in 1976. He staged an unsuccessful comeback attempt in 1981. He then retired again and began operating a gym in Philadelphia. Frazier was inducted into the International Boxing Hall of Fame in 1990. His daughter Jacqui began a professional boxing career in 2000.
Smokin' Joe stays busy today traveling the US and around the world making appearances and has several licensing and endorsement deals with many different companies.
Gale Contemporary Black Biography:
Joe Frazier
boxer; entertainer; business owner
Personal Information
Born January 12, 1944 in Beaufort, South Carolina; son of Rubin and Dolly Frazier; wife: Florence; children: Marvis, Weatta, Jo-Netta, Natasha, Jacqui, Hector, Marcus.
Religion: Baptist.
Career
Began pro boxing career 1958; owner, member of the rock-blues group Smokin' Joe and the Knockouts; owner of Smokin Joe's Corner restaurant; owner, president, Joe Frazier & Sons Limousine Service, 1974-; owner, Joe Frazier's Gymnasium, 1974-.
Life's Work
Joe Frazier had many moments in boxing history. It began in 1964 when he won the Olympic gold medal in Japan, and peaked when he became the first American Olympic heavyweight champion to also win the heavyweight title of the world. When he was champion he held the highest knockout percentage in history, and while he had been knocked down a few times, he had never been knocked out. Frazier was involved in "the fight of the century" when he fought Muhammad Ali in 1971 for the world heavyweight title, which Frazier held. The Frazier-Ali fight was the first of three battles, but this fight of the century set an indoor boxing record for attendance and revenue, and along with their third fight, is considered classic boxing and an example of athletic courage and endurance.
Born at Beaufort, South Carolina, on January 17, 1944, Frazier grew up on the ten-acre family farm with his twelve brothers and sisters. A thirteenth child, David, died of diphtheria as an infant, making Frazier the youngest in the large family. His parents, Rubin and Dolly Frazier, grew vegetables and raised hogs but their main income came from working on the large farms of white landowners. His mother worked in the fields while his father was an overseer. Nicknamed Billy Boy, Frazier was, by his own admission, his father's favorite and was frequently at his side. He says in his autobiography, "...my daddy was my hero, my heartbeat. We were always together." Frazier's mother was a devout Baptist who was strong on love and discipline and Frazier occasionally felt the "switch" made of braided tree vines. His mother's word was law and the kids were expected to listen and obey. Frazier's childhood was a rural Southern existence; he spent much of his time helping his father operate a still and pitching in to do the daily chores. And just as his parents and siblings did, he worked in the fields of one of the large farms.
When television became generally available in the early 1950s, Frazier's family was the first to have one in the Laurel Bay section of Beaufort. In those early days of television, boxing was a large part of the limited programming. Frazier's family would watch the fights and saw boxing greats Sugar Ray Robinson, Rocky Marciano, Willie Pep, and Rocky Graziano. At the time eight-year-old Frazier was not particularly interested in boxing but he did know who former heavyweight champion Joe Louis was. When an uncle commented on young Frazier with his stocky build being the next Joe Louis, it made quite an impression on the boy. From that time on Frazier worked to fulfill that prophecy. He rigged a heavy bag from a burlap sack and rags, corncobs, brick, and Spanish moss. He hung the bag from the branch of an oak tree in the yard and began hitting it almost daily for the next several years. He was ridiculed by many, including his own family, when he told them he was going to be a champion of the world like Joe Louis. He relates in his autobiography that he replied to them, "You all can laugh but I'm gonna be world champion some day." Segregated Beaufort had no gyms and the playgrounds could not be used by blacks. He says, "All I had to build my dream on was that homemade heavy bag."
Frazier attended a segregated school and did not find much to interest him there. Learning did not come easily for him but he admitted in his autobiography, "Lots of times my work day would begin after school and run past midnight....I'd be too tired to pay much attention the next day in school...after walking four miles to get there. Not that I was any more eager for learning when I was rested." He frequently skipped school and dropped out when he was 14. Frazier's early teens were spent doing farm work, running around with friends to clubs and parties, street fighting, and "chasing girls." Frazier met Florence Smith, his future wife, when he was almost 14 and she was 16. But Frazier's life took a turn when he ran into trouble with the owners of the farm he worked on. Tensions ran high in those days when whites and blacks argued. Frazier lost his job and became determined to leave the racist South. It was almost a year later before he made enough money for the bus fare to leave. He worked first as a delivery man for Coca-Cola and then as a construction worker at the Marines training depot on Parris Island in South Carolina. He headed for New York to live with relatives and to begin a new life.
After an unsuccessful attempt to find regular work in New York, the young Frazier decided to move on to Philadelphia, where he had relatives. Eventually he got a job with Cross Brothers, a slaughterhouse, where he did a variety of chores. The pay was barely enough to get by, and now he was feeling the responsibility of being a family man--back home in Beaufort his girlfriend Florence had just given birth to their son, Marvis. While working at Cross Brothers, Frazier developed a habit that would later be immortalized by actor Sylvester Stallone in the boxing movie, Rocky: Frazier practiced his punches on the hanging sides of beef when he moved them into the refrigerator. But he gradually stopped training and gained weight until he was 220 pounds. It was not until late in 1961 that he decided he was going to change his life and revive his Joe Louis dream.
When the overweight Frazier joined the Police Athletic League gym in Philadelphia, he was determined to trim down and pursue his dream of being a professional boxer. It did not take him long to find out that even though he had been the street fighter to contend with in Beaufort, his skills were not enough to keep him from taking a beating in the gym ring. His first sparring session hurt and he realized he had a long way to go. But Frazier knew from that first session on that he was where he wanted to be, and that with hard work he would find the success he craved.
With regular boxing instruction and training Frazier gained a reputation in the gym. With the guidance of Duke Dugent, the gym manager, and trainer Yancey (Yank) Durham, Frazier developed a healthier lifestyle as well. By 1962 Frazier had trimmed down to 190 pounds and was a "lean, mean fighting machine." He saw the first reward for his hard work when he won the Philadelphia Golden Gloves novice heavyweight title that year. He went on to win the Middle Atlantic Golden Gloves heavyweight championship in 1962, 1963, and 1964.
In the fall of 1963 Frazier and Florence were married. Frazier continued to work at Cross Brothers during the day and to train in the gym at night. In the gym his style of fighting was compared to a boxer he admired, Rocky Marciano. Marciano had been known as an aggressive fighter and had retired undefeated as heavyweight champion in 1956. Frazier also developed a reputation for his devastating left hook, and frequently voiced his intention of becoming the heavyweight champion of the world.
Frazier's only loss while an amateur was to Buster Mathis, a big, heavy, yet agile man. When the U.S. Olympic Boxing Team was being decided for the 1964 games in Tokyo, Frazier and Mathis met in the finals of the trials. Frazier was eager to redeem his only amateur loss, but Mathis won again. It was a big disappointment for Frazier, who considered quitting boxing. But he was convinced by Duke Dugent and Yank Durham to not only continue boxing but to get on as a sparring partner for the Olympic team as an alternate to Mathis.
Frazier was concerned about losing his job if he went to the Olympics. He and Florence now had three children and her job at Sears Roebuck was not enough to keep the family afloat. When Cross Brothers agreed to hold his job Frazier went to the Olympic training camp in San Francisco. During this time Frazier worked hard at sparring and roadwork. During an exhibition one evening Mathis broke a knuckle while boxing with Frazier. The injury opened up a spot on the team and suddenly Frazier had a chance to prove himself at the Olympics. In the Olympics Frazier was one bout away from the gold medal when he hurt his left thumb. He was not sure how badly it was damaged and while he sought medical treatment, which consisted of ice and wrapping, he turned down an X-ray, fearing he would be dropped from competition if the finger was broken. Despite using his right hand more than his devastating left hook, which gave him severe pain each time he used it, he beat his opponent, Hans Huber of Germany, to win a gold medal for the United States. Frazier says in his autobiography, "The thrill of representing the U.S. and winning despite a handicap--well, there was no feeling quite like that. I had taken a giant step toward my uncle Israel's casual prediction that Billy Boy would be the next Joe Louis."
With his Olympic victory Frazier thought he would finally begin to see some financial and professional success. But surgery on his thumb left him unable to work in the slaughterhouse. Frazier decided it was time to find a sponsor to help him establish his professional boxing career, but he did not have much luck finding one even after winning the gold medal. The Christmas of 1964 was a dismal one for Frazier, who did not have money for gifts. A timely story in the local paper changed things for the family as gifts and money poured in from a concerned public.
Frazier continued to fight and to scratch for income. His pay for his first professional bout in August of 1965 was from selling tickets to the fight. Also that year, Frazier's father, Rubin, died of lung cancer at age 53. Frazier took it hard, trying to find comfort in the fact that his father had been alive when he won the gold medal. His financial problems ended in late 1965 when a group of financial backers came together and formed Cloverlay, Inc. to run his professional boxing career. Part of the agreement was that Frazier would receive a salary of 100 dollars per week and this would increase as the purses did. During this lean time Frazier went to work as a salesman.
Frazier's nickname, 'Smokin' Joe,' came from Yank Durham when he used to tell Frazier before a fight, "Go out there...and make smoke come from those gloves. You can make smoke, boy. Just don't let up." Frazier continued to fight and develop, striving to remain undefeated and heading for the championship. He was nearly beaten in a bout with Oscar Bonavena in September of 1966 when Bonavena knocked him down twice in the second round. By New York rules the fight ended if an opponent went down three times in the same round. Frazier managed to stay up and went on to win by a split decision.
There were suggestions that Frazier should fight Muhammad Ali, the current heavyweight title holder. But Yank Durham wanted Frazier to have the chance to develop properly so that when he eventually did face Ali or another champion, he would win. Frazier began to study Ali. When he went to watch him fight in March of 1967 the two began what would become years of competitive bantering. While Ali had changed his name from Cassius Clay to Muhammad Ali in 1964 when he converted to the Black Muslim faith, Frazier insisted on calling him Cassius Clay. Ali had been known from the start of his own career as being a loud-mouthed self-promoter, yet the public and sports writers seemed to love him rather than despise him for it. Ali constantly put Frazier down and while Frazier took it in stride in the beginning, he soon deeply resented it.
In June of 1967 Muhammad Ali was stripped of his title and lost his boxing license for resisting the Vietnam draft because of his religious beliefs. This action left the heavyweight title vacant so the World Boxing Association (WBA) held a tournament to name a new champion. Frazier did not participate though and instead took a different route, fighting his nemesis Buster Mathis for the heavyweight title in New York, Massachusetts, Illinois, and Maine in March of 1968. He won by knockout. After defending the title through 1969 Frazier fought Jimmy Ellis, who had won the WBA tournament. Frazier beat Ellis to become the heavyweight champion of the world. But Frazier did not win respect from the boxing public--many felt Ali's license and title should not have been taken and they still considered him the champion.
When Ali's boxing license was restored in 1970 by a federal court, he returned to the ring determined to regain the heavyweight title. On March 8, 1971, Frazier and Ali faced each other at Madison Square Garden, with the heavyweight title of the world on the line. By this time Eddie Futch was assisting Yank Durham in Frazier's training. More than 20,000 people attended this fight, among them celebrities like actor Burt Lancaster doing radio commentary and singer Frank Sinatra photographing the fight for Life Magazine. Futch told Sports Illustrated, "I have never seen any boxing event that had so many celebrities." The attendance (gate) and admission fees collected over a million dollars and set indoor boxing records. Closed-circuit television allowed another half million viewers, and viewers in foreign countries also tuned in for a total audience of about 300 million viewers. The fighters each received 2.5 million dollars for the bout. The 15-round fight has been considered among the best in history both for its gate and revenue as well as the action in the ring. It was a hard-fought battle that left the crowd breathless and wondering how long either fighter could continue giving and taking such brutal battering. In the fifteenth round Frazier's left hook put Ali on his back. Ali quickly got up, but Frazier won the fight by unanimous decision and retained the title. Both fighters went to the hospital. The thrill of rightfully winning the title consoled Frazier during the next 10 months when he suffered from "athlete's kidney" and could not box.
After his match with Muhammad Ali Frazier earned, in addition to financial rewards, a certain amount of celebrity. He had started the Smokin' Joe Musical Revue and toured the United States and Europe. He appeared on the Dean Martin television show and later bought a plantation in South Carolina. He eventually moved his mother to the plantation. He was also invited by Governor John C. West to speak to the South Carolina legislature.
Frazier only fought twice in 1972 and on January 22, 1973, he fought and lost his title to George Foreman in a second-round TKO. When Ali and Frazier fought again on January 28, 1974, at Madison Square Garden, the fight could not be compared to their first meeting. This time Ali had worked out a strategy of clinching and keeping Frazier from being effective--he won in a 12-round decision. That same year Frazier lost his longtime trainer and friend Yank Durham when the older man suffered a massive stroke and died at the age of 52.
Ali later won the heavyweight title by defeating Foreman. The title was on the line when Ali and Frazier met again on October 1, 1975, in Manila, the Philippines. Ali had predicted an early knockout but the fight went for 15 grueling rounds that left observers breathless. The pugilists hit so hard that each sent the other's mouthpiece flying. Frazier's eyes swelled shut until he could not see Ali's fists coming but he still fought on. As the bell for the fifteenth round start was about to go off, Eddie Futch threw in the towel to Frazier's protests, saying, "Sit down, son. It's all over. No one will ever forget what you did here today." Ali retained the title but they both fought as true champions. Despite the seeming animosity between the two men Ali told the press that the fight with Frazier could be compared with dying. He was reported in Sports Illustrated as saying, "I always bring out the best in the men I fight, but Joe Frazier, I'll tell the world right now, brings out the best in me." In November of 1996, after years of reports of Frazier harboring bad feelings about Muhammad Ali and his vilifications, Frazier publicly apologized to Ali in Jet magazine, saying, "It's about time to bring it to an end. I'm willing to say I'm sorry if I said anything to hurt [Ali]."
In November of 1975 Frazier underwent surgery to remove a cataract on his left eye. He had developed the problem years earlier but had not wanted to have the surgery for fear it would halt his boxing career. He had been getting by with medication but by this time it was clear that without surgery he would be blind. But while the surgery removed the cataract and kept the eye from further deterioration, it was too late--he was legally blind in his left eye and now wore contacts to fight, which he did with a rematch of George Foreman in June of 1976. When the fight was stopped in the fifth round, Frazier knew his career was over.
After retiring and making the musical group a full-time venture, Frazier renamed it "Smokin' Joe and the Knockouts" and made it an eleven-piece revue. In 1977 the group began to travel around the United States to give performances, to favorable reviews. Frazier also bought the gym he had trained in, which had been owned by Cloverlay, his management team. With the gym came several aspiring fighters that had been under contract with Cloverlay. Frazier became a manager and trainer, although the majority of training in his gym was done by Eddie Futch, George Benton, Van Colbert and Sam Hickman. It was the late 1970s and Frazier was also busy with his restaurant, "Smokin' Joe's Corner," and a limousine service.
Joe Frazier came out of retirement in December of 1981 to fight Floyd Cummings, but even though the bout was a draw he had to admit it was time to hang up the gloves for good. In 1985 Florence and Joe Frazier filed for divorce. His son, Marvis Frazier, runs the Smokin' Joe Frazier, Inc. businesses and Frazier's daughter Natasha assists him. Frazier is proud of all of his children, who have become successful in their own right. Joe Frazier can be proud of his own accomplishments, including boxing his way into the history books.
Awards
Philadelphia Golden Gloves novice heavyweight title, 1962; Middle Atlantic Golden Gloves heavyweight championship, 1962, 1963, 1964; Olympic gold medal in boxing 1964; heavyweight champion, NY, MA, IL, ME, 1968; World Boxing Association, heavyweight champion, 1970-73; inducted Boxing Hall of Fame, 1980.
Further Reading
Books
Frazier, Joe, with Berger, Phil, Smokin' Joe, Macmillan, 1996.
McCallum, John D., The Encyclopedia of World Boxing Champions since 1882, Chilton Book Company, 1975.
Periodicals
Jet, May 20, 1996; November 18, 1996, p. 5.
Sports Illustrated, October 3, 1994, p. 30; September 1996, p. 58.
— Sandy J. Stiefer
Joe Frazier
"Smokin Joe" Frazier, heavyweight boxer, died on November 7th, aged 67
Nov 19th 2011 | from the print edition
TO SAY that Joe Frazier had a left hook was like saying the Tomcat jet fighter is an aeroplane. This one was devastating. You knew it was there, but he kept it hidden. For most of a fight he would press in, head down like a bull charging, fists close to the chest. He was short for a heavyweight, five feet eleven, and made himself look shorter, hunching his shoulders and punching close with his stumpy, jabbing arms. He didn't dance around, but worked away at it, bobbing and weaving relentlessly, throwing away perhaps two punches for every one he landed. His style was to keep aggressively on, wear a man down, get him winded. Then—boom!—the dazzling left hook that sent his opponent sprawling.
His craft had been honed for years. First on the heavy bag he'd made himself that hung from the oak tree in the yard of the family shack in Beaufort, South Carolina: just an old burlap bag stuffed with rags and corn cobs, Spanish moss and rocks. Anything that could take a punch. His mamma whupped him with a braided vine and his daddy whupped him with a belt when he deserved it, and then he'd pummel that bag. His uncle had told him at eight years old, as he watched the "Wednesday Night Fight" on the blurry black-and-white TV with the other men, that he could be another Joe Louis. He aimed to do it. Later he practised on the hanging sides of beef at Cross Brothers' slaughterhouse in Philadelphia, Rocky Balboa in real life. One, two in the refrigerated room, breath smoking, gloves smoking. That was what his first trainer told him to do when he signed on at the police gym in 1961: make his gloves smoke.
Related topics
Muhammad Ali
Out of 37 professional fights, he won 27 with knockouts. His left hook won him gold at the Tokyo Olympics in 1964, toppling Hans Huber, even though his left thumb was so hurt it was probably broken. It earned him the world heavyweight crown, besting Jimmy Ellis in the fifth at Madison Square Garden in 1970. And most spectacularly it was how he beat Muhammad Ali in "The Fight of the Century" at the Garden in 1971, when after 14 rounds of increasing ferocity (just throw punches, he was thinking. Just throw punches) he landed a blow on that bragging jaw that won him the fight on points and sent Ali round to the hospital.
Nothing was sweeter to him than that one punch. He kept a photo of it, blown up huge, in the office of the gym where he had trained in Philadelphia and later trained young boxers himself. His rivalry with Ali was the most intense in boxing. It may have thawed at moments, but deep down he hated him. Hated the big mouth that called him ugly, flat-footed and a gorilla (punching a little rubber gorilla as he said it, contemptuously), while Frazier would sit with his plain, solid, patient face wondering whether he could get one word in. Especially he hated Ali calling him an Uncle Tom, a white man's black boxer.
Ali had been stripped of his world heavyweight title in 1967 for refusing the Vietnam draft. That made some whites go to Frazier's corner, and made many blacks go on calling Ali champion even when Frazier was. That hurt. Ali talked a streak about civil rights; Frazier didn't mention them much. But it was he, the sharecropper's son, who had felt the sharper edge of segregation, "the animosity, hatred, bigotry, you name it". He punched his bag at home because the town playgrounds were closed to him. From childhood he picked okra for white farmers until one day he defied them, threw in his job and left the South on a Greyhound bus, already sure at 15 that he could never make a life there.
Buying the plantation
He enjoyed his celebrity time: the fur coats and the diamond rings, the maroon Cadillac limousine in which her Billy Boy swept back into Beaufort to buy a 368-acre plantation for his mamma. He would joke and sing at the drop of a hat (stylish hats, too), heading a musical revue for some years called Smokin Joe Frazier and the Knockouts. Generally he rolled with the punches, a gentleman when it counted. When George Foreman knocked him down six times in 1973 and took the world title from him he could only say, laughing, that Foreman punched good. Very good.
With Ali it was a different matter. They fought three times, and he lost twice. On the third occasion, the "Thriller in Manila" in 1975, when they pulverised each other in smothering heat until he could no longer see Ali's right coming and was stumbling round blind, his trainer pulled him out in the 14th. He never forgave him. Ali was spent too, Frazier still wanted "to show him the error of his foolish pride", and who knows what his left hook could have done to that pretty face. "How much did you want that title?" he was asked later. Beaming, he replied: "Like hogs love slop."
In his last years the money seemed to vanish; none was left for his funeral. His gym became a bedding outlet, and at the Spring Garden Deli, where he went to eat his lunch of grits with spinach and tomatoes, the waitress didn't know who he was. Gamely, he would let her beat him at arm-wrestling. And he could still be induced to sing sometimes, in a voice slurred and croaky after hundreds of punches to the head, his own version of his favourite song: "I fought them fair, I fought them square, I fought them my-y-y-y way."
BOXER           BOXER                Mb   DATA        TIME     COMM.
6   Джо Фрейзер vs. Дик Випперман        25   04.03.1966  0:02:06  ин.
12  Джо Фрейзер vs. Оскар Н.Бонавена I   841  21.09.1966  0:46:09  ин.
13  Джо Фрейзер vs. Эдди Мачин           133  21.11.1966  0:11:14  ин.
17  Джо Фрейзер vs. Джордж Шувало        131  19.07.1967  0:11:05  no sound
20  Джо Фрейзер vs. Бастер Матис         340  04.03.1968  0:28:58  ин.
21  Джо Фрейзер vs. Мануэль Рамос        168  24.06.1968  0:10:25  ин.
22  Джо Фрейзер vs. Оскар Н.Бонавена II  48   10.12.1968  0:10:50  ин.
23  Джо Фрейзер vs. Дэйв Зуглевич        32   22.04.1969  0:02:48  ин.
24  Джо Фрейзер vs. Джерри Кварри I      134  23.06.1969  0:09:59  рус. - Л.С.
    Джо Фрейзер vs. Джерри Кварри I      359  23.06.1969  0:31:50  ин.
25  Джо Фрейзер vs. Джимми Эллис I       285  16.02.1970  0:15:36  ин.
26  Джо Фрейзер vs. Боб Фостер           112  18.11.1970  0:11:12  ин.
27  Джо Фрейзер vs. Мухаммед Али I       1082 08.03.1971  1:32:05  ин.
    Джо Фрейзер vs. Мухаммед Али I       607  08.03.1971  0:44:06  рус. - Г.В.
28  Джо Фрейзер vs. Терри Даниэльс       659  15.01.1972  0:58:16  ин.
29  Джо Фрейзер vs. Рон Стандер          347  25.05.1972  0:11:18  ин.
30  Джо Фрейзер vs. Джордж Форман I      24   22.01.1973  0:06:24  ин.
    Джо Фрейзер vs. Джордж Форман I      92   22.01.1973  0:07:10  рус. - Л.С.
31  Джо Фрейзер vs. Джо Багнер           526  02.07.1973  0:46:38  ин.
32  Джо Фрейзер vs. Мухаммед Али II      584  28.01.1974  0:49:44  ин.
33  Джо Фрейзер vs. Джерри Кварри II     362  17.06.1974  0:30:48  ин.
34  Джо Фрейзер vs. Джимми Эллис II      674  02.03.1975  0:57:28  ин.
35  Джо Фрейзер vs. Мухаммед Али III     635  01.10.1975  1:17:45  ин.
    Джо Фрейзер vs. Мухаммед Али III     700  01.10.1975  0:44:15  рус. - Г.В.
36  Джо Фрейзер vs. Джордж Форман II     273  15.06.1976  0:23:14  ин.
    Джо Фрейзер vs. Джордж Форман II     222  15.06.1976  0:17:29  рус. - Л.С.
37  Джо Фрейзер vs. Флойд Каммингс       730  03.12.1981  1:02:10  ин.
November 7, 2011
Joe Frazier, Ex-Heavyweight Champ, Dies at 67
By RICHARD GOLDSTEIN
Joe Frazier, the former heavyweight champion whose furious and intensely personal fights with a taunting Muhammad Ali endure as an epic rivalry in boxing history, died Monday night at his home in Philadelphia. He was 67.
His business representative, Leslie Wolff, said the cause was liver cancer. An announcement over the weekend that Frazier had received the diagnosis in late September and had been moved to hospice care early this month prompted an outpouring of tributes and messages of support.
Known as Smokin' Joe, Frazier stalked his opponents around the ring with a crouching, relentless attack — his head low and bobbing, his broad, powerful shoulders hunched — as he bore down on them with an onslaught of withering jabs and crushing body blows, setting them up for his devastating left hook.
It was an overpowering modus operandi that led to versions of the heavyweight crown from 1968 to 1973. Frazier won 32 fights in all, 27 by knockouts, losing four times — twice to Ali in furious bouts and twice to George Foreman. He also recorded one draw.
A slugger who weathered repeated blows to the head while he delivered punishment, Frazier proved a formidable figure. But his career was defined by his rivalry with Ali, who ridiculed him as a black man in the guise of a Great White Hope. Frazier detested him.
Ali vs. Frazier was a study in contrasts. Ali: tall and handsome, a wit given to spouting poetry, a magnetic figure who drew adulation and denigration alike, the one for his prowess and outsize personality, the other for his antiwar views and Black Power embrace of Islam. Frazier: a bull-like man of few words with a blue-collar image and a glowering visage who in so many ways could be on an equal footing with his rival only in the ring.
Ali proclaimed, "I am the greatest" and he preened how he could "float like a butterfly, sting like a bee." Frazier had no inclination for oratorical bravado. "Work is the only meanin' I've ever known," he told Playboy in 1973. "Like the man in the song says, I just gotta keep on keepin' on."
Frazier won the undisputed heavyweight title with a 15-round decision over Ali at Madison Square Garden in March 1971, in an extravaganza known as the Fight of the Century. Ali scored a 12-round decision over Frazier at the Garden in a nontitle bout in January 1974. Then came the Thrilla in Manila championship bout, in October 1975, regarded as one of the greatest fights in boxing history. It ended when a battered Frazier, one eye swollen shut, did not come out to face Ali for the 15th round.
The Ali-Frazier battles played out at a time when the heavyweight boxing champion was far more celebrated than he is today, a figure who could stand alone in the spotlight a decade before an alphabet soup of boxing sanctioning bodies arose, making it difficult for the average fan to figure out just who held what title.
The rivalry was also given a political and social cast. Many viewed the Ali-Frazier matches as a snapshot of the struggles of the 1960s. Ali, an adherent of the Nation of Islam who had changed his name from Cassius Clay, came to represent rising black anger in America and opposition to the Vietnam War. Frazier voiced no political views, but he was nonetheless depicted, to his consternation, as the favorite of the establishment. Ali called him ignorant, likened him to a gorilla and said his black supporters were Uncle Toms.
"Frazier had become the white man's fighter, Mr. Charley was rooting for Frazier, and that meant blacks were boycotting him in their heart," Norman Mailer wrote in Life magazine after the first Ali-Frazier bout.
Frazier, wrote Mailer, was "twice as black as Clay and half as handsome," with "the rugged decent life-worked face of a man who had labored in the pits all his life."
Frazier could never match Ali's charisma or his gift for the provocative quote. He was essentially a man devoted to a brutal craft, willing to give countless hours to his spartan training-camp routine and unsparing of his body inside the ring.
"The way I fight, it's not me beatin' the man: I make the man whip himself," Frazier told Playboy. "Because I stay close to him. He can't get out the way." He added: "Before he knows it — whew! — he's tired. And he can't pick up his second wind because I'm right back on him again."
In his autobiography, "Smokin' Joe," written with Phil Berger, Frazier said his first trainer, Yank Durham, had given him his nickname. It was, he said, "a name that had come from what Yank used to say in the dressing room before sending me out to fight: 'Go out there, goddammit, and make smoke come from those gloves.' "
Foreman knocked out Frazier twice but said he had never lost his respect for him. "Joe Frazier would come out smoking," Foreman told ESPN. "If you hit him, he liked it. If you knocked him down, you only made him mad."
Durham said he saw a fire always smoldering in Frazier. "I've had plenty of other boxers with more raw talent," he told The New York Times Magazine in 1970, "but none with more dedication and strength."
Ali himself was conciliatory when Frazier's battle with cancer became publicly known. "My family and I are keeping Joe and his family in our daily prayers," Ali said in his statement over the weekend. "Joe has a lot of friends pulling for him, and I'm one of them."
And when word reached him that Frazier had died, Ali, in another statement, said: "The world has lost a great champion. I will always remember Joe with respect and admiration."
Billy Joe Frazier was born on Jan. 12, 1944, in Laurel Bay, S.C., the youngest of 12 children. His father, Rubin, and his mother, Dolly, worked in the fields, and the youngster known as Billy Boy dropped out of school at 13. He dreamed of becoming a boxing champion, throwing his first punches at burlap sacks he stuffed with moss and leaves, pretending to be Joe Louis or Ezzard Charles or Archie Moore.
At 15, Frazier went to New York to live with a brother. A year later he moved to Philadelphia, taking a job in a slaughterhouse. At times he battered sides of beef, using them as a punching bag to work out, the kind of scene used by Slyvester Stallone in the film "Rocky," though Stallone said that he drew on the life of the heavyweight contender Chuck Wepner in developing the Rocky character.
Durham discovered Frazier boxing to lose weight at a Police Athletic League gym in Philadelphia. Under Durham's guidance, Frazier captured a Golden Gloves championship and won the heavyweight gold medal at the 1964 Tokyo Olympics.
He turned pro in August 1965, with financial backing from businessmen calling themselves the Cloverlay Group (from cloverleaf, for good luck, and overlay, a betting term signifying good odds). He won his first 11 bouts by knockouts. By winter 1968, his record was 21-0.
A year before Frazier's pro debut, Cassius Clay won the heavyweight championship in a huge upset of Sonny Liston. Soon afterward, affirming his rumored membership in the Nation of Islam, he became Muhammad Ali. In April 1967, having proclaimed, "I ain't got nothing against them Vietcong," Ali refused to be drafted, claiming conscientious objector status. Boxing commissions stripped him of his title, and he was convicted of evading the draft.
An eight-man elimination tournament was held to determine a World Boxing Association champion to replace Ali. Frazier refused to participate when his financial backers objected to the contract terms for the tournament, and Jimmy Ellis took the crown.
But in March 1968, Frazier won the version of the heavyweight title recognized by New York and a few other states, defeating Buster Mathis with an 11th-round technical knockout. He took the W.B.A. title in February 1970, stopping Ellis, who did not come out for the fifth round.
In the summer of 1970, Ali won a court battle to regain his boxing license, then knocked out the contenders Jerry Quarry and Oscar Bonavena. The stage was set for an Ali-Frazier showdown, a matchup of unbeaten fighters, on March 8, 1971, at Madison Square Garden.
Each man was guaranteed $2.5 million, the biggest boxing payday ever. Frank Sinatra was at ringside taking photos for Life magazine. The former heavyweight champion Joe Louis received a huge ovation. Hubert H. Humphrey, back in the Senate after serving as vice president, sat two rows in front of the Irish political activist Bernadette Devlin, who shouted, "Ali, Ali," her left fist held high. An estimated 300 million watched on television worldwide, and the gate of $1.35 million set a record for an indoor bout.
Frazier, at 5 feet 11 1/2 inches and 205 pounds, gave up three inches in height and nearly seven inches in reach to Ali, but he was a 6-to-5 betting favorite. Just before the fighters received their instructions from the referee, Ali, displaying his arrogance of old, twice touched Frazier's shoulders as he whirled around the ring. Frazier just glared at him.
Frazier wore Ali down with blows to the body while moving underneath Ali's jabs. In the 15th round, Frazier unleashed his famed left hook, catching Ali on the jaw and flooring him for a count of 4, only the third time Ali had been knocked down. Ali held on, but Frazier won a unanimous decision.
Frazier declared, "I always knew who the champ was."
Frazier continued to bristle over Ali's taunting. "I've seen pictures of him in cars with white guys, huggin' 'em and havin' fun," Frazier told Sport magazine two months after the fight. "Then he go call me an Uncle Tom. Don't say, 'I hate the white man,' then go to the white man for help."
For Frazier, 1971 was truly triumphant. He bought a 368-acre estate called Brewton Plantation near his boyhood home and became the first black man since Reconstruction to address the South Carolina Legislature. Ali gained vindication in June 1971 when the United States Supreme Court overturned his conviction for draft evasion.
Frazier defended his title against two journeymen, Terry Daniels and Ron Stander, but Foreman took his championship away on Jan. 22, 1973, knocking him down six times in their bout in Kingston, Jamaica, before the referee stopped the fight in the second round.
Frazier met Ali again in a nontitle bout at the Garden on Jan. 28, 1974. Frazier kept boring in and complained that Ali was holding in the clinches, but Ali scored with flurries of punches and won a unanimous 12-round decision.
Ali won back the heavyweight title in October 1974, knocking out Foreman in Kinshasa, Zaire — the celebrated Rumble in the Jungle. Frazier went on to knock out Quarry and Ellis, setting up his third match, and second title fight, with Ali: the Thrilla in Manila, on Oct. 1, 1975.
In what became the most brutal Ali-Frazier battle, the fight was held at the Philippine Coliseum at Quezon City, outside the country's capital, Manila. The conditions were sweltering, with hot lights overpowering the air-conditioning.
Ali, almost a 2-to-1 betting favorite in the United States, won the early rounds, largely remaining flat-footed in place of his familiar dancing style. Before Round 3 he blew kisses to President Ferdinand Marcos and his wife, Imelda, in the crowd of about 25,000.
But in the fourth round, Ali's pace slowed while Frazier began to gain momentum. Chants of "Frazier, Frazier" filled the arena by the fifth round, and the crowd seemed to favor him as the fight moved along, a contrast to Ali's usually enjoying the fans' plaudits.
Frazier took command in the middle rounds. Then Ali came back on weary legs, unleashing a flurry of punches to Frazier's face in the 12th round. He knocked out Frazier's mouthpiece in the 13th round, then sent him stumbling backward with a straight right hand.
Ali jolted Frazier with left-right combinations late in the 14th round. Frazier had already lost most of the vision in his left eye from a cataract, and his right eye was puffed and shut from Ali's blows.
Eddie Futch, a renowned trainer working Frazier's corner, asked the referee to end the bout. When it was stopped, Ali was ahead on the scorecards of the referee and two judges. "It's the closest I've come to death," Ali said.
Frazier returned to the ring nine months later, in June 1976, to face Foreman at Nassau Coliseum on Long Island. Foreman stopped him on a technical knockout in the fifth round. Frazier then announced his retirement. He was 32.
He later managed his eldest son, Marvis, a heavyweight. In December 1981 he returned to the ring to fight a journeyman named Jumbo Cummings, fought to a draw, then retired for good, tending to investments from his home in Philadelphia.
Both Frazier and Ali had daughters who took up boxing, and in June 2001 it was Ali-Frazier IV when Frazier's daughter Jacqui Frazier-Lyde fought Ali's daughter Laila Ali at a casino in Vernon, N.Y. Like their fathers in their first fight, both were unbeaten. Laila Ali won on a decision. Joe Frazier was in the crowd of 6,500, but Muhammad Ali, impaired by Parkinson's syndrome, was not.
In addition to his son Marvis and his daughter Jacqui, Frazier is survived by his sons Hector, Joseph Rubin, Joseph Jordan, Brandon Marcus and Derek Dennis; his daughters Weatta, Jo-Netta, Renae and Natasha, and a sister. His marriage to his wife, Florence, ended in divorce.
Long after his fighting days were over, Frazier retained his enmity for Ali. But in March 2001, the 30th anniversary of the first Ali-Frazier bout, Ali told The New York Times: "I said a lot of things in the heat of the moment that I shouldn't have said. Called him names I shouldn't have called him. I apologize for that. I'm sorry. It was all meant to promote the fight."
Asked for a response, Frazier said: "We have to embrace each other. It's time to talk and get together. Life's too short."
Fascination with the Ali-Frazier saga has endured.
After a 2008 presidential debate between Barack Obama and John McCain, the Republican media consultant Stuart Stevens said that McCain should concentrate on selling himself to America rather than criticizing Obama. Stevens's prescription: "More Ali and less Joe Frazier."
Frazier's true feelings toward Ali in his final years seemed murky.
The 2009 British documentary "Thrilla in Manila," shown in the United States on HBO, depicted Frazier watching a film of the fight from his apartment above the gym he ran in Philadelphia.
"He's a good-time guy," John Dower, the director of "Thrilla in Manila," told The Times. "But he's angry about Ali."
In March 2011, however, on the eve of the 40th anniversary of the first Ali-Frazier fight, Frazier said he was willing to put the enmity behind him.
"I forgave him for all the accusations he made over the years," The Daily News quoted Frazier as saying. "I hope he's doing fine. I'd love to see him."
But as Frazier once told The Times: "Ali always said I would be nothing without him. But who would he have been without me?"
Бой за звание чемпиона по версии WBC WBA в тяжелом весе. Кесон-Сити, Метро Манила, Филиппины. Этот бой до сих пор считается самым лучшим и самым жестоким в истории бокса. Бой проходил 14 - ть из 15 - ти раундов, после четырнадцатого раунда этого легендарного боя прозванным "Триллером в Маниле" бой был остановлен в свези с тем, что Джо Фрейзер ничего больше не видел, у него заплыл единственный нормально функционирующий глаз. После остановки поединка Мухаммед Али просто рухнул на ринг без сознания и долго лежал, не поднимался. Были и до сих пор идут споры на счет итога поединка. Многие считают, что если бы бой не был остановлен то Мухамед Али сдался бы, поскольку после 14 - он просил чтобы сняли с него перчатки. 
Фрейзер, Джо
Материал из Википедии — свободной энциклопедии
Общая информация
Джозеф Уильям Фрейзер (англ. Joseph William Frazier)
Дымящийся Джо (англ. "Smokin" Joe)
 США
12 января 1944
Бьюфорт, Южная Каролина, США
7 ноября 2011 (67 лет)
Филадельфия, Пенсильвания, США
Филадельфия, Пенсильвания, США
Тяжёлая (свыше 90,92 кг)
Правша
182 см
185 см
Инфайтер
Рейтинги
Профессиональная карьера
16 августа 1965
3 декабря 1981
37
32
27
4
1
Любительская карьера
125
120
65
5
Олимпийские награды
Бокс
Золото

Токио 1964

свыше 81 кг
Джозеф Уильям «Джо» Фрейзер (англ. Joseph William "Joe" Frazier; 12 января 1944, Бьюфорт, Южная Каролина, США — 7 ноября 2011, Филадельфия, Пенсильвания, США) — американский боксёр-профессионал, выступавший в тяжёлой весовой категории. Олимпийский чемпион 1964 года. Чемпион мира в тяжёлой (версия WBC, 1970—1973; версия WBA, 1970—1973) весовой категории.
Содержание 
1 Биография
1.1 1965—1981
1.2 2011
2 Примечания
3 Ссылки
Биография
1965—1981
До 1965 года выступал среди любителей. В 1964 году на Олимпиаде в Токио 20-летний Джо выиграл золото в супертяжёлой весовой категории, победив в полуфинале советского боксёра Вадима Емельянова, а в финале — немца Ханса Хубера со счётом 3-2. Профессионалом стал в августе 1965 года.
В сентябре 1966 года раздельным решением судей победил Оскара Бонавену. Фрейзер дважды побывал в нокдауне во 2-м раунде.
В июле 1967 года в 4-м раунде нокаутировал Джорджа Чувало.
В декабре 1968 года состоялся второй бой между Фрейзером и Оскаром Бонавеной. На этот раз Фрейзер победил единогласным решением судей.
В сентябре 1969 года в 7-м раунде техническим нокаутом победил Джерри Квари. Поединок получил статус «бой года» по версии журнала «Ринг».
В феврале 1970 года состоялся бой между Фрейзером и чемпионом мира в тяжёлом весе по версии WBA Джимми Эллисом. На кону также стоял вакантный титул чемпиона мира в тяжёлом весе по версии WBC. Фрейзер нокаутировал чемпиона в 5-м раунде.
В ноябре состоялся бой между Фрейзером, владеющим в тот момент титулом абсолютного чемпиона мира в тяжёлом весе, и абсолютным чемпионом мира в полутяжёлом весе Бобом Фостером. Фрейзер нокаутировал противника во 2-м раунде.
В марте 1971 года Фрейзер вышел на ринг против бывшего чемпиона мира в тяжёлом весе Мохаммеда Али. Впервые в истории тяжелого веса в чемпионском бою бились два небитых чемпиона — один бывший, другой действующий. Фрезер обладал хорошей скоростью и смог противостоять Али. В 15-м раунде он отправил в красивый нокдаун бывшего чемпиона (3-й в карьере Али). Али впервые проиграл. Поединок получил статус «бой года» по версии журнала «Ринг».
В январе 1972 года в 4-м раунде нокаутировал Терри Дэниелса.
В мае он в 5-м раунде нокаутировал Рона Стэндлера.
В январе 1973 года состоялся бой между двумя непобеждёнными боксёрами — Фрейзером и Джорджем Форманом. Фрейзер трижды побывал в нокдауне в первом раунде, и трижды во втором. Форман победил техническим нокаутом во 2-м раунде. Поединок получил статус «бой года» по версии журнала «Ринг».
В июле победил по очкам Джо Багнера.
В январе 1974 года состоялся второй бой Фрейзера против Мохаммеда Али. В этот раз Али победил по очкам.
В июне состоялся второй бой между Фрейзером и Джерри Квари. Фрейзер нокаутировал противника в 5-м раунде.
В марте 1975 года состоялся 2-й бой между Фрейзером и Джимми Эллисом. Фрейзер нокаутировал противника в 9-м раунде.
В сентябре состоялся третий бой между Фрейзером и Мохаммедом Али. Бой проходил при невероятной жаре — более 30 градусов. Это был упорный и агрессивным бой с интригой до самого конца: Али и Фрейзер устроили настоящий мордобой. С первого по пятый раунд, преимущество было за Али, с шестого по 11-тый Фрэйзер «избивал» Али, после очередного раунда Али сказал «Я кажется умираю». После 14-го раунда судья остановил поединок — Фрейзер, будучи слепым на левый глаз, практически не видел правым(тренер показал три пальца и попросил их сосчитать, Фрейзер ответил «один»). В то же время в своем углу Али просил снять перчатки («я очень устал, снимите с меня перчатки») и, по версии своего врача, на 15-й раунд выйти бы не смог. После окончания боя Мохаммед встал и упал без сознания в своём углу. В чью пользу закончился бы бой, если б тренер Фрейзера не остановил его, остаётся вопросом. После этого боя Али назвал Фрейзера лучшим боксером после себя и сказал что он его очень сильно недооценивал. Поединок получил название «Триллер в Маниле (Trilla in Manila)» и статус «бой года» по версии журнала «Ринг».
В июне 1976 года состоял второй бой между Фрейзером и Джорджем Форманом. Фрейзер проиграл нокаутом в 5-м раунде. После этого боя он не выходил на ринг 5 лет.
В декабре 1981 года вернулся в бокс. Он вышел на ринг против малоизвестного Флойда Каммингса. По итогам 10-ти раундов судьи дали спорную ничью. После этого боя Фрейзер ушёл из бокса.
В 1994 году снялся в фильме «Обитель ангелов» (англ. Home Of Angels).
[править]2011
В 2011 году Джо Фрейзеру диагностировали рак печени в одной из последних стадий. Об этом печальном известии публике сообщил менеджер «Дымящегося Джо» Лесли Вульф.[1]
7 ноября 2011 года Джо Фрейзер скончался в хосписе Филадельфии[2].
Примечания
↑ У знаменитого боксера Джо Фрейзера обнаружен рак
↑ Умер боксер Джо Фрейзер
Ссылки
Фрейзер, Джо Послужной список  (англ.)
Фрейзер, Джо  (англ.) на сайте Internet Movie Database
Джо ФРЭЗЕР: «МОЕЙ ПЕРВОЙ ГРУШЕЙ БЫЛ МЕШОК С КУКУРУЗОЙ» (начало)
Джо ФРЭЗЕР: «МОЕЙ ПЕРВОЙ ГРУШЕЙ БЫЛ МЕШОК С КУКУРУЗОЙ» (окончание)
Джо Фрезер: Непростивший (09.11.2011)
Джо Фрейзер. Дымящийся Джо
Легендарный Джо Фрейзер
В ночь с 7 на 8 ноября скончался легендарный американский боксер-тяжеловес Джо Фрейзер. Причиной смерти 67-летнего спортсмена, который известен всему миру как победитель Мохаммеда Али, стал рак печени.
Последние дни своей жизни Дж.Фрейзер провел в хосписе в Филадельфии. За несколько недель до смерти спортсмену поставили диагноз "рак печени в тяжелой стадии". Врачи отметили, что шансов на выздоровление практически нет. Тем не менее спортсмен и его родные до последнего продолжали бороться и надеяться на чудо, однако оно так и не произошло.
Дж.Фрейзер, который известен на ринге как Дымящийся Джо, входит в десятку лучших боксеров-тяжеловесов всех времен. Спортсмен впервые вышел на ринг в 1965г. Уже через год он добился первой победы, отправив в нокаут опытного Оскара Бонавену.
В сентябре 1969г. в 7-м раунде техническим нокаутом победил еще одного именитого боксера - Джерри Квари. По версии журнала "Ринг", поединок получил статус "бой года".
Февраль 1970г. - новая веха в карьере молодого перспективного боксера. Состоялся бой между Фрейзером и чемпионом мира в тяжелом весе по версии WBA Джимми Эллисом. На кону также стоял вакантный титул чемпиона мира в тяжелом весе по версии WBC. Дж.Фрейзер нокаутировал чемпиона в 5-м раунде.
В ноябре 1970г. состоялся бой между Дж.Фрейзером, владеющим в тот момент титулом абсолютного чемпиона мира в тяжелом весе, и абсолютным чемпионом мира в полутяжелом весе Бобом Фостером. Фрейзер нокаутировал противника во 2-м раунде.
Пожалуй, самым знаковым в карьере боксера стал март 1971г., когда Дж.Фрейзер вышел на ринг против чемпиона мира в тяжелом весе Мохаммеда Али. Впервые в истории тяжелого веса в чемпионском бою встретились два непобежденных чемпиона - один бывший, другой действующий. В 15-м раунде он отправил в красивый нокдаун бывшего чемпиона (3-й в карьере М.Али). Легендарный М.Али впервые проиграл.
Впрочем, легенда дважды отплатила своему обидчику, встретившись с ним на ринге в январе 1974г. и сентябре 1975г. Если первый реванш М.Али одержал по очкам, то вторую победу он вырвал с трудом, после очень непростой и нервной битвы. Этот бой получил название "Триллер в Маниле".
Июнь 1976г. был ознаменован первым серьезным поражением Дж.Фрейзера. Тогда он во второй раз бился на ринге с боксером Джорджем Форманом. Дж.Фрейзер проиграл нокаутом в 5-м раунде. После этого боя он не выходил на ринг 5 лет.
В декабре 1981г. спортсмен попытался вернуться в бокс. Он вышел на ринг против малоизвестного Флойда Каммингса. По итогам 10-ти раундов судьи дали спорную ничью. После этого боя Дж.Фрейзер окончательно ушел из бокса.
В 1994г. бывший боксер попробовал себя в кино: он снялся в фильме "Обитель ангелов". С тех пор он не появлялся на публике.
Имя Дж.Фрейзера внесено в оба Зала славы бокса.
В 2002-м году они будут вместе приглашены на церемонию вручения премии в Голливуде.
В июне 2001 года Джекки проиграет свой бой Лайле Али ( дочь Мохаммеда ).
13 ноября 2006 года. Джо садится в своем спортзале.