Welcome! Come in and read a while.
This website is my place for collecting and sharing wisdom.   Some of it is mine and some from
 others.   Please feel free to E-mail me with some of your own thoughts and wisdom, or just to say
 hello.  As the Spirit moves me, I'll be adding something new.
   
 
Wisdom alone is true ambition's aim

Wisdom the source of virtue, and of fame
,
Obtained with labor, for mankind employed,

And then, when most you share it,

best enjoyed.
From Hell to Marion County,
By Mary Yarbrough Dean
For those who love the South and for those who love reading about it. 
 Local Author, Mary Yarbrough Dean
From Hell to Marion county
A novel by Mary Yarbrough Dean, is a story of war and peace, despair and hope, drudgery and excitement.  Most of all, it is a story of love and bittersweet revenge.
Wealthy plantation owner and Confederate Captain Matthew Kendall loses everything in the war except his best friend and former slave, Lum.  Together, they leave  the ruins of his Georgia plantation to make a new start in the land of the Silver Spring, where he was told the water is so clear that you can see a pebble sixty feet below the surface.  There he finds exciting and sometimes hilarious adventures as he stumbles through the confusing emotions of, new found love.
To purchase or enquire about 
 From Hell to Marion County:
Call (352)402-0926
Or Write:
BenAura Publishing
P.O. Box 606
Anthony, Fl. 32617
Now available on Amazon
In E-book and Paperback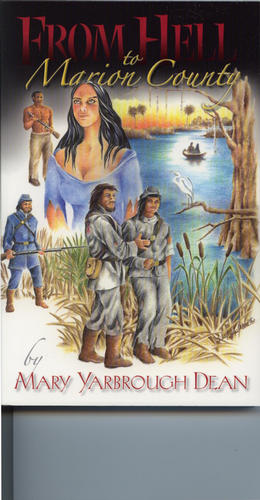 ck