1965 History of Wilkes
First year of Repstat construction.
"In 1965, two Repstat buildings were practically completed (I think one was a radio shack) but during changeover 65/66 a workshop was also built. Roads and building foundations were also put in during the year as well as a DUKW landing." Scruffy Shennan.
Sid Harvey has recently produced a DVD of his collection of photos from his year at Wilkes, including a visit to Dumont D'Urville. Contact him at sidharvey8@gmail.com for a copy.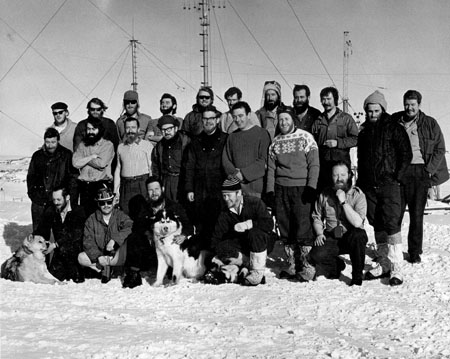 Wilkes 1965 Winter Crew
Back Row L to R: Mark Forecast; John Boyd; Ken Bennett (KB); John McKenzie; Mike Bailey; Bob Holmes; Wally Demech; Ken (Scruffy) Shennan; Mick Glenny; Manfred Hader; John Tarbuck.
Centre Row L to R: Kevin (Torch) Gleeson; Peter Brown-Cooper (PBC); Ken Hicks; Ted Simmons; Gordon Allen; Peter Gibson; Allen McLaren.
Front Row L to R: Lakka & Jack Lanyon; Brian(Red) Ryder; Ron Wiggins & Kamik; Tony (Hooby) Warriner and Sid Harvey.
Photo supplied by Allen McLaren and caption by Allen McLaren and Ken Shennan.
50 years later in Sydney, we regathered to reminisce:
Wally Demech, Ken Bennett, Peter Browne-Cooper, John McKenzie, Bob Holmes, John Boyd, Allen McLaren, Ken Shennan, Ron Wiggins.