Javelina hunts will be conducted in the Trans Pecos region of Texas and they are available on the majority of our properties.
Javelina on average weigh 40 to 50lbs with larger trophy boars weighing upwards of 60lbs.
Both boars and sows sport sharp javelin type teeth which is where there name derived from.
Most are not a fan of eating the meat from a Javelina but with proper care and preparation the meat is actually quite tasty.
 They also make great European, Shoulder, and full body mounts. Hunters are allowed to take 2 Javelina per year and they are available 
to hunt year round.
Javelina usually come to feed and water regularly under normal weather conditions.
Hunts will typically be 2 days guided or self guided over feed and water or Safari Style.
Javelina hunts are a great way to introduce someone to the sport of hunting, something to do during the off season, or for a larger
group wanting to get away for the weekend. Shot opportunity to date is 90% on guided hunts and 80% on self guided hunts.
Javelina have poor eye sight but a great sense of smell.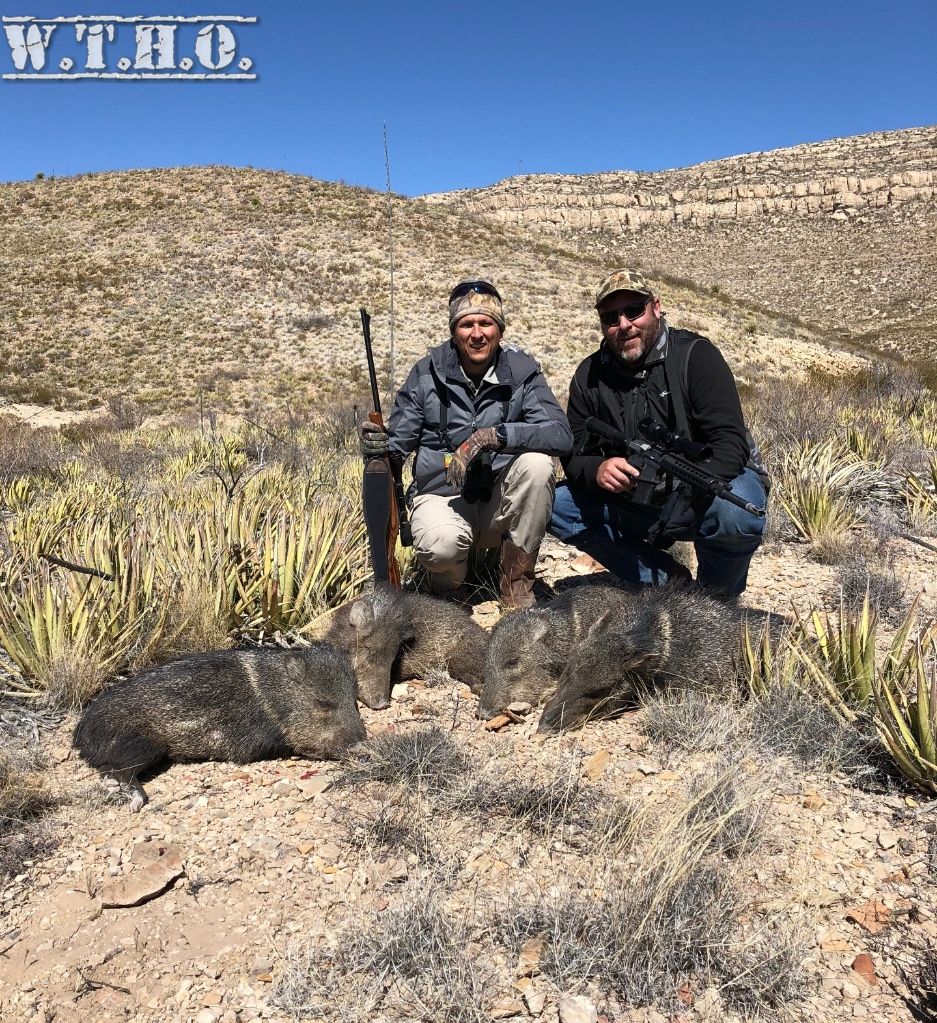 4D North Ranch Javelina Hunt




 Hunt Pricing: $500.00 Per Hunter

2 Day Semi Guided Hunt 

Minimum of 3 Hunters Maximum of 6.

 

Bag Limit: 2 Javelina & Coyotes

Spot and Stalk or Feeder Hunt

Can be Combined with a Hog hunt.

 

2 Nights Lodging Included. 

 Meals not Included but can be added.

 

 

Now Booking for Fall 2019 and Later

4D South Ranch Javelina Hunt

 

Single Hunter: $300.00 Per Hunter

 2.5 Day Self Guided Hunt

Minimum of 1 Hunter Maximum of 3

 

Bag Limit: 2 Javelina and Predators

Can be combined with Dove or Quail

if in season.

 

Bring your camping gear,trailer, or stay in town 30 minutes away.

 




Now Booking for Fall 2020 and Later

 

 

 

 

 

 

 

 

 

 

 

 

 

 

  

 

 

Sawer Ranch Javelina Hunt

Single Hunter: $350.00 Per Hunter

2.5 Day Self Guided Hunt

Minimum of 1 Hunter Maximum of 4.

 

Bag Limit: 2 Javelina and Predators

Access to Campsite included & Fishing

No onsite amenities currently.




Now Booking for Fall 2019 and Later




 

 

 




 


 

 




Van Horn/Barrow Ranch Javelina Hunt

 

Single Hunter: $350.00 Per Hunter

2.5 Day Self Guided Hunt

Minimum of 2 Hunters Maximum of 6.

 

Bag Limit: 2 Javelina and Predators

Access to Campsite included & Fishing

Simple Lodging available for a small fee.




 

 

Hueco Ranch Javelina Hunt



Single Hunter: $600.00 Per Hunter


2 Day Semi Guided Hunt (Weekends Only)


Minimum of 2 Hunters Maximum of 4



Bag Limit: 2 Javelina Each

Brunch & Dinner Provided




2 nights  lodging included.

Located 1 hour East of El Paso.



Booked until Fall of 2020
















Van Horn Lower Javelina Hunt




Single Hunter: $350.00 Per Hunter

2.5 Day Self Guided Hunt

Minimum of 1 Hunter Maximum of 4




Camping Allowed




Bag Limit: 2 Javelina and Predators

No Onsite Amenities

Borders Sawer Ranch. Fishing is included

if accessed on foot.




Booked until Fall 2020