High in a Colorado Gold Town  
Jim Stone's Bus
The Historic Ward Church and Jim Stone's Truck are icons of Ward.  Easily recognizable, often painted, and treasured by the Town, they are easily seen, often photographed, and the subject of much conversation.  It's called Junkyard art or Art Brut.  Some say it's not art . . .
Jim Stone was born on April 2, 1935 and passed away on Wednesday, December 29, 2010.  Jim was a resident of Ward, Colorado.
A Stoner's Art -- Jim Stone's Truck in Ward, Colorado
Salon.com:  When art starts in a junkyard
Behind the fascinating creators of Art Brut, who prove brilliance doesn't require an MFA
ELLEN SHAPIRO, IMPRINT
It was found in attics and closets. It was drawn on ledger pages at turn-of-the-century mental institutions, made at tables in day treatment centers, and put together after a day's work at the factory from junk scavenged from dumpsters.
It's called Art Brut — a term coined by Jean Dubuffet — raw art, survivor art, visionary art, vernacular art and outsider art, and it encompasses painting, drawing, sculpture, collage, assemblage and every kind of craft. But, as I learned recently, the term doesn't refer to a particular medium, technique or style. It's about the artists who make it: People outside the mainstream of society. They are or were (many were "discovered" years after their death) disenfranchised, institutionalized and almost always self-taught. A few may have taken drawing classes, but none has an MFA or formal academic training; they are outsiders to the fine-art world. Paradoxically, their work is becoming increasingly valuable, sought after by collectors, and has an annual home in New York at the Outsider Art Fair, at which 34 galleries from Europe, the Caribbean and across North America exhibited from Feb. 10 to 14.
Classic Ward, Colorado by Jim Bogardis
By pedaldancer
Ward, Colorado Truck
RV Heaven in Ward, Co by gaussling
In the woods near my house are foundations of stone and mortar buildings that are more than 200 years old. One sits directly across the street from me. I pass by it every day, but it is not the only one. There are at least 20 or 30 of these old houses from the original Farmingbury settlement. I could go on to tell you some classic New England ghost stories, some of the strange encounters I experienced while growing up here, but you might think I'm lying (or crazy) and I'm not sure which misconception would be worse.
My photo series of the foundations has yet to be done. My canine companion has died and the fact that it is hunting season makes me a bit apprehensive to step into the woods alone but that is not totally it. Within the woods and beyond the foundations exist burial grounds. Some are Native American and others are Colonial. The Colonial graves are marked with stones -- well, most of them are...
Have you ever traversed the woods by yourself? It seems that when you are alone walking along in the woods invisible creatures peer out at you from behind the trees. When I'm alone in the woods, I find myself looking around -- searching for the source of that eerie feeling, that feeling that someone or something is watching me.
And so one day, on a normal hike, a friend and I noticed shining chrome not far beyond the regular path. We walked closer and discovered a dozen or so abandoned vehicles and engines. It wouldn't have been odd, this finding, except for the fact that we were several miles deep in the woods and there was no possible way that the cars had been driven in.
Gingerly I walked between the vehicles, the gnarled metal shot out from the ground in unfamiliar places. One had to be careful walking there, not to fall, for fear of getting cut. But it wasn't just that. There was something creepy about the wreckage.
I noticed the damage and gunshots on a lot of the cars. It was unlikely that the gunshot wounds existed on the vehicles when they arrived at this peculiar wood-side location and more likely the result of contemporary teenagers with too much time on their hands.
"Do you think people died in these cars?" My companion asked me out of nowhere, coincidentally echoing the very thought in my head.
"I'm sure," I replied and stared at the abandoned vehicles. One was clearly some type of Ford. I knew Fords. It had all the classic characteristics. The image of a woman popped into my head, her contorted body hung over the driver's side dash, her drunken companion's lifeless frame hanging over the staring wheel. Something tells me she died and he lived. The feeling of death began to expand exponentially around the pieces. People died here, not only in these woods but in these cars.
It was not everyday you stumbled upon a graveyard of cars, and not far off the beaten path of the Connecticut Blue Trail to boot. Rusted chrome and twisted metal punctuated the landscape and those explorers who happened upon it were respectful enough to keep silent, if they were smart.
Ward, Colorado, Villages
Digit Triathalon and Multisport Training. Coach Jason, Ward, CO
Freewheeling times, Dejan Smaic.jpg
Houston Yard Art: Beer Cans, Fake Flowers and Wacky, Nonsensical Sculptures by Chrstine Buck: Huffington Post
The eclectic and quirky Houston art scene took me by surprise. Really, I expected Houston, the country's 4th largest city, to lack in creativity and to instead offer an abundance of heat-packing cowboys carrying around ice cold 24-ounce Tall Boys. The Tall Boys are here, in ice chests in every other gas station convenience mart, but I've yet to meet a real cowboy. The art scene, however, is fabulous. Houston is packed with world-class art museums (many of them free to the public), avant-garde galleries, and of course, the funky and outrageous Houston art car parade, the oldest and largest art car parade in the country. The art car movement is celebrated by Houston's Art Car Museum, also known as "Garage Mahal."

Houstonians have taken their love of art to an entirely new level with private home yard art. There is of course the infamous Beer Can House, a house decorated with an estimated 50,000 beer cans. John Milkovisch, a retired upholsterer for the Southern Pacific Railroad, created the house over a period of 18 years beginning in 1969. It's so over-the-top crazy cool that it's a must-see, if simply to reflect on the fact that any one homeowner can possibly drink enough beer to turn an entire house and yard into beer can art.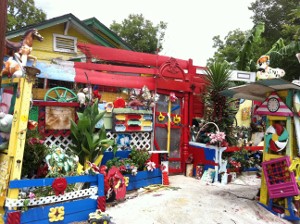 Heading southeast of downtown Houston to 2305 Francis Street in the Third Ward, you'll stumble upon the eccentric Flower Man House. The house pops out with an explosion of color in the middle of an otherwise bland neighborhood with a seedy feel. Cleveland Turner, aka the Flower Man, has been hard at work decorating his house for over 10 years. After seventeen years of living on the streets, Turner was hospitalized for alcohol poisoning. While being treated, he had a vision of flowers and found objects. He decided to turn his life around by moving into a house and staying sober by focusing on decorating his home and yard with silk flowers and other people's junk. From a distance, it is a welcome kaleidoscope of colors and shapes. Yet if Turner's story wasn't so darned inspirational, I might be tempted to question the moldy carpet glued to the sidewalk or the clear plastic bag of rotting donuts sitting on the front lawn.