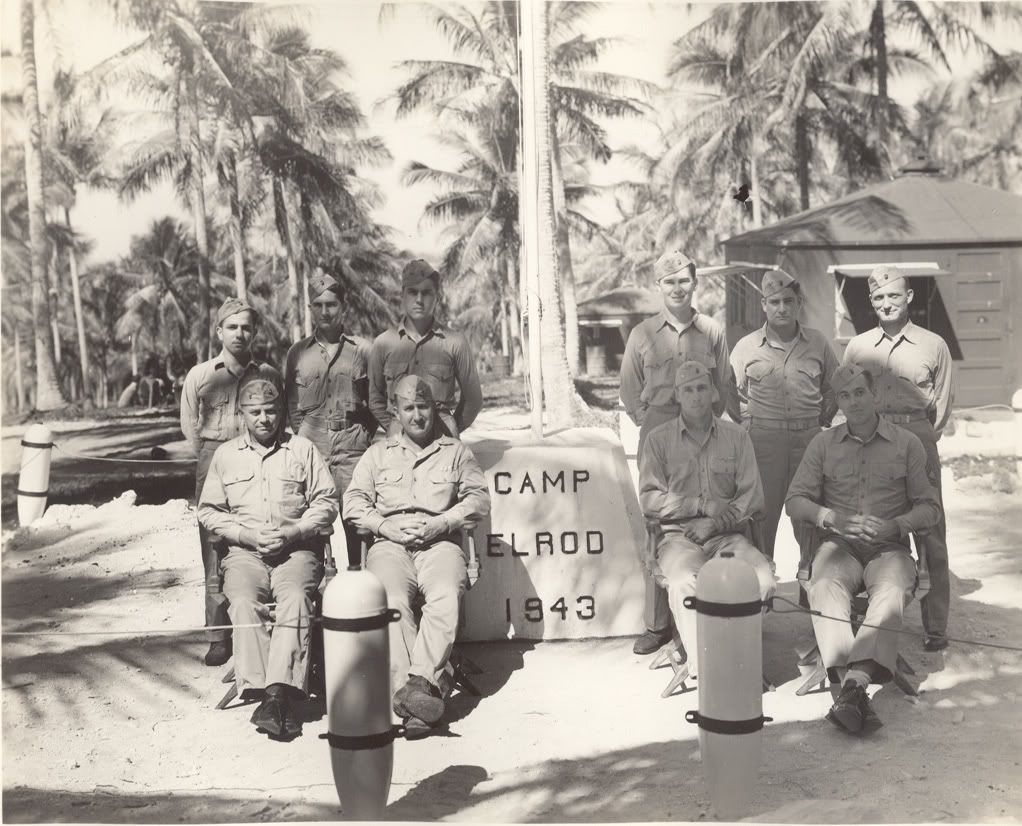 This website is dedicated to the men who proudly served in the United States Marine Corps, Squadron VMD-154. During World War II, this squadron was under the command of the 1st Marine Aircraft Wing. VMD-154, an aerial reconnaissance squadron, was stationed at Camp Elrod on Espiritu Santo Island, New Hebrides (now Vanuatu) in the South Pacific. Their Commanding Officer was Colonel Elliott E. Bard. Squadron reconnaissance missions included the locations of: Guadalcanal, Munda, Kolombangara, Bougainville, Shortland, Nauru, Ocean, Truk, Tarawa, and Makin.
Our original website was created April 16, 2003 and can no longer be edited; however, it can be viewed at the following link:

    

VMD-154 Website    Our current website was initiated on June 26, 2008, and is a long-range project which will be continually under construction.
Click on the photo at right to view it in a larger format.
South Pacific WWII Museum

On December 24, 2012, a proposal was initiated by the Elwood J. Euart Association to build a South Pacific World War II Museum in the city of Luganville on Espiritu Santo Island, Vanuatu (formerly the New Hebrides). This project is still viable and continues to gather WWII photographs and memorabilia that will be on display once the museum construction is completed. Until then, please visit the following links for additional information:

South Pacific WWII Museum - visit the museum Facebook page to read about the museum project and to view hundreds of vintage photos
commemorating all United States military branches, including USMC squadron VMD-154, who served on Espiritu Santo Island during World War II. Also included are photos documenting current progress of plans and acquisitions for the museum.

South Pacific World War II Museum on Vimeo - visit this site to view a brief video detailing the conception, planning, and location of the South Pacific WWII Museum.

South Pacific World War II Museum - Retracing Vanuatu's Wartime History - this website is under construction and will become the future, permanent homepage for the museum. 



The last official reunion of VMD-154 Association was held as follows:
Date:

        September 19 - 21, 2008
Place:       MCM Grande Hotel Fundome in Odessa, TX
Contact:    Dallas L. Willis at (432) 682-2700
The 2008 VMD-154 reunion celebrated the 66th anniversary of the squadron.  Five squadron members and their guests attended the event. Squadron members in attendance were Edward J. Klimes, Louis H. Weller, Eliot "Bud" Wegener, Alfred G. Zemkoski, and Dallas L. Willis. Guests were Gloria Klimes, Della Chapman, Betty Wegener, Julia Margaret Willis, Lila Cox, Roger Willis, DeDe Willis, Casey Willis, Steve Zemkoski, Diana Zemkoski, and Linda Engel.
As a highlight of the reunion, attendees spent Saturday at the FINA-CAF AIRSHO which took place during the same weekend as our reunion. Of special interest to the squadron and their guests, the oldest and only flying B-24 Liberator, Old 927 formerly known as Diamond Lil, was on display.  Ol 927 was also part of the flight performance, making mock bombing runs over the Airshow with other planes in hot pursuit.
View a satellite map of :    Camp Elrod  Location of the old camp is based on information provided by late squadron member Samuel L. Mizer. Sam made a video of his 1998 trip back to Espiritu Santo and also gave partial global coordinates of the camp:
167o 13' East Latitude and 15o 28' South Longitude
Disclaimer:  This website, webmaster S. J. Monaghan, and the officers and members of VMD-154 Reunion Association are not official representatives of the United States Government, the Department of Defense, the Department of the Navy, or the United States Marine Corps. This website was created to preserve the history of VMD-154, a World War II Marine photographic squadron. All rights reserved.