There are an estimated 86 million bicycles in Japan ( 2010 )

 They are ridden for everyday transport by an even broader demographic range than that which drives cars.

The vast majority are urban appropriate utility style 'sit up and beg' bicycles with
step-through frames, a basket on the front,  mud (and chain )guards,  a carrier, spoke-lock, kick stand,  internal (as opposed to derailleur) gears, and often with  internal hub or dynamo-powered lights.

It is normal ( despite laws prohibiting it) to ride on the pavement (footpath/sidewalk) and it is

unusual to see anyone wearing a helmet, - as it is to see the speed-obsessed 'commuters'

that are associated with 'vehicular' cycling in most anglophone countries or to see any of the on-road cycling facilities that are widely regarded as a precondition for increasing the appeal of cycling.

A short video showing how cyclists coexist with pedestrians in Kyoto, Japan. 
Check out Cycle Kyoto

Japanese mothers picking their children up from kindergarten by bicycle.

 University Bicycle Parking

-and in the backstreets of Tokyo
For information on where to get bicycles in japan
------------------------------------------------------------------------------------
http://blog.orbike.com/archives/2007/02/ February 28, 2007 (from Oregon Bike, U.S.A)
Photos From Japan
I just returned from a trip to Japan. It wasn't a bike touring trip, though I wish it were; I've heard great things about bike touring in Japan. I had the opportunity to spend a day riding around Aomori, which is on the coast in the northern part of the main island. I modeled my riding style on those around me. I found myself riding sidewalks and riding slowly. People of all ages ride bikes, and there were plenty of seniors with large packages and kids, riding around like it was no big deal. Part of this is that they ride step-through frame bikes. They're solid bikes, very sturdy, and they call them a Mamma Chari. I also saw a few three-wheeled bikes.

Click on any of these photos for a larger version


Bikes are used to carry a lot. Each bike has a least a front basket, often a front basket and a rear child seat. They also mount mini child seats on the top tube so that the parent's arms are around the child while riding. You know those images of other countries where people are carrying bales or hay, refrigerators and other impossibly large objects? Well, I didn't see any of that, but I did see people with large boxes on the back.


Overall bikes were everywhere. They seemed to exist well with cars. Mostly cyclists rode on the sidewalk, sometimes in the street. Japanese drivers are not prone to honking or yelling, so it was hard to guage what they thought of cyclists, but the cyclists, for their part, seemed to be very cautious and respectful road users. It was not uncommon to see a long line of bikes in what would otherwise be a series of car parking spots (like this photo).


I was impressed with the low-key riding style.
Again, the Japanese ride slowly. They seem very relaxed.
They also don't wear any special gear - which is a little surprising given that they're a nation that absolutely loves uniforms and special gear for specific projects.
Skirts, suits, high-heeled boots - you name it, they wore it while riding. I never saw a set of rain pants or a rain coat - even through it rained a lot when I was there. Cyclists frequently ride with one hand on the handlebar and the other holding an umbrella. It's a really graceful riding style.

Overall, bikes are very much a part of the pulse of Japan. They move people and cargo everywhere on a daily basis. They are embraced as a reasonable, standard mode of transportation. Riding a bike seemed as natural as driving a car. I look forward to a time when biking in our culture is as accepted.
For information on where to get bicycles in Japan
http:/www.japan-guide.com/e/e2210.html
Bicycles are widely used in Japan for everyday life by people of all age groups and social standings. Commuting to school, work or to the closest railway station, picking up children from preschool or doing the daily groceries are among the activities commonly done by bicycle.
Types of Bicycles
In Japanese, bicycles are formally known as 'jitensha' , and colloquially as 'mama-chari'or 'charinko'.

The most common bicycles for every day use are typically equipped with a basket and/or a child seat (or two), a simple lock, a kickstand and just one gear.
Basic everyday bicycles cost around 10,000 Yen (about US$ 100), while used ones are available for less. More advanced models with multiple gears, for example, are slightly more expensive.
Foldable bicycles, mountain bikes and road racing bicycles are getting more common, but are still vastly outnumbered by the inexpensive everyday bicycles.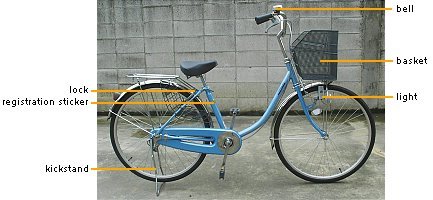 Road Rules
In theory, bicycles are supposed to use the streets and not the sidewalks, except when signs indicate that the sidewalks are for common use by pedestrians and cyclists. In praxis, however, cyclists tend to use the sidewalks at all times.
Due to the high popularity of bicycles, there are dedicated bicycle parking areas near most railway stations and shopping centers. Here and there you may even find multi-storey parking garages for exclusive use by bicycles.
Where there is a lack of designated parking space, bicycles will be ruthlessly parked even in clearly designated non-parking zones. In some areas, wrongly parked bicycles may be removed by the local authorities and can only get returned against a fine. 
------------------------------------------------------------------------------------------------------------------------------------------------------------------
April 2008

Anyone who has spent more than a week in Japan has probably been surprised at the lack of regard that cyclists here often show both for their own safety and for the safety of others. It is not uncommon to see housewives cycling with one child on a seat in front and one behind, or salarymen riding one-handed in order to hold an umbrella(even on windy days!), or even high school students steering with one hand while sending text messages on their mobile phones with the other. Unsurprisingly this type of irresponsible behaviour has led to a dramatic increase in the number of accidents involving bicycles, with the result that the National Police Agency has, on paper at least, begun to clamp down on dangerous cyclists. New laws governing cyclists have been passed that will come into full effect from the 16th of June, 2008. According to the new laws:
- footpaths may only be used for walking, except in the case of small children or where the road and traffic do not allow safe passage of a bicycle. In certain cases, there will be a bicycle lane provided on the footpath, in which case bicycles have right of way only in that section of the footpath (penalties of up to 50,000 yen)
- children under the age of 13 must wear a helmet, even if they are only a passenger on the bike.
- bikes must be ridden on the left hand side of the road (penalty of up to 50,000 yen)
- bicycles on the footpath must always give way to pedestrians, in particular to elderly people (penalty of 20,000 yen)
- you may never ride a bike under the influence of alcohol (penalty of up to 100,000 yen)
- "doubling" a person over the age of six is prohibited (penalty of up to 20,000 yen)
- riding in tandem with another bicycle is prohibited (penalty of up to 20,000 yen)
- riding at night without a light is prohibited (penalty of up to 20,000 yen)
- you must adhere to all traffic signals and stop signs (penalty of up to 50,000 yen)
- you may not use a cell phone while riding a bike
- you may not use an umbrella while riding a bike
An
illustrated pamphlet
describing the changes is available online, but only in Japanese. It will be interesting to see if the new laws have the desired effect of making Japan's streets safer for pedestrians, as well as for motorists who are unfairly blamed for collisions with reckless cyclists. I for one am not holding my breath.
This entry was posted by
First Admin
on Tuesday, April 22. 2008 at 16:15. You can
leave a response
, or
trackback
from your own blog. All new comments are subject to moderation before being displayed. 
------------------------------------------------------------------------------
       Yes but....enforcement of these laws is highly discretionary !

http://www.tokyobybike.com/2009/02/of-bicycle-laws-in-japan-and-other.html
-------------------------------------------------------------------------------

Bicycle Theft and Registration
Bicycle theft is not uncommon. Especially the scenario of being stranded at a railway station without continuing bus connection or someone to drive you home, creates occasional thieves. In order to fight bicycle theft, every bicycle in Japan is supposed to be registered with the police against a small one-time fee.
If you buy a new bicycle, the registration process will likely be handled by the store, but if you take over a used bicycle from somebody else, you are supposed to re-register the bicycle under your name at the local police station in order to avoid misunderstandings.
Most bicycles are equipped with a basic lock (see illustration below on how to use it), but more sturdy locks are required if you are concerned about bicycle theft.
For more on cycling in Kyoto see my web log on utility cycling in Kyoto Japan as contrasted with that in Christchurch, New Zealand @  http://utilitycyclism.blogspot.com/

http://www.roarfish.com/2005/12/the_bicycle_in_.html