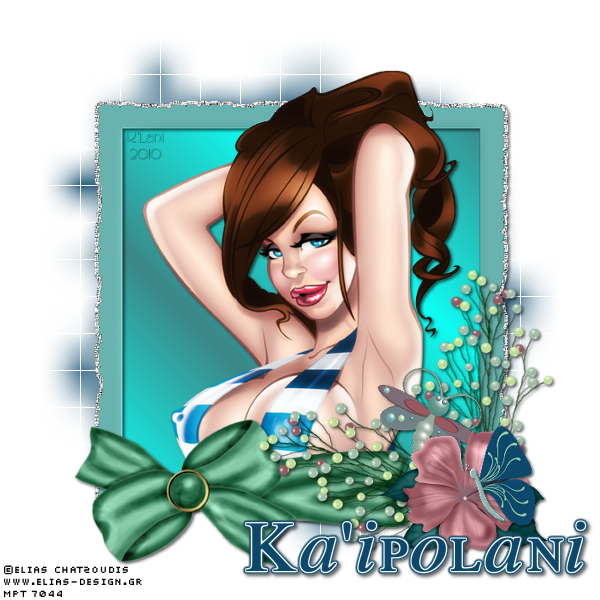 Sea Breeze Tut
What's needed:
FTU Scrap Kit called, "Sea Breeze" by Mystic Raven Scrapz HERE
Close up tube, I used a tube by Elias Chatzoudis.
You must have a license with PTE. HERE
Choice of font. I used, "Will and Grace"
Plug Ins Needed:
Eye Candy Gradient Glow 4000
Let's begin and remember to save often.
I'll be using the same drop shadow throughout this tutorial
1. Open frame 3, duplicate (shift+D), resize 75%, resize all layers unchecked. Drop Shadow
2. Copy paste paper2, move layer below frame. Layers-new mask layer-from image. Find WSL_Mask84 from drop down menu, source luminance checked click OK. Layers-merge-merge group.
3. Magic Wand, click inside frame, selections-modify-expand by 8. Open new layer.
4. Set foreground color to your liking, I chose #0efcf2. Set background color to your liking. I chose #3b8686. Set your gradient angle-45 repeat-2
5. Flood fill tool, new raster layer active, fill inside frame. Selections-select none. Move layer beneath frame.
6. Copy paste bow4. Place at the bottom of frame, towards the left corner. Drop shadow
7. Copy paste element 1. Resize 70%, all layers unchecked. Image-free rotate-left 45. Place at bottom right corner. Duplicate, Image-free rotate-right 70. Place bottom right corner. Drop Shadow
8. Copy paste flower4. Resize 50%, all layers unchecked. Place in bottom right corner over where the berries connect. Drop shadow
9. Copy paste butterfly1. Resize 30% and place over your flower. Drop Shadow
10. Copy paste dragonfly. Image-mirror resize 50%, all layers unchecked. Place above berries but below flower. Drop Shadow
11. Copy paste your tube. Resize if needed. Tube layer still active, Selections-select all-select float-select defloat-modify-contract by 1.
12. Frame layer active, erase the top of the frame that's being covered by your tube. Selections-select none.
13. Tube layer active, effects-xero-radiance set at 153-58-54-201. Drop Shadow
14. Resize tag to 600px. Resize all layers is checked.
15. Add ©, license number (if needed), watermark, and your name. Apply gradient glow to your name and drop shadow. Save as PNG.
Hope you enjoyed this tutorial.
Would love to hear your feedback, so please leave a comment. Would also love to see your end results, please EMAIL ME. Thank you for doing this tutorial.