Welcome!
Subscribe to posts
We had a fantastic lunch of Soba noodles in Odaiba. We got to see th Soba noodles being made by a very skilled person using a very large knife. Afterwards we gathered for a group photo around one of Odaiba's landmarks...the statue of liberty!
Our next destination was Asakusa. This time we would be going by boat! We took a water taxi all the way from Odaiba to Asasuksa. There were many interesting things to see on this relaxing ride. We passed 14 bridges and the group had fun counting them aloud in Japanese!
We passed several other water taxis on our ride to Asakusa. Some of them looked very different from our boat!

Upon arriving we were greeted by a street performer waving from the docks. He definitely stood out among the businessmen! He performed a series of back flips that were amazing! It was a great way to start our trip in Asakusa.

While in Asakusa we went to see the Drum Museum. The museum was opened only for our group that day. The museum was crowded with drums from all over the world! The best part was that we were allowed to touch and play many of the drums! We finally had to go after much looking and impromptu jam sessions. We then headed over to Asakusa's main shopping street to find a few souvenirs.
We had fun looking at all the interesting things for sale, but the best part of the evening was still to come. The group went to a shabu-shabu restaurant for a final meal in Japan. Everyone really got into the spirit of shabu-shabu (and even dipped the the fried meat into the raw egg).  What really made this evening so special was that one of the members of our group, Derek Mathews, was having his 20th birthday!
Can you think of anything more special than celebrating your birthday with your friends...in Japan! Happy Birthday Derek!
We had a fantastic performance and saw many other wonderful groups perform at the 12th Annual Disabled Persons' Nippon Taiko Festival. The amount of hard work and sheer determination put into the festival was awe inspiring. We cannot thank everyone enough for allowing us the opportunity to be a part of this special event. Fugaku and Triangle Special Taiko formed a bond that will stay with with us long after we are home. It was very hard but we made our goodbyes with Fugaku and headed to Asakusa for the final part of our journey.
We started our Monday with a tour of Tokyo Tower. The tower is 333 meters tall and can be seen all throughout Tokyo.
Several of our group were somewhat anxious to be up that high. Here is a picture of them safely on the ground as we get ready to ride the long elevator.
The view from the tower is spectacular. Some of our group preferred not to get as close to the windows as others. There are even windows in the floors! The view down can be quite scary, especially if you are standing on one!
Everyone had fun and several people conquered their fear and stood on the floor window. We then continued our tour of Japan with a bus tour of Edo castle. The  castle is surrounded by a moat and large stone wall that is slopped outward in order to help repel attackers. All of what we now think of as Tokyo was under water during the time of Edo castle.
Japan has certainly changed since then.
We were very fortunate to see a wedding taking place at the shrine. The bride and groom are followed by a person carrying a large umbrella. The wedding party all wore traditional clothes.
As we were leaving Meiji Shrine we also saw a young girl who had completed her ceremony.
We loaded back onto the bus and headed to Odaiba. Stay tuned for more!
There will be more posts (to catch up on all the excitement that there wasn't time to post about) and LOTS more photos to share in the next couple of days, but I wanted to make a quick post to let everyone know that our players made it home safe and sound, though pretty worn out. They landed yesterday a little after 5pm local time. Today I'm sure they are all catching up on their sleep!

Stay tuned for updates about the performance, the fun time in Tokyo, etc., and for links to lots of great photos!

~ Heather

BIG NEWS! We have a video from the performance on Sunday. Special thanks to Mr. Mac Oshima for posting this for us to enjoy.
  Also, friends of the Iwashimas who came to the performance sent us these pictures: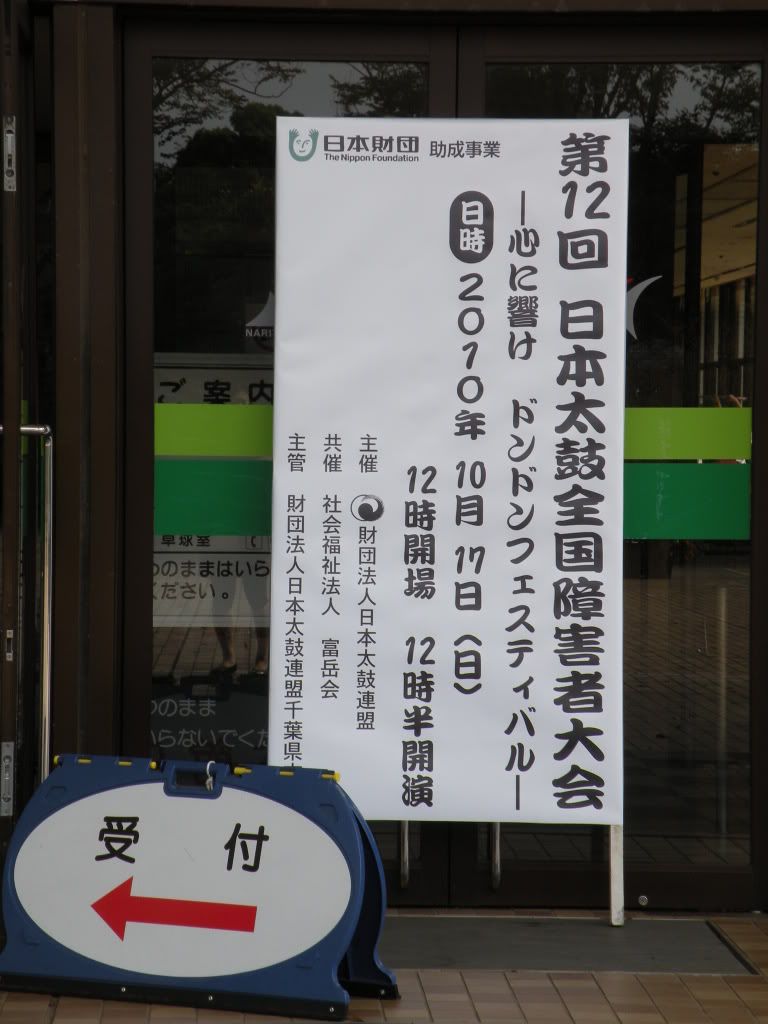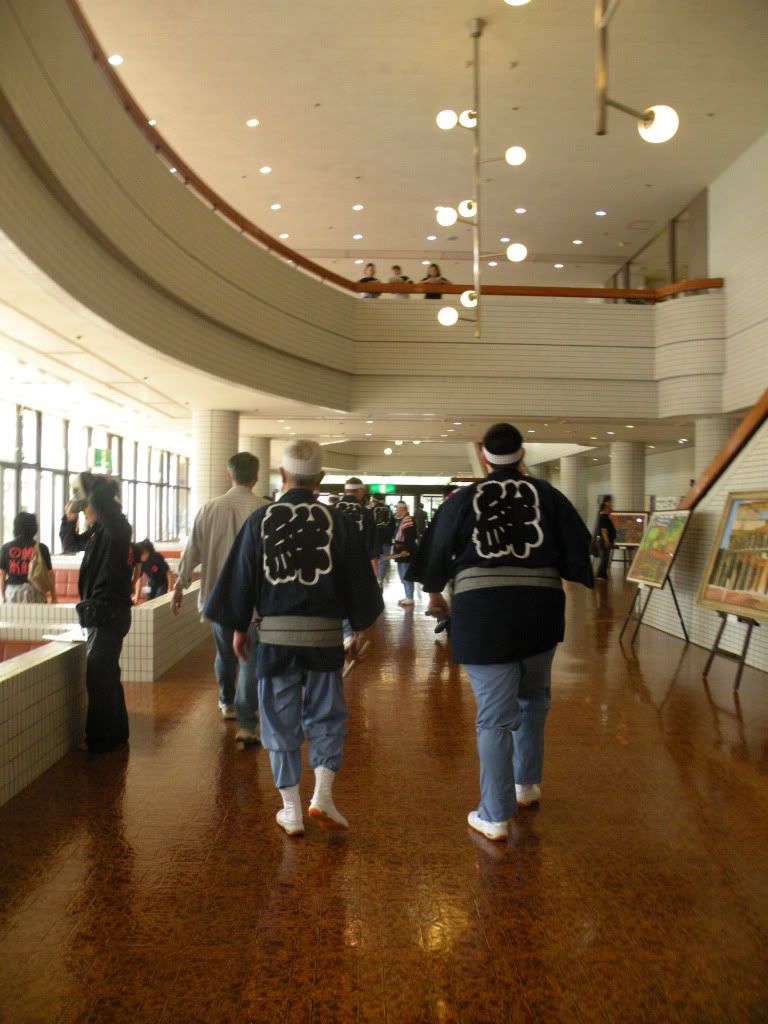 Our Special Taiko players have been busy ... too busy to make any new posts since the performance! But I got a short note from Terry just before they were heading out of their hotel to go to the airport. They had a great day being tourists together. Everyone had lots of fun shopping, and they went out for shabu-shabu (meat & veggies with sauces) and celebrated Derek Mathews' birthday!

Terry is going to try and write a new post during their layover in Chicago, and we'll upload more great photos for everyone to share once they are home.  But I wanted to let everyone know that our group is still having fun!
 
See y'all at the airport tomorrow evening! I'll be the one at the baggage claim with the "Welcome Home" banner and big grin.  :-)

Cheers,
Heather

I'm sure we'll be hearing more soon about the big performance day, but I wanted to go ahead and post a couple of photos that I received via email from Hiro, one of Taki's brothers who lives in Japan and was able to go to the performance.
Here's the group in their red, white, and blue happi. Don't they look great!?
Looks like thy had a great celebration after the performance, too: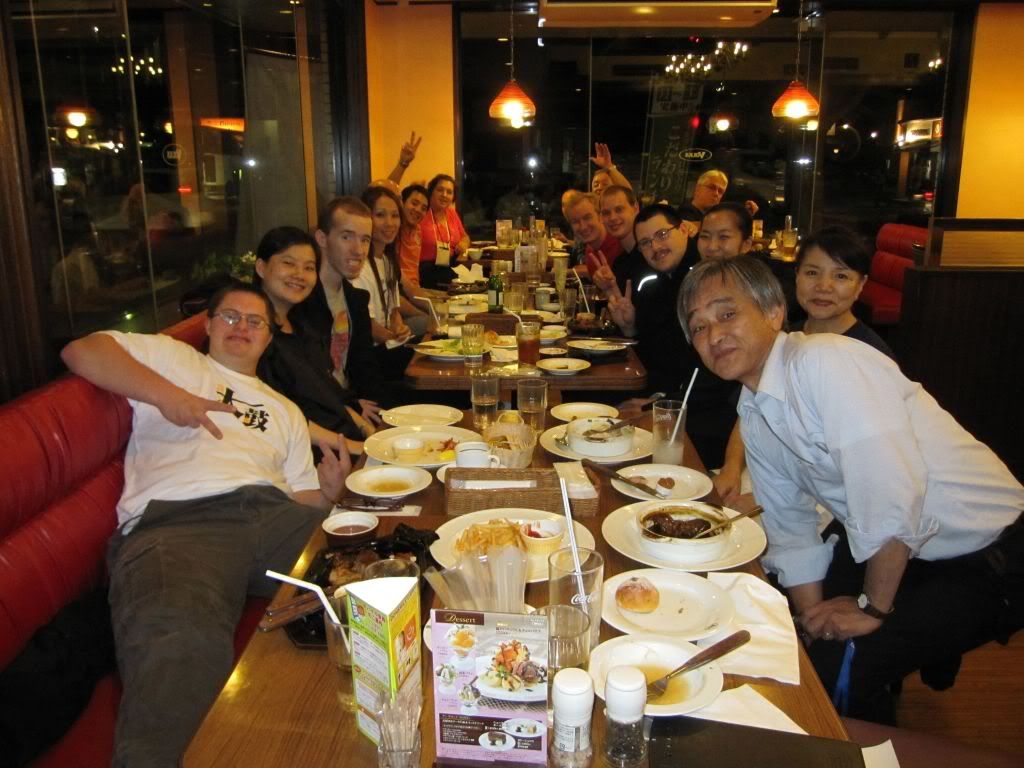 By now, I'm sure they are all having a good rest after the big day.  :-)
So far our stay in Gotenba has been wonderful but there has been something we have been missing. Mt. Fuji! Fugaku is located at the foothill of Mt. Fuji and so far we have not been able to see it! Mt. Fuji is the largest mountain in Japan so size wasn't the problem. The weather has been so cloudy that we had "Mt. Fuji sightings" every time we traveled in the bus. But on our last day the weather cleared and we were treated to a spectacular view of Mt. Fuji right out our own window.
Fugaku and Triangle Special Taiko had to leave early from Gotenba to go to Narita where the 12th annual Disabled Persons' Nippon Taiko Festival is being held. It was a long bus ride but we were eager to practice on the stage before the festival on Sunday.
We saw many interesting sites as we head back to Narita. Fugaku loaded up all of their drums for everyone to use during the festival. They even have a special  truck to carry them in. The entire side of the truck opens like a lunch box!
Triangle Special Taiko is one of 26 groups performing. We checked in and gathered together to wait for our turn to practice on the stage.
As the time got closer we moved into the gymnasium and cheered our friends from Fugaku on as they ran through their performance.
Our practice went great. The group was rewarded with lunch from McDonald's!


After lunch we went to see a  river festival. Before it was Tokyo, the are was called Edo. Edo castle was located on a peak and what we now call Tokyo was largely underwater. People gradually built up the earth and many rivers remained. Today festivals are held in celebration of this achievement. We walked and saw people in traditional garments and many other interesting things.
We finally headed back to our new hotel in Narita and had another meal with Fugaku. The two groups have really enjoyed getting to know each other. Taiko has definitely given us a bond. We are all looking forward to our performance tomorrow. Be sure to check back for all the details!
Today we got to go on a safari...in Japan! Fuji Safari Park is a large preserve where the animals roam free while people are safely in their cars. There are animals from all over the world at the park. The park is very secure and the gate we drove through reminded us of the movie "Jurassic Park". We were definitely in another world as began out bus tour and were greeted with a lion walking down middle of the road.
We loved seeing all the divers animals. There was everything from elephants to American bison. We had a wonderful time snapping photos of all the amazing animals.
Lions and tigers and bears. Oh my! After we concluded out bus tour we visited another section of the park were we could walk around and see animals in secure environments and also reach out and pet others! Our group got up close and personal with kangaroos! The kangaroos would eat right out of our hand and would hop all around their habitat. The kangaroo fur was very soft and there legs looked very powerful!

After the park we went to an authentic Ramen restaurant. We each got to pick our own bowl of ramen and all shared plates of excellent dumplings! Ramen is a combination of soup and noodles. You have to eat it with chopsticks and a spoon (unless you are Danny and perfect the art of eating noodles using one chopstick!) Caleb had his ramen spicy!

We then headed back to Fugaku to practice with Fugaku! Triangle Special Taiko played warm-up with Fugaku and the we each ran through our songs. We practiced hard because today was dress rehearsal day! We performed our song for a large audience that included newspaper reporters. We made the local paper! There was a very nice newspaper article written about us with a nice photo. Of course it was all in Japanese and Rocky read it aloud to us.

That evening we had an extra special treat. We had a big get-together with Fugaku for dinner! All of Fugaku and Triangle Special Taiko gathered together for a great meal. May friendships were made as we exchanged gifts and stories. Fugaku loved their American bandanas and chocolate we gave them! A great time was had by all as we found we had much in common. We laughed and talked all night. Danny learned how to use 2 chopsticks and ate his entire meal only using them! DJ found someone who enjoys the same music he does. Derek was able to use the Japanese he has been learning to make new friends. Caleb showed Fugaku how to wear a bandana "American style". Amanda tried new food and Taki had a wonderful time. Stay tuned for news from Narita.

Hello everyone. We have had a little trouble with our internet but we are back online. On our last post we had just practiced at Fugaku. Later that evening we were able to come back and see the senior members of Fugaku practice their songs. The entire room shook as the odaiko (big drums) were hit. Our group was amazed at the skill of Fugaku. Some of the songs had the members playing three drums at once!
That night we went to a revolving Sushi restaurant. This was a first even for Rocky! We all had fun picking out plates of sushi as they made there way on a conveyor belt. Special orders were delivered on little train! We tried many new dishes that night. It was great and everyone had a good time!

We had a great first day in Japan. The guys started the day early with a traditional Japanese public bath! The hotel has a natural hot spring and everyone really enjoys a good soak.
After a big breakfast we headed over to Fugaku to practice. It was very nice to use Fugaku's taiko. Triangle Special Taiko received new bachi and some special one-on-one practice time. 
We were taken on a tour of the Fugaku compound. Some of the food is grown on the compound.There is even a bakery that made the pizza some of us had for lunch! Fugaku is very active in the area. We were given a tour a senior living facility that is quite groundbreaking. Once a week the seniors practice taiko. It was great to meet everyone. They were very surprised to meet taiko players from America! Derek and Rocky gave an impromptu performance using shouting and movement. The seniors in turn gave us a nice song. One of the seniors we met was 100 years old!

Next we were shown a daycare that is run by Fugaku. There were 147 children up to age 6. We had fun saying "Hello" to the kids. Our group has been learning Japanese. We have learned how to say hello (Konichiwa), goodbye (Saiyonara), thank you (Domo Arigato). There eyes went wide when we told them "Konichiwa". We each introduced ourselves and we all gave another impromptu taiko performance (without drums). The kids were laughing and clapping as we shouted and bounced through our "performance".  We then had the special treat as the kids gave us a taiko performance!
Here are the answers to last post's quiz:
Derek Mathis is the one who really enjoys green tea!
Amanda Moyer has found that she like ramen!

We are looking forward to an exciting meal of sushi. We will let you know how it goes.