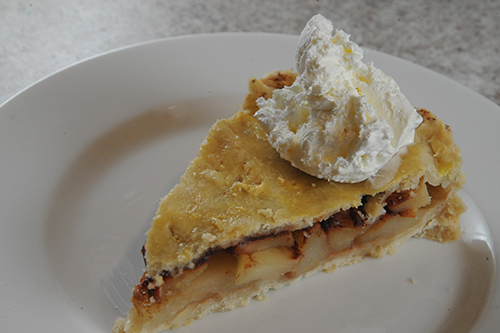 2 cups all-purpose flour
Pinch salt
1/4 cup butter or margarine
1/4 cup lard or shortening
2 tbsp cold water
2 lbs Granny Smith apples, peeled, cored and thinly sliced
2 whole cloves
1 tsp cinnamon
3 tbsp brown sugar
3 tbsp milk
Cream or custard to serve
Mix the flour with the salt, then rub in the butter and lard/shortening until you get a mixture like breadcrumbs.

Add cold water a little bit at a time until you have a firm dough.

Now roll out about 3/4ths of the pastry into a flat disk and use it to line an 8-inch pie pan. Pour in the apples and sprinkle with the cinnamon and sugar.

Take the remaining pastry and cover the apples. Please try to do a better job than I did.  Crimp the edges to seal and cut a few slits in the top to allow steam to escape. Brush with milk and bake at 400 degrees for 30 minutes or until golden.