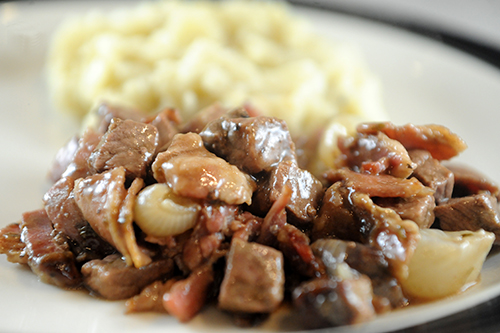 1 1/2 lbs beef, cubed

6 oz lean bacon, cubed

1 tbsp vegetable Oil

1 lb shallots or small onions

3 cloves garlic, crushed

1 tbsp sugar

to taste salt

to taste pepper

to taste dried Basil

to taste dried Parsley

1 tbsp butter or margarine

2 tbsp flour

1 bottle Guinness Stout

1 tbsp wine or cider vinegar
Start by browning the beef and bacon in a hot pan, then drain off the fat and transfer to a deep casserole dish with the onions. Season with salt and pepper and the herbs and top with the garlic. Sprinkle some sugar on top.

Add some butter to the pan you used to brown the meat. When it's melted, add the flour and stir to make a roux. Add the Guinness and stir until thickened, then pour over the beef and onions.

Put the cover on your casserole dish and cook at 300 degrees for up to 3 hours. Add more Guinness if the meat dries out. When ready to serve, pour a little bit of vinegar over the top.