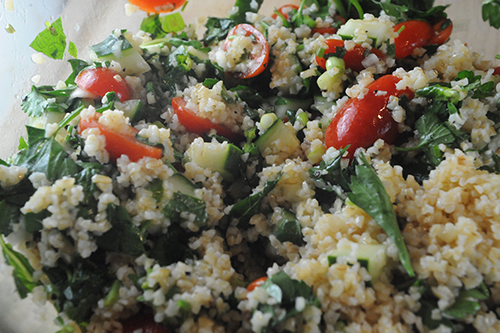 1 cup bulghur wheat

1 1/2 cups boiling water

Juice of 2 lemons

1/4 cup extra virgin olive oil

3 1/2 tsp kosher salt

1 cup minced scallions, white and green parts

1 cup chopped fresh mint leaves

1 cup chopped flat-leaf parsley

1 hothouse cucumber, unpeeled, seeded, and medium-diced

2 cups cherry tomatoes, cut in half

1 tsp freshly ground black pepper
Put the bulgur wheat in a bowl and pour the boiling water over it. Add the lemon juice, oil, and 1 1/2 tsp of the salt and give it a stir, then let it sit at room temperature for one hour, or until soft. 
Stir in the remaining ingredients and serve.