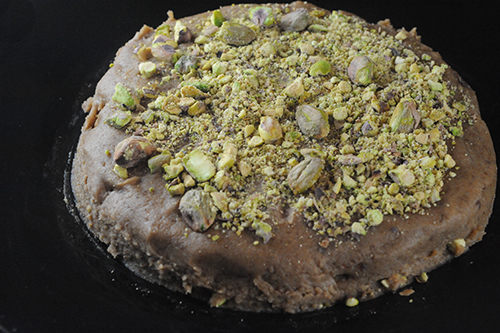 1/2 cup flour

2 cups pitted dates

1/2 cup tahini

1 tsp cardamom

1/2 tsp coarsely ground toasted aniseeds

1/2 tsp crushed coriander seeds

1/2 cup toasted walnut halves

1/4 cup coarsely crushed pistachio
Toast the flour in a dry pan until it turns a golden brown color and starts to smell a bit nutty. This should take around five minutes. Let cool.
Now transfer the flour to a food processor with everything but the nuts. Process until you get a paste. Now take note, if you are using dried dates as I was you may have to add a little bit of water. Your goal should be a paste that can be shaped into a ball.
Now divide the paste into two parts and shape into the aforementioned balls. Flatten them, and sprinkle the toasted walnuts over one of the two disks. Then top with the second disk and sprinkle the pistachios on top of that one.